This one pot curry rice recipe makes for a fantastic weeknight dinner idea you can rustle up in one pan in about an hour! Made with sautéd aromatics, warming spices, cauliflower florets and long grain rice. Simmer in stock then mix in a few big handfuls of spinach and salty, pan-fried halloumi. Finish with fresh herbs and a squeeze of lemon or lime juice! It's easy, delicious and veggie packed!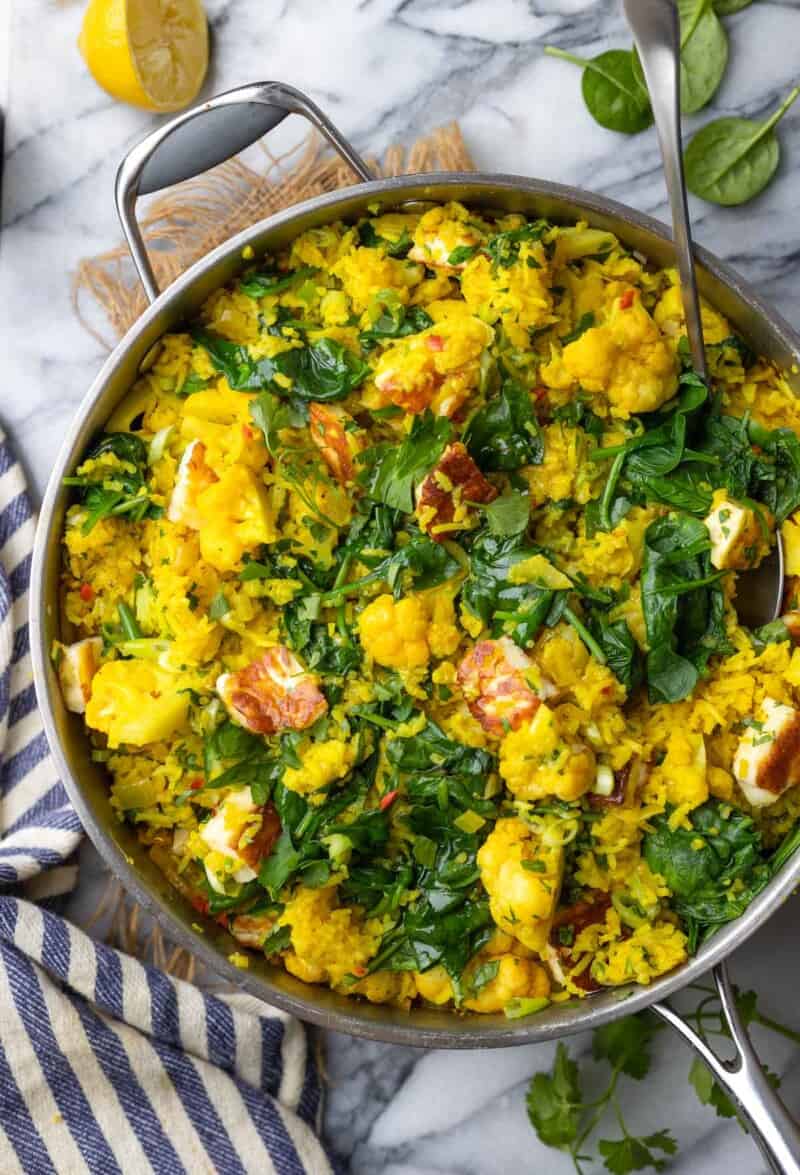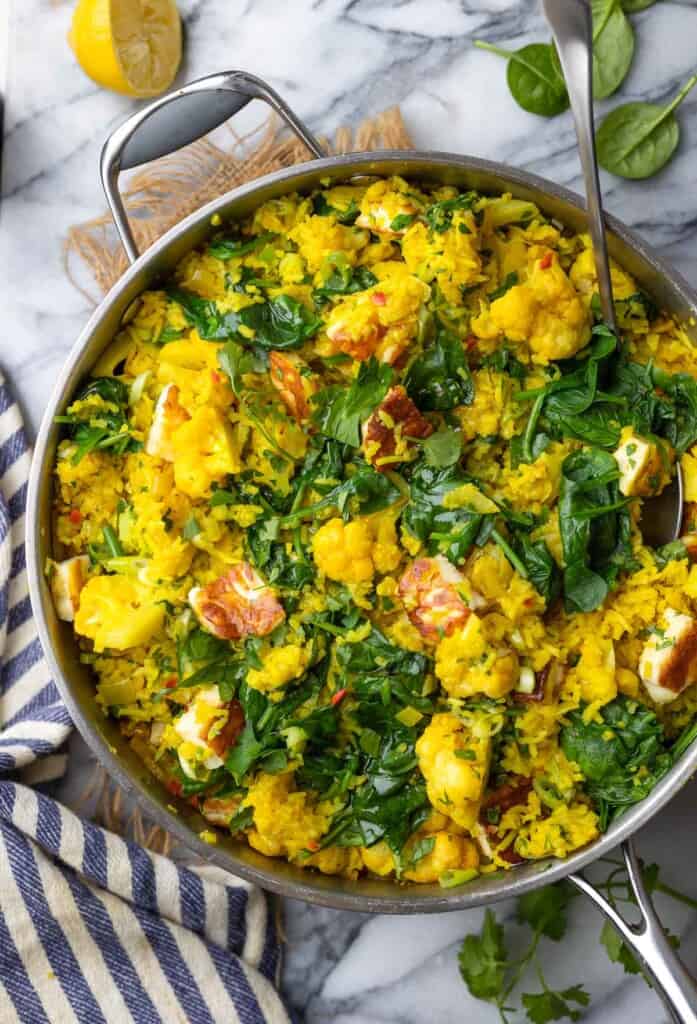 Curry Rice Fusion
Not exactly a traditional curried rice dish, but definitely a tasty one!
Inspiration for this recipe came from this Spicy Cauliflower Halloumi Rice on BBC Good Food. I absolutely loved the idea of combining earthy flavours of an Indian-inspired spice blend with the tangy, salty bite of Mediterranean cheese.
It's a real mishmash of flavours in the best possible way!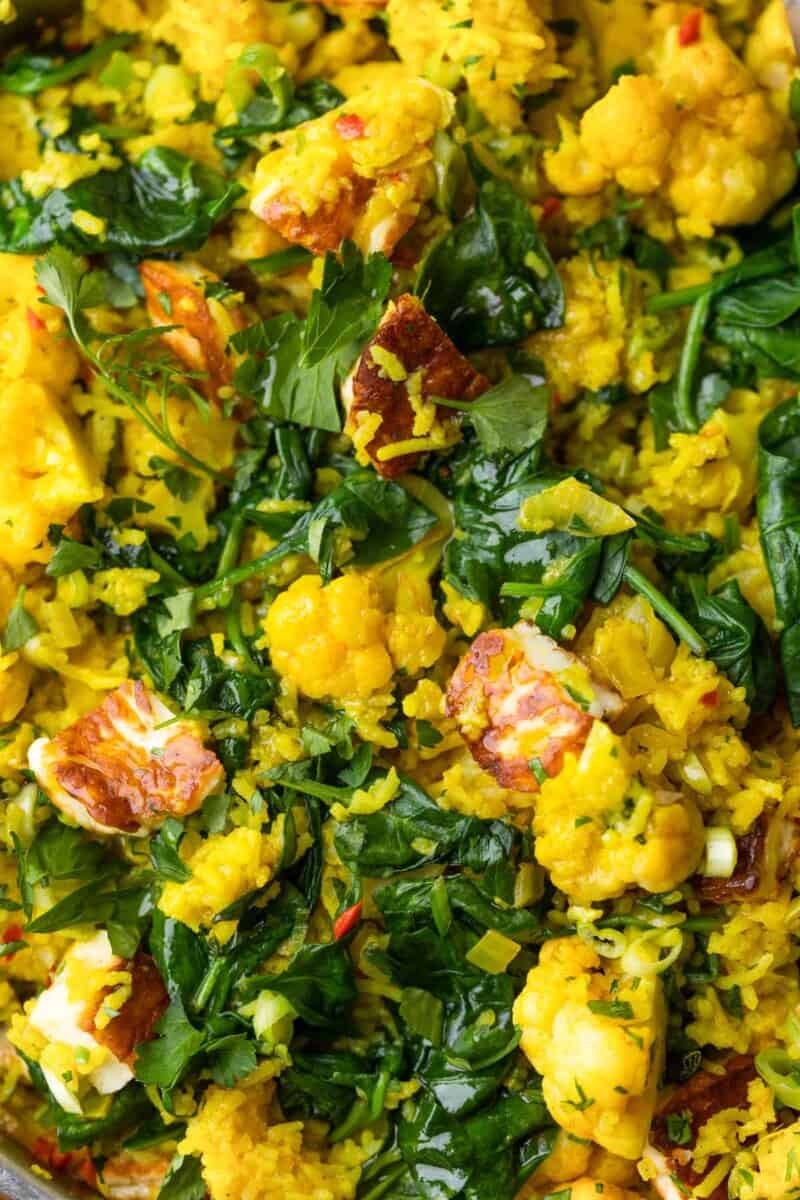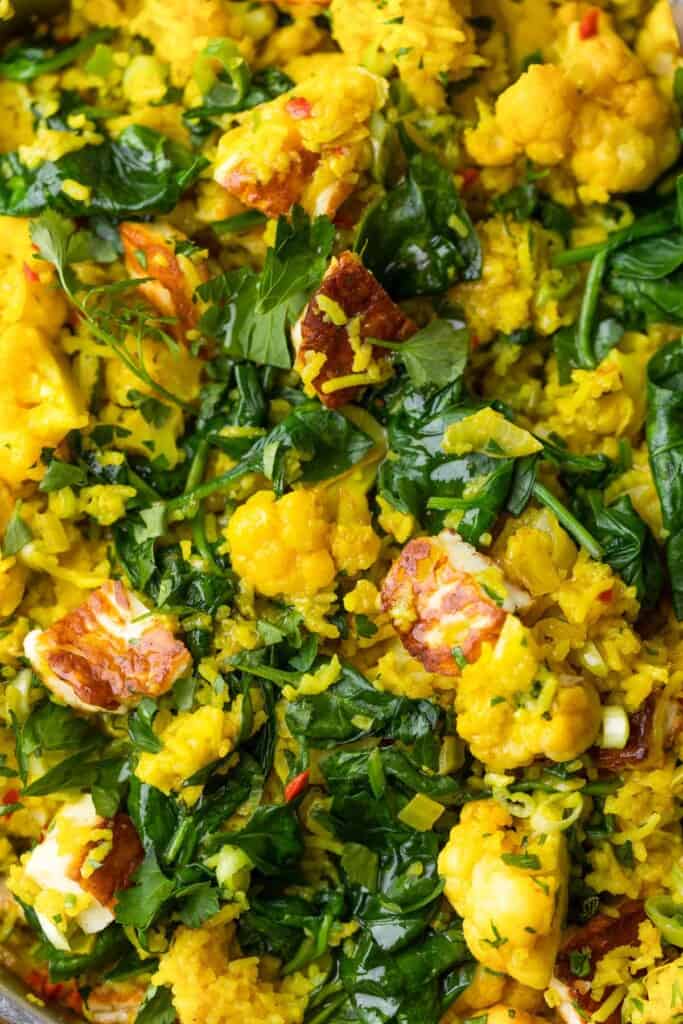 Recipe Highlights
Versatile serving options: Depending on serving size and hunger level you can enjoy this curry rice as a filling main or a delicious side dish.
One pan prep: Pan the fry halloumi, saute the aromatics and simmer the rice – everything cooks up in one humble pan for a tidier clean up.
A balanced meal: Halloumi provides a bit of protein, the veggies add fibre and the rice accounts for carbs. All-in-all, this makes an excellent, vegetarian friendly recipe!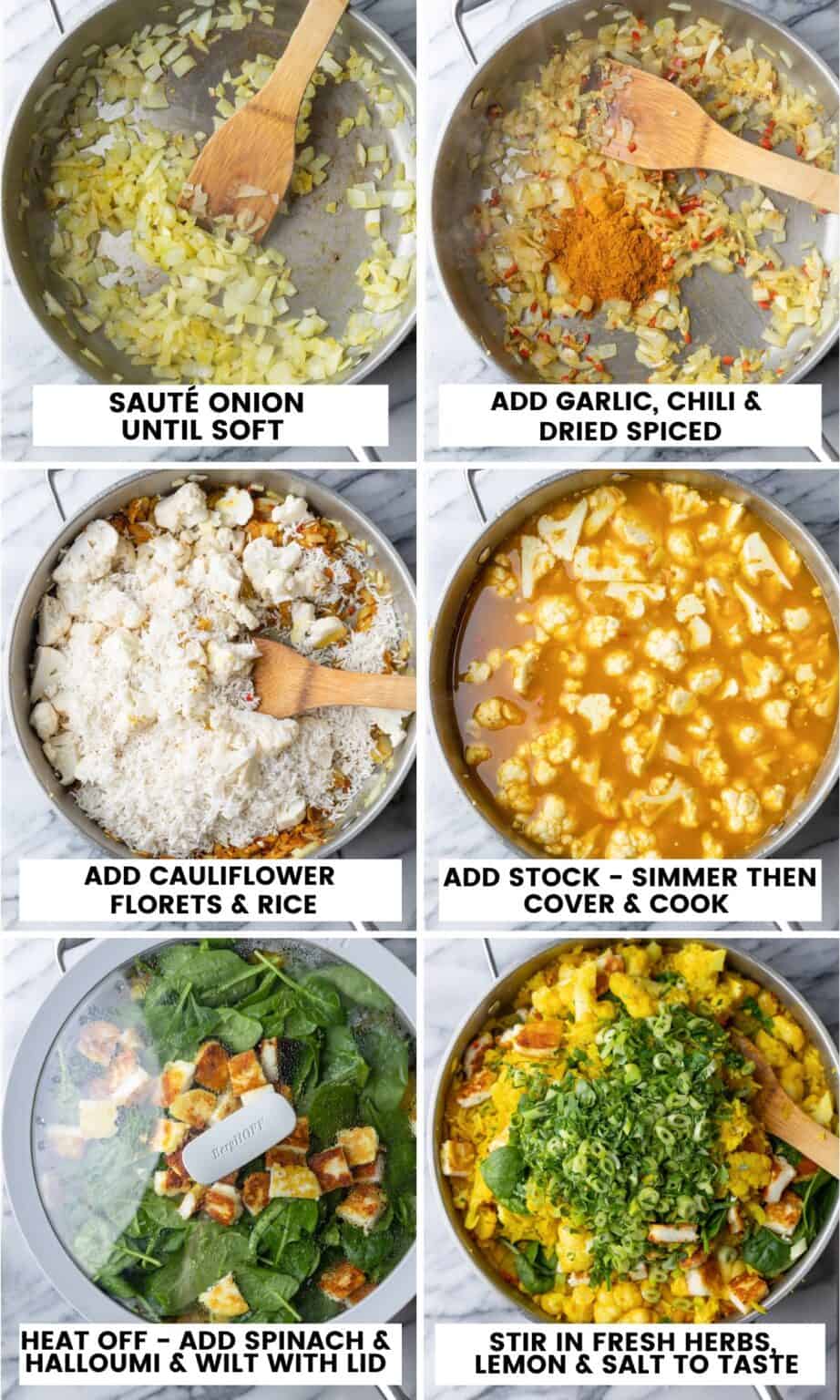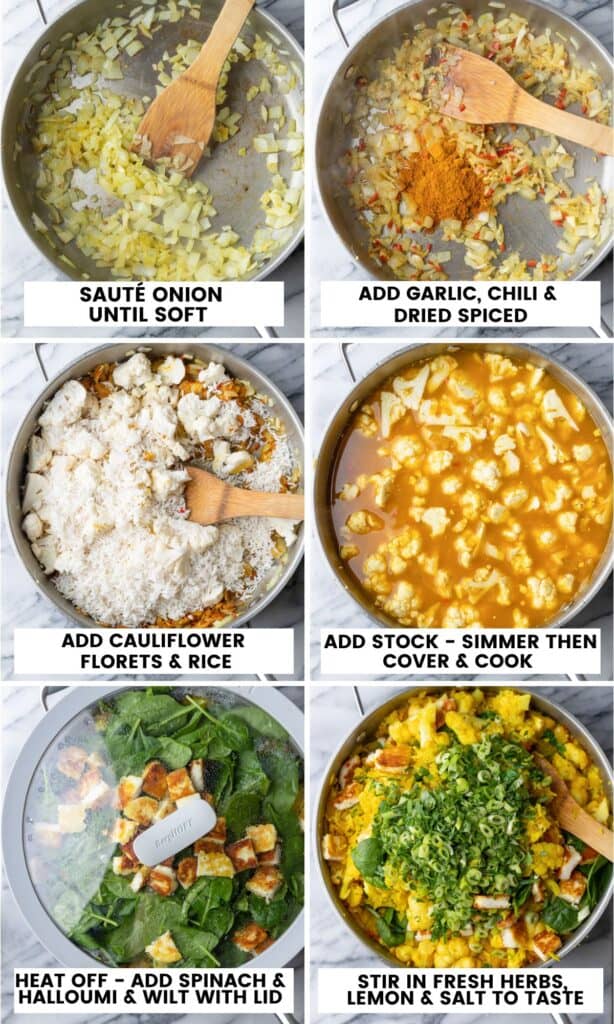 Key Ingredients & Steps
Halloumi – Squeaky, salty, great for frying – there are so many things to love about halloumi! Start this recipe by pan frying the halloumi slices in a hot pan for about 2-3 minutes on each side. Once the sides are seared and golden, remove from the pan and set aside until the end.
Aromatics – Onions, garlic, ginger and chili make up the foundational flavors in this curry rice. As usual, the onion needs more time to soften before adding the remaining aromatics. Add a good pinch of salt to help the onion sweat out the moisture.
Dried Spices – Stir in the ground turmeric and curry powder until the onion mixture is well coated in spice. I wanted to keep it simple here with the spices, especially since curry powder is already a blend of several spices. That being said, feel free to play around with the flavors and heat level with your own spice additions. Cumin, coriander, chili powder and cayenne pepper are all good options.
Rice – I like the nutty aroma and fluffy texture of basmati rice, but you can use another long grain white rice instead. Medium and short grain rice is less ideal as they're more starchy and sticky by nature. I don't recommend brown or wild rice as their cooking and liquid requirements are quite different from plain white rice.
Veggies – Add the cauliflower to the pot early to simmer and soften along with the rice. Add the spinach late towards the end so that it wilts just barely into the rice.
Stock – Use vegetable stock to keep this vegetarian, otherwise chicken stock makes a fine choice. Use a low sodium stock and salt to your preference if you need to watch your sodium.
Finishing Herbs & Flavors – Save the scallions, parsley and citrus to add towards the end. Before you add more salt, squeeze some lemon or lime juice over the top. A final touch of citrus does wonders for punching up the final flavor!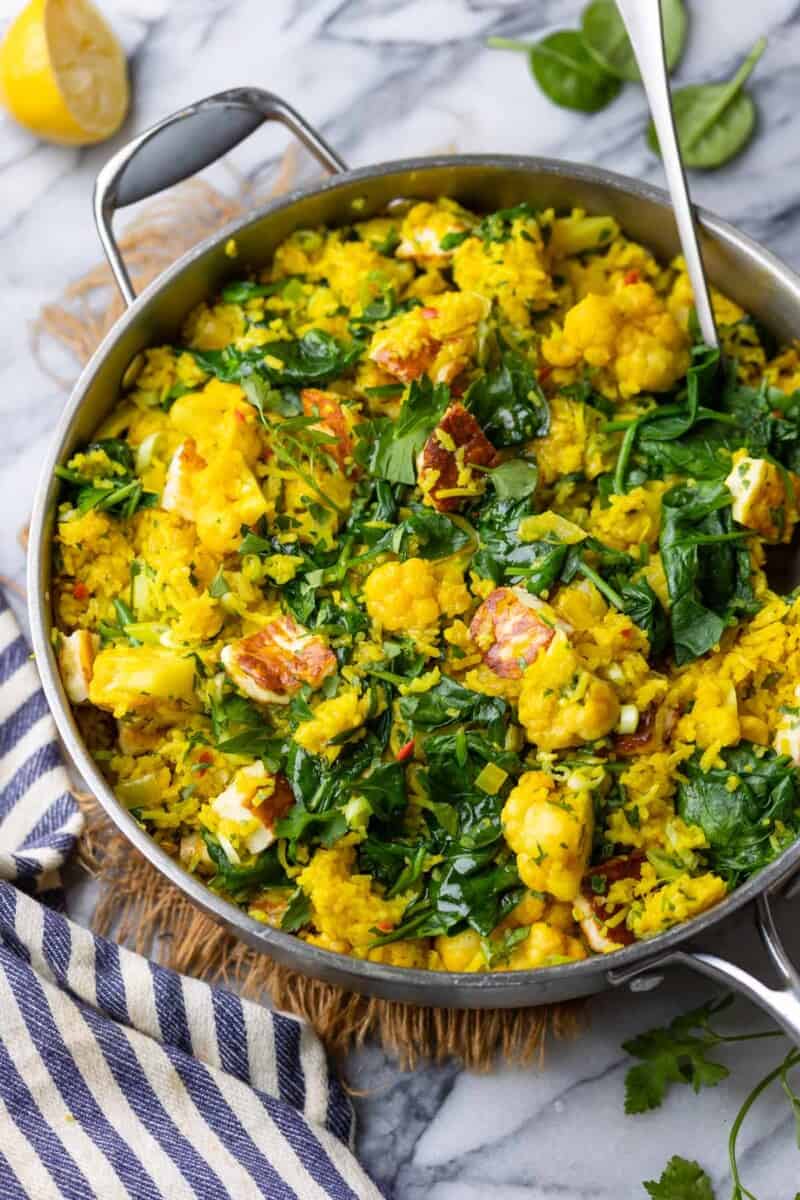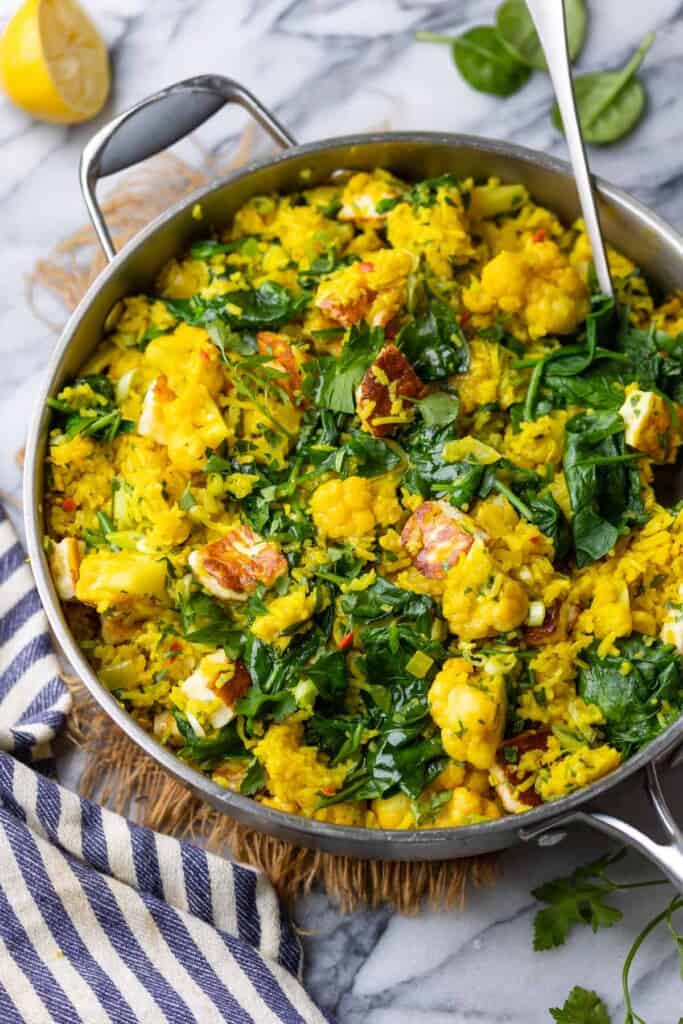 Storage & Serving
Store leftover curry rice in an airtight container and keep refrigerated up to 3 days. However, if you leave out the spinach you can prolong the fridge life! Leave it out together if you like, but I prefer waiting to add it until just before serving when I prepare this as a meal prep option.
And that's it!
This curry rice is filling enough to enjoy as a main dish as is! That being said you can also spruce it up by adding toasted nuts (like cashew or almond) and topping it off with a fried egg.
If you have time, make some gluten free roti or flatbread for an even more satisfying meal!
Or enjoy it as an impressive rice side dish to a simple main like grilled meat or fish.
However you serve it – I hope you enjoy!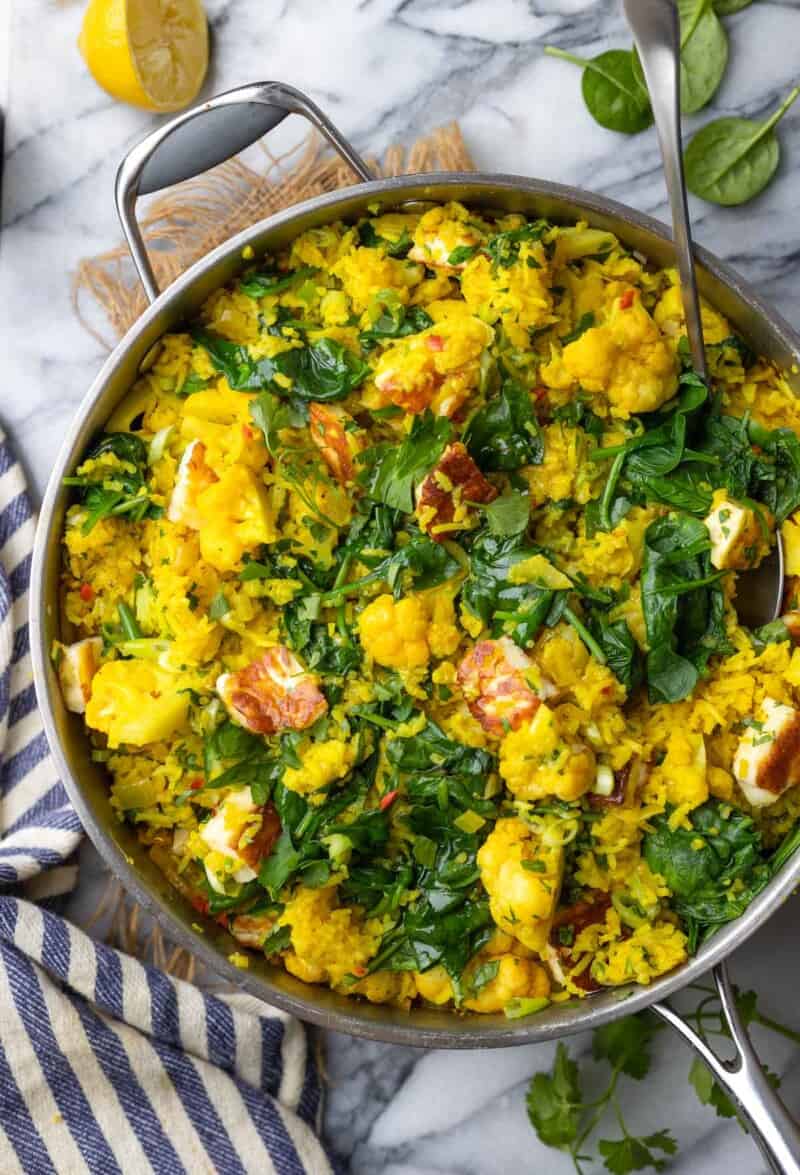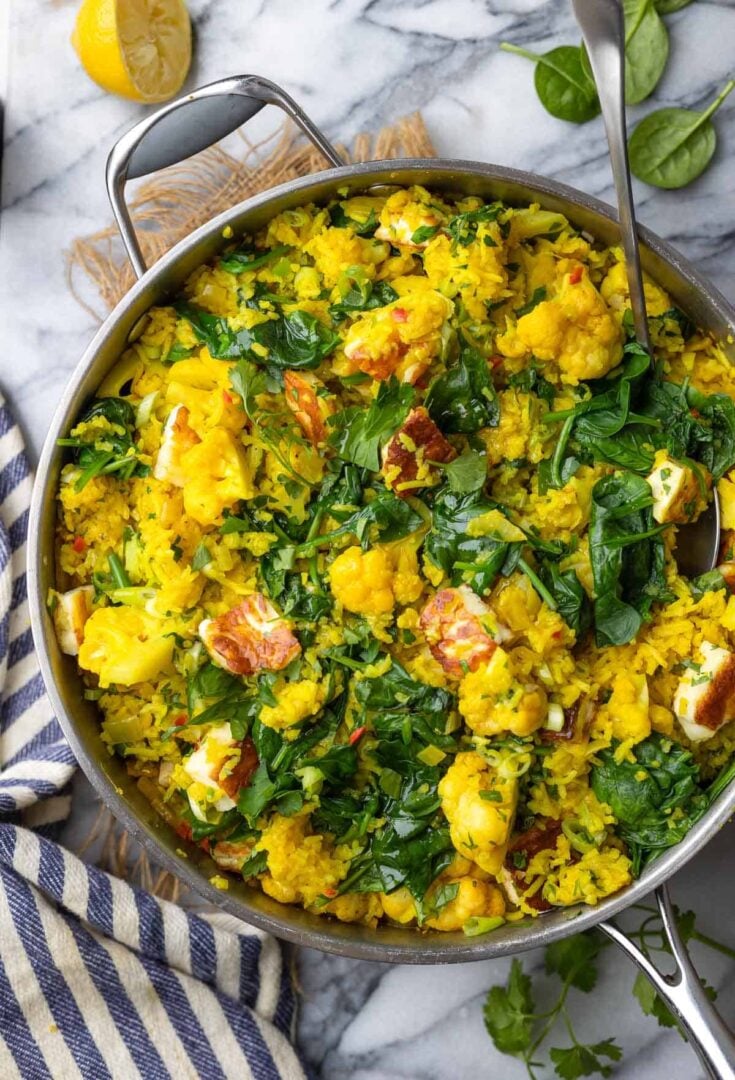 Recipe
One Pot Curry Rice with Cauliflower and Halloumi
Yield:
6-8 servings
Prep Time:
10 minutes
Cook Time:
1 hour
Total Time:
1 hour
10 minutes
Made with sautéd aromatics, warming spices, cauliflower florets and basmati rice simmered in stock then mixed in with a few big handfuls of spinach and salty, pan-fried halloumi. Top off with fresh herbs and a squeeze of lemon juice for bright and zesty finish!
Ingredients
1 pack (225g | 8 oz ) halloumi, cut into 1/2 inch slices and patted dry
2 tablespoons oil (30 ml)
1 medium onion, diced (any color)
1/2 teaspoons salt, plus more to taste
3 cloves garlic, minced
1 inch chunk ginger, grated
1-2 red chili, sliced (type of chili is up to you)
1 tablespoon curry powder
1 teaspoon ground turmeric
1 1/2 cups uncooked basmati rice, rinsed (300g)
1 medium head cauliflower, cut into 1 1/2-inch florets (about 680g | 1.5 pounds)
3 1/2 cups vegetable stock (840 ml)
3 cups spinach (90 g)
2 spring onions, sliced
1/2 cup fresh parsley, chopped (about one big handful)
lemon or lime slices for serving
Instructions
Add 1 tablespoon oil to a large pan over a medium heat. (Choose a pan with a fitted lid for later.) When the oil is hot and shimmery, add the halloumi slices. Cook about 3-4 minutes until golden brown on the bottom. Use a good spatula to flip. Cook 3-4 minutes until golden on the other side. Transfer the halloumi to a cutting board and cut the slices into smaller squares. Set aside.
Place the pan back on the heat. Add the onion and 1/2 teaspoon salt. Cook about 8-10 minutes, stirring often until softened.
Add the garlic, ginger and chili to the onion. Stir and cook another 2 minutes.
Mix in curry powder and turmeric then add the cauliflower florets and rice. Mix until well coated in spice.
Add the stock and stir. Try to ensure that the rice is fully covered with liquid and the cauliflower florets are mostly submerged.
Bring to a gentle simmer. Stir one more time, making sure to get the bottom of the pan, then cover with a fitted lid and turn the heat down to the lowest setting.
Cook for 15 minutes then turn off the heat. Place spinach and halloumi on top of the rice (don't stir it in) then cover with the lid and leave alone without touching for 10 minutes.
Remove lid, add spring onions and parsley then stir everything together. Taste and season with more salt if needed. Serve with lemon or lime slices on the side to squeeze over the top and enjoy.
Notes
Leftovers: Store cooled leftovers in an airtight container in the fridge for about 2 days.
Prolong Fridge Life: To make this recipe more suitable for meal prep or to prolong the freshness (4-5 days in the fridge), don't add spinach to the whole pot. Instead, mix it into individual portions just before serving.
Halloumi Tips: Halloumi usually comes stored in briny water. Make sure to drain the excess brine and pat the cheese dry as much as possible before cooking. Excess water will quickly cool down the hot pan making it prone to stick. Unless you're using a non-stick teflon pan or well-seasoned cast iron, expect the halloumi to stick to the pan a little. Just use a good spatula to scrape off stubborn halloumi. These stuck on bits are crispy and delicious so don't sweat it!
Oil: Choose a cooking oil with a high smoke point (like vegetable oil or avocado oil) when frying the halloumi. Ghee works as well. Olive oil has a lower smoke point than vegetable/avocado, but can be used for frying if you watch the temperature. Coconut oil has a low smoke point so it's not ideal here.
Curry Powder: Feel free to use whatever curry powder/ spice level you like here - this recipe is not meant to be an authentic Indian curry rice. Choose a hot curry powder (like Madras curry powder) to make it spicy or a mild powder (like garam masala or yellow curry powder) for less spice.
Rice: I recommend you choose a white, long grain rice like basmati or jasmine rice. You can also use a medium or short grain rice if that's all you have available, but the overall texture of your finished dish will be much stickier and starchier - just like those rice types.
I don't recommend wild or brown rice as they require a different rice to liquid ratio and longer cooking time.
Stock or Broth: Chicken stock or broth is also a great option if you don't need to keep this dish vegetarian friendly. Choose a low sodium stock/broth if you'd like more control on the saltiness of this dish. Keep in mind that Halloumi is a salty cheese so you don't need as much salt as you normally might use.
Nutrition Information
Yield:

6
Serving Size:
1.5 cups
Calories:

397
Total Fat:

16g
Saturated Fat:

7g
Carbohydrates:

48g
Fiber:

4g
Sugar:

4g
Protein:

16g
This website provides approximate nutrition information for convenience and as a courtesy only. Nutrition data is gathered primarily from the USDA Food Composition Database, whenever available, or otherwise other online calculators.
More Delicious Rice Dishes