Fluffy white rice with creamy cannellini beans tossed with fresh veggies and herbs and dressed in a super simple yet satisfying lemon-garlic vinaigrette. This Mediterranean Bean & Rice Salad uses simple ingredients to create big flavours! Serve up as a side salad or bulk out this recipe with extra protein like grilled chicken or tofu to make for a more filling main dish. | Gluten Free + Vegetarian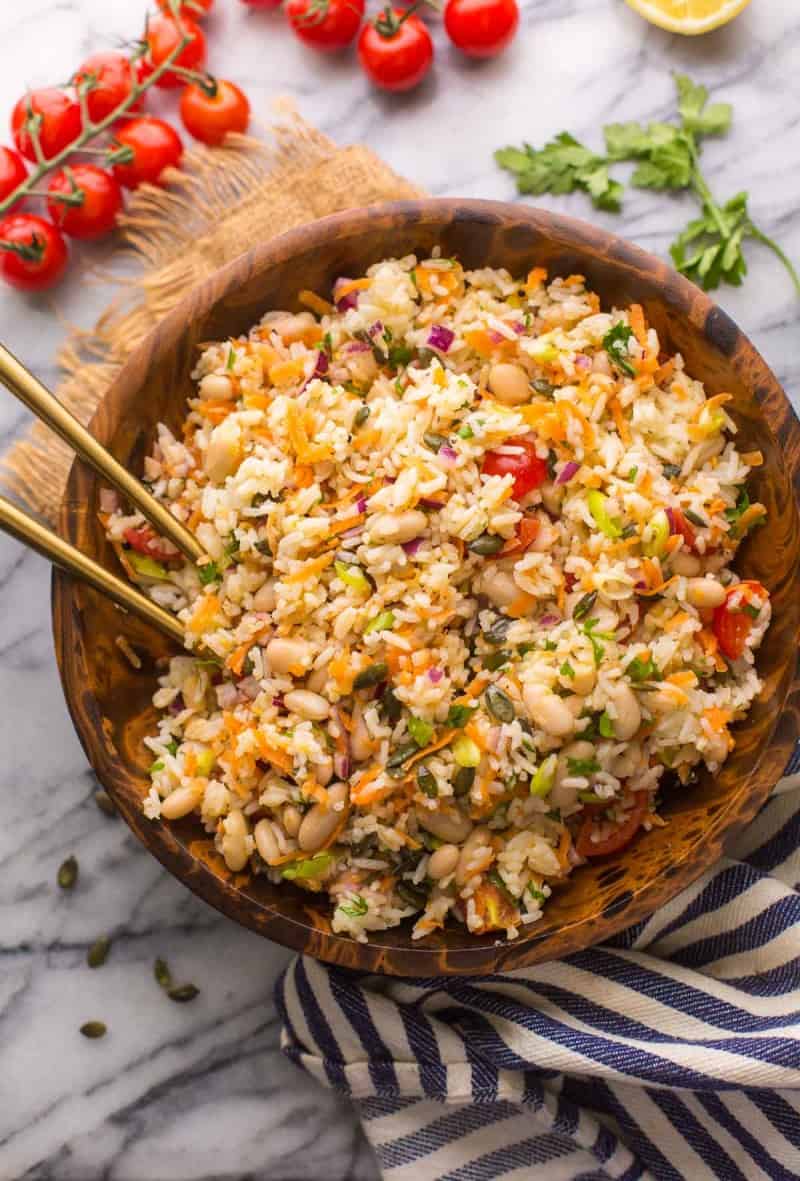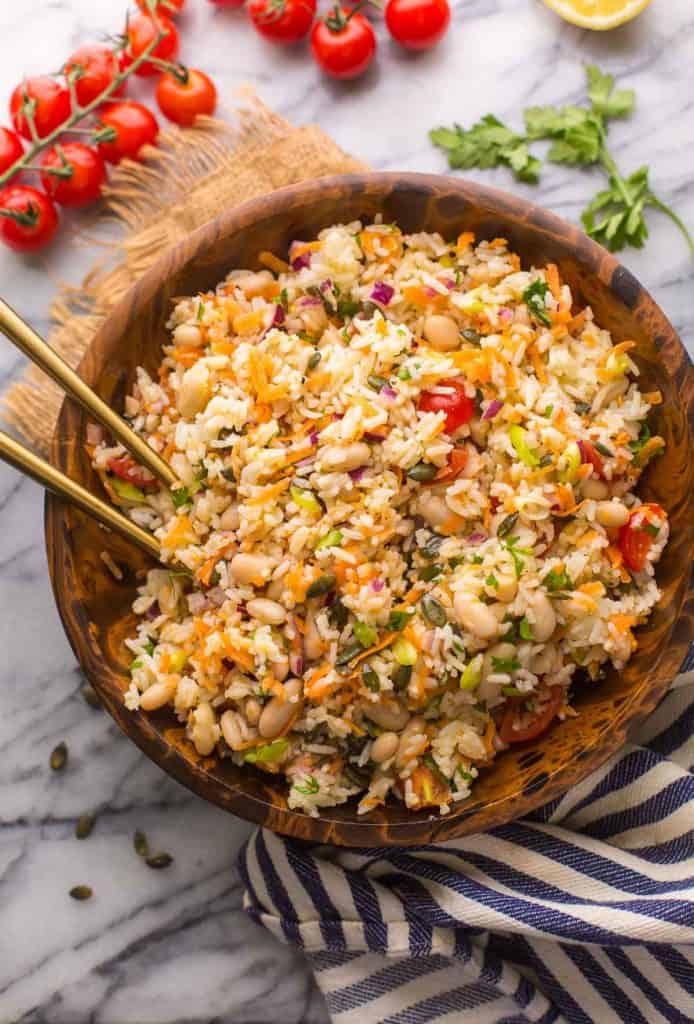 How to Make Fluffy Rice
The key to make this salad is to correctly cook this rice so that it's light and fluffy as opposed to wet and mushy. I played around with the ratio and cook times and found that using 1 cup of dry long grain rice (in this case I used basmati rice) to 1 1/2 cups of water worked this best. Using less water made for rice that was a bit too al dente and I often ended up need to add more water to finish the job.
Once you know that right rice to water ratios and the cook time – making fluffy white rice is a breeze!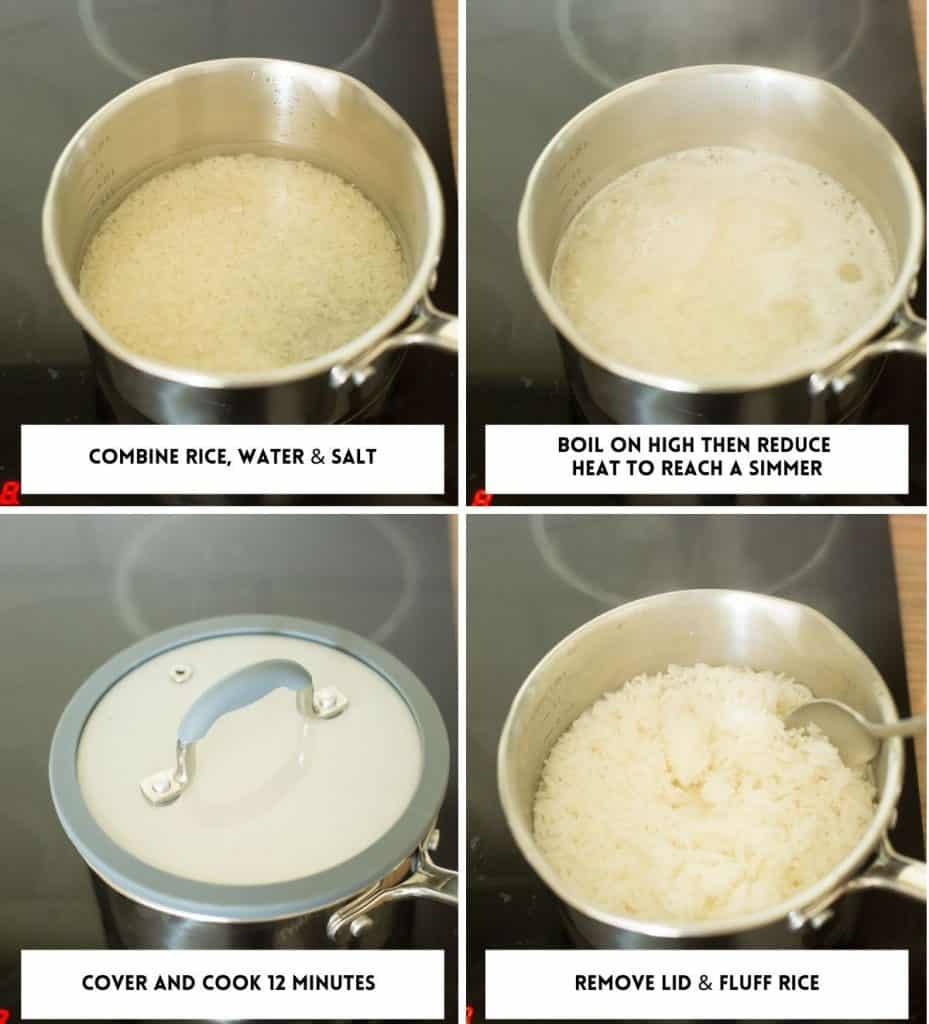 Combine. Mix together rice, water and a pinch of salt in a small sauce pan.
Boil. Bring the water to a boil over a high-heat. You want it to reach a rolling boil for about 20-30 seconds. Don't worry about exact times – this is just an estimate to give you time to observe the change and react accordingly.
Simmer. Reduce the temperature so that the water maintains a gentle simmer (look for gentle bubbles – just before boiling).
Cover & Cook. Place a fitted lid over the pot and let cook 10-12 minutes. Try not to peak at your pot sooner than the 10 minute mark. After 10 minutes peak under the lid to check the liquids. If your pot looks dry, turn off the stove and remove the pot from the heat. Keep the lid on another 5 minutes then remove the lid and fluffy the rice. Keep set aside until you're ready to mix your salad.
Tips
Rinse your rice before cooking. Rinsing your rice before cooking helps remove excess starch which can make for sticky rice even after cooking. However, once you add the lemon-garlic vinaigrette to the rice salad, the stickiness pretty much completely goes away. Rinsing your rice is an optional step that's up to you.
Don't stir after you put the lid on. While the rice is still cooking and absorbing the liquids – avoid stirring the pot as much as possible. Stirring at this stage will lead to overly soft and mushy rice.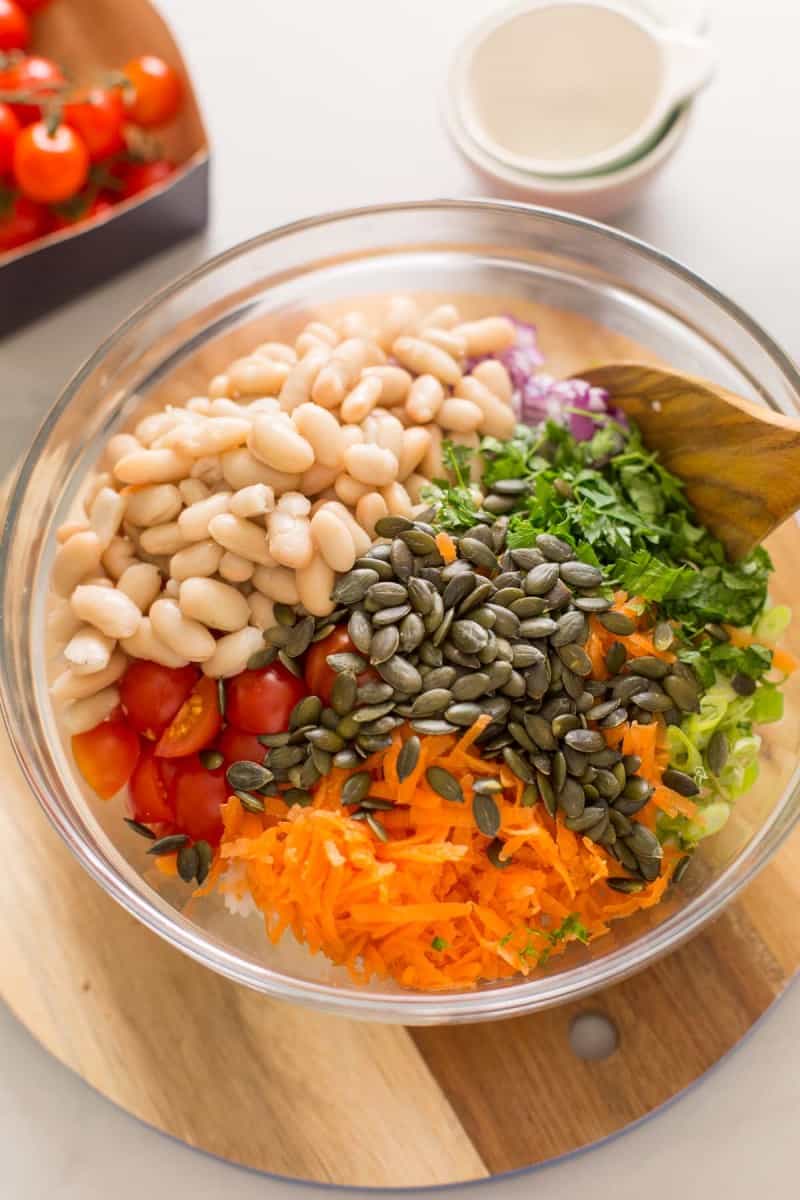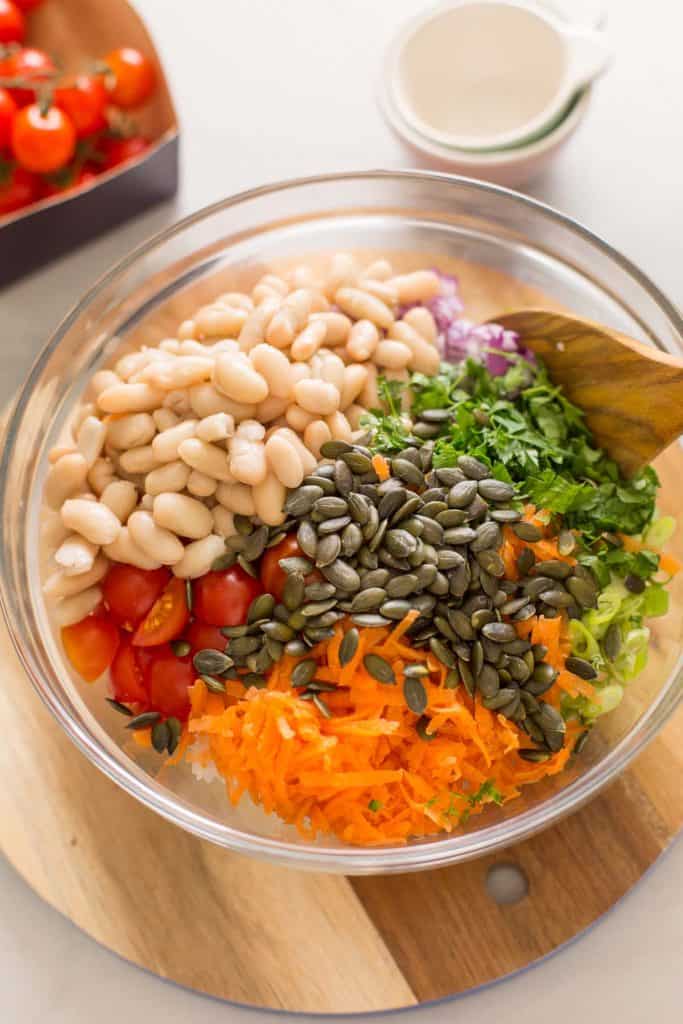 The Salad Ingredients
While the the rice is cooking you've got plenty of time to prepare the remaining salad ingredients. This salad is made up of a combination of sweet and sharp veggies that help to balance out the creamy beans, the fluffy rice and the bright and tangy lemon-vinaigrette.
The salad ingredients:
diced red onion
quartered cherry tomatoes
grated carrots
sliced scallions
fresh parsley
hulled pumpkin seeds
The vinaigrette:
olive oil
lemon juice
garlic
dried oregano
salt & pepper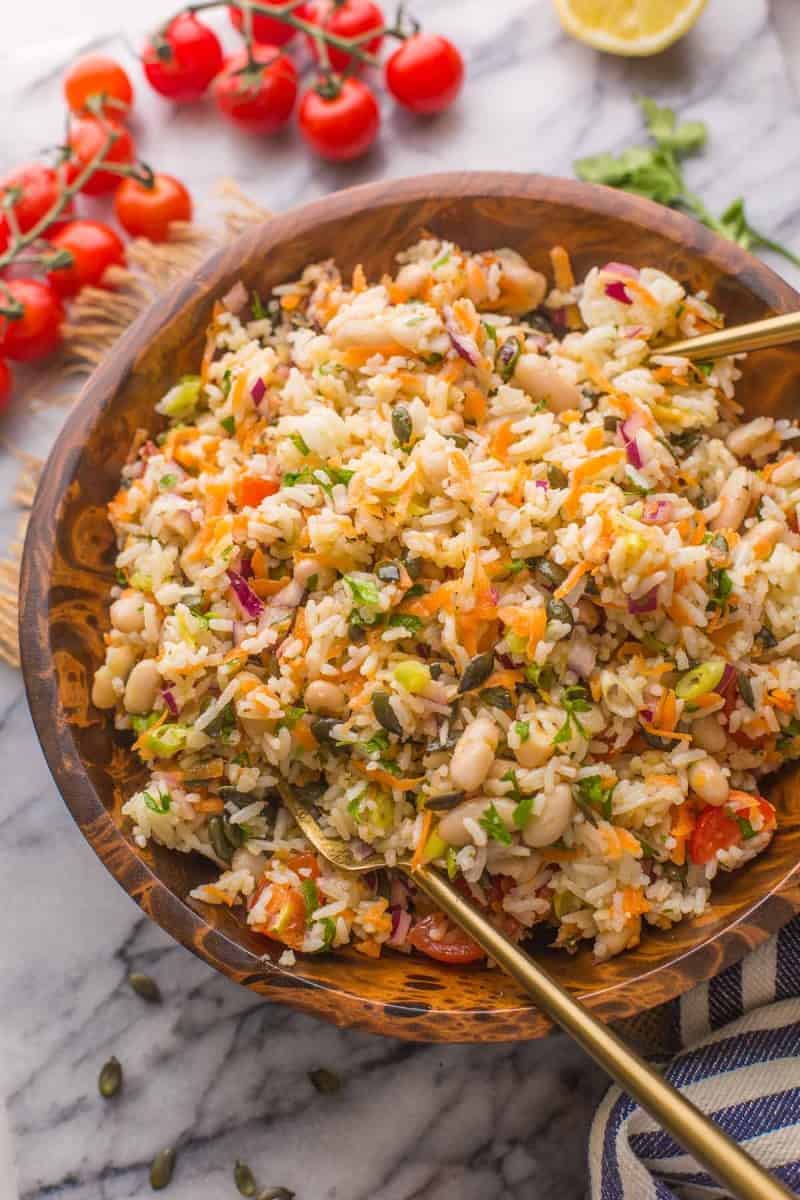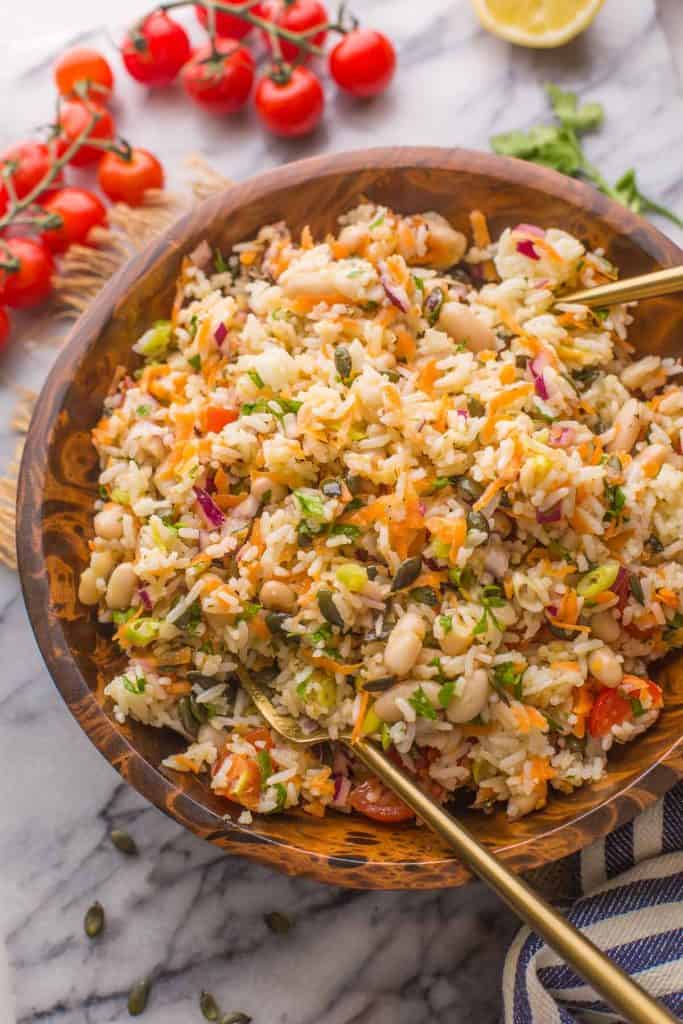 Additions & Substitutions
Feel free to play around with this recipe adding or subtracting ingredients here and there with what you have in and what you enjoy. A few ideas to get you started:
Additions
More herbs: Parsley is lovely here on its own but you can really make this salad pop even more by adding in more fresh herbs like basil, cilantro or mint.
Diced red bell pepper or sweet peppers: great for adding extra crunch and extra veg!
Sliced olives: Up the umami and lean into the Mediterranean feel with sliced olives.
Substitutions
Lemon juice >> Red wine vinegar
Red onion >> diced shallots
Parsly >> basil or cilantro
Cannellini beans >> other white beans like Northern Beans, Navy Beans or even Chickpeas
Rice >> brown rice, quinoa buckwheat (just make sure you adjust the cook time for your grains accordingly)
Serving Suggestions
This salad keeps well making it a great recipe option if you're into food prep. You can enjoy it warm, cold or at room temperature. Make it on a Sunday evening and enjoy throughout the week. If anything, this might even be better the next day once the flavours have all really started to blend together and shine.
Serve this as is for a simple side salad or bulk it out with some extra protein in the form of grilled chicken or tofu for a more filling main dish. However you choose to have it – I hope you enjoy!
By the way – if you enjoy this summery Mediterranean Bean & Rice Salad you might enjoy this Crunchy Fall Rice Salad as well! It's made up of crisp apples, crunchy veggies, roasted peanuts and more – all tossed together in a bright and punchy honey & apple cider vinaigrette!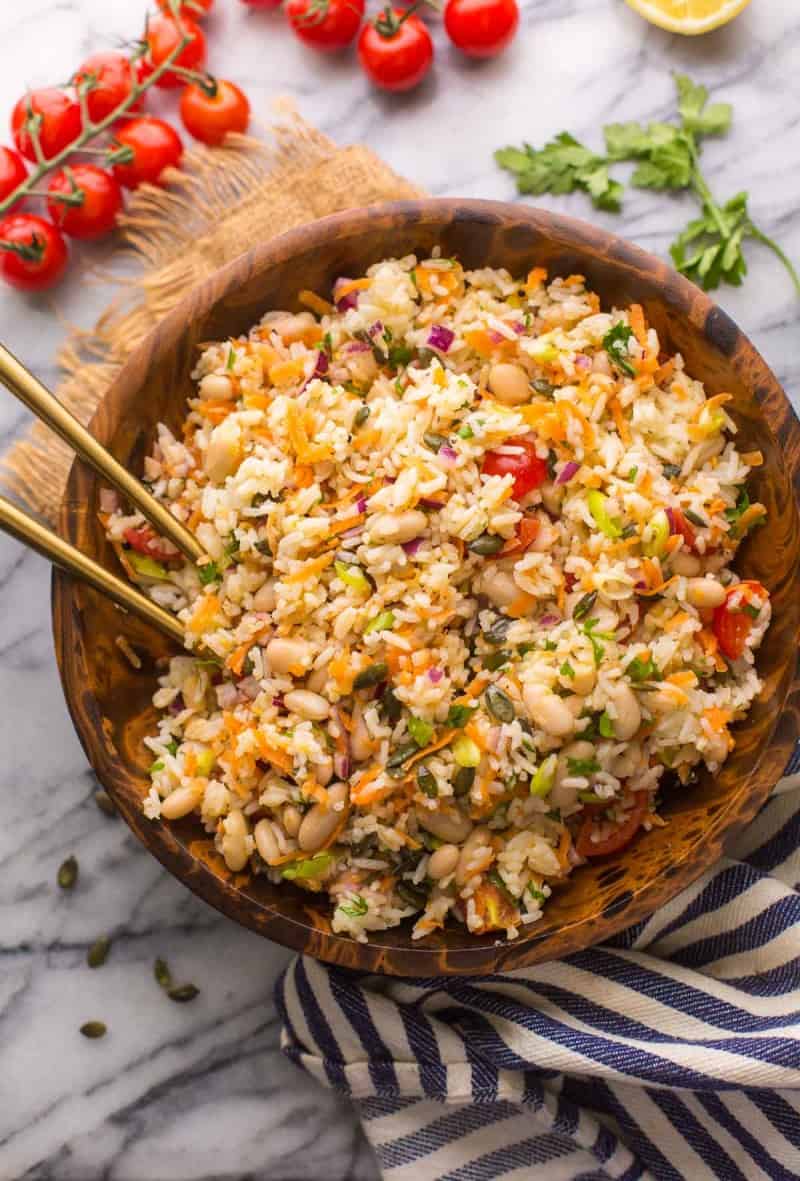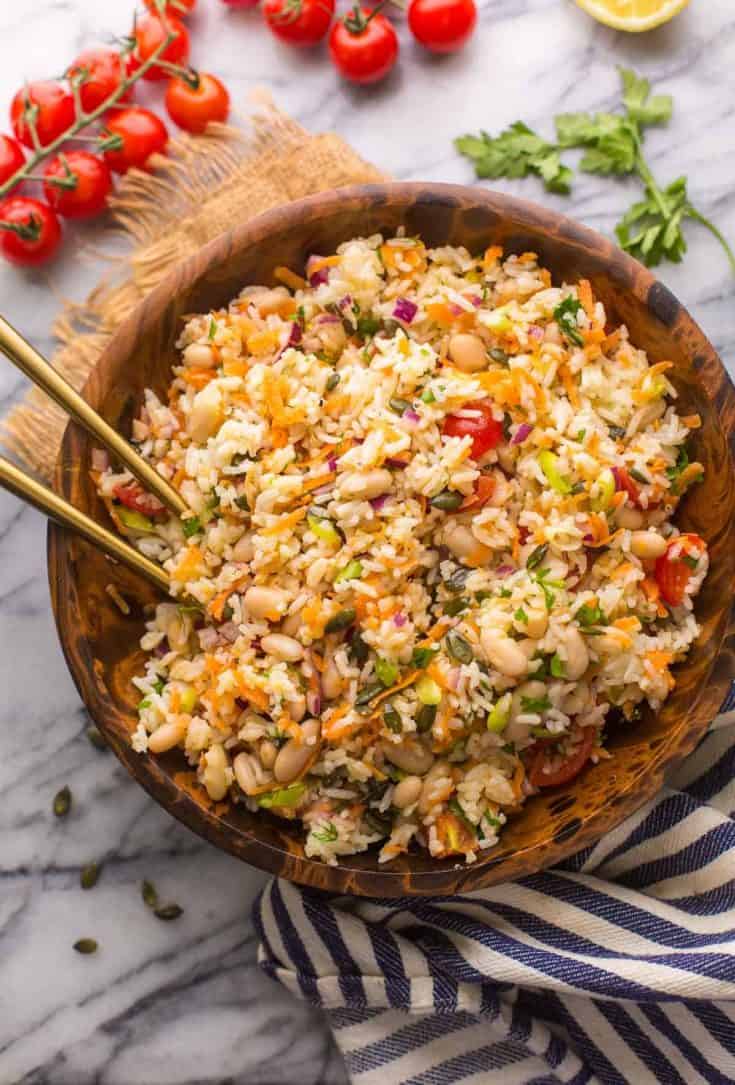 Recipe
Mediterranean Bean Rice Salad
Yield:
6 servings
Prep Time:
10 minutes
Cook Time:
15 minutes
Total Time:
25 minutes
Fluffy white rice with creamy cannellini beans tossed with fresh veggies and herbs and dressed in a super simply yet satisfying lemon-garlic vinaigrette. This Mediterranean Bean Rice Salad uses simple ingredients to create big flavours! Serve up as a side salad or bulk out this recipe with extra protein like grilled chicken or tofu to make for a more filling main dish. | Gluten Free + Vegetarian
Ingredients
Rice
1 cup |200 dry basmati white rice
1 1/2 cup | 360 ml water
pinch of salt
Vinaigrette
1/2 cup | 120 ml extra virgin olive oil
3 tablespoons |45 ml lemon juice
1 teaspoon | about 3 cloves garlic
1/2 teaspoon dried oregano
1/2 teaspoon salt and pepper each + more to taste
Salad
1 can | 15 oz cannellini beans, drained and rinsed
1 medium carrot, grated
1/4 cup red onion finely diced
2 cups cherry tomatoes, cut into quarters
3 green onions, sliced
1/2 cup parsley, chopped (measure after chopping)
1/4 cup pepitas (hulled pumpkin seeds)
Instructions
Rice Prep
Add the rice, water and pinch of salt to a small pot over a high heat. Set the heat to high and bring the rice to a boil.
Once boiling, turn the heat down medium or medium-low to maintain a gentle simmer. Add a fitted lid and let cook about 10-12 minutes until the liquids have mostly evaporated.
Keep the lid on, but remove the rice from the heat. Set aside for about 5 minutes then remove the lid and fluff up the rice.

Salad Prep
Make the Vinaigrette: Combine all of the vinaigrette ingredients in a small cup or jar and whisk until well combined. Taste and season with more salt, pepper and lemon juice as needed. Set aside.
Prepare the remaining salad ingredients as needed: grate the carrots, dice the tomatoes, chop the parsley and green onions and drain the beans.
Combine: Once the rice has been cooked and slightly cooled, add it to a large salad bowl along with the beans, onions, parsley, tomato, carrot, feta and seeds. Toss to combine.
Add dressing: Pour the vinaigrette over the the salad and toss again until everything is well coated in dressing. Taste the salad and season as you see fit and enjoy.
Leftovers: Store leftovers covered in an airtight container in the fridge for up to 5 days.

Notes
Substitutions
red onion >>> shallots
pepitas >> sun flower seeds or sliced almonds
Additions
crumbled feta, diced bell peppers, fresh basil or mint

This website provides approximate nutrition information for convenience and as a courtesy only. Nutrition data is gathered primarily from the USDA Food Composition Database, whenever available, or otherwise other online calculators.
More Grain Based Dishes You Might Enjoy