Easy Sautéed Corn & Courgette Salad – a simple, filling and flavourful summer salad! Sweet, sautéed corn and zucchini (courgettes) lightly seasoned with salt and lemon, mixed in with peppery arugula, bright spring onions and sprinkled with creamy feta and pine nuts. Make this salad vegan friendly by either skipping the feta or using your favourite dairy free alternative instead. Make sure to read the recipe notes if you're looking for Low FODMAP options! | Gluten Free + Vegetarian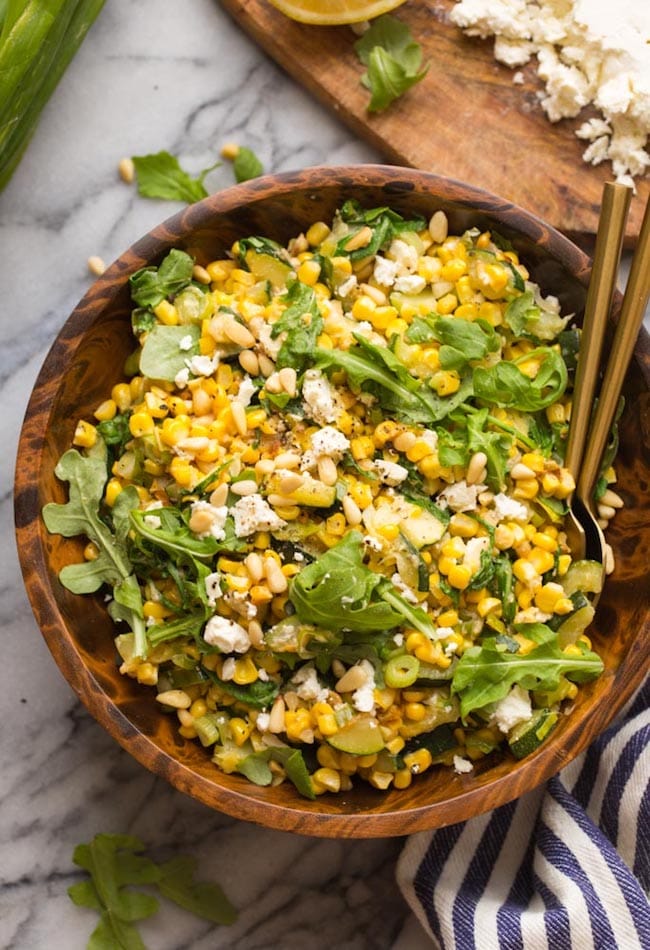 Did you know that courgettes (AKA zucchini) are technically fruits? I feel like that's a fact I've learned a million times over but instantly delete from my brain the second it's not immediately relevant.
You can go ahead and file that fact away under: things that make you go 'huh'. You can also go ahead and file this salad under: things that make you go 'yum!'
Did that last sentence sound as cringe as it felt to write? At any rate – let's get on with the cooking!
How to Make this Sautéed Corn & Courgette Salad
The Prep
First things first – start with the prep. The prep itself isn't overly complicated as it's basically just a matter chopping everything up. When it comes to prepping the courgette – the idea is to cut them up into small pieces that are a little large than a large corn kernel. Making them roughly the same size will mean that everything cooks evenly and in less time overall.
If you want to save yourself a little time, feel free to use canned corn or corn already removed from the cob. You can also use frozen corn, but I recommend defrosting the corn before adding it to your skillet so that it doesn't release too much water into pan as everything cooks.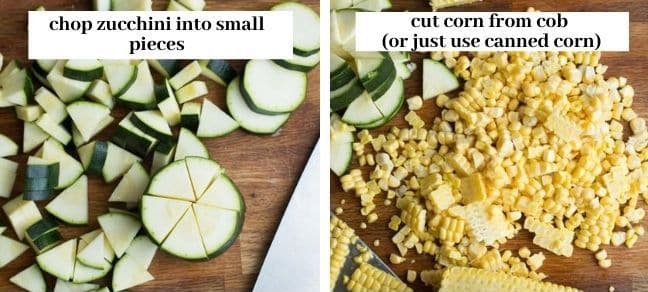 The Cook
When you're ready to cook, warm up the olive oil or butter in a large skillet and add your garlic. Cook just a minute or so until the garlic is nice and fragrant, then add the corn and courgette.
Give everything a good stir, then let cook for about five minutes before adding the green onions. You can turn the heat up to high at this point as all of the excess water released from the corn and courgette will keep the garlic from burning.
Once the courgette is as tender as you'd like it to be, turn the heat off and add in your remaining ingredients: feta, rocket, lemon juice and pine nuts. Season everything with some fresh lemon juice, ground black pepper and more salt as needed and that's it!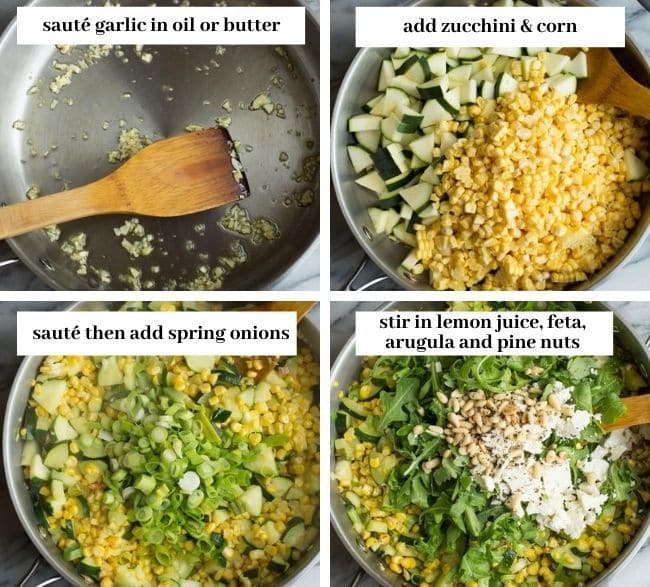 Corn & Courgette Salad Tips & FAQ's
What's the difference between zucchini and courgette?
Nothing other than the name – they're the same thing! Zucchini comes from the Italian word 'zucchino' which means 'tiny squash'. Courgette means the same thing except in French. It's the name more commonly used by French and British people.
How do I make this low FODMAP?
Instead of using fresh garlic, cook the zucchini and corn in garlic infused olive oil. This will allow you to still get the flavour without actually eating garlic. Alternatively, you can just skip the garlic altogether and use plain olive oil/butter.
Make sure to use the green parts of the spring onion only. The whiter parts on spring onions are high in FODMAPs and should be avoided.
How do I make this Vegan?
Medium or large courgettes work best here.
The smaller the squash, the higher the water content. I recommend medium or large courgettes in this recipe as they are not as likely to go too soggy from overcooking.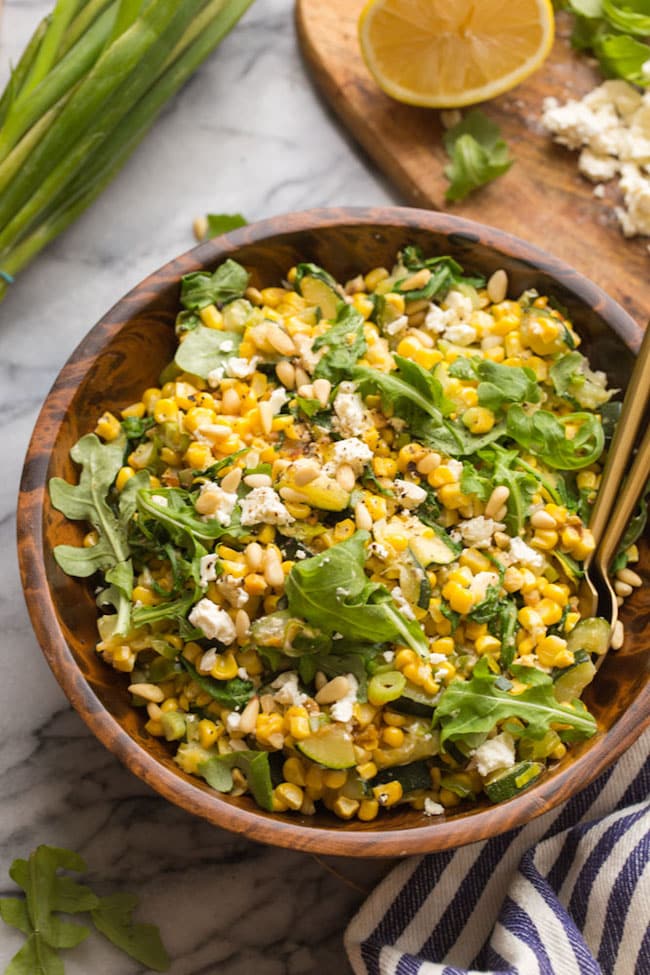 Enjoy!
FACEBOOK | INSTAGRAM | PINTEREST
Don't forget to tag #asaucykitchen on instagram if you this Sautéed Corn & Courgette Salad! I love seeing what you make! You can also post your pictures to my facebook page!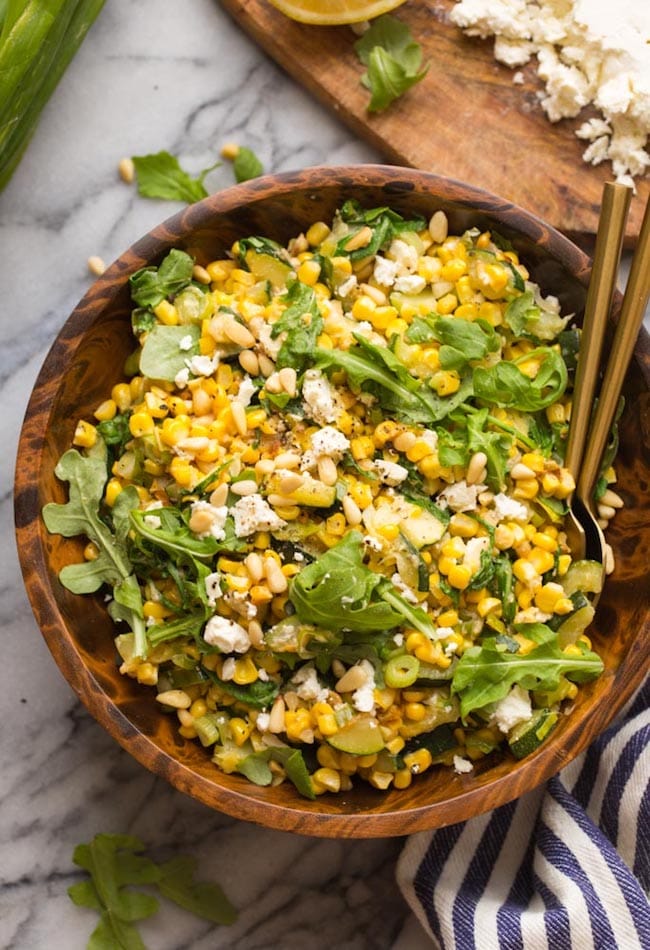 Recipe
Sautéed Corn & Courgette Salad
Prep Time:
10 minutes
Cook Time:
15 minutes
Total Time:
25 minutes
Ingredients
3 tablespoons olive oil (45 ml) or butter (42 g)
1 tablespoon minced garlic, about 3 cloves worth
3 medium courgette (zucchini) cut into bite-sized pieces
4 large ears of corn, corn removed from cob or 3 cups corn kernals
1/4 teaspoon salt + more to taste
1 bunch spring onions, chopped or about 3/4 cup
2 teaspoons lemon juice
2 oz crumbled feta
3 cups rocket (arugula)
1/4 cup pine nuts
Freshly grated black pepper to taste
Instructions
Warm the olive oil or butter in a large skillet over a medium heat then add the garlic. Cook the garlic one minute stirring constantly.
Add the zucchini and corn to the skillet, sprinkle with the 1/4 teaspoon salt and cook stirring occasionally for 5 minutes.
Add the spring onions and continue to cook another 3-5 minutes until the zucchini is as tender as you like.
Turn off the heat and add the feta, rocket/arugula and pine nuts. Season with lemon juice and pepper and more if needed.
Toss everything together until combined. Taste and season as you see fit and enjoy.
Notes
Make it Low FODMAP:
Instead of using fresh garlic use a garlic infused olive oil to sauté the veggies. Just make sure the olive oil is FODMAP friendly - there should be no garlic pieces floating around in the oil.
You can also just skip the garlic/garlic flavour altogether.
Make sure to use only the green parts of the spring onions.

Make it Vegan:
This website provides approximate nutrition information for convenience and as a courtesy only. Nutrition data is gathered primarily from the USDA Food Composition Database, whenever available, or otherwise other online calculators.
More zucchini recipes you might enjoy: