Zucchini Crust Breakfast Pizza topped with sliced asparagus, cherry tomatoes, eggs, and a sprinkling of parmesan cheese. Grain Free option too!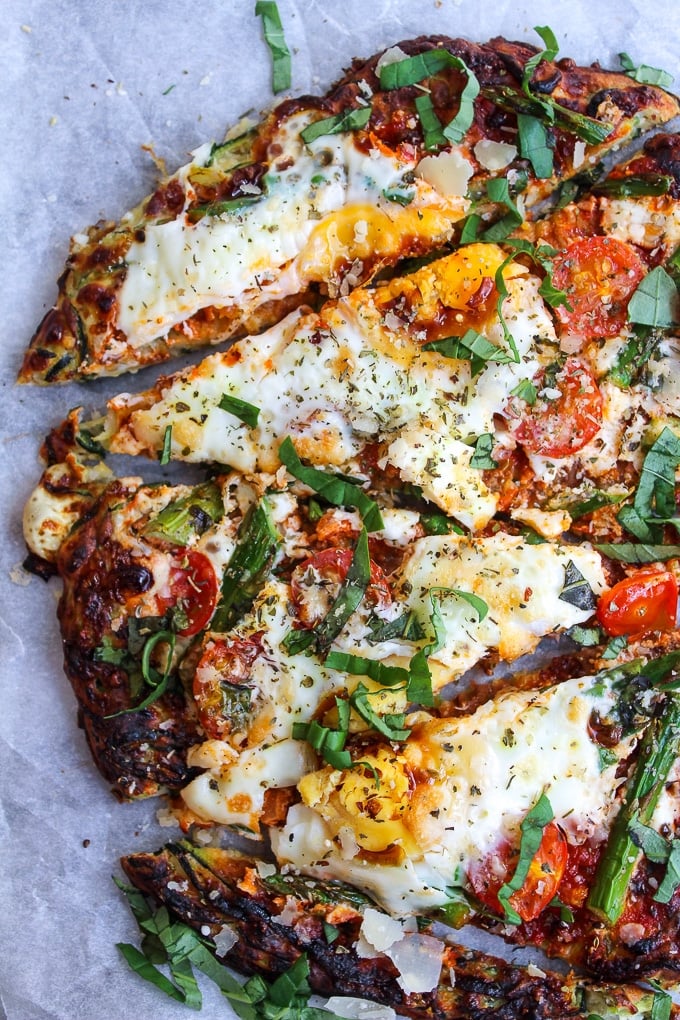 You know when you look at a word for so long that it starts to look like  hieroglyphics? Yeah, well that's how I'm feeling about 'zucchini' right now. I mean what is that? I've spent the last 10 minutes going through Google Keyword Search trying to find the best title for this recipe that nothing makes sense anymore. Blogging is nuts.
Right then.
Enough about titles and more about this breakfast pizza!
The first time I made a veggie crust I ended up with the saddest, soggiest, and most tasteless pizza you could imagine. I did everything wrong and was completely soured on the idea of all future vegetable based pizzas.
No.
Thanks.
But then I ended up stumbling on this recipe for a zucchini crust pizza and now I'm officially sold on the whole veggie based pizza deal.
The end result is a sturdy, semi-crunchy crust that's anything but sad and/or soggy. Plus, it has cheese in the crust so what's not to love about that?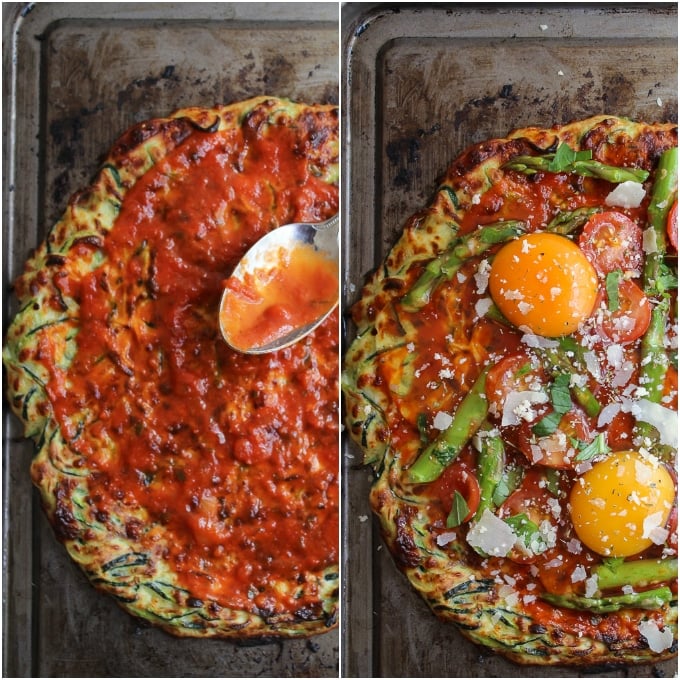 A couple things you need to keep in mind for getting this pizza crust right:
Squeeze out as much excess moisture in the zucchini as you possibly can. The more moisture in the zucchini, the soggier your pizza will be.
 Ideally you want to cook this on a pizza stone that's already been warmed in the oven. If you don't have a stone it won't get quite as crispy on the bottom, but it will still work beautifully.
Aside from doing those two things this breakfast pizza should be a breeze to make. After you pre-bake the crust you simply add the toppings and place it in the oven for another 10 or so minutes until it's done.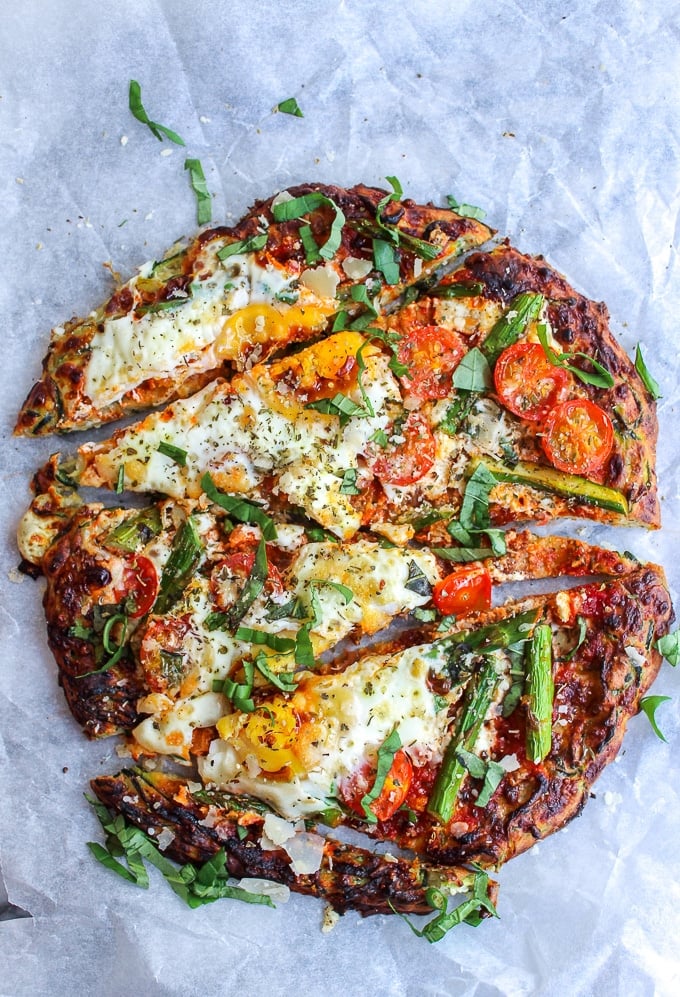 Now let's eat!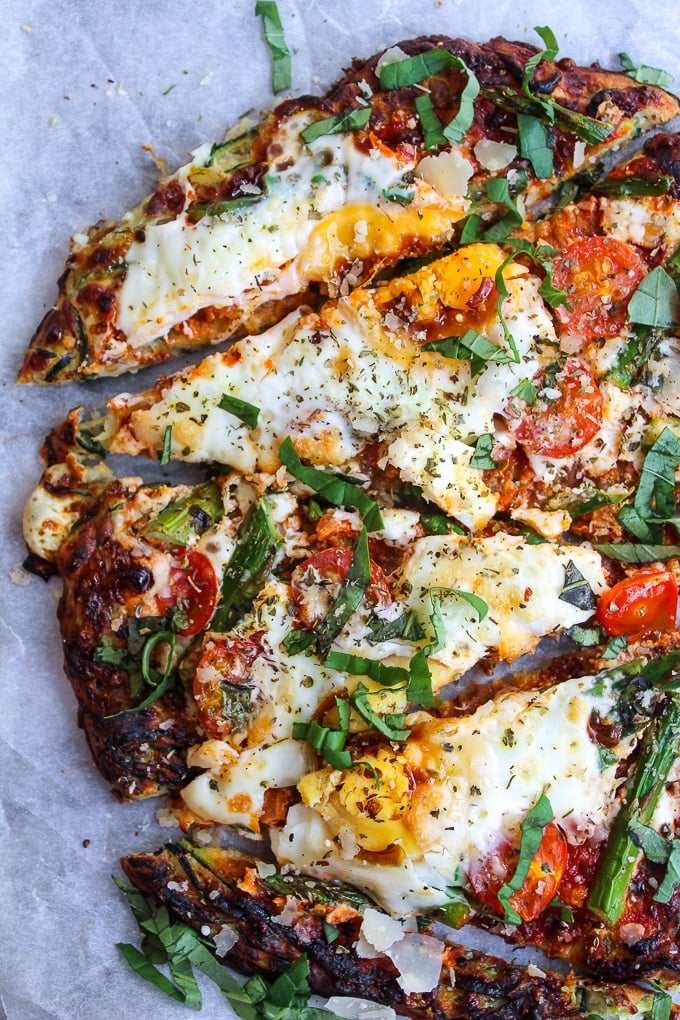 Recipe
Zucchini Crusted Breakfast Pizza
Yield:
6 slices
Prep Time:
20 minutes
Cook Time:
25 minutes
Total Time:
45 minutes
Zucchini Crusted Breakfast Pizza topped with sliced asparagus, cherry tomatoes, eggs, and a sprinkling of parmesan cheese.
Ingredients
Zucchini Crust
4 cups shredded or spiralized zucchini - 2 large zucchinis
1/2 cup shredded mozzarella cheese, 56 grams
1/3 cup gluten free all purpose flour *, 47 grams
1 cloves garlic, pressed or minced
1 teaspoon dried oregano
1 teaspoon basil
1 egg, beaten
1 1/2 teaspoon salt divided
Toppings
2 tablespoons pizza sauce
3 asparagus stalks, sliced in half and cut into 2 inch long pieces
6 cherry tomatoes, sliced
1 tablespoon olive oil
salt/pepper
2 eggs
2 tablespoons grated parmesan
fresh basil/herbs optional
Instructions
Preheat oven to broil 550°F/290°C with a pizza stone or cookie sheet heating up in it.
In a large bowl, toss the zucchini with 1 teaspoon coarse salt and set aside for 15 minutes. Squeeze the excess moisture out of the squash by wrapping it up in a clean tea towel or piece of cheese cloth and wringing it out. Get rid of as much excess moisture as you can.
Once all of the excess moisture has been wrung out and discarded, place the zucchini back into the bowl and add the cheese, flour, garlic, oregano, basil, eggs, and remaining 1/2 teaspoon salt. Mix everything together with you hands.
Place the zucchini mixture onto a piece of parchment paper at least 12" in diameter. Spread the zucchini crust to form a circle about 10" in diameter, 1/4" thick. Pinch the edges up so that it forms a crust. Once the pizza crust has been shaped, transfer the crust on the parchment paper onto the heated pizza stone in the oven. Bake for 8-10 minutes or until the crust starts to brown.Remove the crust from the oven.
In a small bowl toss the sliced tomatoes and asparagus stalks in olive oil, salt, and pepper. Spread a thin layer of pizza sauce across the top of the crust. Sprinkle sliced cherry tomatoes and asparagus chunks over the top of the pizza.
Lower the heat to 400°F/200°C and place the pizza back in the oven for another 8 minutes. Remove the pizza from the oven, carefully crack two eggs over the top of the pizza. Sprinkle with parmesan and place back in the oven for another 3-4 minutes or until the eggs are cooked.
Remove from the oven for the last time, sprinkle with additional parmesan and chopped herbs. Allow the pizza to cool for a few minutes before slicing and serving.
Notes
*the flour can be subbed for almond flour/meal to make this grain free This pizza is best enjoyed right away.
Nutrition Information
Yield:

6
Serving Size:
slice
Calories:

140
Saturated Fat:

2g
Cholesterol:

90mg
Sodium:

735mg
Carbohydrates:

11g
Fiber:

2g
Sugar:

4g
Protein:

8g
This website provides approximate nutrition information for convenience and as a courtesy only. Nutrition data is gathered primarily from the USDA Food Composition Database, whenever available, or otherwise other online calculators.