Vegetarian Zucchini Lasagna Rolls filled with spinach, ricotta, and a chunky homemade marinara sauce. Gluten free, Grain Free, Low Carb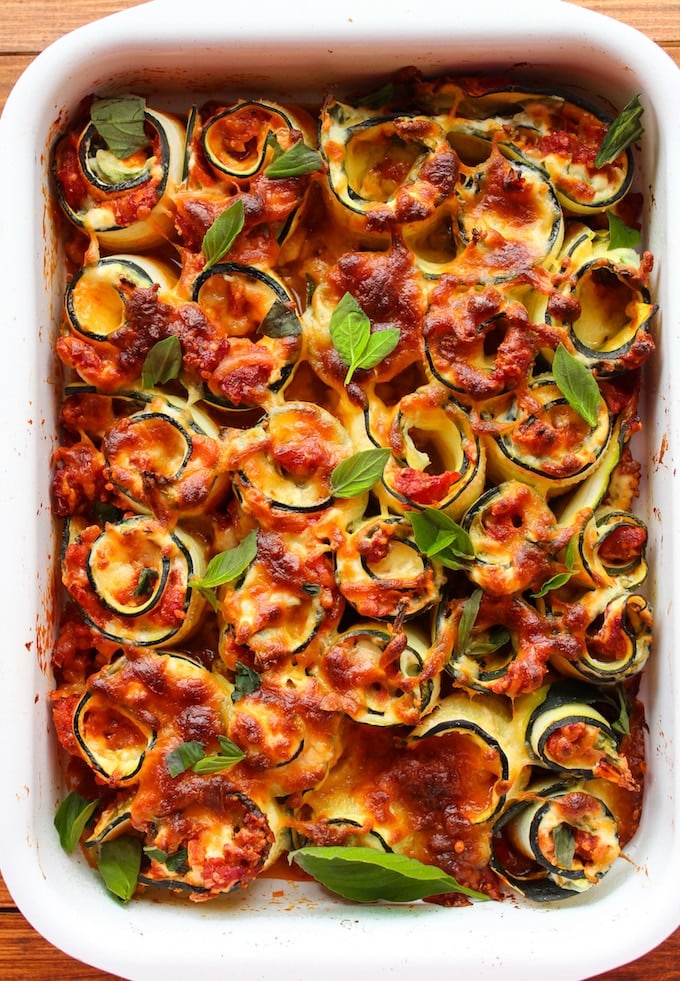 Ok listen. I realize that this zucchini lasagna looks extra fancy (translation: more work) because of all the spirals and everything, but hear me out….
They're not actually hard to make at all! It only took me an extra 10 minutes to stuff and roll which always goes by in no time for me since I like listening to music and podcasts when I cook.
And I mean, how cool does this look? I'm a sucker for pretty food. Not to say that the taste doesn't matter as much. It's just the cherry on top of a really fab ice cream Sunday. Ya know?
At any rate you'll forget all about how much time you may or may not have spent making this because it's that good.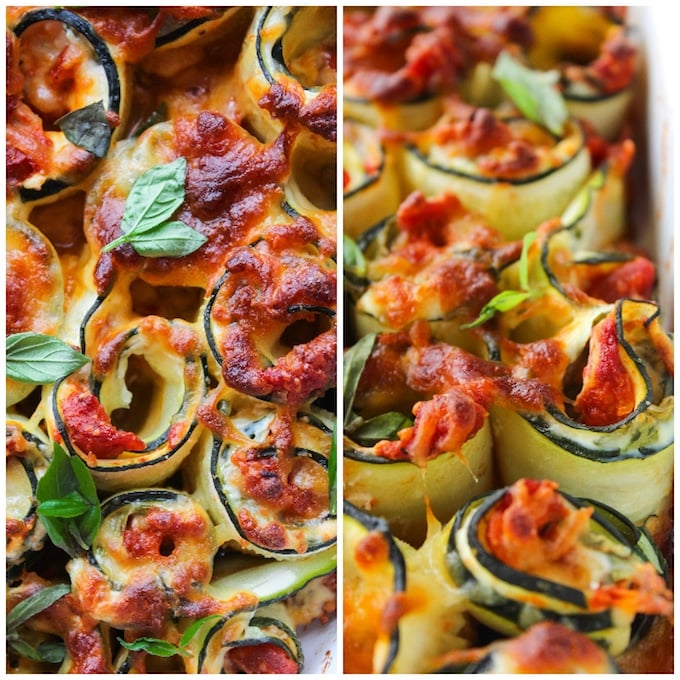 How to Make Zucchini Lasagna Spirals
There are a few ways you can go about to make your zucchini slices, but the easiest way is to use a kitchen tool. I used a handheld Mandoline slicer to get my slices, but you can also use a julienne peeler like this one to get long thin, pasta like noodles.
If you don't have access to either of those, you can slice the zucchini lengthwise by hand. Just know that it might take a little more patience slicing the zucchini to the right size. You want the zucchini to be thin enough that you can roll it up without breaking, but still thick enough to hold up when stuffed and rolled with cheese and sauce.
When your zucchini is rolled up and ready to be placed in your casserole dish make sure that you set them down so that the seam side is up against the edge of the dish. This will help prevent any rogue zucchini spirals from opening up before you've filled up your pan.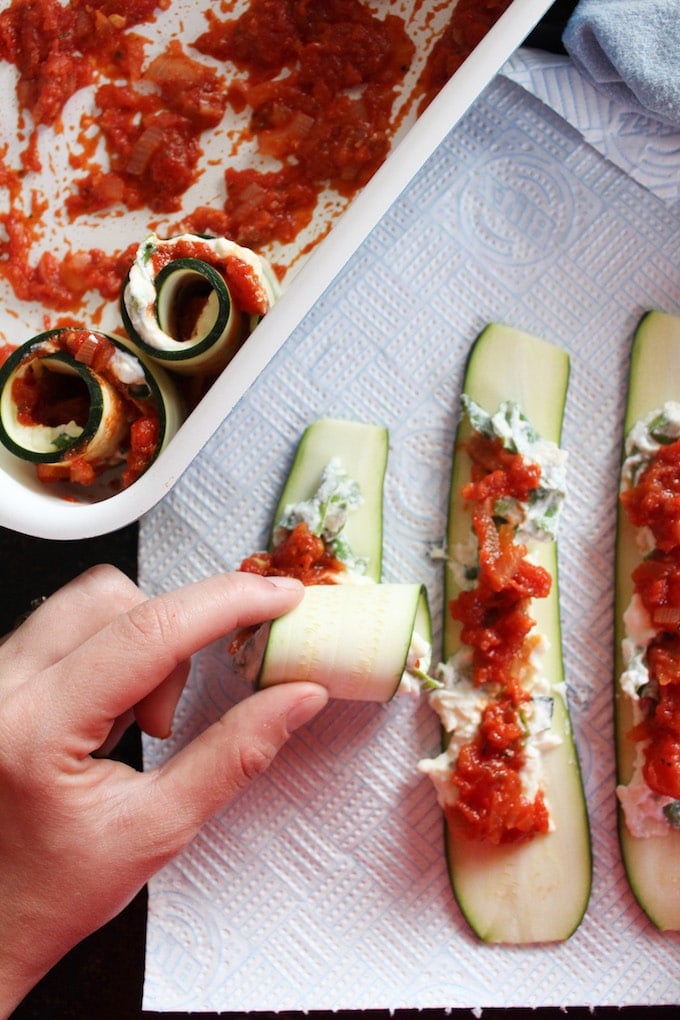 Despite being such a hearty dish this zucchini lasagna is also pretty light being that it uses zucchini as the pasta substitute and it's filled with veggies. If you have any extra garden veggies hanging around go ahead and chop up whatever you have and toss them in. You can scatter them along the bottom of the dish or mix them into the marinara.
Bonus: these make for great leftovers!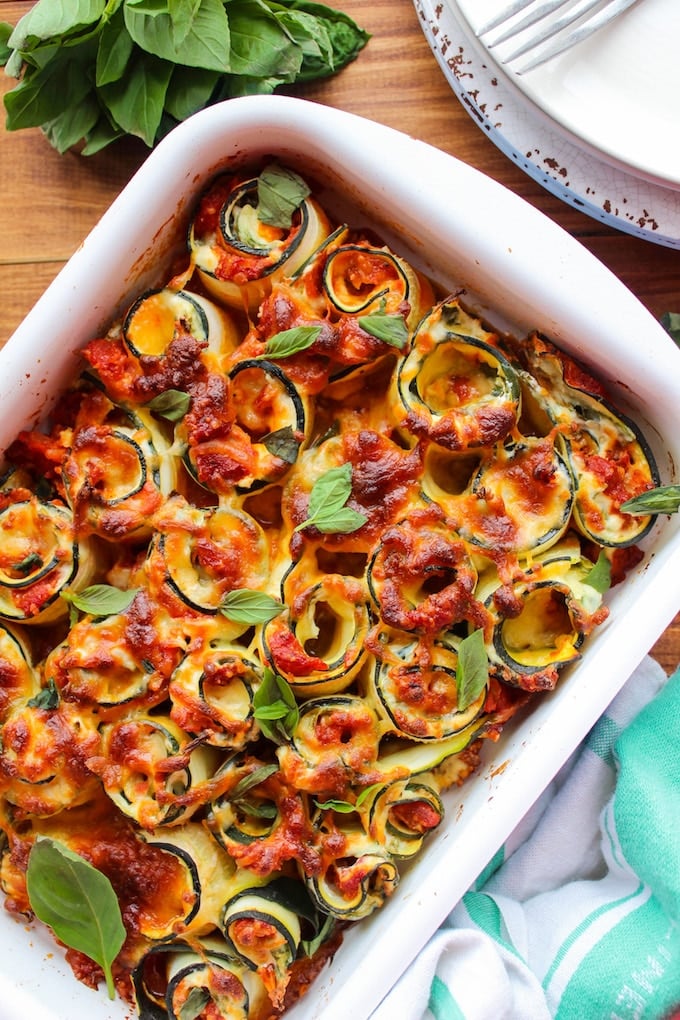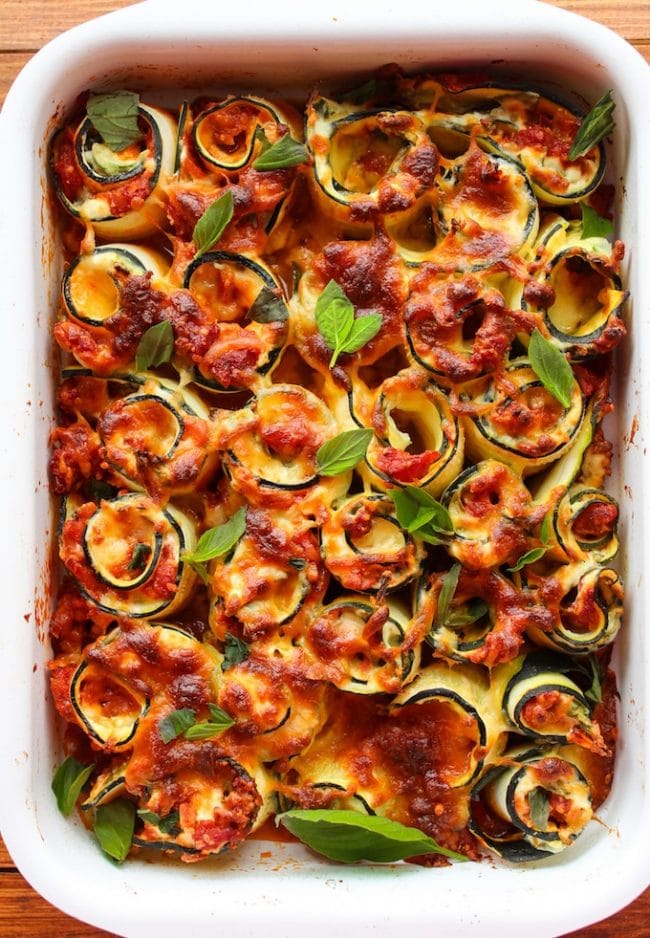 Recipe
Vegetarian Zucchini Lasagna Spirals
Yield:
6 people
Prep Time:
30 minutes
Cook Time:
45 minutes
Total Time:
1 hour
15 minutes
Vegetarian Zucchini Lasagna Rolls filled with spinach, ricotta, and a chunky homemade marinara sauce. Gluten free, Grain Free, Low Carb
Ingredients
marinara
1 tablespoon olive oil
1/2 small onion, chopped
14 ounce /390 gram can crushed tomatoes
1 garlic clove, crushed
½ teaspoon dried oregano
1 bay leaf
1 teaspoon balsamic vinegar
1 salt & pepper to taste
1 pinch of red pepper flakes
roll ups
30 oz ricotta
2 cup finely chopped spinach, measure the spinach before chopping, firmly packed
2 tablespoon basil, chopped
1 large egg
¼ cup freshly grated Parmesan cheese
10 oz mozzarella cheese, shredded | 2 1/2 cups
4 medium zucchini, thinly sliced lengthwise + salt for drawing out water
Instructions
Lay the zucchini strips out across a cooling rack (cooling rack allows excess water to drain). Sprinkle salt across the tops of the zucchini and let sit for about 10-15 minutes to let the water sweat out of the zucchini. Pat the water off the zucchini and then flip them over and repeat with the next side. Wipe off excess salt with a towel.
Warm the olive oil in a small sauce pan over a medium heat. Add the onions and sauté for about 3-4 minutes until the onion softens.
Add the remaining marinara ingredients and stir to combine. Reduce the marinara to a medium low heat and allow to simmer for at 15-20 minutes until the sauce thickens. Stir occasionally to keep the sauce from burning and sticking to the bottom. While the sauce is simmering on the stove you can prep your ricotta mixture in the steps below
Remove the sauce from the heat, take out the bay leaf, and allow the marinara to cool for a couple of minutes before handling.
Preheat your oven to 375°F/190°C
In a medium bowl mix ricotta cheese, basil, spinach, parmesan cheese, half of the mozzarella and egg. Stir well.
In a 9x13 in (22 x 33 cm) casserole dish spread 1/2 cup tomato sauce on the bottom.
Begin assembling your zucchini rolls by laying out the sliced zucchini noodles on a flat, clean work top.
Spread about 2 tablespoons of the ricotta mixture first over each individual zucchini noodle. Then, add a spoonful of marinara over the top of the ricotta.
Carefully roll up the zucchini and place them in the baking dish.
If you have any remaining tomato sauce spread it over the top of the rolls. Sprinkle parmesan and the remaining mozzarella cheese over the top.
Bake for about 45 minutes or until the cheese on top is a nice golden brown.
Notes
Technically, true parmesan cheese (officially labelled as Parmigiano-Reggiano) is not vegetarian as it must be made with calf rennet. However, you can buy vegetarian versions simply labelled 'Parmesan'. Make sure to check the labels of your cheese if it's important that you avoid animal products like this. 
Nutrition Information
Yield:

6
Serving Size:
servings
Calories:

488
Saturated Fat:

19g
Cholesterol:

140mg
Sodium:

595mg
Carbohydrates:

15g
Fiber:

2g
Sugar:

7g
Protein:

32g
This website provides approximate nutrition information for convenience and as a courtesy only. Nutrition data is gathered primarily from the USDA Food Composition Database, whenever available, or otherwise other online calculators.