Homemade ice cream sandwiched between two soft and chewy oatmeal cookies. Gluten Free & Vegan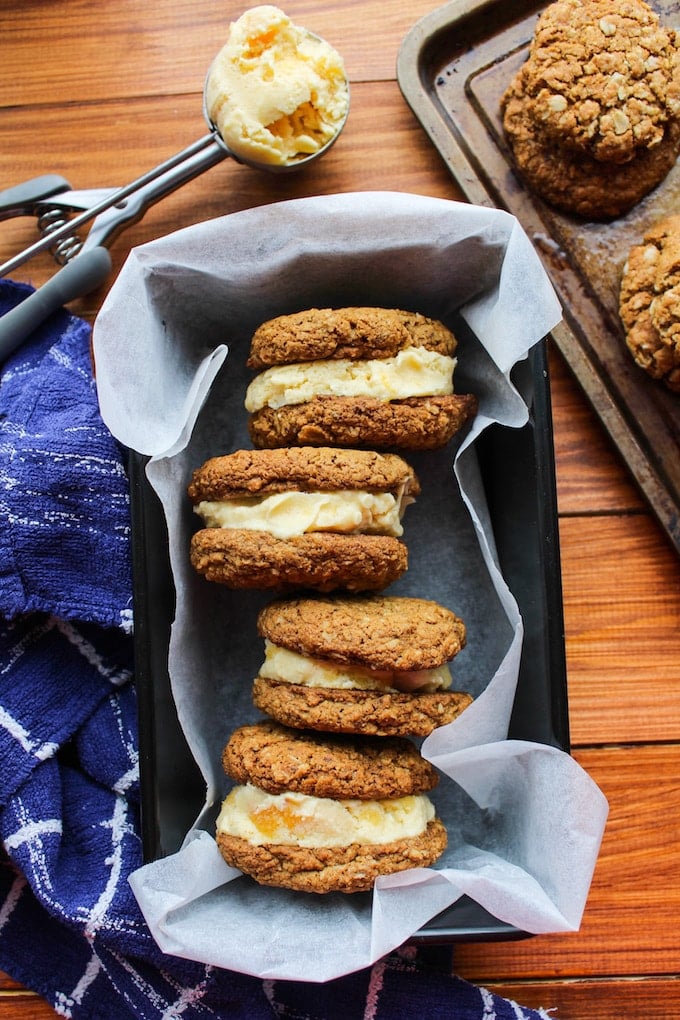 So originally I had planned on this being a recipe for oatmeal cream pies. As usual my kitchen adventures didn't go according to plan, so here we are. No oatmeal cream pies, but stacks of these oatmeal cookies that lend perfectly to turning into ice cream sandwiches.
As far as kitchen fails go I'm not counting this one.
You see, I'm trying to come up with an allergy friendly oatmeal cream pie recipe.  I want one that's gluten, dairy, egg & soy free. Ideally I'd also like it to not be loaded with tons of powdered sugar, but we'll see how it goes. While the cookie part came together easily enough, I'm struggling to come up with a decent cream filling. I want one that doesn't spill out of the sides once the cookies come together. So far my aquafaba marshmallow, as nice as it is, is a little too airy for what I need. I'm thinking it's high time I get myself some agar agar powder to play around with since it's supposed to be a great gelatin substitute. Stay tuned for a remix of my favorite ever snack food.
But enough about oatmeal cream pies – their time will come! We've got these oatmeal cookies ready to be made into ice cream sandwiches!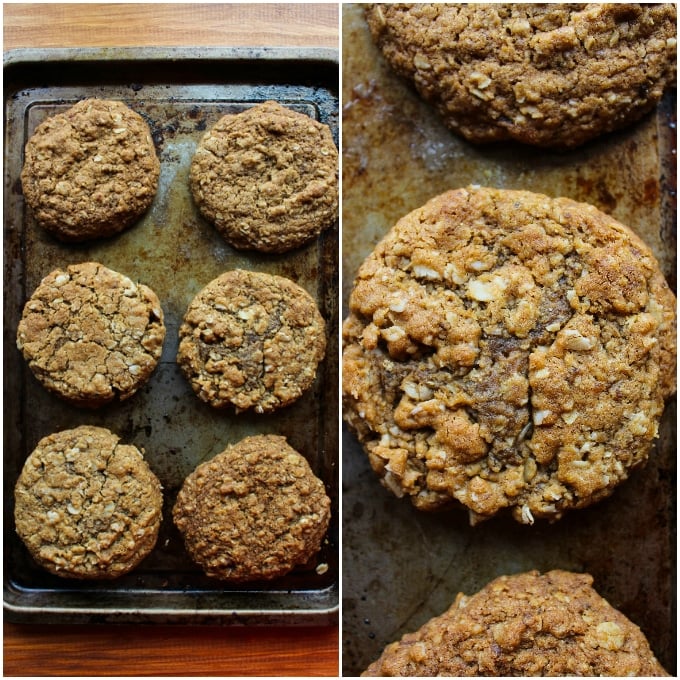 Oatmeal Cookies
The recipe for these oatmeal cookies is based off of my blueberry cookies I made a few month ago.  Those are probably still my favorite cookie recipe I've shared so far, but these ones take a close second. Since I was originally going for an oatmeal cream pie inspired recipe, I added a few extra spices plus a spoonful of molasses for a deeper flavor. I've also made these cookies vegan by swapping the egg for a flax egg, but feel free to use an egg as you normally would if you've got no problems with them.
Since I planned on turning these into ice cream sandwiches, I purposefully under baked the cookies to keep them chewy. While I'd recommend eating these fresh, if you do end up with leftovers and need to the freeze them, an under baked cookie lends itself better to biting into with cold ice cream.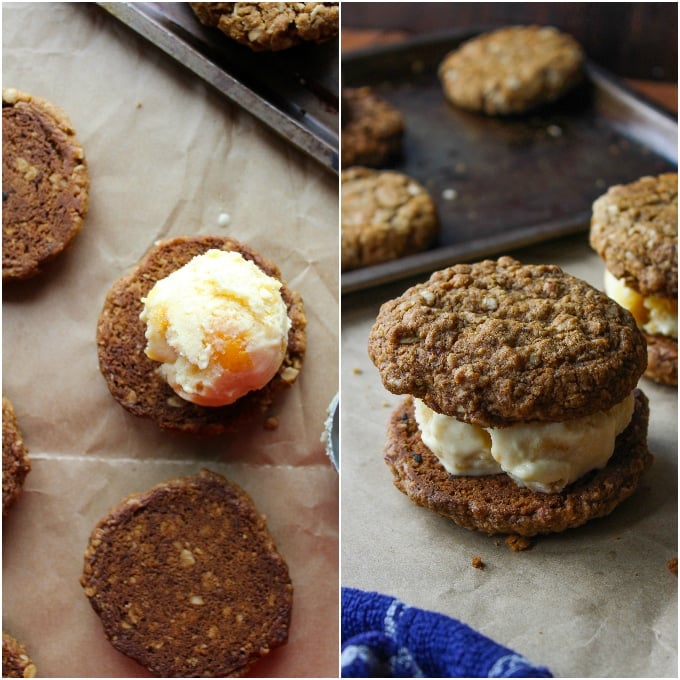 Assembly
When it comes to making homemade ice cream sandwiches, fresh cookies are always best. The fact is, cookies only get harder with time. You want something soft, chewy and just a little warm to bite into to contrast with the cold, creamy ice cream. Perfectly summed up in this article from The Kitchen on how to achieve the perfect ice cream sandwich: you want warm cookies & cold ice cream.
The trick of an ice cream sandwich is to catch that fleeting instant when the cookie and the ice cream are in the same momentary stages of their life cycles — possessed of nearly identical consistencies — and to achieve the moment when you bite into a hot, gooey cookie, and find cold ice cream poised on the precipice of dissolving, but for a hot second still the same texture and firmness as the cookie.
I mean….how poetic does that sound.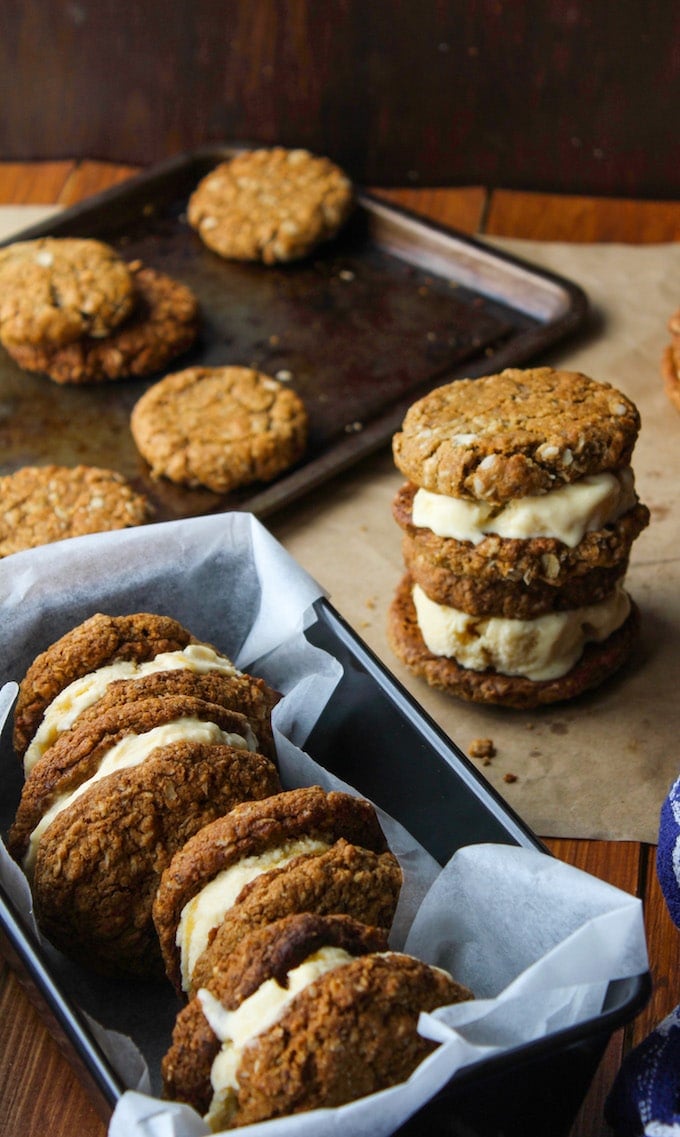 Make sure to let the cookies cool on the cookie sheet for at least 5 minutes after taking them out of the oven. If you try to move them too soon they'll fall apart, but just a few minutes on the baking tray will firm them right up.
One last tip: I used an ice cream scooper (<–affiliate link) to measure and drop my cookies. This made for larger than average cookies that also happened to be the perfect size to match the ice cream scoop sandwiched between the two cookies.
Big, balanced cookies….oh yes.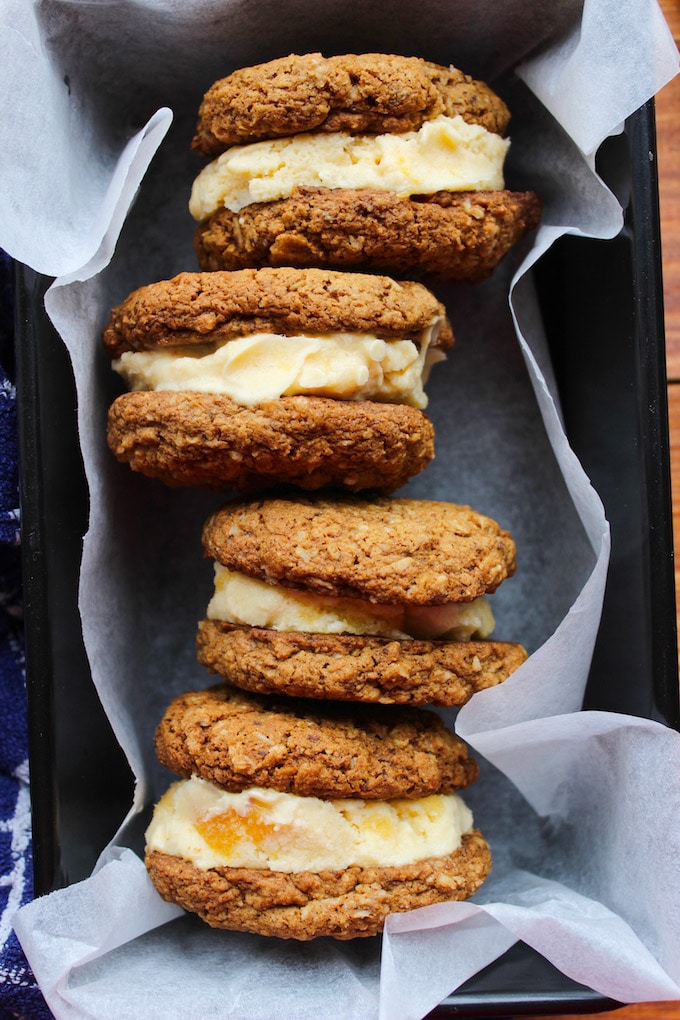 FACEBOOK | INSTAGRAM | PINTEREST  
Don't forget to #asaucykitchen on instagram if you try these oatmeal cookies! I'd love to see what you make with it!  You can also post your pictures to my facebook page!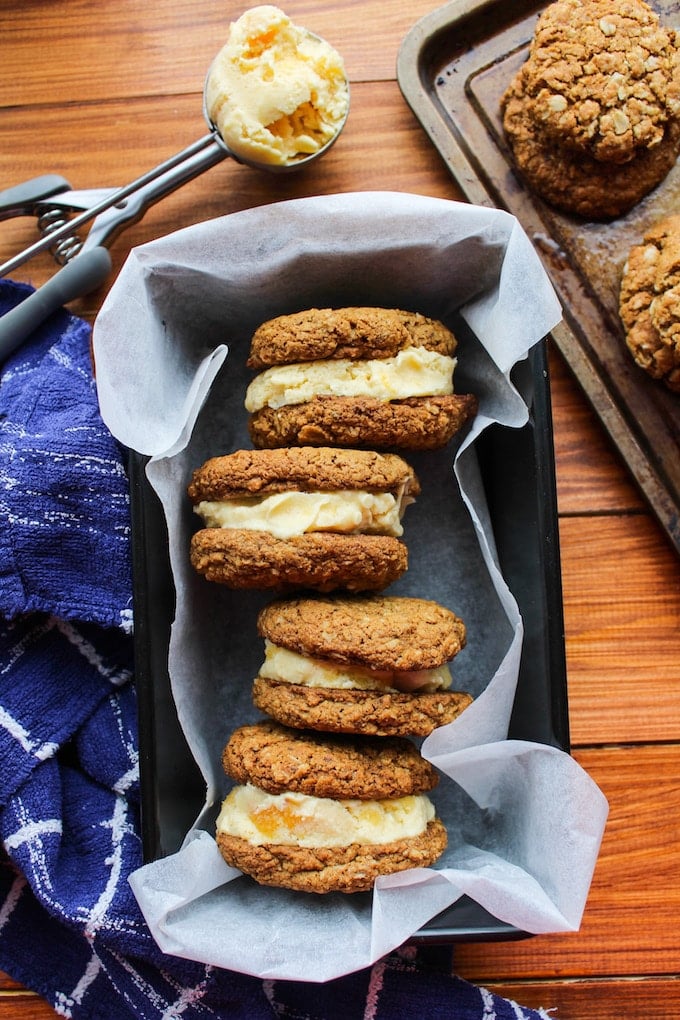 Recipe
Oatmeal Cookie & Peach Ice Cream Sandwiches
Yield:
5 cookie sandwhiches
Prep Time:
20 minutes
Cook Time:
10 minutes
Total Time:
30 minutes
Oatmeal Cookies & Ice Cream Sandwiches - gluten free & vegan
Ingredients
1/2 cup soften coconut oil, 104 grams
1/2 cup dark brown sugar, 110 grams
1 tablespoon + 1 teaspoon molasses
1 teaspoon vanilla
1 flax egg*
1 cup gluten free all purpose flour, 140 grams
1 1/4 cups rolled oats, 106 grams
1/4 teaspoon nutmeg
1/2 teaspoon cinnamon
1 teaspoon baking soda
1/4 teaspoon salt
2 1/2 cups Ice cream of your choice - I used my Dairy Free Coconut Peach Ice Cream, but you can use any that you'd like.
Instructions
In a large mixing bowl of an electric mixer beat together soften coconut oil, brown sugar, and molasses until smooth. Add in the flax egg and vanilla and beat again for 2 minutes or until smooth.
Add the flour, oats, nutmeg, cinnamon, baking soda, and salt to the mixing bowl with everything else. Mix with the electric mixer until combined.
Place in the fridge for at least 15 minutes to let the coconut oil firm up before baking.
Drop round balls of cookie dough onto a lined/greased cookie sheet.
Bake for 8-10 minutes at 350°F/180C or until edges just begin to turn golden brown. Allow the cookies to cool for a few minutes on baking sheet so that they can firm up a bit.
Once the cookies have firmed up enough to handle, divide your cookies up into pairs - you should have 10 total cookies. Drop a scoop of ice cream onto half of the cookies. Top the ice cream with the remaining cookies and eat!
Notes
makes 10 large cookies, or 5 ice cream sandwiches.
These are best enjoyed right away, but if you have leftovers freeze them for later. Before eating, let the ice cream sandwich thaw a bit before eating.
*To make a flax egg: combine 1 tablespoon ground flax seed with 3 tablespoons cold water. Whisk together and place in the fridge for about 10 minutes or until the mixture begins to gel up.
Nutrition Information
Yield:

5
Serving Size:
g
Calories:

602
Saturated Fat:

23g
Cholesterol:

22mg
Sodium:

392mg
Carbohydrates:

78g
Fiber:

5g
Sugar:

25g
Protein:

7g
This website provides approximate nutrition information for convenience and as a courtesy only. Nutrition data is gathered primarily from the USDA Food Composition Database, whenever available, or otherwise other online calculators.