Whole 30 friendly Jerk Chicken with a simple mango & avocado salsa – sweet, spicy, and packed with flavor. Paleo & Gluten Free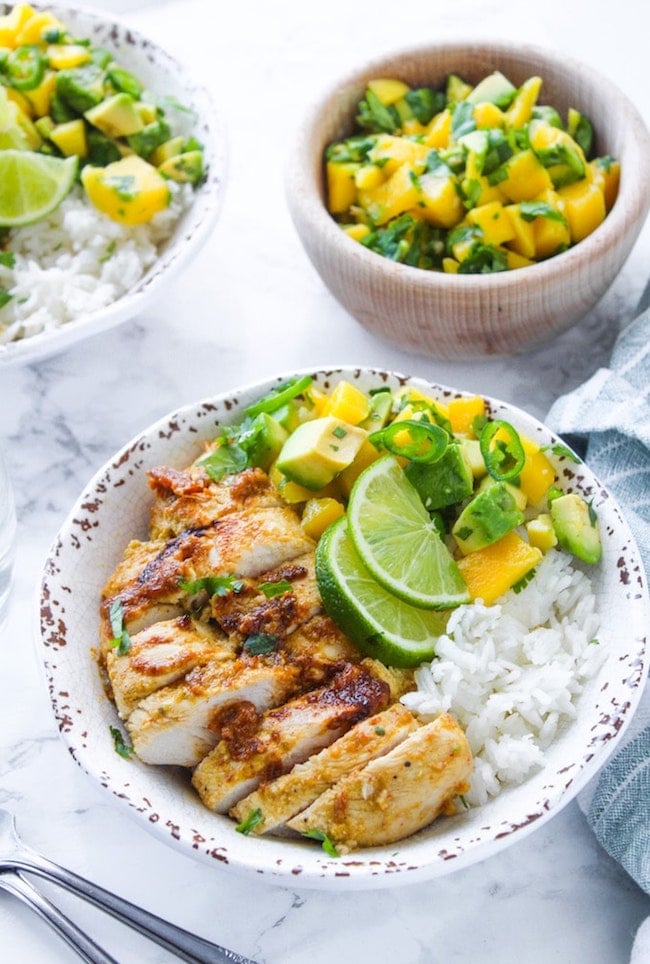 Hey look! Another chicken dish that I actually like! How about that? But before I get on with sharing this jerk chicken recipe I just gotta say one thing….
Today marks two full years since I moved to England and next week will be my 2nd wedding anniversary. Which is really weird because I certainly don't feel like I'm an actual capital A Adult yet. And yet here I am.
I have so many thoughts about that, but perhaps the most pressing thought is: how the hell has it been two years already?!
I'm not sure at what point you stop feeling like you're out of the honeymoon phase of your marriage, but I certainly don't feel like that's the case with Mike and I. We literally spend all day everyday with each other and somehow we're still not sick of each other. Crazy, huh?
Mike's health was in such a poor state after we got married. It's really only been in the past six months or so that he's been consistently well. Ever since he got his Coeliac Disease diagnosis we've been able to address all of his health issues one at a time with much more clarity and understanding than before. It's been such a long process, but I feel like we're finally seeing the light at the end of the tunnel.
*Currently knocking on every wood surface available*
Now, these past two years have really flown by and to be honest that kind of bums me out. I just want the rest of my years to slow down a bit more because I just want to soak up as much time with my best friend as I can.
Ok. Sap over.
Now for some chicken!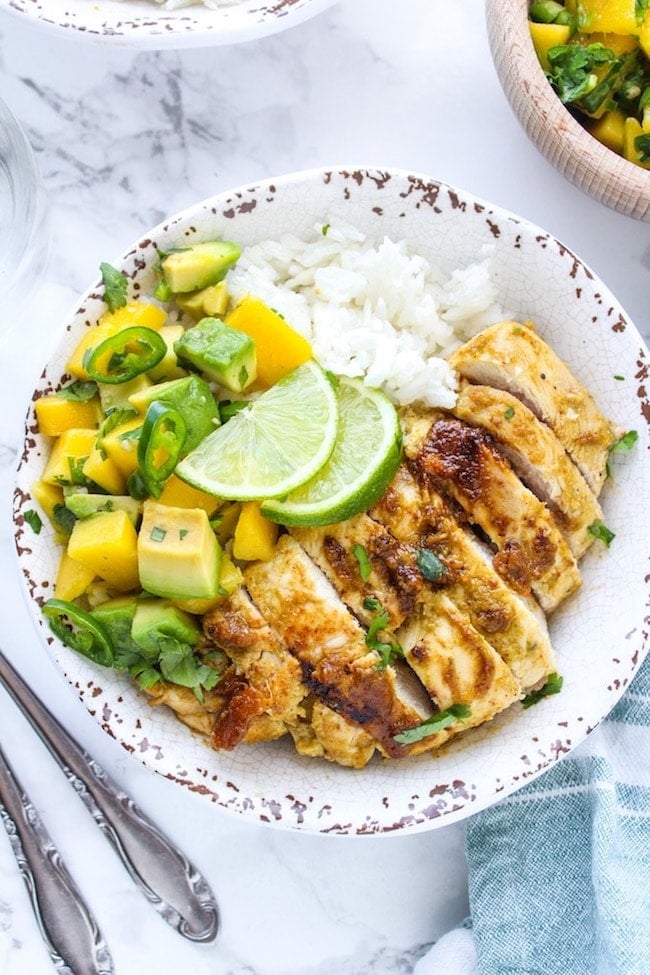 Jerk Chicken & Mango Salsa
As far as recipe goes it's pretty simple and straight forward. Just throw your ingredients in a blender to create your marinade and let the chicken soak up all the flavor for a few hours. The only sweetener used in this recipe is a single date which makes this Whole 30 friendly. If you're looking for an entirely Whole 30 meal pair swap out the rice for a cauliflower rice and that's it. Depending on how long you marinate you chicken (if I'm being honest here sometimes I don't because I'm lazy and unorganized) then you can have dinner ready and served in under an hour. Aww yesss.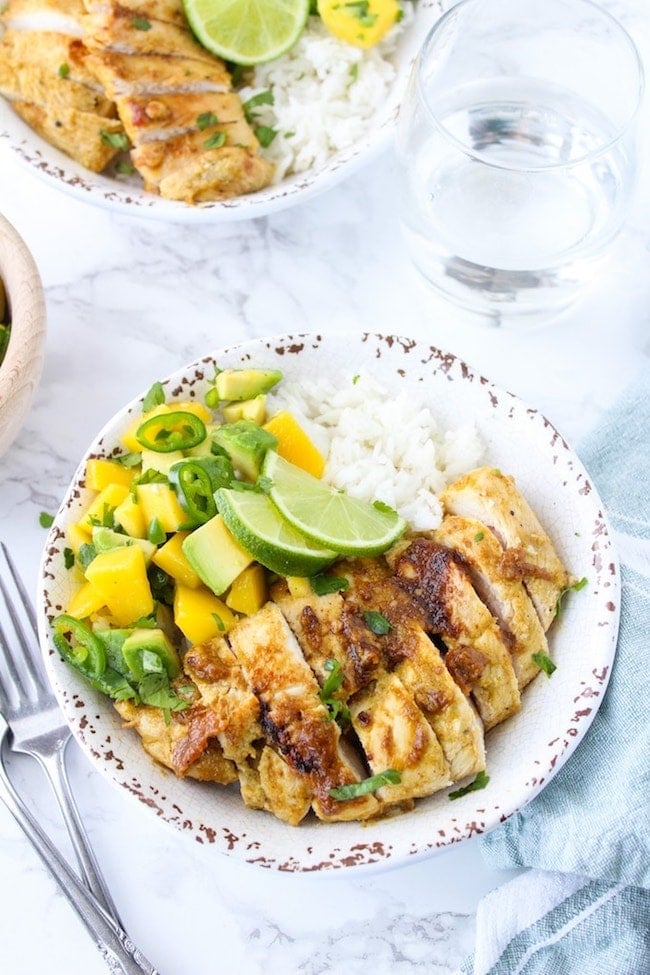 FACEBOOK | INSTAGRAM | PINTEREST  
Don't forget to #asaucykitchen on instagram if you try this jerk chicken I'd love to see what you make with it!  You can also post your pictures to my facebook page!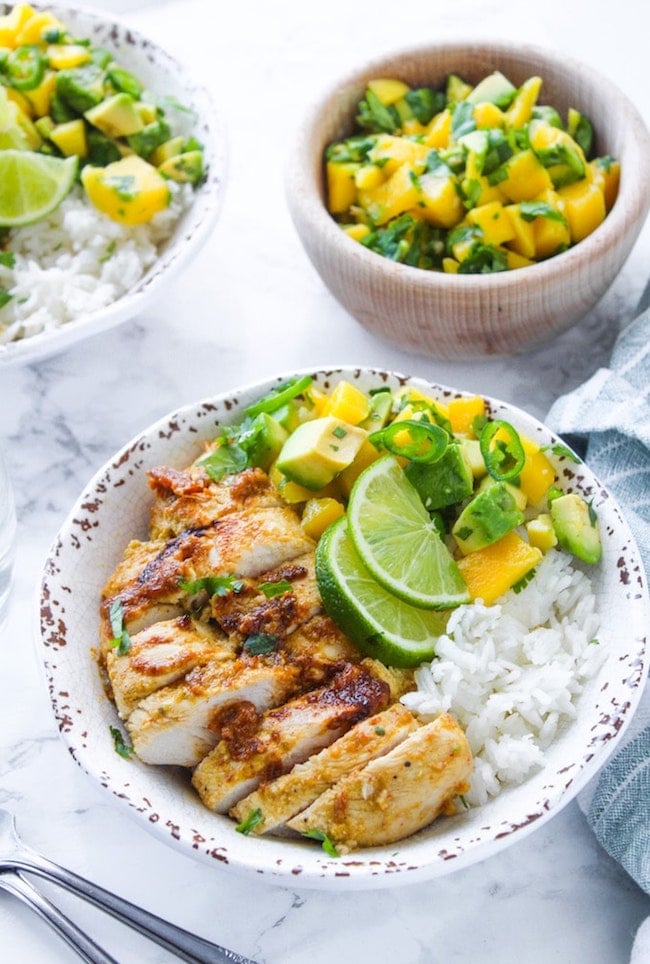 Recipe
Whole 30 Jerk Chicken & Mango Avocado Salsa
Yield:
4 servings
Prep Time:
15 minutes
Cook Time:
10 minutes
Total Time:
25 minutes
Whole 30 friendly Jerk Chicken with a simple mango & avocado salsa - sweet, spicy, and packed with flavor. Paleo & Gluten Free
Ingredients
4 large boneless skinless chicken breasts
marinade
2 tablespoons melted coconut oil
3 green onions, chopped
3 garlic cloves, crushed
1 tablespoon freshly minced ginger
1 scotch bonnet, or sub with another chili pepper for less spice. Scotch bonnets are SPICY so be warned*
1 sprig of fresh thyme
1/2 teaspoon cinnamon
1/2 teaspoon ground allspice
1/2 teaspoon ground nutmeg
1 date, seed removed
juice from 1 lime
1 teaspoon salt and pepper or to taste
mango salsa
2 large mangos, peeled pitted and diced
2 avocados, diced and pitted
1/4 cup fresh cilantro, finely chopped
juice from 2 limes, about 4 tablespoons
2 tablespoons chopped jalapeno pepper
Instructions
In a high powered blender or food processor, combine all of the marinade ingredients and process until fully combined and smooth.
Coat all four chicken breasts with the jerk paste. Place in a large ziplock bag and place in the fridge to marinate for a minimum of 20 minutes, preferably 2 hours.
When you're ready to cook, take your chicken out of the fridge. Preheat a grill or skillet to high heat. When it's up to temperature place the chicken on the hot grill or skillet. Cook each side for 4-5 minutes until it's no longer pink in the middle.
Remove the chicken from the heat and let it rest for 5-10 minutes before cutting in. While it's resting you can make your mango salsa.
Make your mango salsa by combining all the ingredients in a medium bowl.
Serve the chicken with rice or cauliflower rice and top with the mango salsa and enjoy!
Notes
cook time does not include marinating time
If you can't find scotch bonnets at your local supermarket, or you want a less spicy alternative you can use a jalapeno instead. Habaneros and thai chili peppers can also be substituted
Nutrition Information
Yield:

4
Calories:

419
Saturated Fat:

8g
Cholesterol:

72mg
Sodium:

722mg
Carbohydrates:

26g
Fiber:

8g
Sugar:

13g
Protein:

27g
This website provides approximate nutrition information for convenience and as a courtesy only. Nutrition data is gathered primarily from the USDA Food Composition Database, whenever available, or otherwise other online calculators.