This refreshing three ingredient Passion Fruit Blueberry & Orange Smoothie can be put together in minutes! Gluten free, Paleo, Vegan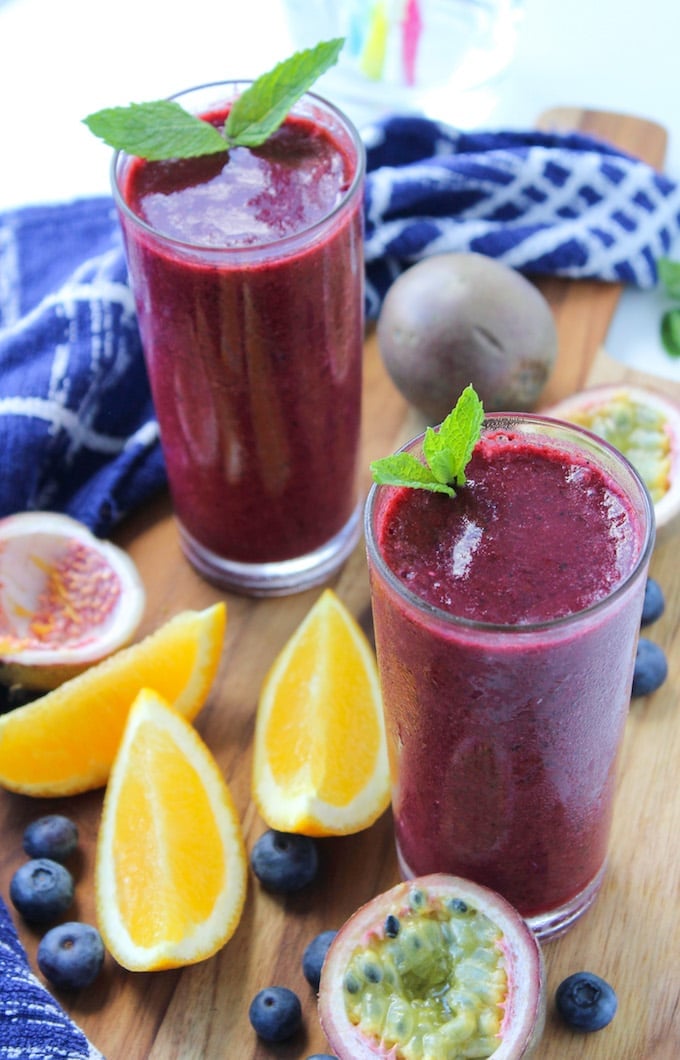 Pssst… Guess who finally convinced her husband to write a post for her?! What a good Mike. Enjoy! 
How did I manage to go through life for so long without knowing how amazing passion fruit is?
Whenever we'd go food shopping I'd glance over at them out of curiosity but I'd always pass them by. Honestly, I was never entirely sure what you're supposed to do with them. Are you supposed to scoop out the flesh and chew the seeds? Hell, are the seeds even edible? I know, I probably sound a bit dim but these were legitimate concerns! I'm still somewhat uneasy whenever I eat watermelon for fear of swallowing the seeds… But I digress! My neuroses can wait for another time.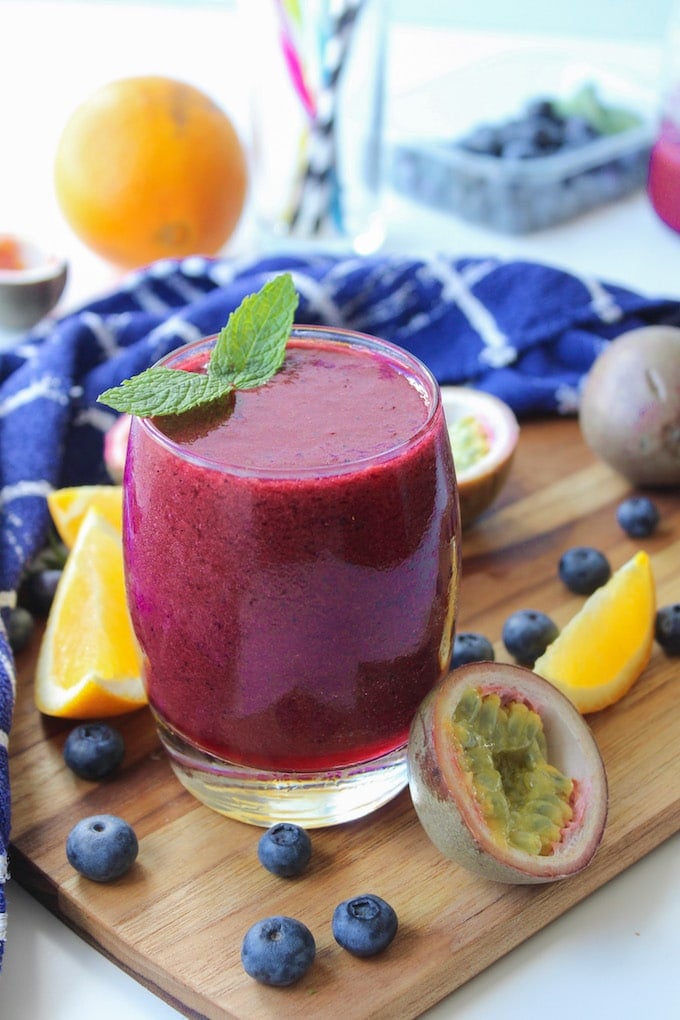 Back to the recipe.
We were at Sainsbury's and I was feeling adventurous (yes, spending a couple of quid on passion fruit is adventurous in my book!) so I bit the bullet and put some in the trolley. I wasn't sure what I was going to do with them but I knew I'd figure something out. Thus, this glorious blueberry/passionfruit/orange smoothie was born! We must've had this particular smoothie at least five times a week since I first made it – it's that good. You've probably gathered from Sarah's posts that I'm not exactly sous chef material. I mean, having PoTS isn't conducive to standing around in a kitchen for long periods at a time. So with that in mind, it's nice when I'm able to come up with something food related that I can whip up in minutes and that we both enjoy.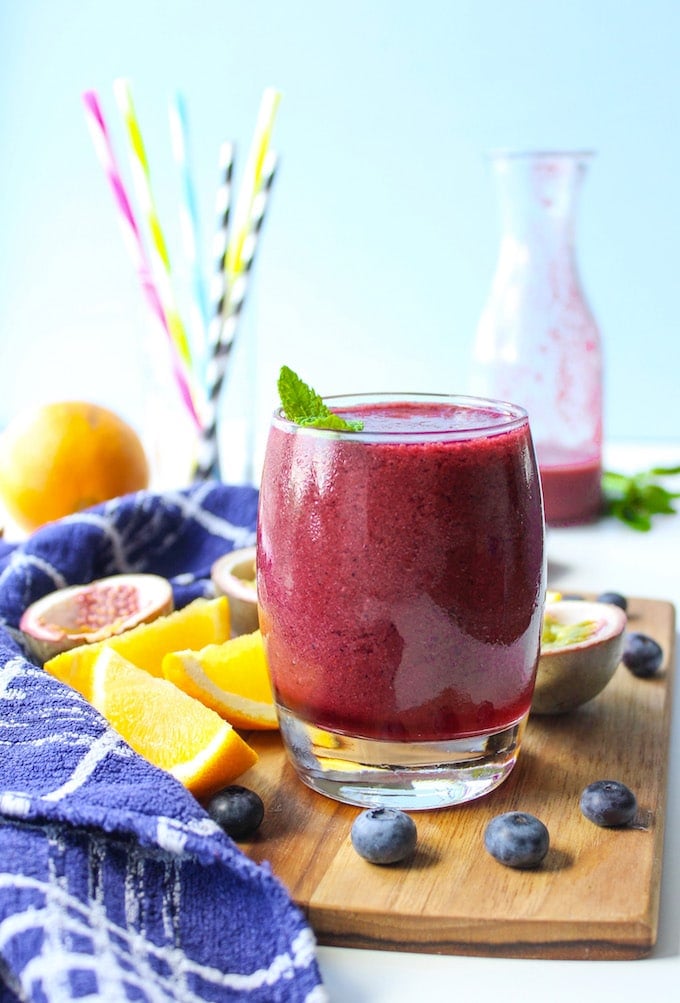 As I was brainstorming what to do with the fruit, I figured I should cut one open and see what they're like firsthand. And then the aroma hit me… UM BONGO! I'm aware that our readership is split across the globe so this reference may mean nothing to a lot of you, but the second I cut into the passion fruit I realised that one of my favourite childhood drinks had a very distinct taste of passion fruit. I'm not sure why it didn't occur to me sooner (the fact I was an 8 year old boy may have had something to do with it) but once I realised that the flavour of passion fruit equated to the flavour of Um Bongo it immediately became one of my favourite things. At this point, my mind was made up – it had to be a smoothie/juice of some kind.
Passion Fruit Blueberry & Orange Smoothie
A quick rummage through our fruit bowl/freezer and voila! You can use fresh or frozen blueberries for this recipe, it works great either way. One thing I would suggest is to make sure that the orange/passion fruit that you use are fresh and zesty. I made it once with a fairly shrivelled passion fruit and a sad looking orange and it just wasn't the same. Anyway, I hope you guys like it! Oh, and if you've ever had Um Bongo, hit us up on Instagram and let us know how it compares!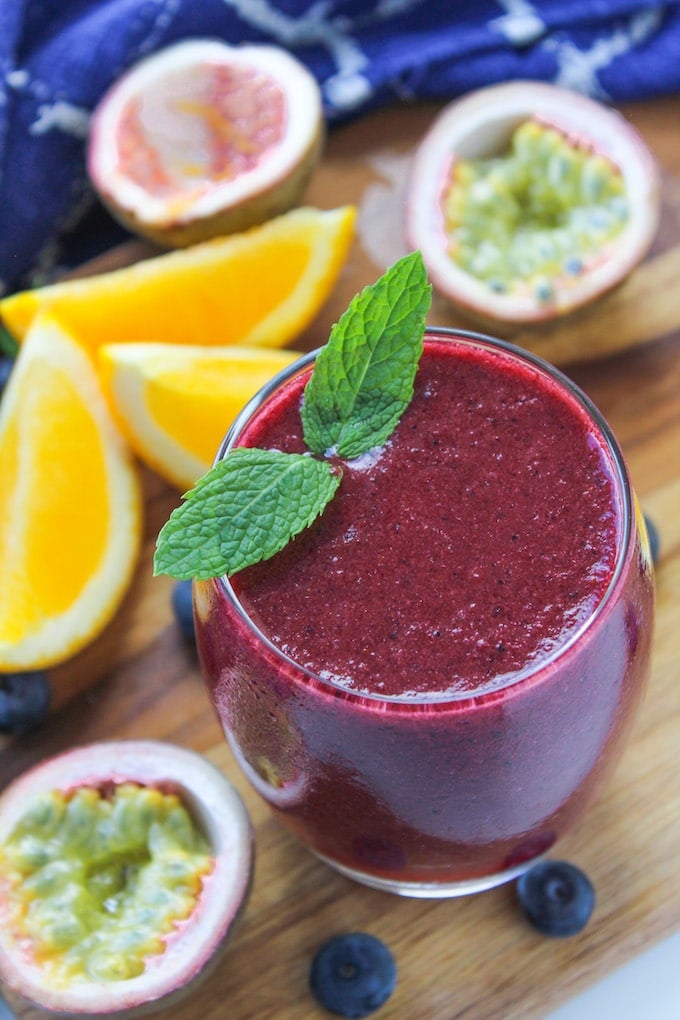 FACEBOOK | INSTAGRAM | PINTEREST  
Don't forget to #asaucykitchen on instagram if you try this Passion Fruit Blueberry & Orange Smoothie! I'd love to see what you make with it!  You can also post your pictures to my facebook page!
Yield: 2 drinks
Passion fruit Blueberry & Orange Smoothie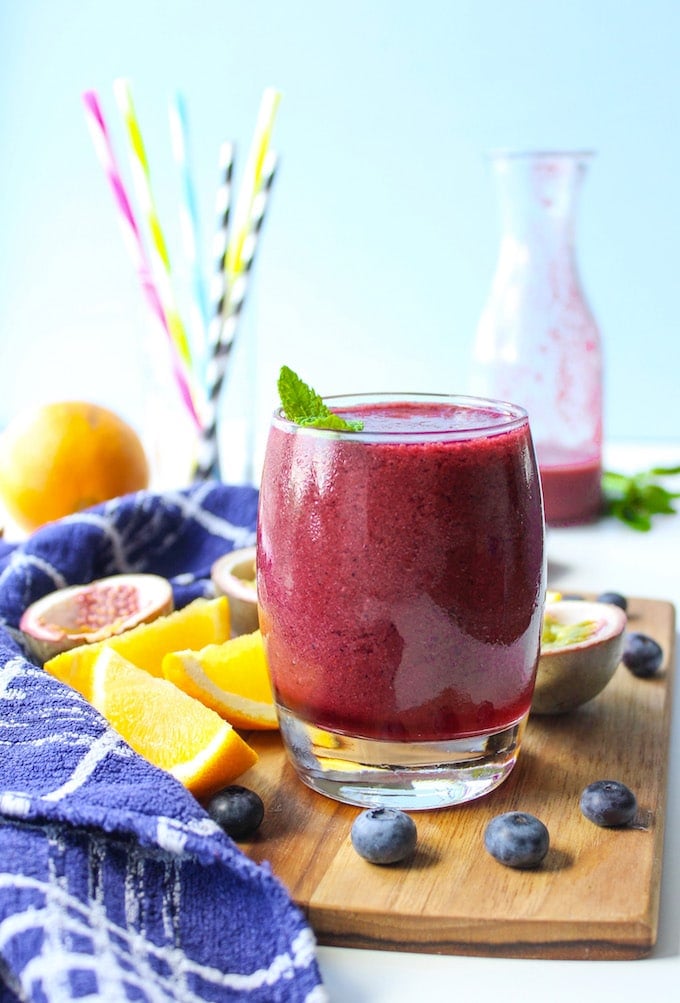 This refreshing three ingredient Passion Fruit Blueberry & Orange Smoothie can be put together in minutes! Gluten free, Paleo, Vegan
Ingredients
1 large orange
1 cup blueberries, fresh or frozen
2 passion fruit
4-5 ice cubes
water for blending if needed
Instructions
Add all of your ingredients to a blender and process until smooth. Depending on how juicy your orange and how powerful your blender is you may need to add a little water or juice to make the blending a little easier.
Nutrition Information:
Yield:
2
Serving Size:
drinks
Amount Per Serving:
Calories:

222