Paleo Zucchini Bread – moist, tender, and naturally sweetened. Enjoy along side a cup of coffee or as a light snack any time of day! Gluten Free + Dairy Free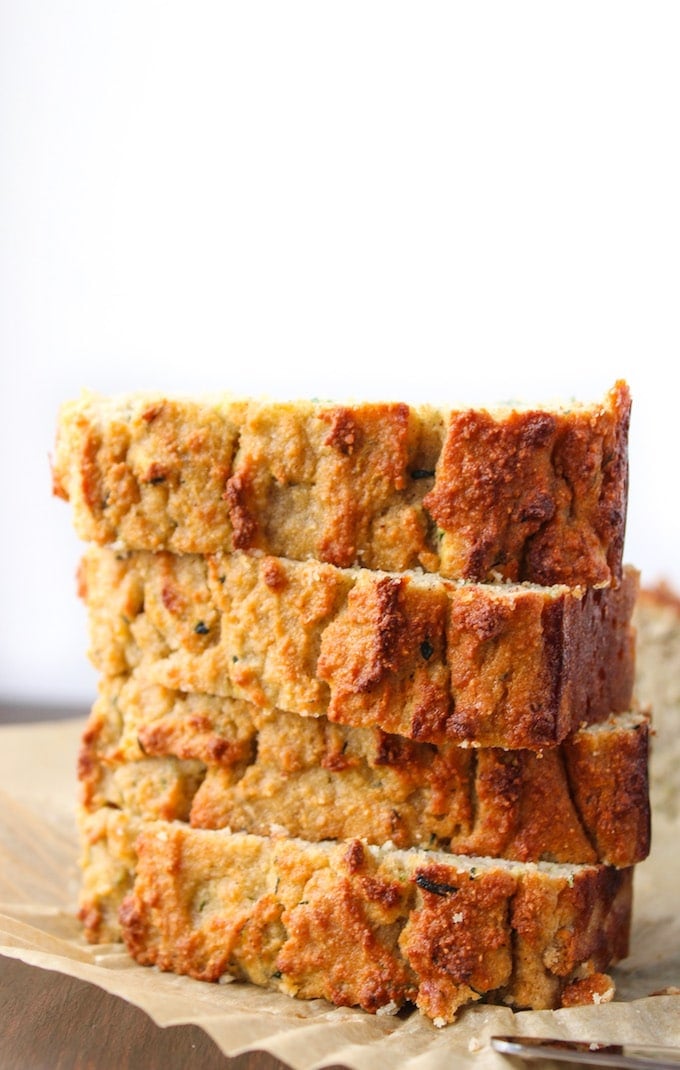 Homemade Paleo Zucchini Bread
I've been making this paleo zucchini bread recipe every zucchini season for years since I originally shared it back in 2016.
Though this has been a favorite in my home and in many of yours throughout the years – I figured it was a good time to revisit the recipe and tweak a few things based off the feedback I've been given.
What's changed?
Pan Size: I now recommend using an 8×4 inch loaf pan instead of a 9×5. The loaf doesn't rise much in the end, so the smaller pan allows it to bake up into a neater, taller loaf.
More Almond Flour: The old recipe asked for 1/2 cup almond flour. I've increased it to 2/3 cup. The extra flour adds a bit more fat (moisture), flavor and texture to compliment the coconut flour.
More Cinnamon: One of the biggest comments I have received over the years is that many readers loved the bread, but wished it had more cinnamon. Frankly, I agree and don't know why I made it so low before!
Oven Position: I now recommend baking the bread in the lower third of the oven to keep the top of the bread from browning too quickly (this happens with almond flour baked goods).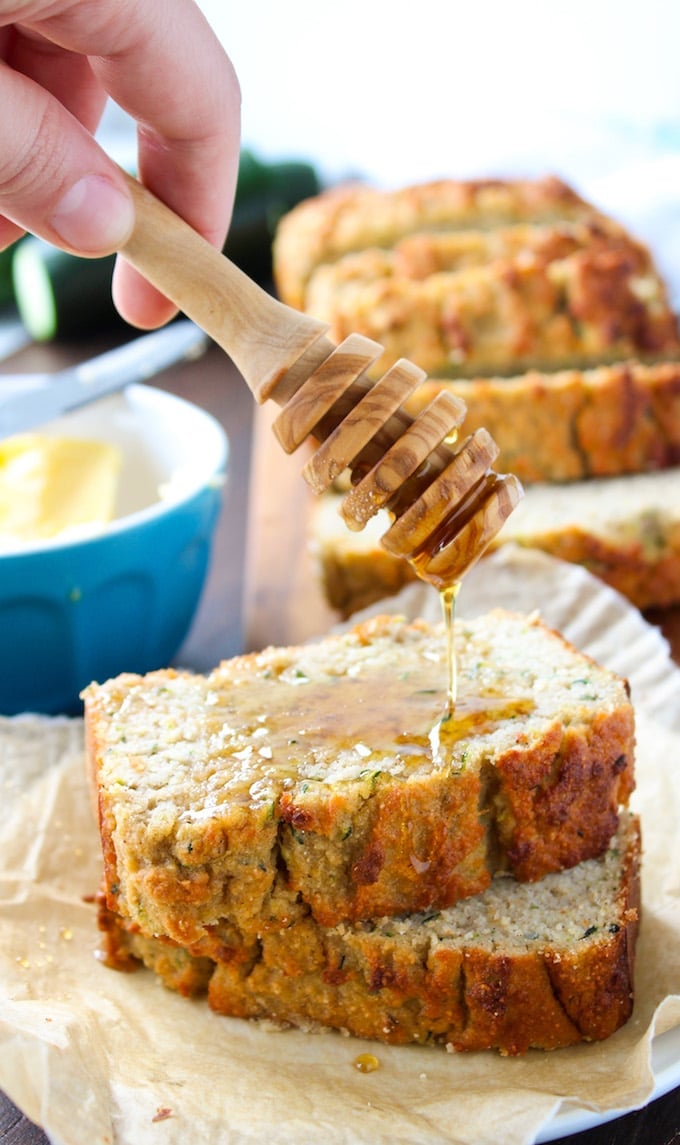 Key Ingredients
Coconut Flour: Coconut flour is an extremely absorbent flour and need a lot of moisture to work. If using cups to measure the flour, I recommend you spoon the flour into the measuring cup instead of scooping.
Almond Flour: Almond flour provides a nice texture and flavor balance along side the coconut flour.
Eggs: This recipe needs the moisture and binding of the eggs to work with the coconut flour. If you'd like to see some egg free zucchini bakes I recommend you check out some of my other vegan friendly recipes: Gluten Free Chocolate Zucchini Bread, Banana Zucchini Muffins, Vegan Zucchini Brownies
Coconut Oil: You can use butter in place of coconut oil if desired.
Maple Syrup or Honey: Either work! You can try a combo of maple and honey.
Fresh Zucchini: The star of the show! Check out the tips before for zucchini selection and prep.
Steps
Altogether this is a super easy recipe to throw together. The process basically comes down to three main steps: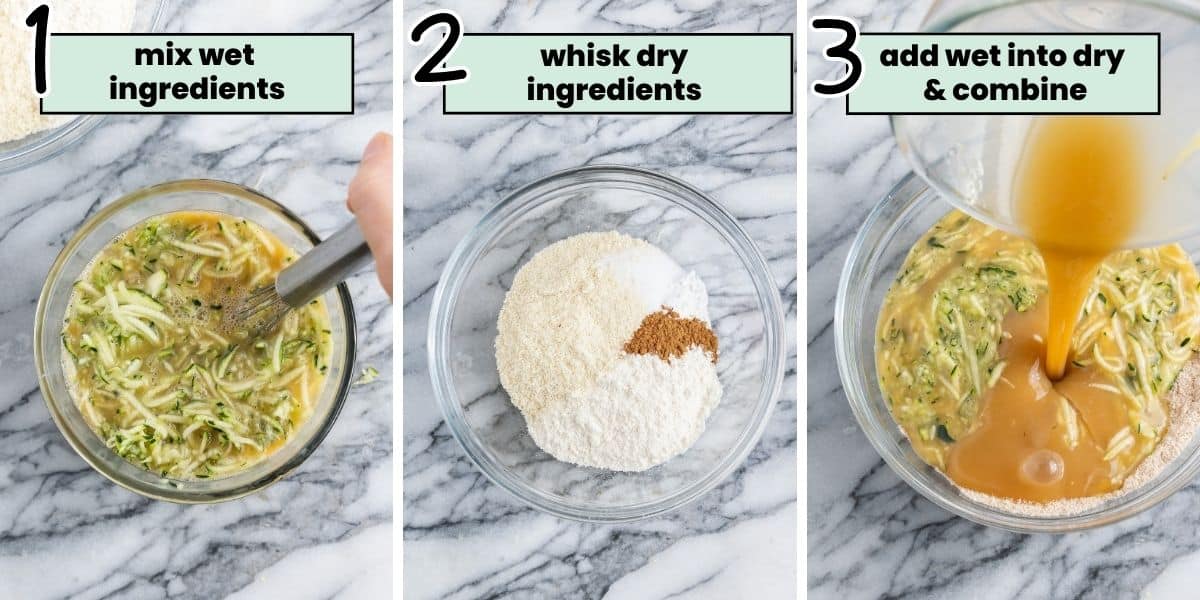 Mix the wet ingredients: Whisk together the eggs, oil, sweetener and vanilla extract until combined then stir in the grated zucchini.
Mix the dry ingredients: In a different, large mixing bowl whisk together the flours, baking powder, salt and cinnamon.
Combine & bake: Pour the wet ingredients into the bowl of dry ingredients. Mix until no pockets of flour remain, then transfer to the prepared bread pan and bake.
Tips for Baking with Zucchini
A few final tips and notes when working with zucchini:
Weigh the Zucchini
For best results, a kitchen scale will give you the most accurate zucchini amount. If you don't have a scale, a good old fashioned measuring cup will still do the job.
As a general rule of thumb: One loosely-packed and blotted cup of zucchini weighs about 4 oz or 115 grams. You may find that this amount vary depending on the recipe creator, but this is the amount I use in all my zucchini recipes.
Select the Right Zucchini
Size: Look for small to medium zucchinis, about 6-8 inches. Large zucchinis are typically more watery, and pulpy. They also are more likely to have large seeds inside.
Stem: Choose a zucchini that still has the stem attached. Zucchini with longer stems will last longer.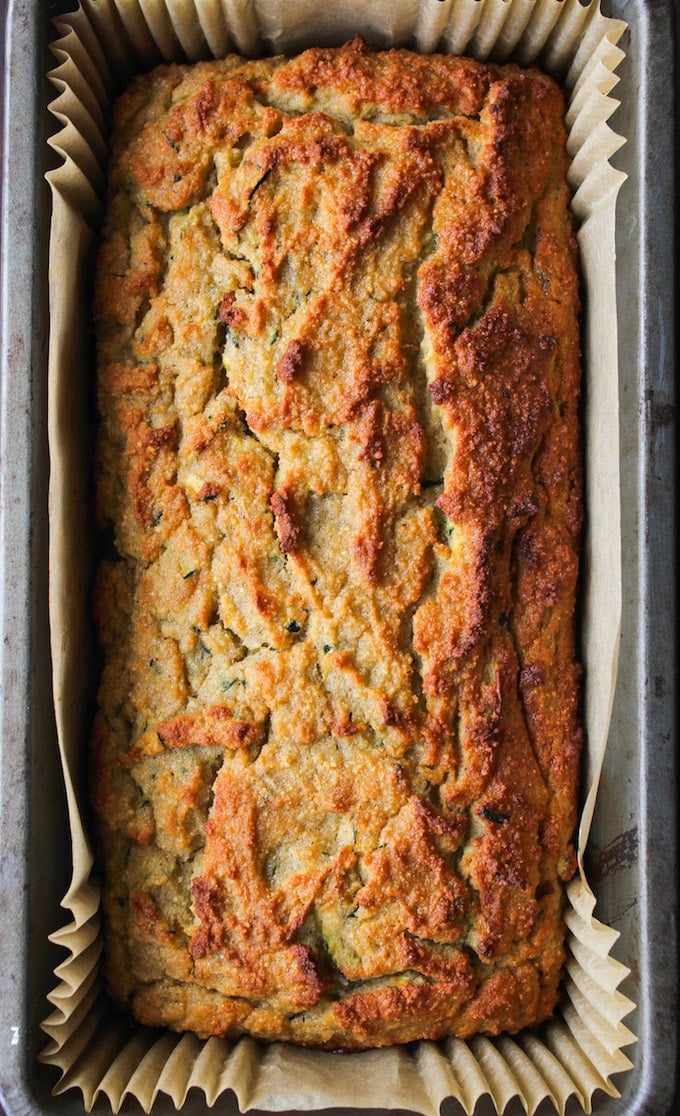 Prep the Zucchini
Skin: No need to peel the skin. Just wash and dry the outside and you're ready to peel.
Seeds: Unless you're working with a large zucchini with large seeds inside, you don't need to worry about removing the seeds.
Grate: Use a regular box grater (cheese grater) or food processor with a fitted grating attachment.
Blot: Don't worry about squeezing out the excess moisture before baking. A quick blot with some paper towels is more than enough.
How to Store Homemade Zucchini Bread
After baking, allow the zucchini bread to cool completely before storing.
Once cooled, store the bread in an airtight container or wrapped up tightly in plastic wrap/aluminum foil. Leave it out at room temperature for about 2-3 days or store in the fridge for up to a week.
Freeze for Later
You can make the bread ahead of time and store for a later date. Bake, cool, then wrap in foil and freeze the loaf as a whole. Thaw overnight in the fridge and bring to room temperature. Once thawed, go ahead and cut into slices before serving.
Alternatively, you can freeze individual slices of bread for fast and easy storage and defrosting. Wrap each slice tightly in plastic wrap and or foil then store in a freezer safe bag. Let thaw at room temperature or reheat in the microwave until warmed through.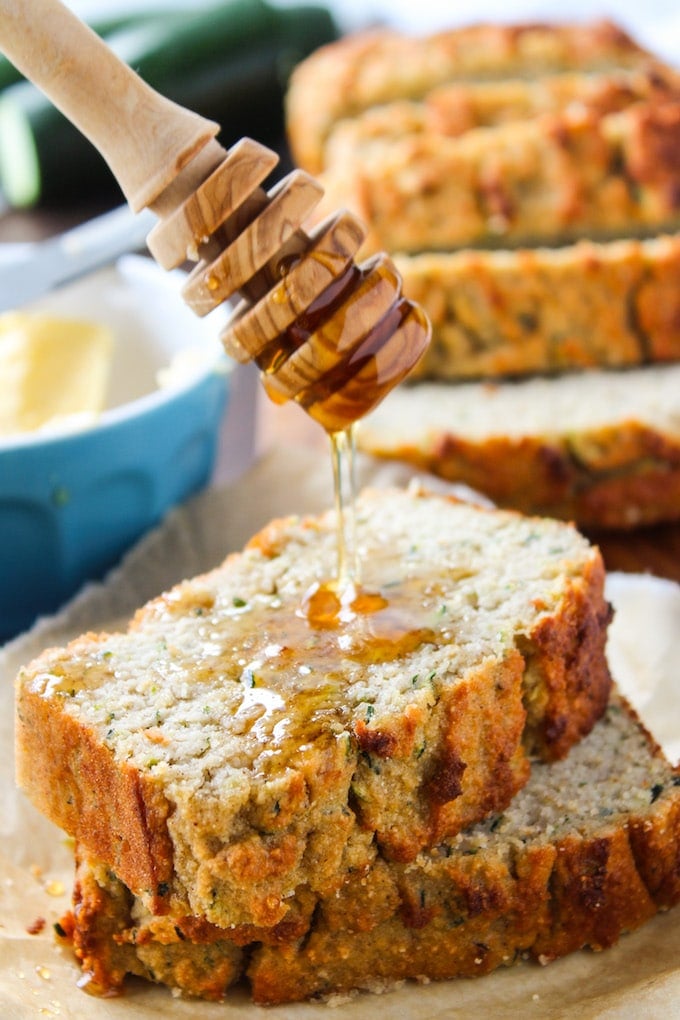 Enjoy
This bread makes for a great healthy dessert or snack! Enjoy a thick slice with a spread of nut butter. I recently tried this with some homemade hazelnut butter and it did not disappoint!
More Delicious Zucchini Recipes To Check Out
If you still have spare squash hanging around I have plenty more zucchini bread recipes and bakes to choose from!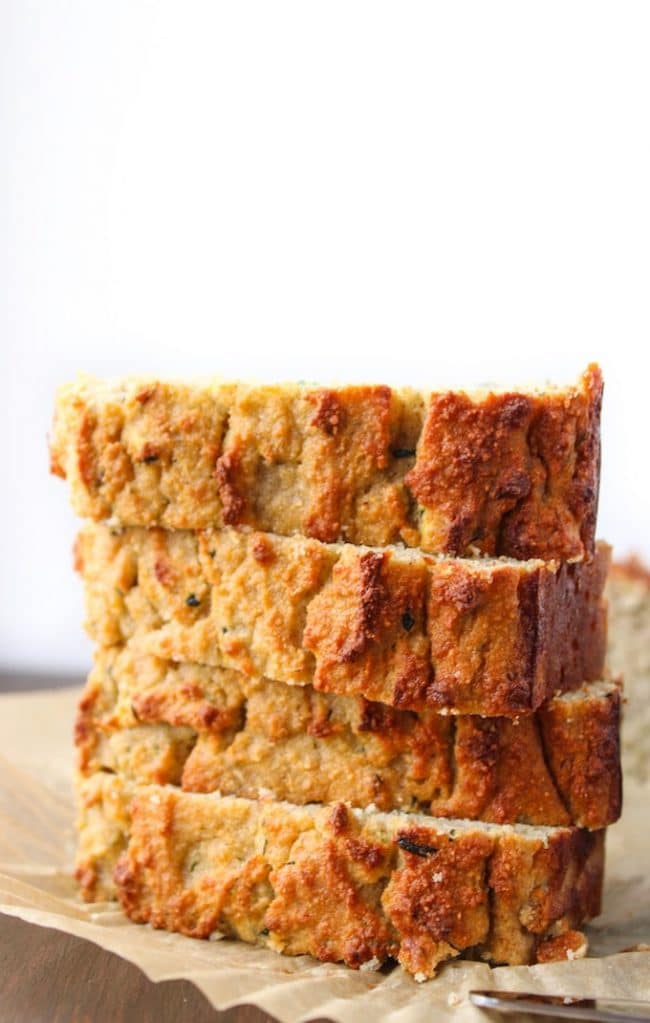 Recipe
Paleo Zucchini Bread
Yield:
8 slices
Prep Time:
10 minutes
Cook Time:
55 minutes
Total Time:
1 hour
5 minutes
Paleo Zucchini Bread - moist, tender, and naturally sweetened. Enjoy along side a cup of coffee or as a light snack any time of day!
Ingredients
4 eggs
1 teaspoon vanilla extract
6 tablespoons pure maple syrup (120g) or honey (125g)
1/2 cup coconut oil, melted & cooled (105g)
1 1/2 cup shredded zucchini, lightly blotted dry (170g | 6 oz)
2/3 cup almond flour (65g)
1/2 cup coconut flour (55g)
1 teaspoon baking powder
1 1/2 teaspoon cinnamon
1/4 teaspoon sea salt
Instructions
Place an oven rack in the bottom third of the oven then preheat your 350°F (180°C). Grease an 8x4 inch loaf pan, or line with parchment paper. Set aside.
In a medium sized mixing bowl whisk together the eggs, vanilla, maple syrup (or honey), and oil until combined. Stir in the shredded zucchini.
In another large mixing bowl whisk together the dry ingredients.
Pour the wet ingredients to the dry ingredients. Mix until well combined and no pockets of flour remain. Make sure to scrape down the sides and bottom of bowl as needed.
Pour the batter into the prepared pan.
Place in the oven and bake for 55-65minutes, or until a knife going into the center of the loaf comes out mostly clean (no raw batter, only crumbs). About halfway through the bake, turn the loaf pan around so ensure the top colors evenly. If you notice the top of the loaf starts to look too dark, loosely cover the pan with some foil.
Remove the loaf from the oven and place on a wire rack. Let cool for about 30 minutes before removing the bread from the pan. Finish cooling on the wire rack then slice and enjoy.
Storage: Store leftover bread in an airtight container, wrapped tightly in plastic wrap, foil or a sealable bag. Leave at room temperature for about 2 days, or keep it in the fridge for up to a week.
Notes
Freeze for later: Leftover bread will keep in the freezer up to 3 months. Freeze individual slices of bread for fast and easy storage and defrosting. Wrap each slice tightly in plastic wrap and or foil then store in a freezer safe bag. Let thaw at room temperature or reheat in the microwave until warmed through.
Nutrition Information
Yield:

8
Serving Size:
1 slice
Calories:

211
Total Fat:

16g
Saturated Fat:

11g
Cholesterol:

74mg
Sodium:

148mg
Carbohydrates:

13g
Fiber:

3g
Sugar:

6g
Protein:

5g
This website provides approximate nutrition information for convenience and as a courtesy only. Nutrition data is gathered primarily from the USDA Food Composition Database, whenever available, or otherwise other online calculators.
More Paleo Breads you Might Enjoy