Almond flour is an excellent gluten-free flour popular in grain-free cooking and low carb diets! Learn everything you need to know about how, when and why you use it.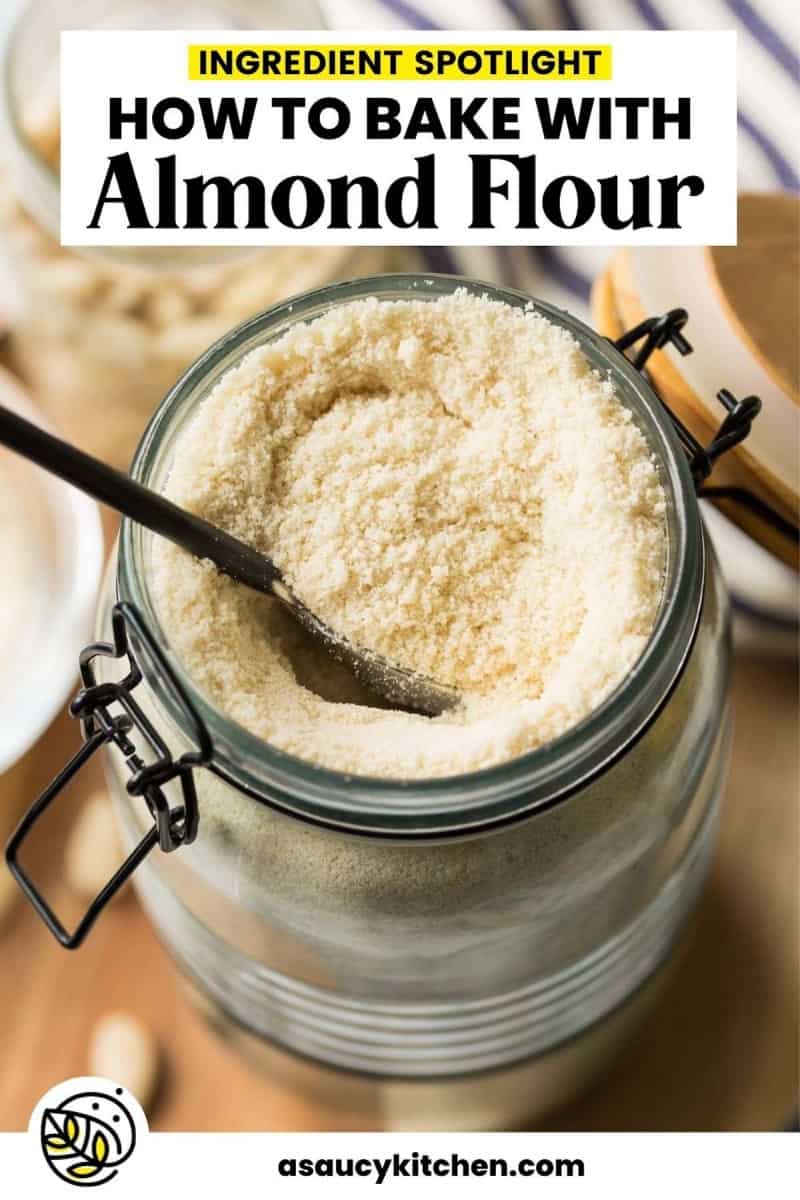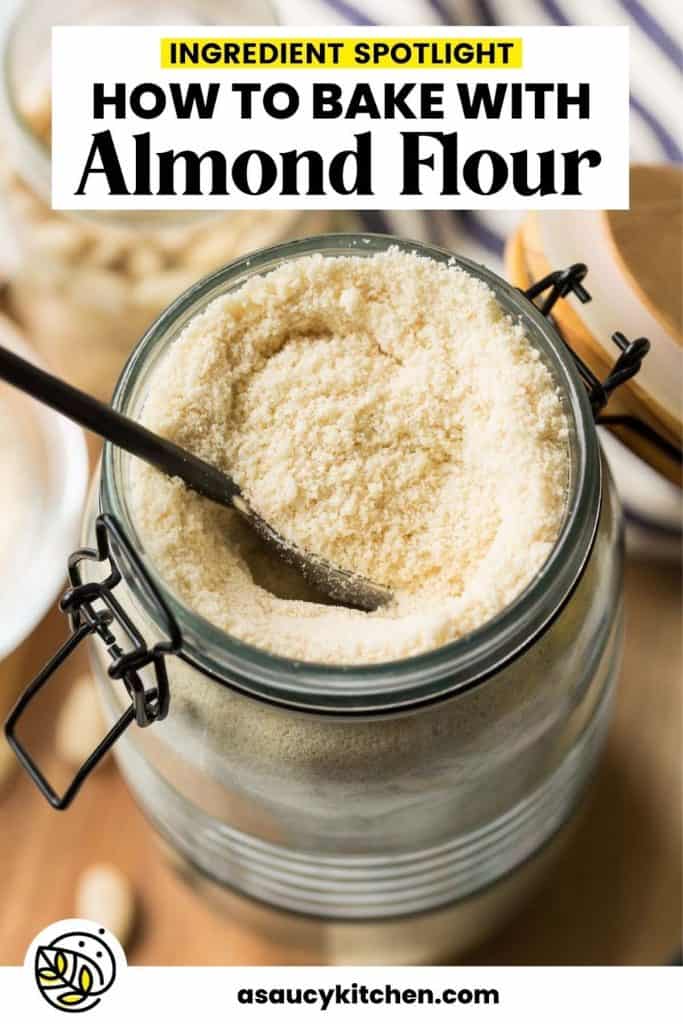 What is Almond Flour?
Simply put, almond flour (sometimes known as almond powder) is a soft, flour-like product made from 100% ground almonds.
If you're familiar to gluten free living then you're probably no stranger to almond flour as it's one of the more popular nut flours around. It's a widely used and popular substitute for wheat flour that makes for moist, tender and delicious baked goods.
Not only is almond flour a naturally gluten and grain free ingredient, but it's also low carb and high protein making it a great, healthy alternative for those with celiac disease and those on a gluten-free diet.
What's The Difference Between Almond Flour And Almond Meal?
Though almond flour and almond meal are made from essentially the same thing (ground almonds) there are a couple of key differenced between the two.
Almond flour is typically made with blanched (skinless) raw almonds into a soft flour with a fine texture. It's lighter in colour and has a softer texture.
Almond meal is usually made with un blanched (skin on) almond into a more coarse flour. It's usually a darker colour due to the skin that was left on. Almond meal has a coarser texture that's usually noticeable in baked goods.
Can I Use Almond Flour And Almond Meal Interchangeably?
This really depends on the recipe and the end result that you're looking for. If you're making a cake that's supposed to be light and airy – reach for the almond flour as it has a softer, lighter texture.
If you're making something more forgiving where added texture is less noticeable and possibly even ideal – use almond meal. Cookies, quick breads and breaded meats work well with almond meal.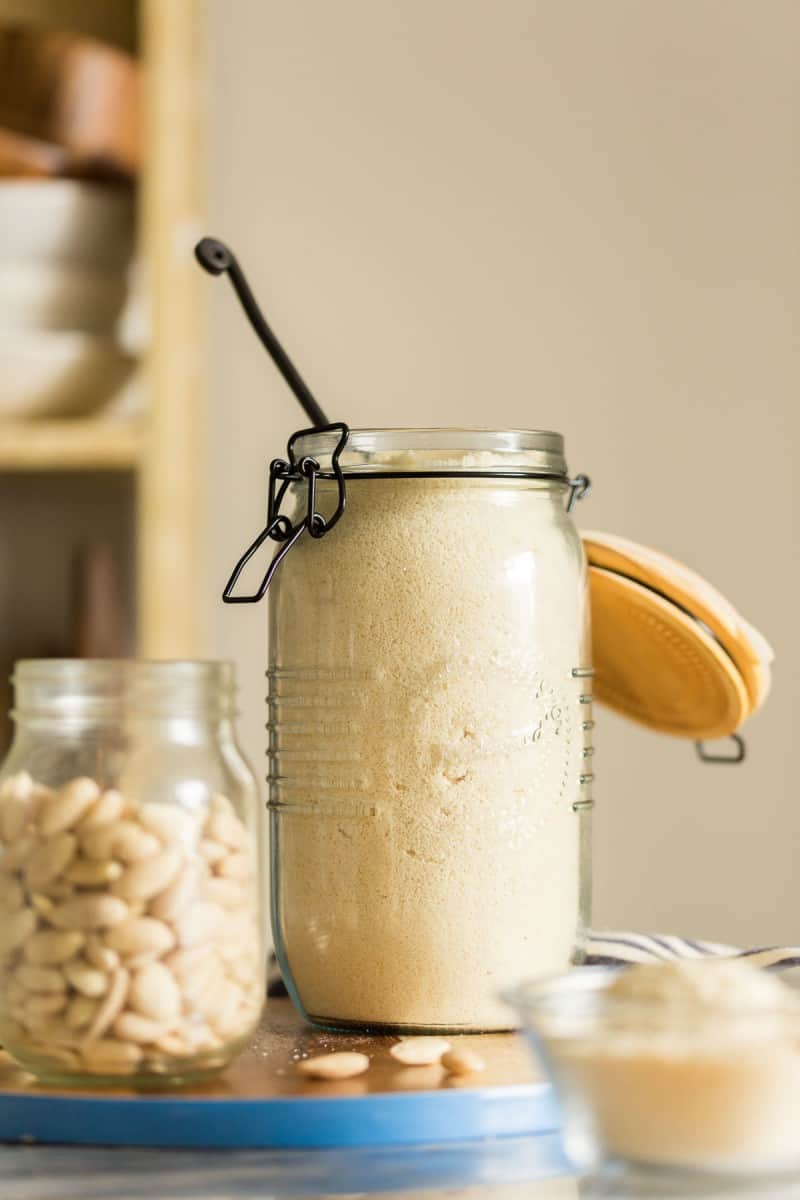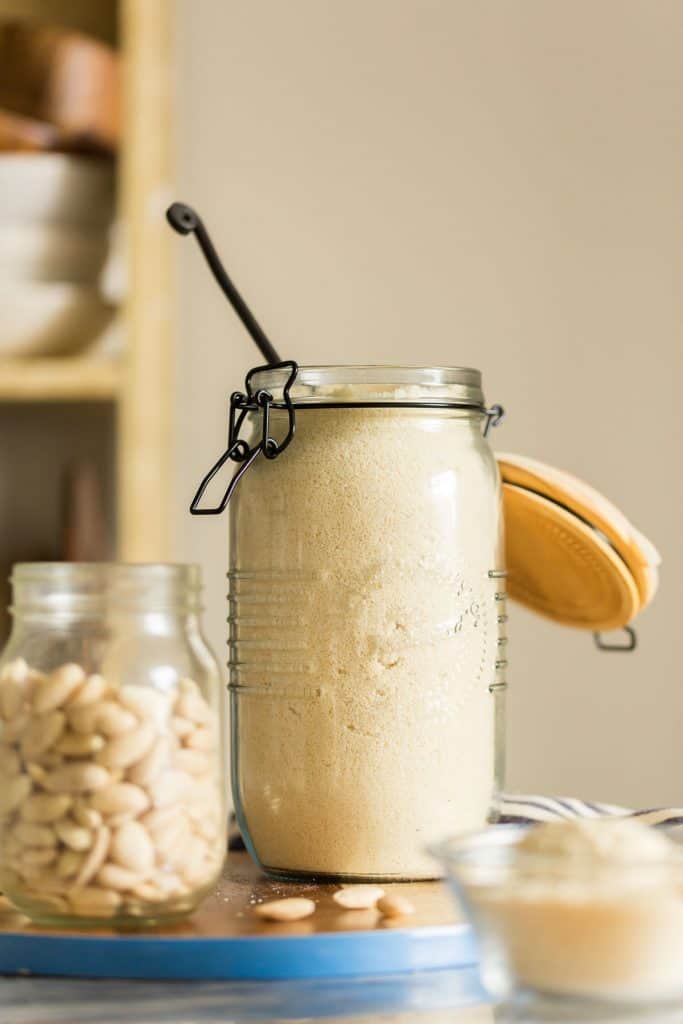 What Does It Taste Like?
If you're buying a quality brand of almond flour, I don't think it's a surprise to anyone that almond flour tastes like almonds. It's got a mildly sweet, nutty kind of flavour with just the slightest hint of bitter – just like almonds.
That being said, I have bought various bags of almond flour over the years and one important note to keep in mind is that they can vary widely in terms of taste and smell. Some manufactures like to add almond extract to the flour giving it a much stronger, more intense almond-smell which overpowers whatever you're cooking. For this reason, I recommend going with a trusted brand like Bob's Red Mill or Kirkland (my go-to). Using a trusted brand will ensure that you end up with an easier to work with super-fine almond flour as opposed to a coarse and gritty meal.
Nutritional Profile
In addition to being naturally gluten and grain free, almond flour has many potential health benefits with its impressive nutrition profile being high in fibre, protein and healthy fats while also being low in digestible carbohydrates and sugar. It's considered low on the glycemic index scale which is why it's a common staple used in the paleo diet, keto-cooking and diabetic friendly recipes.
1 US Cup (96 Grams) Almond Flour
Calories: 617
Total Fat: 51 grams
Saturated Fat: 3 grams
Protein: 20 grams
Carbs: 17 grams
Sugar: 3 grams
Fibre: 10 grams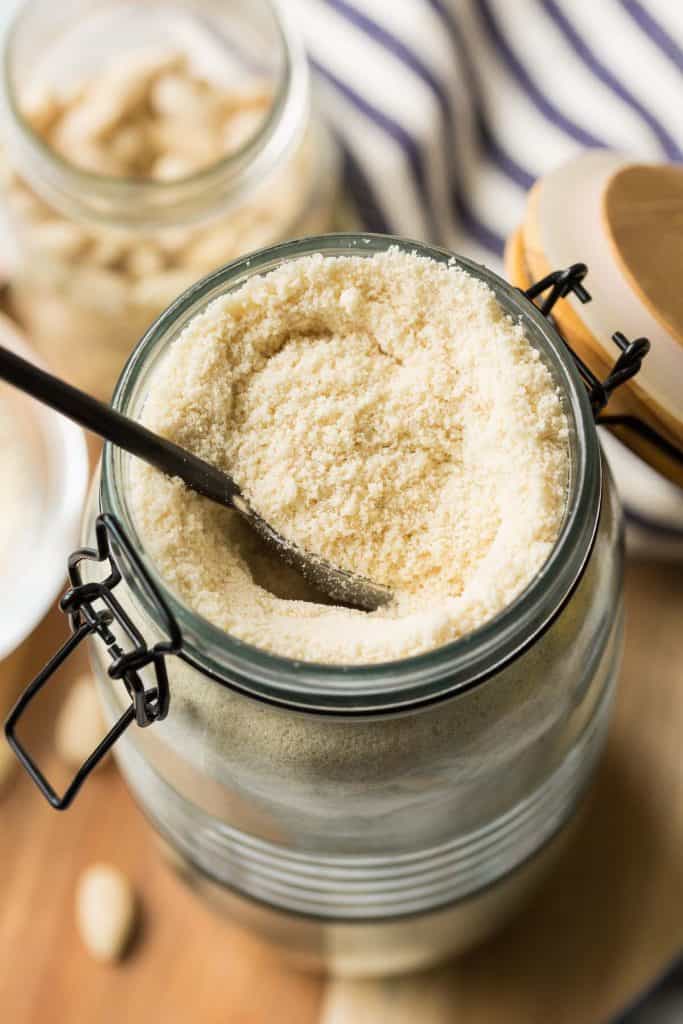 How To Use Almond Flour?
Because of it's high fat content, almond flour helps make baked goods tender and moist. For this reason you'll find that almond flour is an ideal ingredient to use in cookies, cakes, quick breads, etc.
Tip: I highly recommend using a kitchen scale when baking with almond flour. When it comes to the almond flour recipes on my site 1 cup = 96 grams. This ratio might vary in on other websites, but for the sake of consistency and accuracy – this is always the same here on A Saucy Kitchen.
I've seen a lot of ratios floating around the internet about how to replace whole wheat flour with almond flour in baking. In my personal experience – these ratios are baloney. There's far too much nuance and deviation when it comes to baking with almond flour to come up with a rule of thumb for substituting. Unless you're an experienced baker who is comfortable with trial and error – it's best to stick to a recipe made specifically with and for the use of almond flour.
The exception: Almond flour can be used as an excellent breadcrumb substitute. Because of the amount needed and the way it's used in the cooking process – you can substitute almond flour or almond meal for bread crumbs in a 1:1 ratio.
A few things to note about almond flour baked goods in general. They:
have a rich, naturally sweet (not enough to negatively affect savoury recipes) nutty flavour
are tender and moist due to the high fat content
usually have a noticeably grainy texture – more noticeable in cakes, less so in cookies
rise less compared to generic all purpose (gluten or gluten free) flours
The Pros & Cons
As I've explained above, there are myriad of reasons to love cooking and baking with almond flour. As far as grain free baking goes it's probably my all-time favourite flour to use. I love the texture and taste of almond flour recipes and I also love how easy it is to find in major grocery stores (compared to other grain-free flours).
That all being said, like most things in life, it should be used in moderation. A few almond flour chocolate chip cookies every now and then won't hurt, but a daily diet made up of almond flour for breakfast lunch and dinner might be problematic for you.
| | |
| --- | --- |
| Pros | Cons |
| Low Carb – useful in the keto diet and diabetic cooking | High calorie – should be use sparingly in diets that rely on calorie counting |
| Naturally gluten and grain free – deal for coeliacs, gluten intolerance and paleo diets | Nuts are a common allergy that should be avoided by many people |
| It's a widely accessible grain-free flour – available in many major grocery stores | It's expensive |
| Nutrient dense – rich in Vitamin E, magnesium, prebiotic dietary fibre (necessary for gut health) | High in Omega-6 fatty acids which can lead to increased inflammation |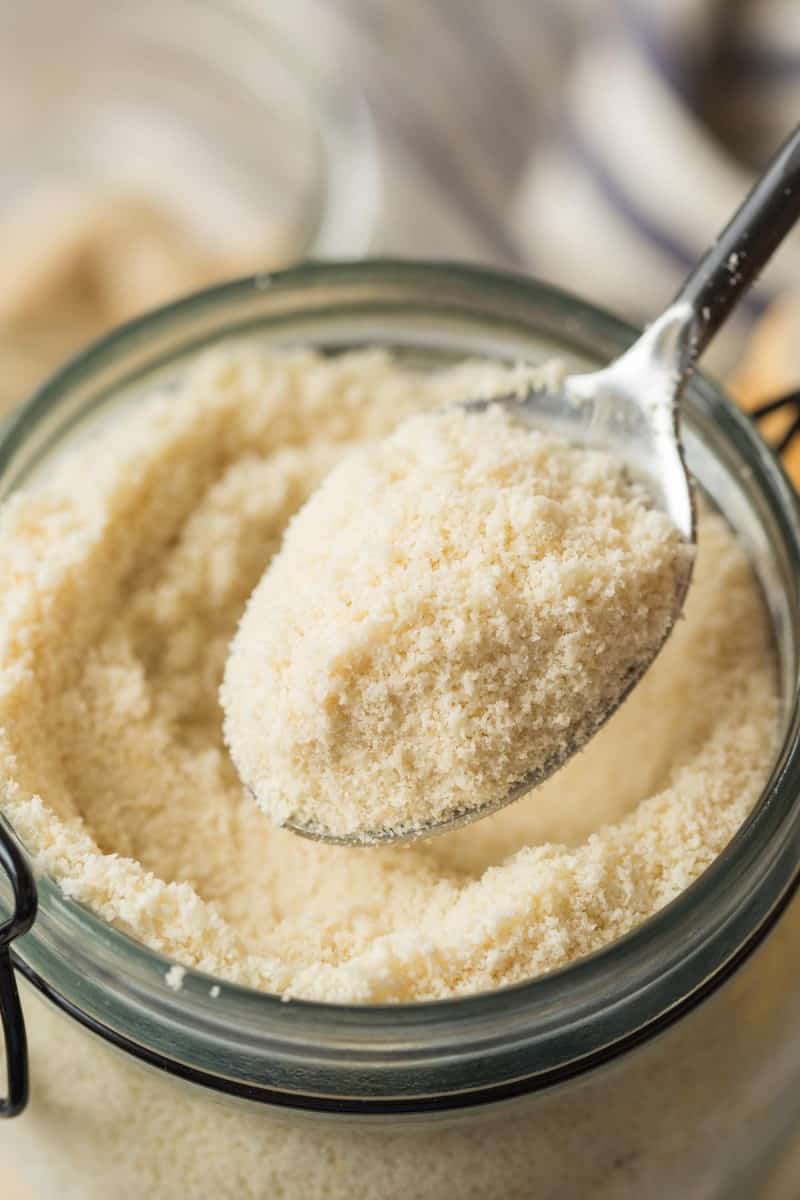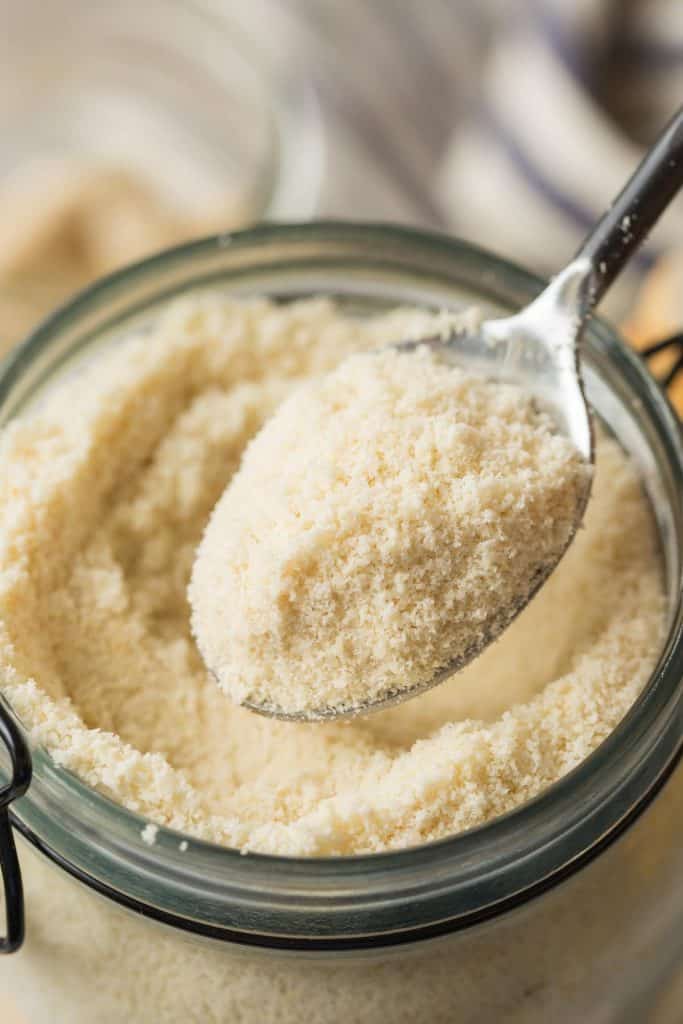 Can I Make My Own Almond Flour?
Yes! Since almond flour is literally just blended up almonds you can make this quite easily at home. A few tips to keep in mind:
Make sure you use a high-powered blender or food processor with sharp blades.
Start with blanched slivered almond – this will be faster & easier to work with than whole almonds.
Stop and scrape down your bowl or blender often to make sure things blend easier.
Make sure not to blend too long because then you'll end up with almond butter!
Where Can I Find Almond Flour?
I can only speak about the US and the UK here as that's all I know.
In the UK, almond flour isn't too readily available yet in most major grocery store chains. However – you can often find small bags of almond meal in most baking or gluten-free sections. If you have access to Costco then I recommend going there to purchase your almond flour as you can bulk buy large bags for a decent price. In the US: almond flour is often found in many major grocery store chains in addition to most health and specialty food stores like Trader Joes, Sprouts and Whole Foods. If all else fails, look online. Amazon will most certainly have almond flour available.
Shelf Life & Storage
An unopened bag of almond flour has a long shelf life. So long as it's still sealed, don't worry about it going off any time soon. An opened bag of almond flour can be kept for about a year so long as it's stored in an airtight container. If you've got the space, you can also keep it i n freezer for an even longer shelf-life.
Opened or closed – it's important to keep your almond flour stored in a cool, dark environment. Light and heat will degrade oil-rich nut flours making it go rancid sooner rather than later.
A Few Recipes To Get You Started