This Almond Lemon Poppy Seed Loaf is an easy mix and go recipe using a blend of grain free flours and fresh lemons. Not too sweet and not too tart!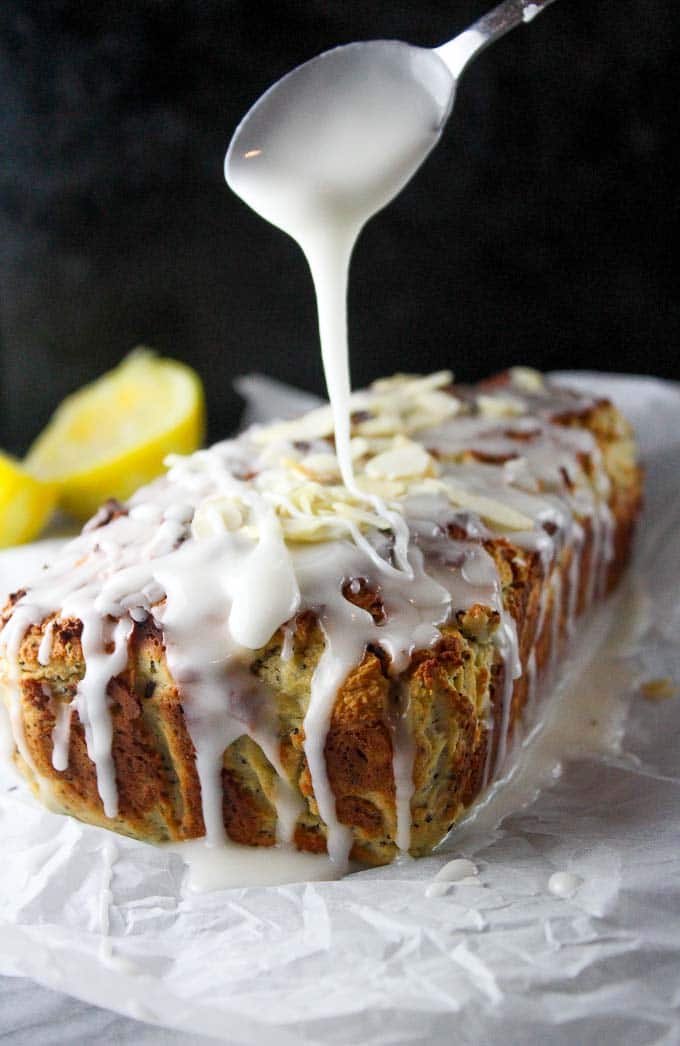 Nothing smells better than a freshly zested lemon. Nothing.
No.
Thing.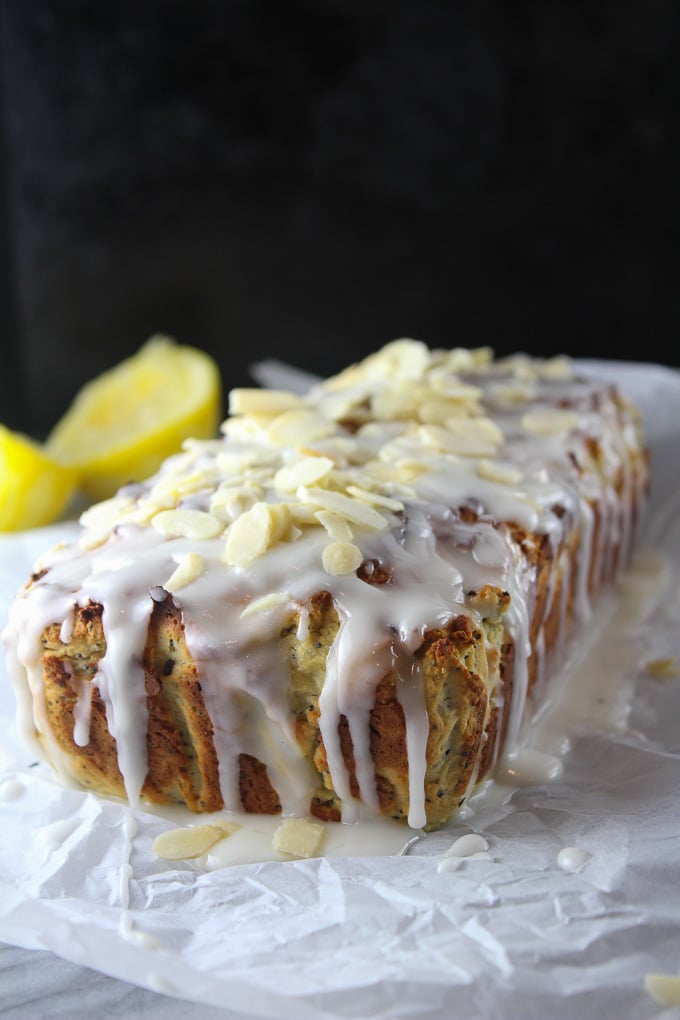 My parents have the best Meyer lemon tree growing in their backyard. I couldn't help being just a teensy bit jealous of them and their little baby lemon tree when I was in Arizona visiting them over Thanksgiving. It's a tiny little tree that barely comes up to my shoulders, but it's bursting with lemons. It probably can't grow any higher because it's literally being weighted down the sheer number of lemons begging to be picked and transformed into delicious dishes.
For now though, I'm going to save the lemon dishes for another time because I've been working on this almond lemon poppy seed loaf for the past couple of weeks and it's hands down my favorite quick bread recipe e v e r .
About this Recipe
I wanted to make a grain free version of this Meyer Lemon Poppy Seed Bread by Beard & Bonnet. I love this recipe and I've made it countless times but I also wanted to put my own twist on it. It's already gluten free, but I wanted to figure out how to switch up the flours for a grain free alternative and reduce the sugars as much as I could get away with.
For my cake I did go with the traditional powdered sugar + lemon juice glaze because in my opinion a lemon cake is not a lemon cake without it. Not only that, but I also wanted to avoid buying any additional, pricey ingredients like coconut butter just to make it Paleo for the sake of it. If you would like to keep this Paleo and you've got the ingredients on hand I'd recommend using a glaze like this one from Living Healthy with Chocolate, or just leaving out the glaze altogether and slather on a bit of butter instead.
This is a one bowl, mix and dump recipe making it an easy treat that you can throw together and bake at 350 for 45-50 minutes and then you're all set.
Almond Lemon Poppy Seed Loaf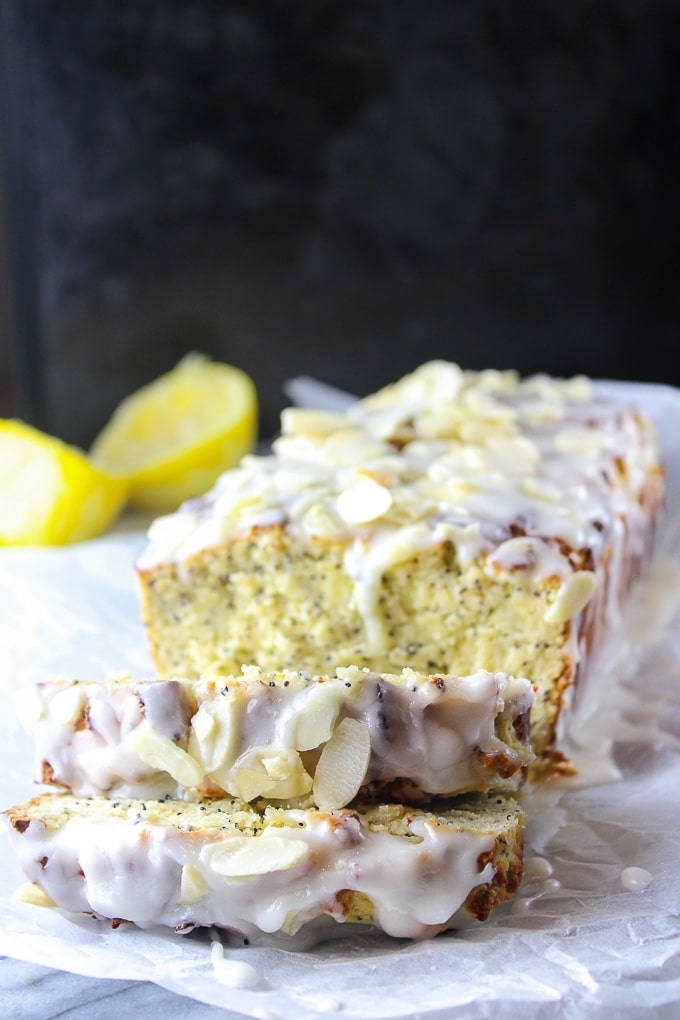 I hope you like this lemon loaf as much as I do! I must admit that I'm a sucker for any type of lemony dessert. I'd take a lemon cake over a chocolate cake any day of the week. The best part is, if I have it with a cup of coffee it's suddenly a breakfast. #Logic
Do you have a favorite quick bread/dessert that you can't get enough of? Let me know what you think in the comments below!
Yield: 10 slices
Almond Lemon Poppy Seed Loaf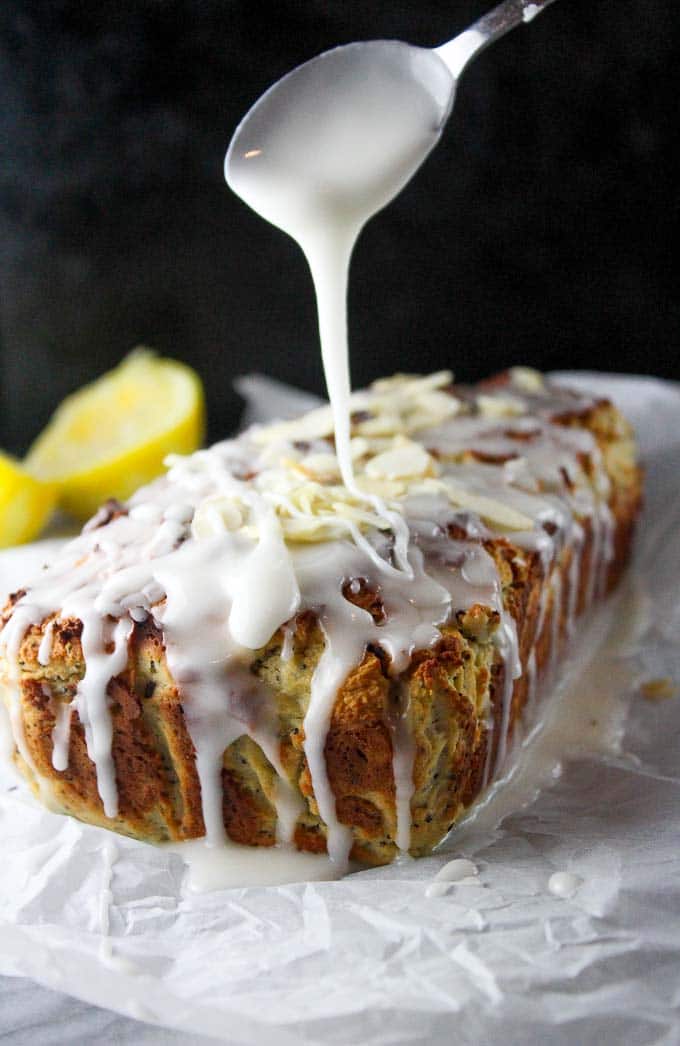 This Almond Lemon Poppy Seed Loaf is an easy mix and go recipe using a blend of grain free flours and fresh lemons. Not too sweet and not too tart!
Ingredients
Loaf
1 1/2 cup almond flour, (144 grams)
1/4 cup coconut flour, (28 grams)
2 teaspoons baking powder
1/2 teaspoon salt
3 tablespoons poppy seeds
3 eggs
1/2 cup coconut oil , , melted & cooled (105 grams)
1/4 cup honey, (85 grams)
1/2 cup almond milk + 2 tablespoons, (210 ml)
1 meyer lemon, , zest + juice
Glaze
1 cup powdered sugar, , sifted to get rid of any clumps
2-3 tablespoons lemon juice
2 tablespoons slivered almonds
Instructions
For the Loaf
Preheat you oven 350°F/180°C. Line or grease a loaf tin and set aside for later.
In a large bowl whisk together the almond flour, coconut flour, baking powder, salt, and poppy seeds until combined.
Add the eggs, oil, honey, almond milk, lemon juice, and zest and mix until combined. You should end up with a thick batter.
Spoon the batter into the lined/grease loaf tin. Smooth the batter over the top and then baked for 45-50 minutes or until a knife inserted in the center comes out clean.
For the Glaze
In a small bowl whisk together the sugar and lemon juice until completely combined and no lumps remain. If the glaze is too thick, add more lemon juice one teaspoon at a time to thin it out to your preferred consistency.
When the loaf is cool enough to handle, carefully remove it from the pan and place it on a cooling rack with paper towels underneath to catch the glaze. Drizzle the glaze over the top, sprinkle on the slivered almonds and then let it set for 5-10 minutes before slicing.
Nutrition Information:
Yield:
10
Serving Size:
slice
Amount Per Serving:
Calories:

321
Saturated Fat:

11g
Cholesterol:

49mg
Sodium:

159mg
Carbohydrates:

26g
Fiber:

3g
Sugar:

19g
Protein:

6g