These Chocolate Chia Seed Muffins are paleo, dairy free, grain free and provide the perfect pick-me-up for when you're craving something sweet.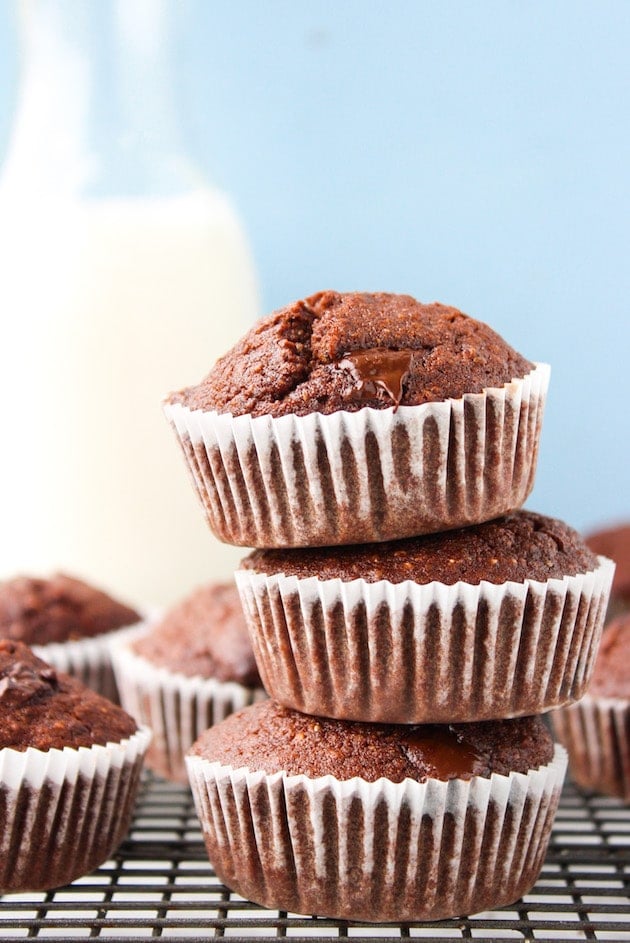 Hello again! Sarah's busy writing up the recipe to a new grain-free cookie recipe that she has coming up (they're insanely good) so you're gonna have to listen to me wax lyrical about these chia seed muffins instead. Normally I find writing blog posts to be a daunting prospect but considering I've eaten about 10 of these in the last couple of weeks I feel like I'm qualified enough for this one!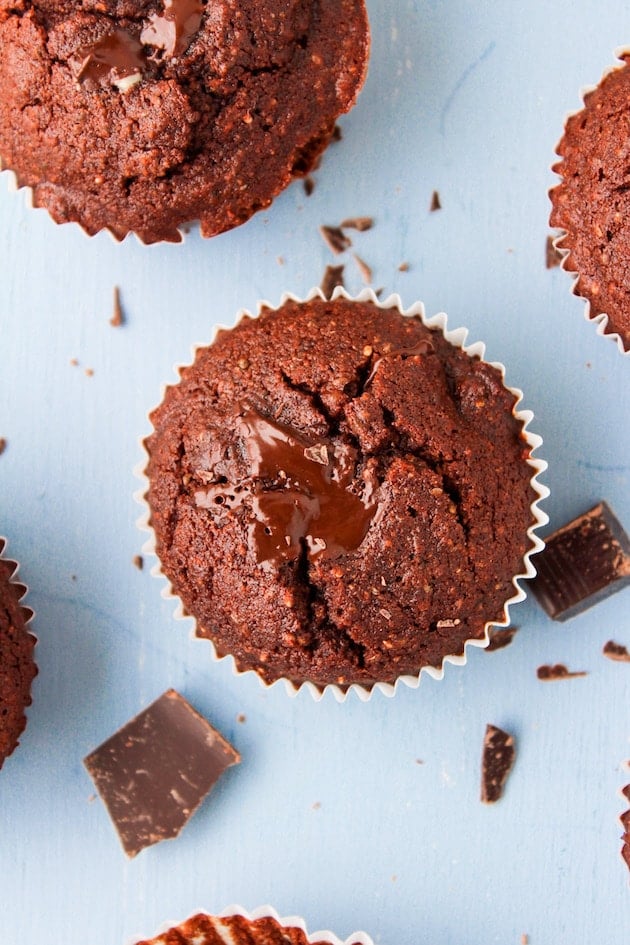 The idea for these beauties came about during one of our trips to Meadowhall shopping centre. The real purpose of the trip was for me to buy some new walking shoes – or at least that was the plan until I noticed their price tags. 🙁 So we called an audible and wandered into Lakeland kitchenware. It feels like whenever we go in there we end up leaving with inspiration for a new recipe. The first time we went it inspired this ice cream recipe, as I insisted we buy their orange oil. This time around there was a very tempting box of chocolate chia seed muffin mix winking at me as we walked in. It was decided – we had to make our own version.
About This Recipe
So our (read: my) first attempt at this recipe was pretty good, but nothing spectacular. I'm not the greatest when it comes to eyeing my ingredients so they came out a little bit on the dry side. A valiant effort, but not quite what we were looking for. Sarah steps in for round two, and of course, she knocks it out of the park. It'd be annoying how good she is at figuring out recipes first try if it wasn't for the fact that I get to eat the results. I suppose there's no shame in being schooled by the professional!
Actually, you know what? I do have a serving suggestion that goes a little bit off the beaten track. Break off some of this halloween-inspired chocolate bark and stick it on top if you want to dial the decadence of this recipe up to 11. I'm not sure if Sarah tried it this way when she ate these but it gets the Mike seal of approval. Hope you enjoy!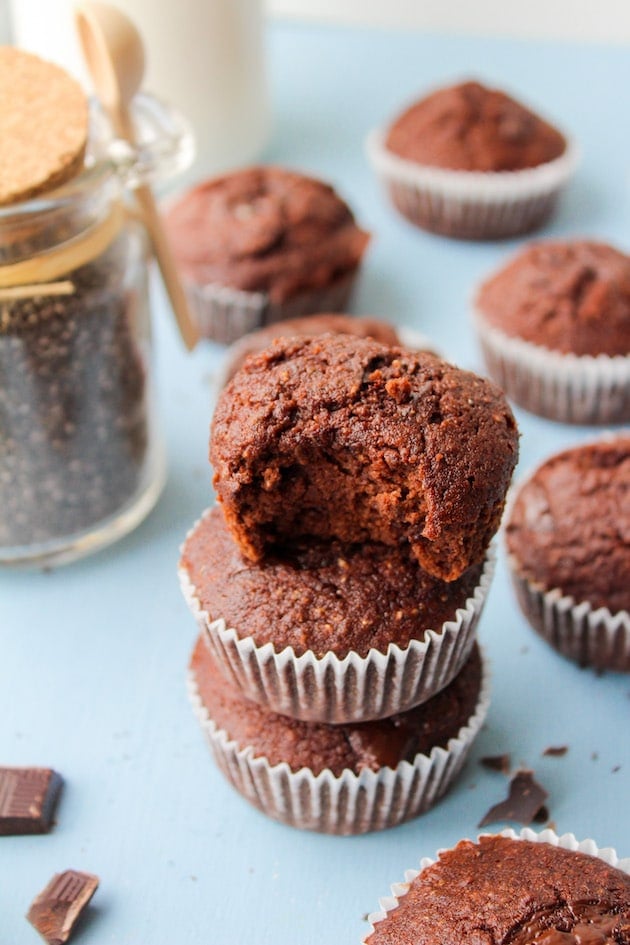 FACEBOOK | INSTAGRAM | PINTEREST  
Don't forget to #asaucykitchen on instagram if you make these chocolate chia seed muffins! I love seeing what you make with!  You can also post your pictures to our facebook page!
This post contains affiliate links.  I only post links for products I personally use and believe in. If you make a purchase on Amazon after clicking one of my links, I receive a small commission and the price you pay is not affected.  Thank you!
Yield: 10 muffins
Chocolate Chia Seed Muffins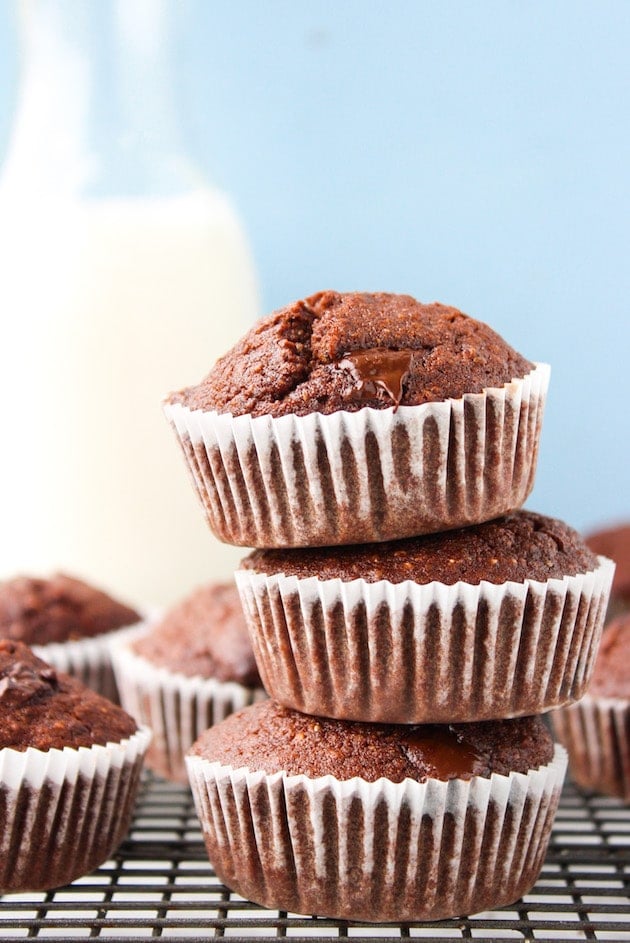 These Chocolate Chia Seed Muffins are paleo, dairy free, grain free and provide the perfect pick-me-up for when you're craving something sweet.
Ingredients
4 eggs, , room temperature
1/2 cup | 105 gram melted & cooled coconut oil
1 teaspoon | 5ml vanilla extract
1/2 cup | 170 grams honey
3 tablespoons | 45 ml full fat coconut milk
1/2 cup | 66 grams coconut flour, , sift if clumpy
1/3 cup | 40 grams unsweetened cocoa powder
3 tablespoons | 30 grams chia seeds
1 teaspoon baking powder
1/4 teaspoon sea salt
3 oz dairy free dark chocolate, , chopped
Instructions
Heat your oven to 350°F/180°C and grease or line a 12 cup muffin tin.
In a large mixing bowl beat together the eggs, coconut oil, vanilla extract, honey and milk until well combined.
Add the coconut flour, cocoa powder, chia seeds, baking powder and salt to the bowl and mix to combine until you have a smooth batter. Stir in the chopped chocolate pieces.
Spoon the batter evenly into the muffins tins. Place in the oven and bake for 18-20 minutes, or until a knife going into the center comes out clean. Remove the muffins from the oven and let cool for about 10 minutes before flipping the tin over and removing the muffins.
Notes
I recommend using full fat coconut milk because it provides a little extra fat/moisture to the muffins but you can use another dairy free milk alternative if you prefer
Nutrition Information:
Yield:
10
Serving Size:
1 muffin
Amount Per Serving:
Calories:

337
Total Fat:

22g
Saturated Fat:

14g
Trans Fat:

0g
Unsaturated Fat:

6g
Cholesterol:

75mg
Sodium:

139mg
Carbohydrates:

30g
Fiber:

5g
Sugar:

19g
Protein:

7g