Dinner will be ready in a flash with this 20 minute vegetarian Lentil Bolognese! This speedy dish is made all in one pot with wholesome pantry essentials that you likely already have on hand. It's filling, delicious and super easy to make! Gluten Free + Vegetarian + Vegan Friendly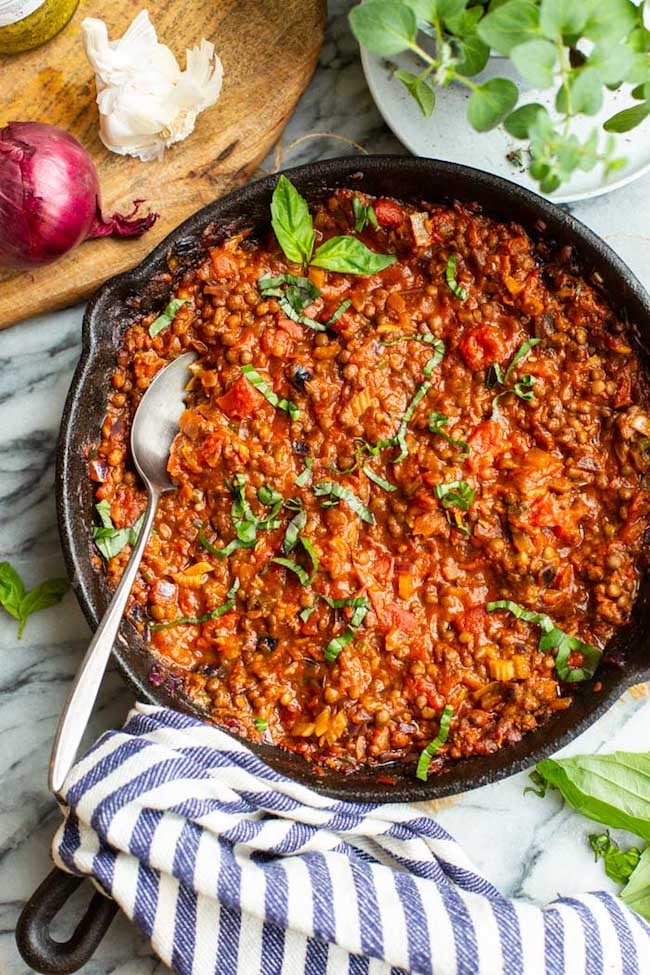 This lentil bolognese has been on heavy rotation in our home these past few weeks. It's fast, easy and super satisfying. There's also just something so comforting about settling in with a bowl of pasta topped with a rich and hearty tomato sauce.
I'm sure you would agree that we could all use an extra helping of comfort right about now, ya know?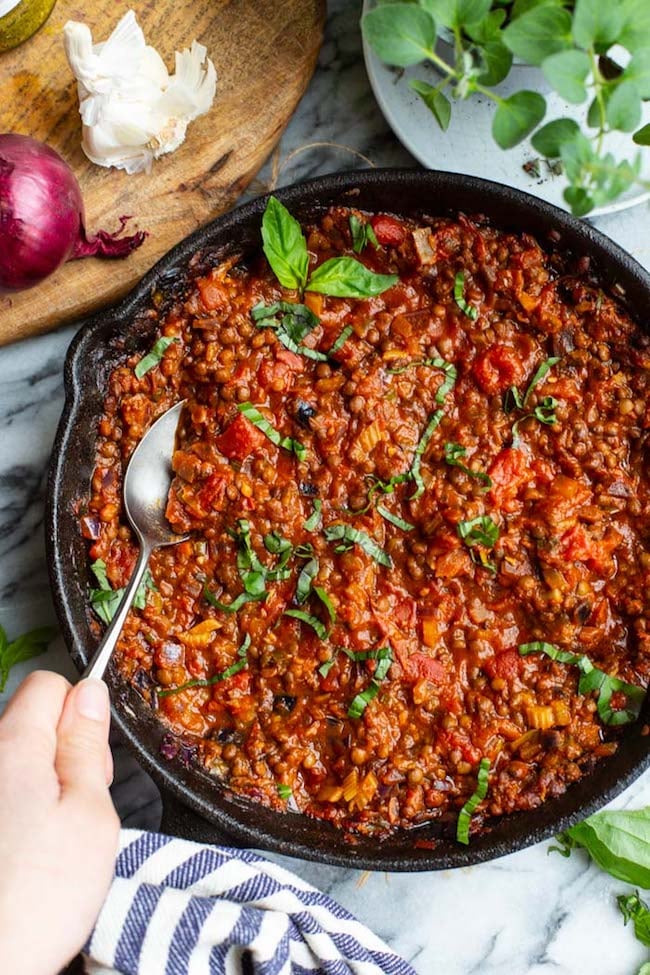 How to Cook this Vegetarian Lentil Bolognese
Altogether this dish is super easy to make. It's all cooked in one pan in about 20 minutes with very little prep needed.
Start out by sautéing your onions with a pinch of salt in a little bit of olive oil for about 5 minutes. After the onions have softened, add the celery and garlic and cook another couple of minutes until those have also softened and become fragrant. The idea here is to let your veg cook in stages so that you can layer in the flavour for a more satisfying bolognese.
Next, add the tomato paste and pesto and cook at least 1-2 minutes. Stir and cook until the tomato paste darkens into a dark brownish red when mixed with the pesto and veg. By cooking the tomato paste and pesto before adding the liquids you're giving the paste a chance to caramelise making for a more savoury, interesting dish.
Finally, add the remaining ingredients: tomatoes, water, lentils and soy. Mix everything together, simmer and let cook for about 15 minutes until a thick, sauce forms and that's it!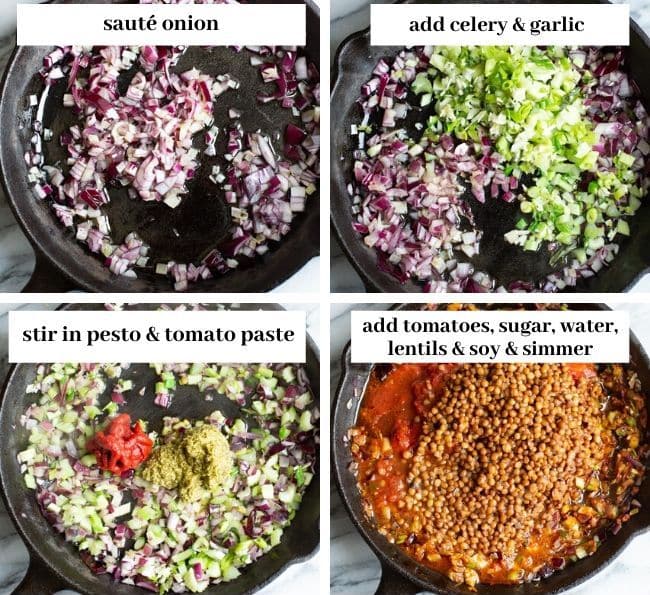 Lentil Bolognese Questions & Substituions
Why add soy sauce?
It might seem a little out of place in this recipe, but it does serve a valuable purpose. Soy sauce is used here to add a a 'meaty' umami flavour that you'd normally get from meat or animal products.
I often add a splash of soy sauce to savoury vegan and vegetarian dish (like my Black Bean Quinoa Veggie Chili) to make them a little more interesting.
What kind of lentils should I use?
I like using green or brown lentils for this recipe because they hold their shape and texture well when cooked in stew-like dishes.
If you don't have any brown or green lentils feel free to use red lentils. They might come out a little more mushy but shouldn't change too much.
Dried or canned lentils
I almost always cooked with boxed or canned lentils because the dried lentils that I find in local grocery stores always come with a possible gluten cross contamination label.
If you want to use dried lentils in place of canned lentils you'll need about 1 cup dried lentils which will make about 2 1/2 cups cooked lentils (one can is usually about 2 cups). You will need to cook the lentils first before adding them to recipe otherwise the ratio of liquids will be off balance.
Pesto
Pesto is an easy way to impart a LOT of flavour into this bolognese. You can use any type of pesto you want – homemade, store bought, whatever. If you need this dish to be dairy free make sure to use a vegan pesto.
If you're up for making your own pesto I've got a few recipes that you can use here.
If you don't have any pesto on hands you've got a few options here:
Add parmesan when you add the liquids.
Add nutritional yeast when you add the liquids (good for a veggie option).
Skip the pesto/substitutions altogether.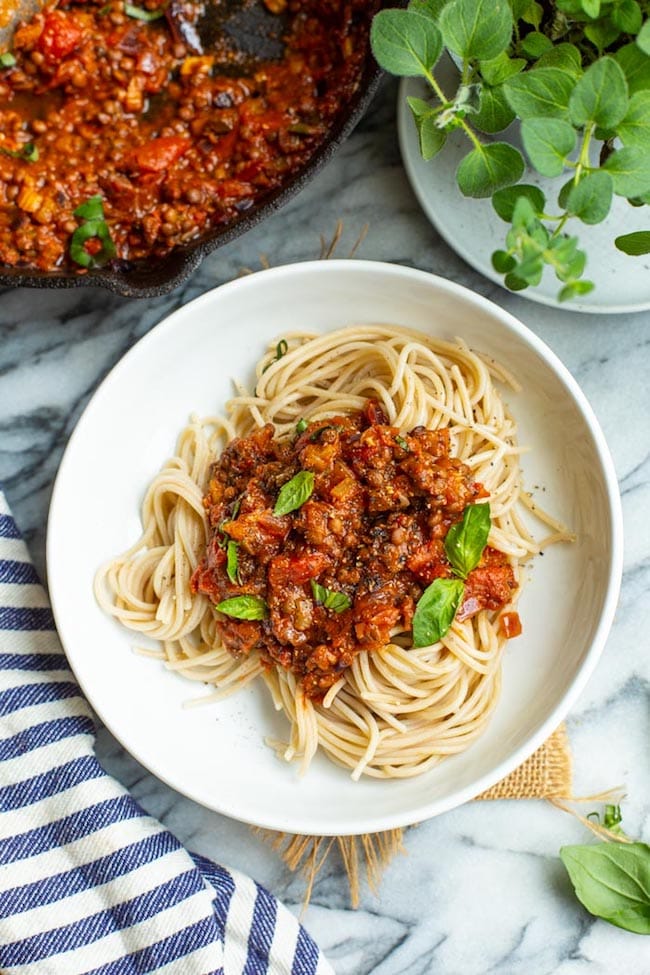 When you're ready, throw this on whatever pasta you've got on hand – spaghetti, penne, fusilli, etc! If you're looking to keep things light you can also mix this in with your favourite veggie noodles. Zucchini noodles are always a popular choice but I really like sweet potatoes and tomato sauce together.
However you have it – enjoy!
FACEBOOK | INSTAGRAM | PINTEREST
Don't forget to @asaucykitchen on instagram if you try this Lentil Bolognese! We love seeing what you make! You can also post your pictures to my facebook page!
Yield: 4 servings
20 Minute Lentil Bolognese Sauce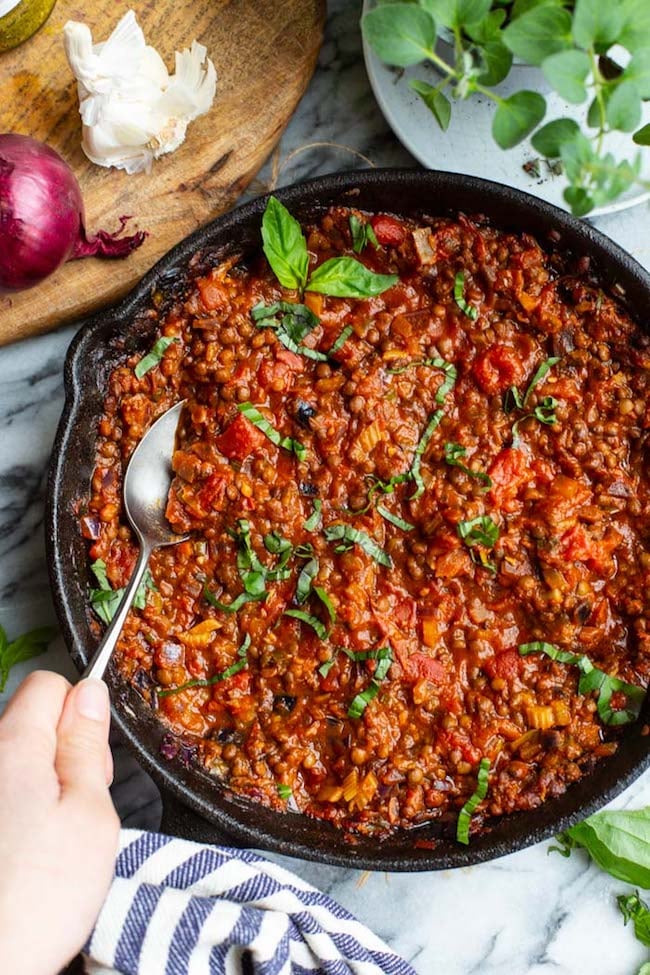 Ingredients
2 tbsp olive oil
1 red, yellow or white onion, diced
1/4 tsp salt + more as needed
2 large stalks celery, chopped
2 large cloves garlic, minced
2 tbsp tomato paste
2 tbsp pesto (ensure vegan pesto if needed)
1 14 oz can diced tomatoes
1/3 cup water
1 14 oz can green, brown or red lentils, drained and rinsed
2 tbsp gluten free soy sauce or tamari
1 tsp sugar, optional
Instructions
Add the oil to a large skillet or pot and warm on medium heat. When the oil starts to simmer add the onions and 1/4 tsp salt and sauté until softened, about 5 minutes.
Add the garlic and celery to the onions and sauté another few minutes.
Add the tomato paste and pesto to the pan and cook another 2 minutes.
Stir in the tomatoes, water, lentils and soy sauce mixing everything together well. Adjust the temperature to maintain a gentle simmer for about 10 minutes. The sauce will reduce down and thicken.
Taste and season with more salt or sugar if needed.
Serve over your choice of pasta or vegetable noodles and enjoy.
Notes
If you want to use dried lentils in place of canned lentils you'll need about 1 cup dried lentils which will make about 2 1/2 cups cooked lentils (one can is usually about 2 cups). Cook the lentils first then add the cooked lentils to the recipe as instructed.
Hungry for More? If you're looking for easy gluten free + vegan recipes check out my Effortless Vegan Cookbook!
Satisfying Plant-Based, Gluten-Free Meals Without the Hassle
Who says preparing vegan, gluten-free meals has to be so hard? Get back to enjoying your time in and out of the kitchen with Effortless Vegan. Painless prep, simple cooking and completely plant based & gluten free, these delicious recipes focus on full flavours, clean eating and efficiency.
This post contains affiliate links. I only post links for products I personally use and believe in. If you make a purchase on Amazon after clicking one of my links, I receive a small commission and the price you pay is not affected. Thank you!