One Pot Black Bean & Quinoa Veggie Chili – satisfying and filling without the meat! This easy to make, one-pot chili is made with a hearty blend of black beans, quinoa, corn and a healthy vegetable base of onion, carrot, celery and garlic. | Gluten Free + Vegan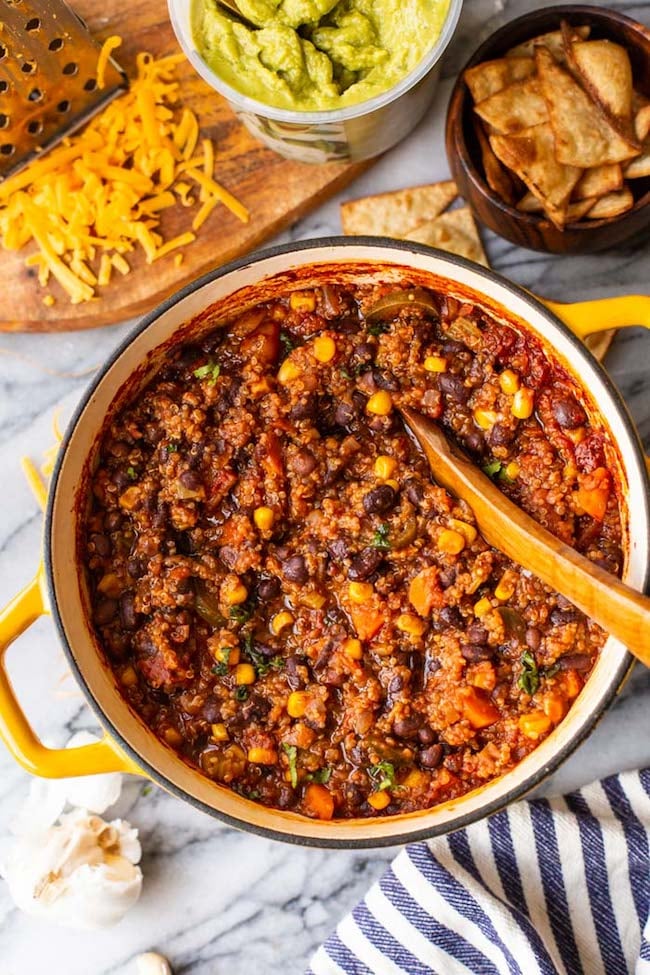 Let's Talk Veggie Chili
Altogether this chili is fairly simple. Don't be intimidated by the somewhat lengthly looking ingredient list. Many of these ingredients are pantry staples that a well stocked kitchen will have on hand and many of these ingredients are flexible and up for substitutions if you'd like to play around with the recipe.
The idea here to keep in mind when making this chili is to layer in your flavour in stages. Instead of adding everything together all at once, we're going to add things to our cooking pot bits at a time.
Let's get to it!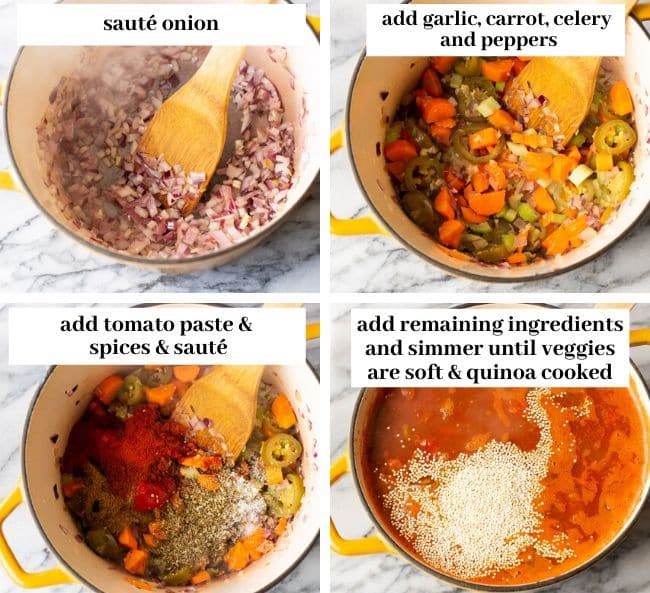 The Veggies
First things first: start out by sautéing your onion in a little olive oil. Sprinkle in 1/2 tsp salt in with your onions and give them a little time to cook on their own. This will make for sweeter, more flavourful onions and an overall better chili base.
After the onions have tenderised slightly, add the garlic, carrot, celery and peppers to the pot. Cook another 5 or so minutes to deepen and intensify their flavours.
The Spices
Next up: add the tomato paste and spices to pot and cook a couple 1-2 minutes. Like the onion, it's important to give the tomato paste a chance to cook before adding in the liquids so that it has a chance to sweeten and deepen in flavour.
Along with the tomato paste you'll also be adding a few common chili spices at this time: oregnao, cumin, chili powder and paprika. Remember that chili powder is often sold in mild, medium and hot forms. You can use whichever intensity you prefer based on your preference. For a little added kick go ahead and throw in a little cayenne as well.
The Cooking Liquids
After the veggies and spices have had a chance to mingle together, it's time to add the cooking liquid. In order to keep this chili as basic as possible I decided to use water and extra salt as one of the main cooking liquids (in addition to the crushed tomatoes). Feel free to use vegetable stock instead of water here if you choose. If you use stock just make sure to decrease and maybe even omit the extra salt altogether.
You'll also be adding soy sauce at this time. It might seem a little out of place in this recipe, but it's a key one. Soy sauce is important here because it adds a a 'meaty' umami flavour to this meat-free chili.
The Fibre and Protein
In addition to add the liquids, you'll also be adding the remaining ingredients at this time: black beans, corn and quinoa. Black beans and quinoa especially are a great source of both fibre and protein.
Not only is quinoa a good source of fibre and protein, but it's also one of the few plant based that contains a sufficient amount of all nine amino acids making it a real hero ingredient for plant based eaters.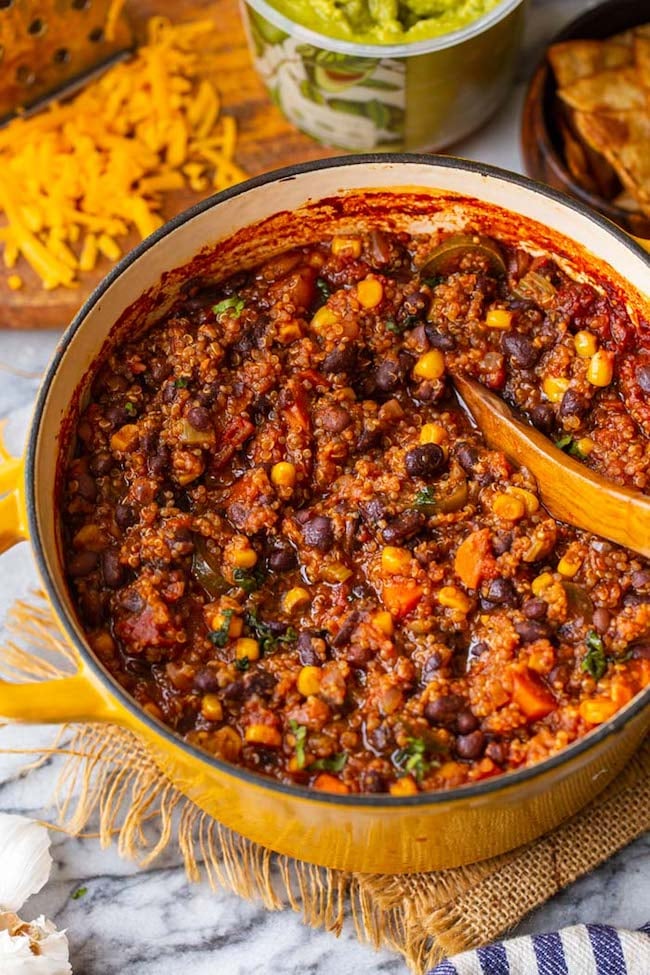 Veggie Chili Variations
There's a lot of room for playing around with this recipe. Here are a few ways to can change this up to make it your own.
Use butternut squash or sweet potatoes instead of carrots
Ditch the celery
Use fire roasted tomatoes instead of regular chopped tomatoes
Add 1-2 chopped bell peppers or fresh chili peppers instead of canned
Add 1/2-1 tsp cayenne to make this spicier
Use vegetable stock (or chicken stock if you don't need this to be vegetarian) instead of water
Change up the beans: use pinto, kidney, black-eyed, lima, garbanzo etc. Use a combination of whatever you like or have on hand.
Dig In
As is, this chili is naturally vegan. Serve it topped of with a healthy spoonful of guacamole and a side of tortilla chips and call it a day. If you don't mind the dairy go ahead and throw a little grated cheese and maybe a dollop of sour cream in the mix.
This chili is great all on its own, but it's so thick and hearty that is also makes for a great burrito and taco filling.
However you have it – enjoy!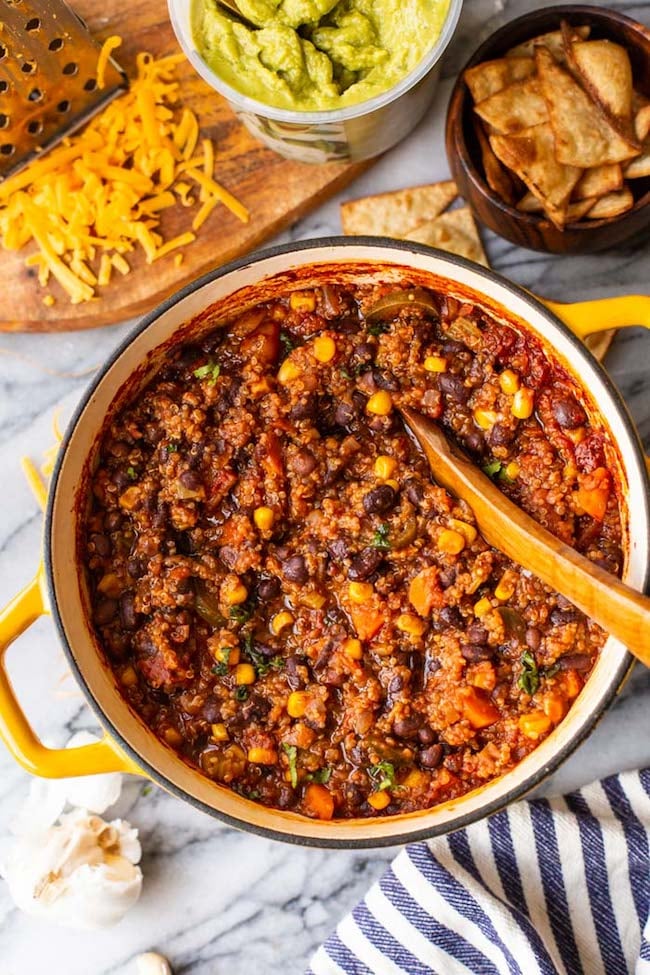 Recipe
Quinoa Veggie Chili
Yield:
8-10 servings
Prep Time:
10 minutes
Cook Time:
35 minutes
Total Time:
45 minutes
One Pot Black Bean & Quinoa Veggie Chili - satisfying and filling without the meat! This easy to make, one-pot chili is made with a hearty blend of black beans, quinoa, corn and a healthy vegetable base of onion, carrot, celery and garlic. | Gluten Free + Vegan
Ingredients
2 tbsp (30 ml) olive oil
1 large red or yellow onion, diced
1 1/2 tsp salt, divided
4 cloves garlic, minced
2 medium carrots, peeled and diced
2 large stalks celery, diced
1 4 oz can diced green chilies, drained
2 tbsp (33 g) tomato paste
1 tbsp dried oregano
1 tbsp chili powder
2 tsp ground cumin
2 tsp smoked paprika
1 28 oz or 2 14 oz (400 g) can chopped tomatoes
2 cups (480 ml) water
2 tbsp (30 ml) gluten free soy sauce or tamari
2 14 oz (400) cans black beans, drained and rinsed
1 15 oz (240 g) can corn, drained
3/4 cup (127 g) dried quinoa
Optional Toppings
Fresh cilantro
Grated cheese
Sour cream
Tortilla chips
Instructions
In a large heavy-bottomed pot over medium heat, warm the olive oil until shimmering. Add the onion and 1/2 tsp salt and cook 5 minutes until soft.
Add the garlic, carrots, celery and chilies. Stir to combine and then cook until the vegetables another 5 minutes.
Stir in the tomato paste, oregano, chili powder, cumin and paprika and cook 1 minute.
Add the tomatoes, water, soy sauce, black beans, corn and quinoa to the pot. Stir and mix everything together. Bring the temperature up to a boil and then reduce down to simmer. Let the chili cook, uncovered for at least 20 minutes until the quinoa is tender. Stir every so often .
Taste and season with more salt if needed. Serve topped with your choice of toppings and enjoy.
Notes
Keep leftovers stored in the fridge in an airtight container up to 1 week.
Feel free to change the type of bean to whatever you have on hand. Kidney, pinto, lima and black-eyed beans would all work well.
This website provides approximate nutrition information for convenience and as a courtesy only. Nutrition data is gathered primarily from the USDA Food Composition Database, whenever available, or otherwise other online calculators.
More Quinoa Recipes You Might Enjoy: