This Tabbouleh inspired Chickpea Quinoa Salad is a fresh, light and healthy salad that's as filling as it is satisfying – very! Fluffy quinoa works as a great gluten free replacement for bulgar what which is typically found in tabbouleh recipes. The chickpeas provide a smooth and creamy texture to this salad that helps to balance out the sharp and tangy zing of lemon. Loaded up with the usual Tabbouleh suspects: tomatoes, cucumber, spring onions and a generous amount of fresh herbs – this salad is not one to miss! | Gluten Free + Vegan + Low FODMAP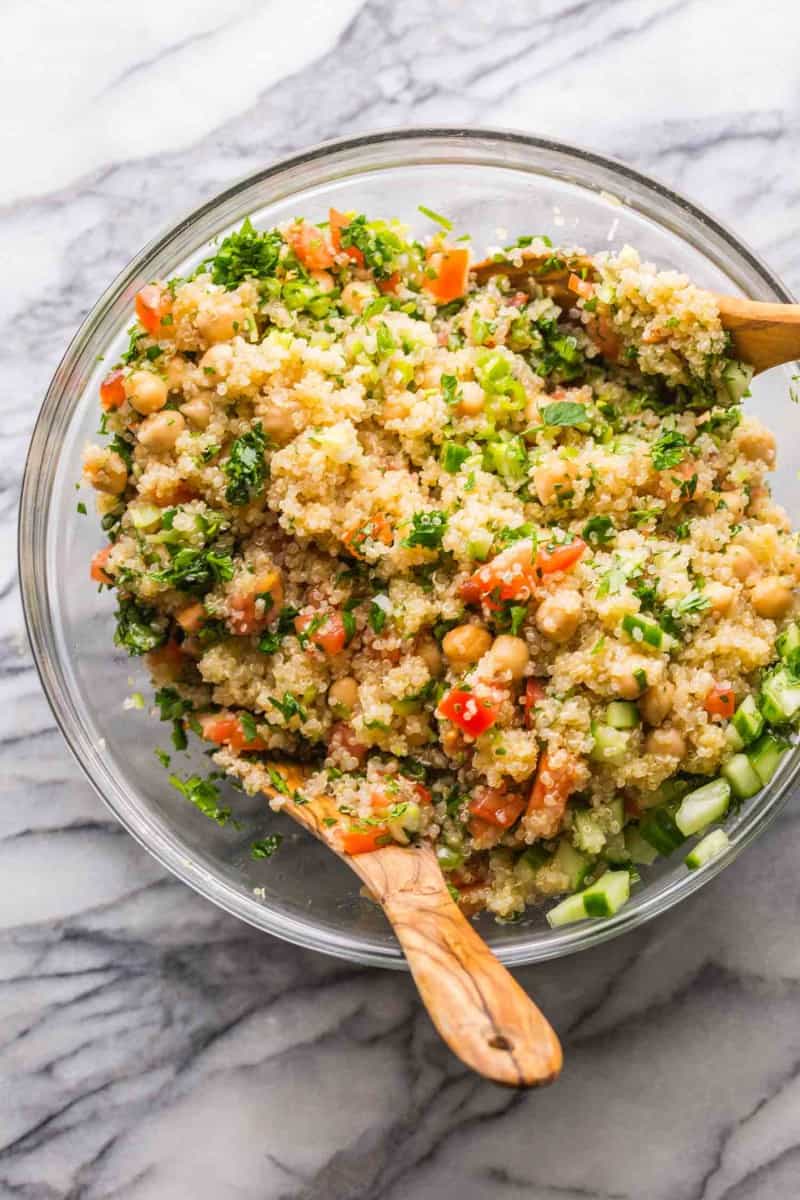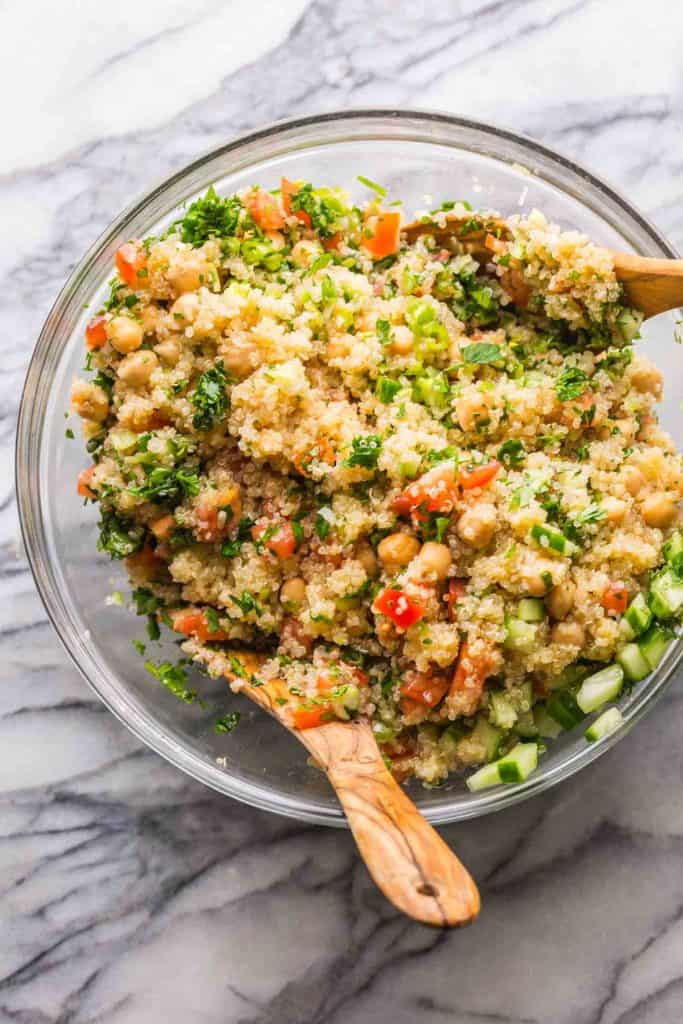 Spring is fiiiiinally here and I think this Tabbouleh inspired Chickpea Quinoa Salad is kind of the perfect recipe to whip out as we all can bask in brighter days.
There is so much to love in this healthy salad. While the flavour really packs a punch, it's made up of nothing but healthy ingredients without too much effort.
Tabbouleh Chickpea Quinoa Salad
The idea here is to essentially take all the bright and fresh flavours of tabbouleh and mix them together with quinoa and chickpeas. In addition to the quinoa and chickpeas, in every bite you're met with:
✔️Crunchy cucumbers
✔️Juicy tomatoes
✔️Finely diced green onions
✔️Fresh parsley and mint (LOTS of parsley)
✔️Squeeze of lemon juice (or a few)
✔️A little olive oil to mellow things out
✔️Pinch of salt and pepper for good measure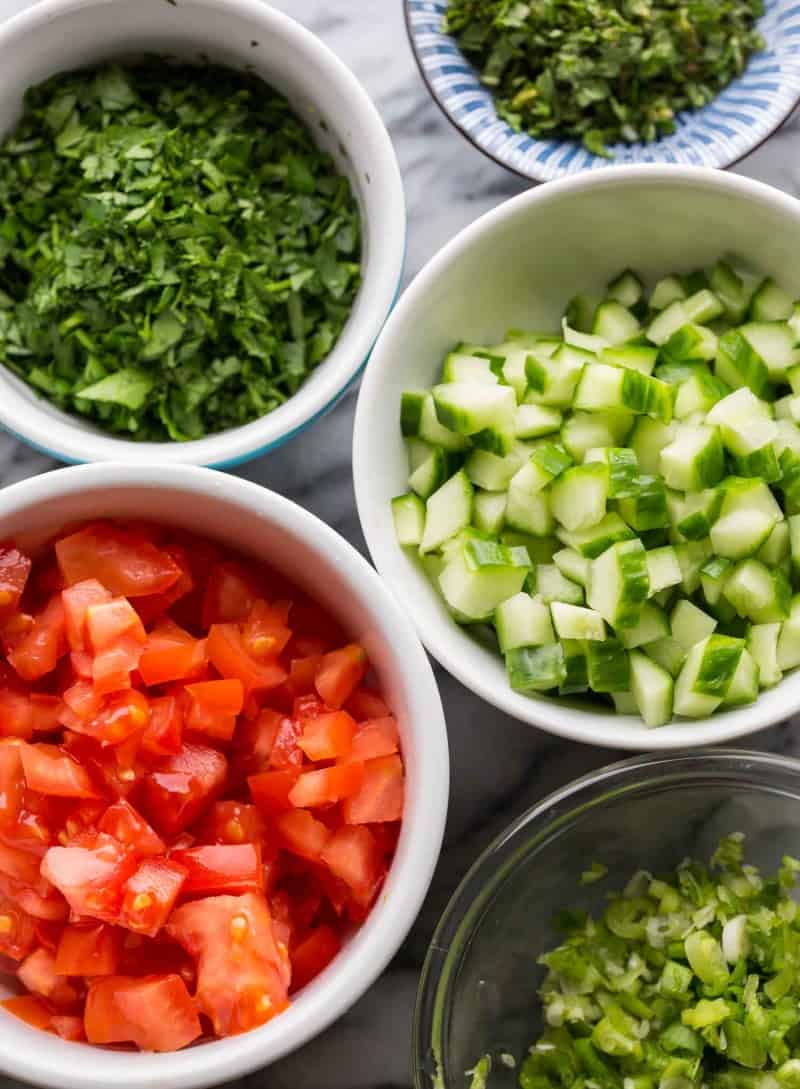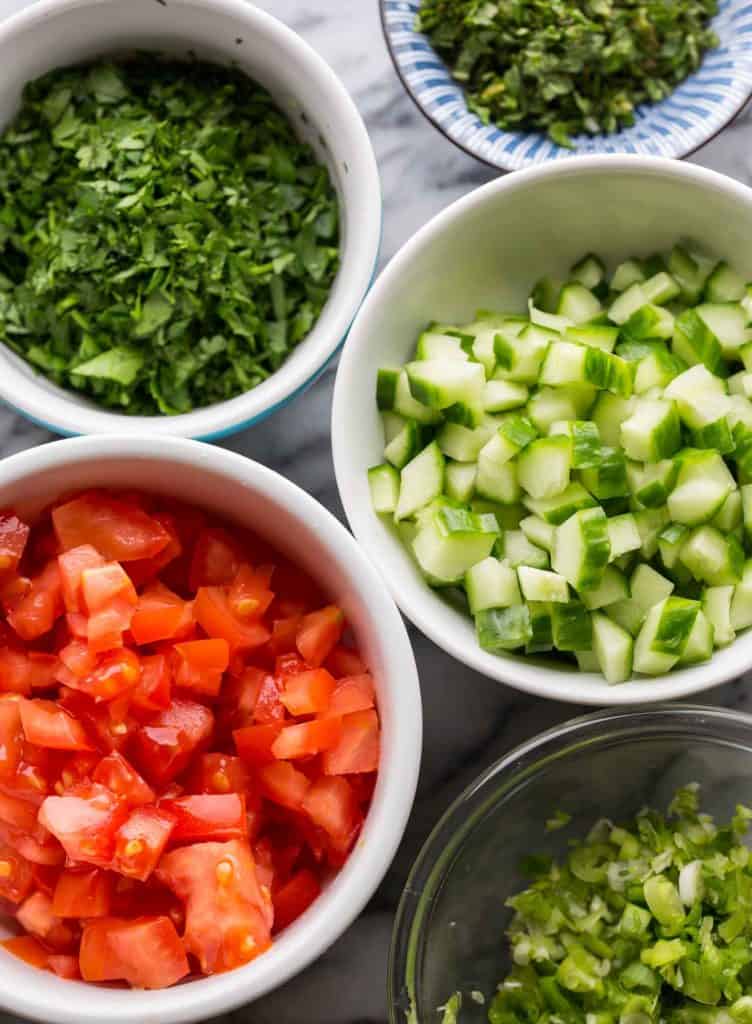 While traditional tabbouleh contains bulgur wheat (an obvious no-go in any gluten free kitchen) this easy salad looks to quinoa as a replacement.
A quick bit of trivia for you: Even though it's classified as a whole-grain (or a pseudo-cereal grain), quinoa is a technically a seed. It's often referred to as a grain because it's eaten like one – like in this recipe here.
Thanks to both the quinoa and chickpeas (also known as garbanzo beans) this salad is chock full of protein and fibre. Meal prep this salad early in the week, store it it in mason jars or airtight container and pull out as needed for a healthy and easy lunch.
Veggie Prep
There are two main keys to success you have to keep in mind when making this salad:
Make sure to finely slice and dice all your herbs and veggies. You want small bits of everything in every bite for maximum flavour distribution and impact.
When it comes to the tomatoes and cucumber you ideally want to get rid of excess water/moisture so you don't end up with a soggy salad.

After you dice the tomatoes, place the diced pieces in a fine mesh strainer over a bowl and just let the tomatoes sit and drain for a bit while you do your thing.
Make sure to scoop out the seeds in the cucumbers. The seedy cucumber centres have a LOT of excess water that can leave your salad feeling a bit too mushy if left in tact. If you're using a seedless cucumber, don't worry about this step.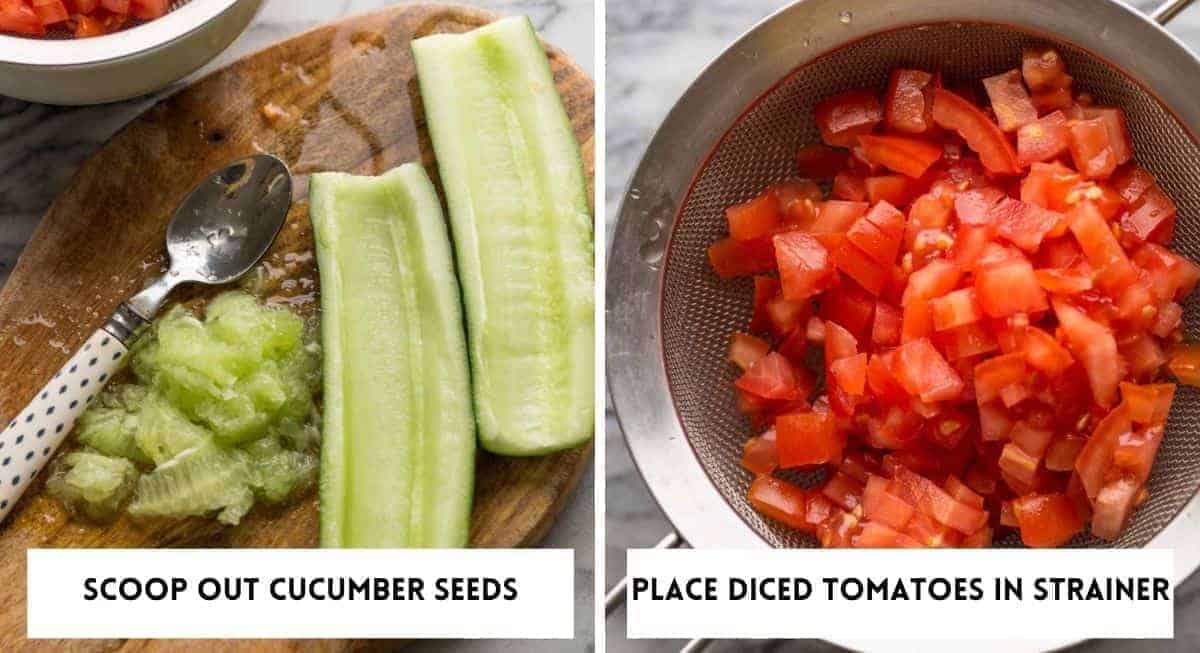 Quinoa Prep
Do I need to rinse my quinoa?
You might notice that a lot of quinoa recipes ask that you first rinse your quinoa before cooking it. The claim is that thoroughly rinsing your quinoa rinses away the bitter flavour from its natural coating, saponin. Some people can find the saponin to be bitter and soap tasty – hence the washing.
Personally, I have never noticed a bitter flavour from my unwashed quinoa. If anything, leaving the quinoa washed usually makes for a nuttier, earthier flavour which I really enjoy.
That being said – it doesn't hurt to quickly rinse your quinoa through a fine mesh strainer first. Keep in mind that a lot of packaged quinoa also comes labelled as pre rinsed already making this a moot point.
Ultimately, this step is up to you and your personal preferences. If you're curious about learning more – The Kitchn also did a quick write-up on this topic where they compared rinsed vs un rinsed.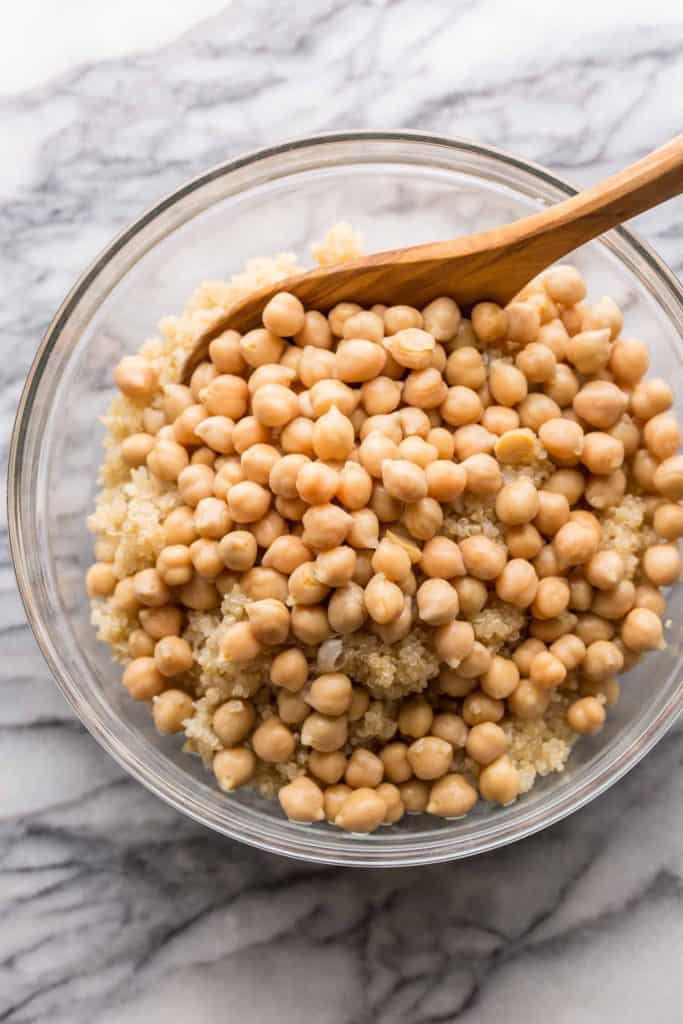 Cook & Cool
Altogether, cooking one cup of quinoa will take about 15-20 minutes. As a general rule of thumb you need about twice as much liquid as you do quinoa. In this case: 1 cup of quinoa needs 2 cups of water. Place quinoa and water in a small saucepan, bring to a boil then simmer on low until all the water has been absorbed.
A couple of tips for cooking your quinoa:
Cook the quinoa in vegetable stock (or chicken stock if you don't need this recipe to be vegan or vegetarian). The stock will impart more flavour that water making for an even more flavour packed salad.
Leave the quinoa uncovered as it cooks. I personally have found covering my quinoa makes it more mushy.
Once cooked, fluff up your quinoa with a wooden spoon then remove the pot from the heat source and let it rest while you prep your salad. The quinoa doesn't need to be fully cooled before mixing your salad together. I recommend working with warm quinoa as it's more receptive to soaking up all those bright and zesty flavours.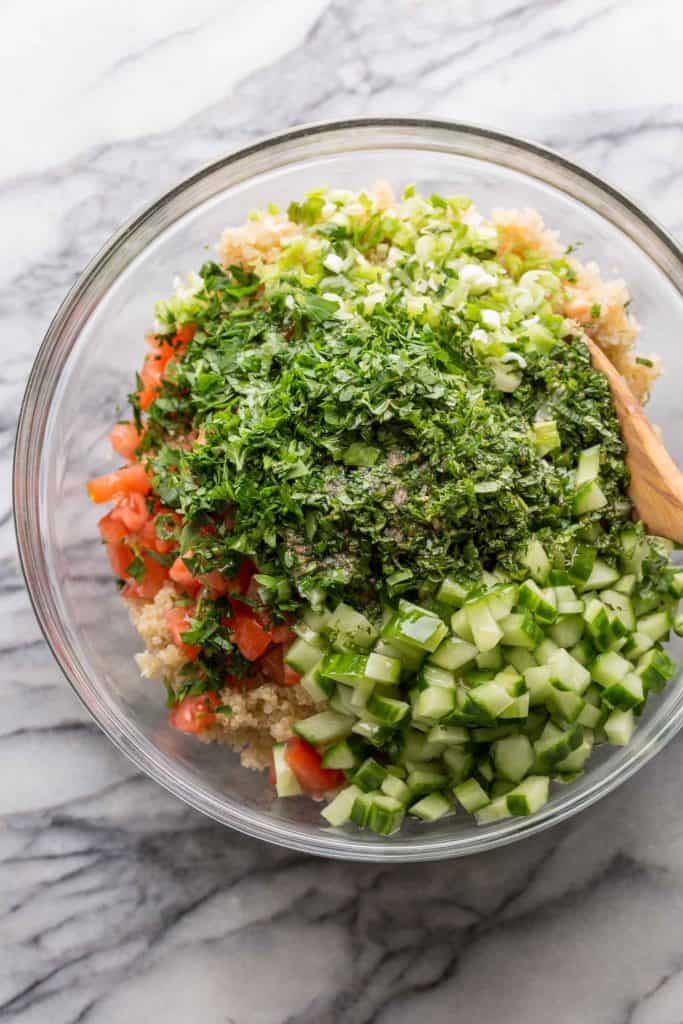 Make this Chickpea Quinoa Salad Your Own
Feel free to play around with this recipe adding or subtracting ingredients here and there. A few ideas to get you started:
Additions
Feta
Red bell pepper or sweet peppers
Chopped spinach
Hemp seeds or pumpkin seeds
Diced black olives
A minced garlic clove to the dressing
Red Onion
Substitutions
Lemon juice >> another type of acid like lime, red wine vinegar or balsamic vinegar
Cucumber >> zucchini or summer squash
Parsley >> cilantro or basil
Serving Suggestions
This salad keeps well making it a great recipe option if you're into food prep. You can enjoy it warm, cold or at room temperature. Make it on a Sunday evening and enjoy throughout the week. If anything, this might even be better the next day once the flavours have all really started to blend together and shine.
Serve this salad with a side of hummus, falafel and flatbread to bulk it out even further.
Enjoy as a side dish to larger meal like in Chermoula Chicken or Baked Salmon.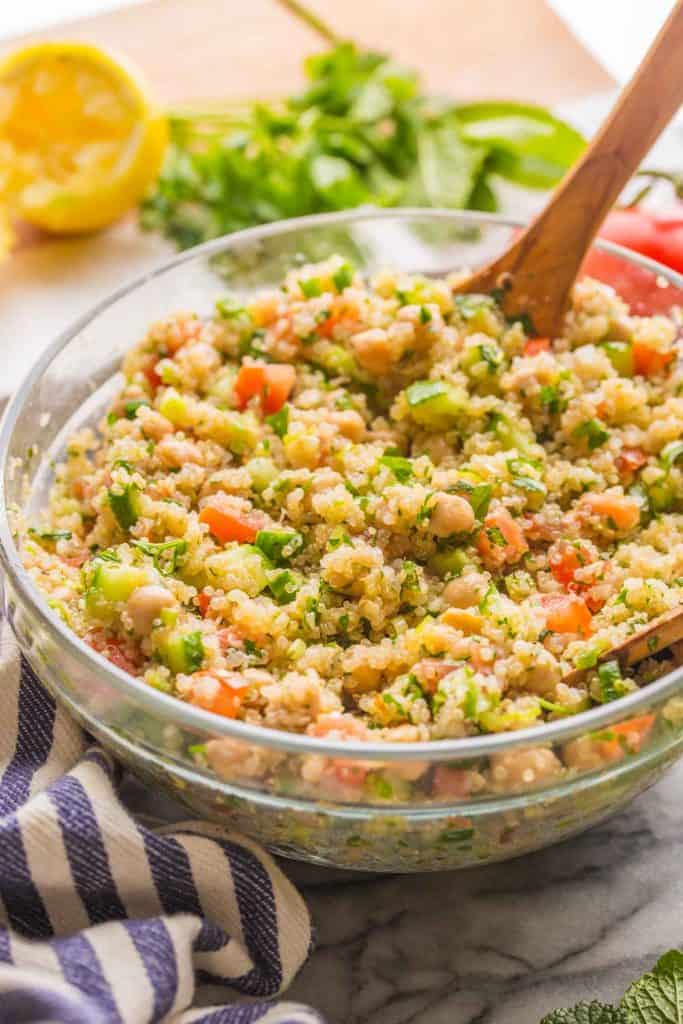 FACEBOOK | INSTAGRAM | PINTEREST
Don't forget to #asaucykitchen on instagram if you try this Tabbouleh inspired Chickpea Quinoa Salad! We love seeing what you make! You can also post your pictures to my facebook page!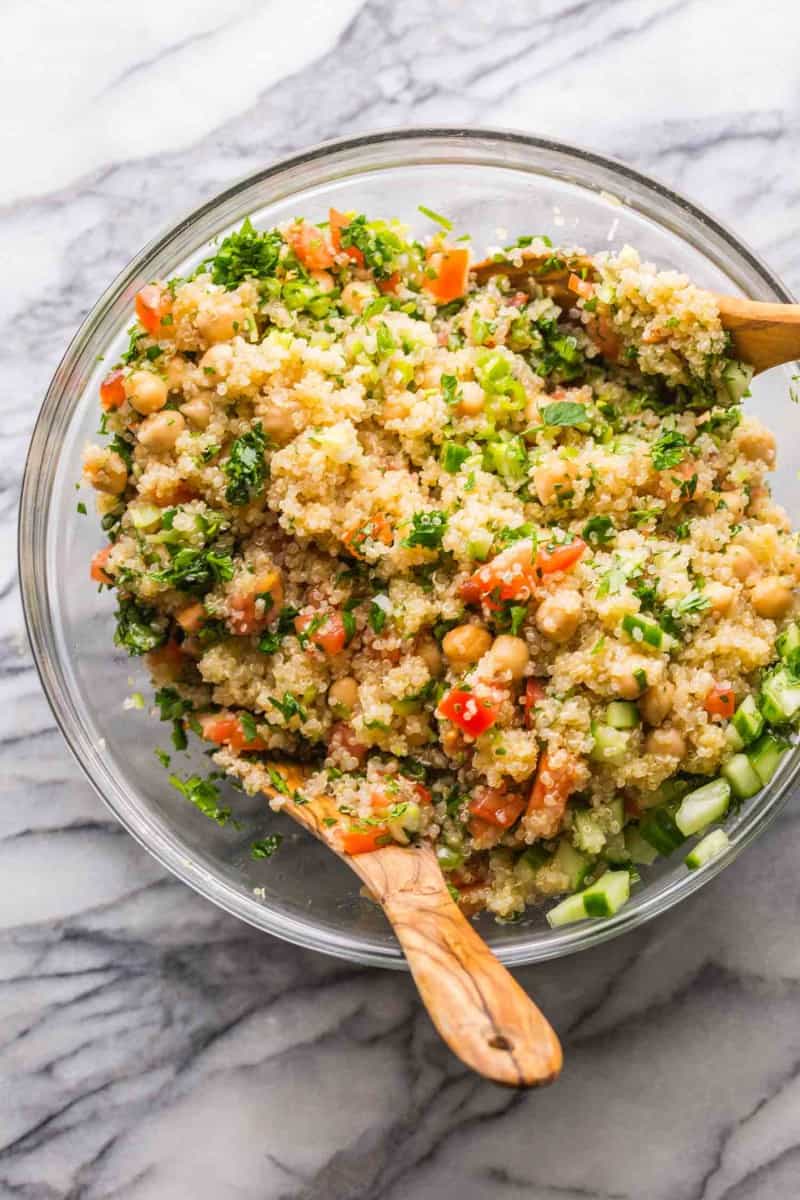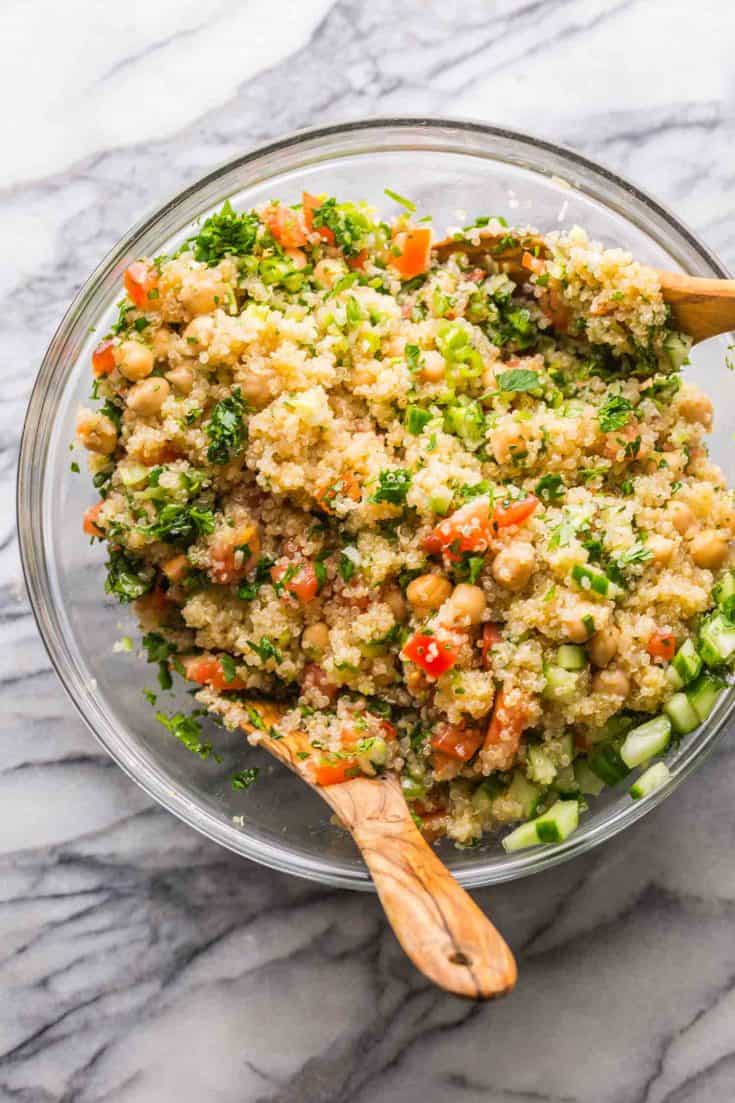 Recipe
Chickpea Quinoa Tabbouleh Salad
Yield:
6 servings
Prep Time:
1 minute
Cook Time:
20 minutes
Total Time:
21 minutes
Fluffy quinoa works as a great gluten free replacement for bulgar what which is typically found in tabbouleh recipes. The chickpeas provide a smooth and creamy texture to this salad to help balance out the sharp and tangy zing of lemon.
Ingredients
1 cup | 180 g uncooked quinoa
2 cups | 480 ml water
1 can | 14 oz chickpeas, drained and rinsed
3 large spring onions, whole stalks finely chopped (only use green parts for low FODMAP)
1 cup | about 3 plum tomatoes, finely diced
2 bunches parsley, stalks removed and finely diced
20 mint leaves finely diced
1/2 cucumber, finely diced
1/4 cup | 60 ml lemon juice
1/4 cup | 60 ml olive oil
salt & pepper to taste
Instructions
Quinoa Prep
Add the quinoa to a medium sized sauce pan and cover with water and add a pinch of salt. Bring the pot to a boil over a medium-high heat then reduce the temperature to maintain a gentle simmer. Cook until all the liquid has been absorbed, about 15-20 minutes. Once cooked, remove from the heat source and set aside.
Salad Prep
Finely dice the tomatoes then place in a small strainer over a bowl. Let the excess water drain from the tomato while you prep everything else.
Slice the cucumber in half lengthwise. Use a teaspoon to scoop out the seeds in the middle then finely dice.
Dice and slice the remaining salad ingredients: spring onions, mint and parsley. Set aside.
In a small cup combine the oil, lemon juice and salt. Whisk together.

Assemble
Add the cooked quinoa and chickpeas to a large mixing bowl. Top with the diced ingredients and toss together until combined.
Pour the lemon-oil mixture over the top and toss again until everything has been fully coated.
Taste your salad and season with salt and freshly ground pepper as needed and enjoy!

Notes
Make it Low FODMAP: Make sure to only use the green parts of the spring onions.
Chickpeas are considered Low FODMAP in moderation so long as you eat 1/4 cup (40 g) or less per meal. This recipe contains 1 can which comes out to about 1 1/2 cups of chickpeas (6 servings per can). This recipe makes about 6 cups salad altogether so 1 cup of salad should be safe on a low fodmap diet. With that in mind - it's always best to follow the advice of your doctor and to be in tune with what foods might trigger you.
Salad will keep 4-5 days kept in an airtight container in the fridge.
For an extra boost of flavour: cook the quinoa in vegetable (or chicken if not vegan/vegetarian) stock.
This website provides approximate nutrition information for convenience and as a courtesy only. Nutrition data is gathered primarily from the USDA Food Composition Database, whenever available, or otherwise other online calculators.
Quinoa Salads You Might Enjoy:
Chickpea Salads to Check Out