Looking for a homemade hummus recipe that's actually smooth and creamy without the hassle of peeling a load of chickpea skins by hand? Read on to learn how you make the creamiest hummus without too much faff!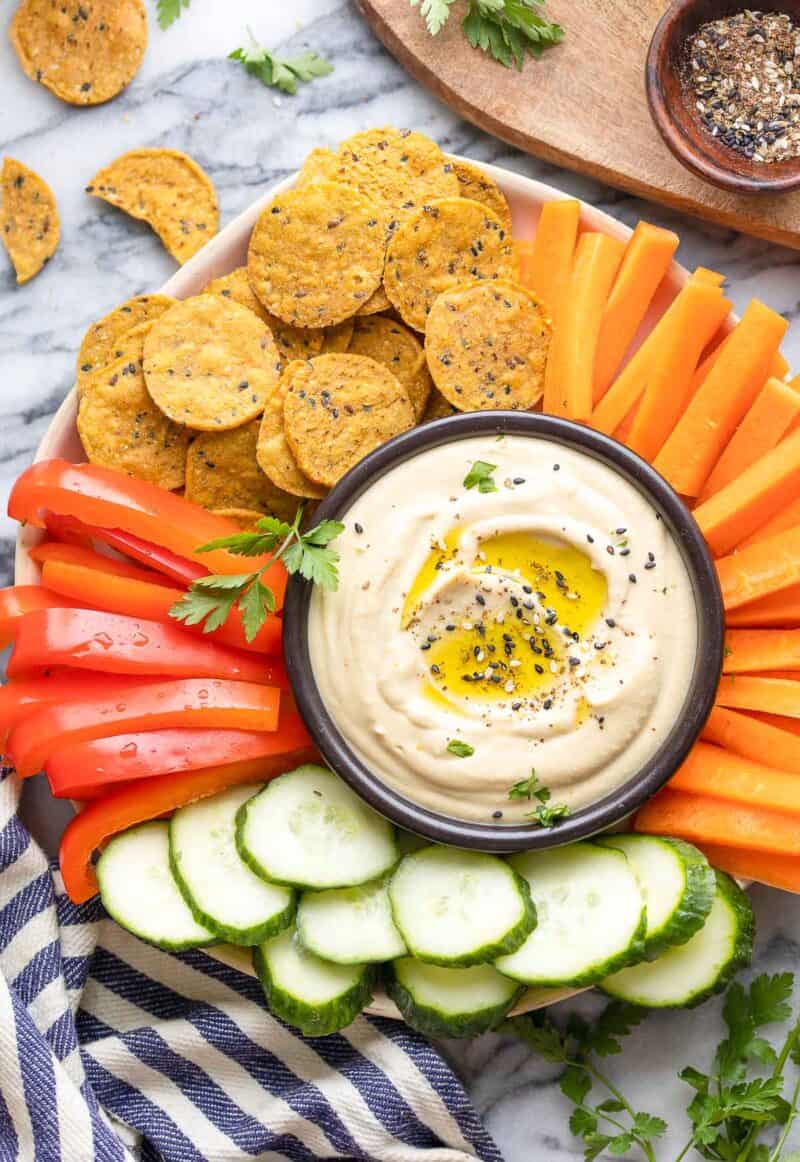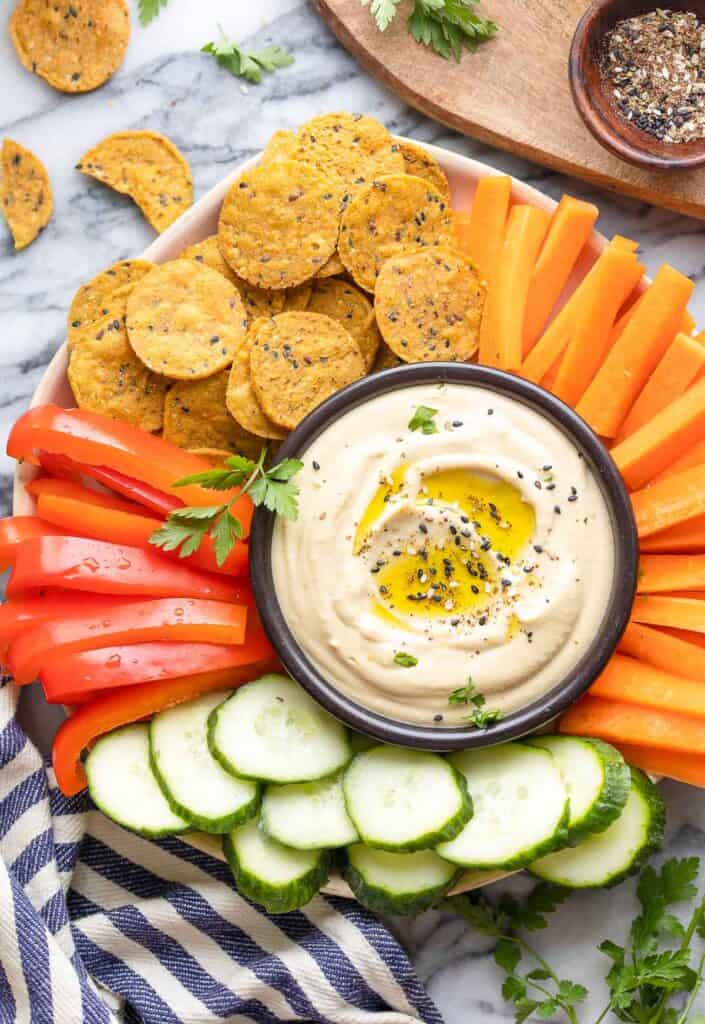 Homemade Hummus
There are literally so many different ways to enjoy a can of chickpeas, but hummus has got to be one of my favorite ways, for sure!
I know hummus recipes aren't exactly hard to find.
A quick google search will deliver millions to your finger tips in no time at all – most claiming to be the best hummus recipe, the most authentic hummus, the most incredible hummus recipe, etc, etc.
More Recipes for Chickpea Lovers
And yet, I'm still coming to you today with yet another one to add to the list. Everyone should have a good hummus recipe on hand! It's nothing too fancy. Just a simple, delicious dip that's smooth and creamy and easy to make!
This recipe does require a little more time than you might think, but the extra time and effort is well worth the end result.
So let's get to it!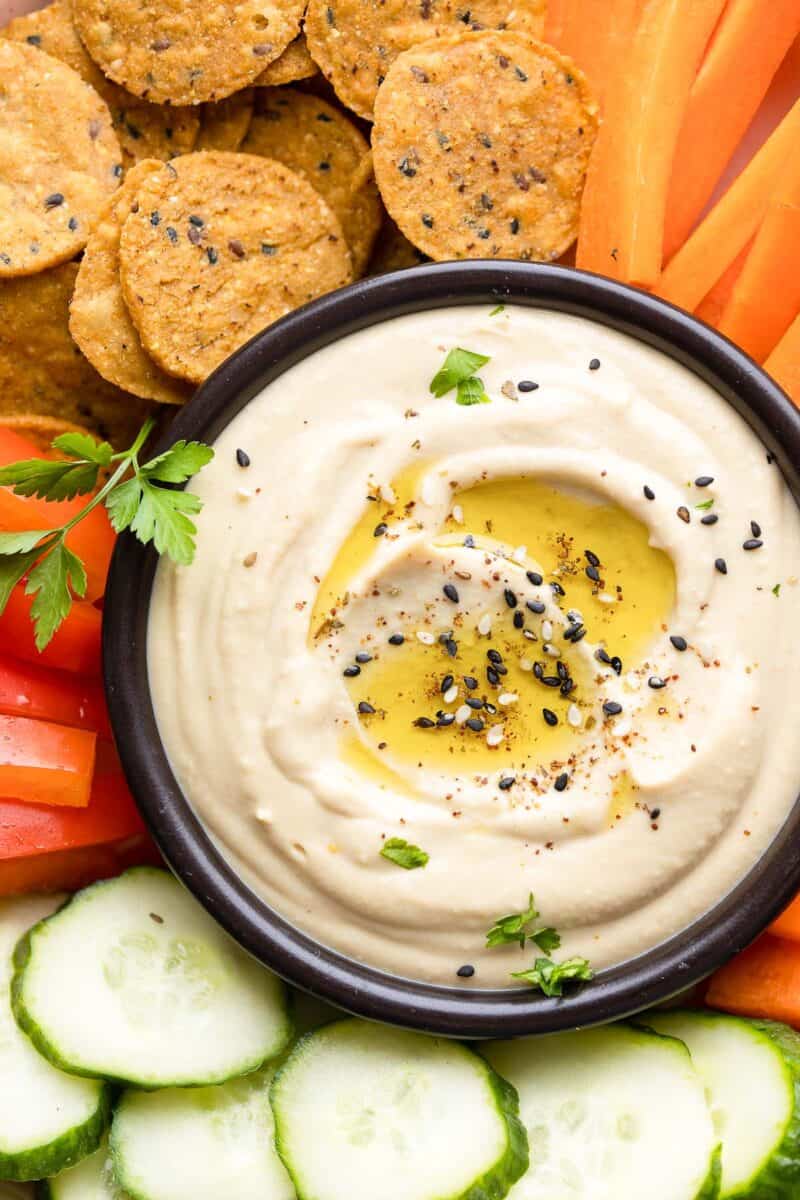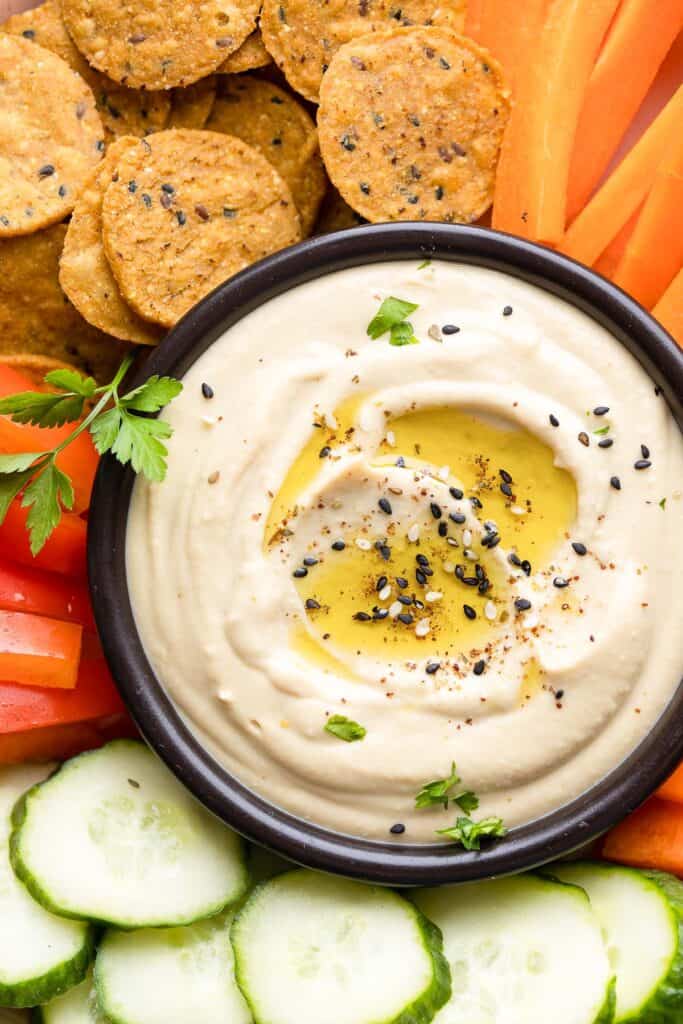 How to Make It
Altogether there is really not much to it! It's a basic recipe with simple ingredients.
So long as you have a good blender or food processor available you can make this – no problem!
the key to a smooth hummus – baking soda and boil
While searching through other popular hummus recipes I stumbled onto an article from Americas Test Kitchen who got their tip from Yotam Ottelenghi. The article, How You Can Make Your Own Hummus Considerably Creamier details just that: how-to easily make creamy hummus without cooking dry chickpeas from scratch.
The secret? Mix the chickpeas with baking soda then boil in water until soft and mushy (about 15-20 minutes).
Why does this work?
Boiling the chickpeas in water with baking soda does a couple of things:
Boiling the chickpeas will soften and plump up the chickpeas making it easier to blend them into a smooth, creamy texture.
The baking soda raises the water's PH level making it less acidic which helps to soften the skins of the chickpeas allowing them breakdown and fall off. Whatever broken bits of skin left behind will blend up much easier.
Once boiled, drain and rinse the chickpeas until cool and the roughly dry them with a clean kitchen towel and set aside.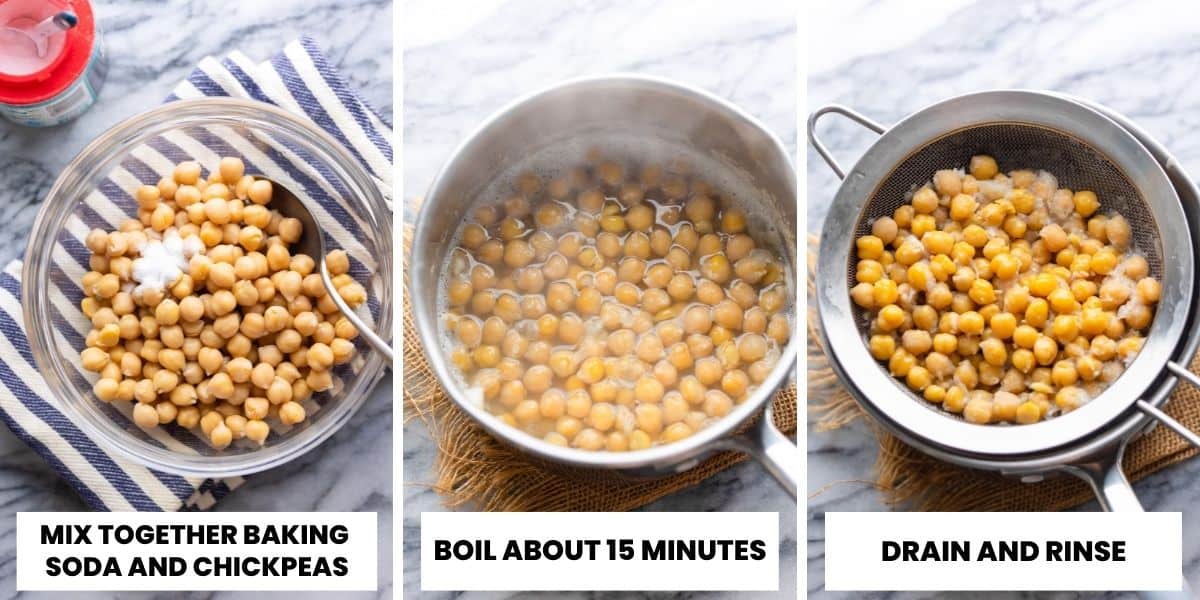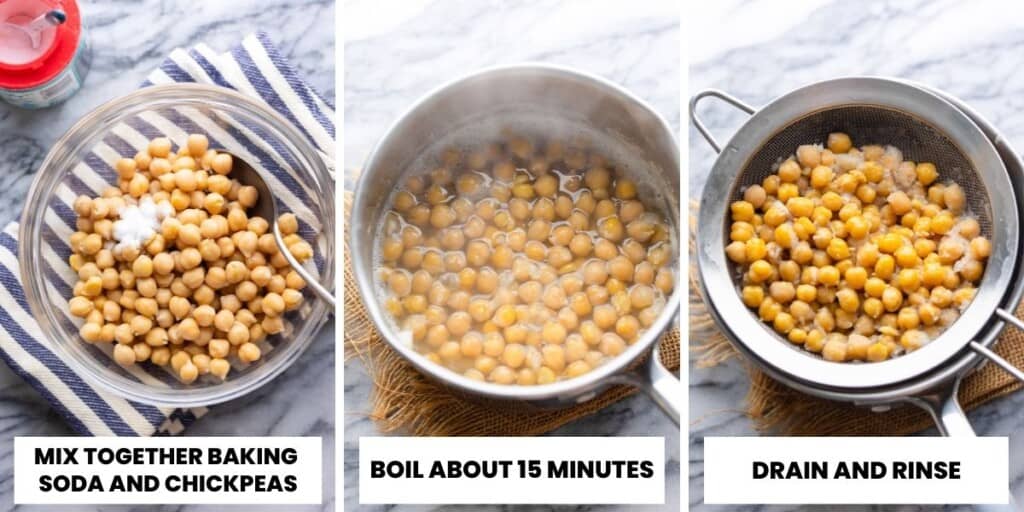 Whip up the Tahini
The next trick to making a smooth, homemade hummus – whip up the other ingredients before adding the chickpeas.
Combine the1/2 cup tahini, lemon juice, garlic cloves and salt in a food processor or blender and blend on high for a minute or two. After blending you should have a totally smooth, pale tahini mixture.

Blending this first whips up the tahini mixture into a light texture and ensures the ingredients are fully mixed together.

I do recommend you mince the garlic before blending. I know that might sound counterintuitive as you've be blending everything anyway, but I always end up with larger chunks of garlic left intact when I throw it in whole.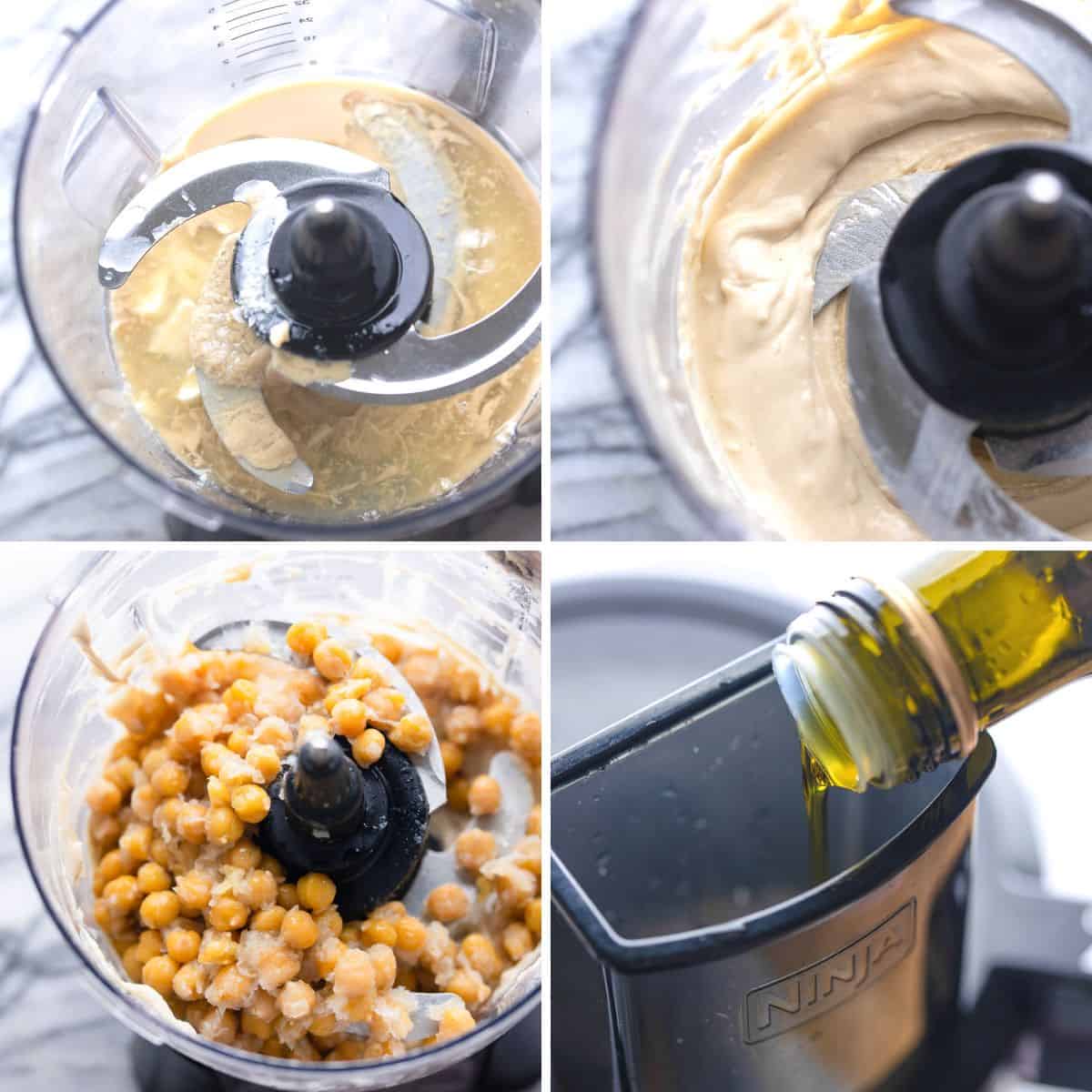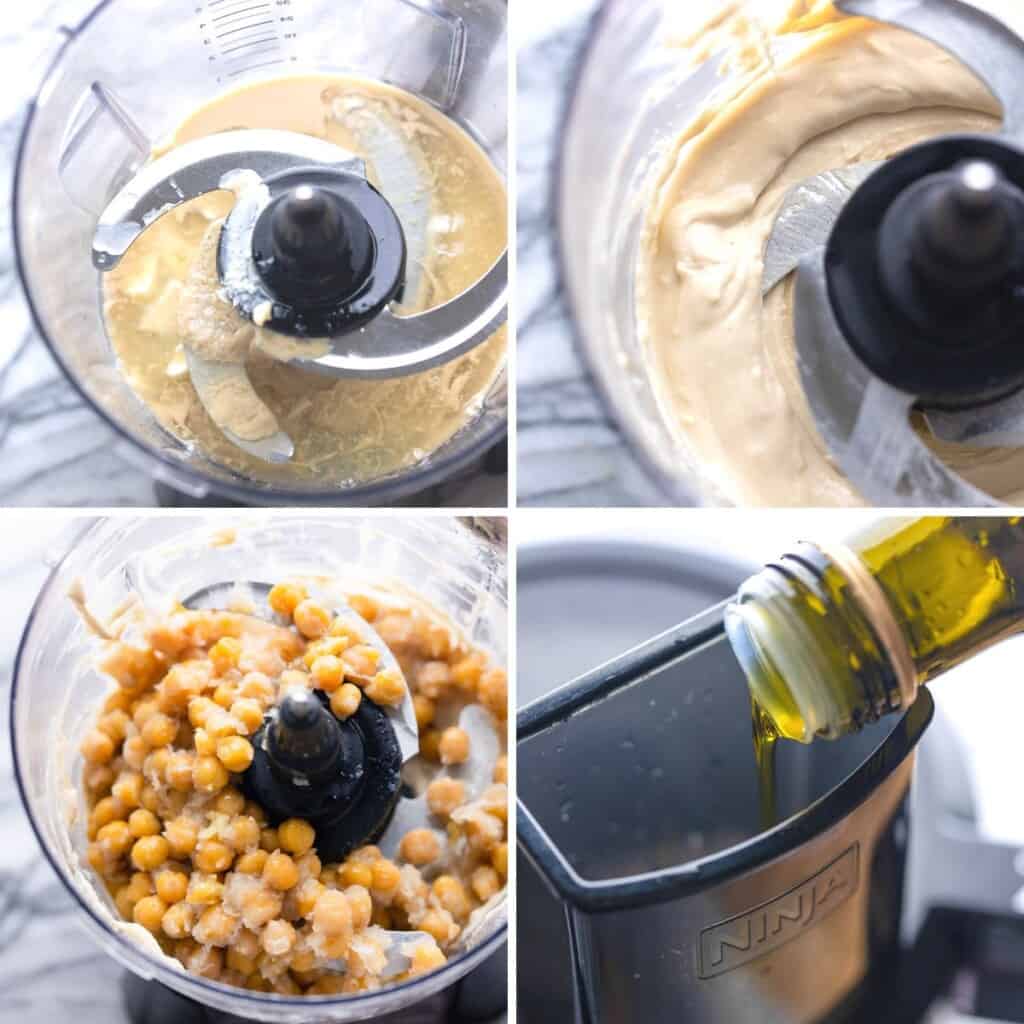 Add the chickpeas
Finally, add the chickpeas to the food processor and blend on high.
With the motor running, add 1-2 tablespoons of ice cold water to thin out the mixture. Drizzle in a little olive oil as well, blender running.
Make sure to stop and scrape down the sides of the bowl every so often to ensure everything mixes in fully. This will also give you a chance to discern whether or not you want to thin out your hummus.
If needed, add an extra 1-2 tablespoons water until you get the desired consistency.
As always you should taste and season the hummus as you see fit. Don't be afraid to add an extra pinch of salt or squeeze of lemon to spruce it up.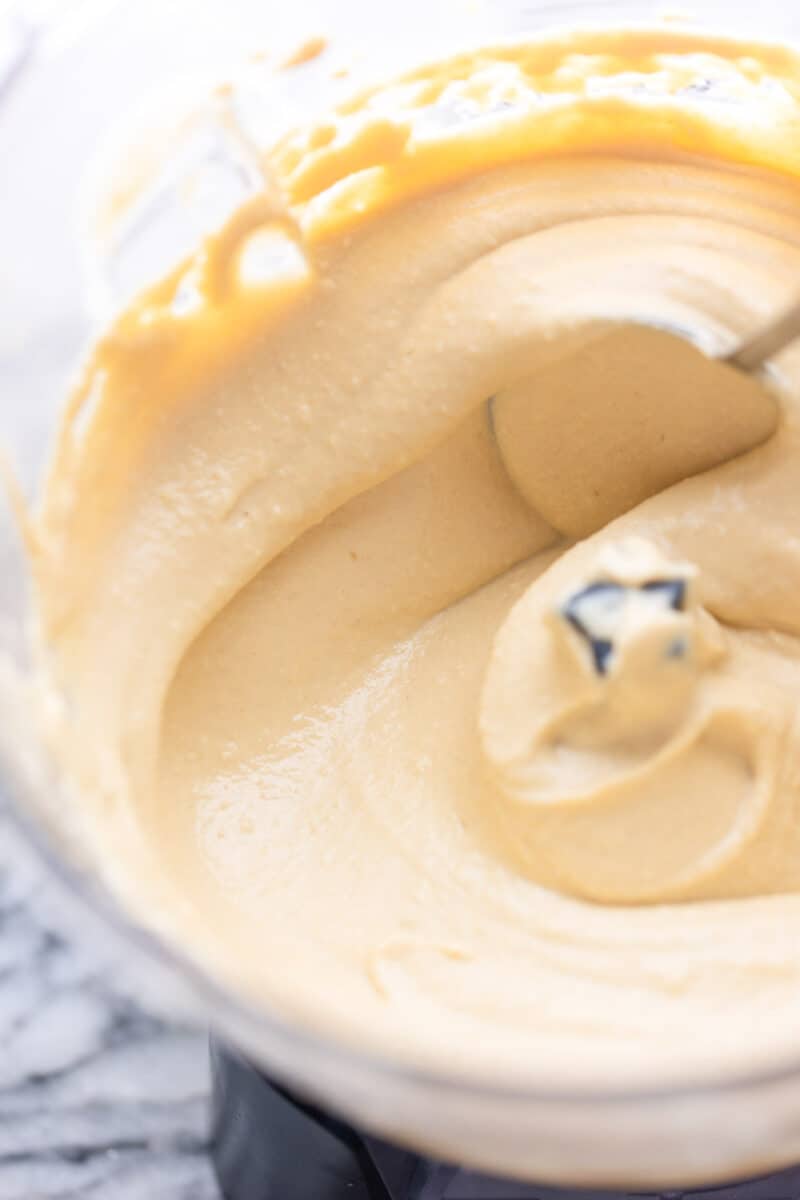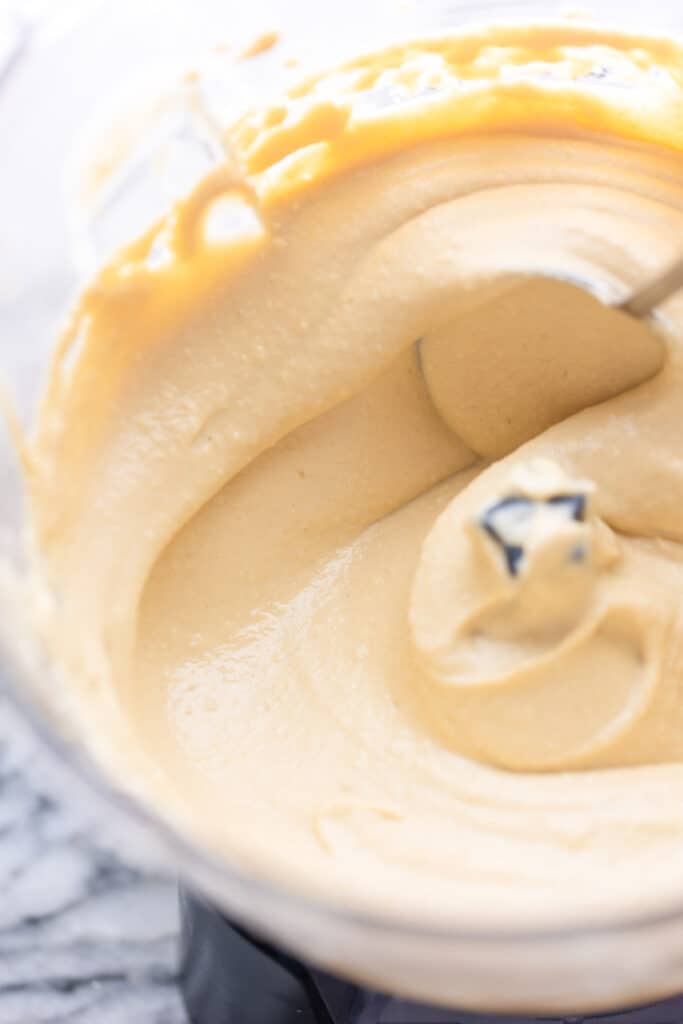 Homemade Hummus without Tahini
Whether you're dealing with an allergy or lack of availability, you can still make your own homemade hummus without any tahini at all! Just note that the overall flavor and texture will be slightly different without it.
Tahini is simply sesame seed paste (think peanut butter but with sesame seeds instead of peanuts). It's creamy, flavorful and full of fat. There are a few ways you can go about replacing the tahini in this recipe:
Add More Olive oil
Increase the amount of olive oil to about 1/4 cup (60ml).
Blend the chickpeas, lemon juice, garlic, salt and cumin together to breakdown.
Add a couple tablespoons cold water to help with the blending.
Pour the olive oil into the processor with the motor running.
Blend 4-5 minutes. If the hummus is still too thick – add more water 1 tablespoon at a time until it's the right consistency.
Add Greek Yoghurt
Replace the tahini with 1/3 cup yoghurt.
Your hummus will have more of a refreshing tang due to the acidity of the yoghurt.
You can also add 2-3 tablespoons of yoghurt to your regular hummus with tahini with a slight twist.
Add More Water
A lot of other tahini free hummus recipes will simply replace the tahini with more water. This is a great option that costs you nothing.
Can I freeze homemade hummus?
Yes! You should keep in mind that freezing hummus can tone down some of the flavors over time, but you can absolutely freeze leftovers for later!
Store the hummus in a freezer-safe container or bag, label and store for up to four months. Any longer than four months and the flavor just won't be there anymore.
To defrost, I recommend moving it to the fridge and letting it defrost there at a safe temperature (as opposed to room temperature).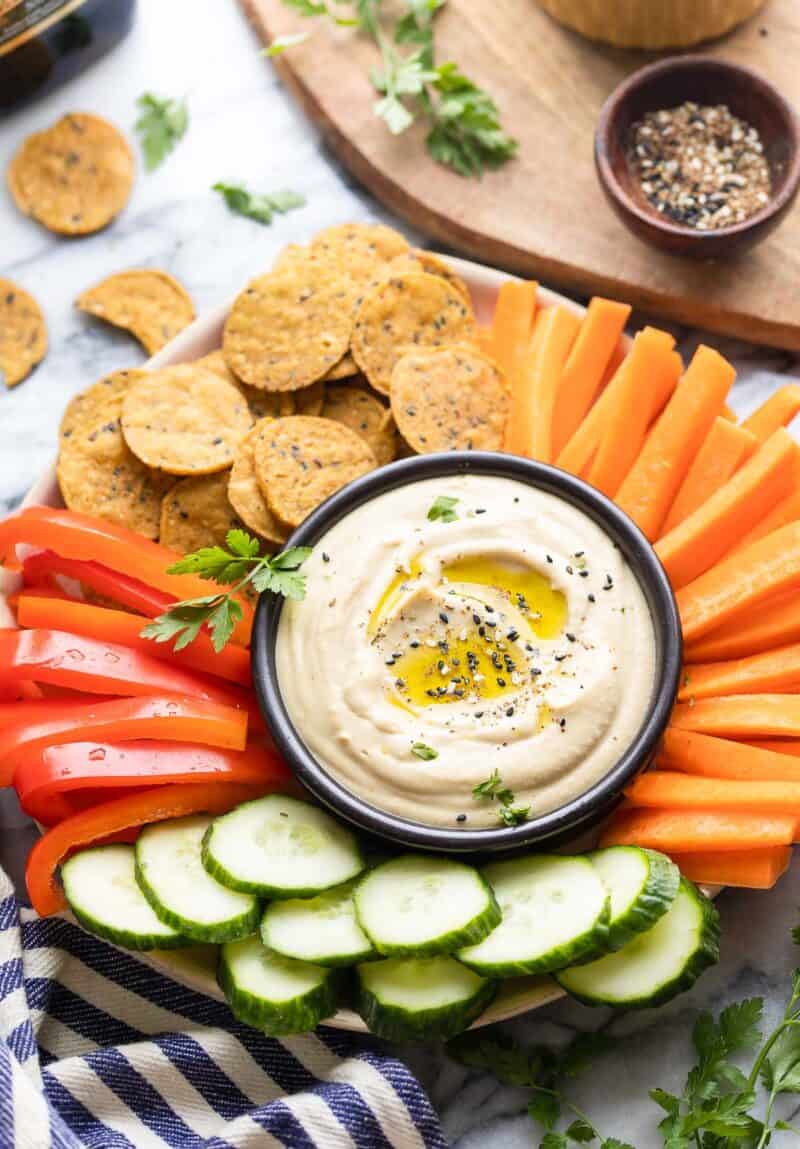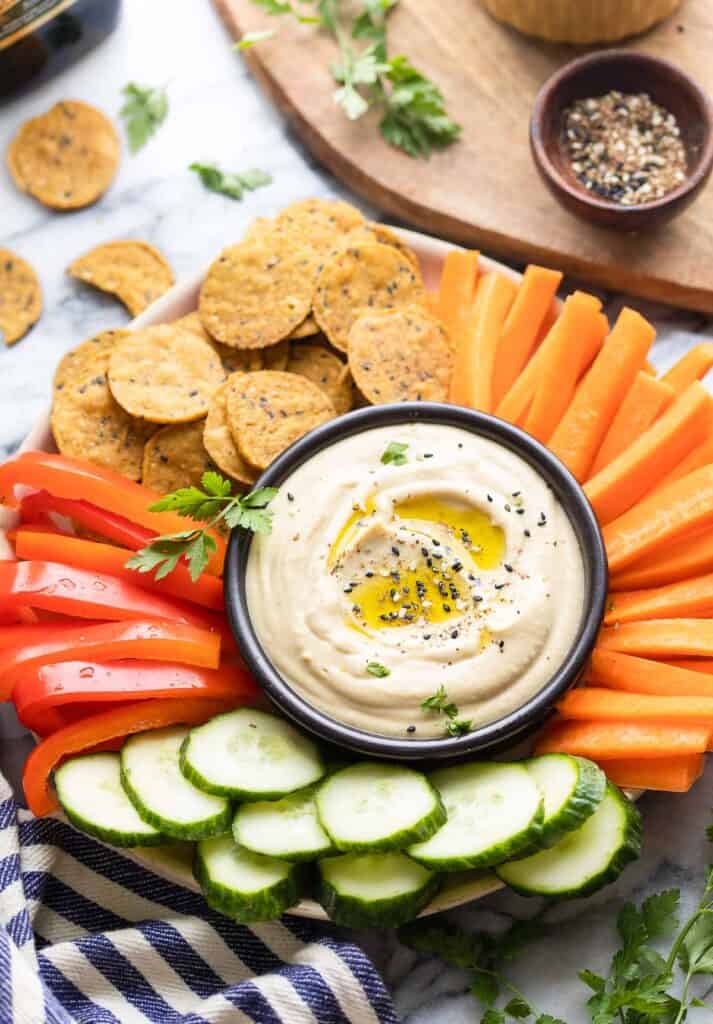 Serving Ideas and Suggestions
Hummus is such a fantastic, multi-purpose condiment that you can really get creative with!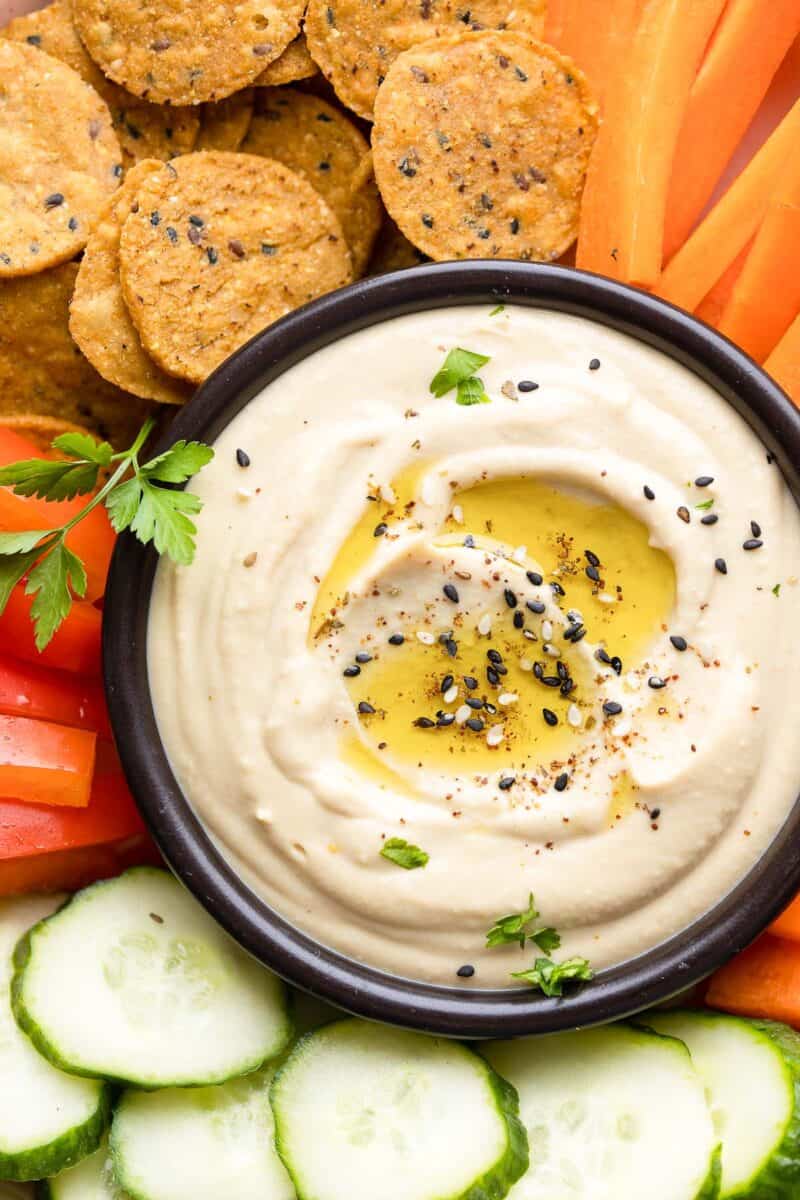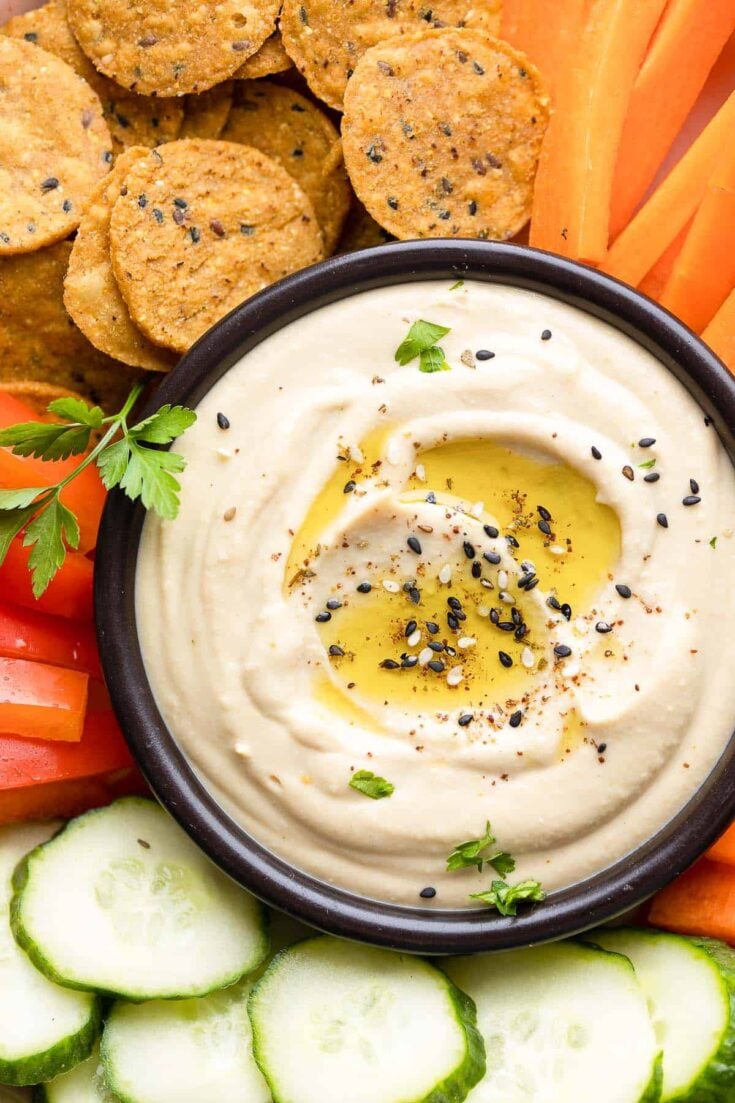 Recipe
Creamy Hummus - Two Ways
Yield:
makes about 1 1/2 cups
Prep Time:
15 minutes
Cook Time:
20 minutes
Total Time:
35 minutes
Smooth and creamy homemade hummus without any peeling required!
Ingredients
1 can (15 oz | 400 g) chickpeas, drained and rinsed
½ teaspoon baking soda
1/3 cup (80 g) tahini, stirred
3-4 tablespoons (45-60 ml) lemon juice
1-2 fresh garlic cloves, minced
½ teaspoon fine sea salt, to taste
½ teaspoon ground cumin
2 to 4 (30-60 ml) tablespoons ice water, more as needed
1 tablespoon (15ml) extra-virgin olive oil
Instructions
Add the chickpeas and baking soda to a small sauce pan and mix together. Cover with a few inches of water. Bring to a boil over a high heat. Let the pot boil at least 15-20 minutes. The chickpeas should look full and soft with the skins falling off.
Pour the chickpeas into a fine-mesh strainer, draining away the water. Run under cold water until the chickpeas are cool enough to touch (about 30 seconds). Pat the chickpeas dry and set aside.
Add the tahini, lemon juice, garlic and salt to a food processor or high-powered blender. Blend on high for 30-60 seconds until you have a thick, pale, creamy mixture. Stop and scrape down the sides of the bowl/blender to make sure everything is thoroughly mixed together.
Add the chickpeas and cumin to the processor/blender and blend on high. With the motor running, 2 tablespoons water into the mixture, followed by the olive oil. Keep blending until you reach your desired consistency. If the hummus it too thick, add an extra 1-2 tablespoons of water to thin it out. Blend until totally smooth and creamy (about 4-5 minutes).
Taste and season as you see fit - add another pinch of salt or squeeze of lemon if you feel it needs a little pop.
Transfer to a serving dish and enjoy as is or top with your preferred hummus toppings: a drizzle of olive oil, za'atar spice, paprika, cumin, fresh parsley, etc.
Keep leftovers covered in an airtight container in the fridge for up to one week.
Notes
I recommend mincing the garlic before blending to ensure it fully blends into the hummus.
Ice cold water helps to thicken and emulsify for a thicker, creamier hummus.
You will need to adjust the amount of additional water depending on the consistency of your tahini. Thicker tahini will require more water and thinner, more oily tahini will require less.
Garbanzo beans = chickpeas
Nutrition Information
Yield:

6
Serving Size:
about 1/4 cup
Calories:

165
Total Fat:

10g
Saturated Fat:

1g
Trans Fat:

0g
Unsaturated Fat:

8g
Cholesterol:

0mg
Sodium:

297mg
Carbohydrates:

14g
Fiber:

4g
Sugar:

19g
Protein:

6g
This website provides approximate nutrition information for convenience and as a courtesy only. Nutrition data is gathered primarily from the USDA Food Composition Database, whenever available, or otherwise other online calculators.
Save the Aqaufaba!
Don't pour the liquids from the can down the drain! Strain the chickpea water (aka aquafaba) and save for another use.
Aqaufaba makes for an excellent vegan egg-replacer. Use it to make: