Make your own homemade vegan mayonnaise with only a handful of basic ingredients! No food processor or immersion blender needed. Just a regular hand mixer is enough to whip your vegan mayo into a thick and creamy spread that looks and tastes just like the real thing. | Nut Free + Soy Free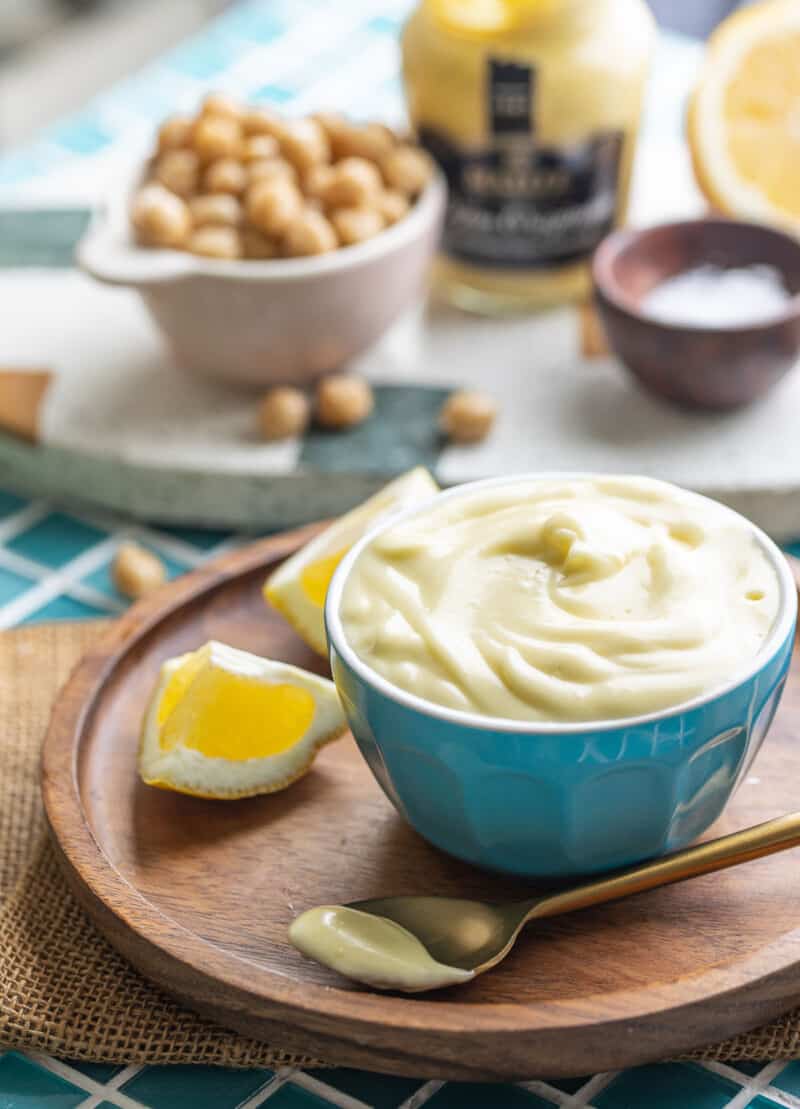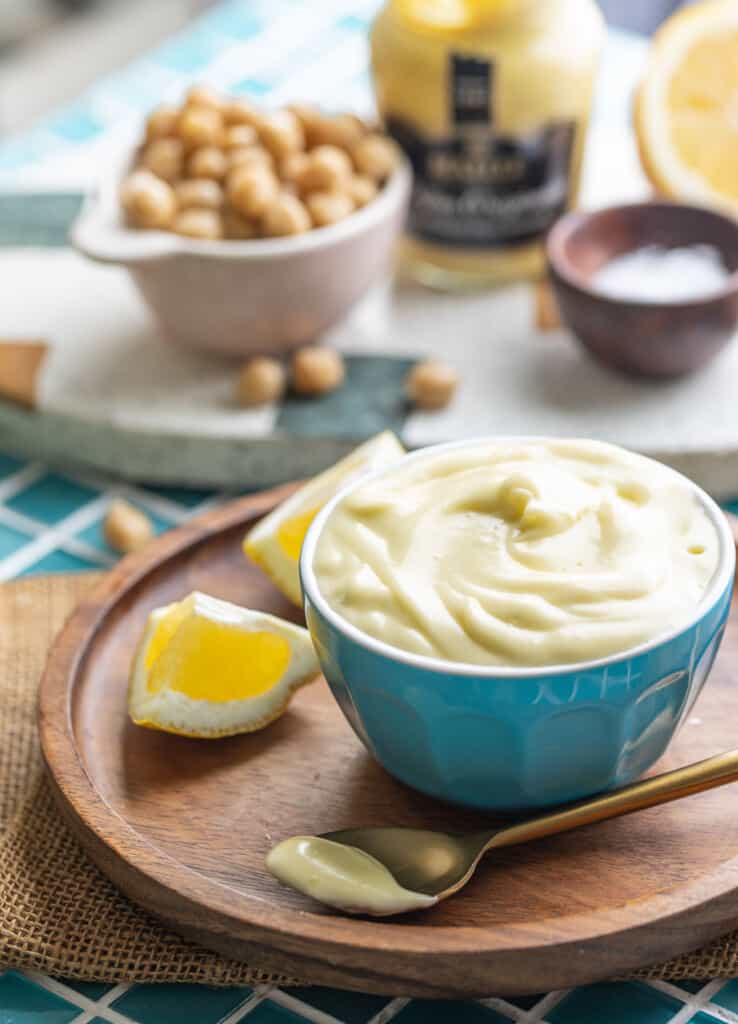 No nuts, no soy, no eggs – no problem!
This homemade vegan mayo recipe is simple, straight forward and easy to make. All you need to make it are a few simple ingredients and a hand held electric mixer.
While mayo other vegan mayo recipes are made with silken tofu or raw cashews this is an entirely nut and soy free mayo! Once again we can thank that weird and wonderful goopy bean water (aka aquafaba) for making this possible.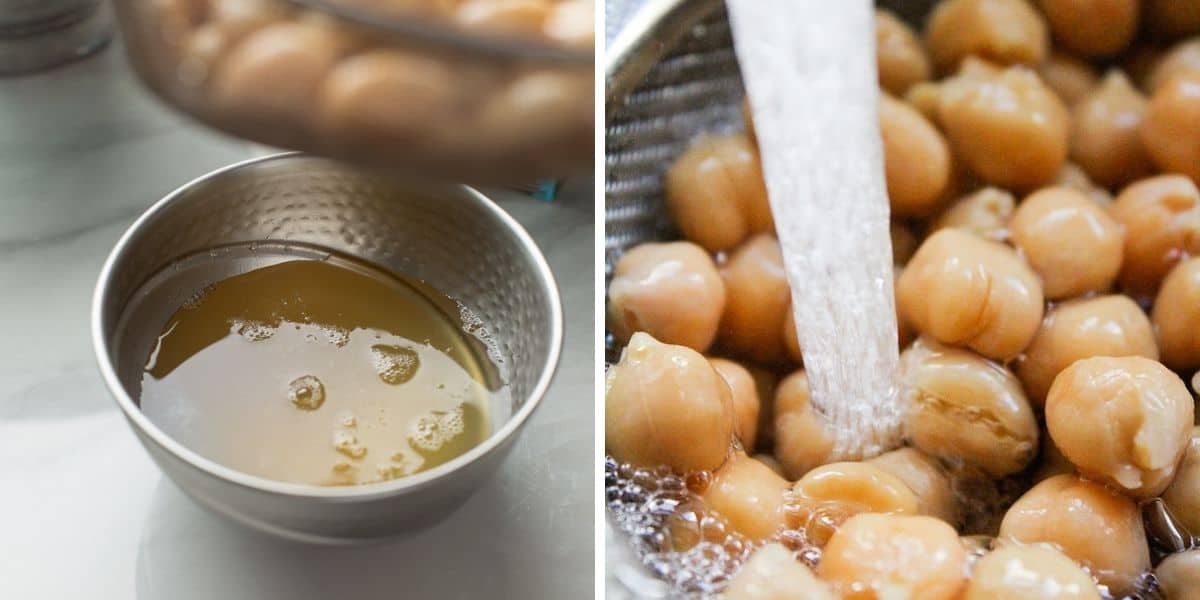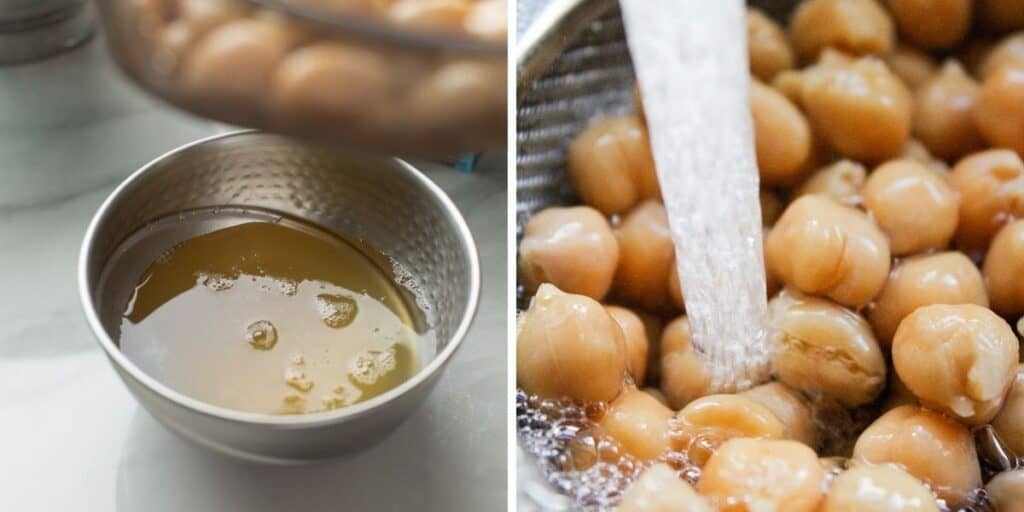 What is aqaufaba?
Aquafaba, which literally just means bean water, is basically that – chickpea water! Although chickpea liquid might be a better description for its thick and viscous consistency.
More specifically, it's the somewhat goopy water/liquid found in a can of chickpeas (also called garbanzo beans) and other white beans. As it turns out, aquafaba makes for a fantastic vegan egg substitute.
How does it work?
At the time of writing this, the science still isn't totally clear, but we do have a couple good guesses on why aquafaba works:
Aquafaba leeches some of the protein and starch found in chickpeas/white beans. Starch is typically useful for binding in baked goods and proteins helps to stabilise ingredients.
Aquafaba can easily be whipped up almost identical to how raw egg whites whip up. When whipped up, the aquafaba traps gas or air bubbles. This is useful for adding levity to baked goods and for thickening up sauces, condiments and icings.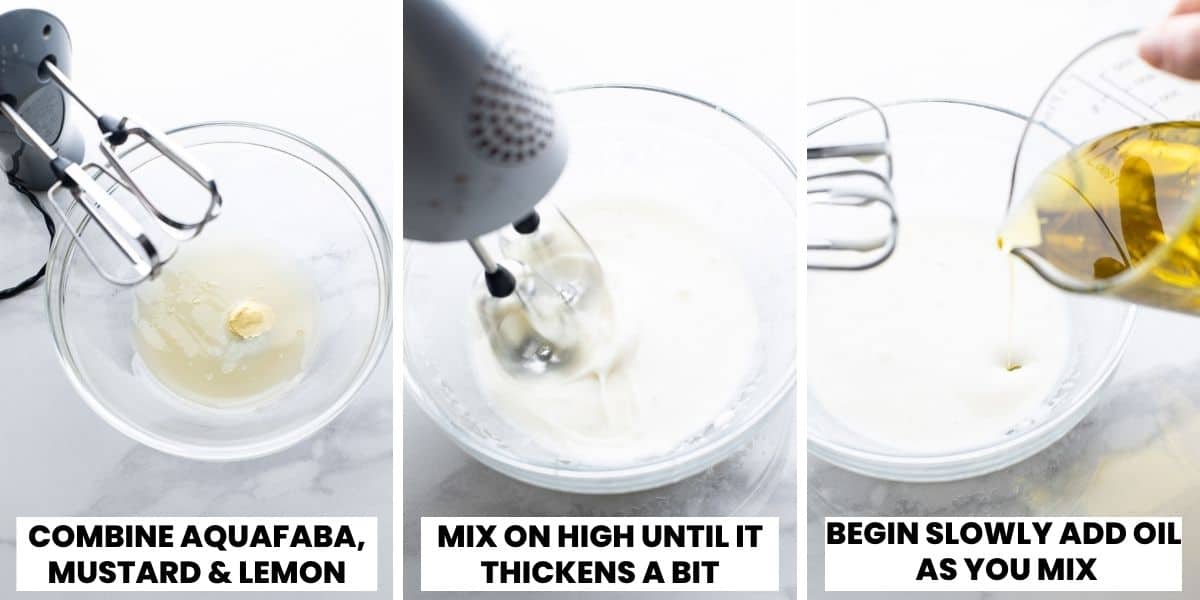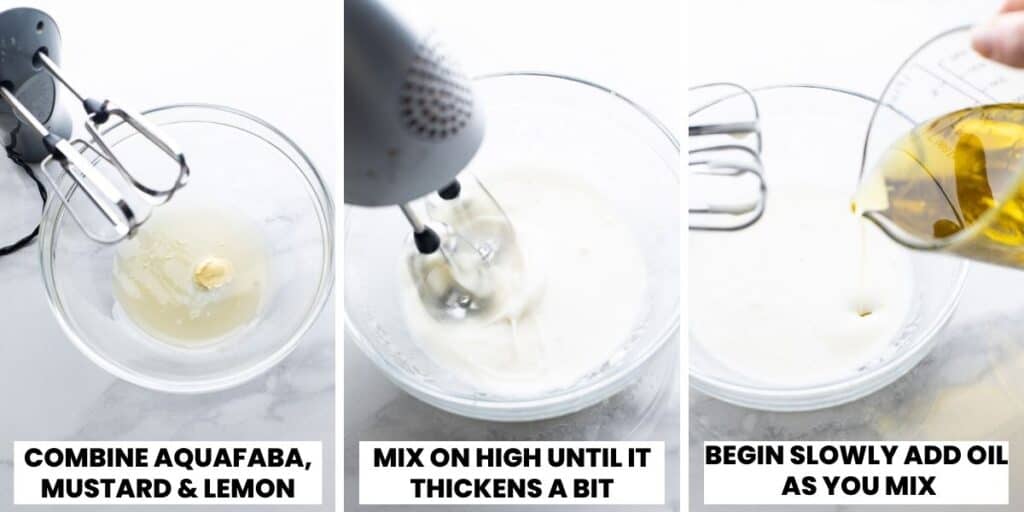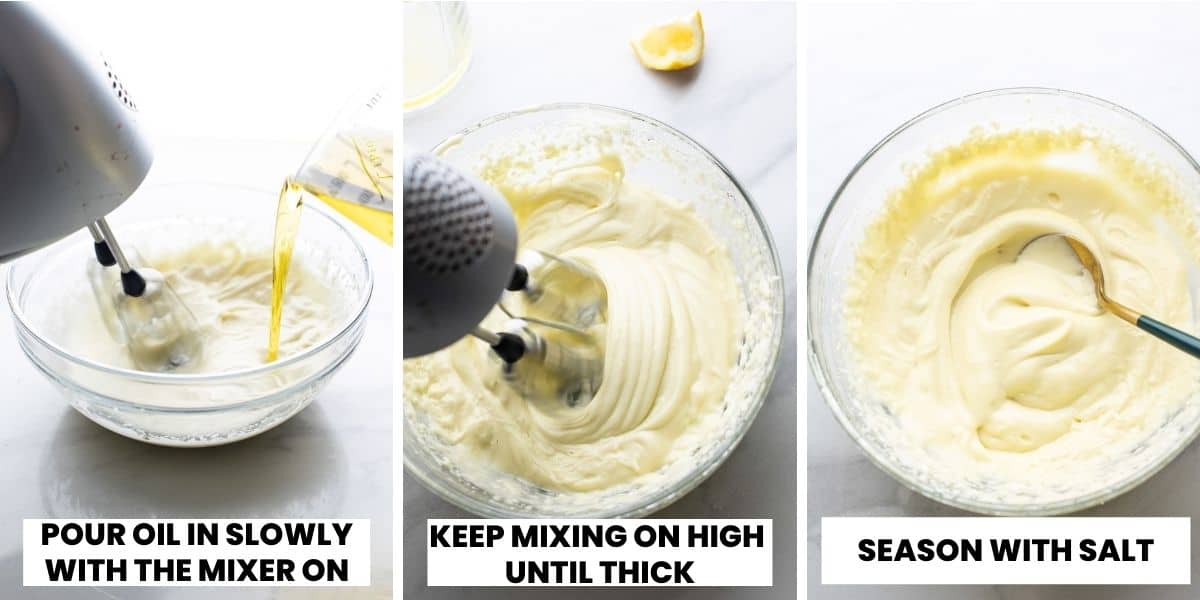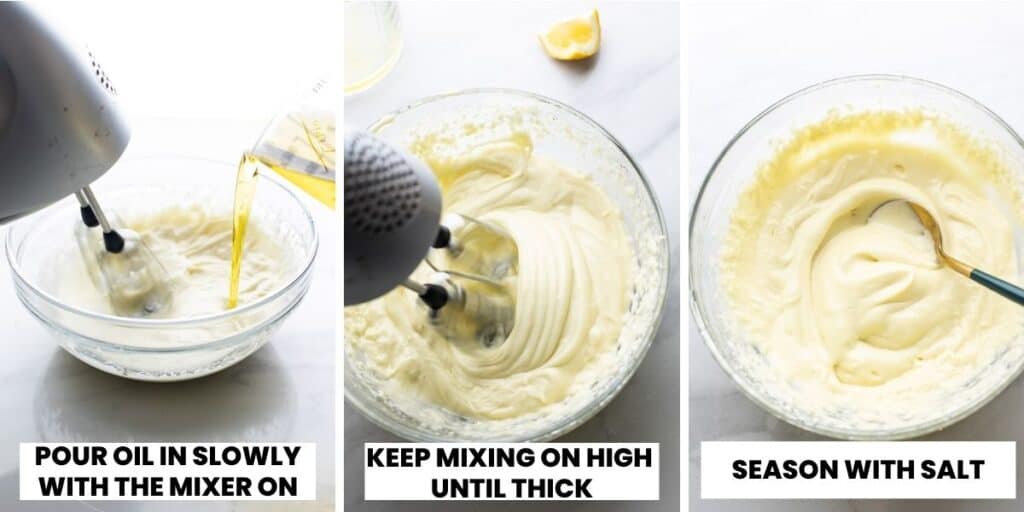 Vegan mayo Ingredients
Aquafaba: Traditional mayonnaise recipes rely on egg yolks to create an emulsified texture. This recipe relies on aquafaba to do the trick in this recipe. So long as it gets whipped enough, the aquafaba will thicken and increase in volume to create the base for this mayo.
Oil: While aquafaba provides a light and airy base, oil tightens up the whipped foam to make for a thick and creamy vegan mayo.

You ideally want to use a neutral oil like vegetable oil, avocado oil or sunflower oil. Extra virgin olive oil, coconut oil and sesame oil all have a much more distinct taste which might not be ideal for your mayo.

Vinegar or Lemon Juice: Add a touch of vinegar or lemon juice (acid) to brighten up the flavor. You don't need much – a little goes a long way here.

Apple cider vinegar, white vinegar, white wine vinegar and even lime juice will all work here.

Mustard & Salt: These two are technically optional ingredients. I recommend you keep the salt at the very least to flavor your homemade mayo. I like using dijon mustard, but mustard powder is also a great option.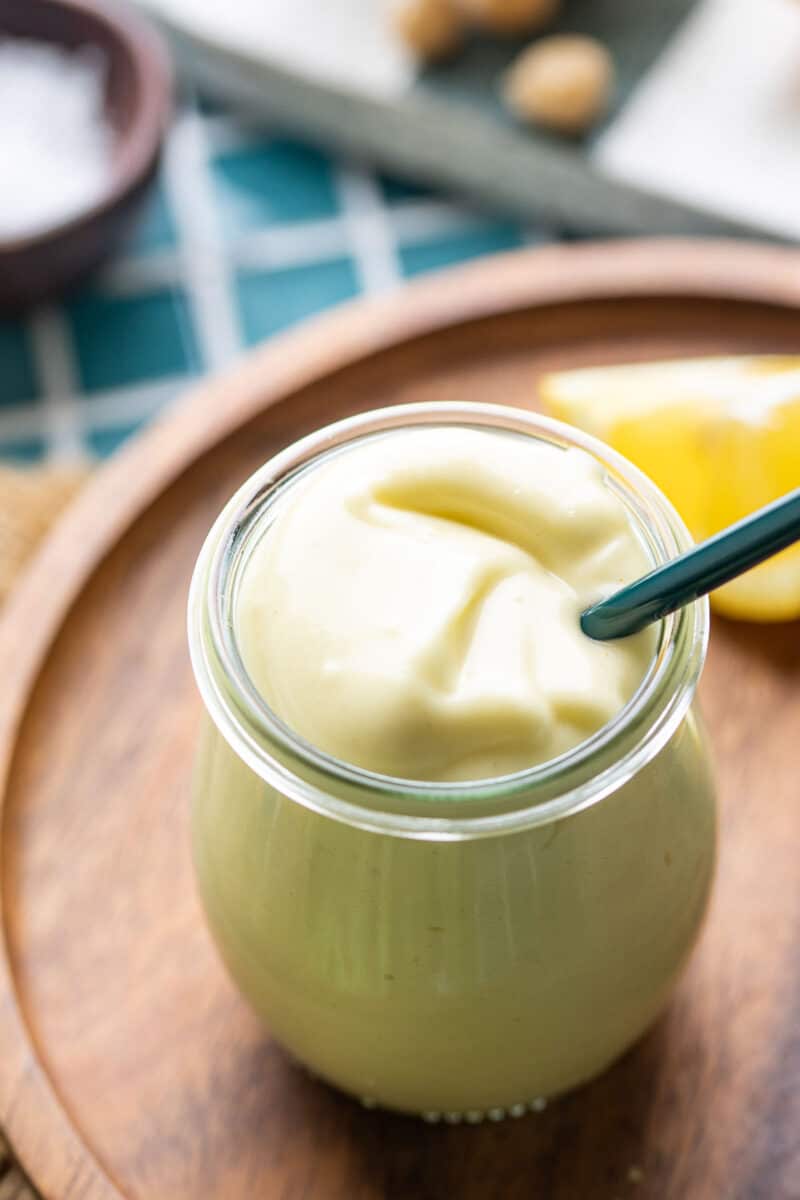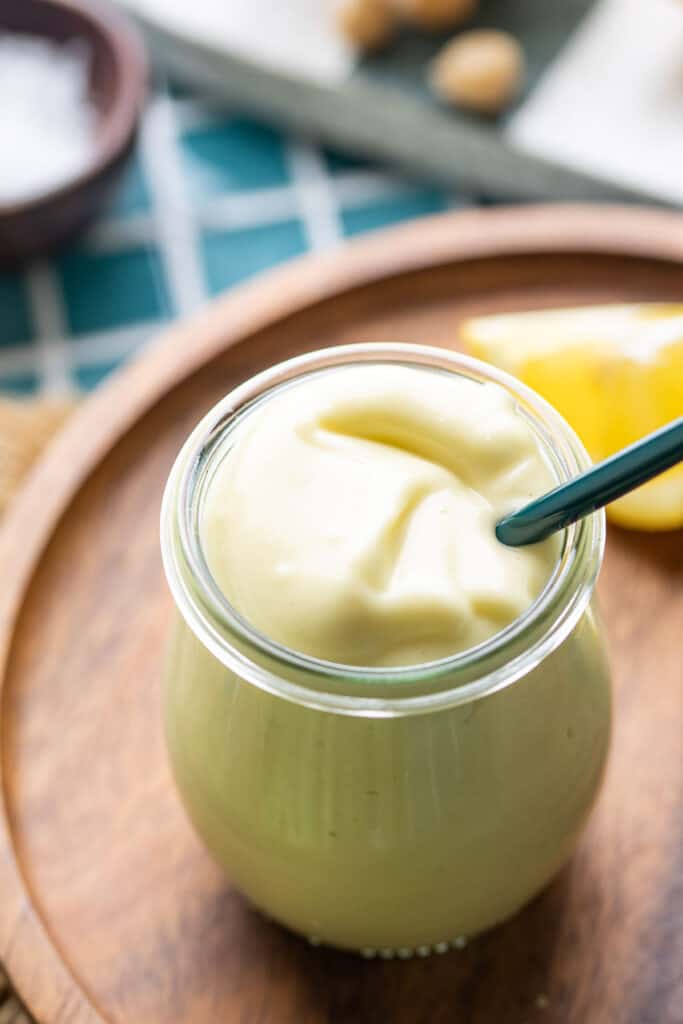 Tips & Storage
Use cold equipment and chilled ingredients. Place your mixing bowl and and mayo ingredients in the fridge for about 10-15 minutes before you make it. As a general rule of thumb, aquafaba tends to whip up faster when cold. This isn't 100% necessary, but it may be useful to cut down on time.
Add the oil slowly and gradually. It may be tempting to add large amounts of oil at once but it's ultimately not worth it. The aquafaba needs to gradually mix in with the oil to properly emulsify. Too fast and it will struggle to thicken up.
Store in airtight container. As a general rule of thumb you should be able to keep aquafaba mayo stored in the fridge for 1-2 weeks (usually up to 2 weeks).
More Dairy Free Sauces & Dressing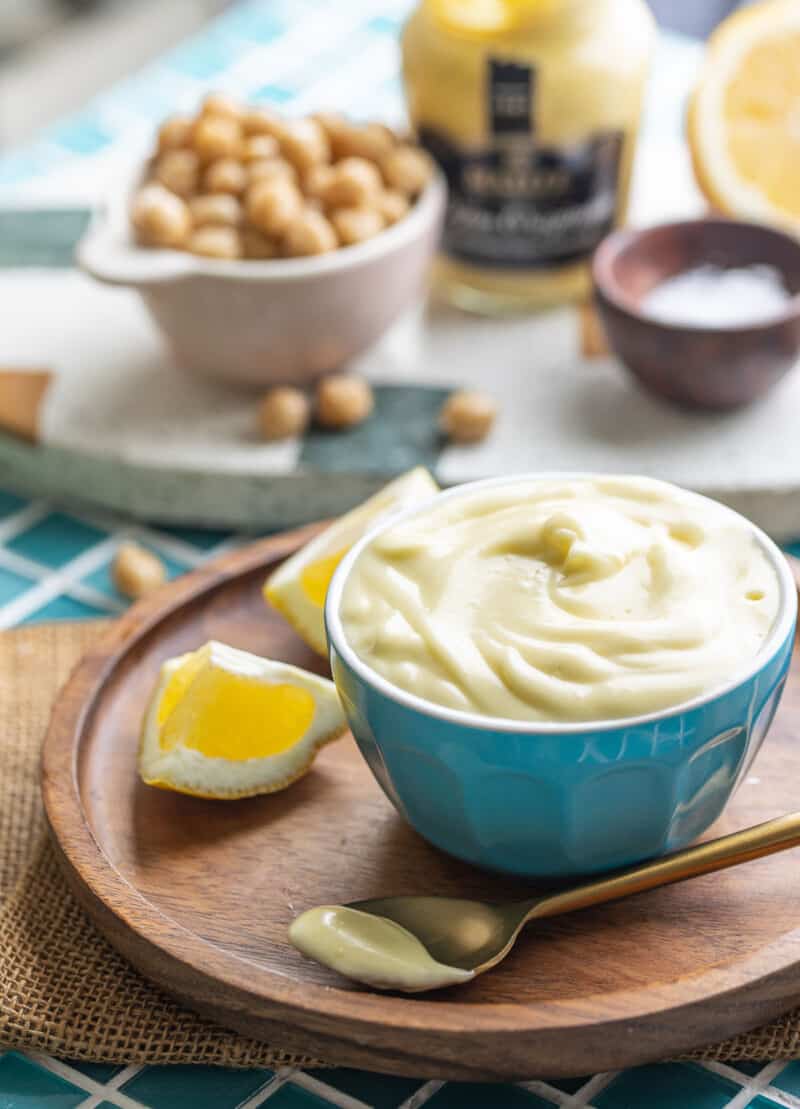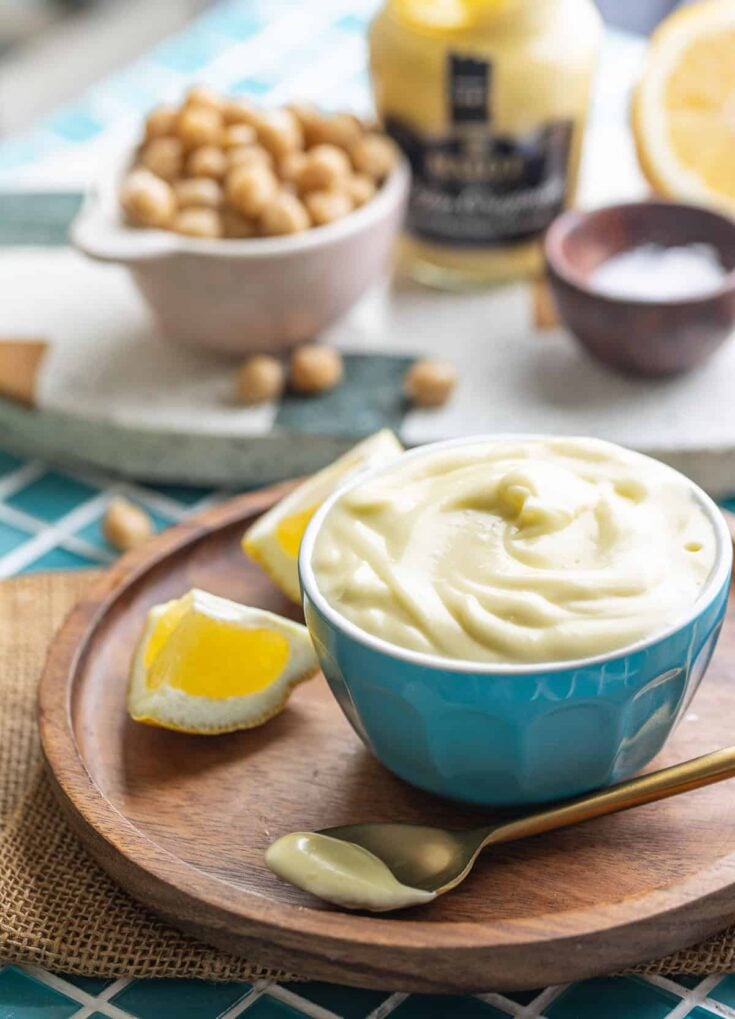 Yield:
about 1 cup
Prep Time:
10 minutes
Total Time:
10 minutes
Make your own homemade vegan mayonnaise with with only a handful of basic ingredients! | Nut Free + Soy Free
Ingredients
1/4 cup (60 ml) aquafaba
1 teaspoon dijon mustard
1 tablespoon vinegar (apple cider, whine wine or sherry vinegar) or lemon juice
1 cup (240 ml) neutral flavored oil (see notes)
1/4 teaspoon sea salt
Instructions
Add the aquafaba, lemon juice or vinegar and mustard to a medium sized mixing bowl (ideally one that has been chilling in the fridge for at least 10 minutes).
Use electric beaters or a stand mixer to beat the aquafaba on high until about 1 minute until the mixture starts to foam up and increase in volume. It should look quite airy at this point.
With the mixer running on a high speed, slowly start pouring the oil into the aquafaba mixture in small drizzles. Make sure to fully mix the oil into the aquafaba mixture then add a bit more oil. Continue adding oil in small amounts at a time until all of the oil has been added. You should notice your mixture begin to thicken and emulsify.
Keep mixing on high until you have a thick and creamy mayo. This should take about 5-10 minutes and upwards of 15 minutes depending on your mixer/aquafaba.
Season with salt. Add a bit more lemon/vinegar or mustard if you think your mayo needs a bit more flavor.
Use immediately or transfer to an airtight container to store in the fridge.
Notes
Store in an airtight container and keep in the fridge up to 2 weeks.
Neutral flavoured oils (like avocado, rapeseed, vegetable and canola oil) usually work best in mayo because their mild tastes however you can use olive oil if you prefer.
This website provides approximate nutrition information for convenience and as a courtesy only. Nutrition data is gathered primarily from the USDA Food Composition Database, whenever available, or otherwise other online calculators.
What to Make with leftover chickpeas?