Sweet, salty, tangy and umami-packed – this Roasted Red Pepper Miso Dressing hits all the right notes! Simply blend everything together, taste, season and enjoy! There are so many ways to enjoy this miso sauce. Serve as a salad dressing, tossed into roasted veggies, mixed into grain bowls and more!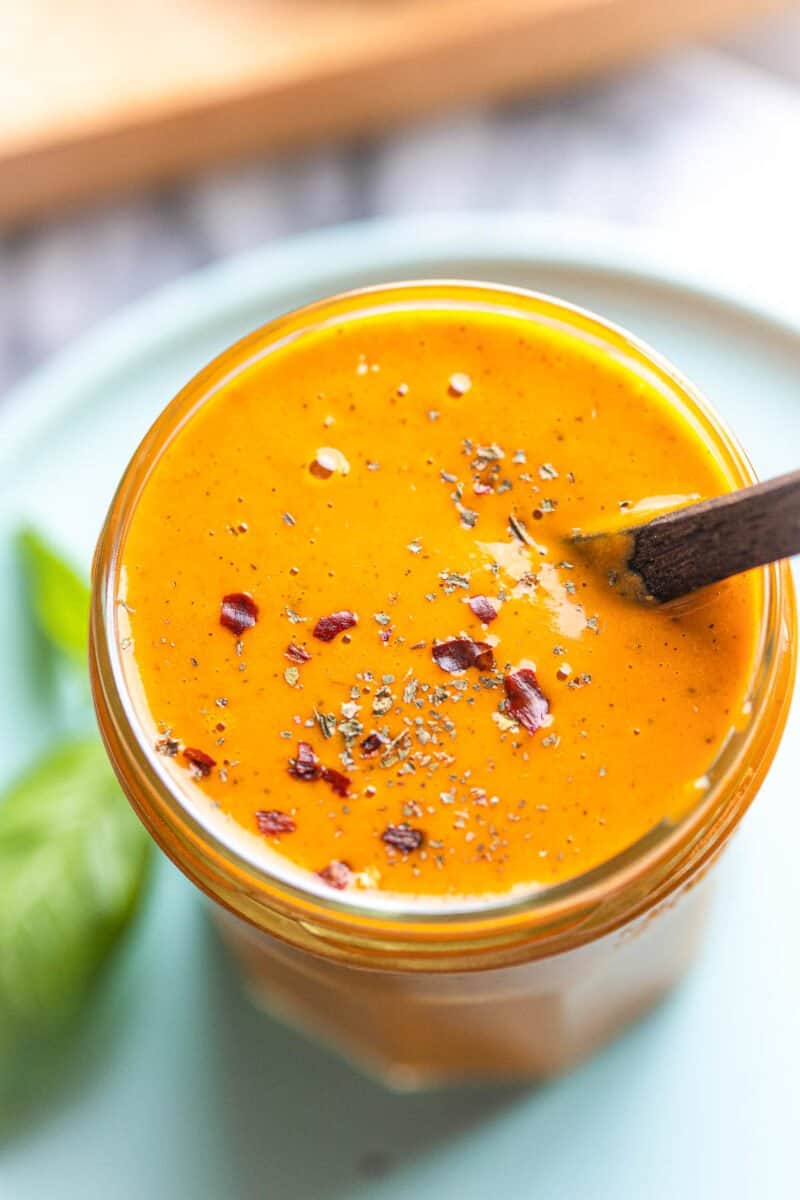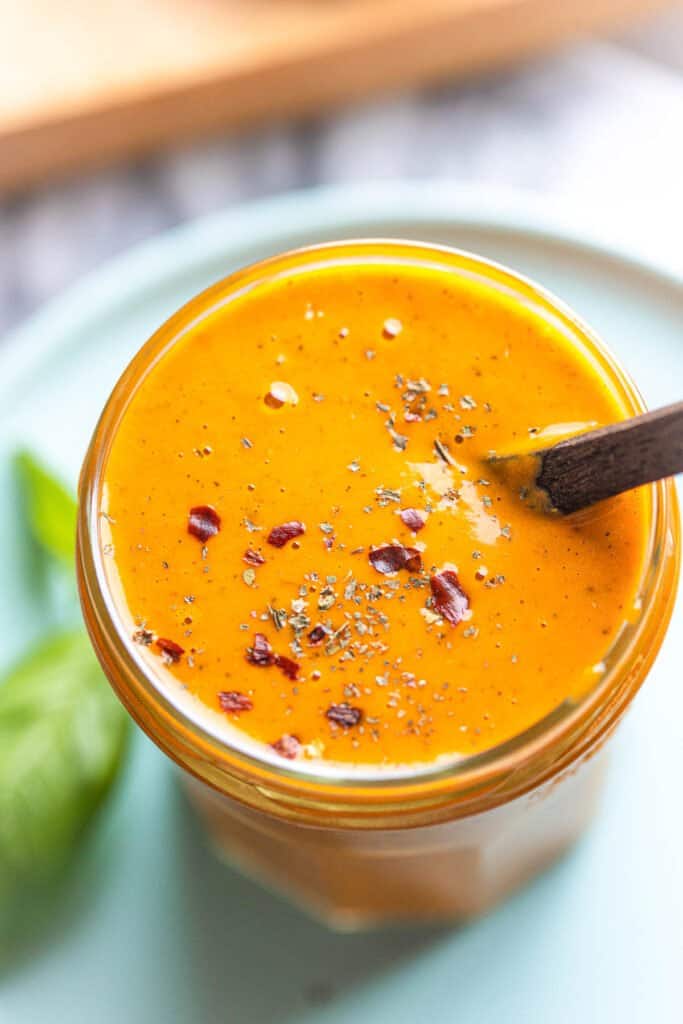 What is Miso?
Simply put – miso is fermented soybean paste. It's salty, savoury and a bit funky in taste.
Miso is made by combining soy beans and salt with a yeast or mould starter (typically koji). Mixed up, covered with a little water and left alone long enough, it transforms into a thick, fermented paste that has become a quintessential Japanese condiment.
Did you know?
Tamari (Japanese soy sauce) is actually a by-product of miso. Miso refers to the solid beans while tamari is the leftover liquid the beans steeped in as they fermented.
Miso provides a complex, savory flavor that has the power to transform whatever else it touches. In addition to its delicious flavour, miso (like many fermented foods) provides a good variety of health promoting benefits making it a useful ingredient to incorporate into your regular diet. Miso soup anyone?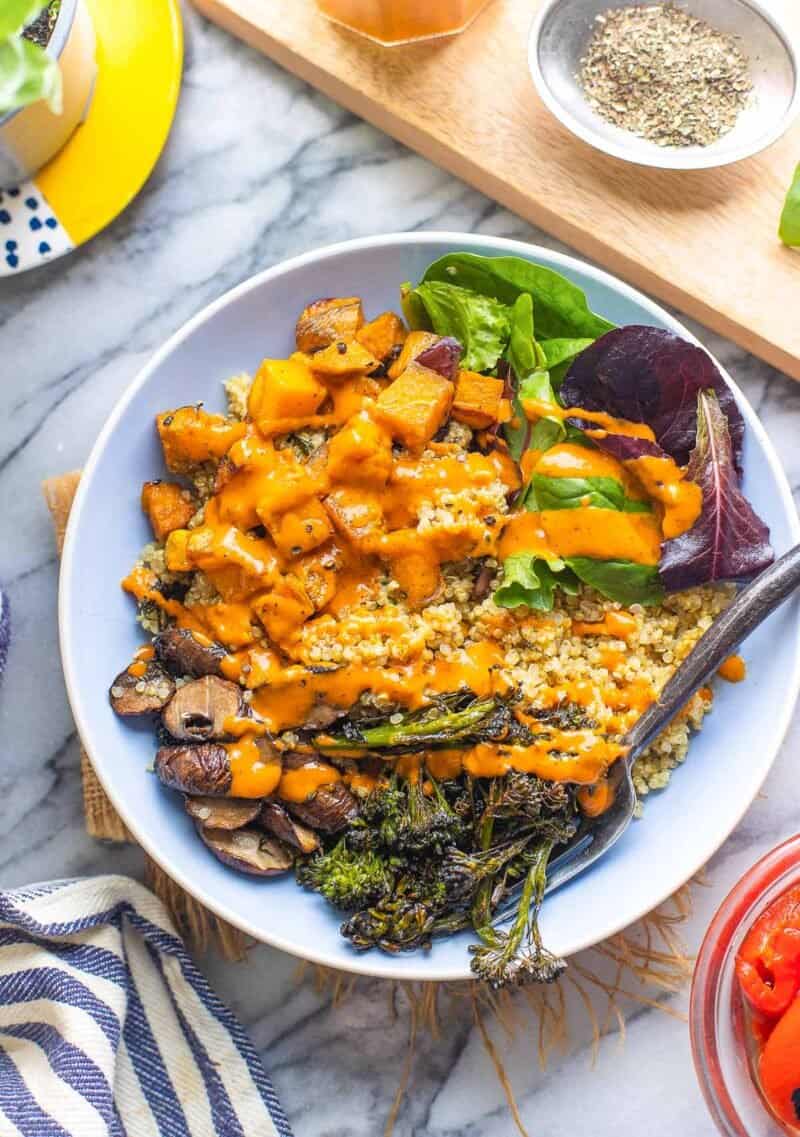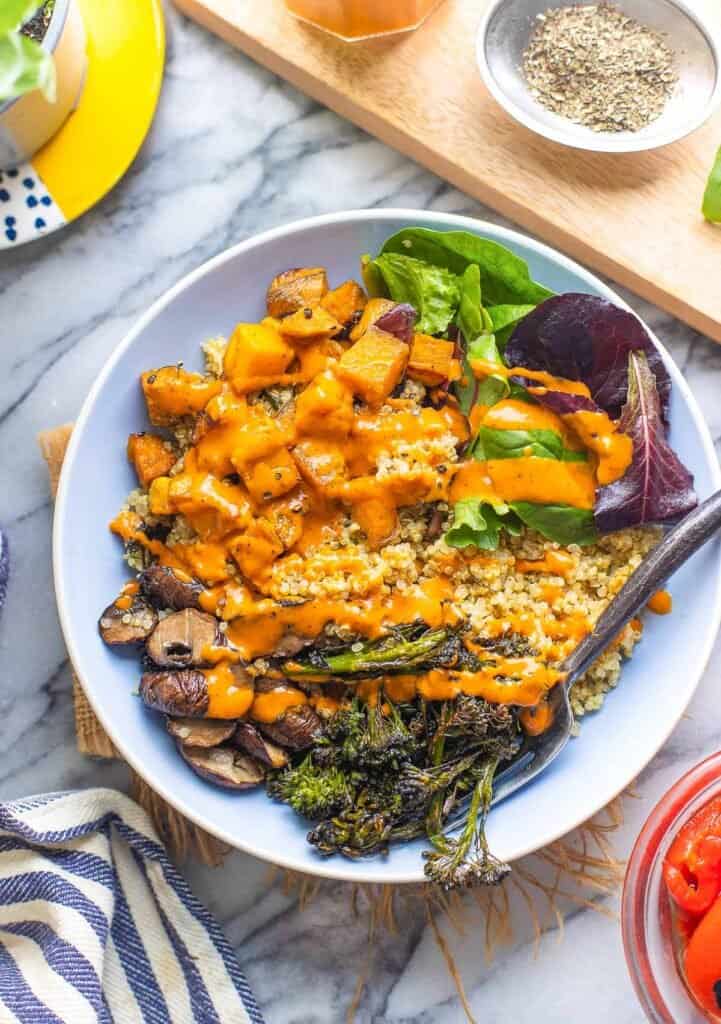 Roasted Pepper and Miso Dressing Recipe
Miso is quite punchy. Roasted red bell pepper is a bit sweet and smokey. When combined, the two create a perfect balance of sweet, salty and savory flavors. Blended up with a more few simple ingredients and you'll be wondering how you've gone this far in life without it!
Key Ingredients: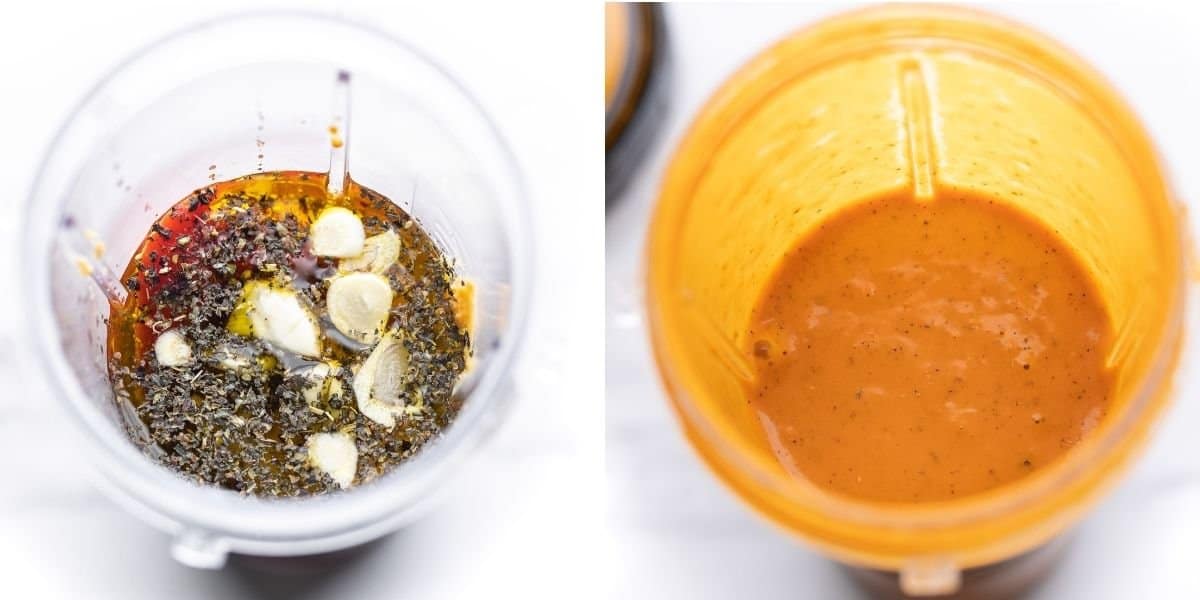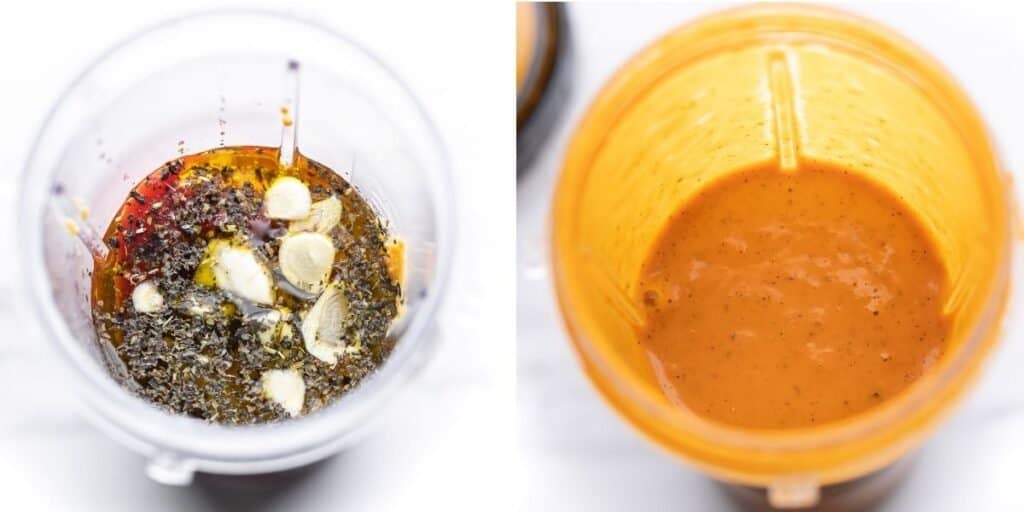 Miso – make sure to use a gluten free miso paste if needed. While miso is gluten free it can sometimes be made with gluten containing grains. White miso paste is best for this recipe.
Roasted Red Bell Peppers – Ideally you want to use roasted red peppers in olive oil (not in vinegar). You can use vinegar packed peppers if they are the only ones available, but I recommend you rinse them in water first to reduce the excess acidity.
Olive Oil – Extra virgin olive oil always makes for an excellent addition to homemade salad dressing. Vegetable oil can be used in a pinch but it won't add as much flavor.
Vinegar/Acid – I used apple cider vinegar, but you can also use rice vinegar or white wine vinegar. Lemon juice and lime juice can also be subbed in for the vinegar.
Garlic – Add 1-2 small cloves of garlic for fresh punch of flavor. Feel free to use 1/4-1/2 teaspoon ground garlic if needed.
Soy Sauce or Tamari – Tamari and miso go hand in hand. One to two tablespoons will go a long way here.
Dried (or fresh) herbs – I thought about using fresh herbs here, but decided to go for dried instead to make for a more evergreen sauce. While dried herbs no doubt have less flavor than fresh, this miso vinaigrette packs in the flavor in other ways to make up for it. A touch of dried basil will add a gentle flavor to an otherwise supercharged sauce.
Sweetener

–

With all the salty and sour notes dancing around a bit of sweetener is needed to settle things down. I used maple syrup but you can also opt for honey or white/brown sugar if you need.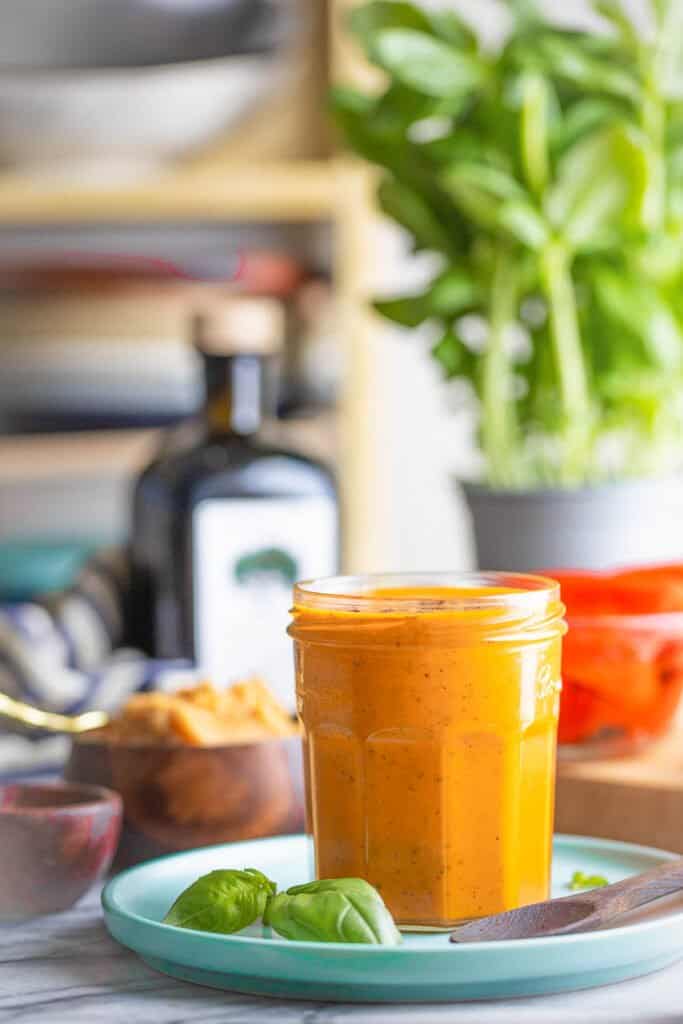 Serving Ideas and suggestions
This sauce makes for a good all round salad dressing and general veggie enhancer.
It has enough flavor to do most of the heavy lifting in your cooking. You could easily throw together a quick salad bowl of unseasoned grains and veggies, smother everything in this miso dressing and enjoy.
My Veggie Bowl Ingredients Pictured Above:
Sauté or roast a few veggies of your choice. I personally enjoyed the combination of roasted broccoli, sweet potatoes and mushrooms.

Sauté veggies will cook faster but require more attention and oil. Roasted veggies are easy, but will require more pans so they don't crowd too much in the oven. Remember that crowded veggies steam up which makes for soggy veg.

While the veggies roast roast, add one cup uncooked quinoa and 2 cups water to a pot and cook until fluffy (about 15-20 minutes).
Once the quinoa and veggies are prepared, pile everything into a bowl and toss with your choice of leafy greens.
Finally, add the the roasted red pepper miso salad dressing and enjoy!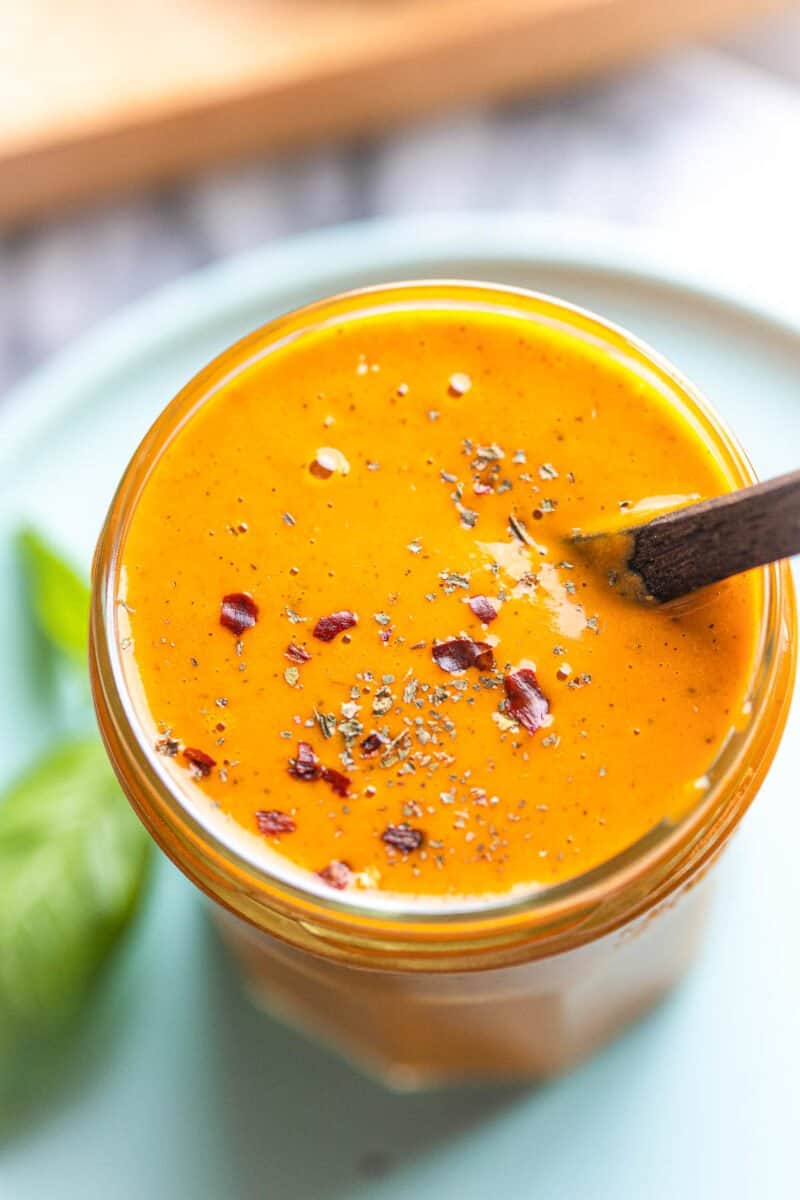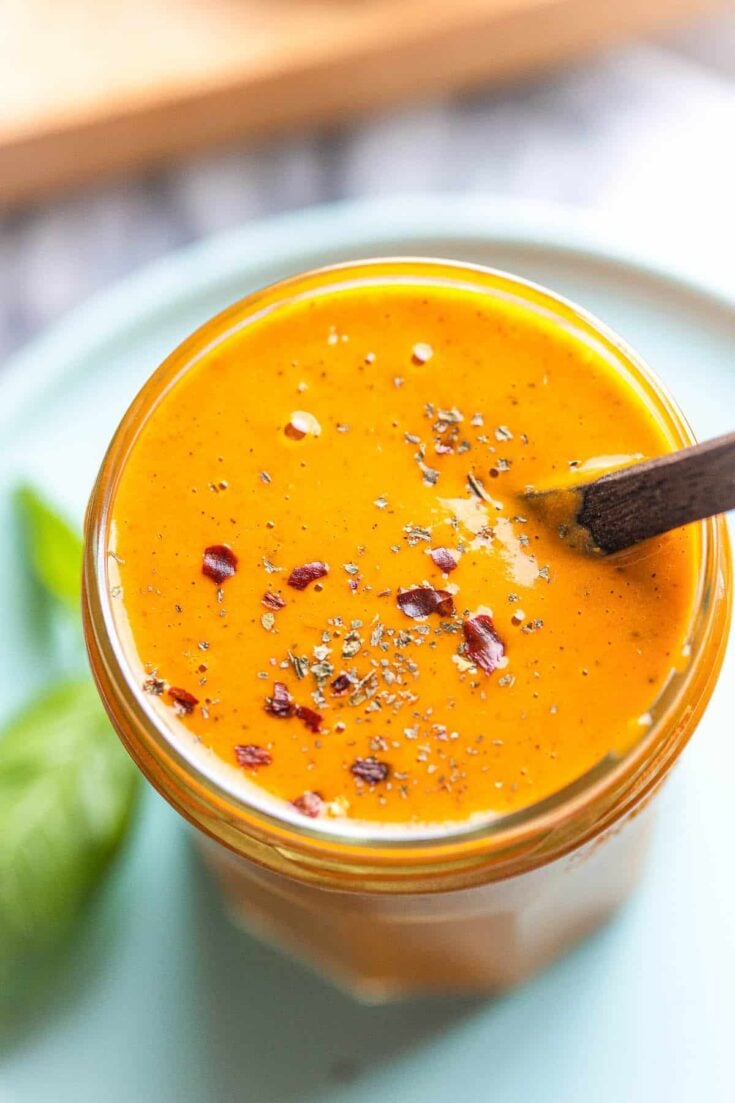 Recipe
Red Pepper Miso Dressing
Yield:
about 1 1/4 cup
Prep Time:
5 minutes
Total Time:
5 minutes
Simply blend everything together, taste, season and enjoy!
Ingredients
¼ cup (68g) white or yellow miso (ensure gluten free)
⅓ cup (80ml) extra virgin olive oil
2 roasted red peppers from a jar (packed in oil)
2 tablespoons (30 ml) apple cider vinegar
1 tablespoon (15ml) maple syrup or honey
1 tablespoons (15ml) soy sauce (ensure gluten free)
1 small clove garlic, minced
½ teaspoon onion powder
½ teaspoon dried basil
¼ teaspoon black pepper
Instructions
Add everything to a food processor or high speed blender. Process/blend until smooth or until you reach your desired consistency. Taste and season to your own taste. If it's too salty add a bit more maple/sweetener or vinegar and vice versa.
Serve over salads, roasted veggies, in buddah bowls and more. Keep stored in an airtight container in the fridge. This should keep about 2 weeks.
Notes
What type of miso?
There are 3 different types of miso you will likely see in store: white miso (shiro miso), red miso (aka miso) and yellow miso (a blend of the two usually). The darker the miso color the more fermented it will be making it stronger in flavor. White or yellow miso is best in this recipe.

Nutrition Information
Yield:

8
Serving Size:
2.5 tablespoons
Calories:

114
Total Fat:

10g
Saturated Fat:

1g
Carbohydrates:

5g
Fiber:

0g
Sugar:

3g
Protein:

2g
This website provides approximate nutrition information for convenience and as a courtesy only. Nutrition data is gathered primarily from the USDA Food Composition Database, whenever available, or otherwise other online calculators.
More Miso Recipes You Might Like