Easy Caesar Salad Dressing – paleo with a dairy free option.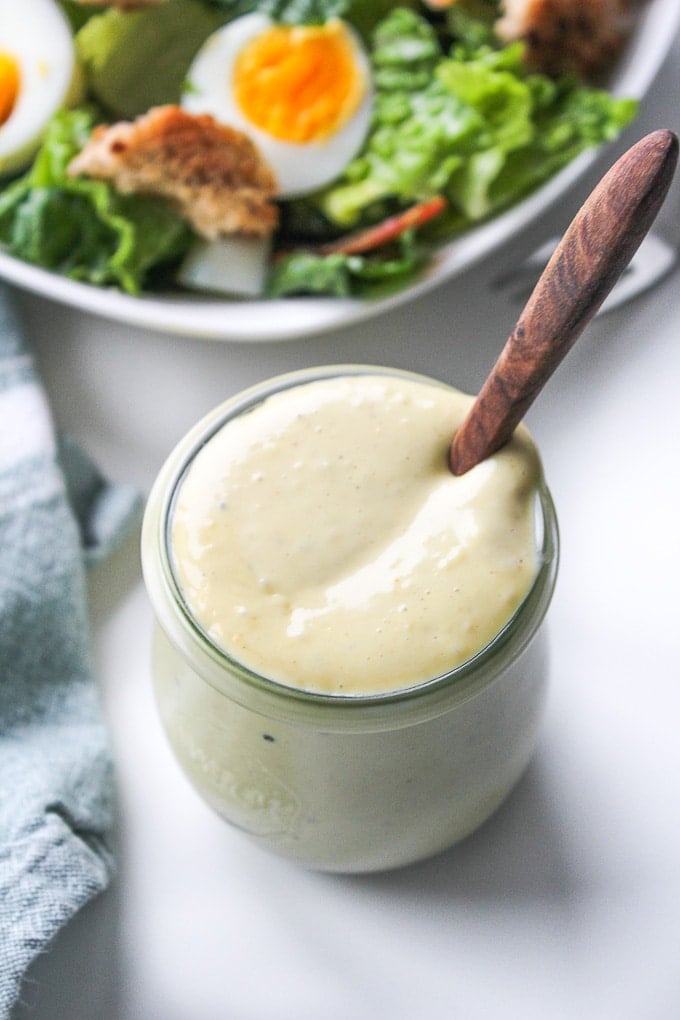 Ok let's be frank here: Caesar salad dressing has a reputation, and it's not the best when it comes to 'health'.
Anyone who has ever slogged through the tedious, soul destroying task of counting calories knows that the last thing you want to order at a restaurant is the caesar salad. Sure. It's a salad, but hidden in those greens tossed in creamy, garlicky goodness are about 1,000 calories worth of delicious sadness that's ready to throw a wrench into your all dieting endeavors.
I know you know what I'm talking about.
Fortunately, my views on food, dieting, and living a healthy life have changed so much in the past few years that I find absolutely no reason not to say yes to caesar salad…or at least yes to the homemade stuff.
Though I may not be as afraid of calories as a I once was (I've still got my issues) I'm not as quick to dismiss a food based on the number of calories it contains because not all calories are created equally. Nobody (in their right mind) is going to argue that a 150 calorie can of coke is healthier than an 160 calorie avocado.
So, yeah, caesar salad dressing may be high in calories. On the flip side you could just say it's high in energy because that's what a calorie is anyways – a unit of energy.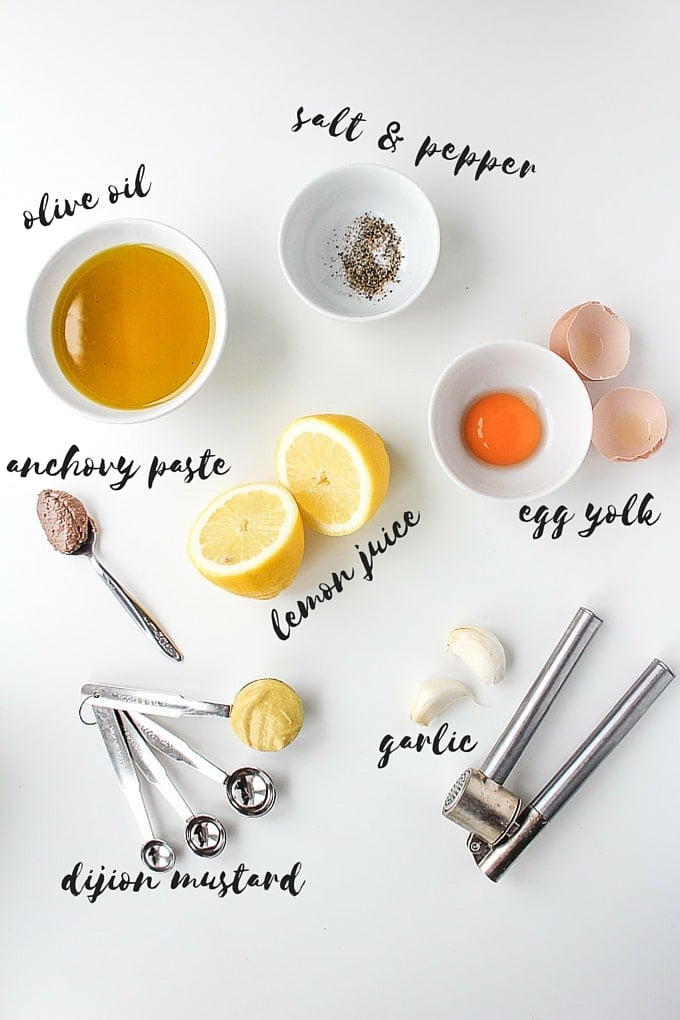 About this recipe
Traditional caesar recipes call for a little parmesan, but if you don't do dairy just leave it out and it still tastes great!
If you're worried about raw eggs and food borne illness use pasteurized eggs for this recipe. Pasteurizing eggs is the process of safely heating eggs inside their shells to a temperature that destroys bacteria without actually cooking the egg.
If there is one thing to know about making caesar dressing at home is that it's suuuuper easy. Just combine all your ingredients in a jar and blend for all of about 15 seconds. Immersion blenders are perfect for this type of thing, but if you don't own one no worries because your blender will work just as well.
Who knew I had so much to say about salad dressing?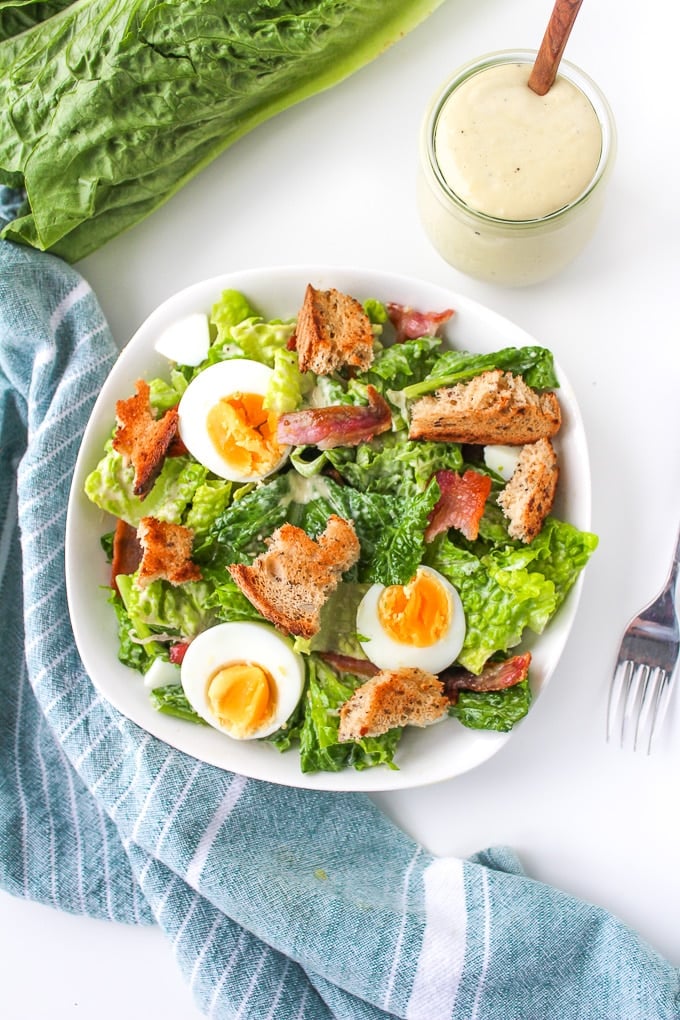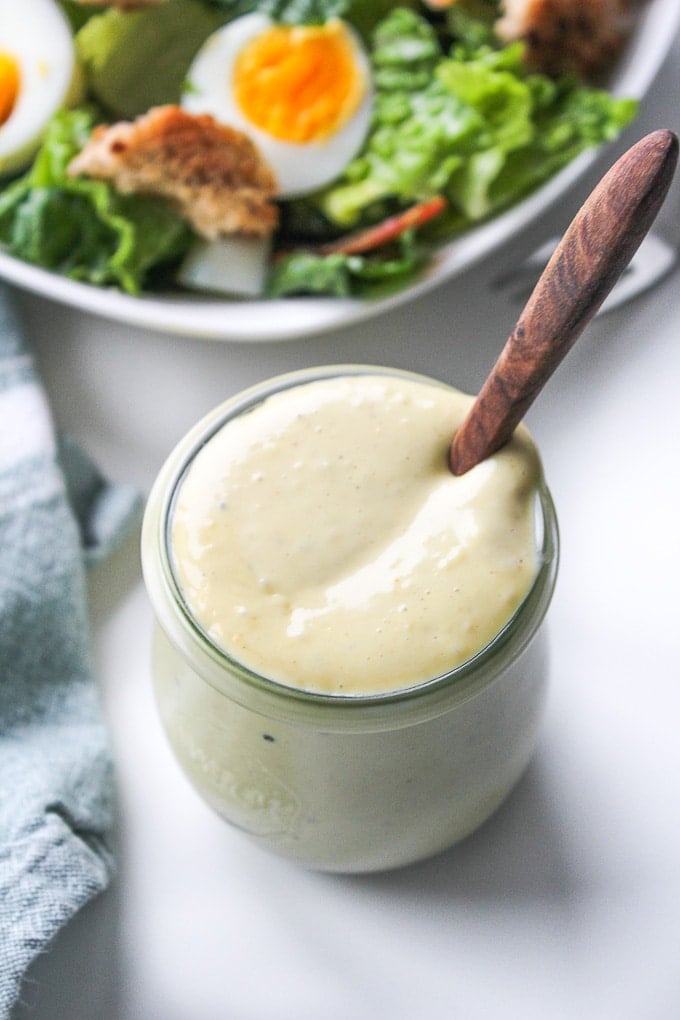 Recipe
Caesar Salad Dressing
Yield:
8 servings
Prep Time:
5 minutes
Total Time:
5 minutes
Easy Caesar Salad Dressing - paleo with a dairy free option
Ingredients
1 egg yolk pasterized, room temperature
1-2 cloves garlic, depending on how much you like garlic, crushed
3 tablespoons fresh lemon juice or 1 large lemon
1 1/2 teaspoons anchovy paste
2 teaspoons Dijon mustard
1/2 teaspoon salt
1/2 teaspoon black pepper
1 cup olive oil
1/4 cup grated parmesan, optional
Instructions
Add all of you ingredients to a large mason jar except for the oil. Put your immersion blender all the way in the jar and blend everything together until it starts to emulsify.
Slowly drizzle the olive oil into the mixture. Blend and slowly pull up the blender as you go. The dressing will thicken and become creamy after a minute or two.
After a few seconds stir. Taste to adjust the seasoning as needed.
You can also make this in a blender - just toss all of your ingredients in and blend for about 30 seconds or until it emulsifies.
Nutrition Information
Yield:

8
Serving Size:
tablespoons
Calories:

100
Saturated Fat:

2g
Cholesterol:

56mg
Sodium:

492mg
Carbohydrates:

1g
Protein:

3g
This website provides approximate nutrition information for convenience and as a courtesy only. Nutrition data is gathered primarily from the USDA Food Composition Database, whenever available, or otherwise other online calculators.