Five ingredient + five minute Dairy Free Hot Fudge Sauce – thick, creamy and minimally sweetened! Pour this over brownies, cookies, ice creams for next level homemade decadence! Paleo + Vegan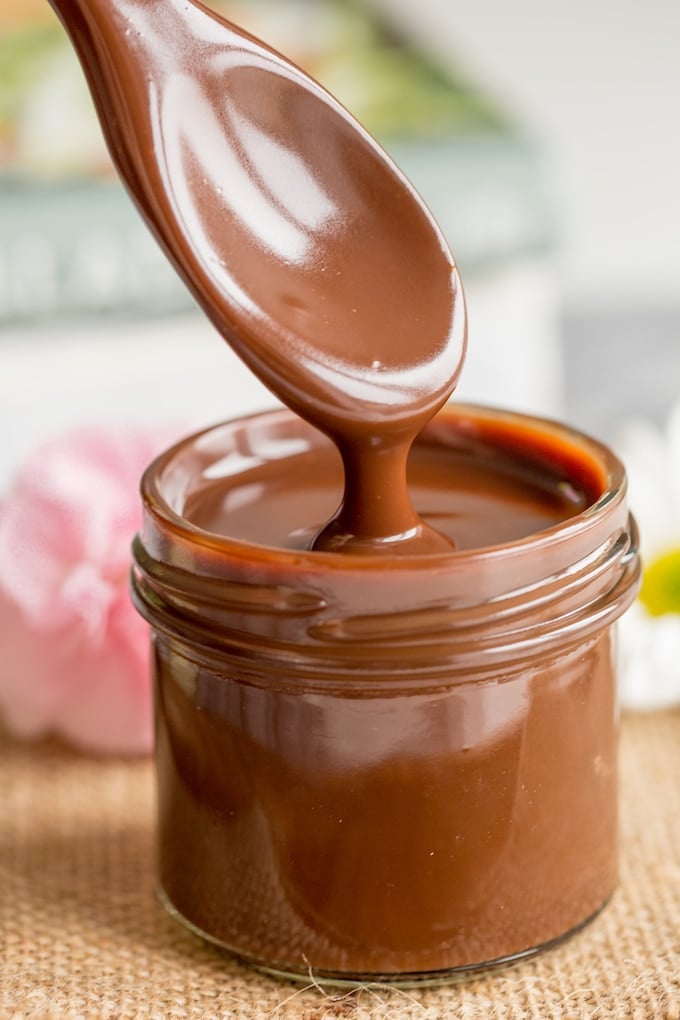 Just popping in for a quick one today to share this Dairy Free Hot Fudge.
Oh, baby.
Is there anything more mesmerising than watching a thick spoonful of chocolatey goodness drip down into a pool of more chocolate? Debatable.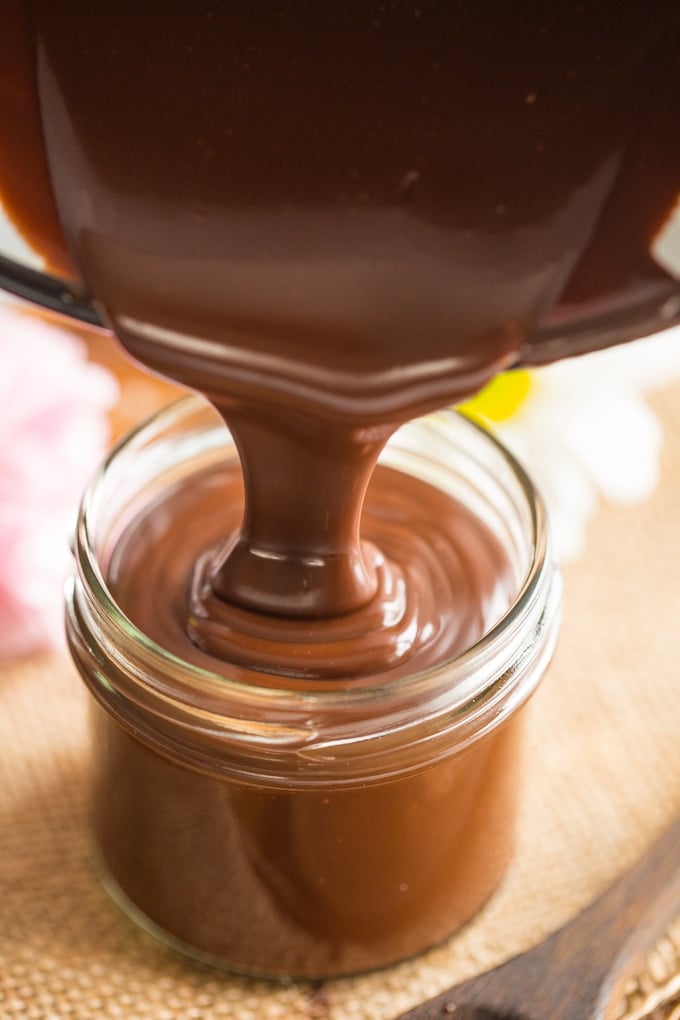 How to Make: Dairy Free Hot Fudge
This recipe is incredibly easy and doesn't need much explantation but just incase you do I'll break it down a bit. The fudge is made up of:
coconut cream (or full fat coconut milk)
dairy free dark chocolate
vanilla extract
maple syrup (or another sweetener of your choosing)
unsweetened cocoa powder
A little clarification on the coconut cream: You can buy cans of coconut cream of its own but you can also scoop this out from a can of full fat coconut milk. You want the thick, creamy part sitting on top. Using the coconut cream on top will result in a thicker, richer hot fudge. That being said if your coconut milk doesn't separate between the cream & the water – no worries! Use the coconut milk that you have and if you need to thicken up your fudge sauce you can add an extra tablespoon or two of cocoa powder to make up for it.
To make this hot fudge simply whisk everything together except for the cocoa powder in a small sauce pot on a low heat. Mix until everything is fully melted then remove from the heat. Whisk in the cocoa powder making sure to break up any lumps as needed. Finally just taste and adjust the sweetener as needed.
Transfer into a small jar with a lid and then set aside until needed. You can pour this over cakes, brownies ice cream – whatever! Store in the fridge for up to about 5 days.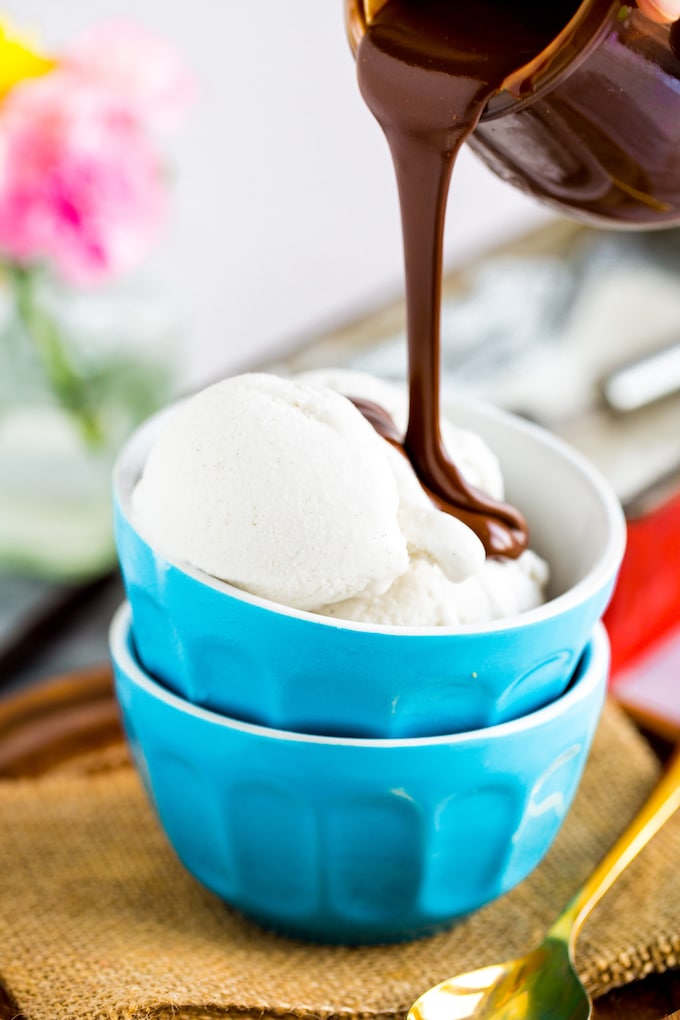 By the way in case you're wondering there's a recipe coming up in a couple of days for this paleo + vegan vanilla ice cream  pictured above so stay tuned!
FACEBOOK | INSTAGRAM | PINTEREST 
Don't forget to #asaucykitchen on instagram if you try this Dairy Free Hot Fudge Sauce.  I love seeing what you make!  You can also post your pictures to my facebook page!
This post contains affiliate links.  I only post links for products I personally use and believe in. If you make a purchase on Amazon after clicking one of my links, I receive a small commission and the price you pay is not affected.  Thank you!
Yield: 12 tablespoons
Dairy Free Hot Fudge - Paleo + Vegan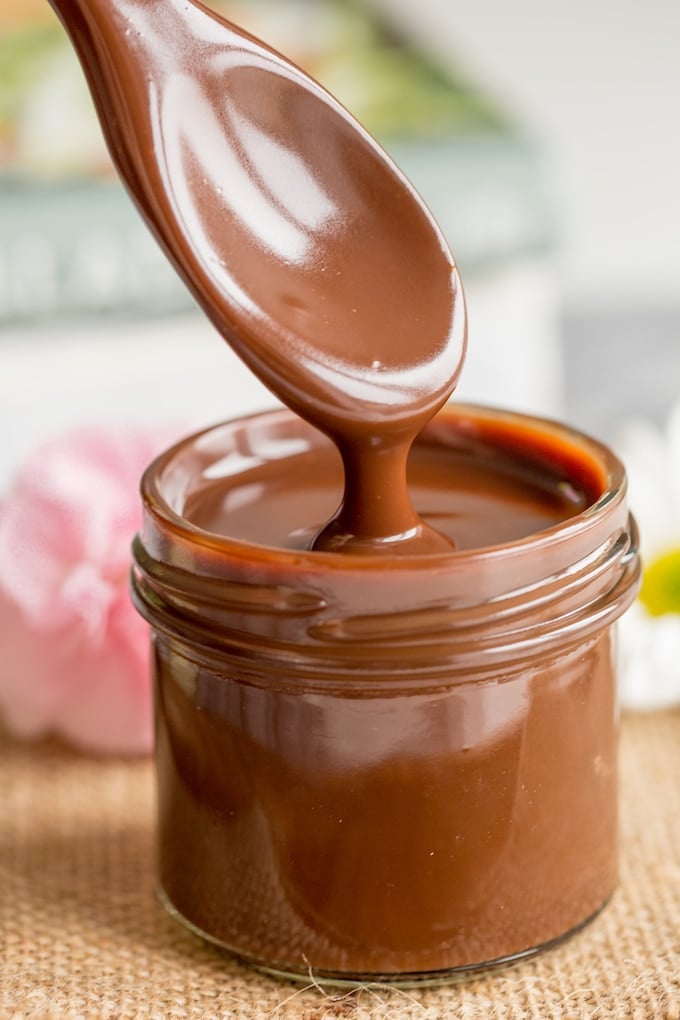 Five ingredient + five minute Dairy Free Hot Fudge Sauce - thick, creamy and minimally sweetened! Pour this over brownies, cookies, ice creams for next level homemade decadence! Paleo + Vegan
Ingredients
1/2 cup coconut cream
2 oz dairy free dark chocolate, chopped
1 teaspoon vanilla extract
2 tablespoons *maple syrup, or more to taste
2 tablespoons unsweetened cocoa powder
Instructions
On the lowest heat combine the coconut cream, chocolate, vanilla extract and maple syrup. Stir and let the chocolate melt - stir often to keep the chocolate from burning.
Once the chocolate is melted and everything is combined whisk in the cocoa powder making sure to break up any lumps. Stir until smooth.
Taste and adjust things as needed - more cocoa powder will make for a thicker sauce but then you may need to add a little more maple to balance it out. I recommend adding 1 tablespoon of each at a time so you don't over do it.
Remove from the heat, transfer to a small jar and let cool. This can be served over ice creams, brownies, etc.
Store this in an airtight concealer in the fridge for up to 5 days. When cooled this will harden into a smooth peanut butter like consistency. You can use it as a spread if you like or warm it up in the microwave at 20 second intervals to heat up
Notes
Feel free to use a sweetener of your choice in place of the maple syrup.
1 serving = 2 tablespoons
Nutrition Information:
Yield:
12
Serving Size:
tablespoons
Amount Per Serving:
Calories:

73
Saturated Fat:

4g
Sodium:

1mg
Carbohydrates:

5g
Fiber:

1g
Sugar:

3g
Tools & Ingredients Needed