Coconut rice makes for a super simple yet incredibly versatile side dish that pairs well with a wide variety of Cuisines and recipes. Spruce it up even further with the addition of gently fried pieces of coconut and toasted rice! | Gluten Free + Vegan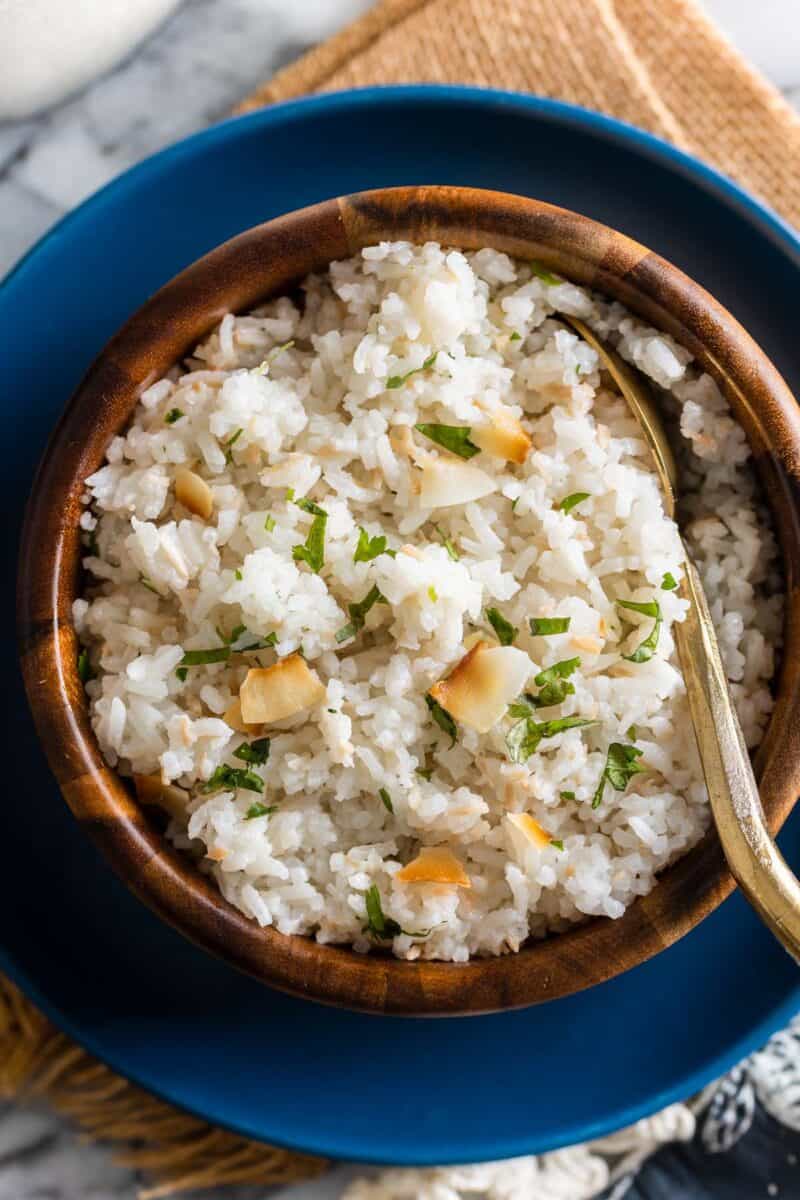 What's to love about this Toasted Coconut Rice recipe?
---
It's everything you'd expect from a typical coconut milk rice:
simple ingredients and easy-to-follow instructions
creamy texture that's still fluffy
adaptable and incredibly versatile rice side dish
---
And it's made even better with the toasted coconut cooked and mixed throughout the rice! Toasted coconut adds a sweet, nutty flavor with an added chewy texture that really takes this recipe to the next level.
Toasted Coconut Rice Ingredients
Coconut (shredded, desiccated or flaked) – It only takes a few minutes, but this addition adds quite a bit of flavor and texture to your basic coconut rice!
Coconut Oil – Needed to fry the coconut. You can swap it out for butter or a neutral flavored oil, but I think it helps play up the natural coconut flavors in this rice.
Rice – Most coconut rice recipes use Jasmin rice. As a long-grain rice it is less starchy from short and medium grain varieties. However, the cooked grains are still quite soft and moist. You can also make this with white basmati. It's another long grain rice and a great option if you'd prefer fluffy coconut rice with a bite more bite.
Coconut Milk – You only need one can of coconut milk. Make sure it's unsweetened. I don't recommend coconut milk from a carton. It's a very different type of coconut milk and will result in quite a different finished dish. Use full fat coconut milk for an extra rich and creamy texture. Light coconut milk also works! Just keep in mind the rice won't be as creamy.
Water – While canned coconut milk does have some coconut water, you still need a bit of plain water to make this or the rice will be too mushy.
Salt – A pinch of salt helps balance the sweet coconut flavor and season the overall dish.
Rinse Your Rice!
Make sure you wash your rice before cooking to remove the excess starch. Extra starch = mushy texture.  Run water over the rice in a fine mesh colander until the water runs clean or swish around in a bowl of water for a minute or two, then drain.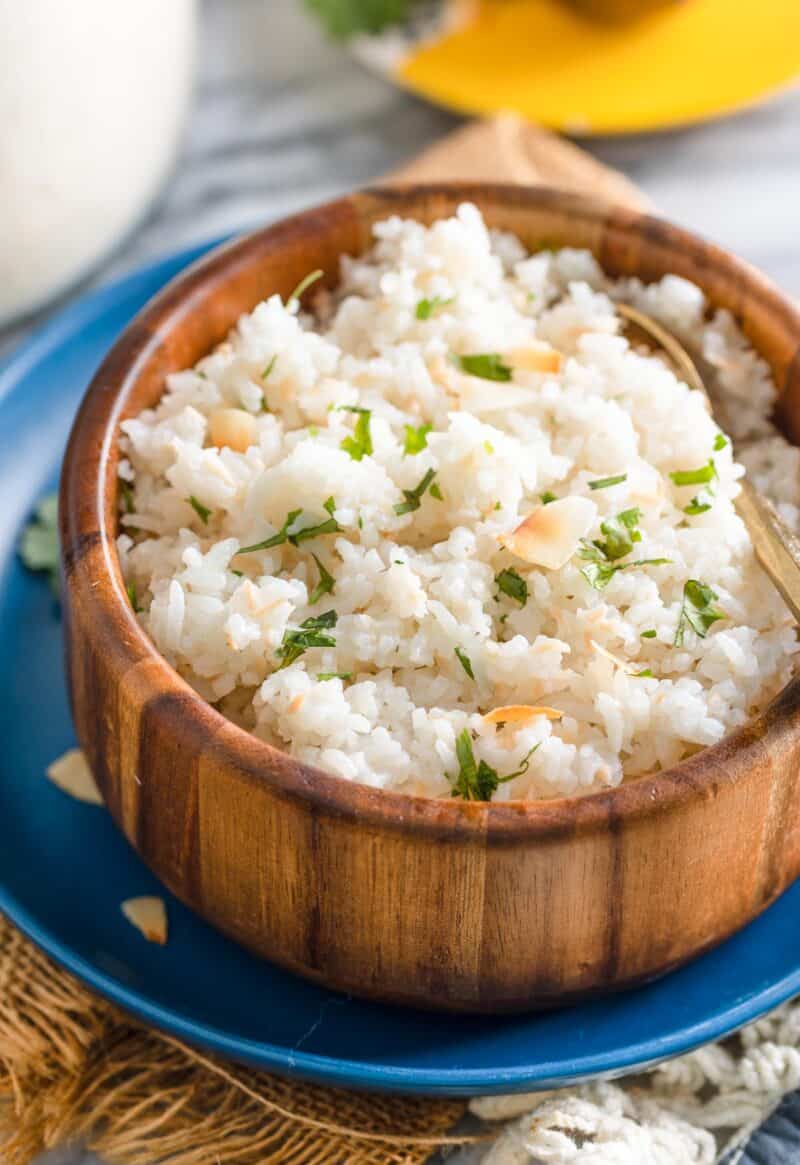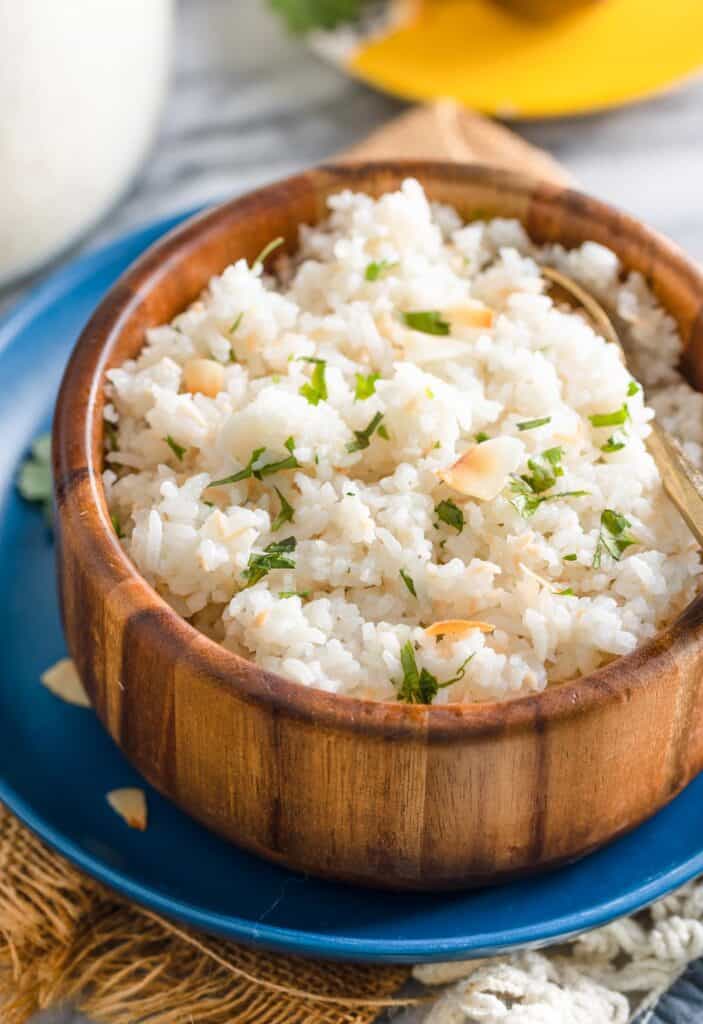 Toasted Coconut Rice Steps
Toast coconut & rice. Toast/fry coconut in oil a few minutes until golden, then add the rice and cook another couple of minutes to create a deeper, nuttier flavor.
Combine ingredients. Mix water, milk and salt into the rice.
Cover and cook. Cook on a high heat to reach a boil, then cover with a fitted lid. Lower the heat almost all the way down to maintain a simmer and cook 20 minutes, undisturbed.
Steam and rest. Turn off the heat and set another timer for 10 minutes. Rest with the lid still on to let the rice steam one last time for a fluffy texture.
Fluff and serve. Remove the lid and fluff up (gently mix) the rice. Stir in fresh herbs or other add-ins at this time then serve.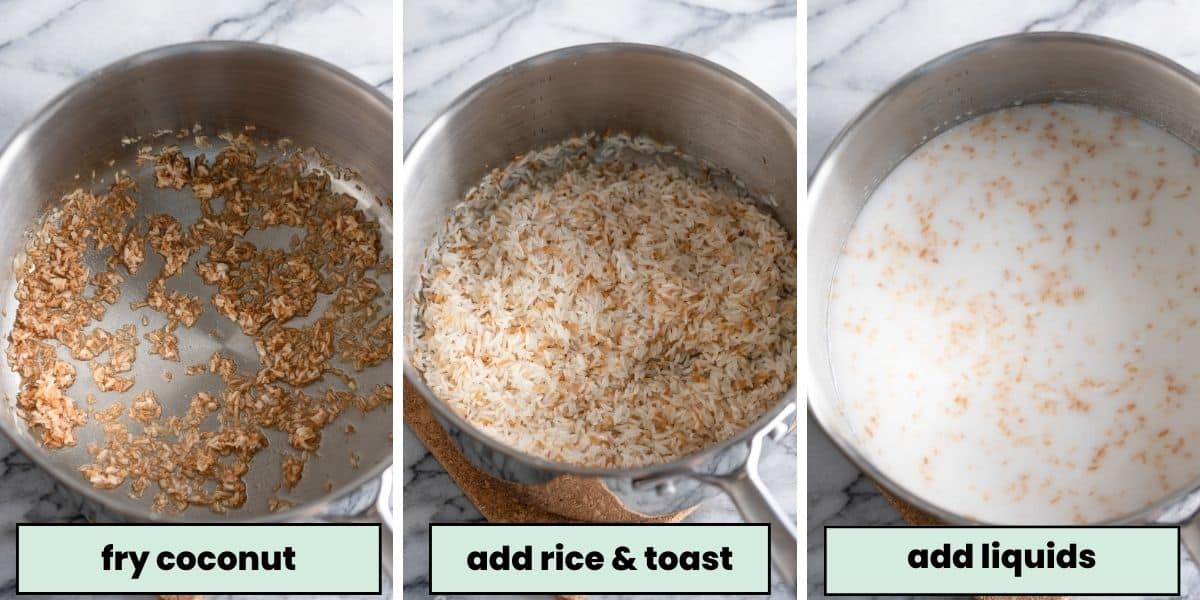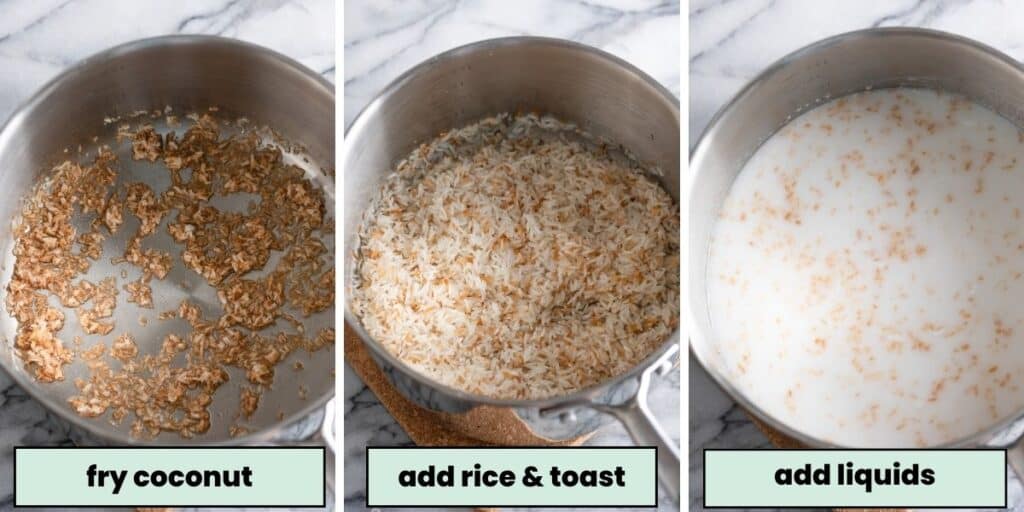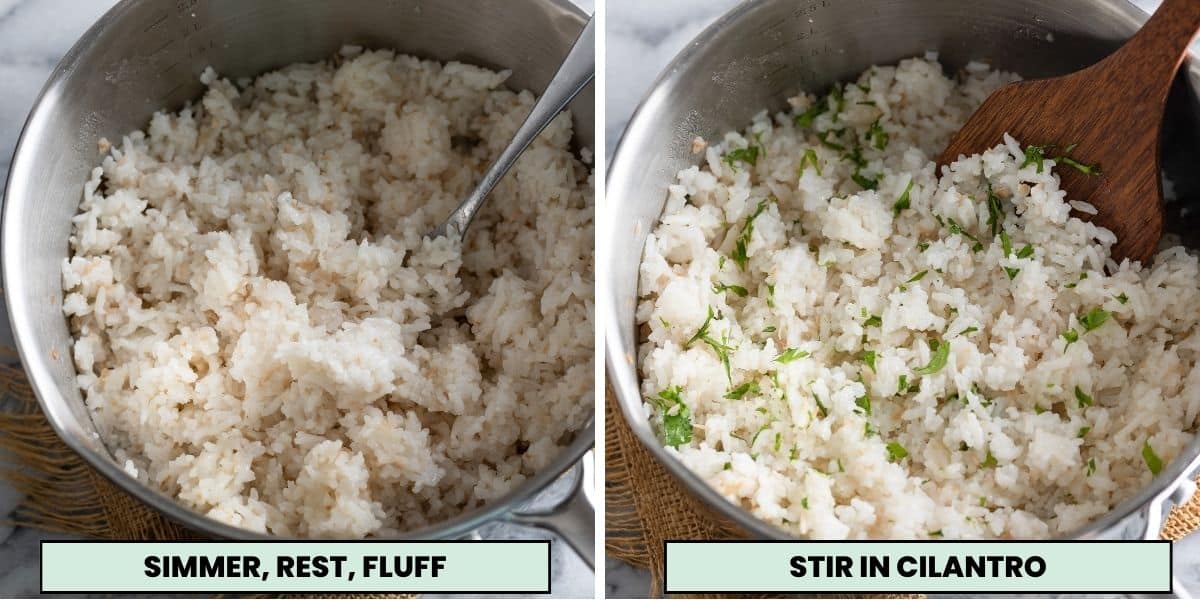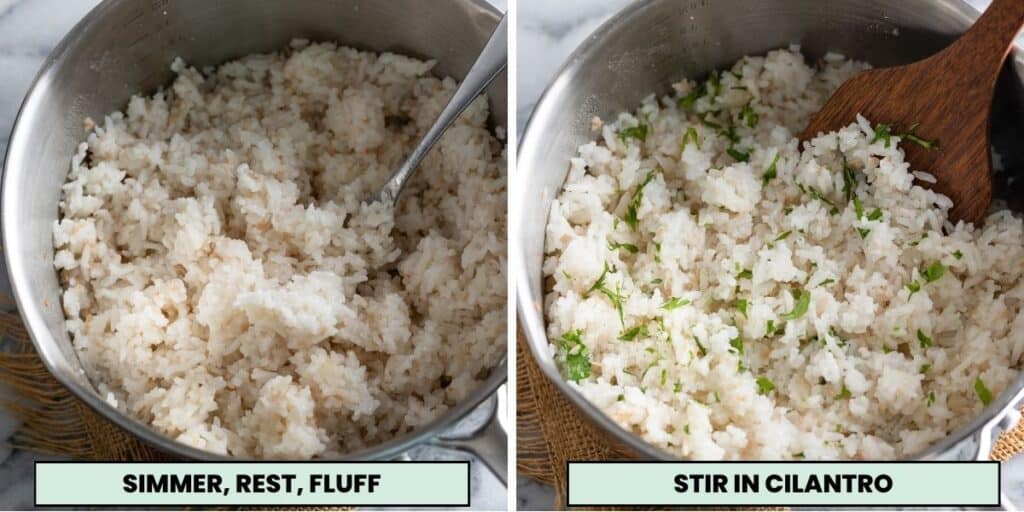 Play with the Flavors: Variations & Additions
Fresh Herbs – Stir in fresh chopped herbs like cilantro or mint just before serving to perk up the flavors one last time.
Dried Herbs & Spices – Turmeric and ginger are always great in coconut based dishes. Add turmeric (1/2-1 teaspoons) and/or ginger (1/2 teaspoon) if you're up for playing around with the flavors.
Lime – A little squeeze of lime juice will go a long way in perking up this coconut rice!
Fruit – Add fresh chopped pineapple or mango and serve as a side to more tropical dishes (think Poke Bowls and Jerk Chicken).
Sugar – You'll find a small amount of sugar (1-2 teaspoons) in many coconut rice recipes. The reason? To gently sweeten the rice in a way that allows the coconut flavor to shine through. I believe that the toasted coconut takes on the biggest role in this recipe, but a little pinch of extra sugar certainly won't hurt!
---
How long does cooked coconut rice last?
This will keep abut 4-5 days. Before storing, make sure you let the rice cool completely to room temperature then pack it up in an airtight container and keep in the fridge.
Reheat until piping hot in the microwave before serving.
---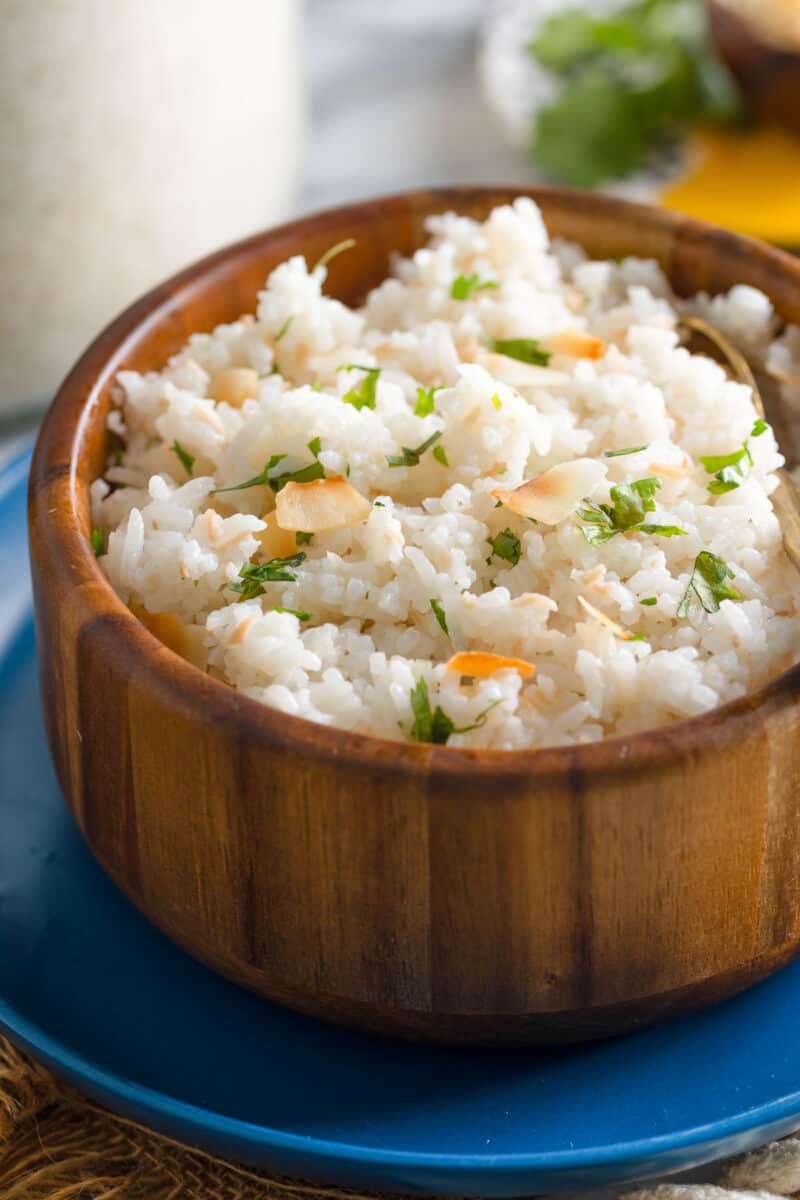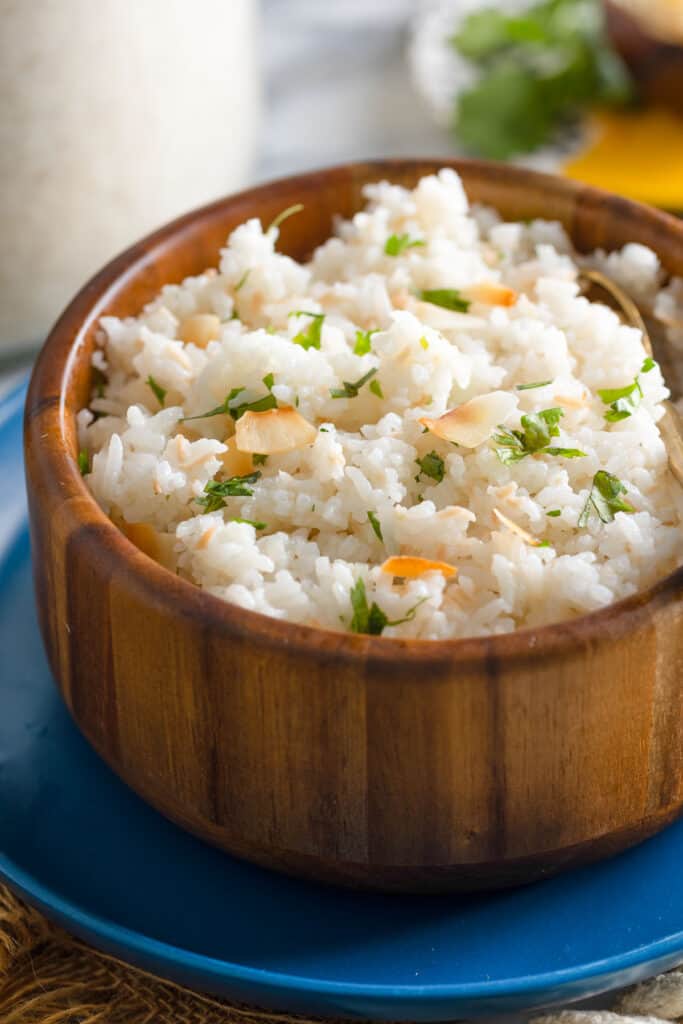 Freeze for Later
After fully cooling the rice, transfer it to an airtight and freezer-safe container or bag. Freeze for up to 3 months.
When you're ready, let it thaw overnight in the refrigerator then reheat until piping hot. If the rice looks a bit dry after thawing, add a tablespoon or two to the rice before heating.
---
Enjoy!
Let me know if you try this Toasted Coconut Rice recipe! Leave a comment and review with your thoughts. I always appreciate the feedback and serving suggestions that you come up with!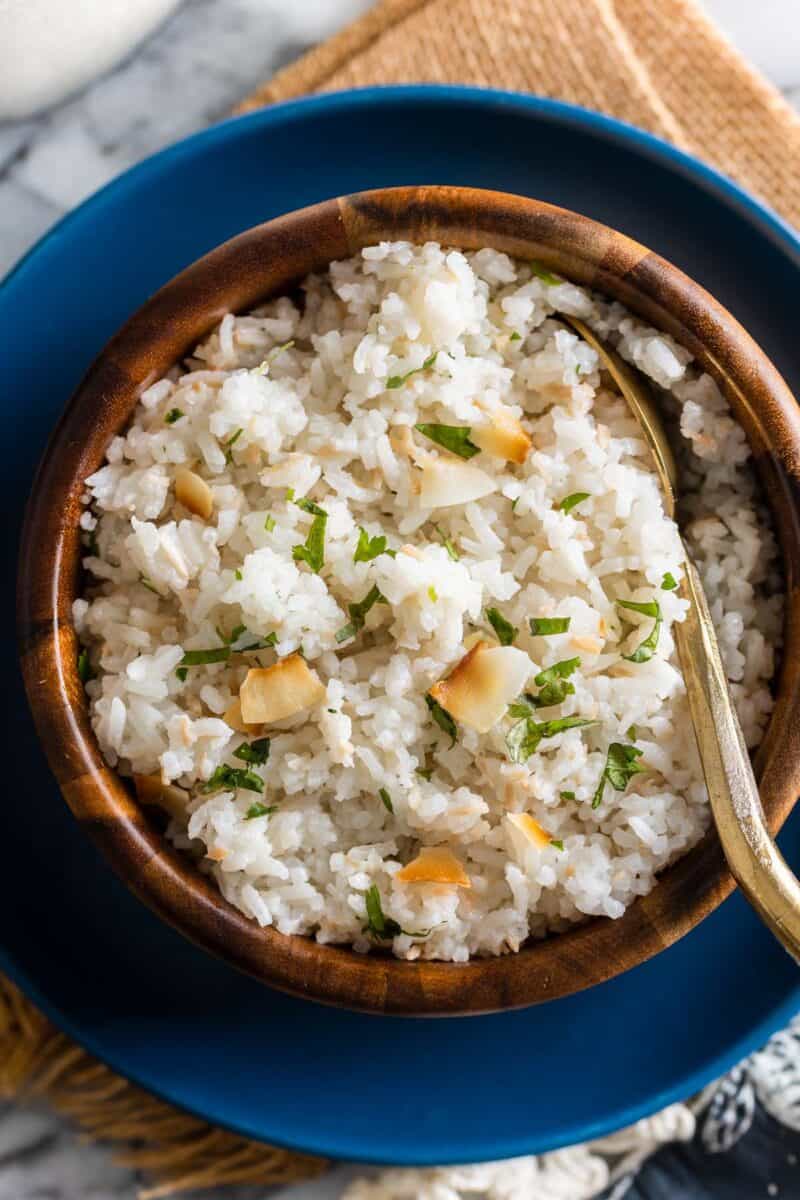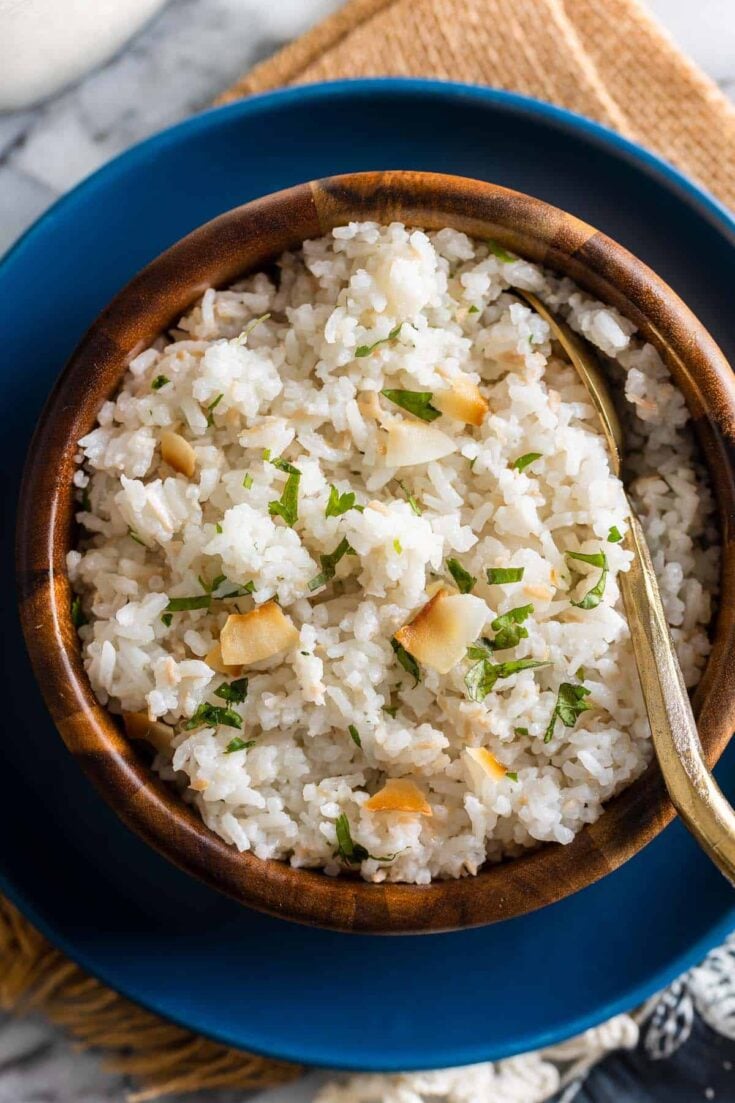 Recipe
Toasted Coconut Rice
Yield:
about 4.5 cups
Prep Time:
10 minutes
Cook Time:
30 minutes
Additional Time:
10 minutes
Total Time:
50 minutes
Coconut rice makes for a simple, satisfying and incredibly versatile - it's the perfect side dish to pair with stir-fries, lettuce wraps, curries and more!
Ingredients
1 tablespoon coconut oil
3 tablespoons unsweetened desiccated coconut or coconut flakes
1/4 teaspoon salt
1 1/2 cup uncooked white Jasmin or basmati rice (400g), rinsed until water runs clear
1 can unsweetened coconut milk (14oz)
1 1/2 cup water (360ml)
1-2 tablespoons Fresh cilantro, optional
Instructions
Warm coconut oil in a medium sauce pot over a medium heat.
Add the desiccated/flaked coconut to the pot. Stir frequently and gently fry 2-3 minutes until golden.
Add the rinsed rice and salt to the pot. Stir and gently fry 3-4 minutes until the rice is just starting to turn golden.
Stir in the coconut milk and water. Bring to a boil over a medium-high heat the cover with a fitted lid.
Switch to a low heat. Simmer and cook cook, covered until all the liquid has absorbed in to the rice, about 20 minutes.
Leave the pot on the burner with lid still on, but turn off the heat. Let the rice steam and sit for 10 minutes without touching.
Just before serving, use a fork to fluff up the rice. Stir in the fresh herbs at this time if using.
Serve and enjoy. Store leftovers in an airtight container in the fridge up to 5 days.
Notes
Use full-fat coconut milk for a richer flavor or low fat coconut milk for less calories and slightly less rich flavor.
Make sure to rinse your rise well before cooking.
Use Jasmin rice if you prefer a softer texture with extra plump rice grains.
Use basmati rice if you prefer a more defined rice texture with a bit more chew.
You can omit the added coconut and toasting of the rice. Just mix everything together and skip to step 4.
Nutrition Information
Yield:

6
Serving Size:
3/4 cup
Calories:

234
Total Fat:

15g
Saturated Fat:

14g
Carbohydrates:

21g
Fiber:

1g
Sugar:

2g
Protein:

1g
This website provides approximate nutrition information for convenience and as a courtesy only. Nutrition data is gathered primarily from the USDA Food Composition Database, whenever available, or otherwise other online calculators.
Serving Suggestions
So – what to serve with coconut rice once it's ready?
Here are some of my favorite recipes that go great with this rice:
This rice really does make the perfect side dish to many different Asian dishes (stir fries, Thai curries, poke bowls, etc). You can also enjoy it as a side anywhere you might serve plain white rice.