Sweet, salty, zesty, creamy, crunchy and most importantly – delicious! This Peanut Chicken Stir Fry comes together in one pan with a few easy to follow steps in no time. | Gluten Free + Dairy Free + Soy Free Option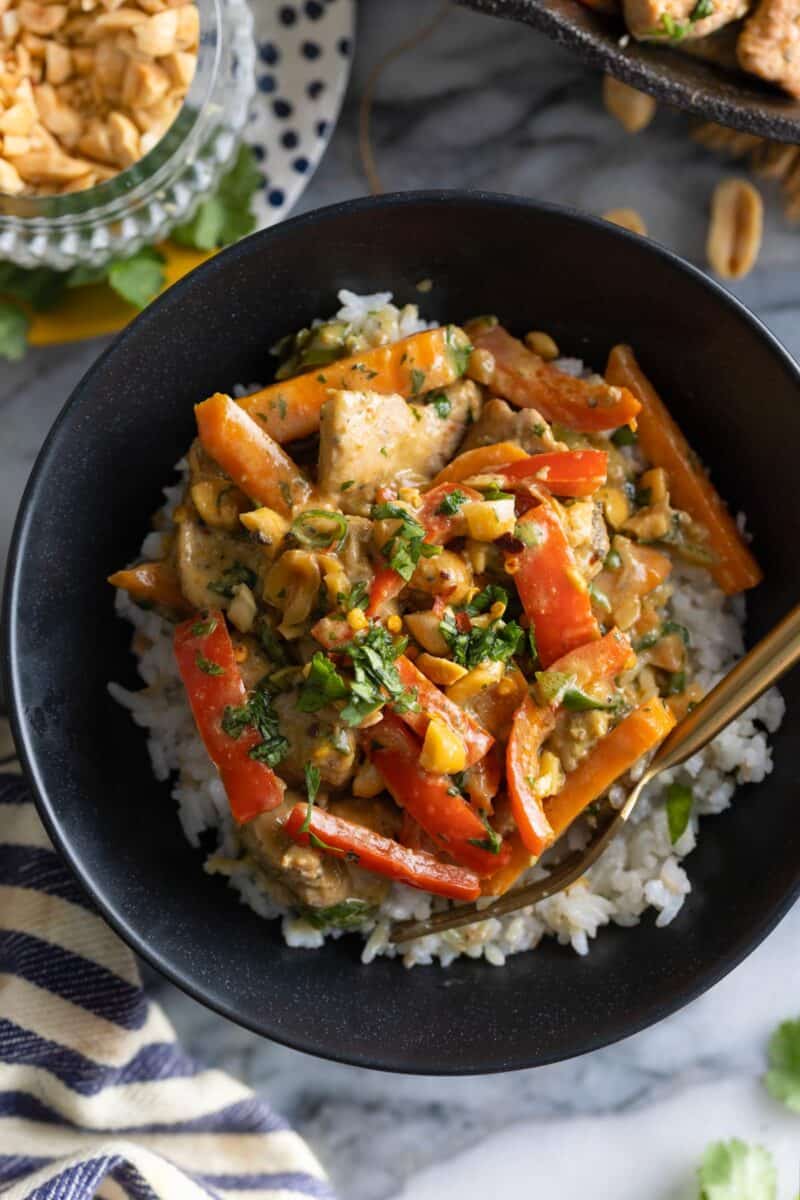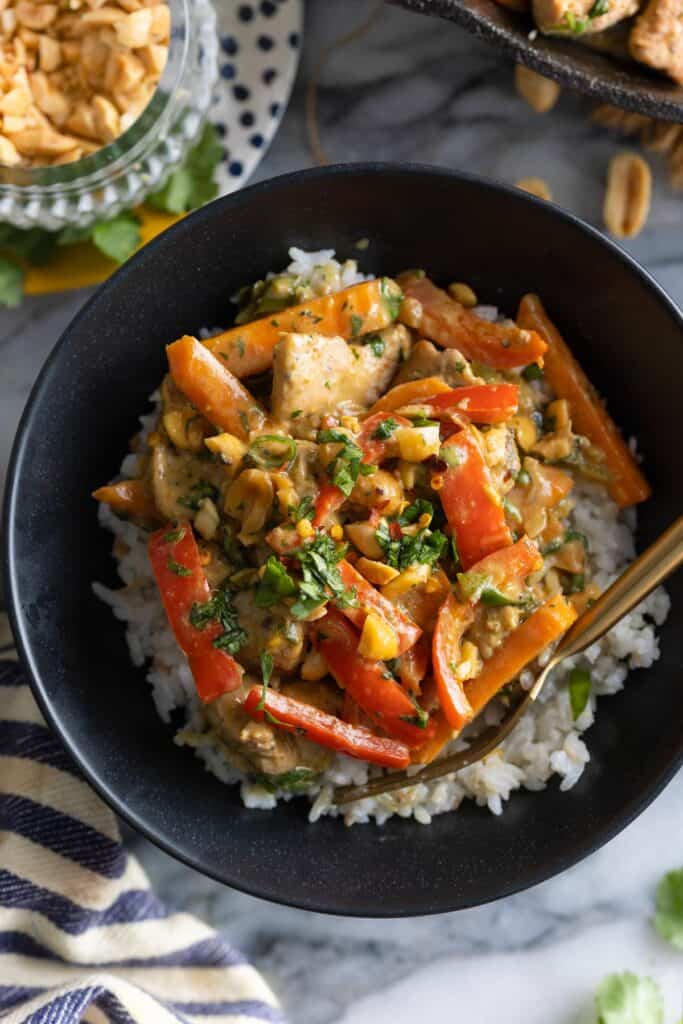 Juicy chicken and crisp, tender veggies coated in a simple, yet incredibly delicious creamy peanut sauce and cooked in one pan in easily under an hour.
Flavor-wise, the savory peanut sauce tastes a bit like a lightened up chicken satay without the coconut milk. It's easy, healthy and incredibly satisfying!
How's that for a weeknight dinner option?!
Peanut Chicken Stir Fry
A few helpful things to know about this recipe before you begin:
Mise en Place: This is the idea of prepping all of your ingredients and tools before you start to cook. Slice, dice, measure and get everything you need ready, then start cooking. It just makes things easier.
Stir fry the veggies, then remove from pan. After you simmer down the liquids into a thick and creamy sauce, return the veggies to the pan to ensure they stay crisp and tender for serving.
Make it soy free: Swap out the tamari or soy sauce for coconut aminos. Just keep in mind that coconut aminos are naturally much sweeter and less salty (about 70% less sodium) than regular soy sauce and tamari. So increase the salt a bit and you're good to go.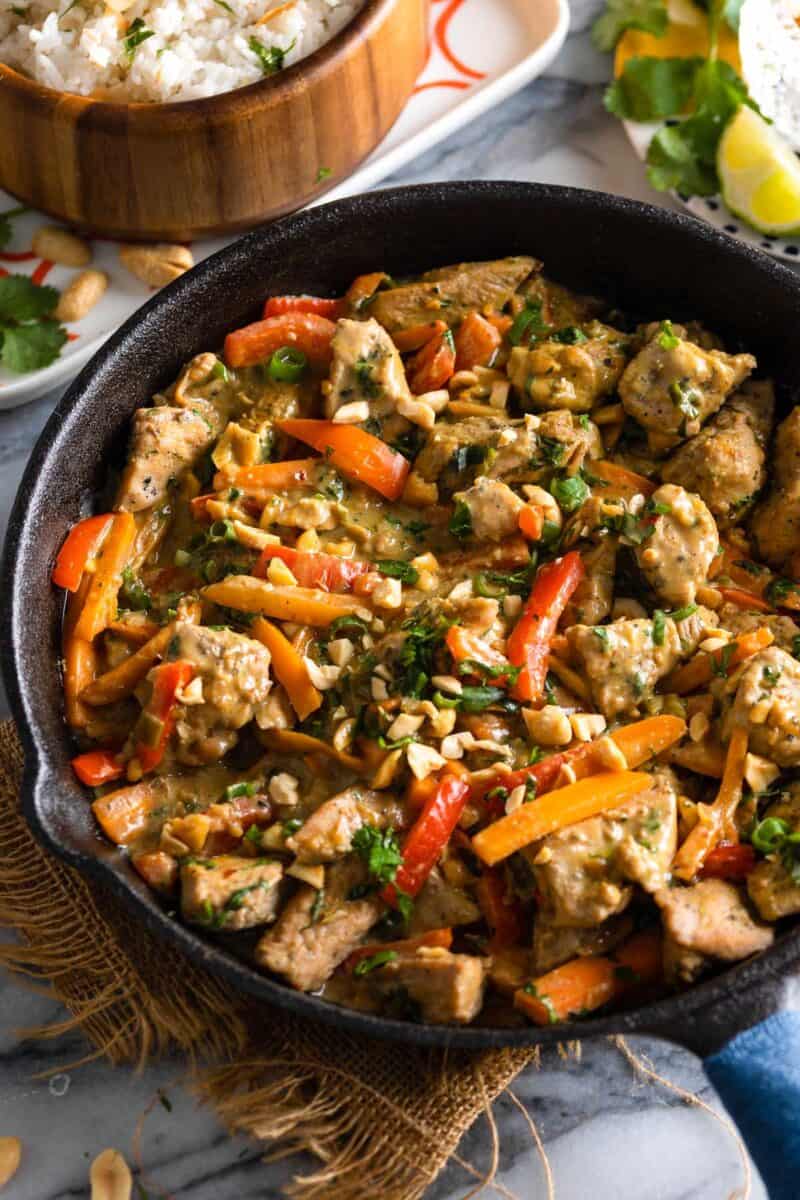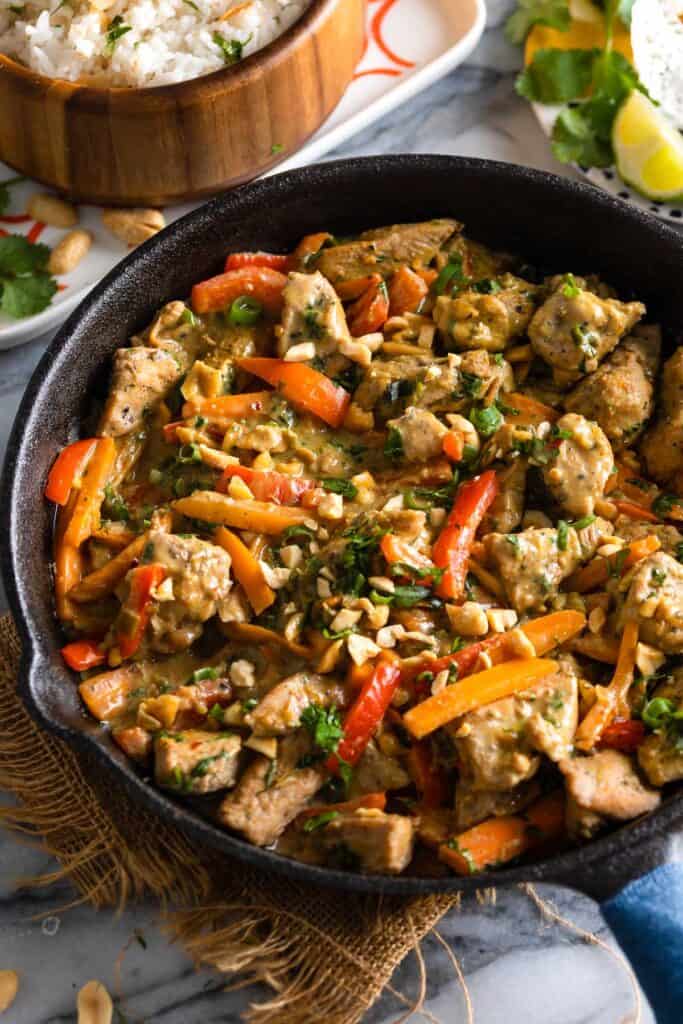 Steps & Ingredients
Altogether this chicken stir-fry comes together in one pan in under 30 minutes. Broken down into bite-sized steps:
marinate chicken
cook veggies then remove from pan
cook chicken then add aromatics
add sauce ingredients & simmer
add vegetables to pan with final ingredients
enjoy
Chicken & Vegetable Prep
Marinate chicken: Toss chicken in a bowl with salt, pepper, vinegar and soy/tamari. Marinate 10-15 minutes while you cook the veggies.
Cook veggies: Quickly stir fry the carrots and bell pepper in a large skillet until tender but still crisp.
Set aside veggies: Transfer the stir-fried vegetables from the pan to a plate and set aside for later.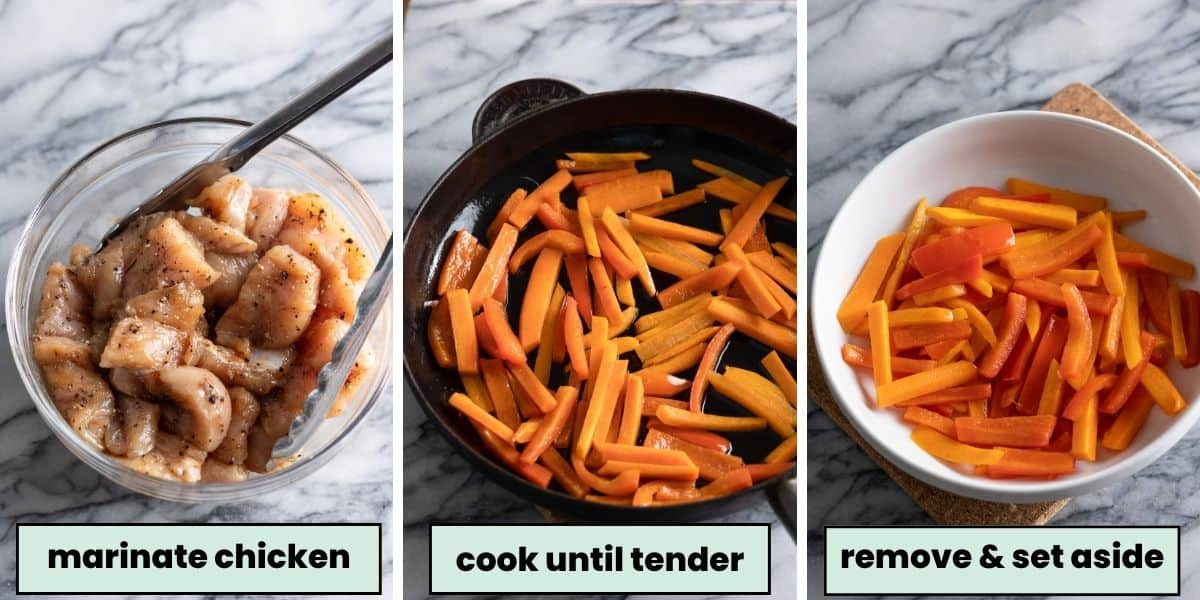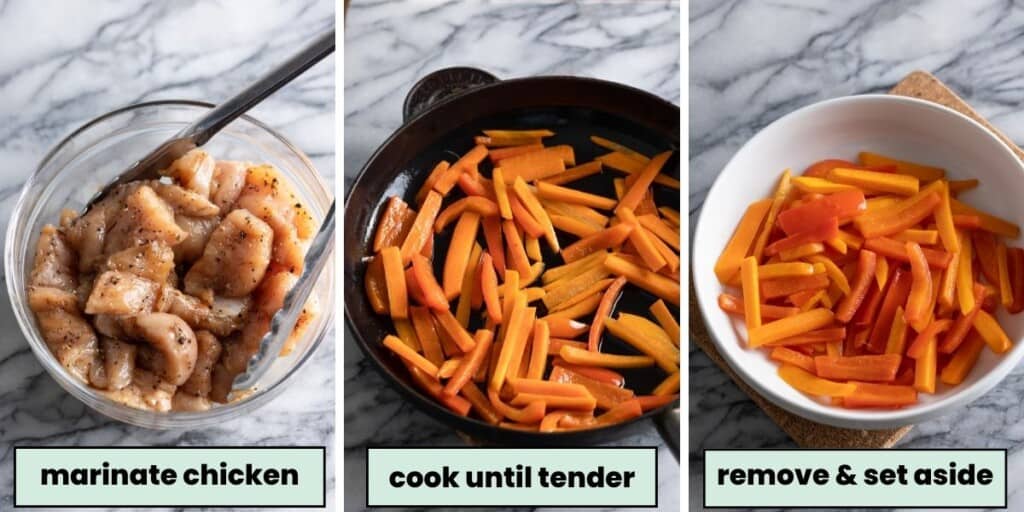 Chicken & Sauce
Brown chicken: Cook the chicken in the same pan used to stir-fry the vegetables until the outsides are cooked.
Aromatics: Add the garlic, chili flakes and white parts of the green onions to the pan. Cook 1-2 minutes over a medium heat until fragrant.
Add sauce ingredients & simmer: Stir the prepared peanut butter sauce into the pan. Adjust the temperature to a simmer and let cook, uncovered about 7-10 minutes.
Remaining recipe ingredients: Final, add the cooked veggies along with some chopped peanuts and fresh herbs. Mix together then taste and season as needed.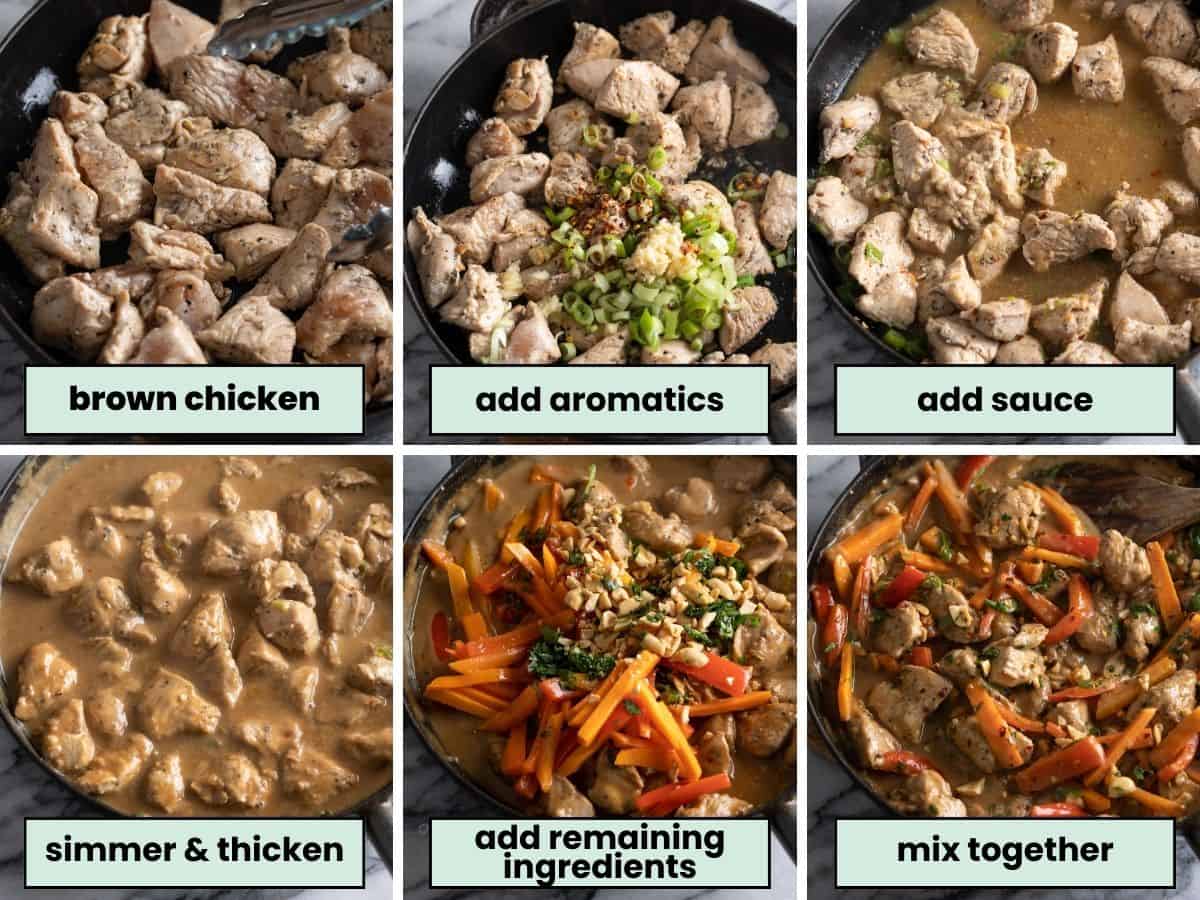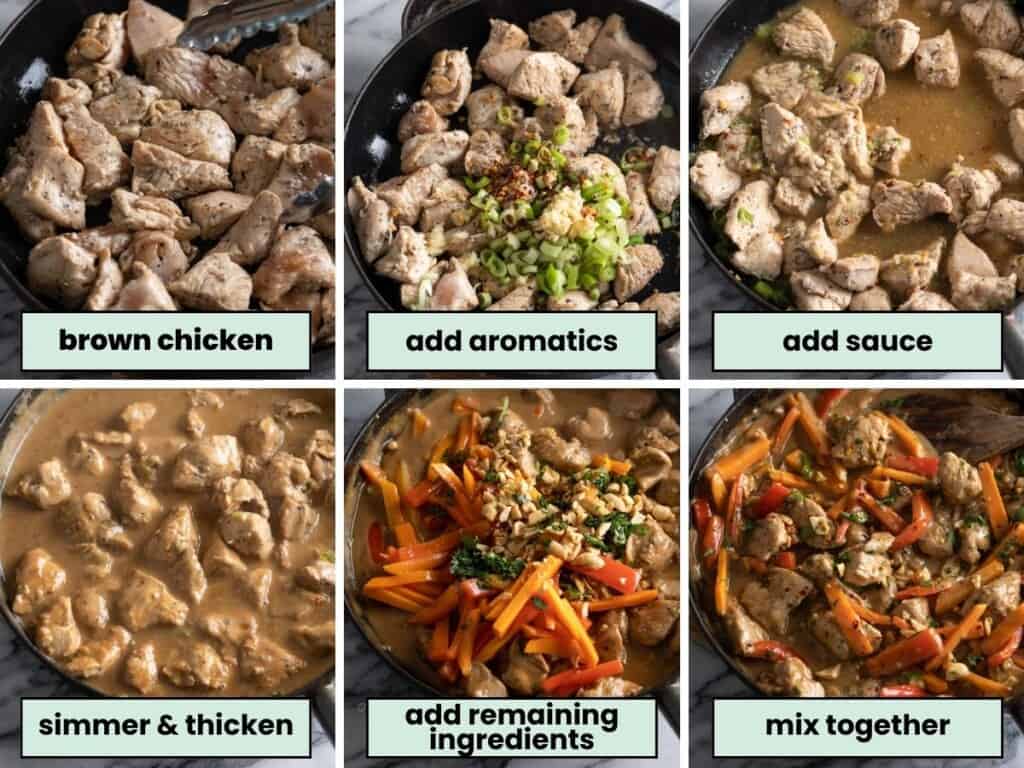 Substitutions and Additions
Make it with chicken thighs: Just use boneless, skinless thighs and you're good to go! Cook time and general prep remains the same.
Add or swap the veggies: The final dish is quite saucy which is great if you want to boost up the nutrition with some added veggies. Add or replace the carrot and red peppers with sliced zucchini, mushrooms, broccoli, green beans, etc.
Make it spicy: Add sriracha or Thai red curry paste to the sauce. How much you add will depend on how spicy you want it and how hot your curry paste is. If you're unsure, start with a teaspoon and add more as you go.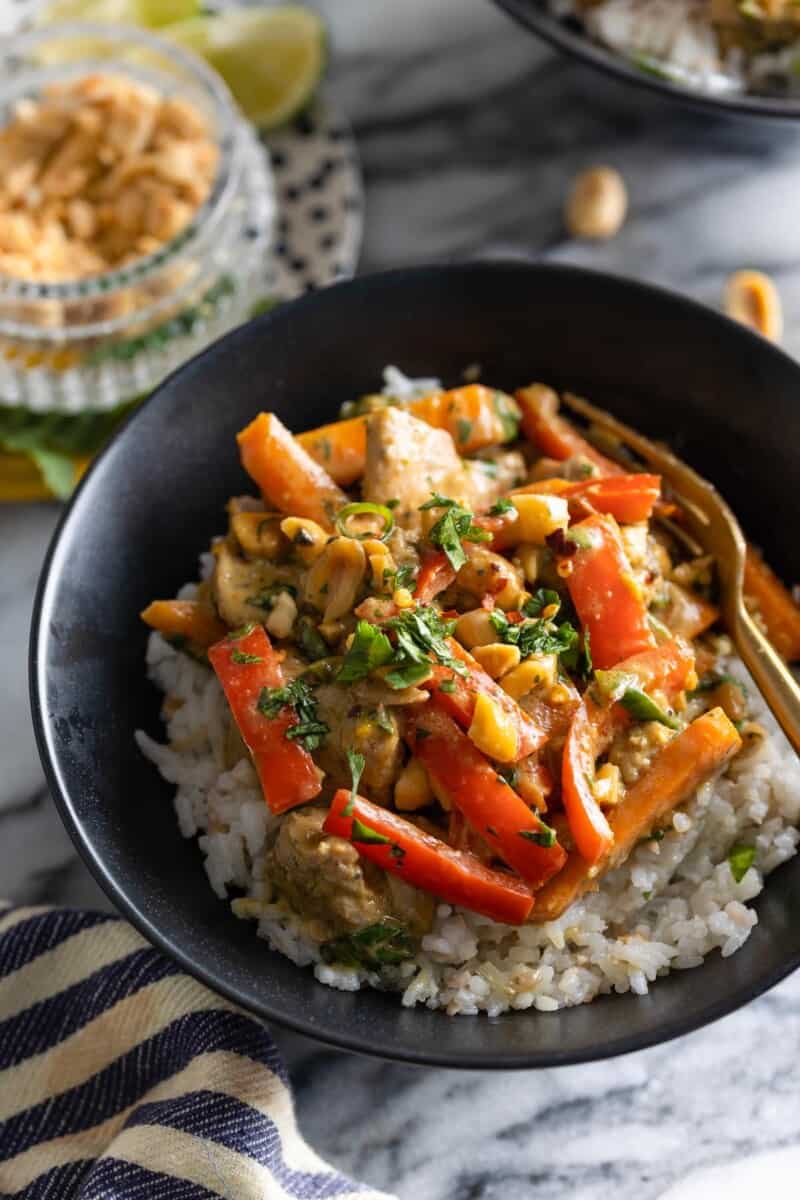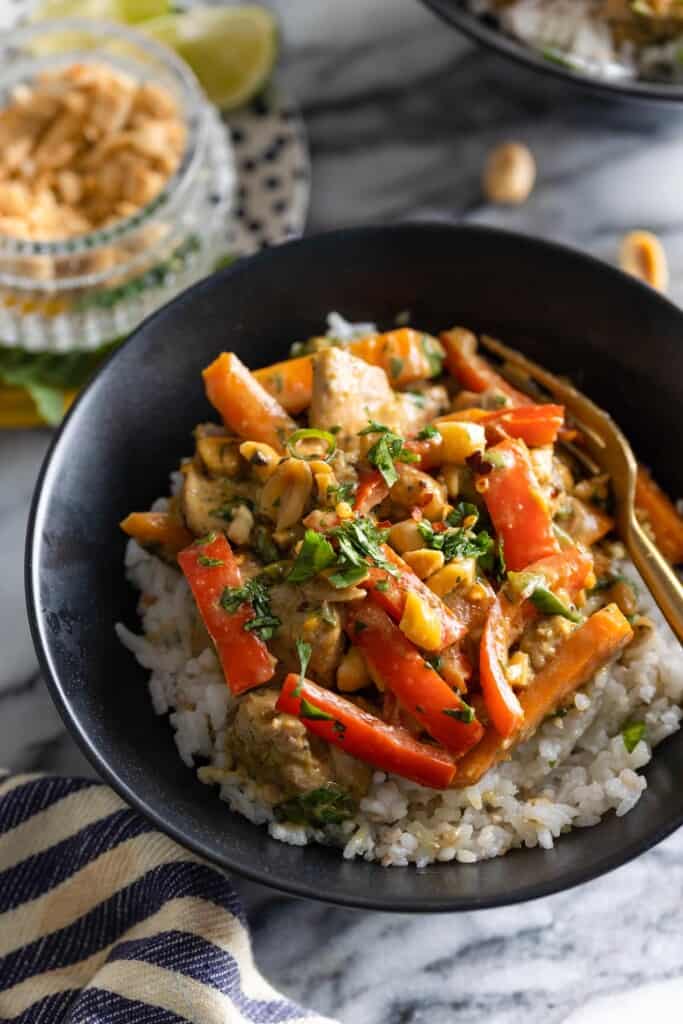 Serving & Storage
This recipe makes plenty of delicious sauce making it a great dish to serve over rice or noodles – something to soak up all the extra flavor. Try it with cauliflower rice for a low carb option!
This Toasted Coconut Rice makes a great side (in this pictures shown here) and can cook alongside this stir fry easily.
Store leftovers packed up in an airtight container and keep in the fridge up to 4 days.
Enjoy!
Let me know if you try this Peanut Chicken Stir Fry recipe! Leave a comment and review with your thoughts. I always appreciate the feedback and serving suggestions that you come up with!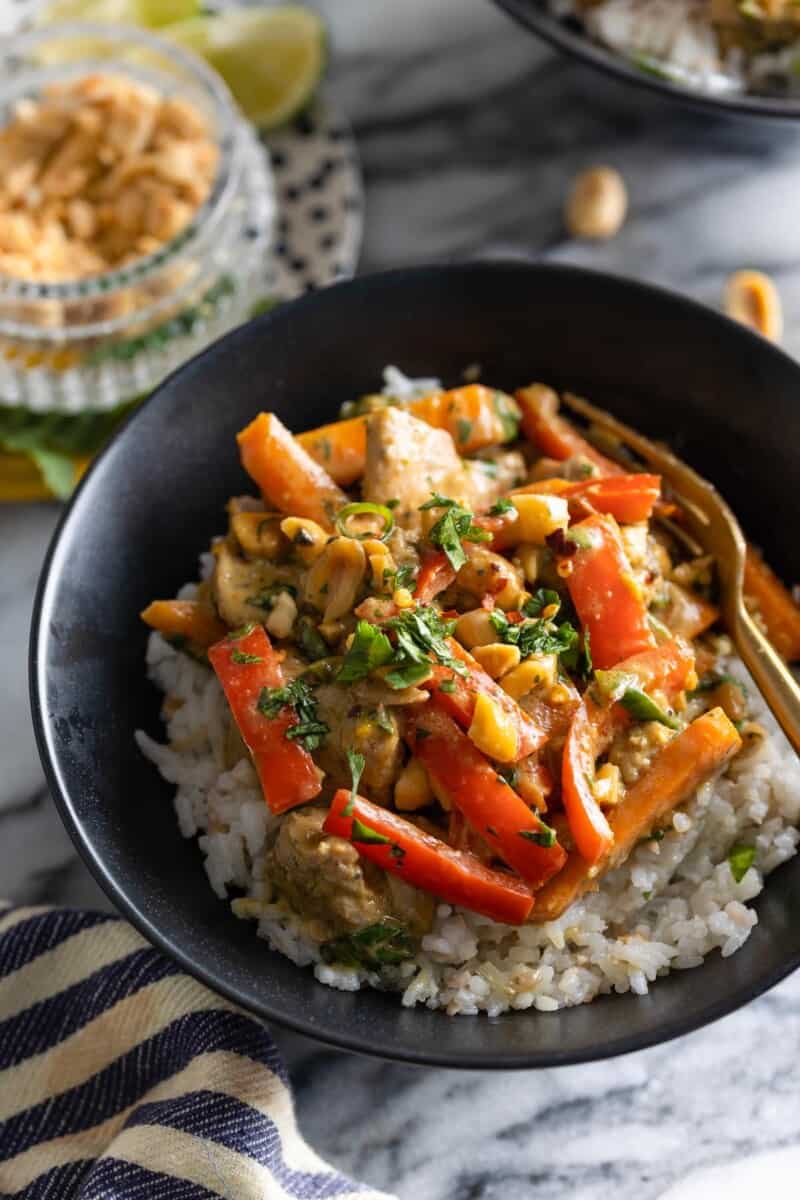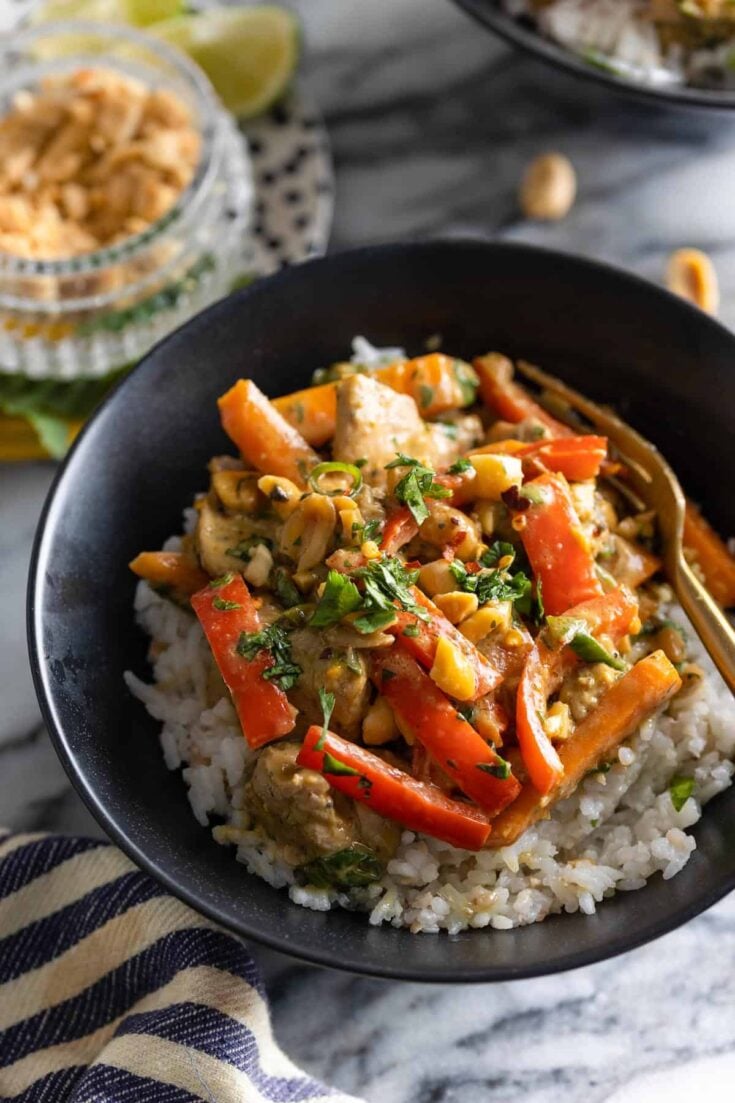 Recipe
Peanut Chicken Stir Fry
Yield:
serves 4
Prep Time:
15 minutes
Cook Time:
30 minutes
Total Time:
45 minutes
Sweet, salty, zesty, creamy, crunchy and most importantly – delicious! Juicy chicken and crisp veggies cooked in a lightened up satay-like sauce with fresh herbs and salty peanuts.
Ingredients
Chicken
1 1/2 lbs boneless, skinless chicken breasts or thighs cut into bite sized pieces
2 tablespoons gluten free soy sauce or tamari (30ml)
1 teaspoon rice vinegar
1/2 teaspoon salt and pepper, each
Sauce
1/2 cup water (120ml)
3 tablespoon smooth peanut butter (48g)
2 tablespoons gluten free soy sauce or tamari (30 ml)
1 tablespoon lime juice (15g)
1 teaspoon honey
Veggies & Aromatics
cooking oil
1 large carrot, cut into thin sticks
1 red bell pepper, deseeded and sliced
3 cloves garlic, minced
1/2 teaspoon chili flakes
3 spring onions, separate green tops from white bottoms and slice
1/4 cup or a small handful fresh cilantro cilantro, chopped + more for serving
1/4 cup roasted peanuts, chopped (40g) + more for serving
Lime wedges for serving, optional
Instructions
Marinate chicken: Add the chicken to a large bowl along with 1 tablespoon soy sauce/tamari, vinegar, salt and pepper. Toss well to combine then set aside to marinate at least 15 minutes while you cook the vegetables.
Sauce prep: In a small bowl, combine the sauce ingredients: water, peanut butter, soy sauce/tamari, lime juice and honey. Mix together then set aside.
Stir Fry Vegetables: Warm a large pan or skillet over a medium-high heat. Add enough oil to cover the bottom of the pan. Add carrots and bell pepper. Cook, stirring often for about 5-7 minutes until tender. Remove from veggies from pan and set aside.
Cook chicken: Add a bit more oil to the pan if needed. Add the chicken to the pan and cook 3-4 minutes or until the outsides of the chicken are no longer pink.
Aromatics: Add the garlic, chili flakes and white parts of the green onion to the pan. Cook 1-2 minutes.
Add sauce: Pour the prepared sauce into the pan. Mix everything together well.
Simmer: Adjust the temperature as needed to bring to a simmer. Let cook 7-10 minutes, uncovered until the sauce thickens. Taste and season the sauce as you see fit.
Remaining Ingredients: Add the cooked carrots and pepper to the pan along with the remaining green onions, cilantro and peanuts. Mix and cook another 1-2 minutes then turn off the heat.
Season and serve: Taste and season once more as needed then serve over rice or mixed into noodles. Top with more peanuts, cilantro and/or lime wedges and enjoy.
Notes
Make it soy free: Use coconut aminos in place of the tamari/soy sauce and add 1/2 teaspoon salt (or to taste).
Sugar substitute: Use 1 tablespoon light brown sugar in place of honey.
This website provides approximate nutrition information for convenience and as a courtesy only. Nutrition data is gathered primarily from the USDA Food Composition Database, whenever available, or otherwise other online calculators.
More Gluten free Stir Fries Recipes