One pot, Stir Fried Broccoli Potato Curry – pan fried potatoes and broccoli with sautéed onion, garlic, ginger and chili generously seasoned with a few aromatic spices and stewed tomatoes. This dish makes for a simple, satisfying and budget friendly meal that can be thrown together in no time! Make sure to check out the recipe notes for extra tips, substitutions and adaptions! | Gluten Free + Vegan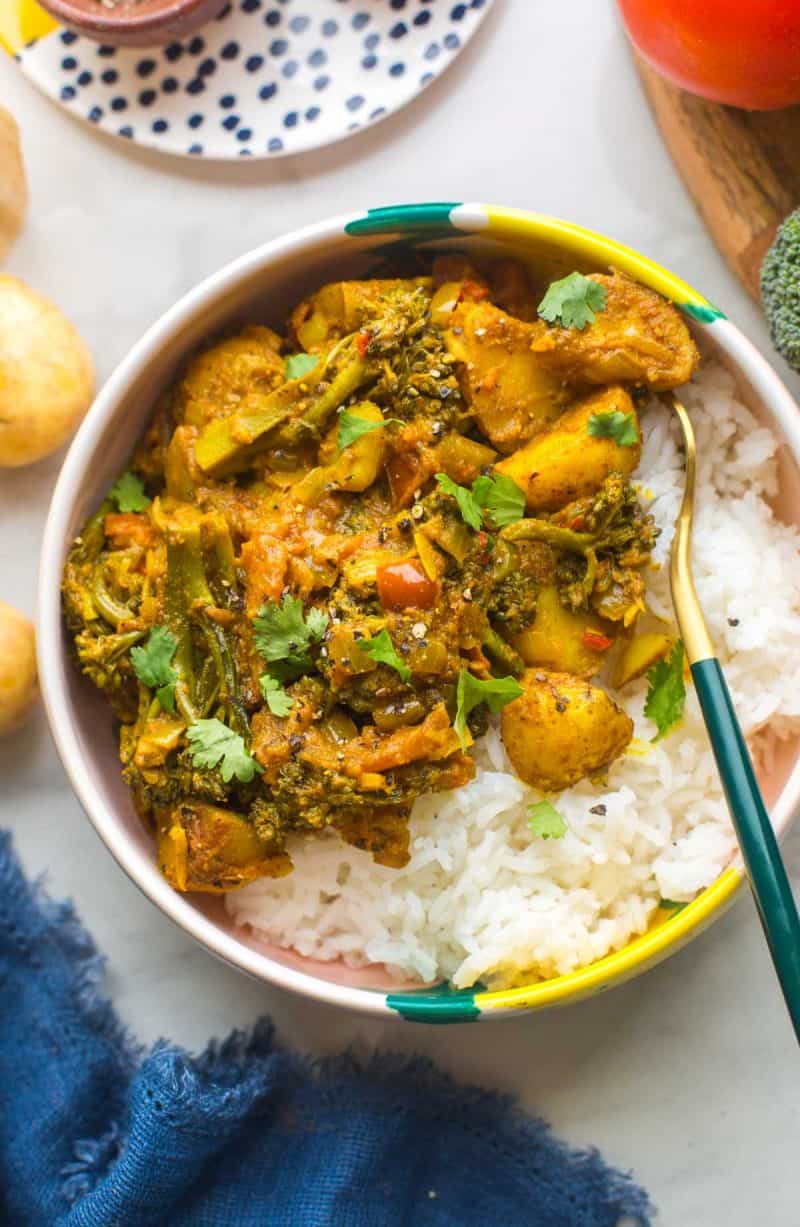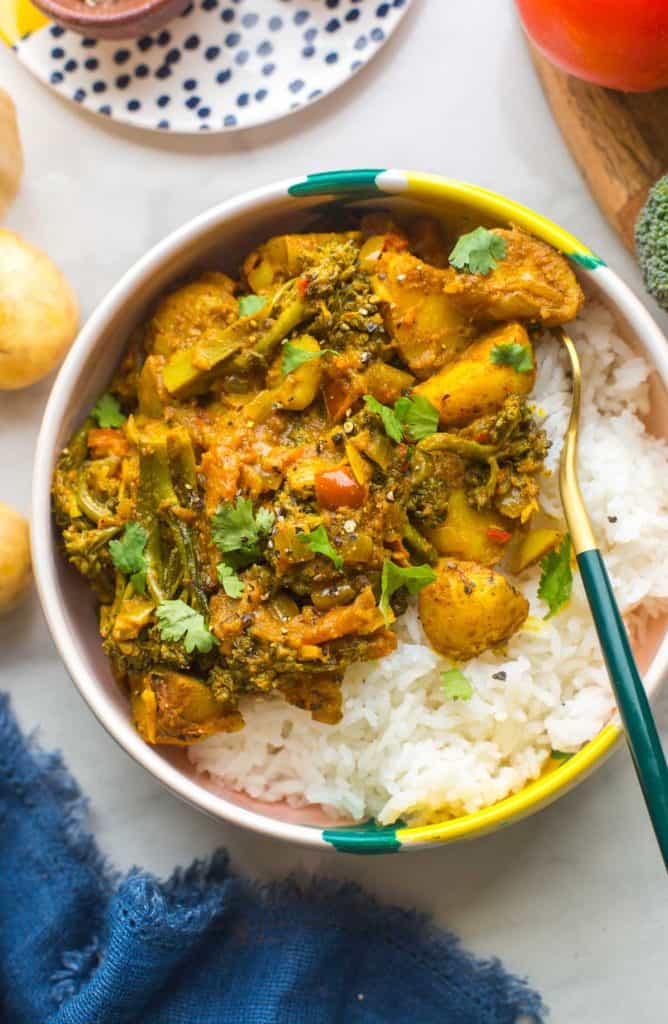 For such a simple recipe, this potato curry has a lot going on and I am here for it. There is just so much delicious flavor packed in with fairly basic ingredients. This curry is basically the result of me staring into the abyss (otherwise known as the fridge) late one afternoon while trying to figure out what was in and what was about to go off.
One of these days I'm going to figure out the whole meal plan thing. Until then I suppose I can put up with the occasional 'what's for dinner' panic if it means that I end up with the occasional accidental winner like with this potato curry recipe.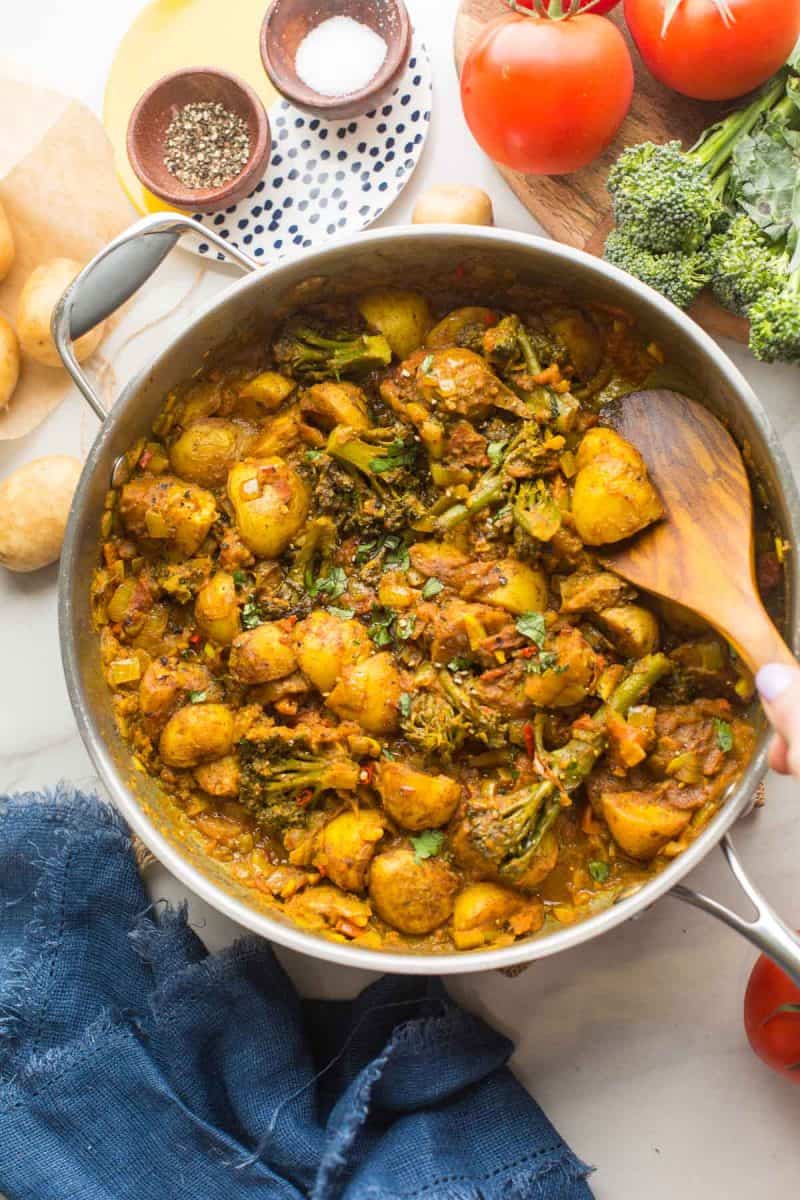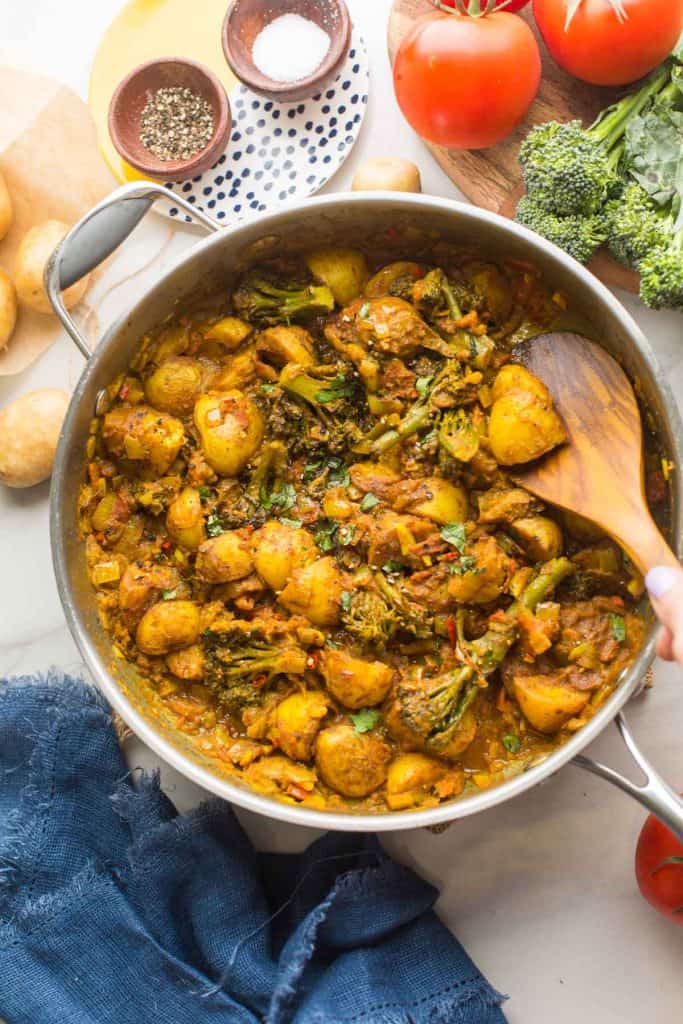 How to Make this Easy Vegan Potato Curry
Altogether this recipe is very easy to make. The process can be broken up into a handful of main steps:
Combine the curry spices.
Fry the potatoes, and then the broccoli.
Sauté the aromatics, then add the fresh tomatoes.
Add water and cook into a thick sauce.
Add the broccoli and potatoes and coat in curry sauce.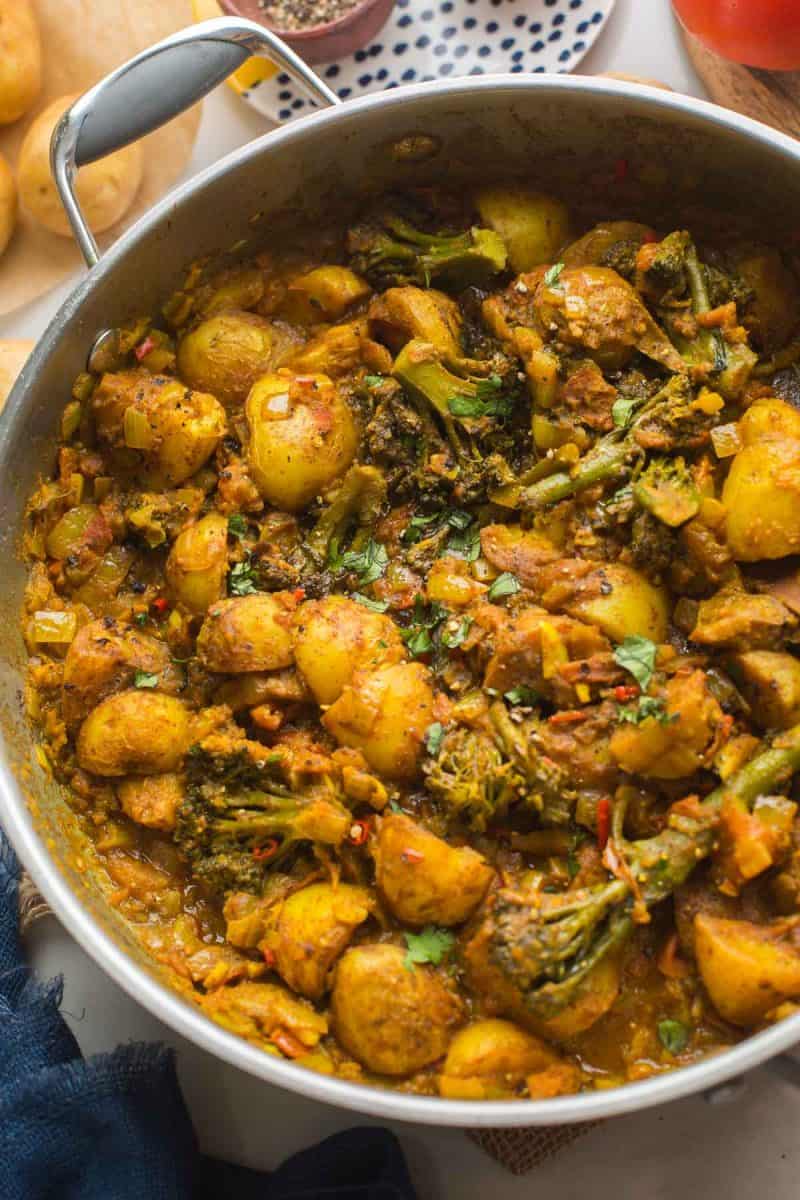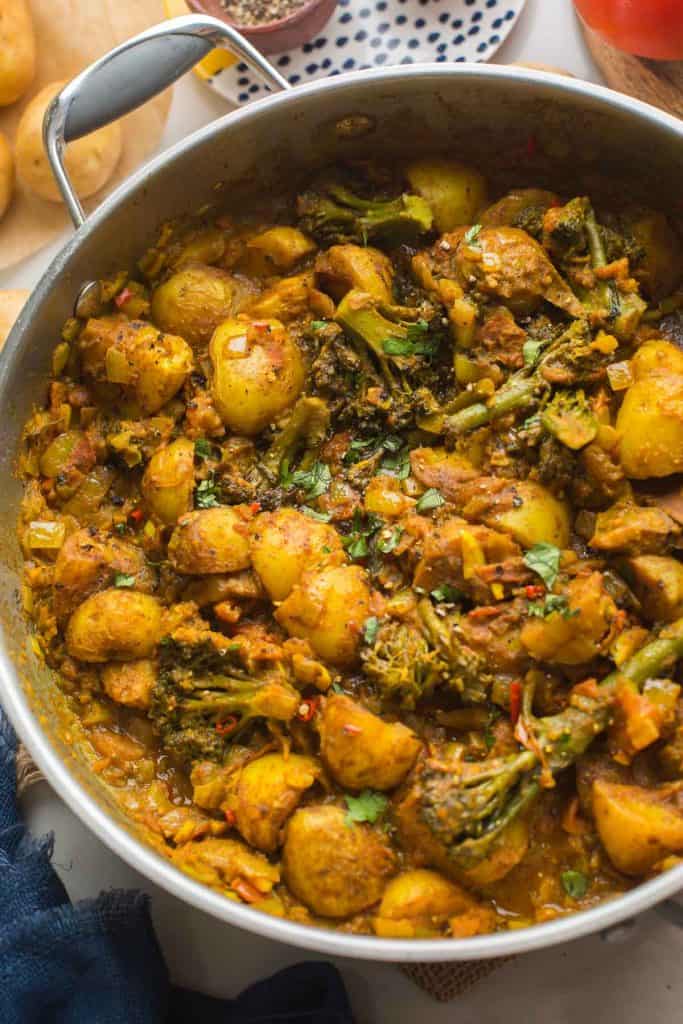 What type of potatoes to use?
You want a potato that falls into the 'waxy' category. Waxy potatoes are high in moisture and low in starch. They're firm and typically have thin skin. They're ideal potatoes to use in curries and stews because they hold on to their texture well meaning that they won't fall apart into mush by they time you're ready to eat. Starchy potatoes (like russet potatoes) are more likely to fall apart in curry.
A few different Types of Waxy Potatoes to Use: yukon gold, red potato, new potatoes, fingerling potatoes and baby potatoes.
What is broccolini?
Broccolini (also known as tenderstem broccoli) is essentially a hybrid of Chinese Broccoli and Calabrese Broccoli (usually just called broccoli). Broccolini has long, thin stems and a slightly sweeter taste than regular broccoli.
I like use it in this recipe particularly because it cooks up much faster than regular broccoli. You can use either type here. Check out the substitution recommendations below for regular broccoli.
Preparation and Step By Step Photos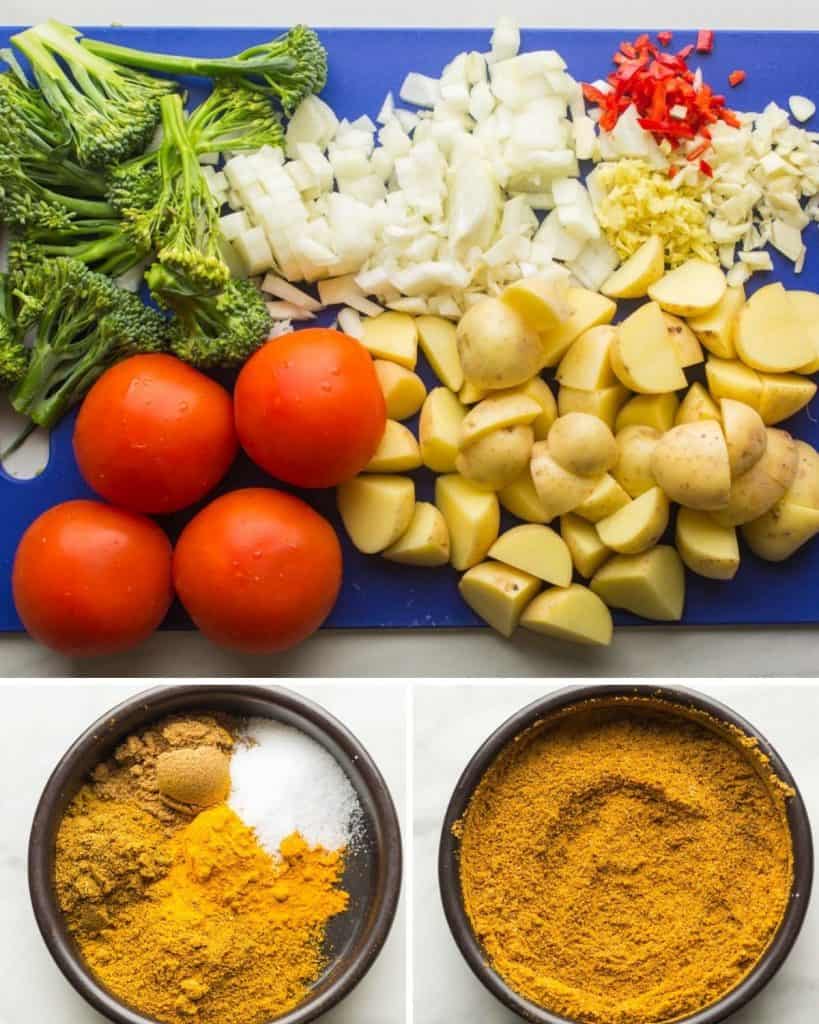 Potatoes and Broccoli
First things first: mix all of the dried spice powders together in a small bowl and set aside.
Start out by frying the potatoes in a large skillet with about half of the cooking oil. Fry for a few minutes, uncovered. Then place a fitted lid on the pot and cook over a medium-low heat for about 8-10 minutes. The lid will help the potatoes steam as the cook which will ultimately help to make them tender and soft. Make sure to stop and stir the potatoes every few minutes to make sure they evenly cook.
Add the broccolini to the pan. Mix, then cover and cook another few minutes. It's okay if the potatoes and broccoli aren't fully fork tender yet because they will be added in towards the end and cook further in the sauce.
Add about 1 tablespoon of the prepared spice blend and cook a few minutes uncovered. You ideally want the potatoes and broccolini to crisp up and char slightly. Once cooked, transfer to a bowl or plate and set aside for the time.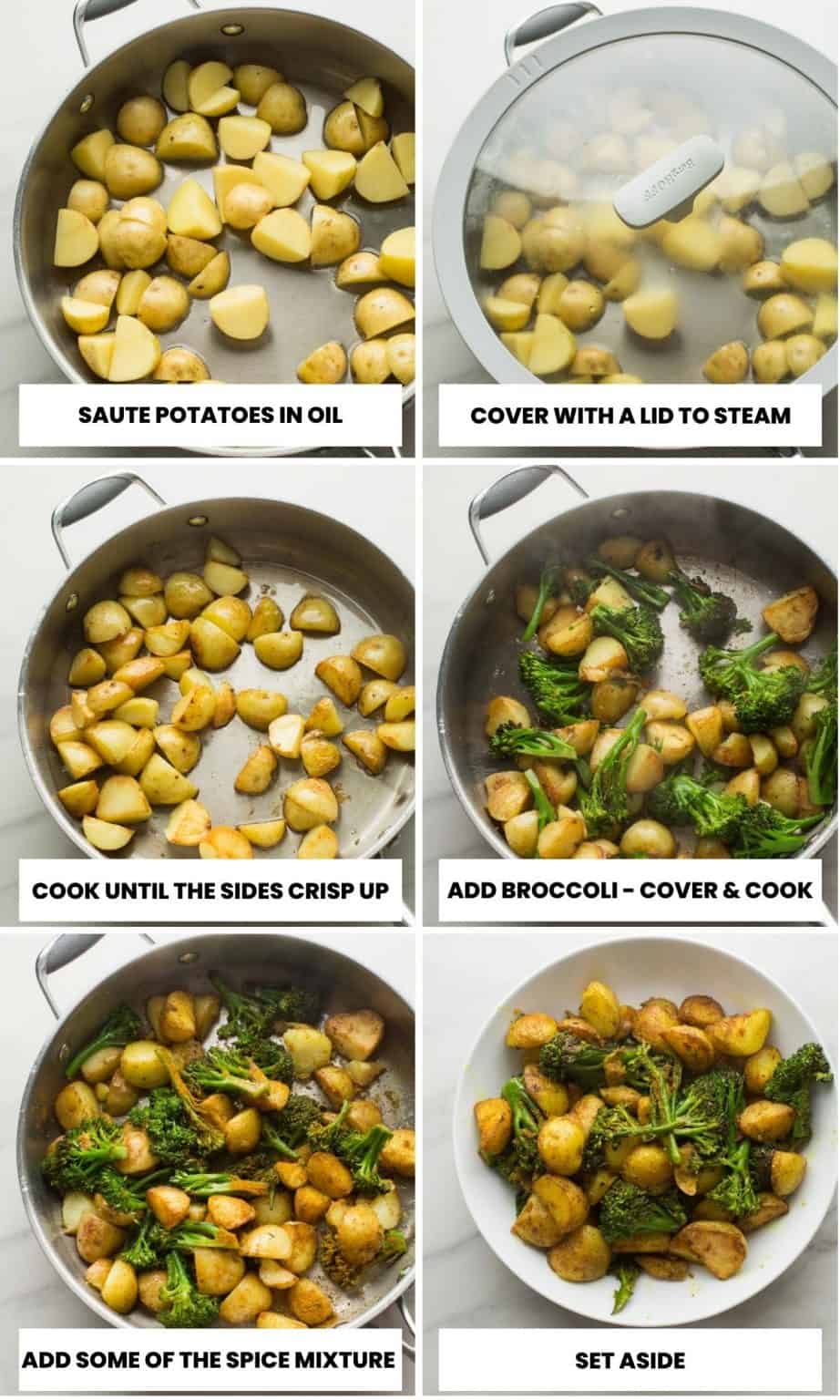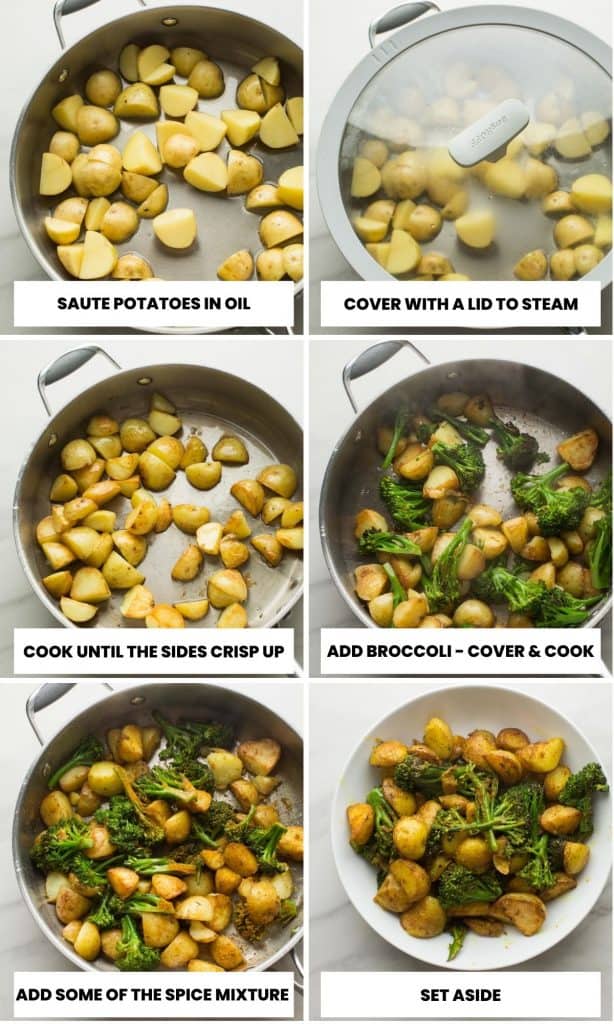 The Sauce
Tip
Optional deglaze: If you notice any burnt bits or spices stuck to the pan, add a tablespoon of water with the burner on high to deglaze. Use a wooden spoon to scrape off the bits. The water should be hot enough to immediately steam up when added, so make sure your body is facing away from the pan and out of the steam zone.
Add the remaining two tablespoons of oil along with the onions, ginger, garlic and chili and sauté the aromatics for about 5 minutes until the onions are soft.
Next, add the chopped tomatoes to the pan, along with the remaining spice blend and mix well. Stir in the 1/2 cup water and cook on a medium-high heat for about 7-10 minutes to cook into a thick sauce.
Finally, stir in the lemon juice followed by the broccoli and potatoes. Mix everything together and cook another 2-3 minutes to fully saturate the potatoes and broccoli in sauce. Taste and season the curry as needed. Add a little more water or lemon juice if needed and finish off with a touch of freshly ground black pepper.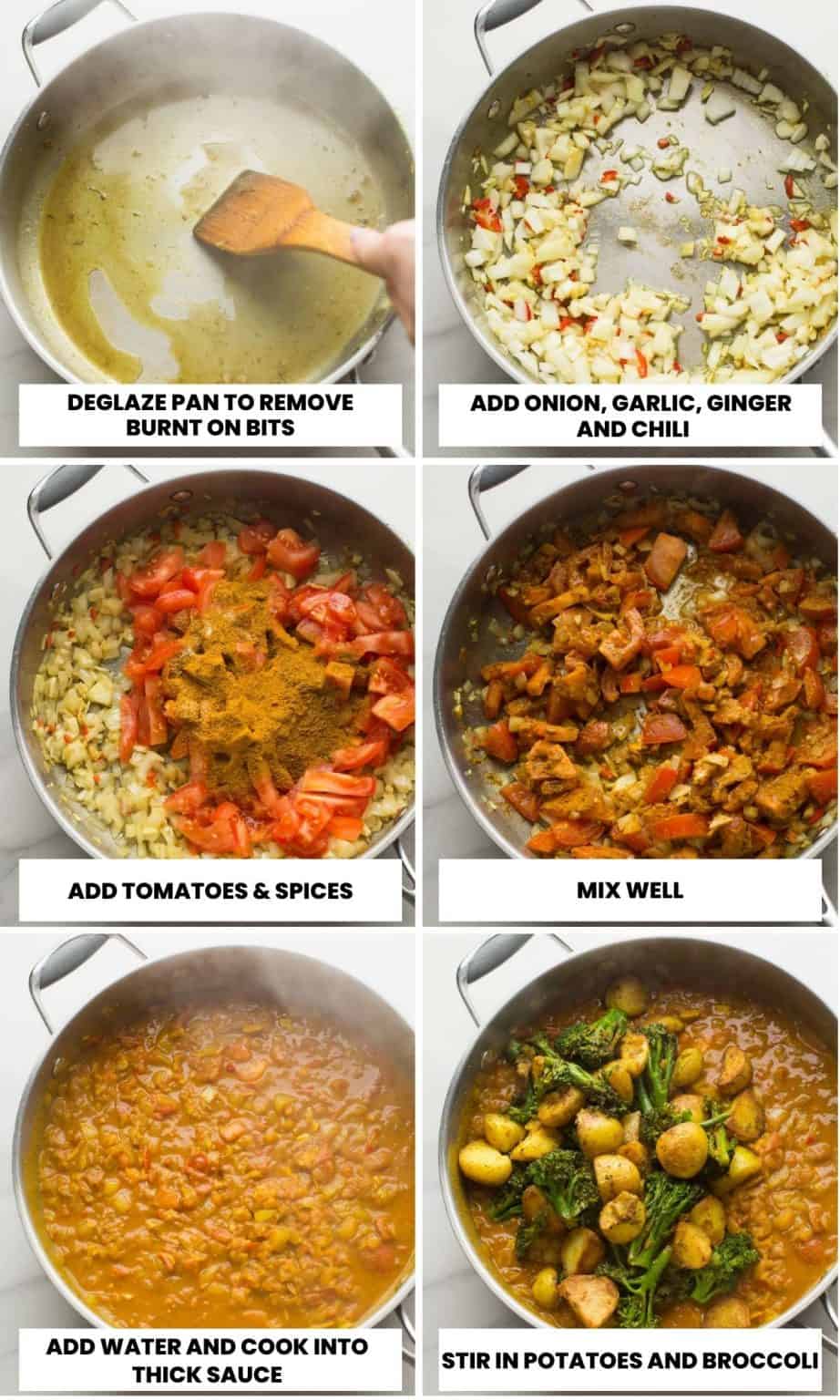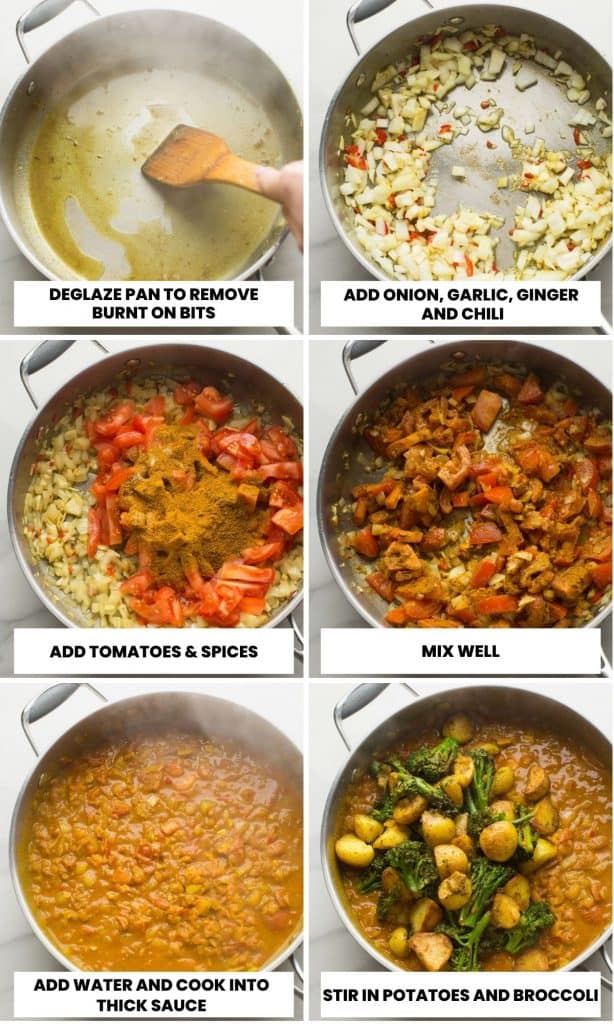 Optional Substitutions and Additions
Use canned tomatoes instead fresh tomatoes.

Use one 14/15 oz can (400g) of tomatoes in place of the fresh tomatoes. You can use diced, chopped, crushed or even whole tomatoes. Don't use tomato puree or passata.
Fire-roasted tomatoes are totally fine to use here. Keep in mind that they will make for a slightly sweeter, smokey tasting curry, but it shouldn't detract from the overall flavour.

Vegetable broth (or chicken broth if you don't need this to be vegan/vegetarian) can be used instead of water.

Stock will pack in a lot more flavour than water, however it will make things more salty. I recommend that you don't add any salt to this dish until the very end. This way, you can taste the nearly finished curry and season as needed.

Add coconut milk or coconut cream instead of (or in addition to) water.

Canned coconut milk or cream will make for a slightly thicker, creamier and lightly coconut-flavoured curry. Both light coconut milk and full coconut milk will work. Just make sure to use unsweetened/unflavoured milk!
Use regular broccoli instead of tenderstem broccoli/broccolini.

Tenderstem broccoli is great in a stir-fry like this because it cooks so quickly. To swap out the broccolini for regular broccoli I recommend a couple things to ensure it gets tender enough:

Cut up the broccoli florets into small, bite-sized pieces.
Add an extra 2-3 minutes to your cook time when you reach the broccoli stage.

Add paneer or halloumi.

Paneer is a type of cheese often found in Indian cuisine. It has a mild-flavour, it's not usually very salty and it keeps it shape well when heated. If you're looking for a way to bulk out this curry with a bit more protein, paneer is an excellent choice.
Halloumi on the other hand is a more firm, salty cheese typically found in Eastern Mediterranean cuisines. It's not a very traditional ingredient usually found in curry and it does add a saltier flavour, but it is delicious!

Add more veg or chickpeas.

Feel free to bulk this curry out with additional veg. I like to look at this recipe as a raid-the-fridge kind of dish because so many things work well in it. Green beans and green peas are two ingredients often found in potato curry recipes.
Throw in a can chickpeas (also known as garbanzo beans) to boost up the protein.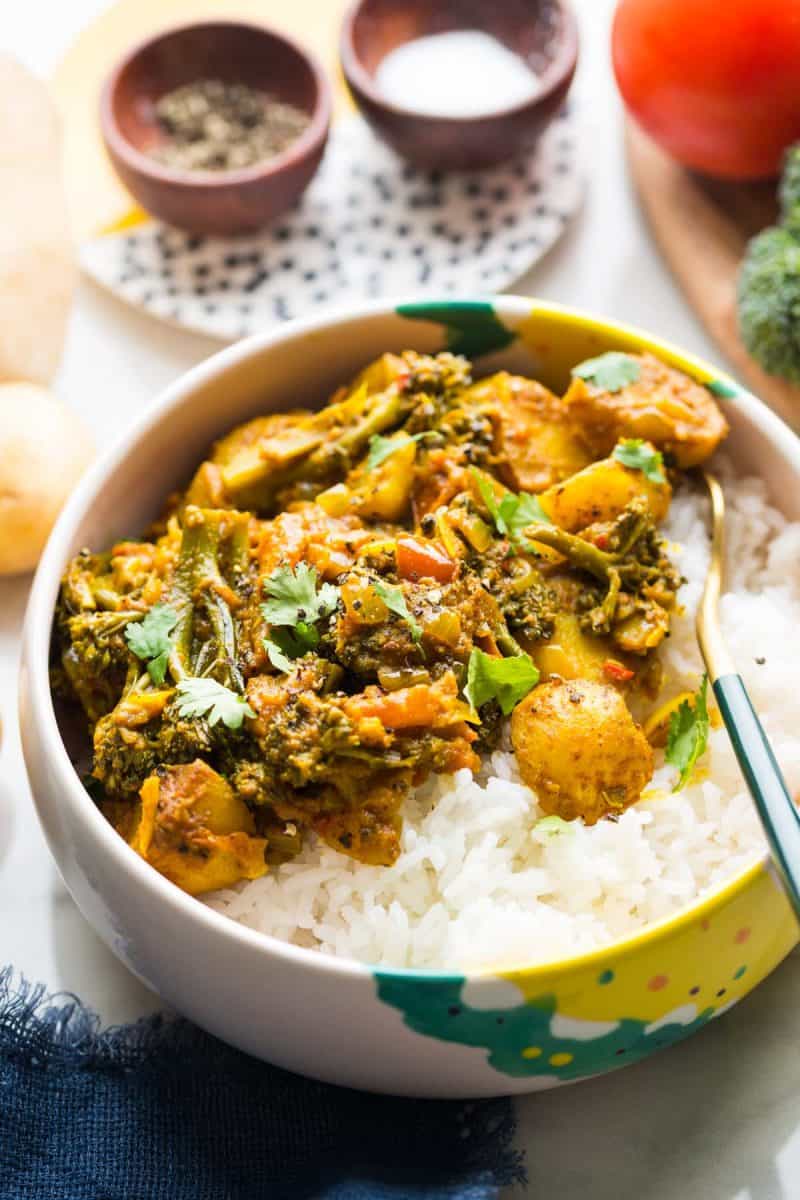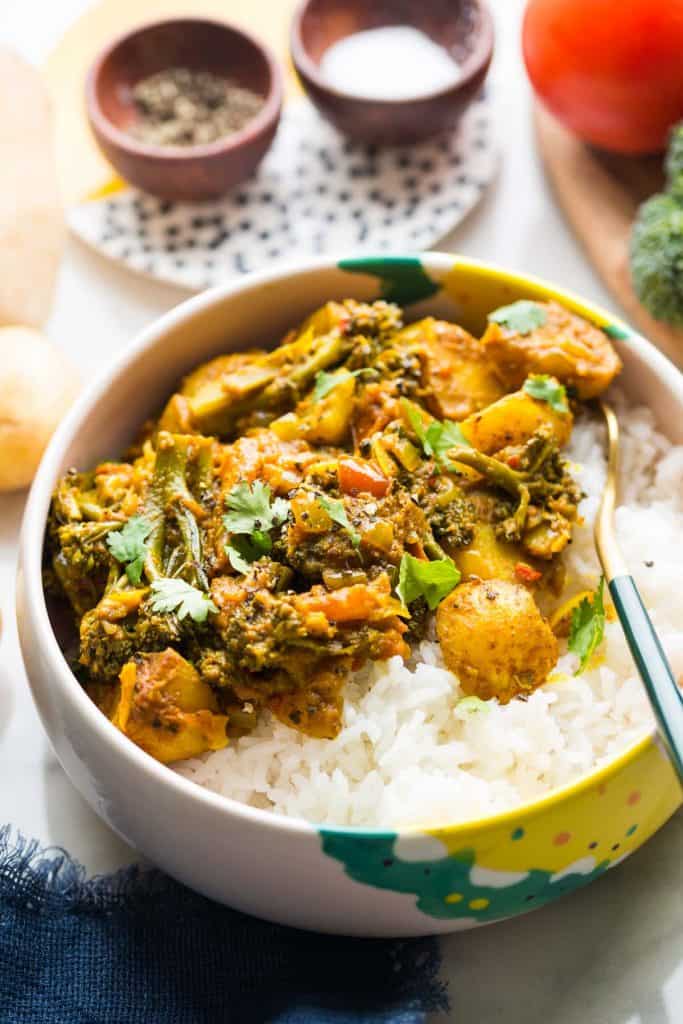 Storage & Serving Suggestions
Keep leftovers covered in an airtight container in the fridge up to five days. Make sure to allow the curry to fully cool down to room temperature before refrigerating.
As for serving suggestions – you can't go wrong serving this over a bed of basmati rice (or any white rice in general, really) with a piece of naan bread, roti or flatbread on the side.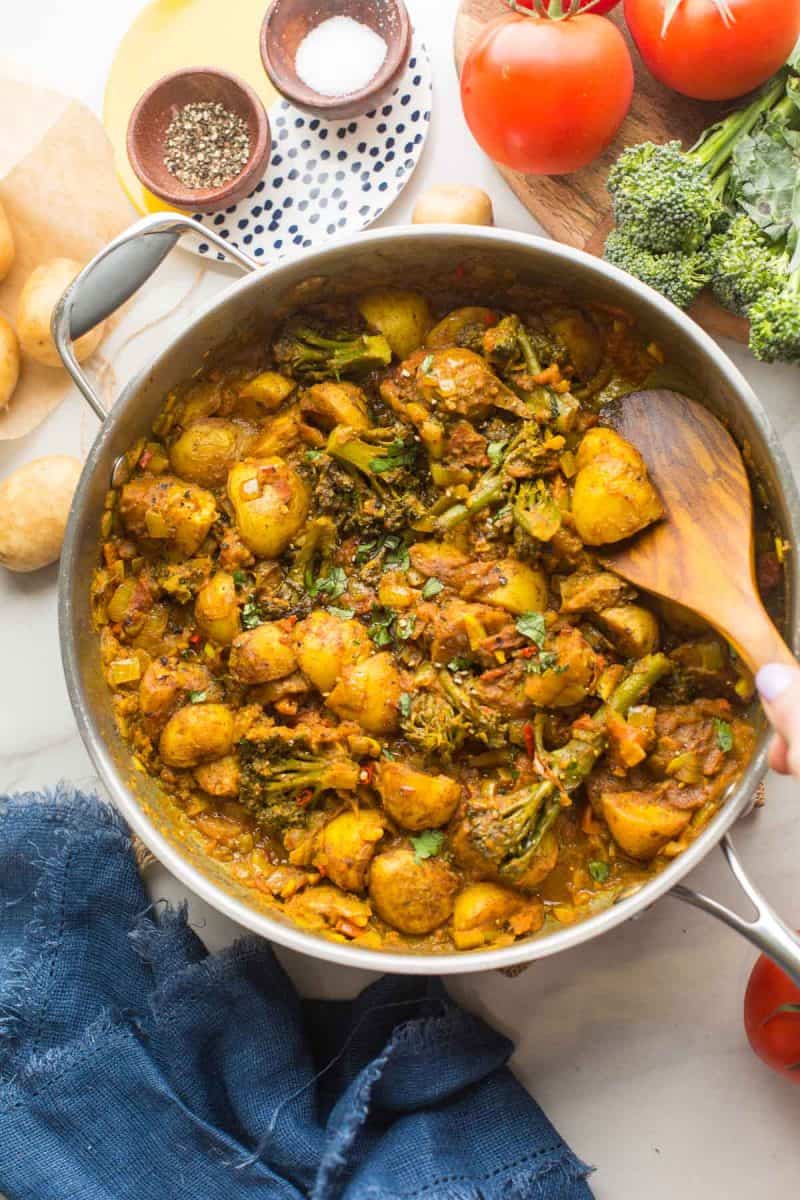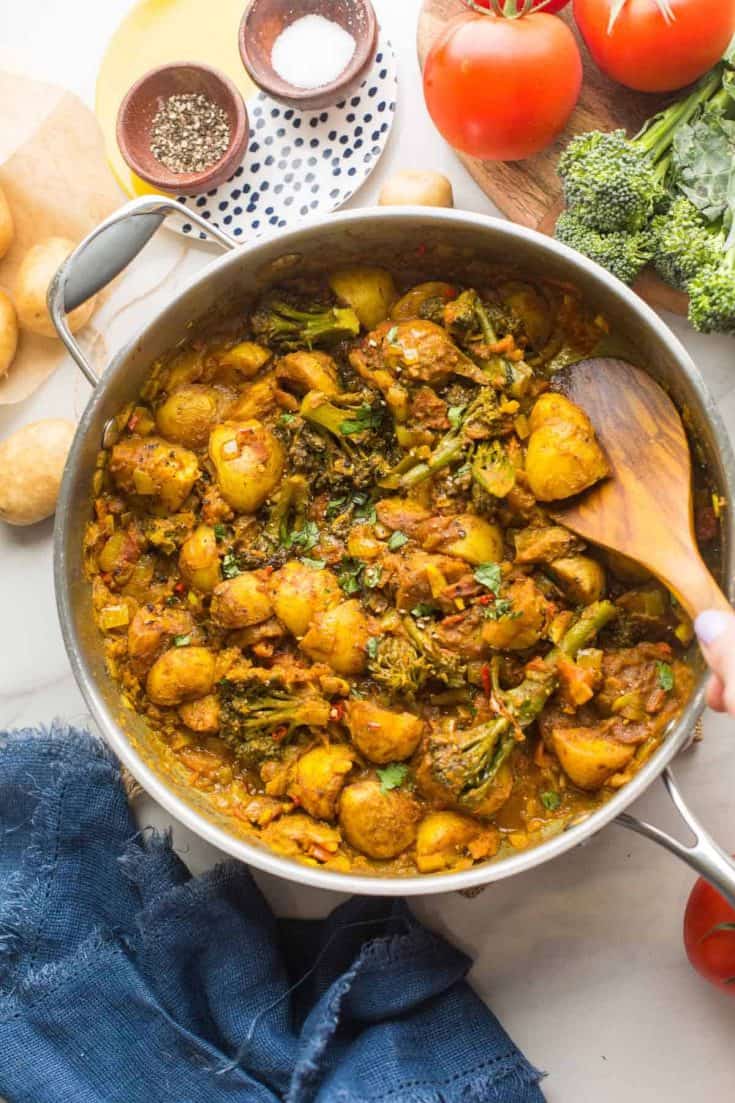 Yield:
4 servings
Prep Time:
10 minutes
Cook Time:
40 minutes
35 seconds
Total Time:
50 minutes
35 seconds
Pan fried potatoes and broccoli with sautéed onion, garlic, ginger and chili generously seasoned with a few aromatic spices and stewed tomatoes.
Ingredients
Spice Mixture
1 1/2 teaspoon turmeric
1 tablespoon curry powder
2 teaspoons cumin
1 tablespoon garam masala
1 teaspoon sea or kosher salt
Curry
4 tablespoons | 60 ml oil, dived
1 lb| 450 g g small waxy potatoes cut into quarters (use something like new potatoes or jersey)
1/2 lb | 225 g broccolini (tenderstem broccoli)
1 large onion, diced
3 large cloves | about 1 heaping tablespoon, minced garlic
1 inch chunk | about 1 tablespoon fresh minced, ginger
1 small red chili, deseeded and chopped (optional)
4 medium tomatoes on the vine (or roma/plum tomatoes) diced
1/2 cup | 120 ml water
1 tablespoon lemon juice
Salt and pepper to taste
Fresh cilantro for serving (optional)
Instructions
In a small bowl: whisk together the turmeric, cumin, curry powder, garam masala and salt. Set aside.
In a large skillet: warm two tablespoons of oil over a medium heat. Add the potatoes and cook 1 minutes, coating in oil. Cover with a fitted lid and cook about 8-10 minutes. Remove the lid every few minutes to stir the potatoes.
Stir in the broccoli. Cover with the lid again and let cook another 4 minutes.
Add 1 tablespoon of the spice mixture to broccoli and potatoes. Cook another 2 minutes, uncovered. Stir to keep the potatoes from burning. If the pan starts to look too dry, add a tablespoon of water to the pan. Remove the potatoes and broccoli from the pan. Set aside in a large bowl or plate.
Deglaze the pan if needed: Add a tablespoon of water to pan while it's hot. Use a wooden spoon to scape off the burnt on bits. Cook on high until the water has evaporated,
Add the remaining two tablespoons of oil to the same pan. Add the onions, garlic, ginger and chili. Cook about 4-5 minutes until the onions begin to soften.
Stir in the chopped tomatoes and remaining spice mixture. Add the water and cook on medium-high for about 7-10 minutes until the tomatoes have broken down and a thick sauce has formed.
Mix in the lemon juice. Add the potatoes and broccoli back to the pan. Give everything a good stir and cook another 2-3 minutes.
Taste and season with salt and pepper as needed.
Serve over a bed of rice and enjoy.
Notes
Substitutions
Regular broccoli can be used instead of broccolini. Make sure to chop the broccoli florets into small, bite-sized pieces and add an extra minute or two to the cook time to ensure it's fork tender.
Use one can of diced, chopped or whole tomatoes instead of fresh tomatoes.
You can use vegetable stock instead of water. Chicken stock can also be used if you don't need this recipe to be vegan/vegetarian. If using stock, don't add any salt to the spice mixture. Taste and season your curry with salt at the end if needed.
You can use canned (unsweetened) coconut milk or coconut cream in place of the water.
Lime juice can be used instead of lemon juice.
Additions
Add a can of drained chickpeas.
Add more veggies: diced eggplant, green beans and peas will all work well.
Add cheese. Add small chunks of paneer or halloumi. Paneer has a mild, creamy flavour and is more common for Indian curry recipes. Halloumi is much saltier and traditionally used in Mediterranean cooking, but is lovely in this curry. If you add paneer or halloumi, I recommend frying them in a very small amount of oil first to crisp up their sides then adding them back to the curry at the end.
Leftovers
Cool leftovers completely, then cover and place in an airtight container. Keep in the fridge up to 5 days.





This website provides approximate nutrition information for convenience and as a courtesy only. Nutrition data is gathered primarily from the USDA Food Composition Database, whenever available, or otherwise other online calculators.
More Meat Free Curry Recipes to Checkout