One pot, 30 minute Tomato Basil Coconut Chickpea Curry – sautéed onions, garlic and gingered stewed in crushed tomatoes, coconut milk and a few herbs and spices make for a simple yet satisfying and delicious meal you can make without too much fuss! Gluten Free + Vegan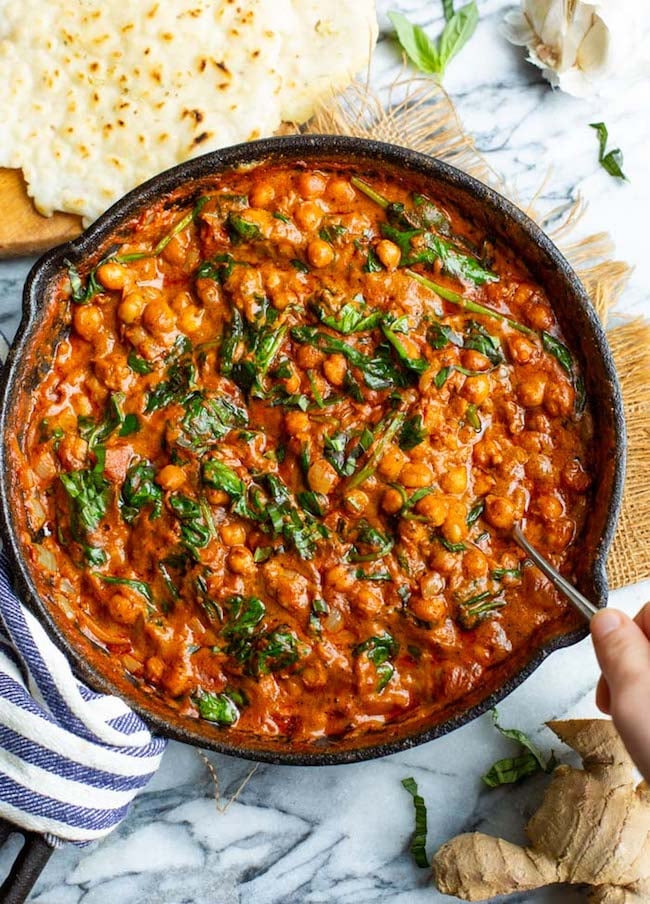 When it comes to cooking these days, I feel like every meal is a new episode of Chopped. What's in? What's good? What can we throw together to make a meal?
And that leads us to this Tomato Basil Coconut Chickpea Curry. It's made with mostly pantry staples and kitchen essentials (coconut milk, chickpeas, canned tomatoes, etc).
If you haven't already, now would be a great time to start expanding your spice cabinet. You'll never get bored with you food so long as you're able to spruce up basic things like tomatoes and chickpeas in new and different ways.
Altogether this dish is fairly easy to throw together. It's made up all in one pot or skillet with about 5 minutes of prep and only 30 minutes of cooking.
Let's get to it!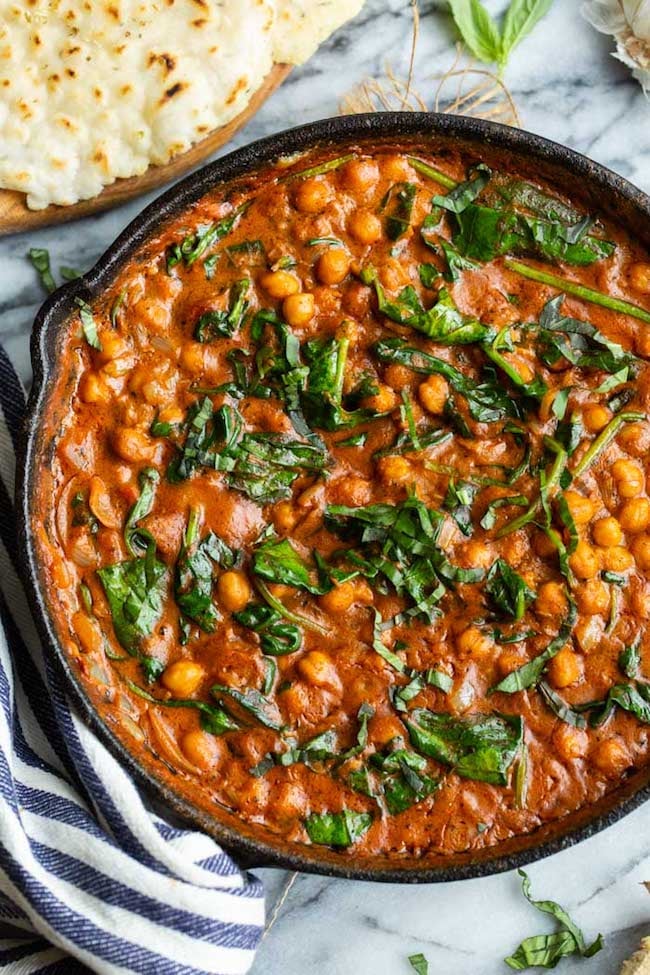 Coconut Chickpea Curry Questions & Substitutions
This recipe has room for a little deviation in a few places so my goal here is to provide you with a few different options so that you can feel comfortable making this recipe with what you've got.
Can I use light coconut milk or coconut milk from a carton?
You can use light coconut milk if you want to cut calories.
I do not recommend using coconut milk from a carton (like the one you might use in cereal) because the curry won't be as creamy and silky.
You can also use coconut cream in place of full fat coconut milk.
Whatever you use just make sure it's unsweetened.
Chopped Tomatoes Substitute
You can use cans of: fire roasted tomatoes, passata, tomato puree (not the same as tomato paste), marinara, Italian flavoured chopped tomatoes, whole tomatoes in juices.
Depending on what you use you may need to play around with the salt/spices. Marinara often comes with added sugar so you might need to add a little more salt or spice to tone it down.
If you use a can of whole tomatoes make sure to break the tomatoes up with a wooden spoon as it cooks.
Spinach Substitute & Other Veggies
You can use kale or other leafy vegetables in place of spinach.
Feel to add other veggies that you have on hand: mushrooms, carrots, bell peppers. Most veggies would be best added when you add the spices and tomato paste.
You can skip the added veg altogether if you like.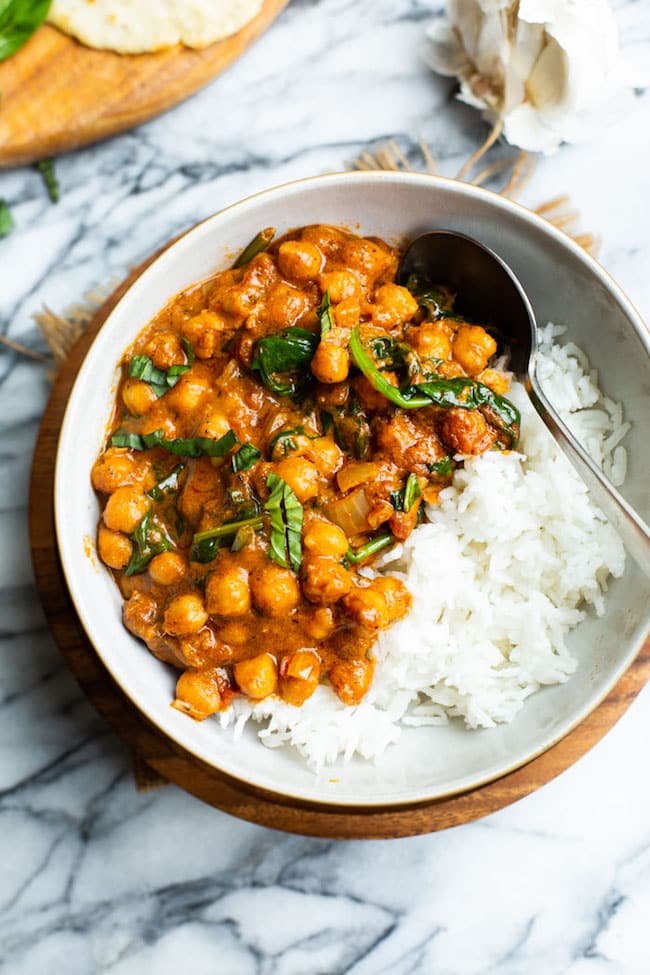 What do I serve this with?
If you're looking to keep this low carb/low calorie then I recommend serving this over a bed of cauliflower to soak up all the extra flavour. The sauce really takes over the flavour of the cauliflower rice making it a great way to double up on veg! Otherwise you can't go wrong piling this on over a big bed of rice or quinoa.
If you've got time you can also whip up of batch of gluten free flatbread/naan to enjoy as a side. I've got a couple of recipes to choose from: a chickpea flour flatbread, a cassava flour flatbread or my gluten free roti (with millet flour). To complete you curry night you also definitely should also check out these onion bhajis for your starter. They're easier to make than you might think and one of my most popular recipes on this site.
Enjoy!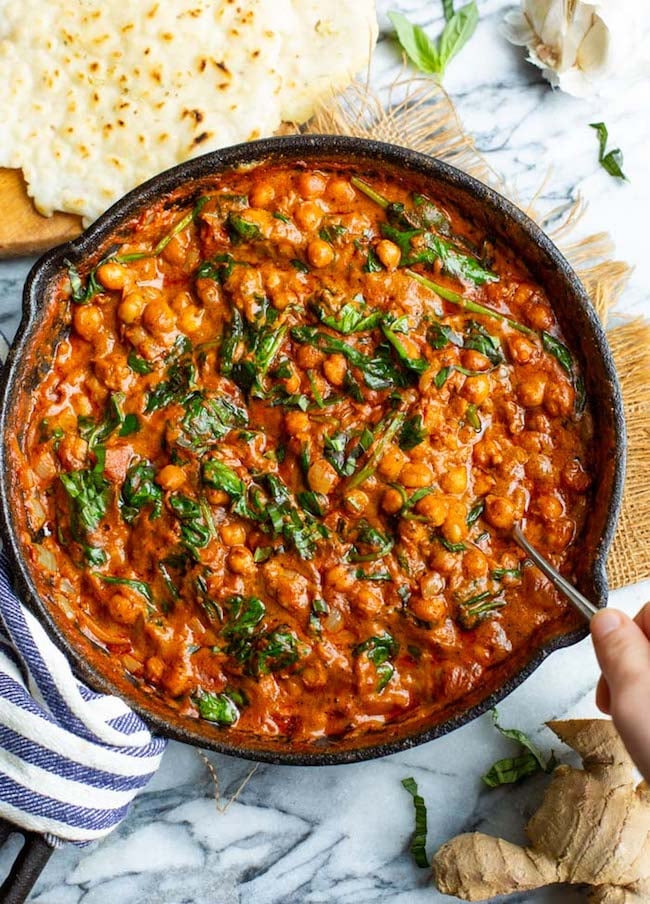 Recipe
Tomato Basil Coconut Chickpea Curry
Yield:
4-5 servings
Prep Time:
5 minutes
Cook Time:
30 minutes
Total Time:
35 minutes
One pot, 30 minute Tomato Basil Coconut Chickpea Curry - sautéed onions, garlic and gingered stewed in crushed tomatoes, coconut milk and a few herbs and spices make for a simple yet satisfying and delicious meal you can make without too much fuss! Gluten Free + Vegan
Ingredients
2 tbsp (30 ml) coconut oil
1 large white, yellow or red onion, diced
1 tsp salt, divided
4 large cloves garlic, minced
1 inch piece, ginger mined
2 tablespoons tomato paste
1 tbsp curry powder
2 tsp garam masala
2 tsp ground cumin
1 tsp dried basil
1 14 oz can full fat unsweetened coconut milk
1 14 oz can chopped or diced tomatoes
2 14 oz can chickpeas, drained & rinsed
3 big handfuls spinach
Sliced fresh basil, for serving
Instructions
Add the coconut oil to a large skillet or pot and warm on medium heat. When the oil starts to simmer add the onions and 1/2 tsp salt and sauté until softened, about 5 minutes.
Add the garlic and ginger to the onions and continue to cook another minute stirring the whole time. Stir in the tomato paste, curry powder, garam masala, cumin and basil. Mix well for another minute until the spices are fragrant.
Add the crushed tomatoes, coconut milk and chickpeas to the pan. Mix until fully combined. Let the mixture come to a boil and then reduce the heat down so that it maintains a gentle simmer. Let cook for 15-20 minutes, stirring occasionally until the stew reduces down and thickens into a saucy, gravy.
In the final few minutes of cooking, add the spinach and mix in until wilted. Taste and season with salt and more spice as you see fit.
Serve topped with fresh basil if desired and enjoy.
Notes
Full fat coconut milk is best for a creamier curry, but you can also use light coconut milk to cut down on calories. I don't recommend using coconut milk from a carton or sweetened coconut milk.
This website provides approximate nutrition information for convenience and as a courtesy only. Nutrition data is gathered primarily from the USDA Food Composition Database, whenever available, or otherwise other online calculators.
WHAT TO MAKE WITH LEFTOVER CHICKPEA BRINE?
Aquafaba: are you familiar with it yet?!
Basically the gist of it is that aquafaba = bean water. It's the goopy brine/water you find in cans of beans. So all that weird bean water that you and I once use to pour down the drain actually has the ability to replace eggs in some instances. Don't dump it out anymore! Save it, freeze and be in awe of it!
Here are a few recipes you can make once you finish making this chickpea kale salad:
Hungry for More? If you're looking for easy gluten free + vegan recipes check out my Effortless Vegan Cookbook!