Thai inspired Yellow Cauliflower Chickpea Curry – loaded with tender cauliflower pieces, chickpeas and a quick, homemade yellow curry paste. Only 30 minutes to make! Gluten Free + Grain Free + Vegan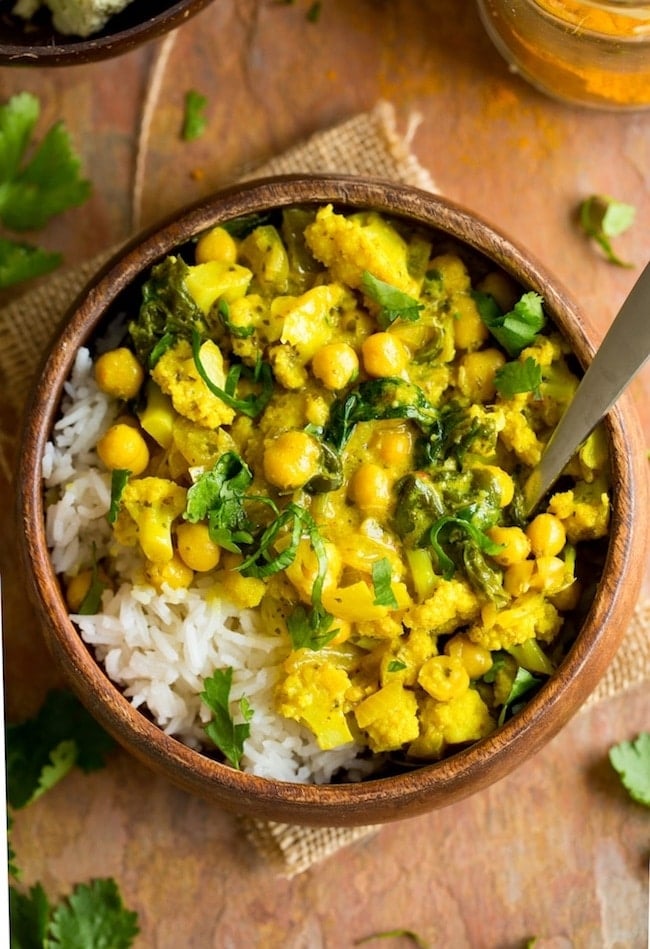 So I'm pretty sure this is the type of food you'd get served in heaven: creamy, silky, almost-spicy, cozy bowls of healthy comfort.
I mean, what else could it be?
Lucky for us there's no need to pass into the great beyond™ or anything drastic to enjoy a bowl of this Yellow Cauliflower Chickpea Curry. All you need is about 30 minutes start to finish and then you're well on your way to food heaven.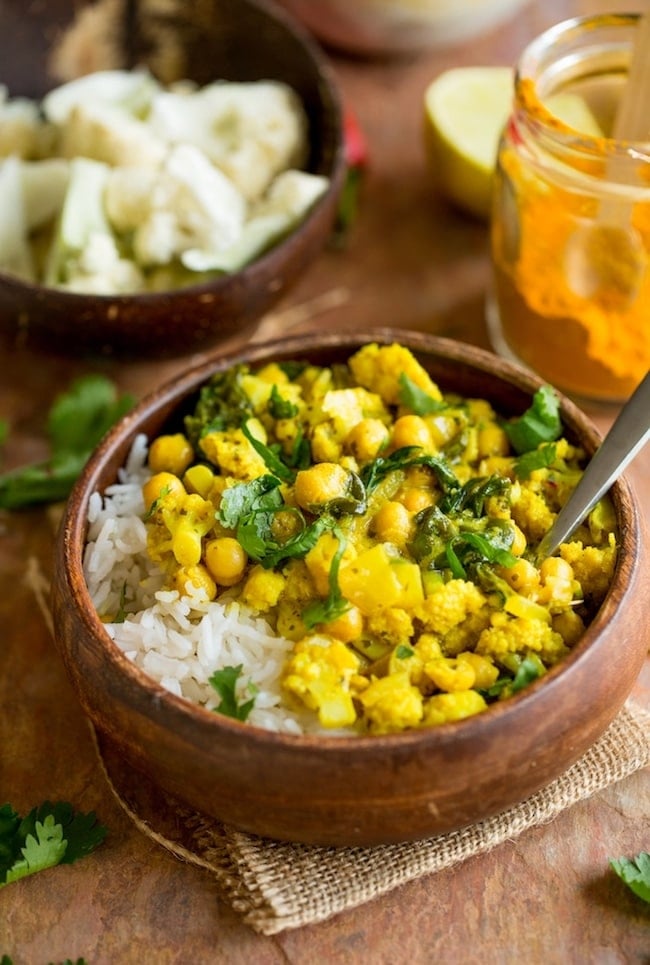 How to Make: Yellow Cauliflower Chickpea Curry
It all starts with the yellow curry paste. If you're like me and never think to buy things like curry paste until it's too late – then this recipe is for you because we're making our own!
The recipe at fist glance might look a little lengthy but it's mostly made up of things that are easy to find or can be easily replaced with what you already have on hand (i.e coconut aminos can be replaced with tamari or gluten free soy sauce and coconut sugar can be replaced with any type of sugar). Making the paste doesn't require anything too involved – it's really just a matter of adding all the curry paste ingredients to a blender or food processor and blending until you have a thick, smooth paste.
Once the paste is prepped and ready to go the remaining curry is pretty straight forward. Sauté your onion for a few minutes until softened before adding the curry paste. Let those flavours enhance and get to know each other before stirring in the coconut milk – full fat coconut milk will lead to a richer, creamier curry but you can absolutely use light coconut milk to cut down on calories.
Add in the chopped up cauliflower florets – let them get soft and tender, soaking up all the curry flavours. After a few minutes stir in the chickpeas and spinach, cover and then let cook for a final 5ish minutes.
Finally just taste and season as you see fit. Don't be afraid to play around with the seasonings adding more lime juice, salt, pepper, whatever.
When you're all set serve this over a bed of rice, quinoa or cauliflower rice and enjoy!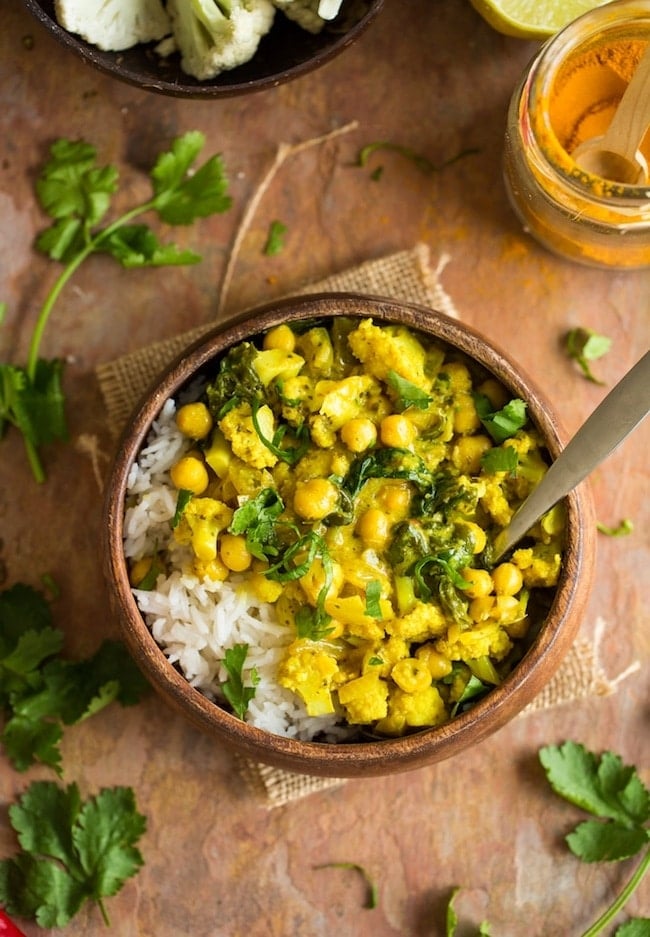 FACEBOOK | INSTAGRAM | PINTEREST
Don't forget to #asaucykitchen on instagram if you try this Yellow Cauliflower Chickpea Curry. I love seeing what you make! You can also post your pictures to my facebook page!
Yield: 6 servings
Yellow Cauliflower Chickpea Curry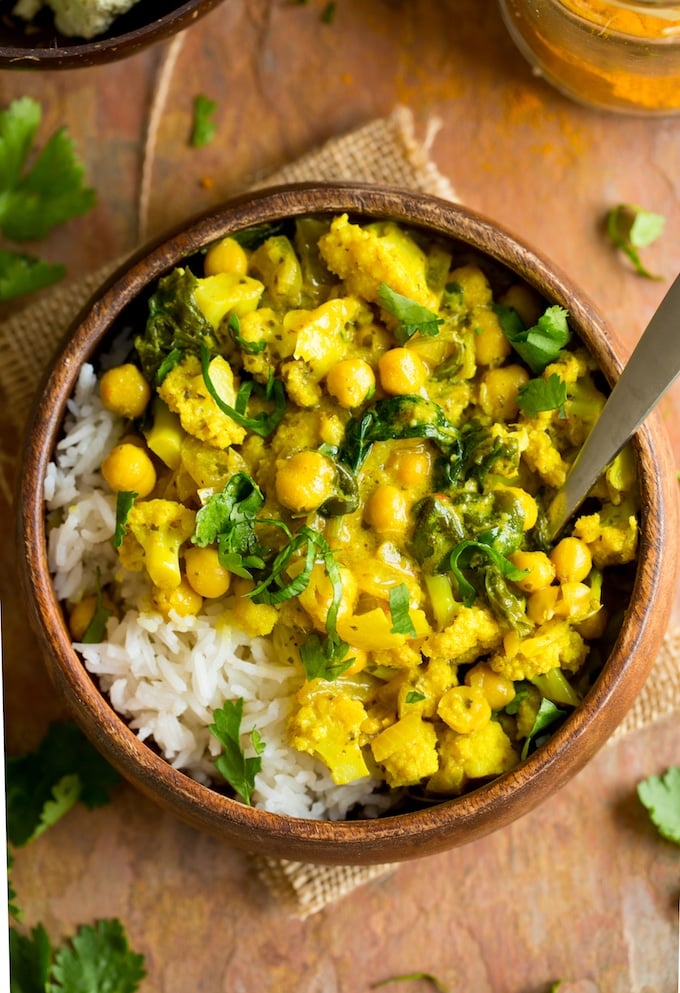 Thai inspired Yellow Cauliflower Chickpea Curry - loaded with tender cauliflower pieces, chickpeas and a quick, homemade yellow curry paste. Only 30 minutes to make! Gluten Free + Grain Free + Vegan
Ingredients
Curry Paste
2 tablespoons coconut oil, melted
2 tablespoons fresh ginger, roughly chopped
3 large garlic cloves, roughly chopped (about 1 heaping tablespoon)
1/4 cup fresh cilantro, loosely packed (about the size of a small handful)
1 tablespoon ground tumeric
1 tablespoon curry powder
2 teaspoons ground cumin
1/2 teaspoon sea salt + pepper, plus more to taste
1 red chili pepper, stem removed - use half if you're sensitive to spicy food
1 teaspoon coconut sugar, or regular sugar
1 tablespoon coconut aminos, or tamari
2 tablespoons lime juice
Curry
1 tablespoon coconut oil
1 large white onion, chopped
1 14 oz can coconut milk, full fat is ideal for a creamier texture but feel free to use lite coconut milk
2 cups cauliflower florets, chopped into bite sized pieces
1 14 oz can chickpeas, drained & rinsed
1 cup spinach
Instructions
Curry Paste
Add all of the ingredients listed under 'curry paste' to a mini food processor or powerful blender and process until you reach a pasty, purred mixture. The texture should be something similar to a pesto - a little more grainy in places.
Curry
Add the coconut oil to a large skillet or pot and warm on medium high heat. When the oil starts to simmer add the onions and sauté until softened, about 5 minutes.
Add the curry paste to the onions and cook for a minute or two before adding the coconut milk. Bring the mixture to a simmer. Stir in the cauliflower florets. Cover and let the cauliflower soften in the curry for 10 minutes.
Stir in the chickpeas and spinach, and cook uncovered an additional 5 minutes at least. Taste and adjust seasoning as needed (add more salt, pepper, lime juice as you see fit).
Serve over rice/cauliflower rice or quinoa. Top with additional fresh cilantro and lime wedges and enjoy!
Notes
If you have a blender that struggles mixing up the curry paste add one or two tablespoons of your coconut milk to the blender to help the paste blend up easier.
Nutrition Information:
Yield:
6
Amount Per Serving:
Calories:

311
Saturated Fat:

20g
Sodium:

270mg
Carbohydrates:

21g
Fiber:

6g
Sugar:

4g
Protein:

6g
Hungry for More? If you're looking for more vibrant gluten free + vegan recipes check out my Effortless Vegan Cookbook!
Satisfying Plant-Based, Gluten-Free Meals Without the Hassle
Who says preparing vegan, gluten-free meals has to be so hard? Get back to enjoying your time in and out of the kitchen with Effortless Vegan. Painless prep, simple cooking and completely plant based & gluten free, these delicious recipes focus on full flavours, clean eating and efficiency.
This post contains affiliate links.  I only post links for products I personally use and believe in. If you make a purchase on Amazon after clicking one of my links, I receive a small commission and the price you pay is not affected.  Thank you!