Whether you've gone dairy free for lifestyle, environment or dietary reasons – there are so many things to factor in when it comes to dairy free options and choose the right milk substitute for you! This guide goes over a few tips, popular dairy-free milk options, and recommendations for commonly asked dairy substitutions.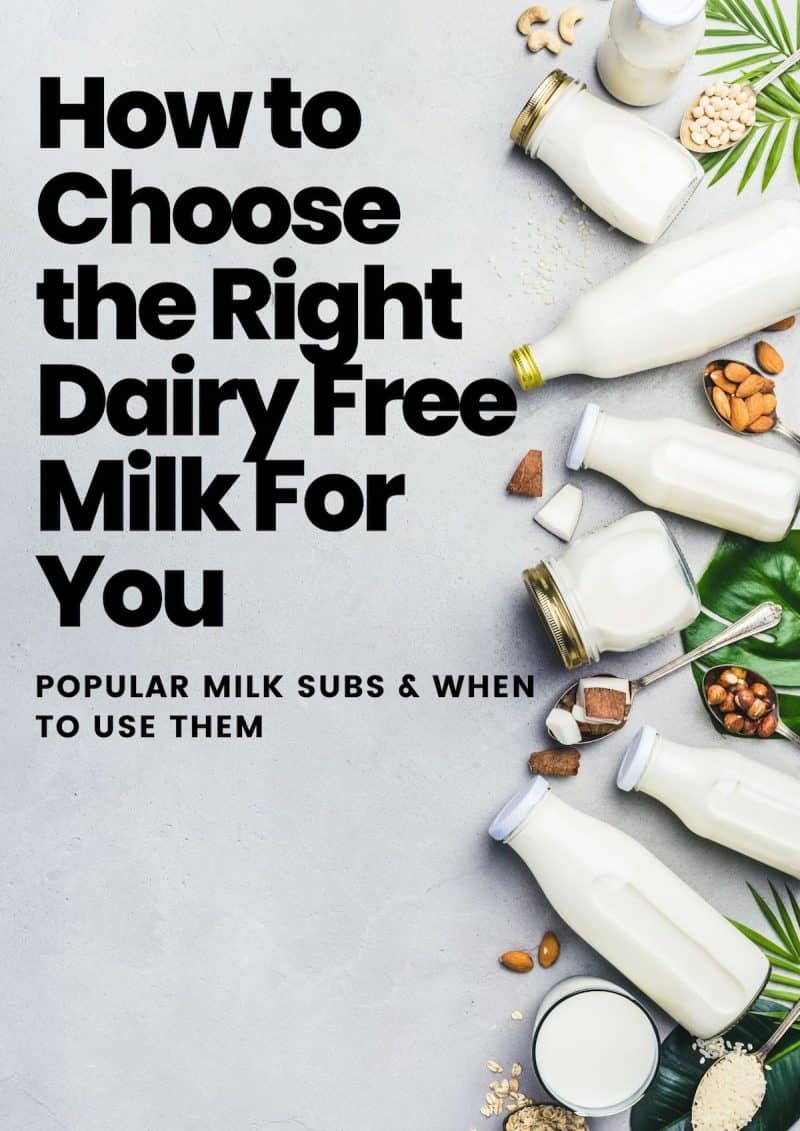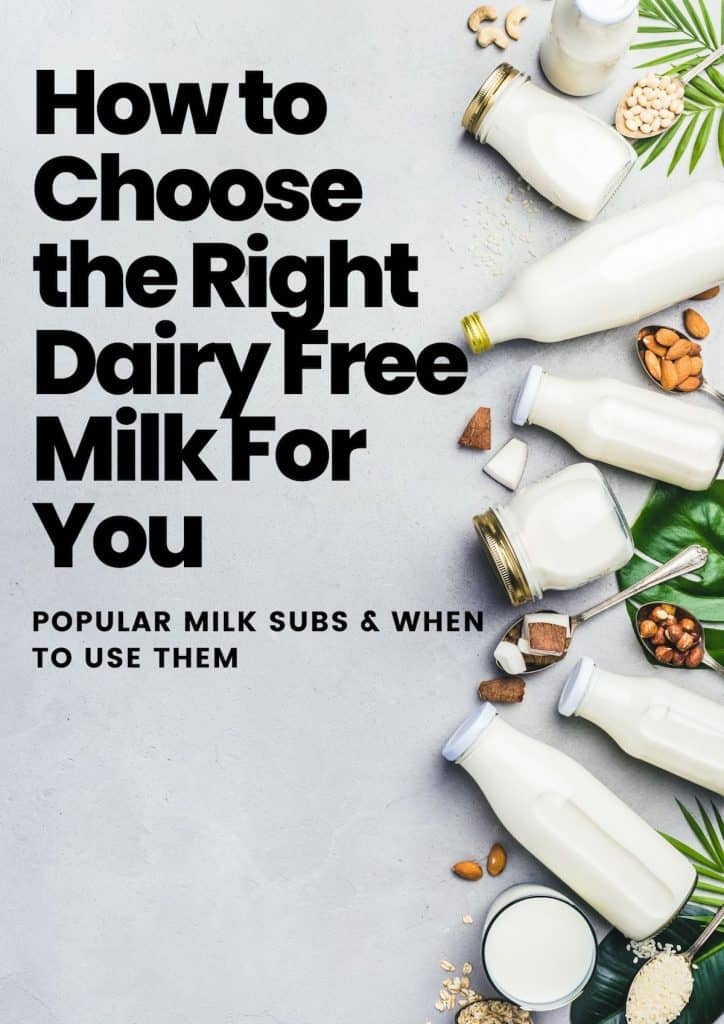 Baking is a science. We've all heard it a million times. Cliche or not – it's completely true! Want perfectly domed pumpkin muffins? How about soft and chewy chocolate chip oatmeal cookies? Or a rich and tender slice of vegan chocolate cake?
You need balance and science! Oven temperatures, protein, fat, dry to wet ingredient ratios, etc. This is especially true when it comes to allergy-friendly cooking whether that be with gluten free, nut free, or in this case – dairy free baking.
You're never going to get quite the same results when swapping out dairy milk (with all of its useful protein and fat) for dairy free alternatives. That being said, with enough consideration you can still end up with very delicious (and maybe even better) results!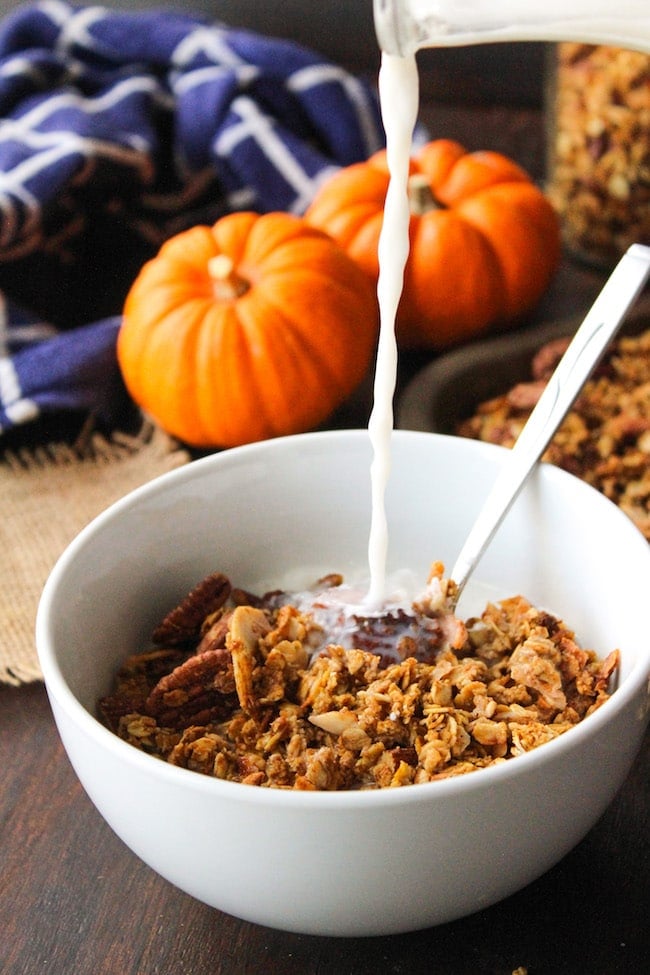 Table of Contents
There is a lot of information packed in this post here so feel free to use the table of contents below to navigate right to where you want to go.
General Tips for Cooking and Baking with Dairy Free Milk Substitutes
Make sure to use unsweetened, plain milk for savoury cooking and baking.

Just because your milk might be unsweetened, doesn't mean that it's also unflavoured (example: unsweetened vanilla flavoured almond milk is a thing). In fact, unless the recipe explicitly recommends using a flavoured or sweetened milk – it's safe to assume that you need unsweetened and plain.

Shake before use.

Most dairy free milks will remind you to shake the milk well before use. This is because certain ingredients or additives (like calcium) might settle at the bottom of the milk carton. Shake the milk first to ensure that the calcium (and other additives) are evenly distributed before pouring.

If the goal is to get baked goods to rise: baking powder is more useful to you than baking soda.

Dairy milk is slightly acidic while most non-dairy milks are alkaline. The acid in dairy milk comes in handy when working with baking soda because it helps to form a chemical reaction that creates gas. This gas then gets trapped inside your baked goods which lift up and rise in the oven. Baking powder, on the other hand, does not need acidic ingredients to activate so it usually gets more done in recipes that rely on dairy free milk.

When making a sauce or soup – wait to add the dairy free milk towards the end of the cooking process.

Some dairy free milks have the tendency to separate if they get too hot or boil. Try to add the milk late in the process so that it doesn't get too hot.
If your milk does separate you might be able to fix this by stirring in a small amount of starch and water. Mix together about 1 teaspoon starch (potato and corn starch usually work well) and 1 tablespoon water to create a smooth slurry. Stir this into your recipe and mix until thickens your sauce/soup. Turn up the heat to a gently simmer if it doesn't thicken. This starch mixture should help bind everything back together.

Choose recipes that are specifically made with dairy free milk alternatives in mind.

Unless you are a seasoned baker or you're up for experimentation, you might be better off following recipes that are made designed to be dairy free. In theory, these recipes should have been actually tried and tested. Any tips, pictures and recipe exceptions should all be relevant to your what you're trying to achieve. Recipes made with dairy free milk won't rise the same, colour the same or end up with the same texture.
Popular Non Dairy Milks
There are so many milk alternatives to choose from! While many of these milks could in theory work as a one-size-fits-all milk substitute, for best results you should consider what it is that you want to make to choose the best type of milk for you.
Coconut Milk
Made from (you guessed it) blended up coconut flesh and water, coconut milk is an extremely popular dairy free milk substitute. When it comes to gluten free baking, coconut milk is probably one of my favourites to use.
Because of the naturally occurring fat in coconut, coconut milk typically has a naturally thick, rich and creamy consistency. This actually comes in handy in relation to gluten free baking. A common complaint with gluten free baking is that baked goods often come out dry and a little stale. The high fat content and moisture from coconut milk helps combat those issues while also providing a mild sweetness.
It's very important to understand the difference between using milk from a can and milk from a carton. If you're following a recipe that calls for coconut milk it should specify which type to use.
Coconut Milk from a Carton
Unless you're making homemade coconut milk, it usually has a lot more ingredients added to it (emulsifiers, gums and flavourings). The biggest difference is that coconut milk from a carton has more water which means it's got a thinner consistency.
When to use it:

Coconut milk from a carton is usually better in drinks, cereal, sweets or as a general milk substitute. Cartoned coconut milk has a more subtle coconut flavor (compared to canned and creamed coconut).

When to avoid it:

If you're not keen on the taste of coconut, you probably won't like using coconut milk full stop. Because of the strong taste it's also best to avoid in Mediterranean dishes and certain savoury dishes.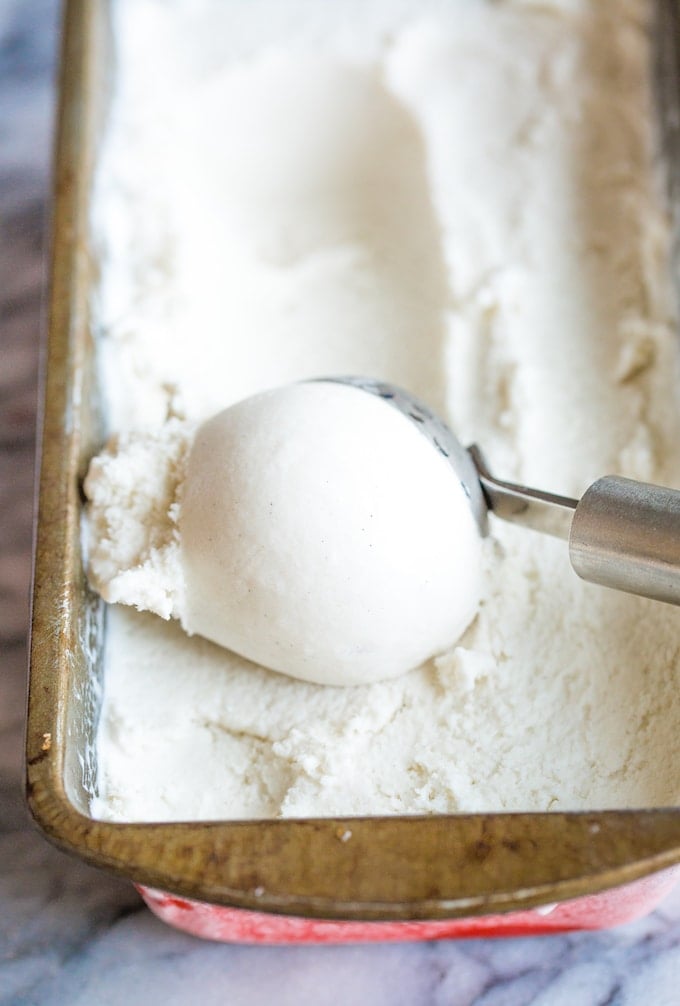 Canned Coconut Milk
When you first open up a can of coconut milk you might find that it's separated into two layers: one thin and watery and the other thick and creamy. Basically that's coconut cream and coconut water. Just shake up the can before opening or whisk them together and you're good to go.
When to use it:
When to avoid it:

Again, if you don't like the taste of coconut you should give it a miss. It doesn't always work well in savoury dishes that don't typically use coconut (like Mediterranean food). If you need to watch your calories you might prefer another milk substitute.

While canned coconut milk is an excellent source of moisture and fat in gluten free baking, it might have an adverse effect in non gluten free baking.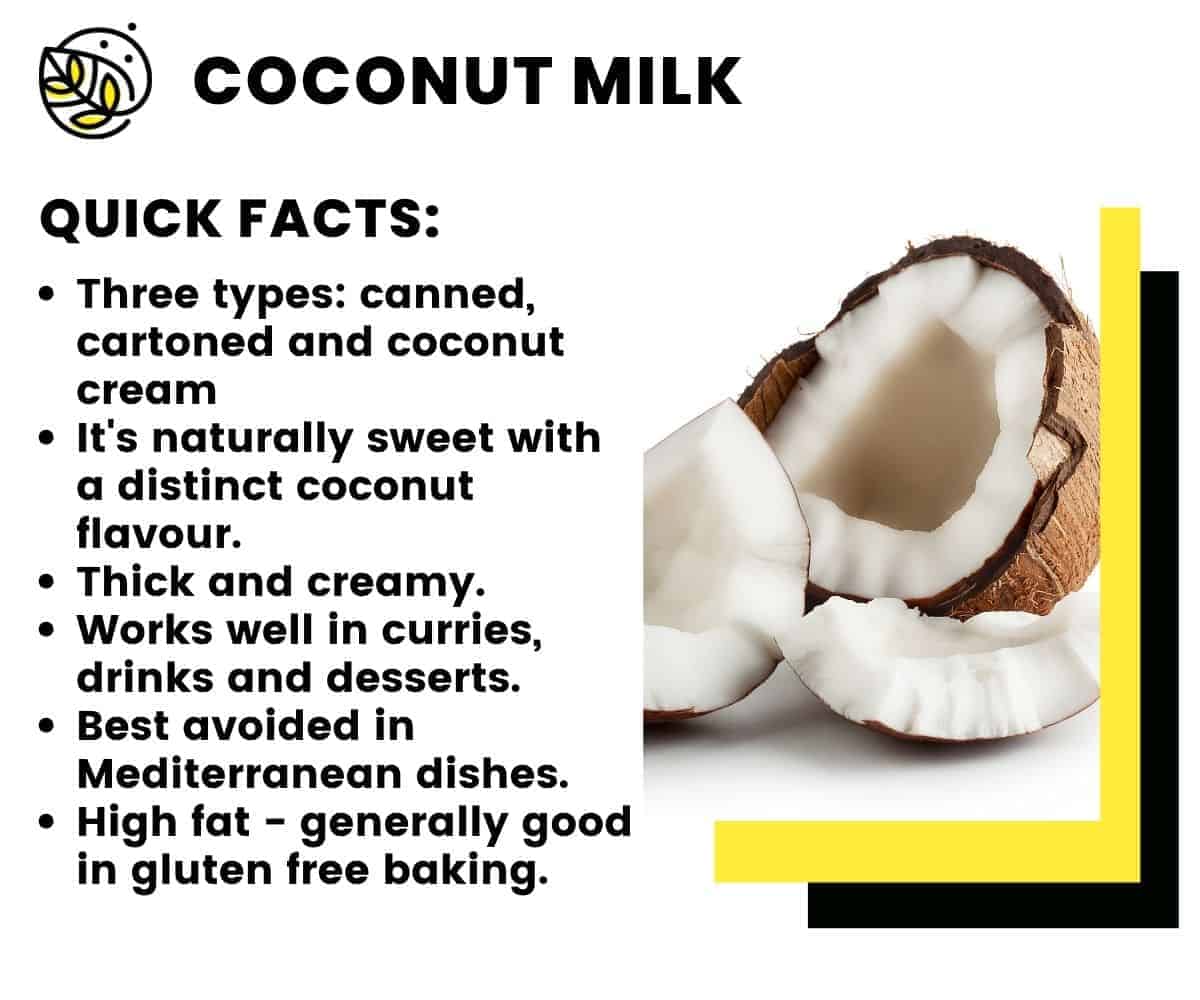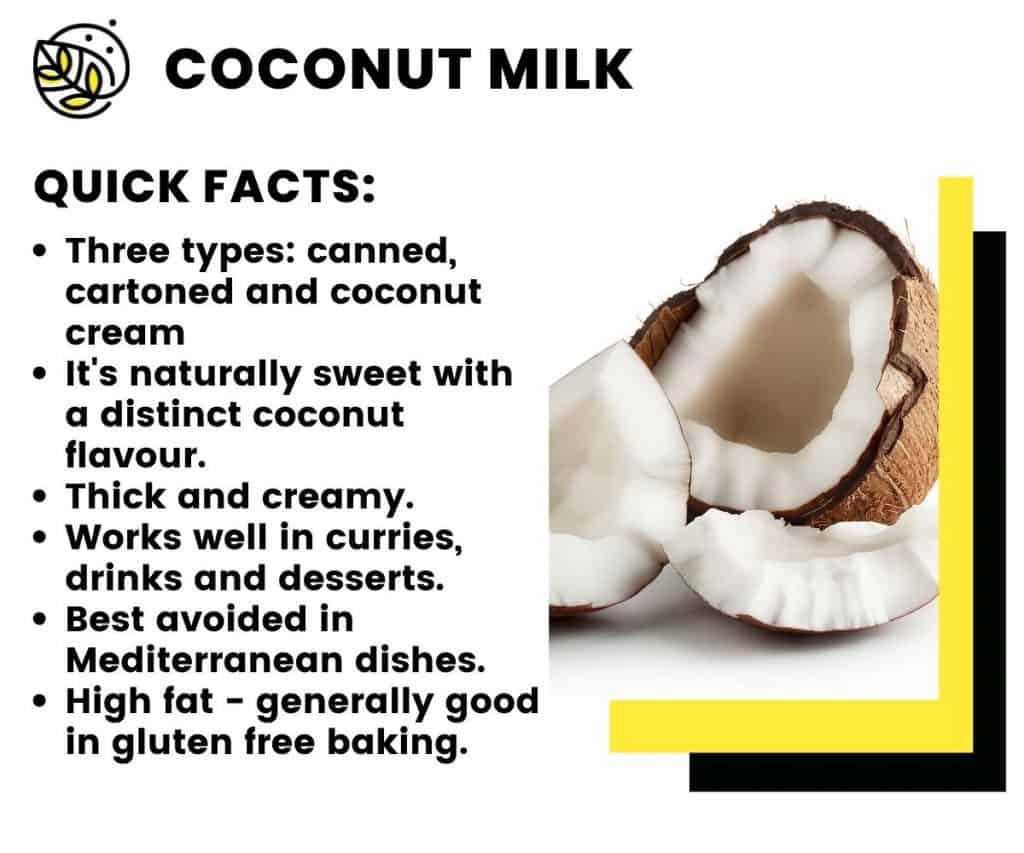 Coconut Cream
Though made from the same ingredients, coconut cream is different from coconut milk. Coconut cream has more coconut and less water than coconut milk. It's thicker, creamier and higher in fat. You can sometimes use coconut cream in place of canned coconut but I recommend using it sparingly (like a spoonful mixed into a hot drink) and only when the recipe calls for it.
Coconut Water
Keep in mind that coconut water is not the same as coconut milk. Coconut water is naturally occurring. It's comes from fresh coconuts. Coconut milk is made from the white solids found inside of fresh coconuts. It will not work as a milk substitute but it does make for a nutrient-packed electrolyte drink.
Almond Milk
Even though it's made from blended up almonds and water, almond milk is fairly low in calories and cholesterol with very little protein. Many almond milk brands will also come fortified with added vitamins and minerals like Vitamin D, Vitamin B12, calcium and Vitamin E. These could be an important factors to consider when choose the right milk for you. It has a mildly nutty flavor and a light creaminess to.
I find that the quality of your almond milk and its texture really depends on what brand you choose. Some brands tend to make thin, somewhat watery almond milk while others are thick and have a more creamy taste. This will likely vary based on what additives are present in the milk. The less thickeners and emulsifiers, the thinner it will be.
When to use it:

It's great in cereal, coffee, smoothies and most drinks.
You can make a quick dairy free buttermilk in a pinch by adding lemon juice or vinegar to almond milk. Wait a few minutes and see how the milk curdles much like buttermilk. It won't be as thick, but it will give you similar results.
In general, unsweetened (plain) almond milk can easily be used as a 1:1 sub in place of cow's milk.

When to avoid it:

If you are allergic or have tree nut allergies.
This is likely true with many plant based milks, but almonds in particular require a very large amount of water to grow. California grows 82% of the worlds almonds which has a fairly significant environmental impact.
If you want baked goods to brown. Without much protein your baked goods might struggle to brown in the oven. This is mostly a problem if you're working with all purpose flour blends (gluten free or gluten containing). If you bake with something like almond flour or chickpea flour you won't have this issue.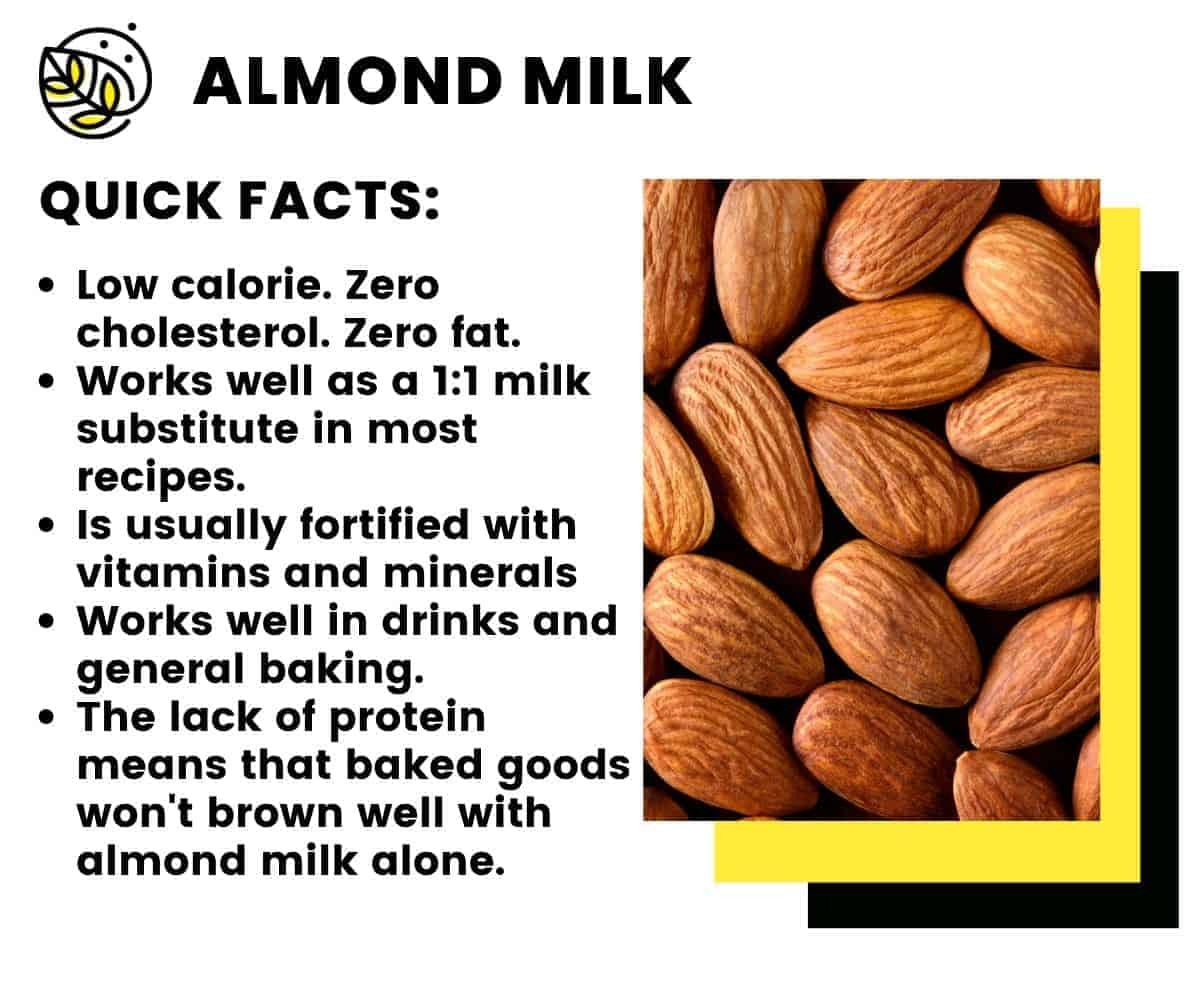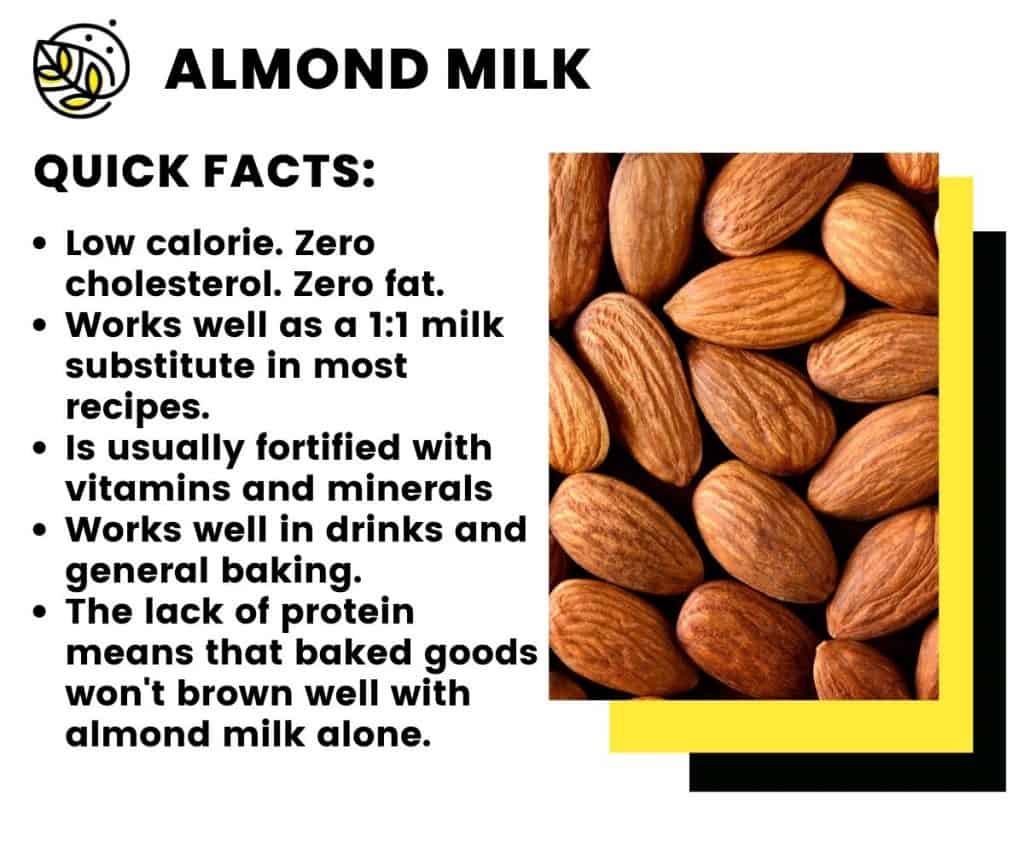 Soy Milk
I'll admit that I don't think I've ever done a whole lot of cooking and baking with soy milk. With the exception of using a bit of soy sauce and tamari every now and then I tend to avoid eating soy for the most part.
That being said, in doing research for this post I learned a lot about soy milk and I'm quite interested in maybe playing around with it more for baking. Soy milk is one of the most versatile plant based milk substitutes out there. It has almost as much protein as dairy milk, no cholesterol and usually fortified with essential nutrients required for those on a vegan diet.
Tip
Soy milk found in Asian countries are usually more fresh and have a much stronger bean taste while soy milk sold in Western countries are more neutral flavor.
When to use it:

If you need a budget friendly option. It's the most affordable plant based milk option.
Since it has such a mild flavor, it's hard to detect in most things making a generally a good all-purpose dairy milk substitute whether that be in drinks, sauces or baked goods.
Because of the high amount of protein found in soy milk, it works especially well in baked goods. The protein helps support the structure of your bakes and causes things to brown nicely.

When to avoid it:

If you have soy allergies or are prone to general food allergies. Soy is one of the Top Eight food allergens so it's worth thinking about if you plan on making something to share with friends and family.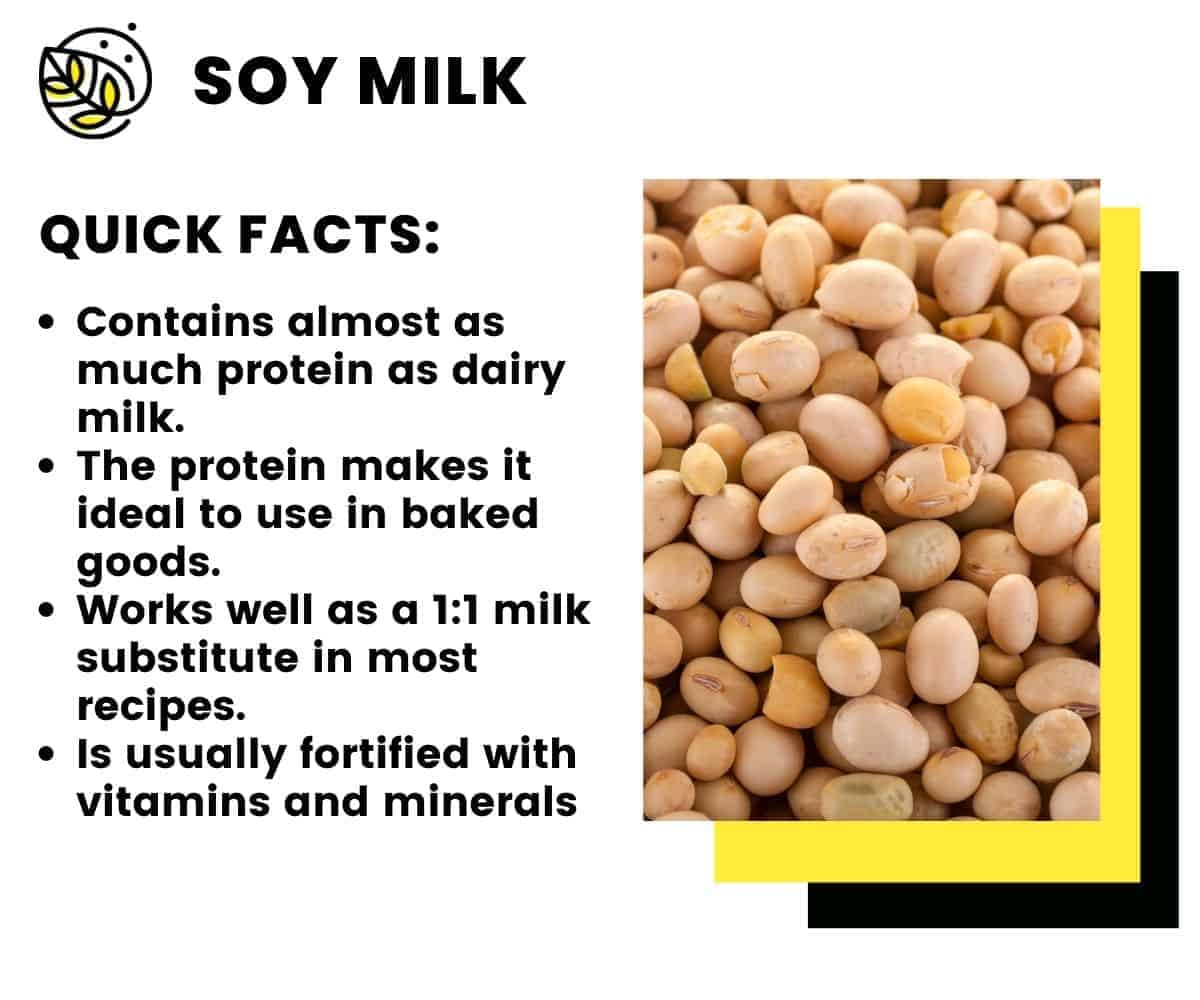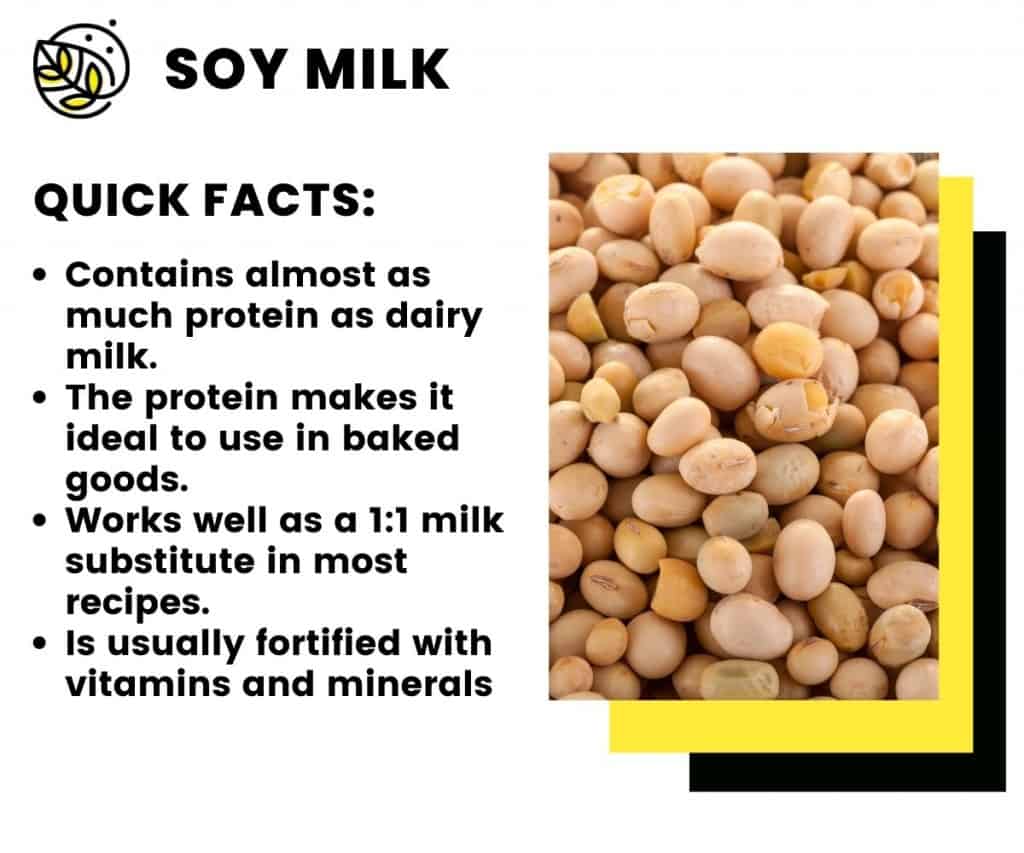 Rice Milk
Rice milk is made by soaking rice in water, blending it up and then straining out the solids. Rice milk has been around for awhile as a good dairy free milk substitute, but it has lost a lot of that earlier popularity in more recent times to newer, trendier milk options.
While you might struggle to find local grocery stores carry banana milk or hemp milk, you're almost guaranteed to find rice milk on offer.
When to use it:

It usually comes with added sweeteners making it a very tasty addition to certain drinks, smoothies or in cereal.

When to avoid it:

As a general rule of thumb, rice milk just isn't great for baking. It has a very thin texture that doesn't add much and usually needs other thickeners to make it work.
Since it's so thin, it's also not great in coffees, lattes or any drink that might benefit from a creamy texture.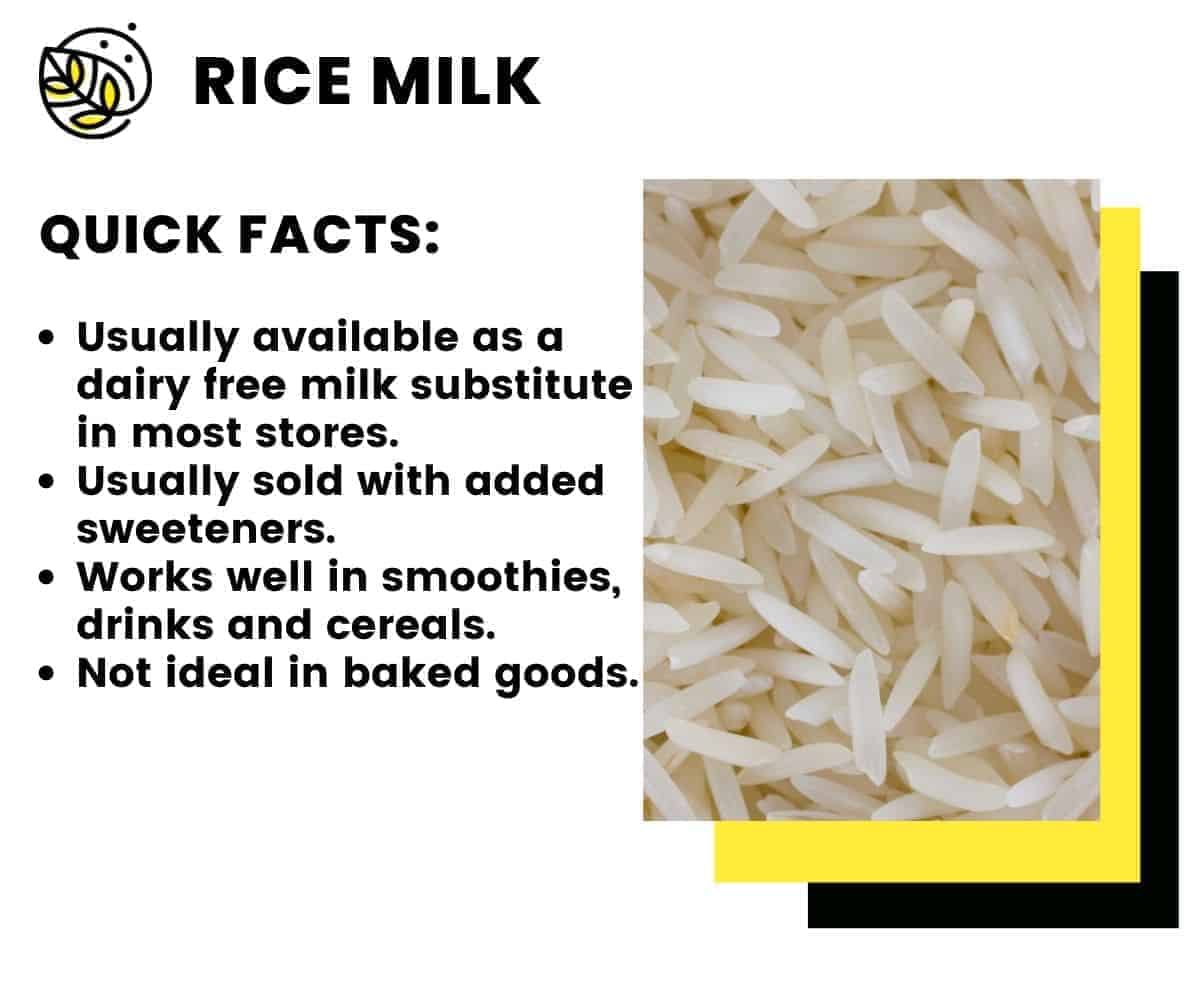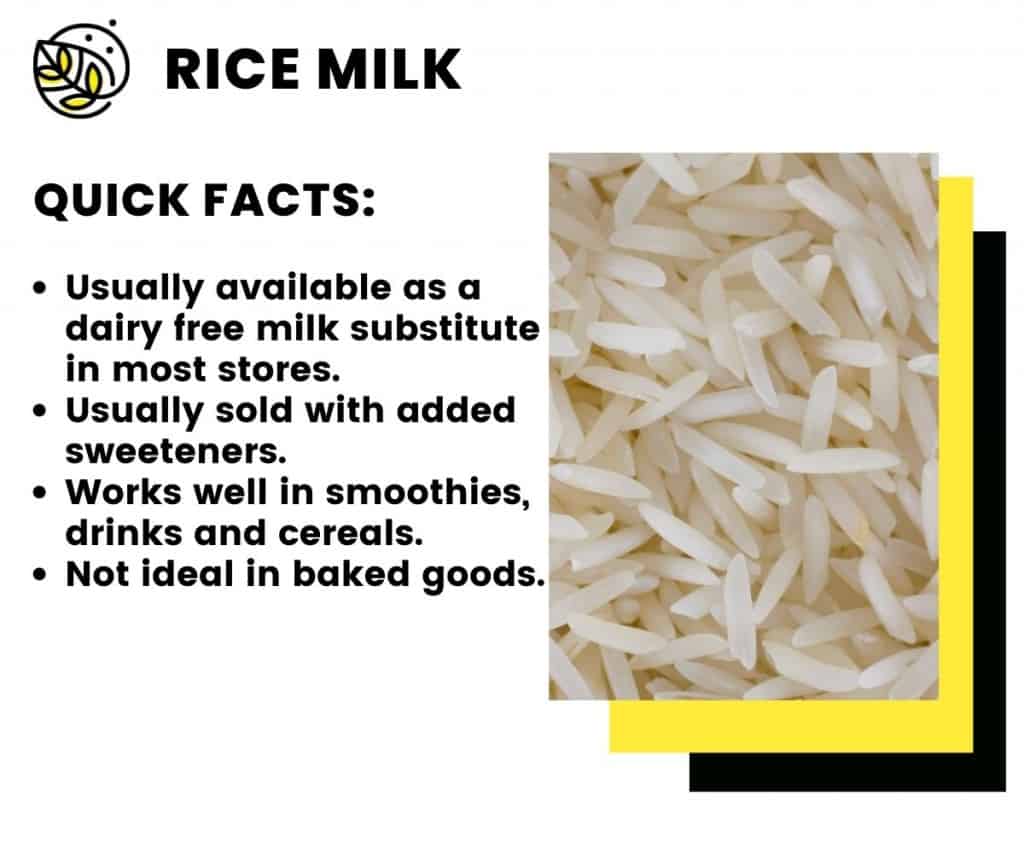 Oat Milk
Oat milk is made from rolled oats, blended with water and then strained of all the solids. It's grown in popularity in the past year or so largely because of how well it works in hot drinks. It's thick, has a mild sweet taste to it that's not too overwhelming and it froths up fairy well in lattes (at least compared to most non dairy milk substitutes).
When to use it:

You can use it in many cases where you would typically use dairy milk. It's best in drinks, smoothies and cereals. The slight nutty/earthy flavour might work well in many baked goods.

When to avoid it:

It curdles easily when it gets too hot making it a poor choice for sauces, soups and savory dishes. If you'd like to use it in sauces, make sure to add it towards the end of the cooking process so that it doesn't split.
Oat milk can sometimes produce a 'slimy' texture in baked goods. I think this mostly depends on the type of oat milk that you use.
If you are celiac or have gluten allergies. Many celiacs can't have oats, even when they are certified gluten free. Oat milk doesn't always come with gluten warnings even though it may have been made with non gluten free oats.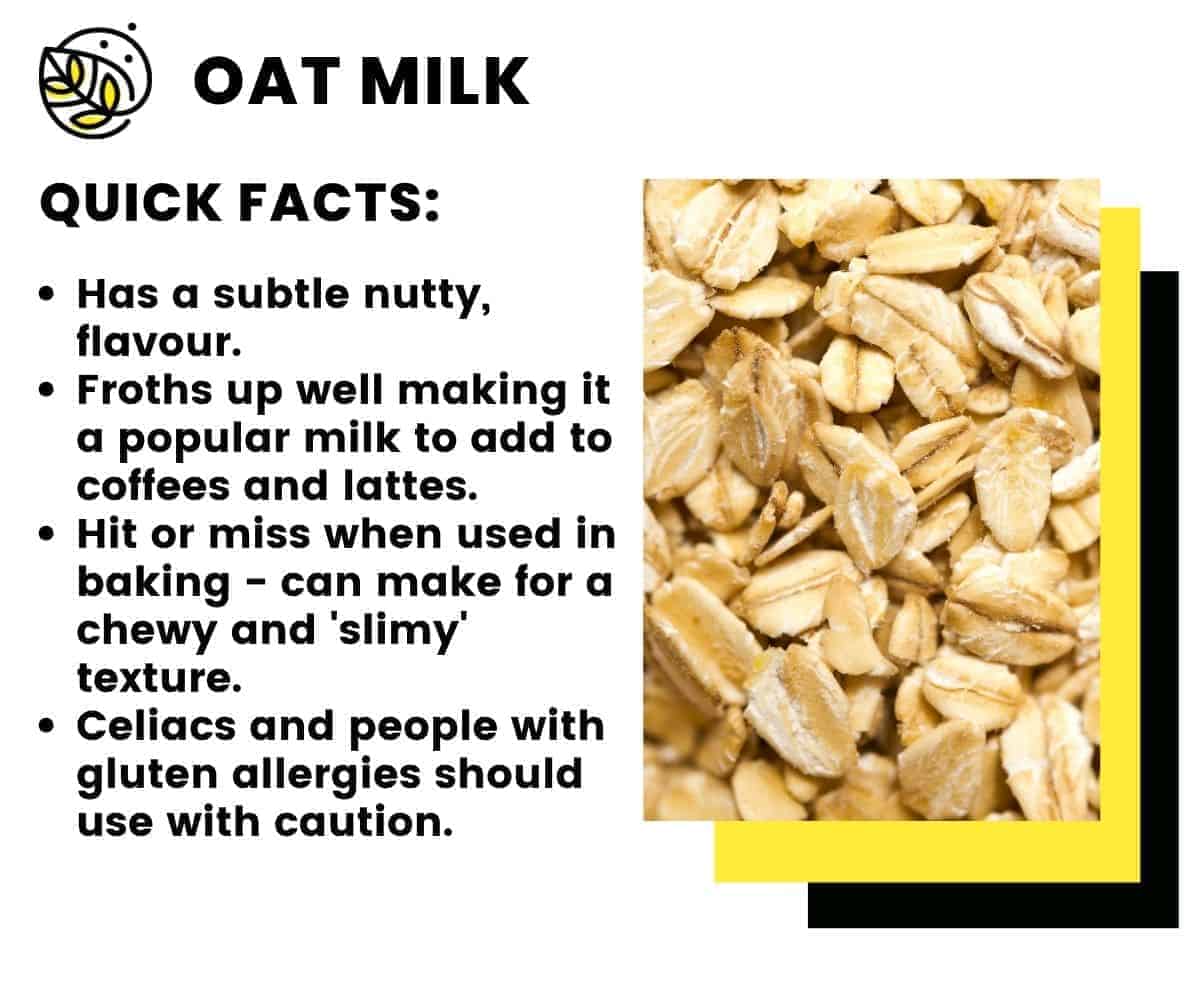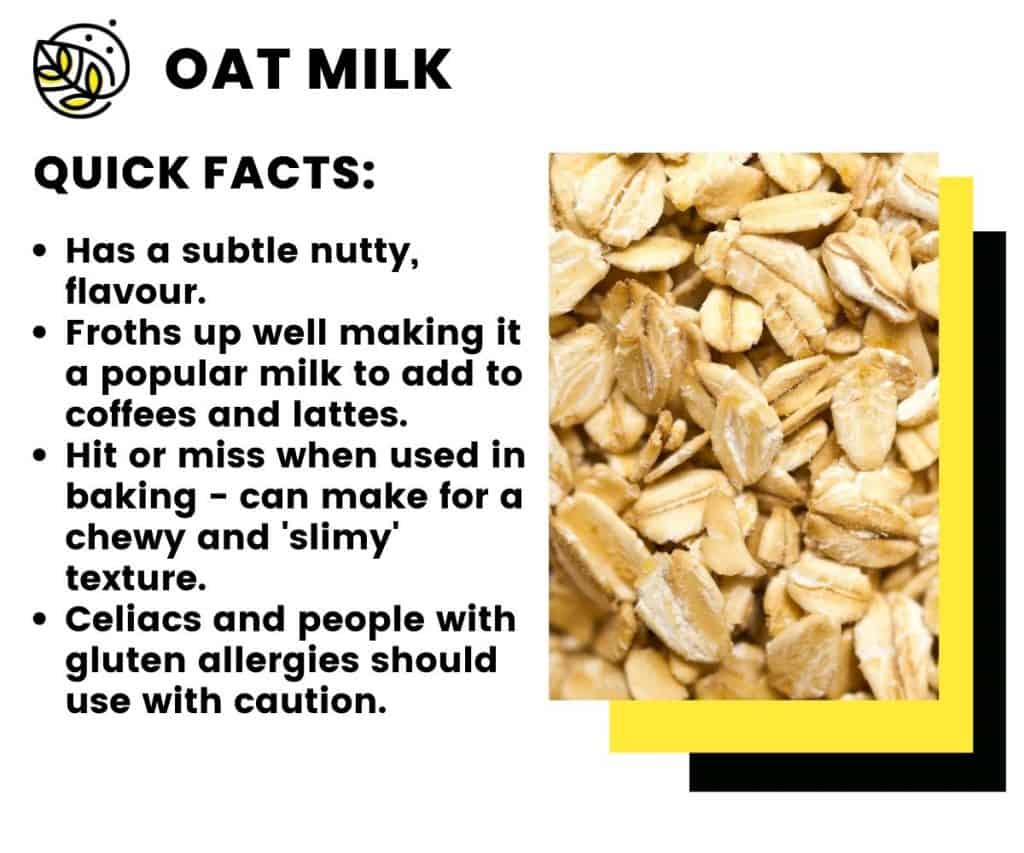 Honourable Mentions
There are SO many dairy free milk substitutes these days – the options are seemingly endless. A few alternative milks that deserve an honourable mentions that didn't quite make the cut here:
Hazelnut Milk: Pricey but tasty. If you feel like splurging every now and then, it's great in coffee.
Cashew Milk: Similar to almond milk, though usually more expensive and hard to find. I love using whole cashews blended up in recipes that need a creamy texture (like this sun dried tomato alfredo and these snickers cheesecake bars) so it makes sense that cashew milk is great on its own!
Hemp Milk: Made from blended up hemps seeds and water: It's thick, creamy and has more protein than most other plant based milks. It does have a fairly strong flavour so it works best in savoury dishes. This is a great option if you need to avoid nut milks and soy milk.
Pea Milk: Rich in pea protein, one cup usually contains about 8 grams of protein making it ideal for pre and post workout smoothies. A good option for anyone who may need to avoid soy and nuts.
Banana Milk: This one is more of a gimmick, but a fun one nonetheless! It does have a strong banana flavour, so use wisely. Add it to smoothies and sweets and avoid in savoury recipes.
What about Lactose Free Milk?
If you have to avoid dairy milk because of a lactose intolerance, you might be able to get away with using a lactose-free milk. Lactose-free milk is dairy milk that contains lactase. Lactase in an enzyme that works to break down lactose making in safer for those with lactose intolerance. This enzyme also is what makes lactose free milk sweeter to taste than untouched milk.
Commonly Asked Questions – Best Dairy-Free Alternative Milk Substitute For…
Buttermilk:
What does buttermilk do in baking?
It serves as an acid to react with baking soda. This chemical reaction ultimately makes for light and tender baked goods. You'll often see buttermilk used in things like cakes and pancakes for this reason.
In a pinch you can make your own dairy free buttermilk fairly easily.
To make 1 cup dairy free buttermilk: Measure out 1 cup dairy free milk. Remove one tablespoon of the milk. Add tablespoon lemon juice, apple cider vinegar or white vinegar. Whisk together then set aside for at least 5-10 minutes. When you notice the milk has separated and somewhat curdled you can then use it in baked goods.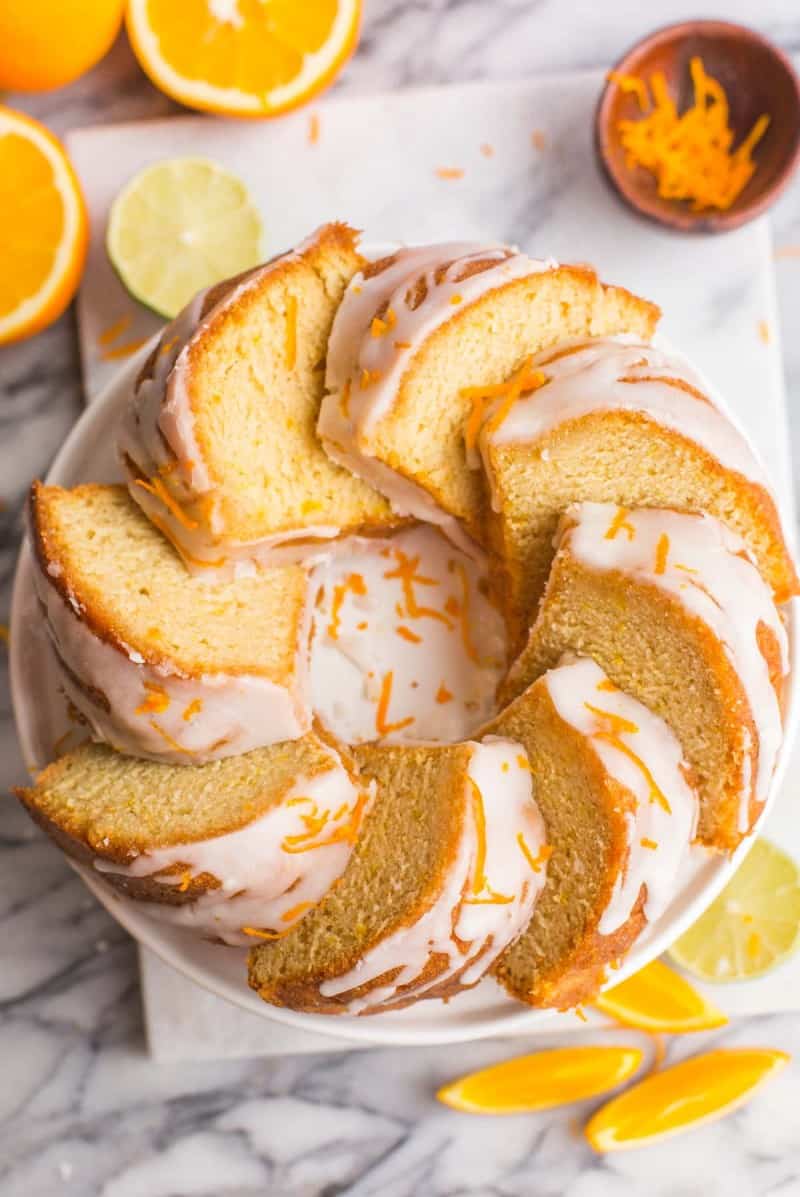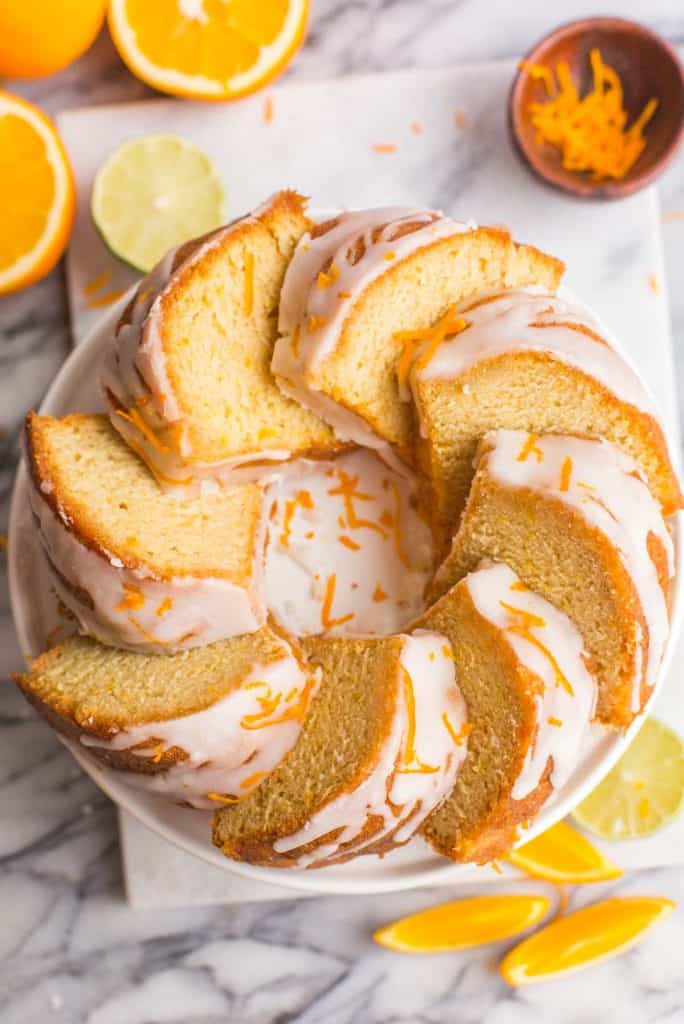 Heavy Cream or Half and Half:
Heavy cream and half and half are usually used in recipes that need fat and texture.
Canned coconut milk: Canned coconut milk or cream thick and creamy much like heavy cream and half and half. Make sure to shake or stir your can up before opening to ensure that it's properly mixed together. Coconut does have a strong flavour so it's best used in sweets and drinks.
Dairy free milk + oil: Your mileage may vary here, but you can mix together 2/3 cup (160 ml) dairy free milk and 1/3 cup (80 ml) oil to use as a cream or half and half substitute.
Cashew cream: This method takes more time and preparation, but it makes for luscious, creamy sauces. Cover and soak raw cashews in water for at least 2 hours After the cashews have softened up from soaking, drain the water away and blend with additional flavourings, oil and water. The end result is a thick, creamy sauce that can be used in a wide variety of ways. See my Creamy Cashew Tomato Pasta for a good example of this. You can use this in both sweet and savoury recipes.
Dairy Free Milk (or water) & Flour: Whisk together your liquid along with a tablespoon or two of flour (or starch) and use to thicken soups and sauces.

Make a roux: This is done at the beginning of most recipes. Warm your oil or butter in a pan and whisk in a bit of flour. Whisk and cook for a few minutes to create a thick, smooth liquid/paste. This is often used to make thick sauces. See my Baked Vegan Pesto Pasta for an example.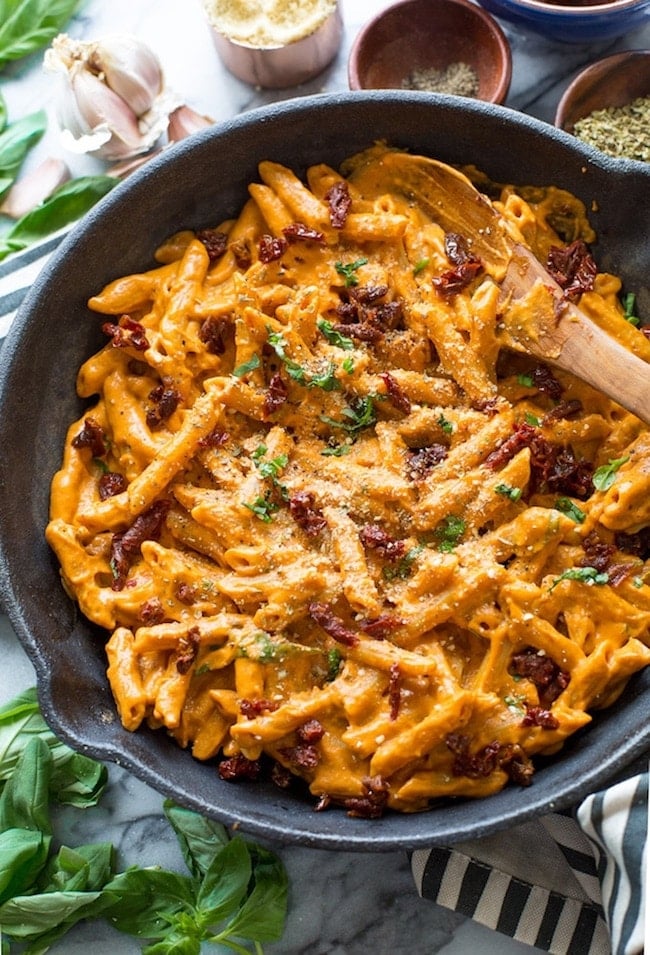 Tea and Coffee:
One common issue when it comes to adding dairy substitutes to coffee and tea (and other hot non-dairy beverages): they separate from the heat. You can usually get around this problem by warming your milk before adding it to your coffee.
You should also consider whether or not you want to use sweetened, unsweetened or flavoured milk in tea and coffee. At the end of the day, what you choose to use in milk and tea will largely depend on you and your personal preferences.
Tip
When it comes to English tea, look to buy tea bags that are made specifically to be used with dairy free milk (like this one from PG). They contain tea blends to compliment soya, almond, coconut and oat!
Oat milk is a very popular milk alternative for coffee. It has a thick texture, it's not too intensely flavoured and its froths up fairly well which makes it especially popular in coffee shops. Even though oat milk does have the tendency to split when hot, it isn't know for doing that in coffee.
Almond milk & Coconut Milk are also very popular milk substitutes for coffee. It's worth keeping in mind that both of these options usually impart quite a strong taste. That can be a plus or minus depending on how you like your coffee. They can froth up somewhat, but the results can be a bit hit or miss. I sometimes add a small amount of cashew butter when using nut milk lattes at home. The nut butter adds a touch of thickness that you might miss from using a dairy free milk.
Soy Milk is probably the most milk-like sub making it another commonly used milk in coffee. However, it does curdle easy if you add cold soy milk to hot coffee. You can warm the soy milk first, but then you run the risk of it curdling because it's too hot.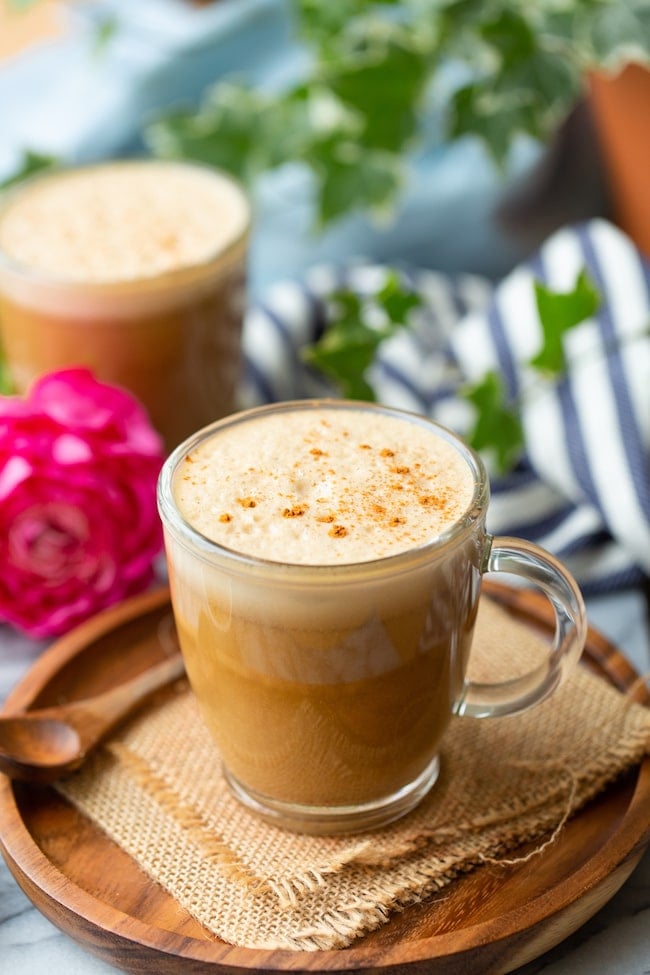 Mac and Cheese:
Soy milk and hemp milk work well in mac and cheese because of their protein and texture.
You can honestly use any type of dairy free milk substitute in mac and cheese (as long as it's unsweetened). You can create a thick sauce a few different ways:

Add pureed vegetables like sweet potato, white potato, carrots or pumpkin. The flavour from your vegetable of choice will shine through, but they often work well in savoury sauces.
Add cashew cream: My vegan pumpkin mac and cheese is a good example of how to do that.
Make a roux: Mix a bit of flour in with your milk substitute to make a thick sauce.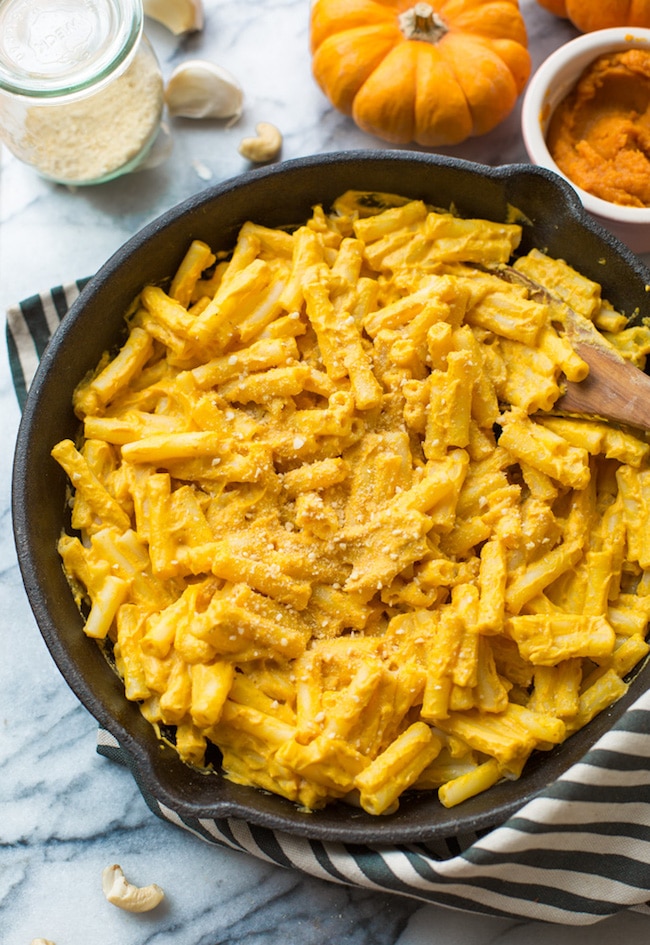 Milk Powder:
There are actually a good number of dairy free milk powders available to buy, though you may have to search online to get them. Soy milk powder and coconut milk powder are two common dairy free milk powder subs. Keep in mind that coconut milk powder will have a sweet, coconut flavour.
You can also buy or make different nut powders, but they are more like fine-nut flour. Their high fat content also means that they don't always work the same.
Conclusion
At the end of the day, the most important thing to factor in is you! What are your lifestyle preferences, food allergies, dietary needs and desires? While soy is a fairly popular choice for many vegans, it can be a non-option for others. Nut milks might not be suitable for children or your just might hate the taste of coconut.
While there are a few general rules of thumb to think about when it comes to cooking and baking with dairy free milk – you might just want to play around with a few different options until you settle on what you like the best.
What are your thoughts on non dairy milk substitutes? Have any favourites? Tips? Please share below if you have anything to add!
Hungry for More?
Check out these recipes fore more dairy free eats!