Soft, chewy and not at all cakey – these almond flour zucchini cookies are a must make! They're as tasty as they are easy to make. Prep the dough all in one bowl with no chilling required. The end result is a chewy, chocolate and walnut studded cookie speckled with bits of grated zucchini and lightly seasoned with a cinnamon spice kiss. | Gluten Free + Vegan Friendly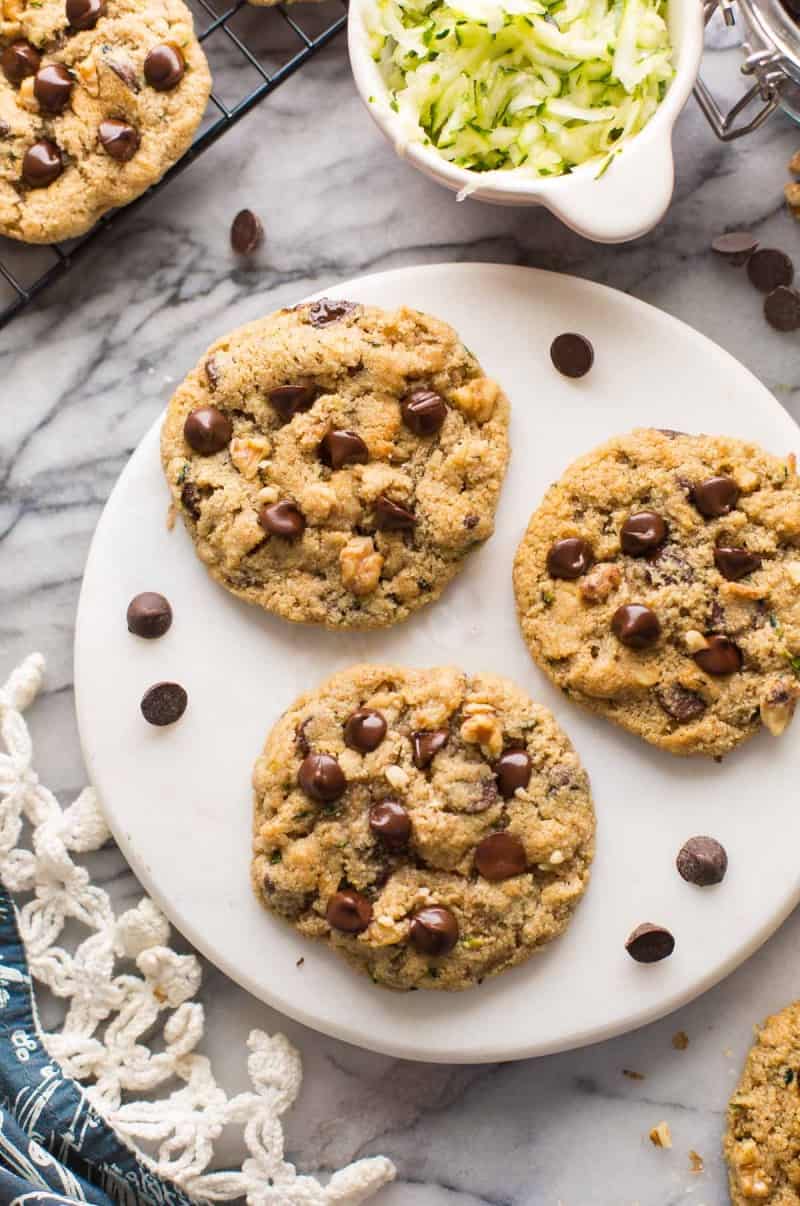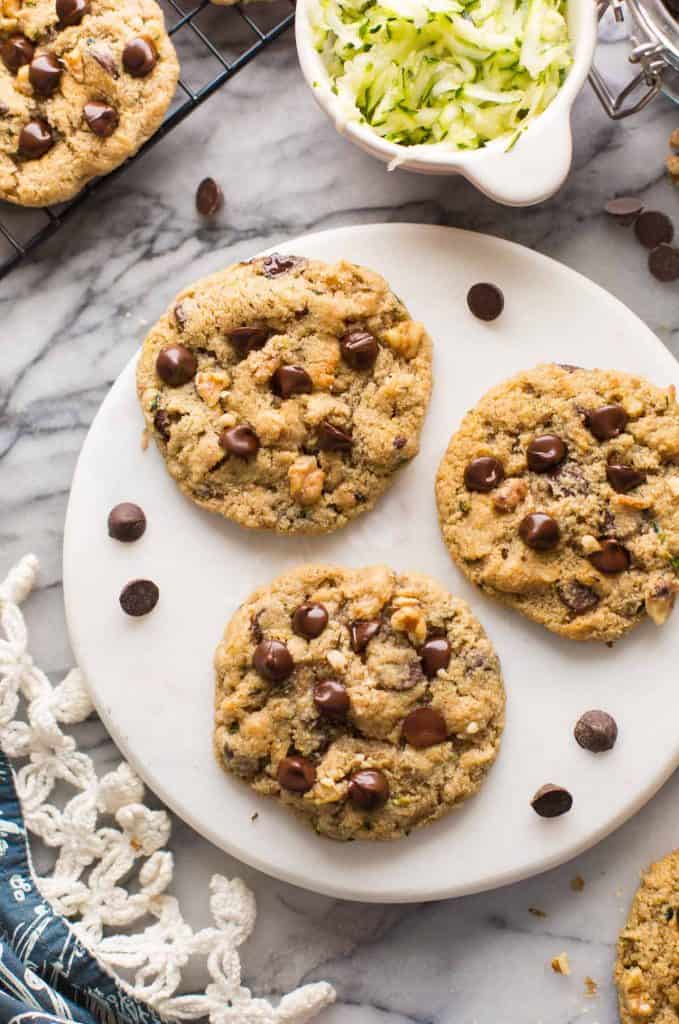 Why Add Zucchini To Cookies?
There are a number of reason to add zucchini to cookies, cakes, breads, brownies, pancakes, etc this time of year. They're a fun way to hide a little extra veg in your sweets, not to mention a great way to use up an abundance of zucchini you might find yourself with this zucchini season.
When it comes to adding zucchini to these cookies in particular – it comes with a few key benefits:
Zucchini adds moisture making for cookies that are soft and tender with a chewy texture.
The added moisture from the zucchini also works as an egg replacement in this recipe (much like how the pumpkin replaces the need for an egg in the pumpkin cookie recipe that this one is based off of).
It transforms a fairly basic chocolate chip cookie recipe into a more interesting and seasonal one!
Zucchini does all of this all while being a nearly undetectable ingredient. The only give away to the zucchini hiding inside is the tiny specks of green found throughout the cookie because the's no discernible veggie taste to be found here!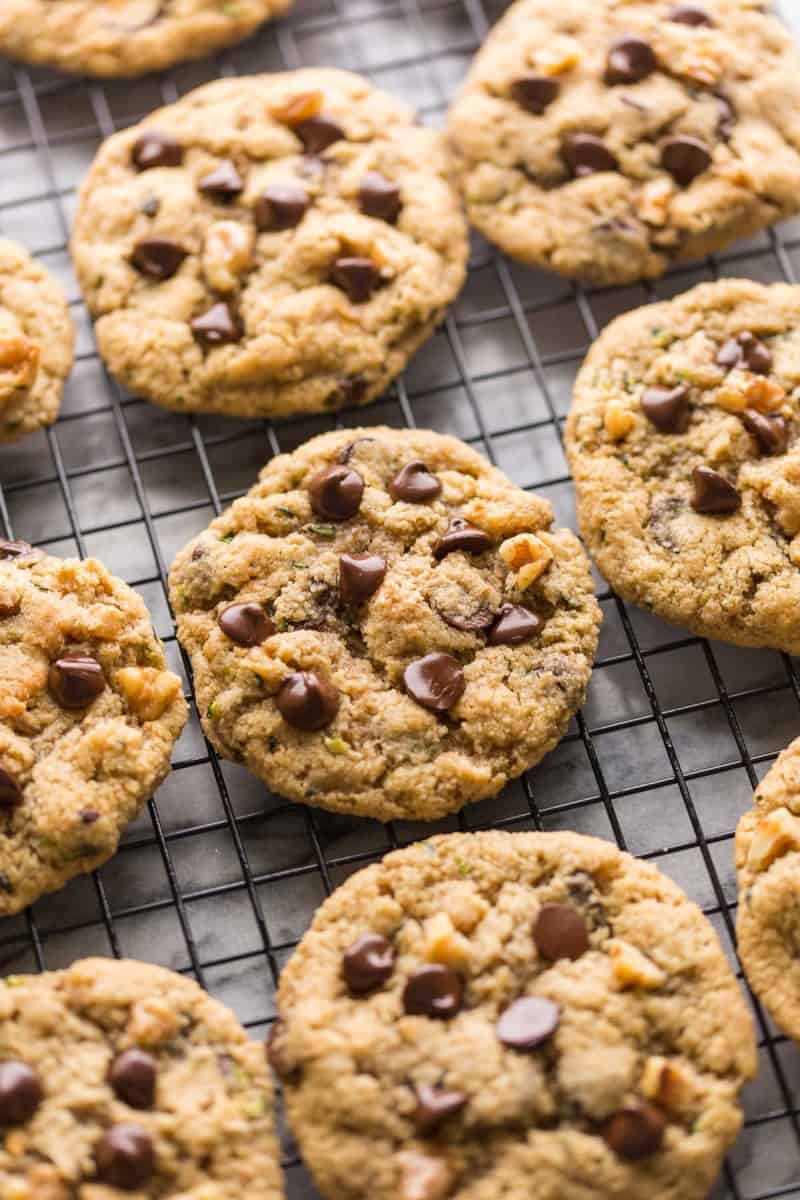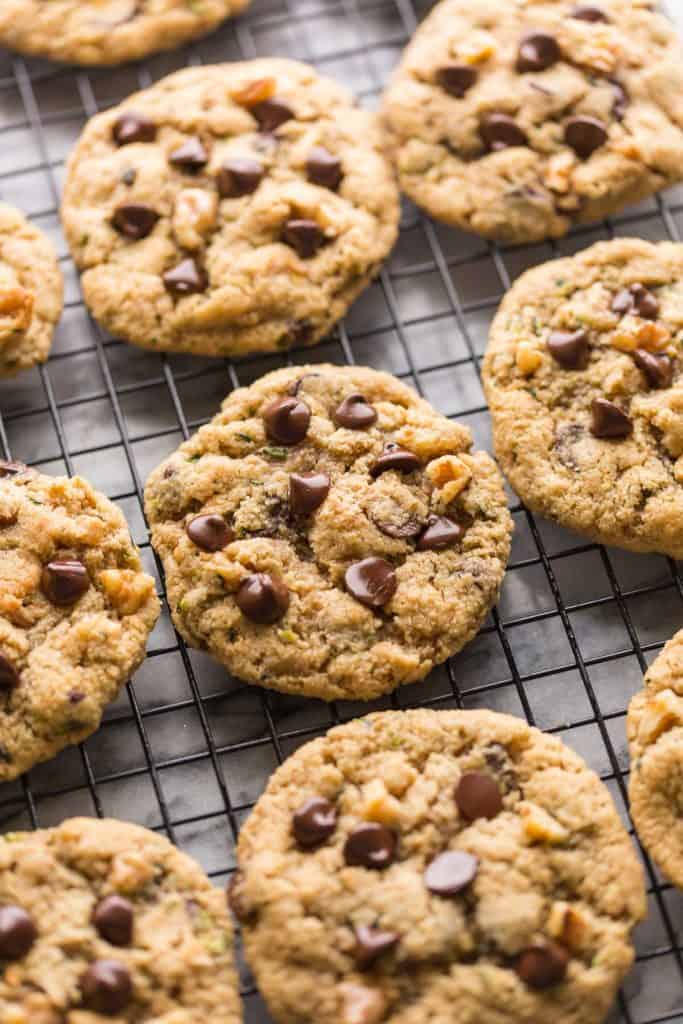 How to Make this Almond Flour Zucchini Cookies Recipe
The Zucchini
Start out by shredding the zucchini using the large holes on a box grater. You'll need about one loosely packed cup of shredded zucchini. You will need to lightly blotting the shredded zucchini with a clean kitchen towel or a paper towel before adding it to the dough later. The idea here is that you want to reduce the amount of excess water added to the recipe. The zucchini is great because it adds moisture to these cookies, but too much moisture will make for cookies that are soggy or to cakey in the end.
How to Measure the Zucchini
Zucchini can be a tricky ingredient to measure for a number of reasons. Water content, squash size and even grating size can effect how much you end up with. (Read more about Basic Cook Conversions and Measurements here).
For the most accurate measurement, weigh out the zucchini using a kitchen scale. One loosely packed and blotted cup of zucchini weighs about 4 oz.
Prep the Dough
Begin with the wet ingredients: Combine the butter, sugars (a combination of mostly brown sugar with a little but of white sugar) and vanilla extract a large mixing bowl with an hand mixer or in the bowl of stand mixer. Beat together on a medium speed until well combined.

Tip! Room temperature butter is recommend to easily cream the butter and sugars.

Add the dry ingredients: Add the almond flour, baking soda, salt and cinnamon to the wet ingredients and mix well. The dough might look a bit sandy at first glance, but if you pinch off some dough with your fingers it should easily come together.
Add the zucchini: Mix in the shredded zucchini. After adding the zucchini you should really notice the mixture start to form a soft dough.
Stir in chocolate chips and walnuts: I prefer using semi-sweet or dark chocolate chips in these cookies, but you can use white or milk chocolate if you prefer. The walnuts are an optional (but recommended) ingredient. They add an extra element of crunch that really elevates the overall recipe.
Roll into balls: Scoop out balls about heaping 1 1/2 teaspoons worth at a time. If you have a kitchen scale use it to weigh out about 50 g of dough each for even cookies. Once portioned out, roll into balls and place on to your prepared baking sheet.

Note about the cookie sheet: You're going to need a few cookie sheets here because you need to let your cookies cool fully on the baking sheet before moving them. Because there is no egg to bind everything together these cookies will be delicate until they have set fully. If you try to move the cookies too soon they will likely fall apart.
Once the dough has come together it's simply just a matter of baking until golden and cooling until the cookies have set!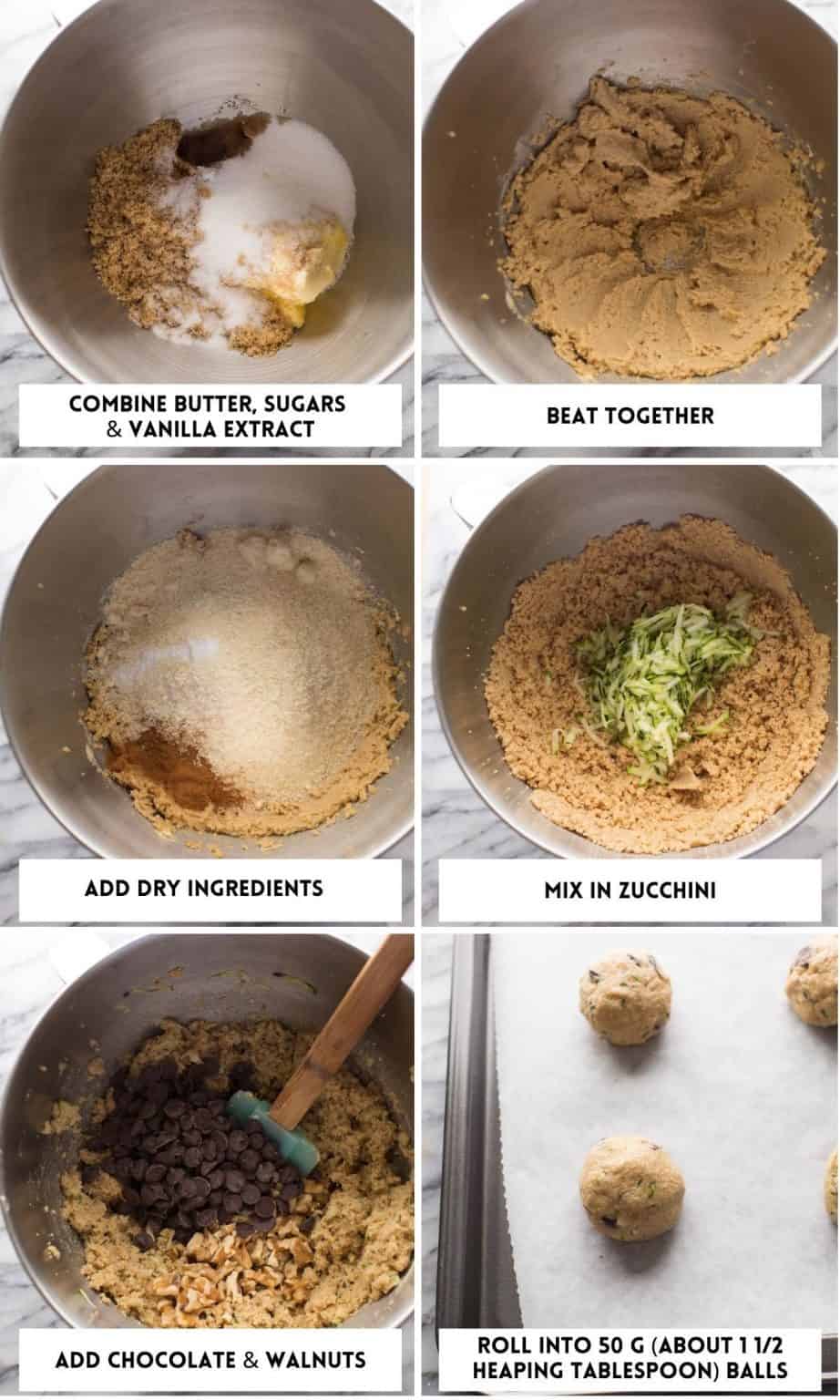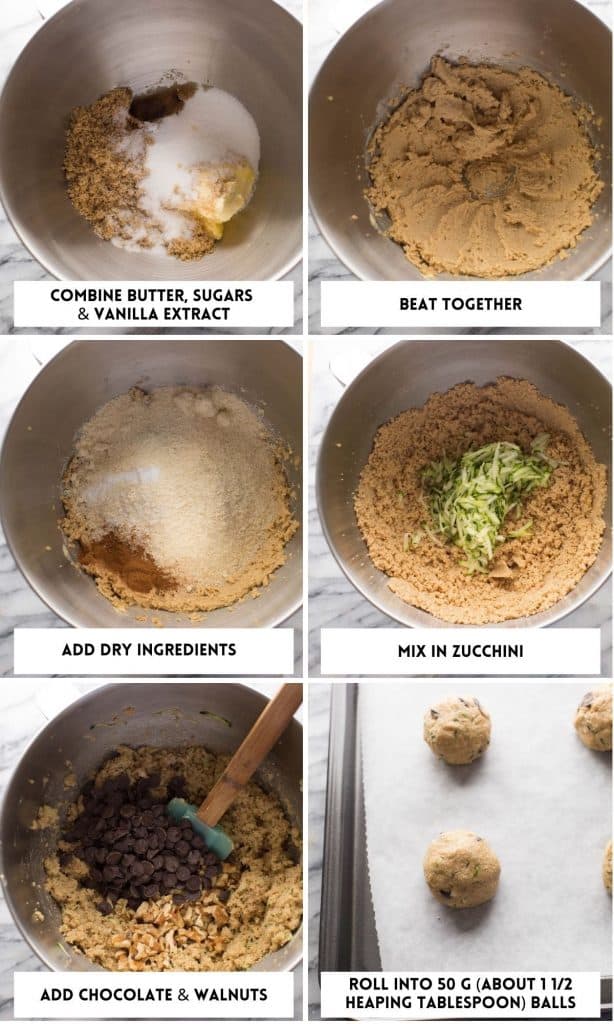 Substitutions & Additions
Chocolate Chips >> Butterscotch or Peanut Butter Chips

Swapping out standard chocolate chips of flavoured chocolate chips is a great way to spruce up the flavours and go for something different!

Walnuts >> Other Nuts

Chopped pecans, almonds and even coconut flakes will work in an easy swap for walnuts. For a more interesting flavour you can also use toasted nuts.

Chocolate Chips >> Raisins

Not keen on chocolate? You can sub all of half of the chocolate chips for raisins. Dried fruit will add a different kind of chewiness to these cookies!

Almond Flour >> Almond Meal

Almond flour is essentially just almond meal that has been more processed to be a finer texture. You can't always swap out almond meal and almond flour interchangeably, but in this recipe you can as long as you weigh out the almond meal using a kitchen scale. If you don't properly weigh out the almond meal you won't get the right amount and your cookies are more likely to spread.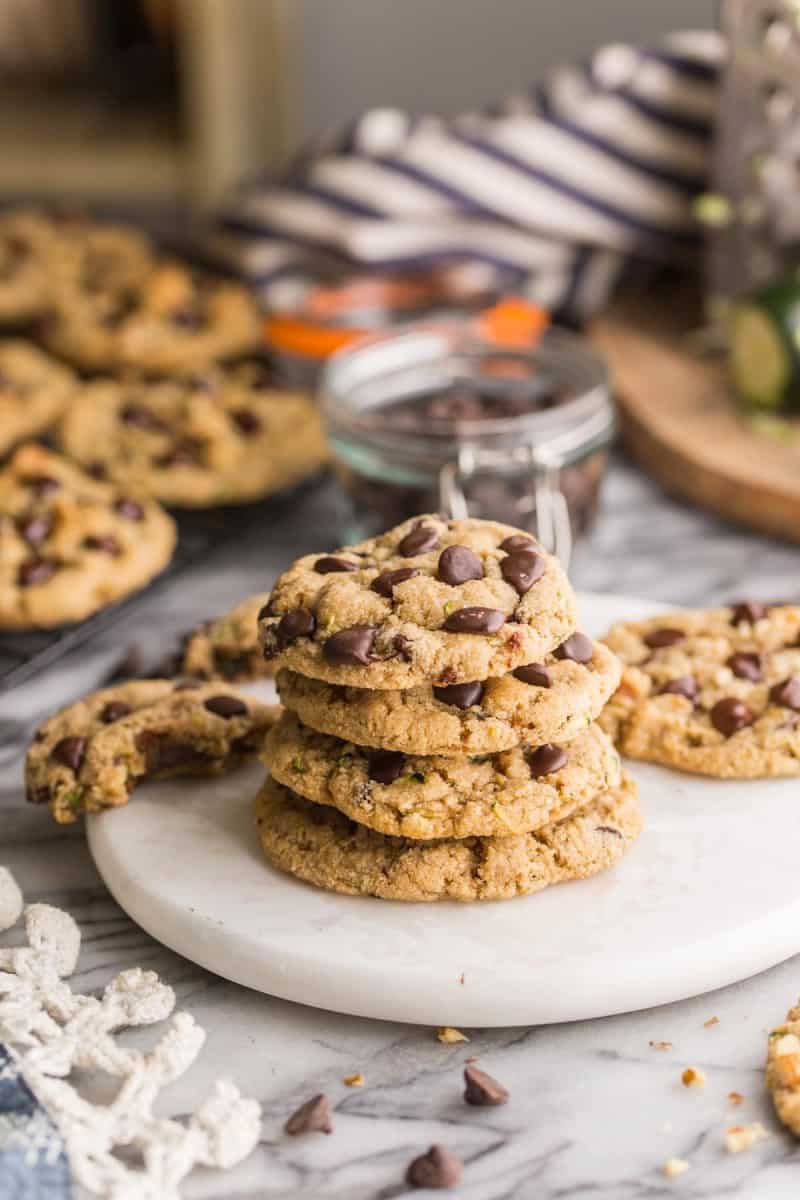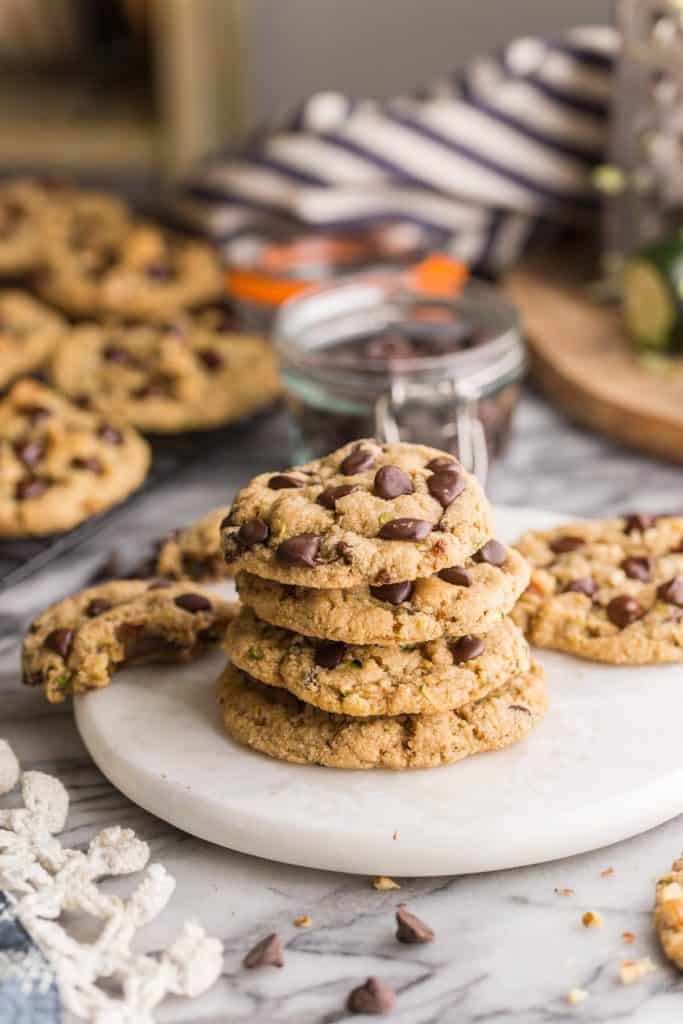 Freezer Tip
Freeze cookie dough:

Roll cookie dough into balls and place in the refrigerator for an hour or so.
Once the balls have chilled and hardened place in a ziplock bag and store in the freezer for up to 3 months.
When you're ready for cookies simply bake from frozen – just add an extra 2-3 minutes to the overall bake time.
You may also want to write down the date frozen on the freezer bag as well as the bake temperature and time.
Freeze baked cookies:

Once fully cooled place the cookies on a baking sheet you can fit in the freezer.
Place in the freezer until solid and then transfer the cookies to a bag or Tupperware container – place a small sheet of baking parchment in between each cookie to prevent cookies from freezing together.
Cookies will keep up to 3 months in the freezer.
You can enjoy frozen cookies straight out of the freezer or allow them to thaw in the fridge overnight.
Storage Tip
Once your cookies have fully cooled they'll be set enough to easily handle. You can keep them covered and left at room temperature for about 5 days or stored in an airtight container for a week. I recommend keeping them in the fridge for a summer treat that's cool and satisfying!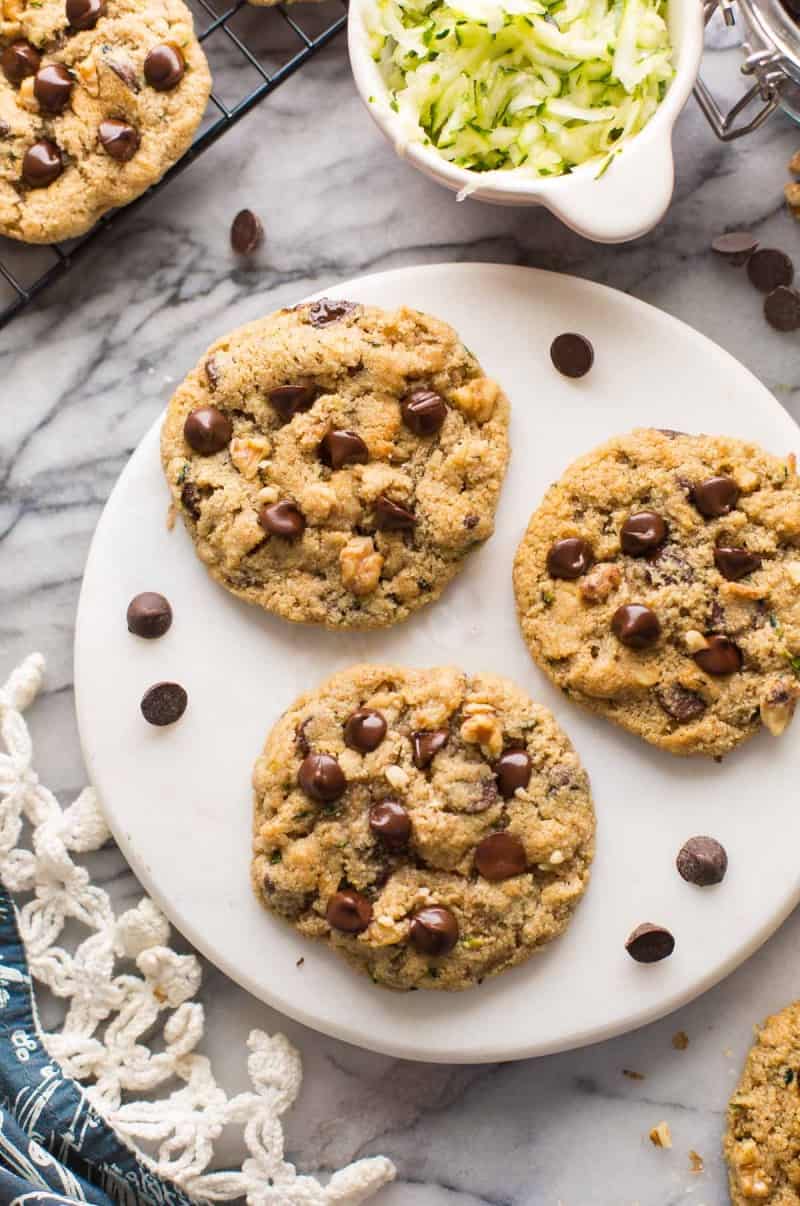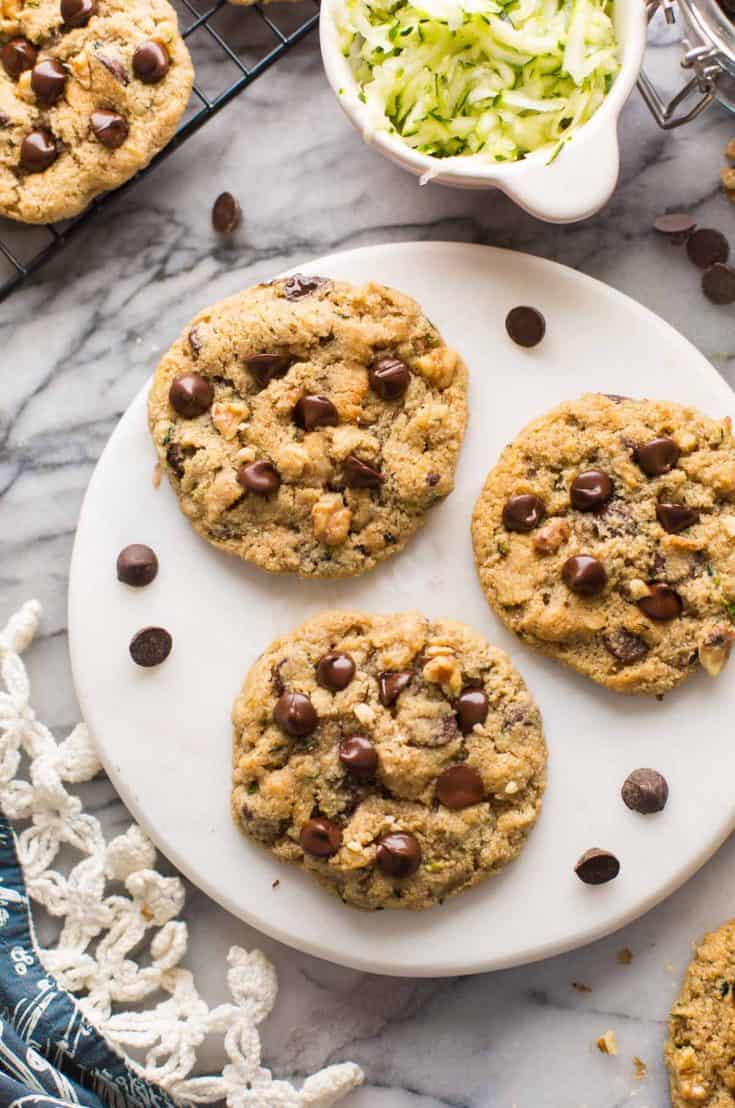 Recipe
Almond Flour Chocolate Chip Zucchini Cookies
Yield:
18 cookies
Prep Time:
15 minutes
Cook Time:
15 minutes
Total Time:
30 minutes
Soft, chewy and not at all cake-y - these almond flour zucchini cookies are a must make!
Ingredients
1/2 cup | 113 g softened room temperature butter (dairy or non dairy)
3/4 cup | 165 g light brown sugar
1/4 cup | 50 g white granulated sugar
1 teaspoon vanilla extract
2 3/4 cups | 264 g almond flour
1 teaspoon ground cinnamon
1/2 teaspoon sea salt
1/2 teaspoon baking soda
1 lightly packed cup | 4 oz shredded zucchini (lightly blot the zucchini before measuring)
1/2 cup |128 g chocolate chips (dairy free if needed)
1/2 cup | 58 g chopped walnuts (optional)
Instructions
Preheat oven to 350°F/177°C. Line a couple of large cookie sheets with baking paper. Set aside.
In a large mixing bowl beat together the butter and sugars with an electric mixer or stand mixer. Add the vanilla extract and mix until combined.
Add the almond flour, cinnamon, salt and baking soda. Mix on a low speed until a soft dough forms.
Add the zucchini and continue mixing on a low speed until it well evenly distributed throughout the dough.
Mix in the chocolate chips and walnuts (if using). The dough should be thick and soft at this point.
Scoop out large clumps of dough, about 1 1/2 tablespoons or 50 grams worth, and roll in balls. Place on your prepared baking sheets. Leave at least 2 1/2 inches in between each ball to leave room for spreading.
Bake for 11-12 minutes until the edges have goldened slightly. If you want crispier edges bake 12 minutes.
Notes
Let the cookies cool fully on the baking sheet before moving them. If you try to move them too early they will fall apart. Just be patient. Once they are cooled you won't know they difference!
Storage: Keep these cookies covered at room temperature for about 5 days or in an airtight container in the fridge for a week.
This website provides approximate nutrition information for convenience and as a courtesy only. Nutrition data is gathered primarily from the USDA Food Composition Database, whenever available, or otherwise other online calculators.