One bowl and about 40 minutes to get these gluten free vegan spiced Banana Zucchini Muffins loaded with fruit, veggies, and spices. The perfect grab and go snack.
 I had three of these banana zucchini muffins for breakfast this morning. I regret nothing.
I have never understood how anyone can consider a single muffin as a viable breakfast option. Two muffins? Maybe. One muffin? Never. That's like saying a bread roll is good enough for dinner. How do you stop yourself from eating just one? When something is that good, I lose all sense of self restraint. And trust me – these are that good.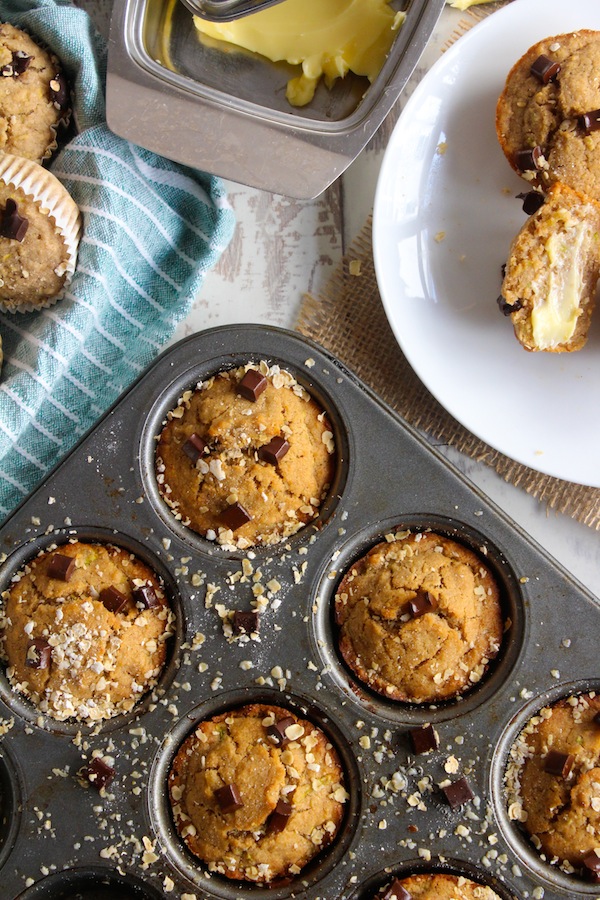 Not only are these gluten free, but they're also vegan. Six zucchinis, four bananas, and three attempts (and a LOT of dirty dishes) went into  testing this recipes and I couldn't be happier with the end result – and I think you'll love it too. Fortunately for you the amount of dishes that went into testing this recipe is not at all representative of what you'll end up with because all you need is one bowl, one mixer, and one muffin tin.
Yield: 9 -12 muffins
Spiced Banana Zucchini Muffins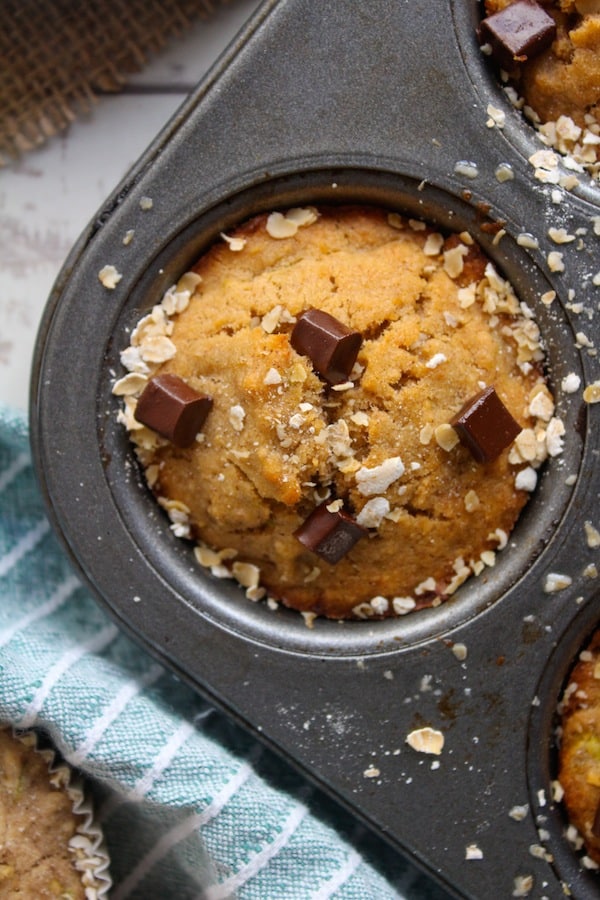 One bowl and about 40 minutes to get these gluten free and vegan spiced Banana Zucchini Muffins.
Ingredients
1/3 cup (70 grams) coconut oil, melted
1/4 cup (54 grams) light brown sugar, packed
1/4 cup (60 ml) unsweetened almond milk (or dairy free milk of choice)
2 teaspoons vanilla extract
1 tablespoon cinnamon
1 teaspoon nutmeg
1 cup ripe mashed bananas, (about 2 small/medium bananas)
1 cup (150 grams) shredded zucchini, or one medium sized zucchini
3/4 cups (105 grams) gluten free all-purpose flour
3/4 cup (60 grams) oat flour
1 tablespoon baking powder
pinch salt, , optional and to taste
2 tablespoons dairy free chocolate chips
Instructions
Preheat oven to 400F/200C. Grease a 12 cup muffin pan and set aside. I don't recommend using paper liners with these muffins - use silicone cups or just grease the muffins cups well.
Add the melted oil, brown sugar, almond milk, and vanilla to a large bowl and whisk to combine. Add the mashed banana.
Before adding the zucchini, remove some of the excess moisture by wrapping the shredded zucchini in a paper towel and squeezing out the extra water. Give the zucchini a couple good squeezes, and then add it to the banana mixture and combine.
Add the flours, cinnamon, nutmeg, baking powder, and pinch of salt to the bowl and mix everything together.
Spoon the batter into the greased muffins tins. You can make 12 mini muffins, or 9 average sized muffins. Sprinkle the tops with the chocolate chips and bake for 10 minutes at 400F/200C. After 10 minutes, reduce the heat to 350F/180C and bake an additional 15 minutes or until the center comes out clean when you stick it with a tooth pick.
Cool for a few minutes and enjoy.
Nutrition Information:
Yield:
9
Serving Size:
g
Amount Per Serving:
Calories:

236
Saturated Fat:

8g
Sodium:

15mg
Carbohydrates:

32g
Fiber:

3g
Sugar:

13g
Protein:

3g
Recipe adapted from Averie Cooks