Crunchy, grain free banana granola made with mixed nuts, seeds, natural sweeteners and mashed bananas for easy homemade breakfasts and snacks on the go.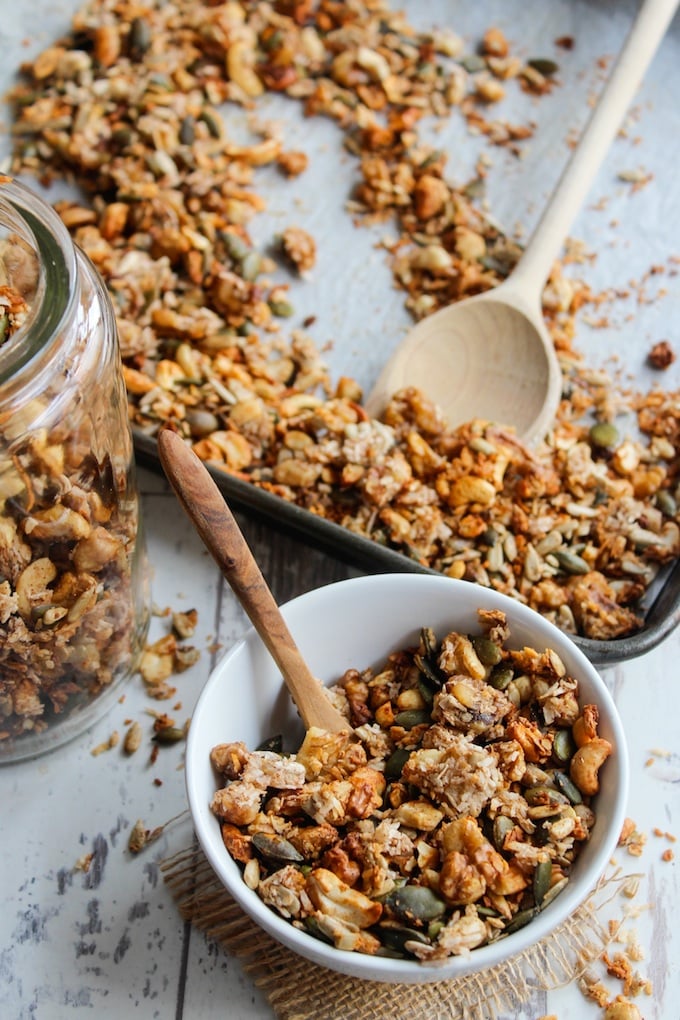 Acupuncture – do any of your guys have experience with it?
Mike and I were at the hospital today for one of his POTS appointments and his doctor actually gave us a number for an acupuncturist to help him cope with some of his symptoms. He told us that not only did he know a few patients who were successful in managing their symptoms with it, but the acupuncturist actually has POTS herself. Talking to her in any capacity to see how she manages to cope with a job that requires standing on her feet all day will be massively helpful. Standing on your feet for any prolonged period of time is the last thing you want to do when you have POTS because it's known to exacerbate the symptoms and can often lead to dizziness and fainting.
It's difficult to gauge sometimes what symptoms to attribute to what illness. Originally Mike was diagnosed with ME/Chronic Fatigue Syndrome when he was 12. Now that we realize that he had Coeliac Disease and POTS all the time it's hard to know if it was the POTS/gluten consumption that caused him so many problems, or if it is the Chronic Fatigue. To be honest, we don't even know if he even has Chronic Fatigue, or if it was the POTS all along. At any rate, there are quite a lot of symptoms that he experiences that are typical of people with both ME and POTS (and Coeliac Disease) that impact on his day to day life.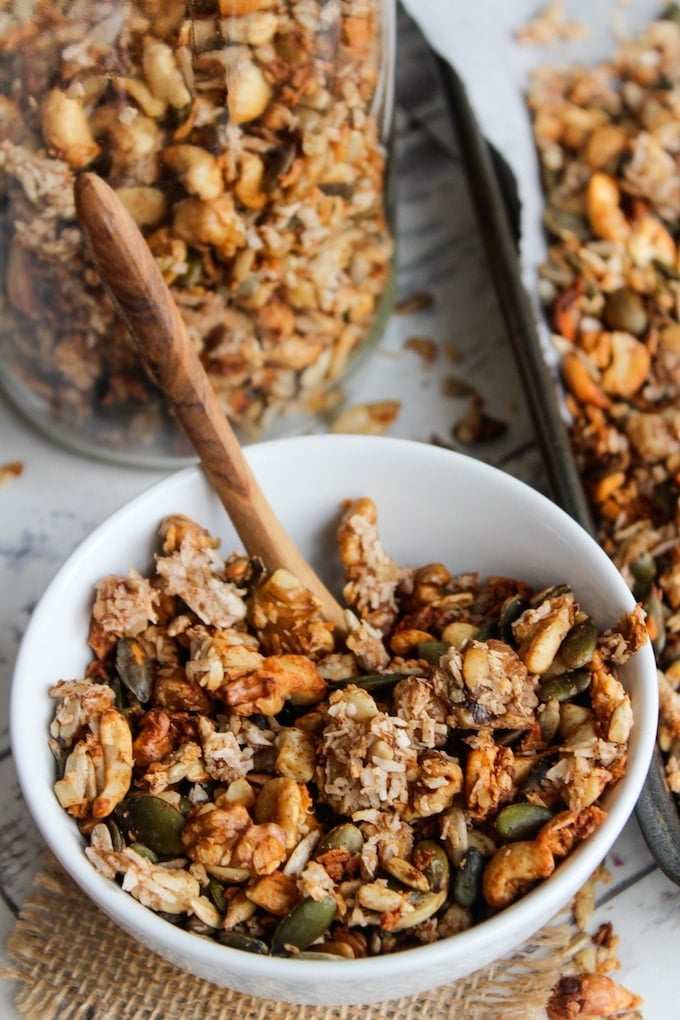 Currently, the most frustrating issue is poor sleep pattern. There is probably one week out of every month where he sleep pattern gets so out of whack that he isn't able to fall asleep until morning and wakes up at night. It's not for a lack of trying by any means – he'll stay up for hours trying to force himself to sleep at a normal time. In the end he just has to slowly force his body to wake up an hour or two later day by day until it's in a normal pattern again. After many extensive google searches concerning his health problems it became obvious that sleep disorders are just another problem that POTS patients put up with on a daily basis.
So when Mike's sleep is less than ideal and he's waking up as I'm going to bed, I like to make food for him that's easy to prepare and enjoy with little to no effort. In times like those making some sort of cereal or granola is a no brainer. Nothing is easier to prepare than a bowl of granola with a little added milk if you choose. The day, the mood, and whatever is stocked in our kitchen usually dictates the type, and today's flavour of the day is this banana granola. After realising that I was dangerously low on sweetener and it was too late in the evening to run to the store I reached for the nearly blackened bananas that I was saving to make banana bread with and decided to just go with the flow. Banana bread out, banana granola in. As far as happy accidents go, this one smelled the best.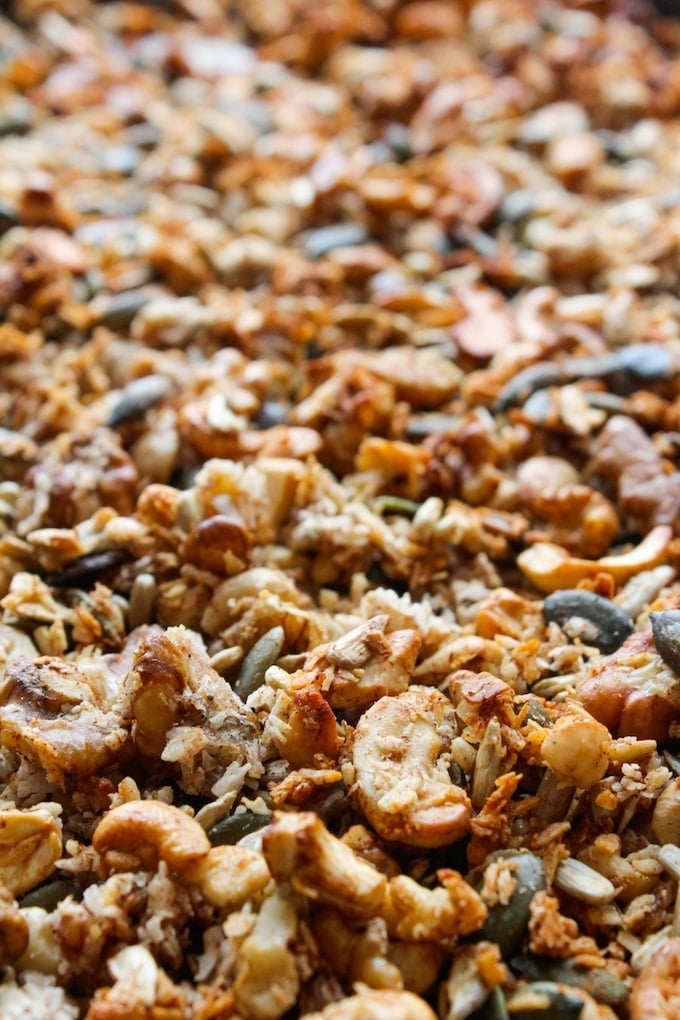 I normally reserve my granola making for times like mentioned earlier, when Mike's sleep gets funny, but after making this he actually requested I make it again soon after. While I realize that making grain free granola isn't exactly cheap, it saves me the effort of always needing to make something fresh from scratch. If I had one issue with the whole 'eat clean' thing it would be that there is really no such thing as fast food ready in a moments notice. There is only so much fruit I want to eat in a day, and as much as I actually like spinach, I don't really want to eat a bowl of it as a snack. For that reason (and the fact that I just really enjoy eating granola by the fistful) I love any excuse to make batch.
Please do let me know if you've tried acupuncture – I'd love to know your thoughts. I'm quite looking forward to seeing how it goes. I was actually pretty pleased when his doctor recommended someone. I've mentioned it before to Mike in the past, but I think he might have thought it was a bit too hippy dippy. At this point we're willing to try out anything that helps – especially if it helps his sleep issues.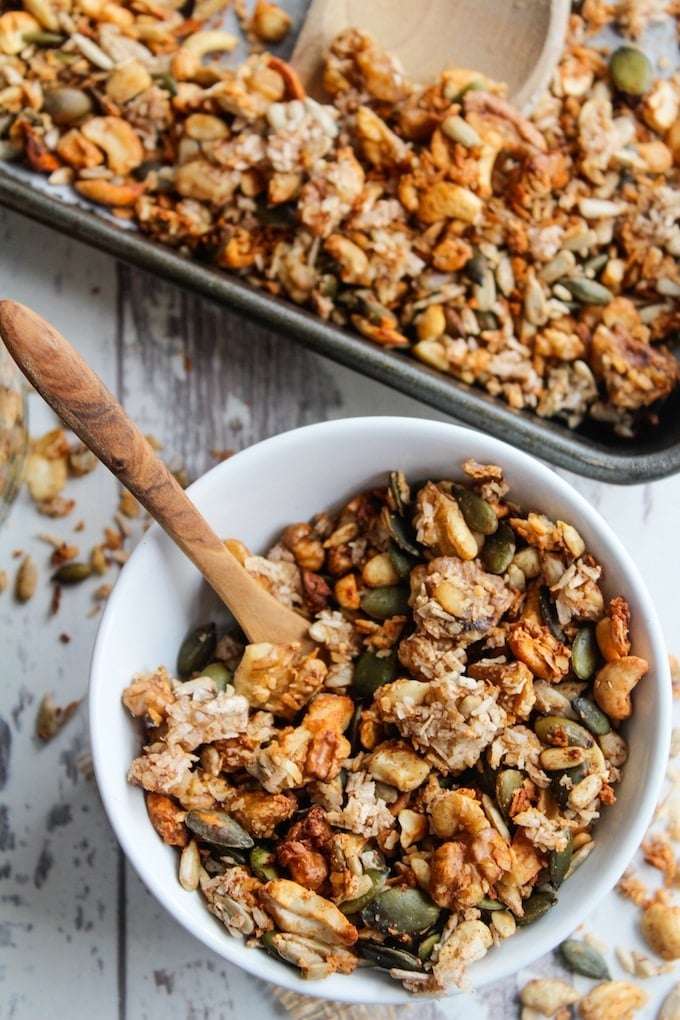 FACEBOOK | INSTAGRAM | PINTEREST  
Don't forget to #asaucykitchen on instagram if you try this Grain Free Banana Granola! I love seeing what you make with!  You can also post your pictures to our facebook page!
Yield: 9 servings
Grain Free Banana Granola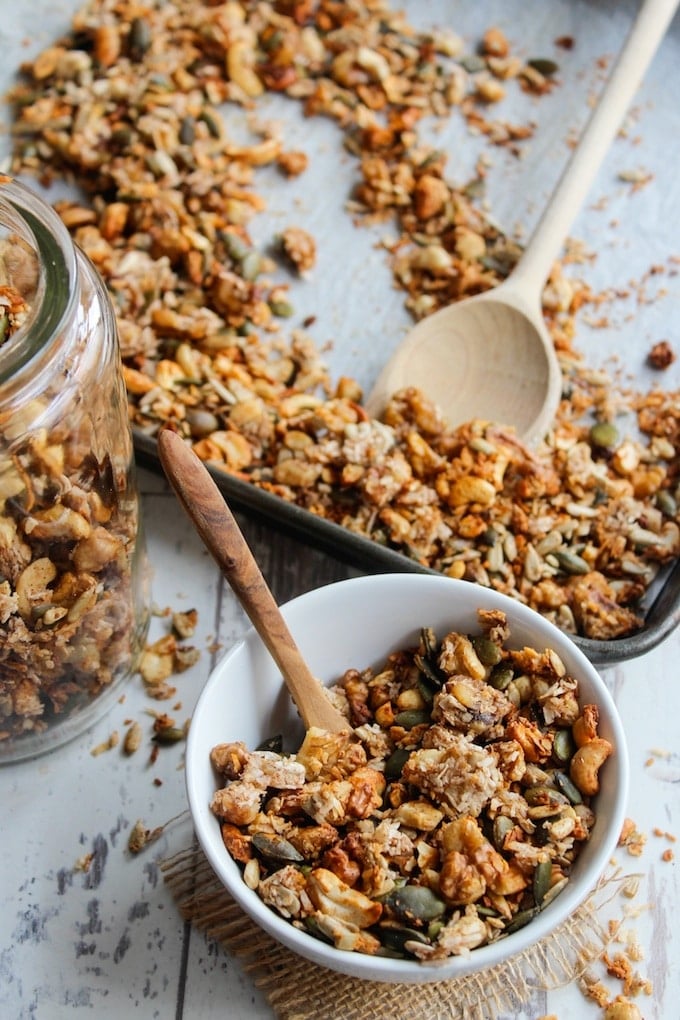 Crunchy, grain free banana granola made with mixed nuts, seeds, natural sweeteners and mashed bananas for easy homemade breakfasts and snacks on the go.
Ingredients
1 cup | 42 grams raw cashews, roughly chopped
1 cup | 125 grams raw walnuts, roughly chopped
1 cup | 93 grams shredded or desiccated unsweetened coconut
1/2 cup | 65 grams pumpkin seeds/pepitas
1/2 cup | 70 grams sunflower seeds
1 teaspoon nutmeg
2 teaspoons cinnamon
1/4 cup 60 ml coconut oil, melted
2 medium bananas, ripened and mashed
2 tablespoons maple syrup or honey if you don't need it to be vegan
2 teaspoons vanilla extract
Instructions
Begin by heating your oven to 350°F/180°C. Line a large baking tray with parchment paper ready for your granola.
In a large mixing bowl combine your chopped nuts, seeds, desiccated coconut, cinnamon, and nutmeg.
In a medium sized mixing bowl mash the bananas with a fork. Stir in the melted coconut, vanilla extract, and maple syrup.
Pour the banana-oil mixture over the granola and stir it all together making sure that every bit is coated in the banana mixture.
Spread the granola out on the lined baking tray in an even layer and bake in the oven for 30-35 minutes. About halfway through remove the pan to gently stir the granola so that it cooks evenly. Once it reaches a golden brown colour, remove and cool before serving.
Notes
one serving is about 1/2 cup
Nutrition Information:
Yield:
9
Serving Size:
cup
Amount Per Serving:
Calories:

388
Saturated Fat:

13g
Sodium:

7mg
Carbohydrates:

20g
Fiber:

4g
Sugar:

8g
Protein:

8g