Healthy, adaptable, easy and delicious – who needs the expensive, store bought stuff when you can make your very own grain free granola in no time! This oat-free recipe is ideal for anyone following a gluten free, low carb or paleo diet.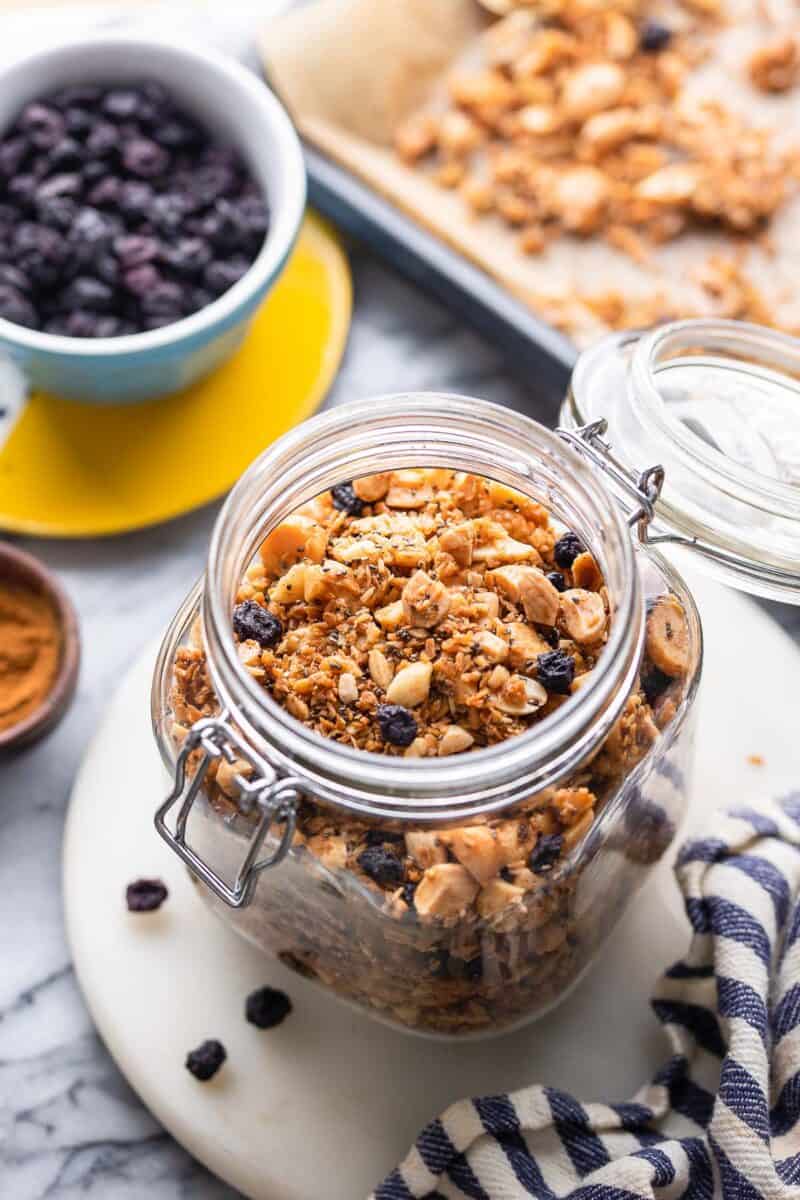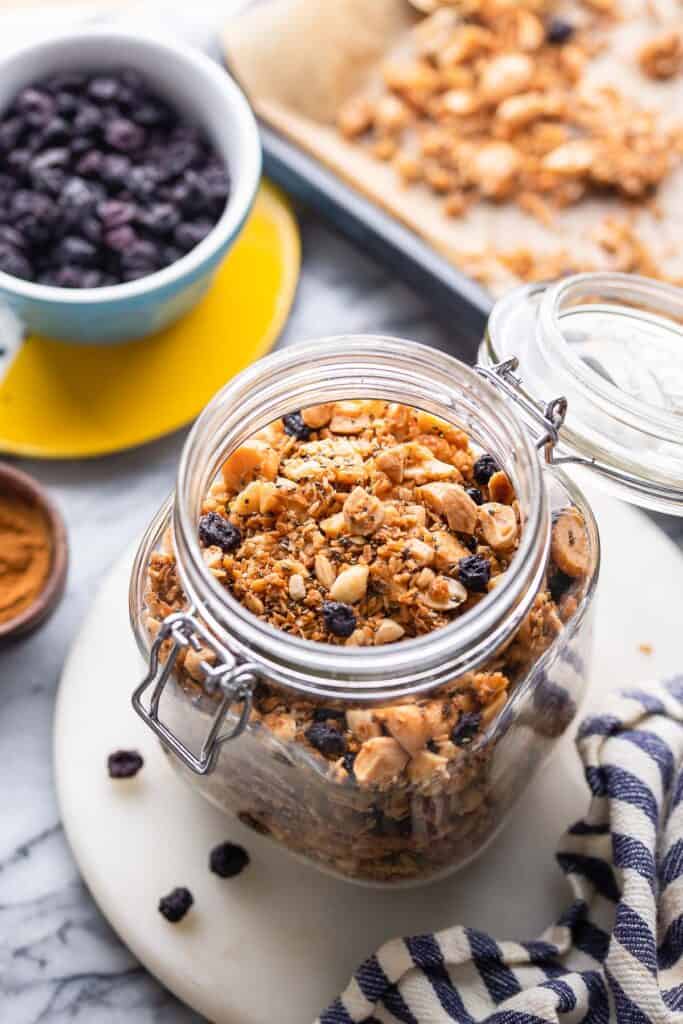 Why a grain-free granola?
Good question! There are a few different reasons why a grain free granola might be a better option for you – most of which come down to lifestyle and dietary needs.
Celiac and gluten intolerant people need to be careful extra careful with oats.

Oats can be a tricky ingredient for anyone needing to avoid gluten because of how easily they are exposed to cross contamination.

You can learn more about how to safely consume oats on a gluten free diet in my post: Are Oats Gluten Free?

It's suitable for those on a paleo or low carb diet.

Not only is this a grainless granola, but it's also refined-sugar free granola too! Check out the recipe notes for ways to adjust or substitute the maple to get just the right amount of sweetness for you.

It's made with more nutrient-dense ingredients.

Oats make up the bulk of most traditional granola recipes. Since there are no oats here, this granola includes extra ingredients like nuts and seeds for an even more nutrient-packed treat in every crunchy bite!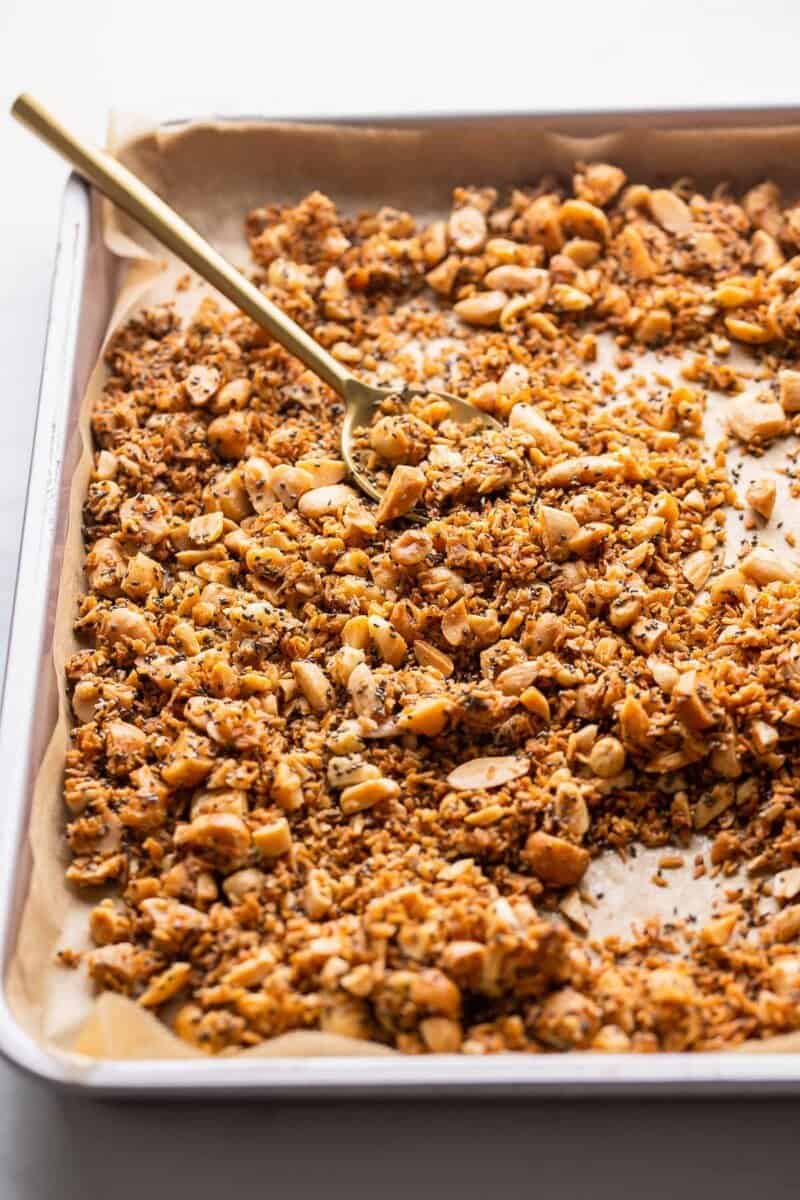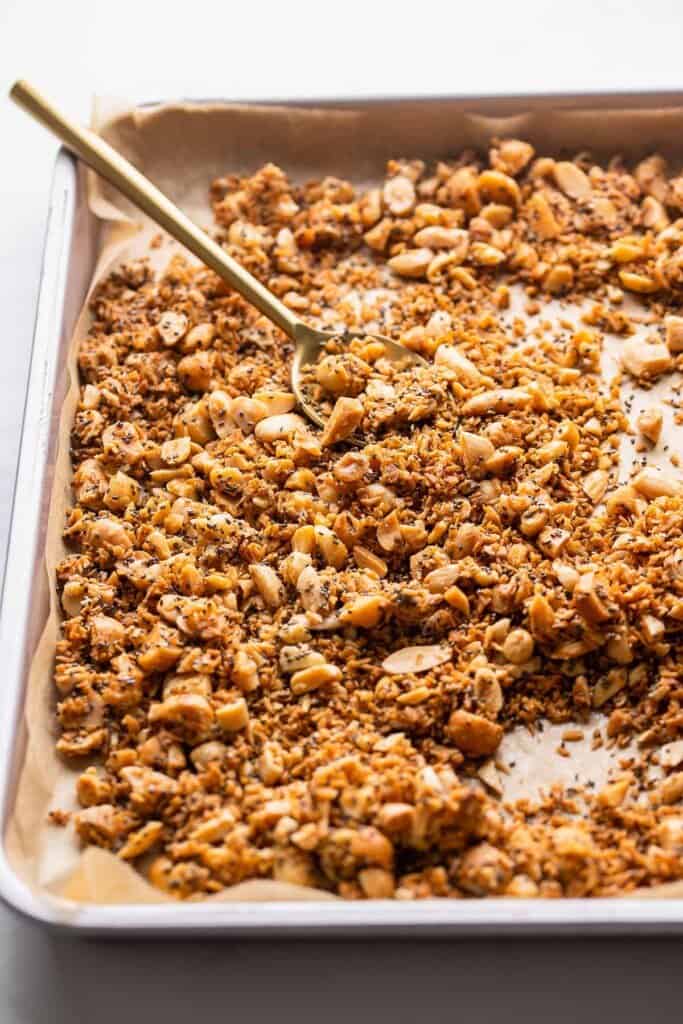 Key Ingredients
Nuts – I used a combination of almonds and macadamia nuts in my granola, but you can really go nuts with the nuts here (sorry not sorry for the pun!). Try this with cashews, brazil nuts, walnuts, pecans, etc.
Shredded or Desiccated Coconut – I recommend you look for unsweetened coconut so that you have more control over the sugar content.

You can add some coconut flakes but you still need either shredded coconut or desiccated coconut to provide the bulk.

Chia Seeds – Chia seeds are incredibly nutrient-rich making them a worthwhile addition to this granola. They're high in fiber, contain a variety of essential vitamins and have zero impact on the taste.
Maple Syrup – Honey also makes for a great substitute for maple. Just keep in mind that it's not technically vegan if that matters to you. Coconut nectar is another possibility if you want to keep this paleo friendly. If you don't need a paleo option – agave syrup will work and it will make for a vegan granola.

If you want to use a low carb sweetener I recommend you try a liquid sweetener with a consistency similar to honey or maple so that the ratio of wet-to-dry ingredients remain the same. Also make sure to check the label of your sweetener for how best to use it as a substitute.

Coconut Oil – You don't need much here – just a few tablespoons will do. A small amount of oil will help make your granola extra crispy and extra toasty. Instead of coconut oil, you can use avocado oil for a more neutral flavor. Olive oil is another great option that will add a slightly savory twist.
Cinnamon – A touch of ground cinnamon will go a long way to add a gently sweet and woody flavor to your granola.
Other Spice Blends to Use Instead of Cinnamon
Healthy Homemade Granola Steps
Altogether this recipe is super easy to make with barely more than a handful of ingredients and little needed! Here it is broken down into a few simple steps: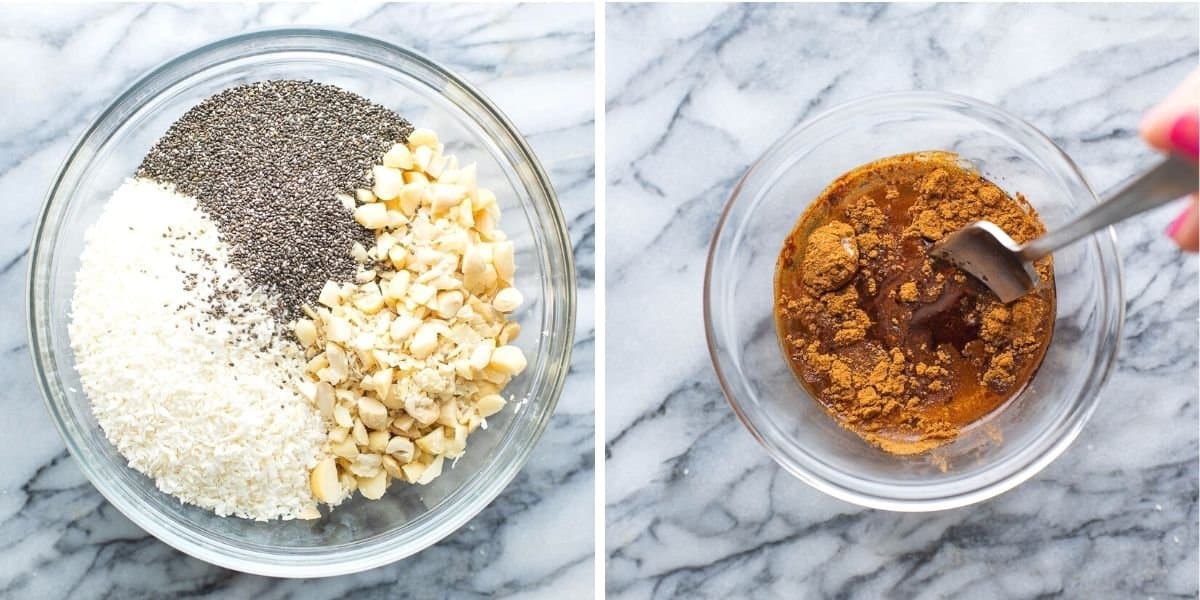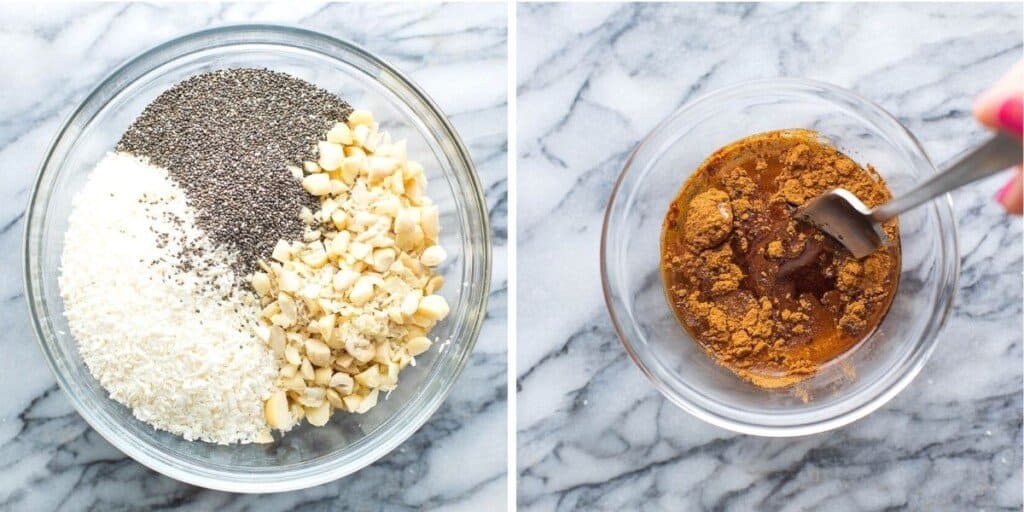 Mix together the nuts and seeds in a large bowl.
Combine the oil, sweetener, cinnamon, vanilla extract and salt in a small cup or bowl.
Pour the wet ingredients over the nut mixture and mix until fully combined.
Spread the granola in an even layer across a prepared baking sheet lined with parchment paper.
Bake for 25-30 minutes until golden and crunchy.
Stir in optional ingredients like dried fruits, chocolate chips and let the granola cool.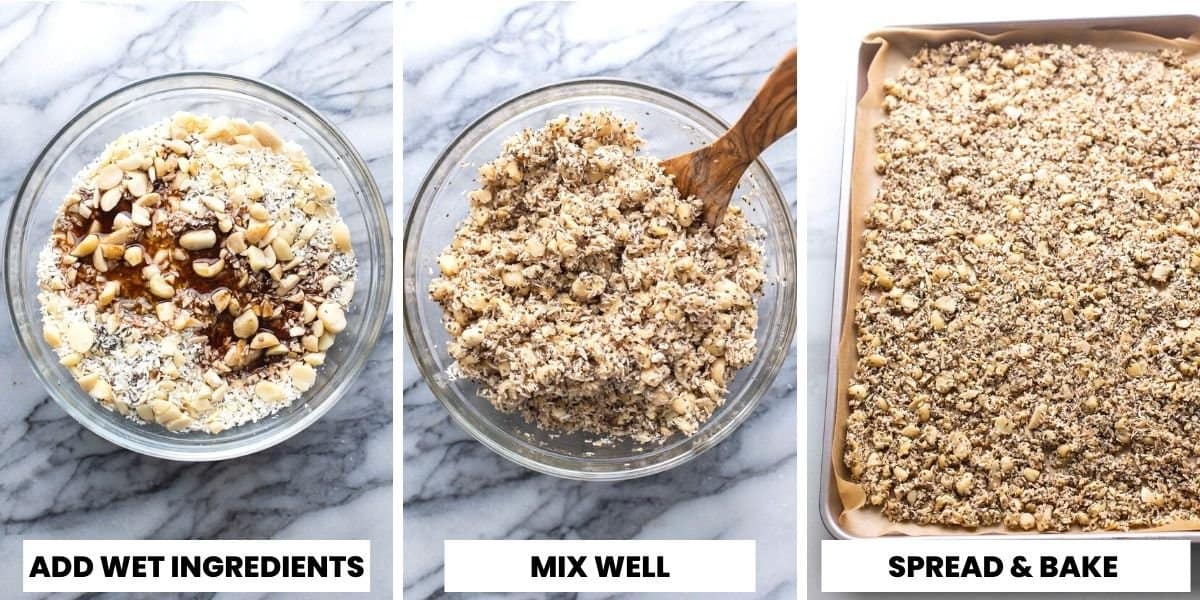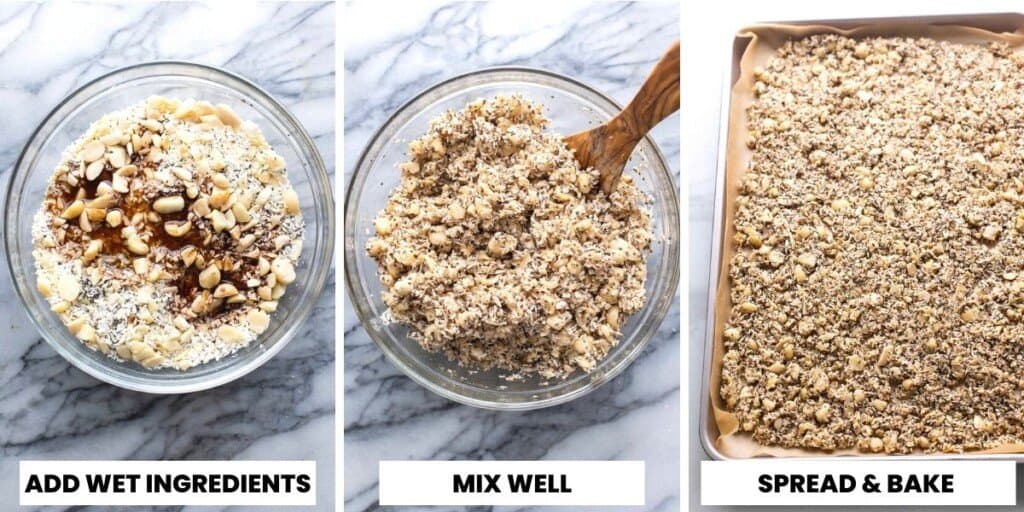 Substitutions and Adaptations
As written, this is a very simple paleo granola recipe which can be adapted quite easily to make it your own!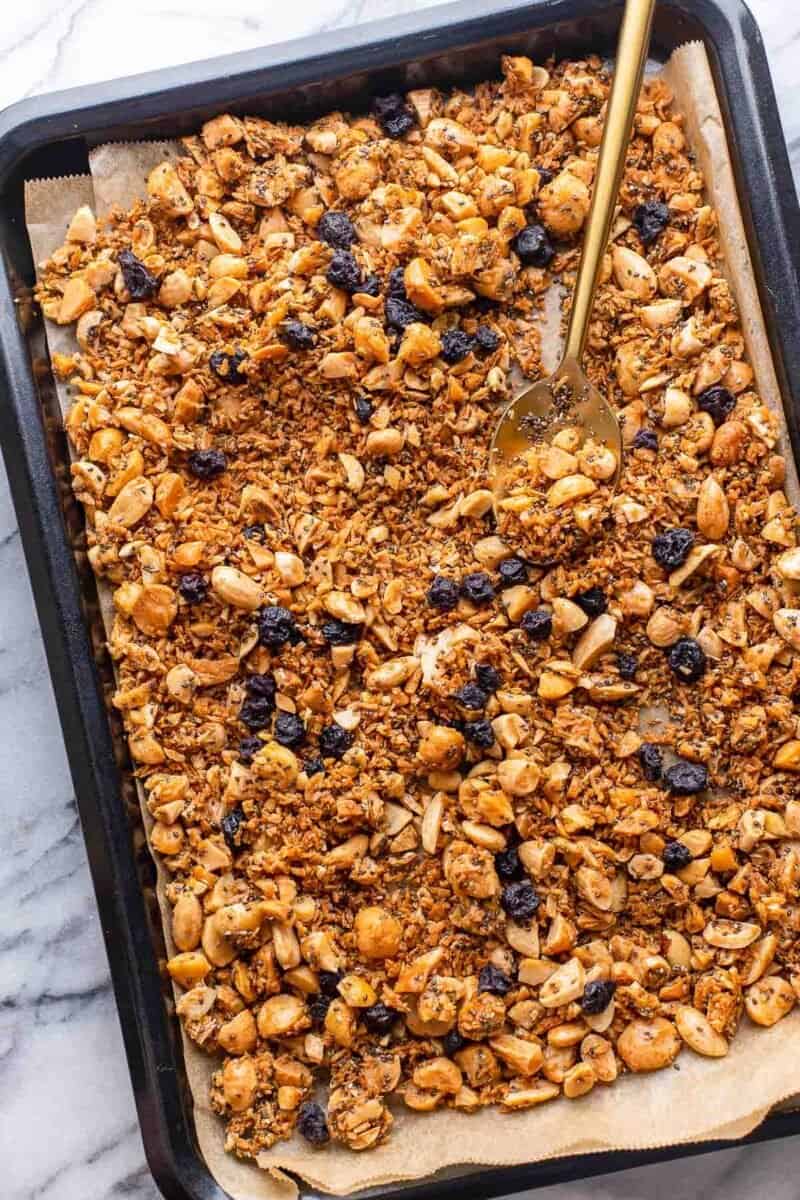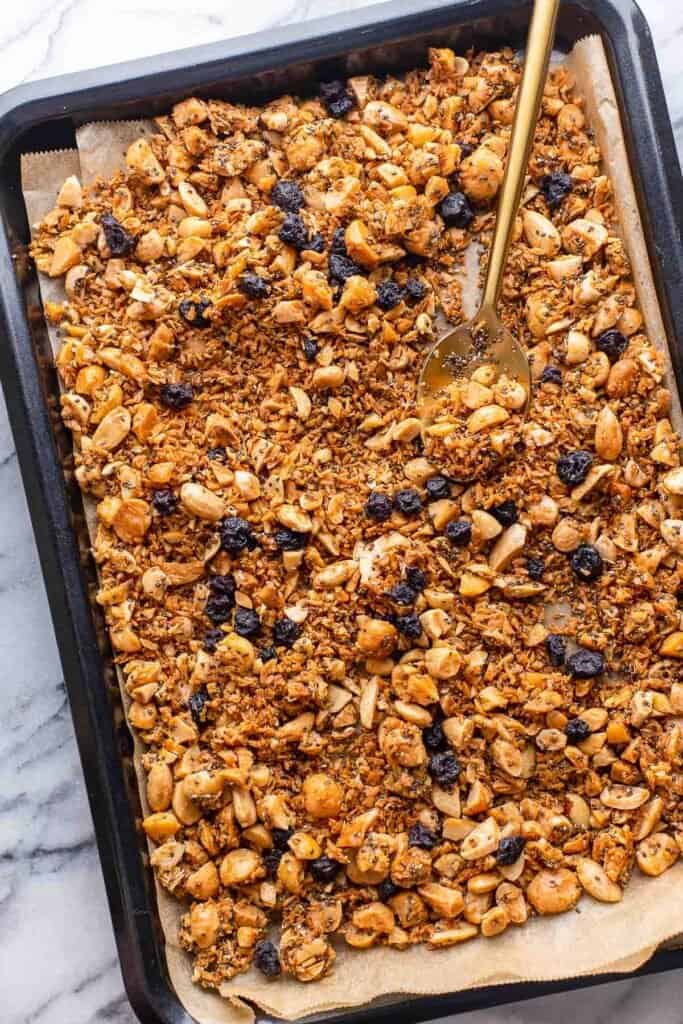 Here are a few ideas for ingredients additions you can include to make your own granola unique to you!
Dried Fruit – Add dried blueberries, cherries, apricots, chopped dates, etc. Dried fruit will add a little extra natural sweetness and texture.
Chocolate Chips – After the granola has cooled, mix in a small handful of chocolate chips for an extra indulgent treat.
More Seeds – Throw some sunflower seeds, raw pumpkin seeds, sesame seeds and flax seed (aka flax meal). You can add extra seeds or replace about 1/2 cup of the nut mixture with your seed of choice. Check the recipe notes for more tips on how to do this successfully.
Cacao Nibs – Cacao nibs are made from crushed cocoa beans. They are high in antioxidants, contain similar nutrients to chocolate and taste a bit like coffee beans. Sprinkle some nibs in for an extra boost of nutrition.
Egg Whites – Sounds weird, but it makes for nice big clusters of granola! Egg whites basically work like edible glue. Mix in a a couple of egg whites into the granola before baking and that's it.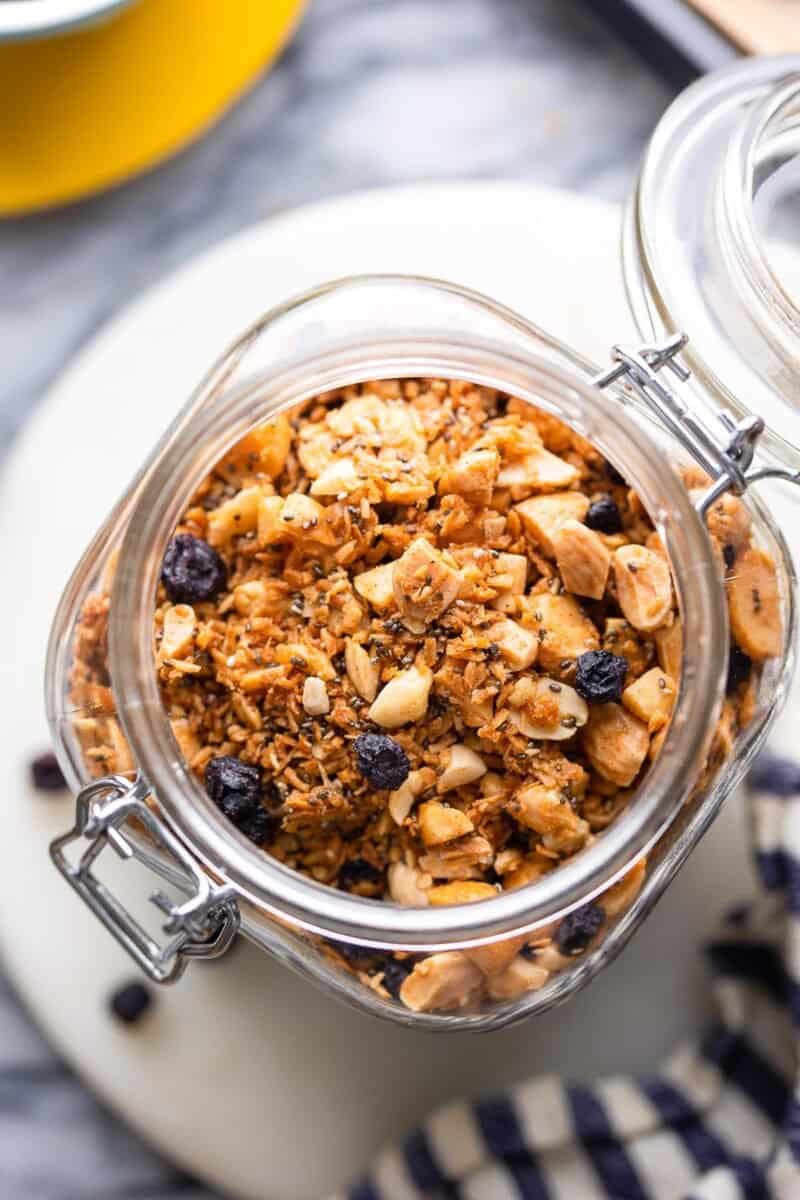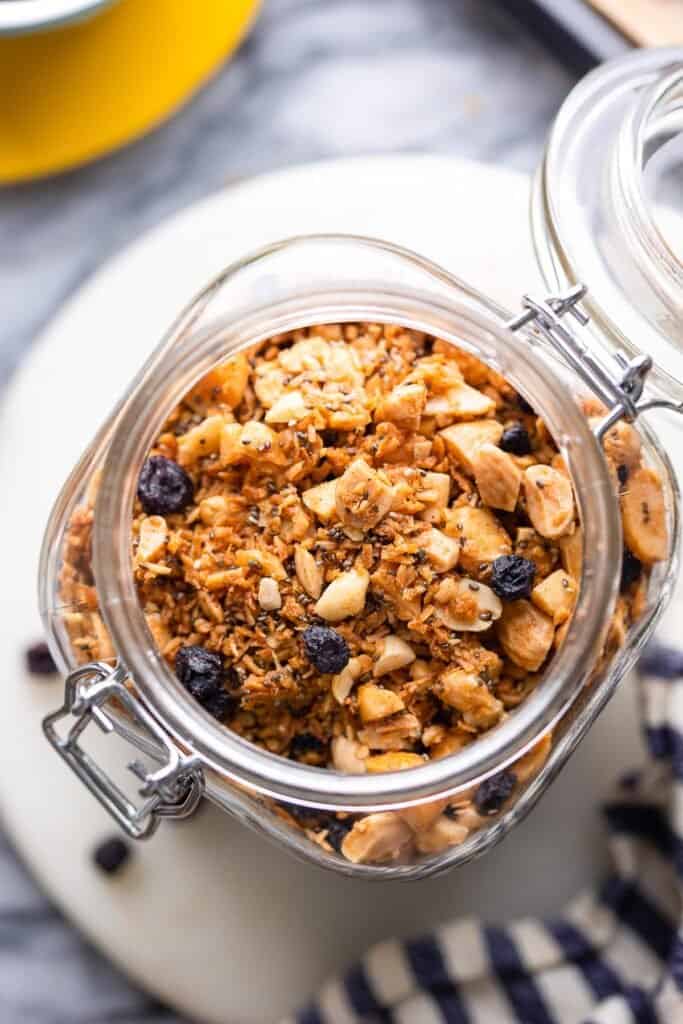 Enjoy your grain free granola sprinkled over greek yogurt, on top of smoothie bowls or by the handful as a quick and healthy snack.
Once totally cool, store in an airtight container and keep at room temperature for up to a month.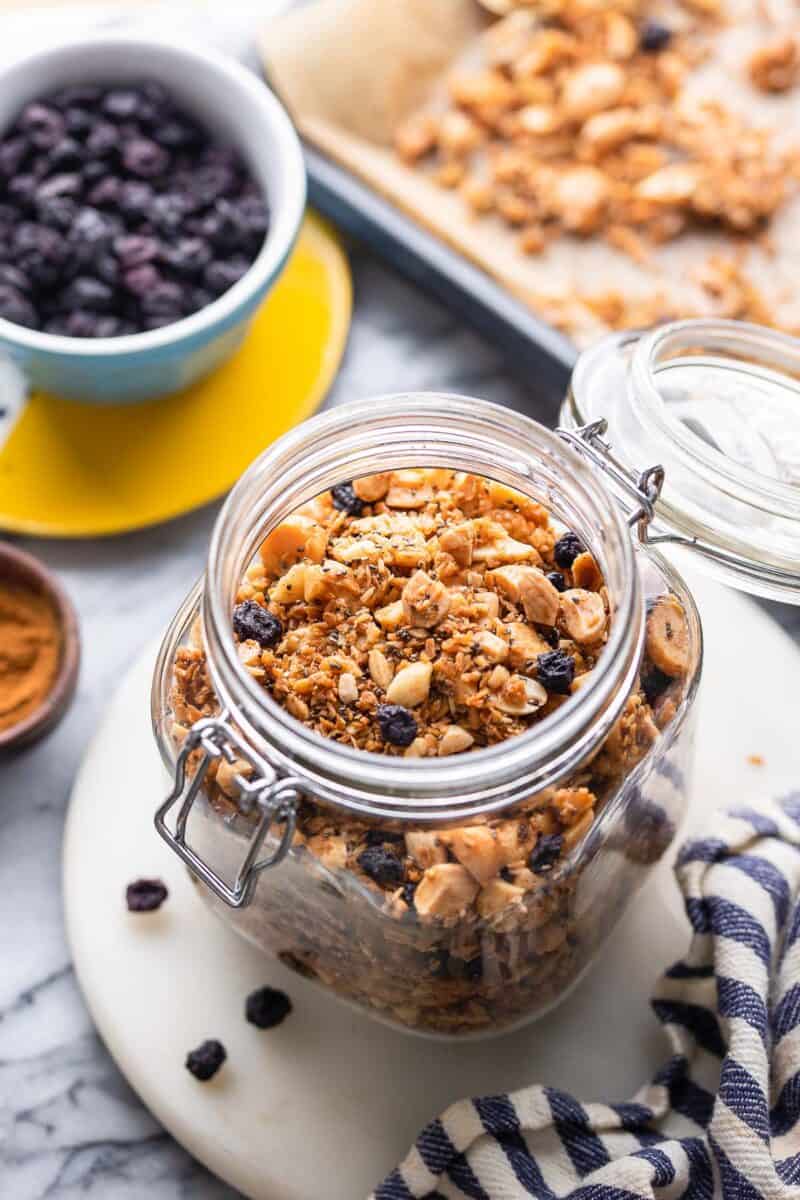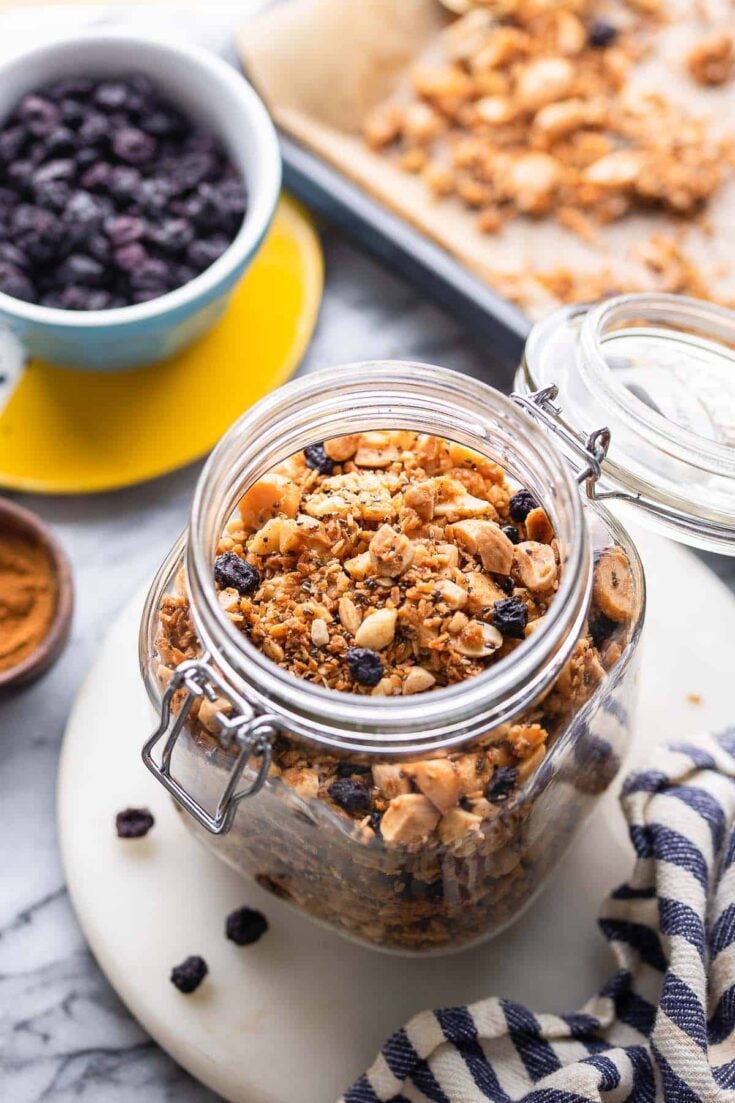 Recipe
Grain Free Granola (Paleo and Vegan)
Yield:
about 3 1/2 cups
Prep Time:
5 minutes
Cook Time:
20 minutes
Total Time:
25 minutes
This oat-free recipe is ideal for anyone following a gluten free, low carb or paleo diet.
Ingredients
2 cups mixed nuts of choice, roughly chopped (or 300 grams)
1 1/4 cups (120 grams) Unsweetened Desiccated Coconut
3 tablespoons (30 grams) Chia Seeds
1/4 cup (80 grams) Maple Syrup (or sweetener of your choice)
3 tablespoons coconut oil (40 grams)
1 teaspoon ground cinnamon
1 teaspoon vanilla extract
Pinch of sea salt
Instructions
Adjust an oven rack to be in the bottom third of the oven. Preheat to 325°F/160°C. Line a large baking sheet (12in x 17in [30.5cm x 43cm]) with baking paper. Set aside.
In a large mixing bowl: add the chopped nuts, coconut and chia seeds. Mix together.
In a small bowl or cup: mix together the melted coconut oil, maple syrup, vanilla extract, cinnamon and salt.
Pour the wet ingredients over the nut mixture. Mix well until fully combined.
Spread the granola mixture across the prepared baking sheet in an even layer.
Place the baking sheet in the oven and bake for 20 minutes. Remove from the oven. Stir the granola then spread it back out in an even layer.
Bake for another 7-10 minutes until the granola has turned a light brown color. Keep on eye on the oven in the final few minutes so you can remove the granola once it browns.
If adding dried fruit: mix in as soon as it comes out of the oven. Let cool about 5-10 minutes. If adding chocolate chips - add after the granola has cooled completely.
Once cooled, store in an airtight container and keep at room temperature. Homemade granola can keep well up to a month before going stale.
Notes
If you don't have a baking sheet large enough, you can spread the granola between two small baking pans. Just make sure to rotate them in the oven halfway through the cook time to ensure they cook evenly.
The ingredient lists asks for 2 cups roughly chopped mixed nuts or 300 grams because different types of nuts will weight different amounts. 300 grams is a rough, high estimate of how much the nuts could weigh. Don't worry about being too accurate here with the amounts - this recipe is flexible enough to still work even with fluctuating amounts.
Optional Additions
Add 1-2 extra additions at most. Any more and the amount of sweetener and oil might need to also be scaled up to accommodate the extra ingredients.
1/3 cup dairy free chocolate chips (60 grams)
add or replace 1/3 cup nuts with 1/3 cup (50 grams) pumpkin seeds
add or replace 1/2 cup nuts with 1/2 cup (70 grams) sunflower seeds
1/4 cup dried fruit (60 grams) like raisins, blueberries, chopped dates, cherries, etc
Nutrition Information
Yield:

8
Serving Size:
1/2 cup
Calories:

364
Total Fat:

31g
Saturated Fat:

14g
Carbohydrates:

17g
Fiber:

24g
Sugar:

10g
Protein:

9g
This website provides approximate nutrition information for convenience and as a courtesy only. Nutrition data is gathered primarily from the USDA Food Composition Database, whenever available, or otherwise other online calculators.
More Grain Free Recipes You Might Like
Healthy Breakfast Recipes