Crunchy, grain free granola – the perfect start to your day!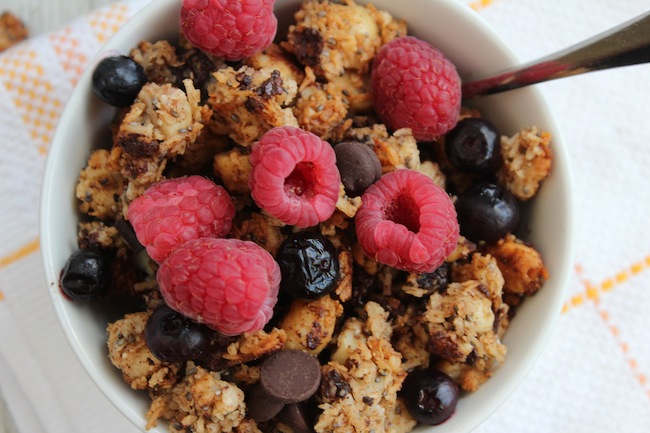 I've been on a bit of a breakfast kick lately. Breakfast is, after all, the most important meal of the day. And let's face it, breakfast foods are just plain old fun. Pancakes, waffles – don't even get me started on french toast.
Even cereal is one of my favorite foods to snack on, but truth be told I can easily go over board of the captin' crunch if given the opportunity.
Whenever I feel like I just really need to sit down with a bowl of cereal I like to make my own at home.
This grain free granola is easy to make and can easily be made vegan depending on the sweetener you use. Throw in a few chocolate chips, or dried berries if you really want to be decadent. Whatever way you have it you'll love it!
Yield: 8 servings
Grain Free Nutty Granola Round #2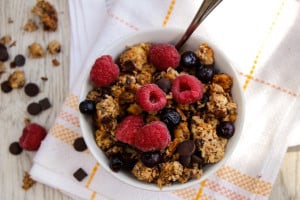 Crunchy, grain free granola - the perfect start to your day!
Ingredients
2 cups (335 grams) Macadamia Nuts (or nuts of choice)
1 1/2 cups (120 grams) Unsweetened Desiccated Coconut
1/4 cup (40 grams) Chia Seeds
1/4 cup (80 grams) Maple Syrup (or sweetener of your choice)
1 tablespoon Cinnamon
1 1/2 teaspoons Vanilla Extract
pinch of sea salt
1/4 cup (40 grams) Dark Chocolate Chips/Cacao Nibs (dairy free if vegan)
Instructions
Preheat your oven to 330F/165C
In a blender or food processor, lightly pulse your nuts until they become course. You want big chunks and small grainy pieces so make sure you don't over process everything into a flour.
Transfer your nuts to a bowl and mix in the desiccated coconut, chia seeds, cinnamon and pinch of sea salt. When it looks like you have everything mixed through, and the vanilla extract and the maple syrup. Make sure your coat everything in maple so it all becomes a sticky mess.
Line a baking sheet with parchment paper and spread your granola onto the sheet evenly. You may need two baking sheets depending on the size.
Bake for 10 minutes, take the baking sheet out of the oven and stir your granola so that your granola bakes evenly. Then return the granola back to the oven and bake for another 10 minutes.
Remove from the oven and allow it to cool completely before adding the chocolate chips. If you add the chips too soon they will melt all over the place. Add in any other bits and pieces you might like, dried fruit, roasted seeds etc and then store in an airtight container.
Nutrition Information:
Yield:
8
Serving Size:
cup
Amount Per Serving:
Calories:

433
Saturated Fat:

14g
Sodium:

15mg
Carbohydrates:

21g
Fiber:

8g
Sugar:

10g
Protein:

5g