Make your own homemade Masala Chai Spice Mix easily with a handful of sweet, spicy and aromatic spices! Simply whisk together and keep stored in an airtight container until you're ready to go. Add to baked goods, hot drinks, porridge, smoothies and more!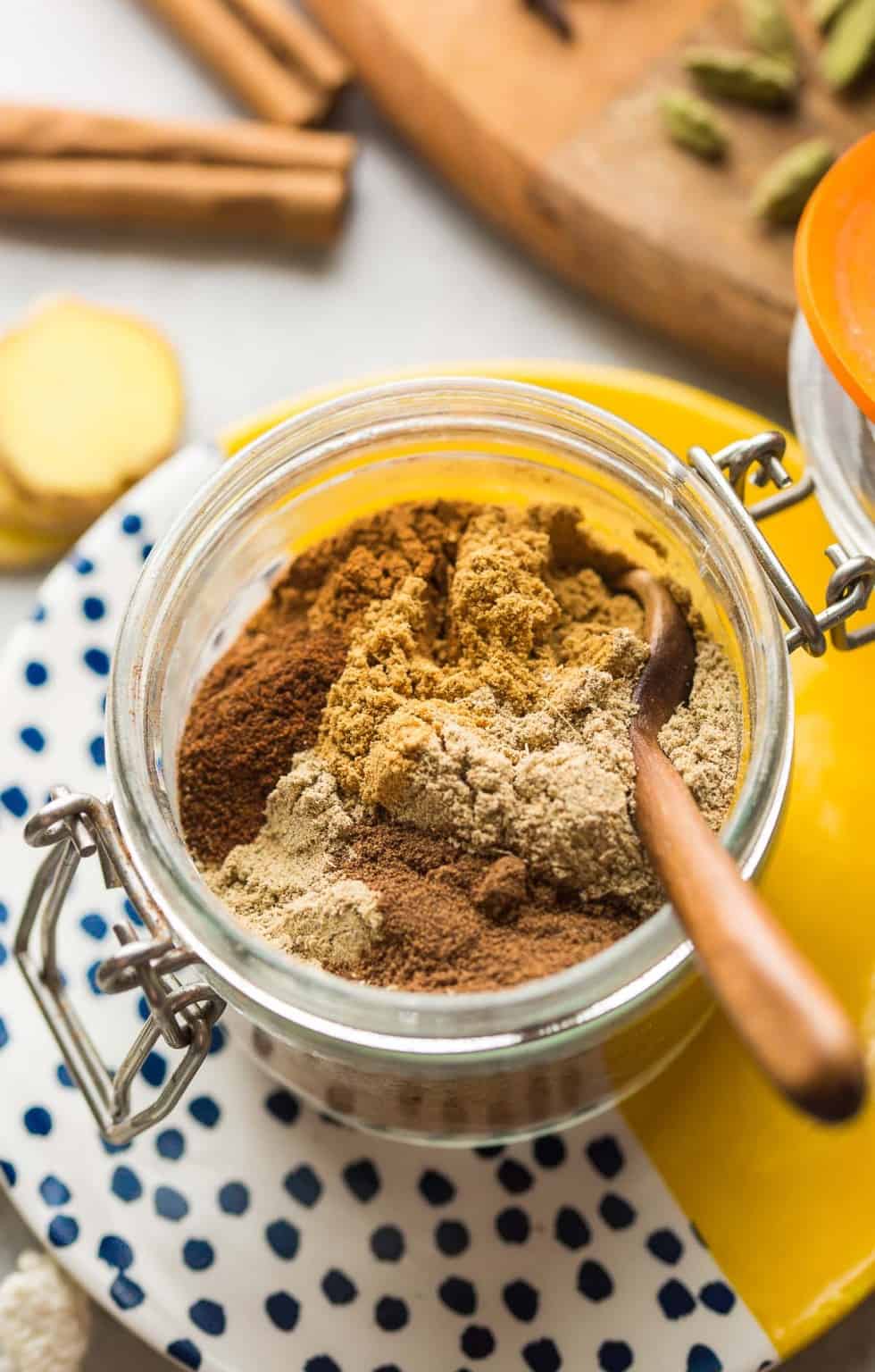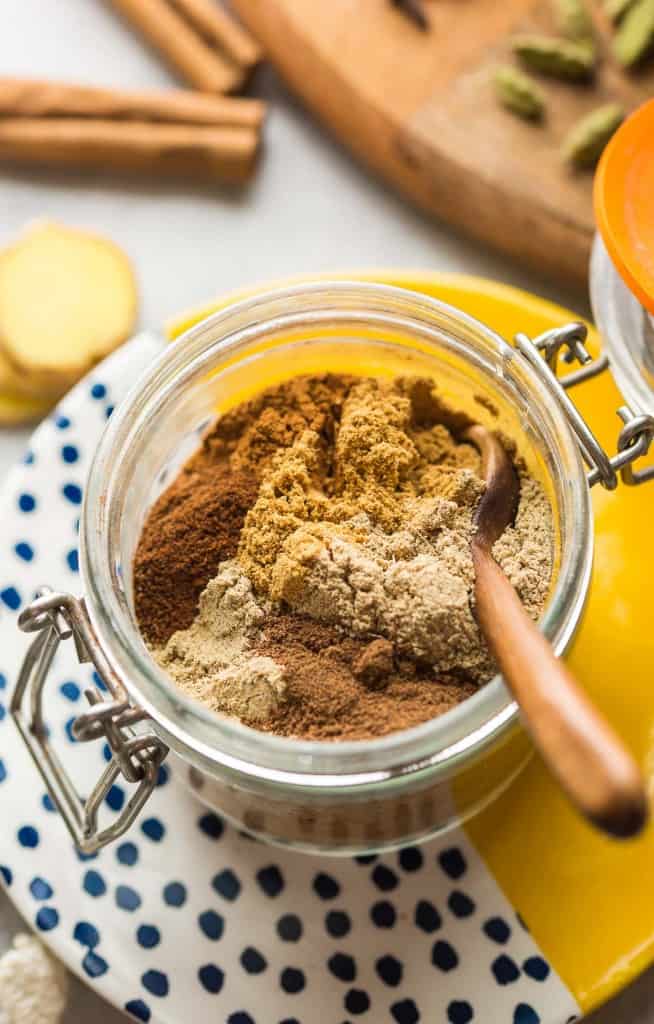 What is Masala Chai?
Masala roughly translates to 'spice mixture' and the word chai means 'tea'. Put it together and it means 'spiced tea'. It's a popular Indian tea typically made with black tea, milk and a blend of spices.
Traditionally, masala chai would be made with an aromatic blend of whole spices: whole cinnamon sticks, green cardamon pods, fresh ginger, star anise, fennel seeds, etc. This is great for when you're only interested in making a one off cup of tea. A homemade chai spice made up of ground spices is great to keep on hand to add to baked goods, smoothies, chia puddings and more. It's also handy to have ready for when you want a chai tea but you don't have the time, resources or energy to make an authentic masala chai
Masala Chai Spice Mix Ingredients
Altogether this is an incredibly simple recipe that can be done in two steps:
Mix all the spices together in a small bowl or jar.
Seal up and store in a dry place until needed.
Ingredients
Cinnamon | Ginger | Cardamon | Clove | Nutmeg | Allspice
Ground cinnamon, cardamon and dry ginger powder are often the most prominent spices used when making a homemade chai masala blend. You'll need a large quantity of these three spices and small amount of the remaining spices: ground clove, nutmeg and allspice.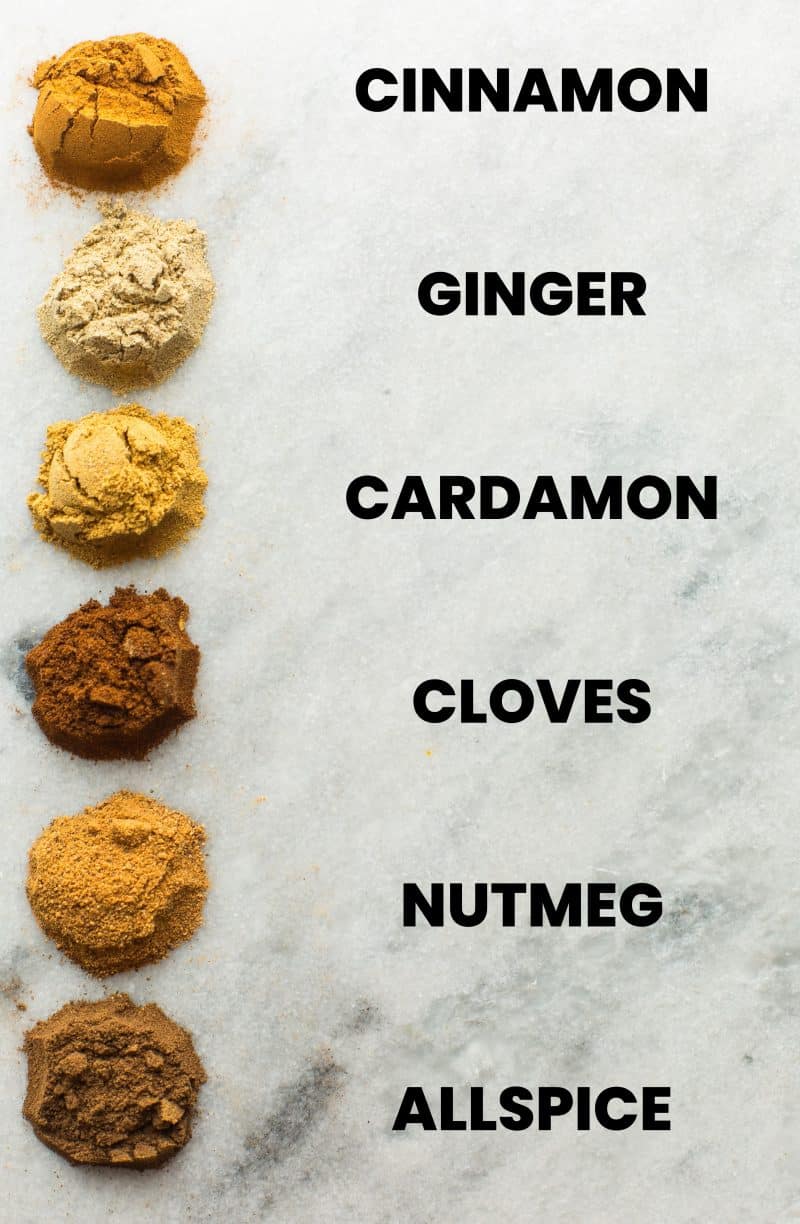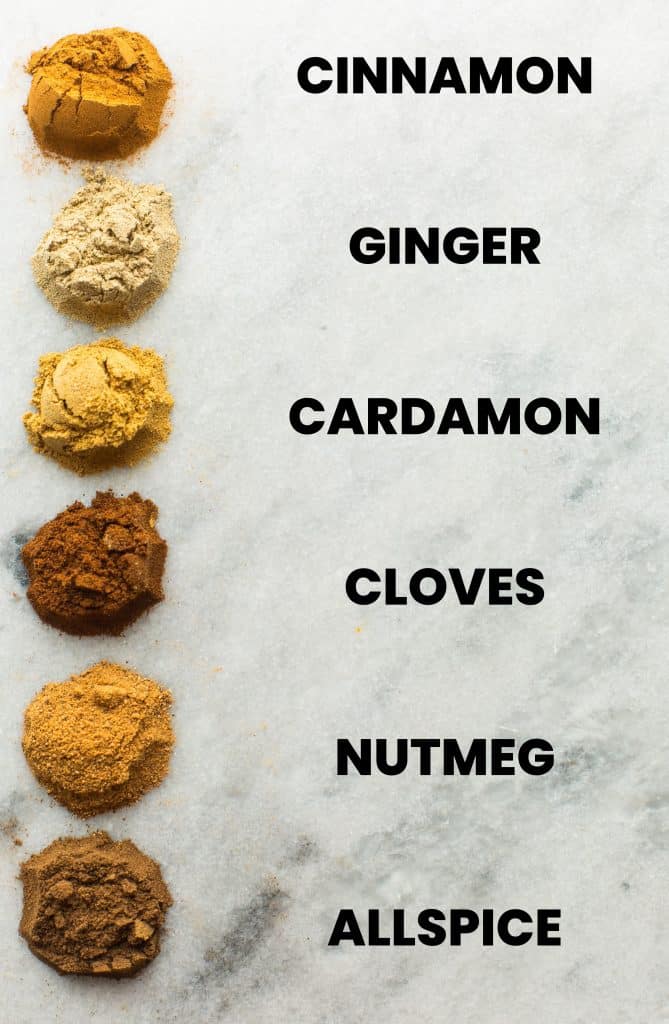 Masala chai does not have a single, fixed recipe. Because the Indian subcontinent is so massive it's no surprise that ingredients, additions and general preparation vary from region to region and family to family.
I decided upon this particular spice mixture after looking through other popular spices blends. My two main goals were to:
settle upon a combination of spices that stay true to what's often found in traditional masla chai
narrow down the spices that are (generally) easy to find in grocery store
With that in mind I ended up with the following Masala Chai Spice Mix. Feel free to use my recipes as a guide or starting point to create your own chai masala spice – there's no wrong way to do it.
In fact, I actually have another recipe for a chai tea concentrate (used to make chai frappuccinos and homemade chai lattes). That recipe is slightly more involved since it uses whole spices and slightly different spices.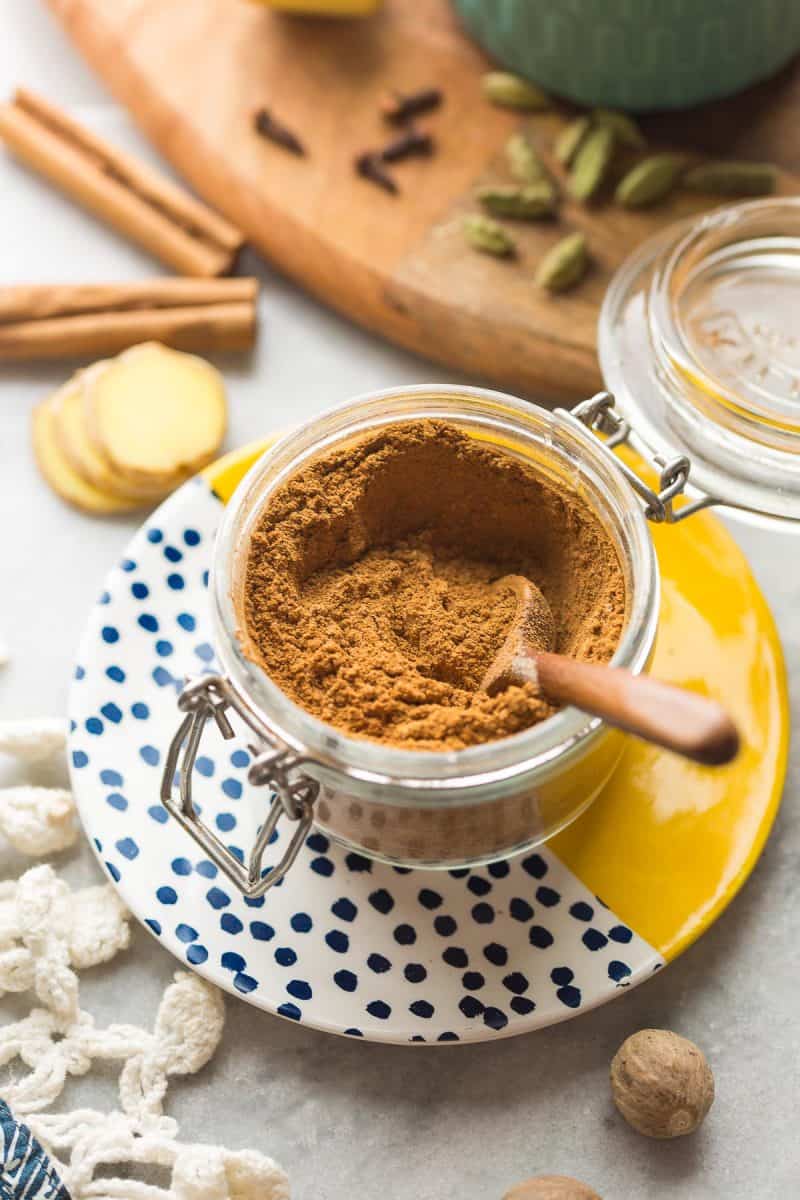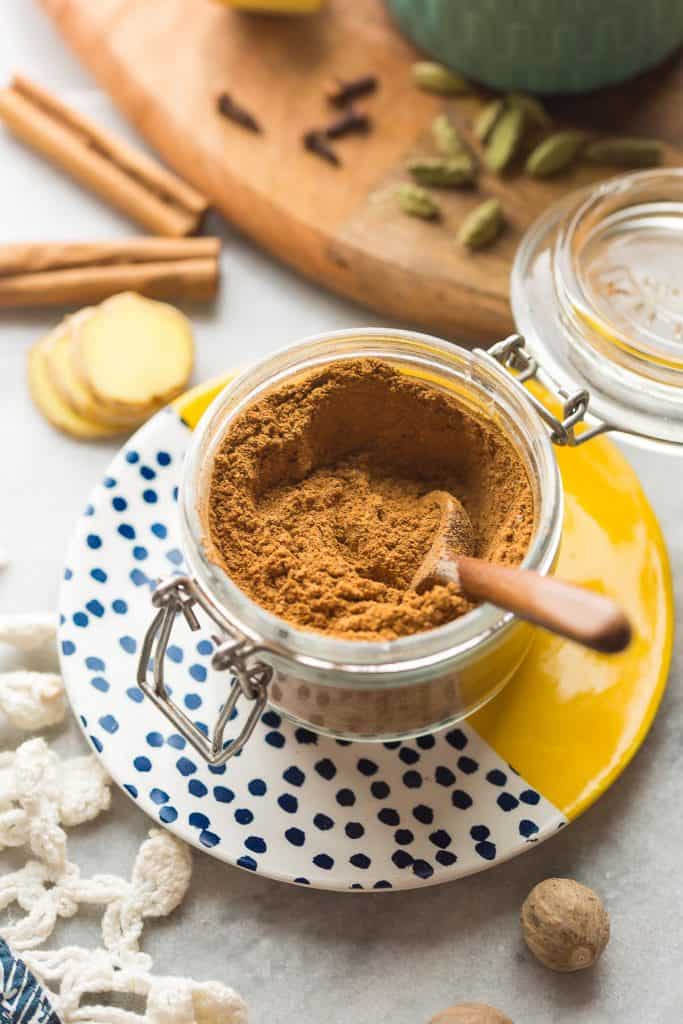 When to Use this Masala Chai Spice Mix
Make a homemade chai tea latte.
Add it to porridge, oatmeals and chia puddings for chai spiced breakfast twist.
Use in place of ground cinnamon in baked goods.
Add a pinch to your morning coffee or smoothies.
Storage
The benefit of using ground spices is the shelf life. Instead of going bad after a few days, this masala chai mix will keep for about 6 months. After 6 months you might find that the potency diminishes. Once made, store in an airtight container and keep out of direct sunlight. Keep stored at room temperature and that's it!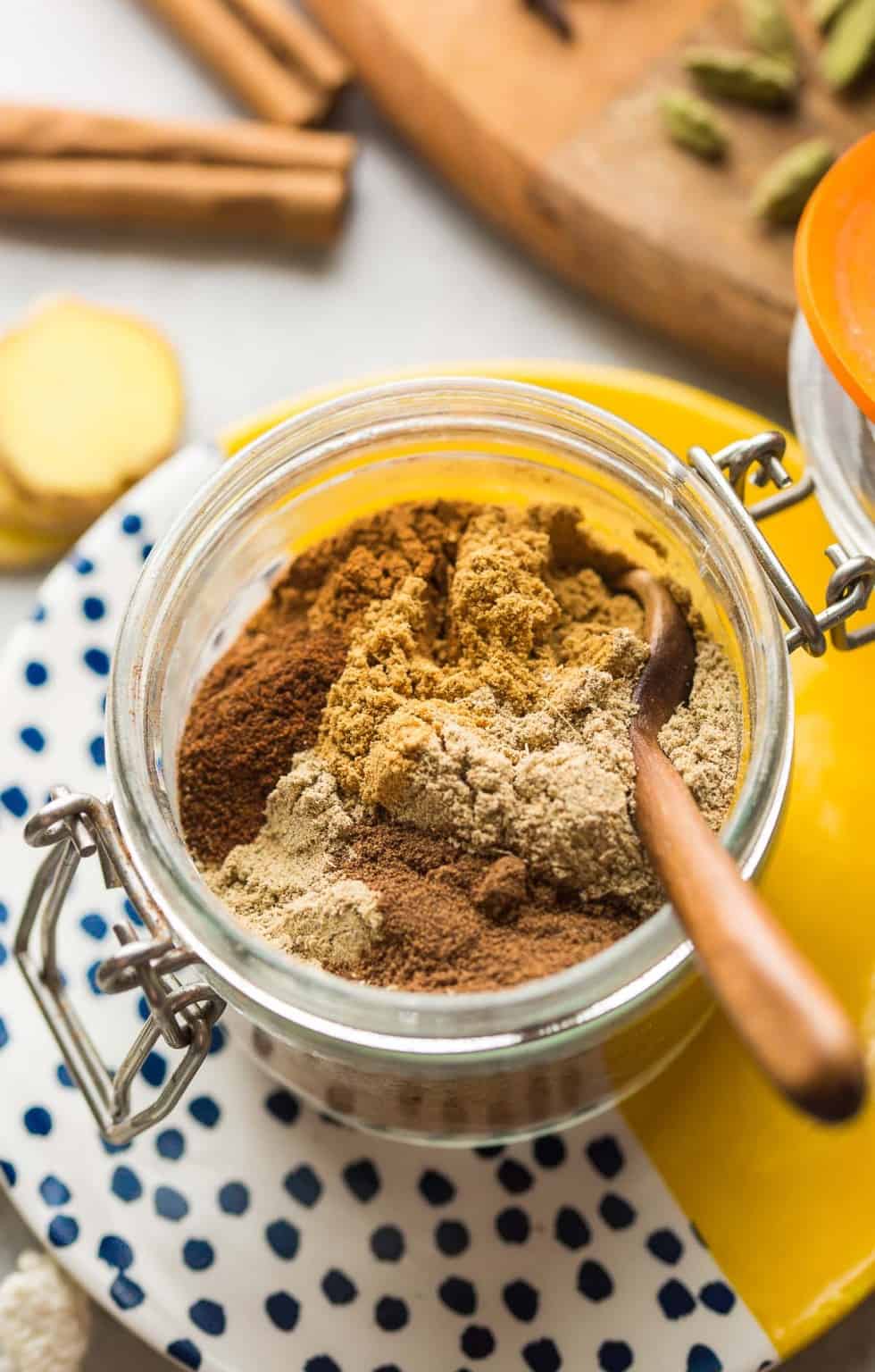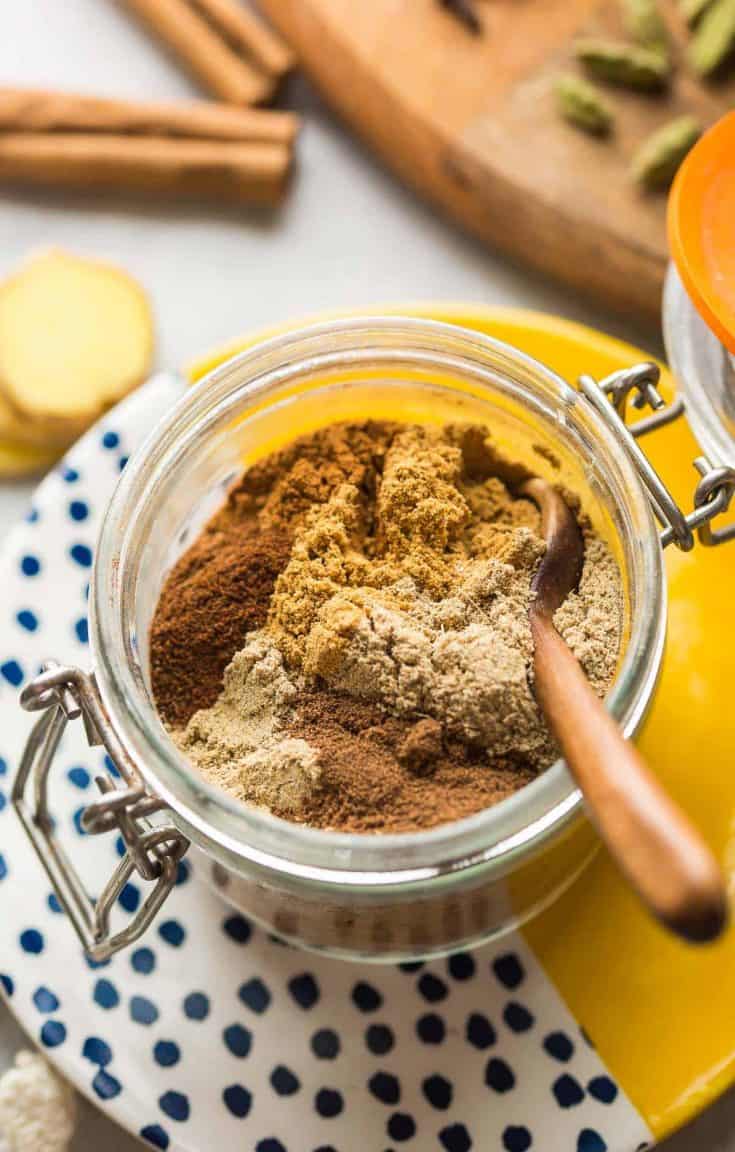 Recipe
Masala Chai Spice Mix
Yield:
6 tablespoons
Prep Time:
5 minutes
Total Time:
5 minutes
Simply whisk together and keep stored in an airtight container until you're ready to go. Add to baked goods, hot drinks, porridge, smoothies and more!
Ingredients
3 tablespoons ground cinnamon
2 tablespoons ground ginger
1 tablespoon ground cardamom
1/2 teaspoons allspice
½ teaspoon ground nutmeg
½ teaspoon ground cloves
Instructions
In a small bowl or jar, combine all of your spices and stir together well until everything is combined evenly.
Keep stored in an airtight container out of direct sunlight and enjoy.
Notes
For use in teas and hot drinks: the powder won't fully dissolve so I recommend you leave you drink steep for about 1-5 minutes. Then pour through a fine mesh strainer to remove the remaining powder. You can skip the straining but should expect a bit of gritty sludge leftover at the bottom of your drink.
This website provides approximate nutrition information for convenience and as a courtesy only. Nutrition data is gathered primarily from the USDA Food Composition Database, whenever available, or otherwise other online calculators.
More Homemade Spice Blends