Save yourself a trip to the coffee shop and make your own hot lattes, iced drinks and frappuccionos at home with this easy to make Chai Concentrate! Made with a combination of whole spices, black tea and sweetener of your choice – simply simmer, steep, strain and enjoy! | Gluten Free + Low FODMAP + Vegan & Paleo options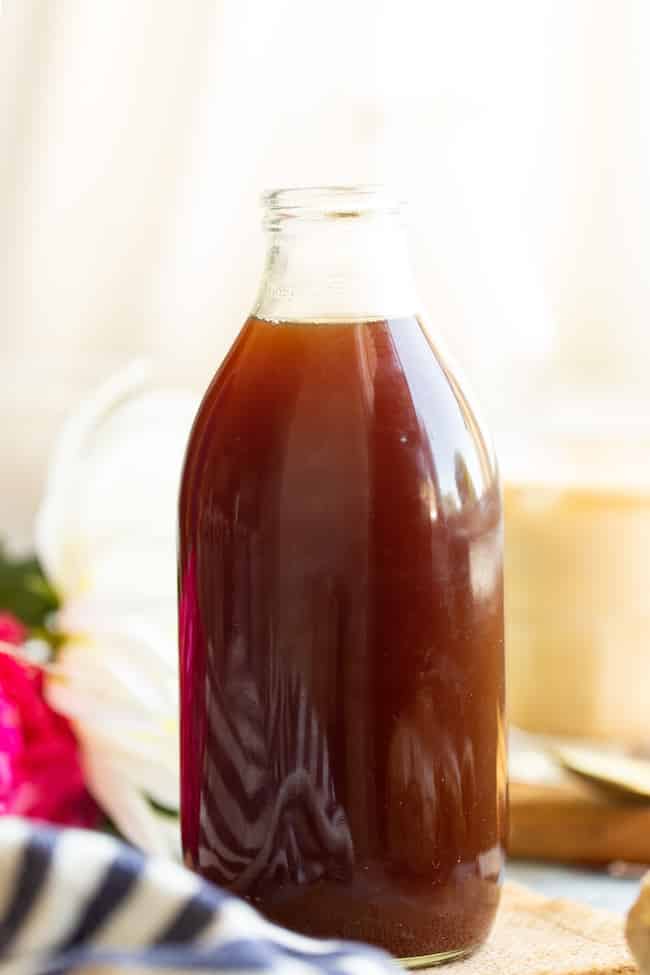 It might look involved at first glance, but I promise this chai tea concentrate is super easy to make and worth the effort! The process breaks down into a few main stages:
dissolve sugar in water
add whole spices and simmer
steep tea bags
strain
bottle and enjoy!
Altogether this can be done and ready to use in about 30 minutes – longer if you're looking for a frozen or ice beverage.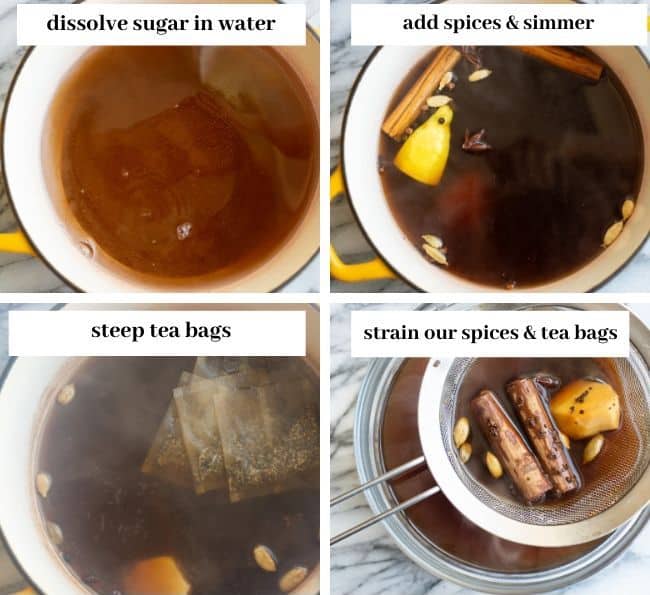 DIY Chai Concentrate FAQ's
What type of sweetener should I use?
Most homemade chai concentrate recipes use standard white granulated sugar, but you can play around with what you use.
I used coconut sugar which adds a nice caramel-like flavour. Brown sugar would also work. Keep in mind that dark brown sugar is sweeter than light brown sugar.
You can use honey or maple syrup (don't use honey if you need this to be low fodmap or vegan). Honey and maple syrup are both much sweeter than regular caster sugars so only use half the amount of white sugar. In this case that would be about 5 tablespoons honey/maple.
If you want to make keto/low GI chai concentrate: It's very difficult to find good low carb sweeteners where I live so I can't speak to many keto sweeteners specifically. That being said I do think you would be able to use a low sugar sweetener here, but you will need to adjust the amounts depending on what you're using. For example – liquid stevia and monk sugar usually used less than the full amount of sugar called for in recipes because they are sweeter. You can usually find recommendations for how to use your preferred sweetener on the packaging that it comes in.
What type of tea bags should I use?
Chai Tea Concentrate is usually made with black tea. Black teas come in all sorts of varieties so what you choose is totally up to you! I recommend using an Indian black tea or English Breakfast Tea. Lipton black tea is also a great, easy to find option.
Can I use ground spices?
Whole spices will create the most intense, well rounded flavor because have oils that release as they simmer.
If you're going to go through the effort of simmering, straining and making a concentrate you want to make sure that your ingredients are flavourful and potent.
That being said, if you'd like a chai spice mix that uses ground spices I think you might be interested in checking out my Masala Chia Spice Mix recipe. That spice blend is especially great to use in baked goods, smoothies and chia pudding. Even adding a teaspoon or two to something basic like banana bread goes a long way in making something totally new.
Storage Tips
Keep your concentrate bottled up in the fridge for one week.
Tip: To make it last longer, freeze in ice cube trays and use in frappuccinos or iced drinks for a more potentness chai flavour.
How do I use this?
You can use this to make hot and cold lattes and chai frappuccinos. As a general rule of thumb you need equal parts concentrate to milk. So if you're making a latte with one cup milk you'll need one cup concentrate.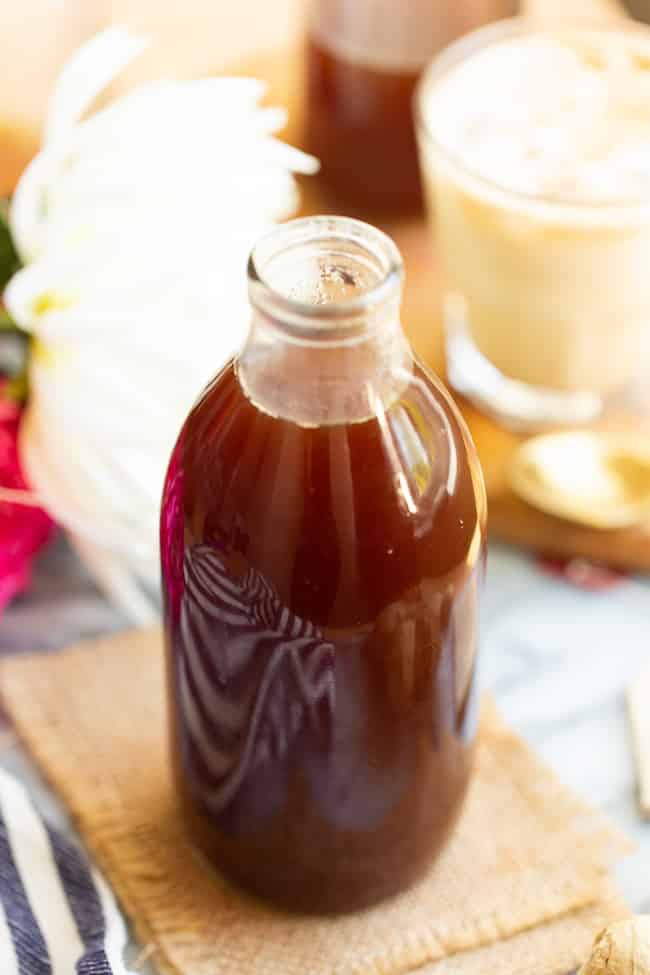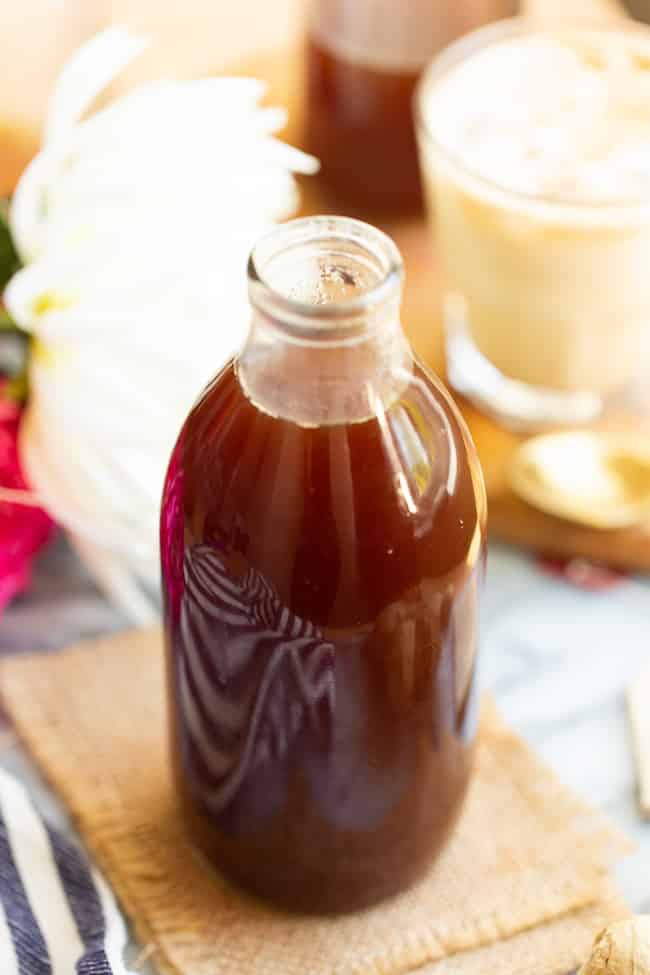 Yield:
4 cups
Prep Time:
5 minutes
Cook Time:
25 minutes
Total Time:
30 minutes
Made with a combination of whole spices, black tea and sweetener of your choice - simple simmer, steep, strain and enjoy!
Ingredients
4 cups water
1/3 cup sugar (see notes)
3 inch chunk of ginger, peeled
2 cinnamon sticks (or 6 about grams)
10 cardamom pods, crushed*
10 whole cloves
1 tsp whole peppercorn
1 whole star anise
2 teaspoons vanilla extract
1 tablespoon lemon juice
5 black tea bags
Instructions
Dissolve the sugar into the water in a large sauce pot over a medium heat.
Add the ginger, cinnamon sticks, cardamom pops, cloves, peppercorn and star anise. Mix and simmer on a medium-low heat for 20 minutes.
Remove the pot from the heat and add the vanilla extract, lemon juice and tea bags. Steep for 5 minutes.
Strain out and remove the whole spices and tea bags from the pot.
Let the concentrate cool completely then transfer to bottles to keep in the fridge.
Use in lattes or frappuccinos in a 1:1 ratio. This is not a juice - it needs to be added to milks, teas and other drinks as a sweetener.
Notes
I used coconut sugar to keep this concentrate paleo/refined sugar free but you can use the same amount of granulated white sugar or oven light brown sugar. I you want to use maple syrup or honey, only use 5 tablespoons as they are both sweeter than standard sugar.
Crush the cardamom pods slightly before simmering. You just need to bash them hard enough so that they pods open up slightly.
Recipe adapted from All Recipes
Keep concentrate bottles up and in the fridge for one week.
This website provides approximate nutrition information for convenience and as a courtesy only. Nutrition data is gathered primarily from the USDA Food Composition Database, whenever available, or otherwise other online calculators.