Made with a flaky, gluten free pie crust and filled with a sweet and simple pumpkin butter filling – these gluten free pumpkin pop tarts are must make this fall season! Use seasonal cookie cutters for pumpkin shaped pastries or simply cut your dough into little rectangles. Either way, you're in for a treat!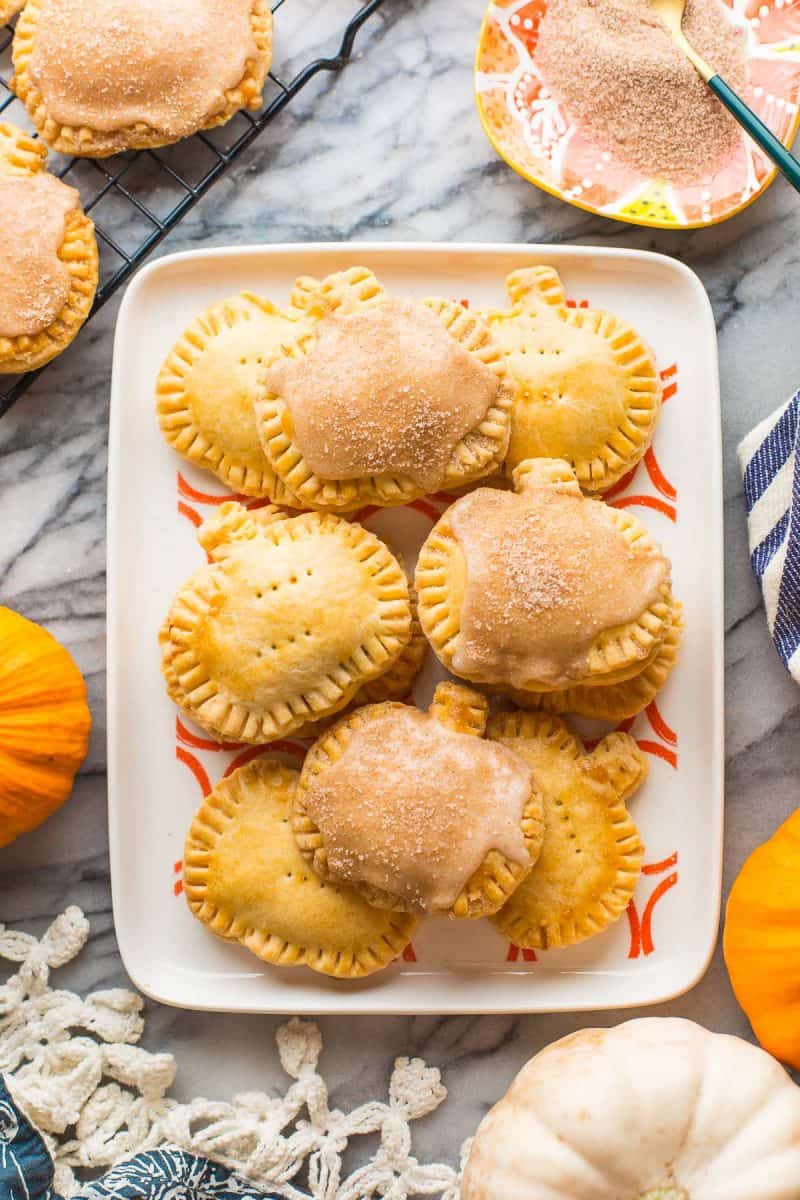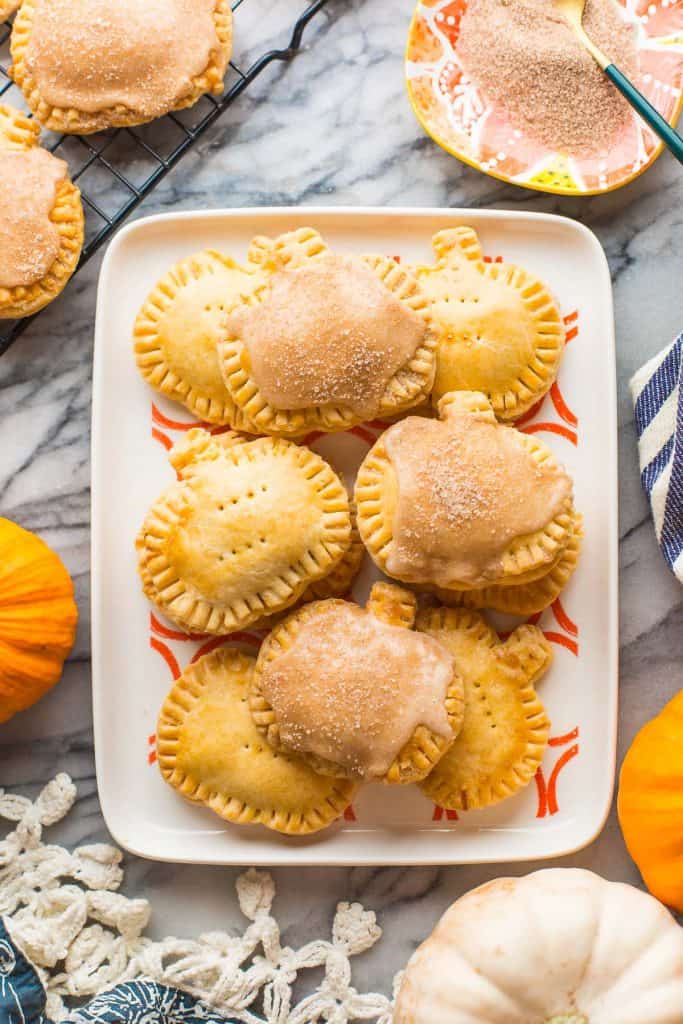 If you haven't already made yourself some homemade pumpkin butter yet – I recommend it! It's like a spreadable form of pumpkin that's absolutely brimming with everyone's favorite fall flavors. Make a big batch then use it as a spread on toast, pancakes or bake it into anything that might call for pumpkin puree. And of course, it makes for an excellent filling in these gluten free pumpkin pop tarts!
If you're not quite up to the task of making your own pumpkin butter – no worries! You can still whip together a quick filling in no time.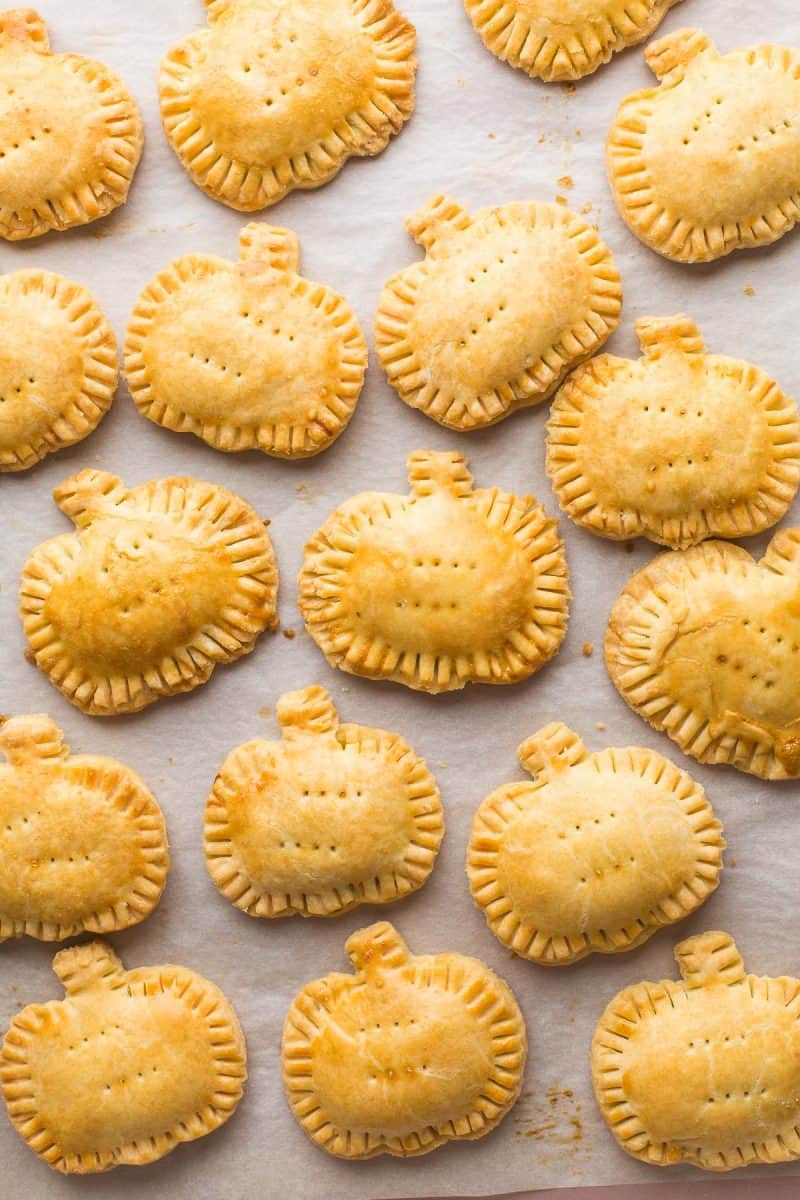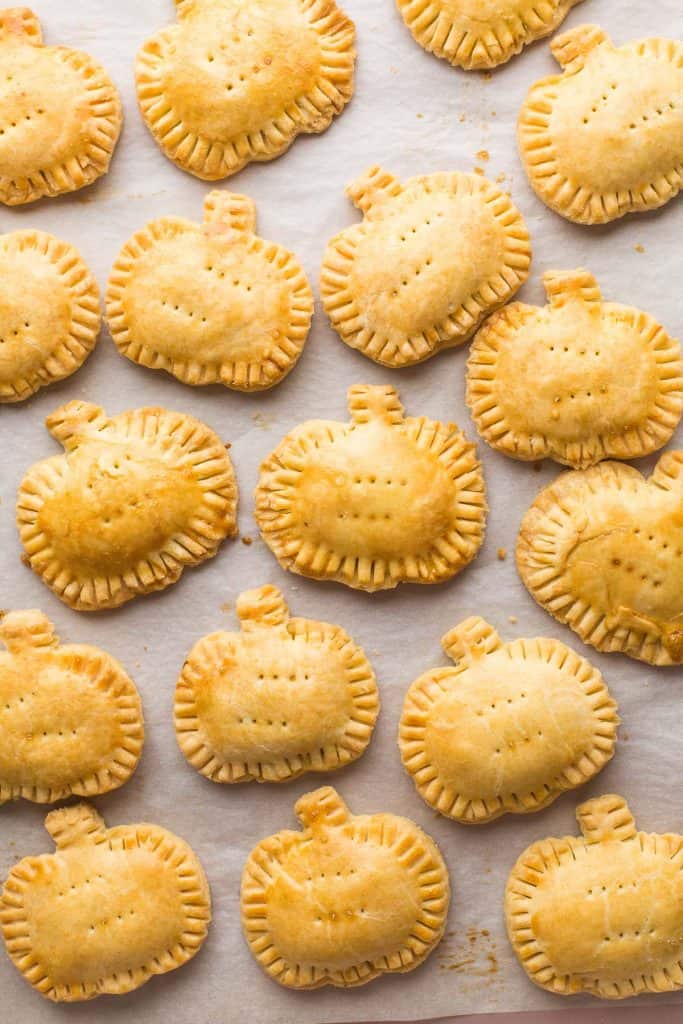 How to Make Gluten Free Pumpkin Pop Tarts
Though slightly tedious at times, this recipe is fairly straight forward. To break it down in to the most simple terms it can be broken down into two main parts:
The flaky gluten free pie crust: this is my go-to recipe anytime I need a quick pie crust. It can be seen in a number of recipes including these strawberry hand pies and spinach and feta parcels,
The pumpkin filling: pumpkin butter (homemade or store bought) makes for a quick and easy filling. Otherwise, mix together a bit of pumpkin puree, brown sugar and seasonal spices.
Gluten Free Pie Dough
I'm not going to go too deep on the pastry prep here. The recipe includes step-by-step instructions, but if you need a more of an in depth walkthrough with more visual help then make sure you check out my Flaky Gluten Free Pie Crust Recipe. That recipe is filled with plenty of tips, Q&A's and plenty of pictures to guide you through it.
Roll & Cut
Use pumpkin shaped cookie cutters to cut out your dough into perfect little pumpkins or roll out the dough into a large shape and cut into 2×3 inch rectangles.
It might be worth keeping in mind that cookie cutter pumpkin pies will take longer to make as you will need to roll and re roll your dough more often.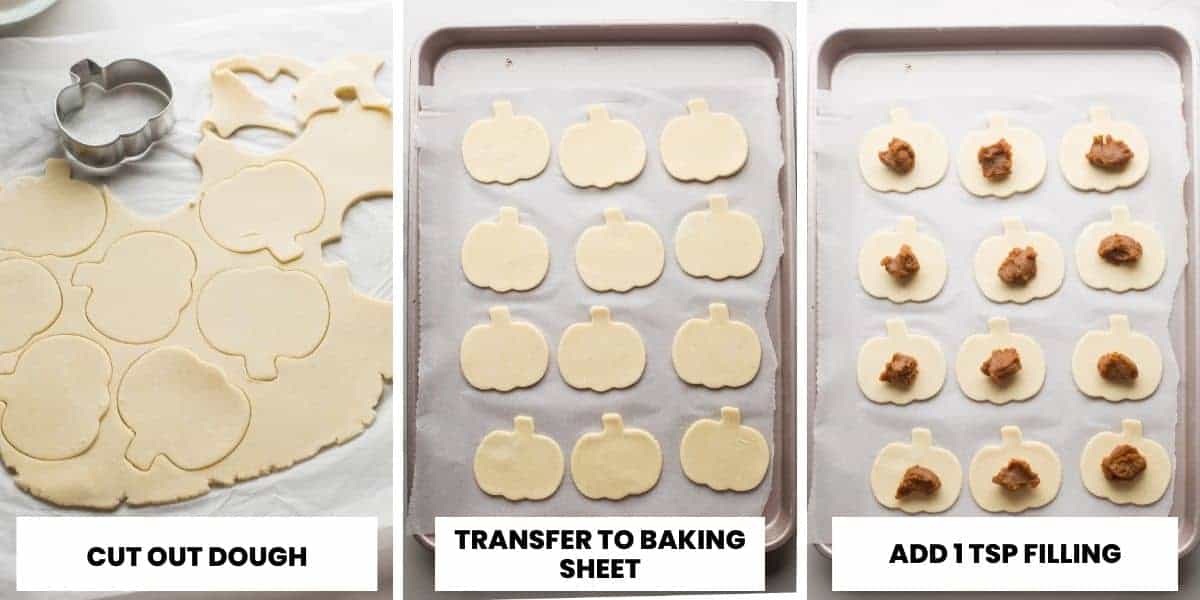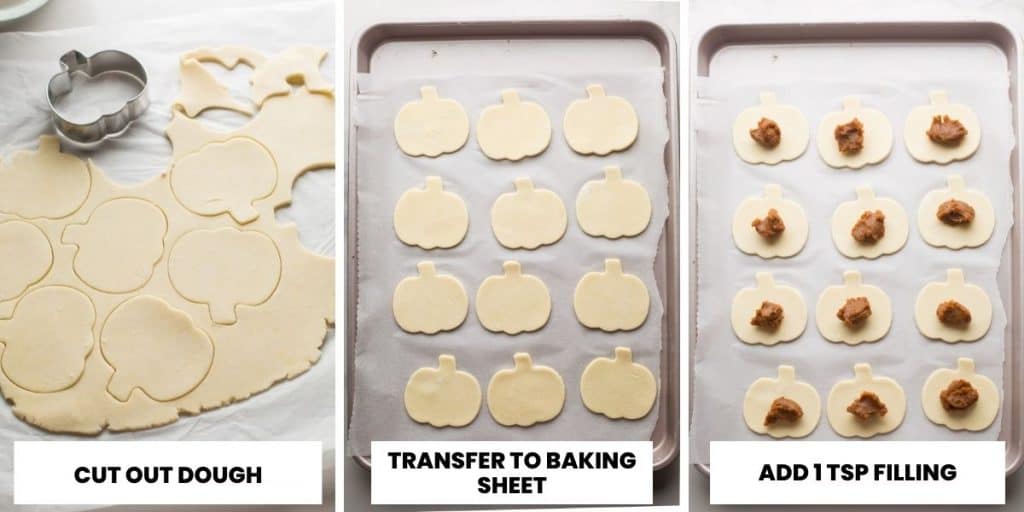 Fill, Seal, Vent and Wash
Fill: Each pop tart should be filling with one heaping teaspoon of pumpkin filling. Add the filling to the center of the pies as it will spread out to the sides when you add the top half of the dough.
Seal: Use a fork to crimp of press with your hands to seal the top and bottom dough pieces together. The crust will puff up slightly in the oven – if it's not properly sealed the pop tarts will come undone.
Vent: Make sure to prick a few holes in the top of each pop tart before baking. This is to allow a bit of air to escape as the pies bake. Without controlled venting, the filling it more likely to seep out the edges.
Wash: Just before baking, brush a small amount of whisked egg over each pop tart. This will enhance the finished look of your pies as it adds a bit of shine and color.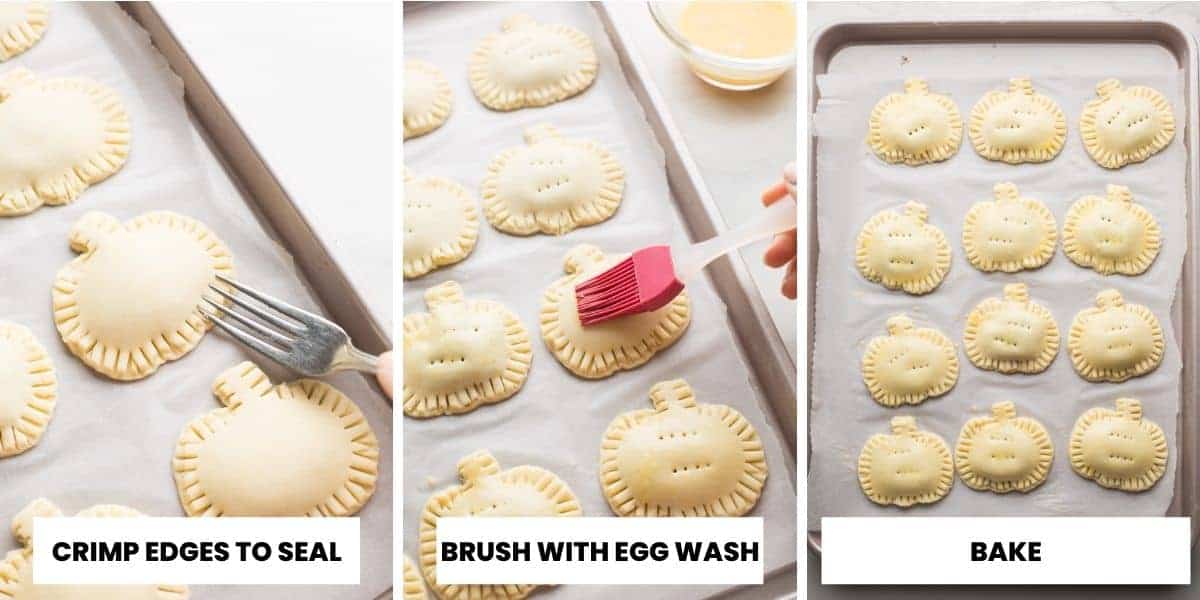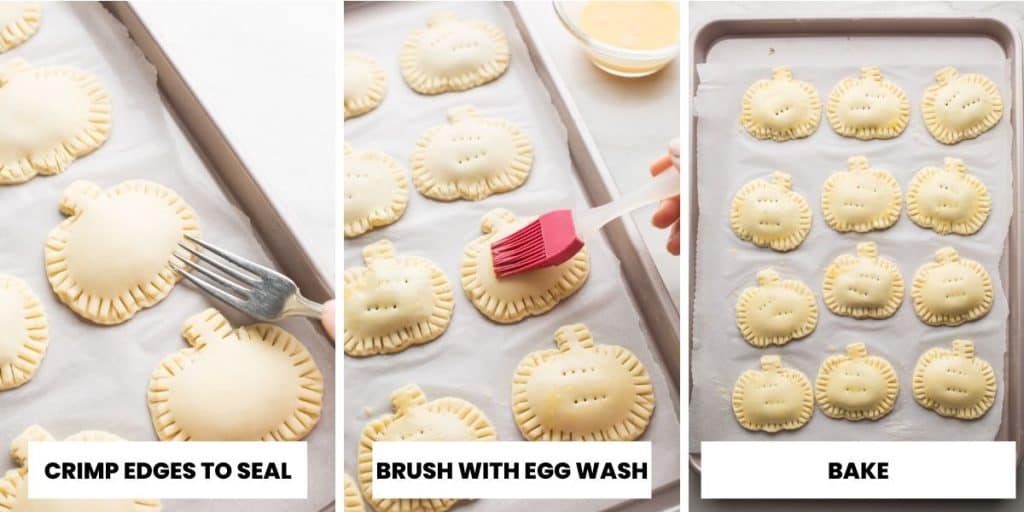 Optional Glaze
Once cooled completely you can frost and decorate as you like. The glaze here is made up of a simple icing sugar and maple mixture with a pinch of pumpkin spice (or ground cinnamon). I also added a cinnamon sugar dusting, but again this a totally optional.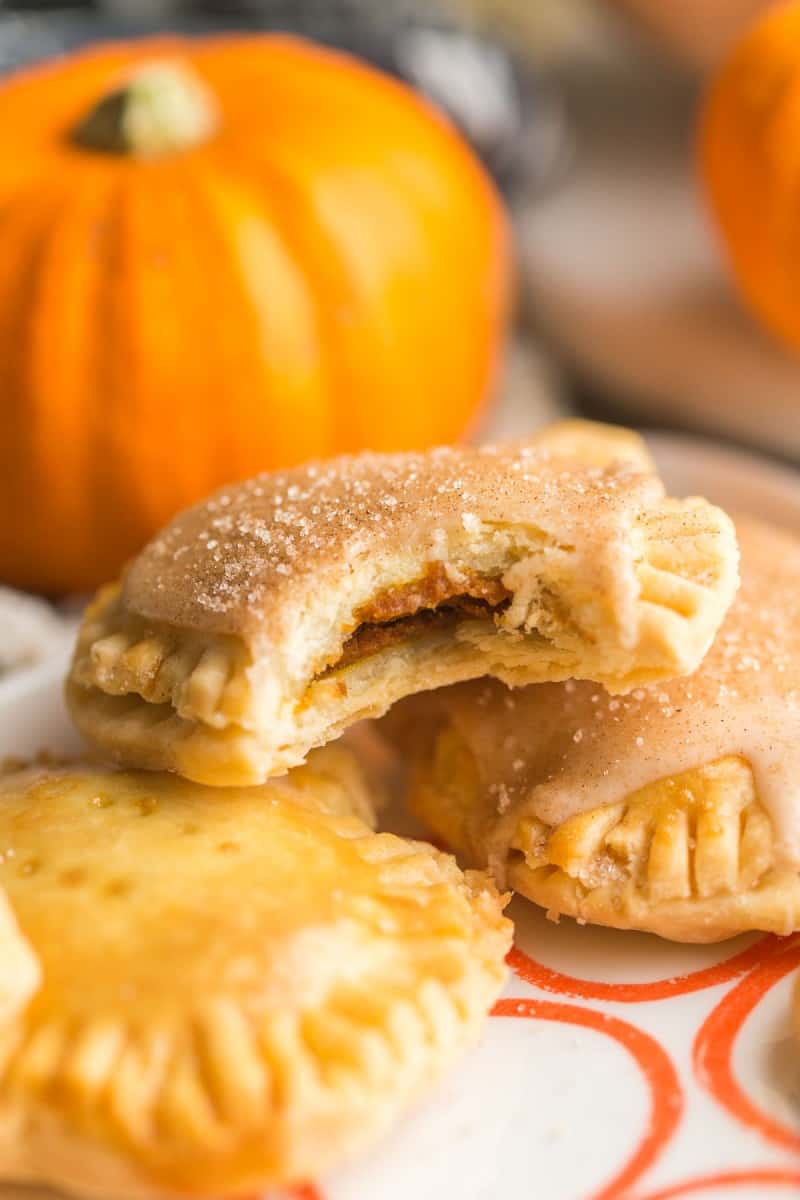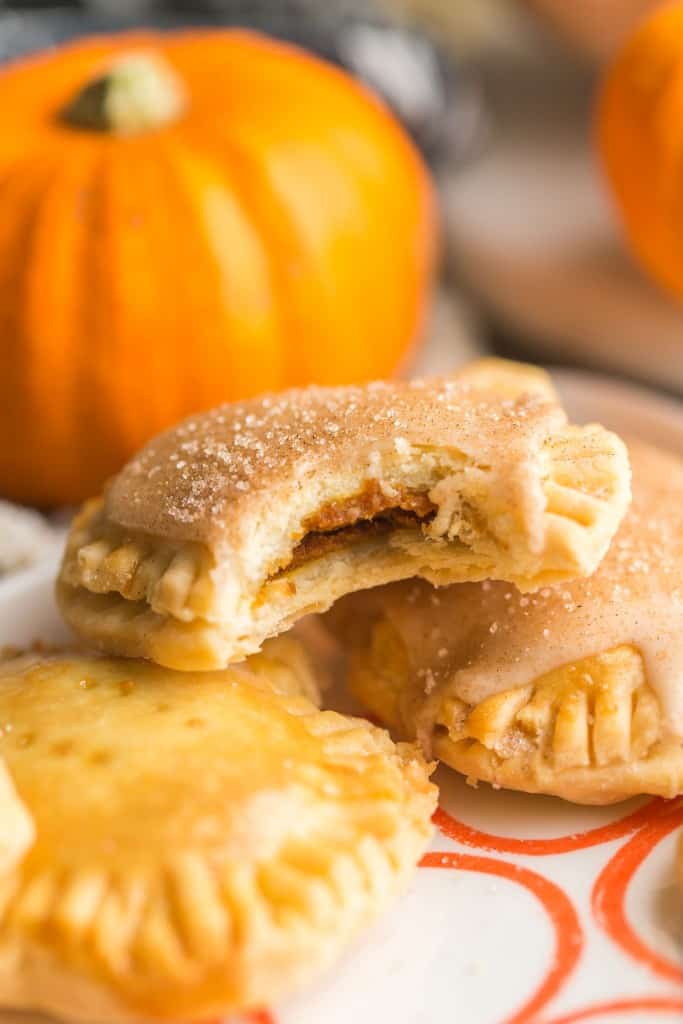 Leftovers and Storage
Make the dough ahead of time: To cut down on time the day of you can prep your dough two days ahead of time. After dividing the dough into two portions, wrap up each piece well and keep in the fridge until you're ready to use it. Let the dough sit at room temp for about 10-15 before attempting to roll it out if it's too hard at first.
Store un-iced pop tarts: Once completely cooled, store in an air-tight container and keep at room temperature or the fridge for up to a week.
Stored iced pop tarts: These will keep for about 3-5 days in an airtight container in the fridge.
Freeze for later: Once completely cooled, wrap each pie in a small piece of baking paper, then store in a freezer sage bag or container. The baking paper will help keep the pop tarts from freezing together. If you know you want to freeze leftover pop tarts, do icing them before freezing. This way, if you reheat them in the toaster, oven or microwave your icing won't melt into the pastry.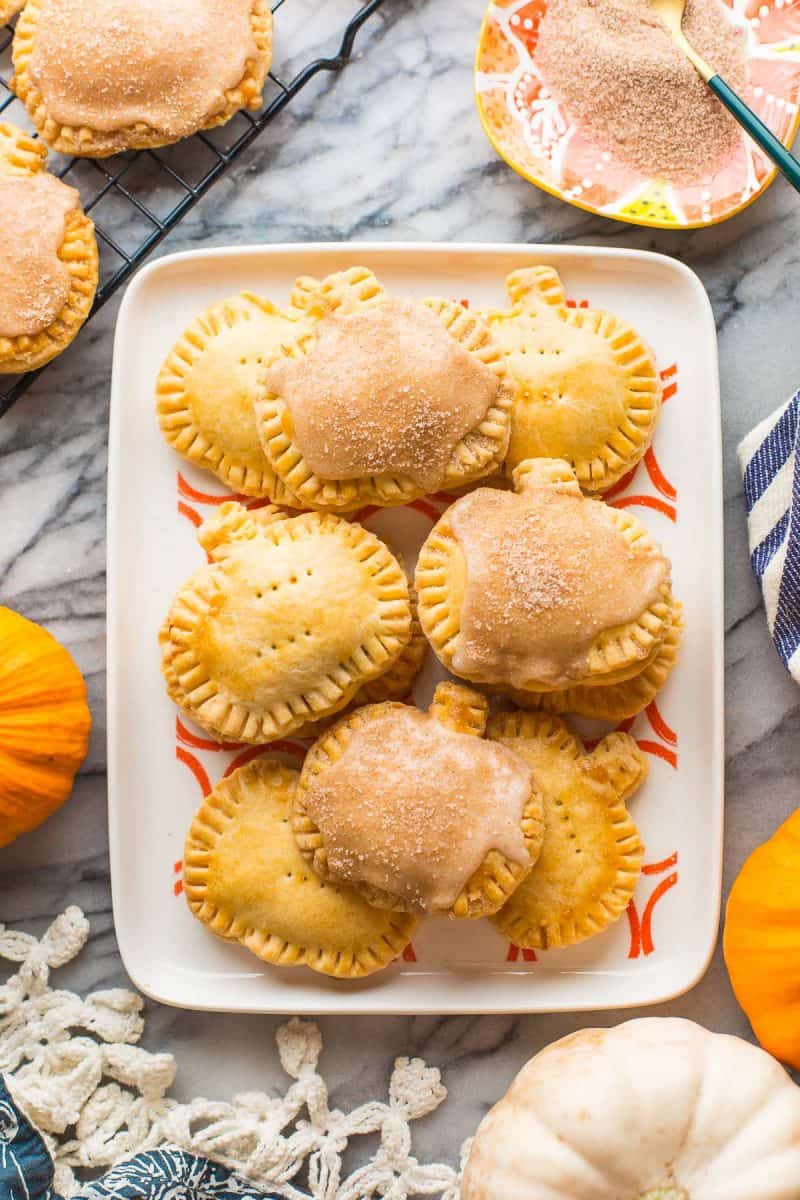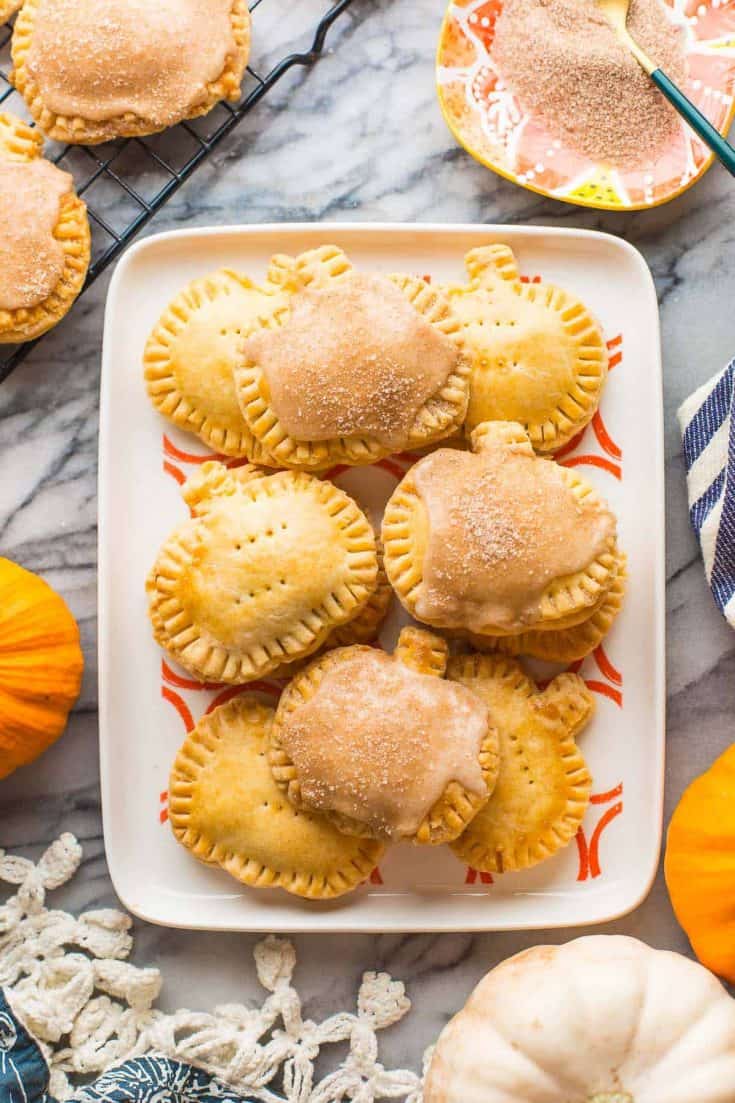 Recipe
Gluten Free Pumpkin Pop Tarts
Yield:
18 pop tarts
Prep Time:
20 minutes
Cook Time:
25 minutes
Additional Time:
40 minutes
Total Time:
1 hour
25 minutes
Made with a flaky, gluten free pie crust and filled with a sweet and simple pumpkin butter filling – these gluten free pumpkin pop tarts are must make this fall season! Use seasonal cookie cutters for pumpkin shaped pastries or simply cut your dough into little rectangles. Either way, you're in for a treat!
Ingredients
Pie Crust
2 1/2 cup (350 g) gluten free all purpose flour blend (homemade or store bought)
1 tablespoon white caster sugar
1 1/4 teaspoon xanthan gum or guar(omit if your flour blend already contains xanthan)
1/2 teaspoon salt
1 egg
2/3 cup cold butter (150 g) (vegan butter, shortening, palm shortening or coconut oil all work - see notes), cut into cubes
4-5 tablespoons (60-75 ml) ice cold water
Filling
6 tablespoons pumpkin butter (see notes for alternate filling)
Optional Glaze & Cinnamon Sugar Dusting
1 cup | 125 g powdered sugar
2 tablespoons pure maple syrup
pinch of cinnamon
3 tablespoons white caster sugar
1 teaspoon ground cinnamon
Instructions
Pie Crust
In a large mixing bowl whisk together the flour, xanthan gum, sugar and salt.
Add the cold butter (or butter sub) and mix together with a fork or pastry cutter. Mix until you have a sandy kind of mixture. Stir in one egg.
Mix in the water 1 tablespoon at a time. Add water until you form a dough that sticks together in a ball.
Divide dough in half - each half should weigh about 300 grams. Form each half into rectangles. Wrap tightly in plastic wrap and refrigerate the dough while you prep the filling. Chill in the fridge at least 30 minutes
Pop Tart Assembly
Preheat oven to 400°F/205°C. Line a couple of baking sheets with baking paper or silicon baking mats and set aside.
Take dough out of the fridge. Place one half of dough on a lightly floured surface, and roll it into a large rectangle. Trim the edges to make them straight. Cut the dough into nine rectangles (2" x 3") . OR use pumpkin cookie cutters to cut out pumpkin shapes pieces. Make sure to cut out an even amount of pieces. Repeat with the second half of dough.
Transfer half of the cut out dough pieces to the lined or grease baking sheet. Add 1 teaspoon of the pumpkin butter to the centre dough. Try to keep the filling mostly towards the centre of the dough to prevent it from spilling out of the sides.
Place the remaining pieces of dough over the pumpkin topped pieces. Crimp the edges with a fork or your fingers to seal the edges. Use a fork to prick holes on top of the dough. Place in the fridge for about 10 minutes to chill the dough one more time.
Just before baking, brush the remaining egg over the top of each pop tart. Place in the oven and bake for 20-24 minutes until the edges are golden brown. Remove from the oven and let the pop tarts cool on the pan for a few minutes. Then transfer to a wire cooling rack to finish cooling.

Optional Glaze & Topping

Mix the powdered sugar, maple and cinnamon together in a small bowl. Whisk until a thick frosting forms. For a thinner glaze, add a splash of water until you get the desired consistency.
In another small bowl whisk together the granulated sugar and ground cinnamon until combined.
Once the pop tarts have completely cooling, drizzle a little frosting over the top. Sprinkle the cinnamon sugar mixture over the wet glaze and let sit for about 5-10 minutes until the glaze has set. Enjoy


Notes
Tip for a flakier pie crust: Use butter & shortening. Using a combo of half butter/half shortening (1/3 cup each) makes for an even flakier crust. Shortening has a higher steam point than butter which makes it nice and flaky but butter adds a better flavour.
Coconut Oil Notes: Coconut oil has a low melting point so make sure to chill the dough well. After you press the dough into the baking dish make sure to chill the dough again for at least 15 minutes.
Don't be afraid to generously flour your surface as you roll out the dough if it's a bit sticky.
Alternative Pumpkin Filling
In a small bowl, mix together: 6 tablespoons pumpkin puree, 2 tablespoons brown sugar and 1 teaspoon pumpkin pie spice OR ground cinnamon.
This website provides approximate nutrition information for convenience and as a courtesy only. Nutrition data is gathered primarily from the USDA Food Composition Database, whenever available, or otherwise other online calculators.