My go-to gluten free pie crust – tender, flakey and easy to make! Made with ingredients that you likely already have on hand in your gluten free kitchen. This crust has also been carefully tested with a variety of dairy-free butter substitutes!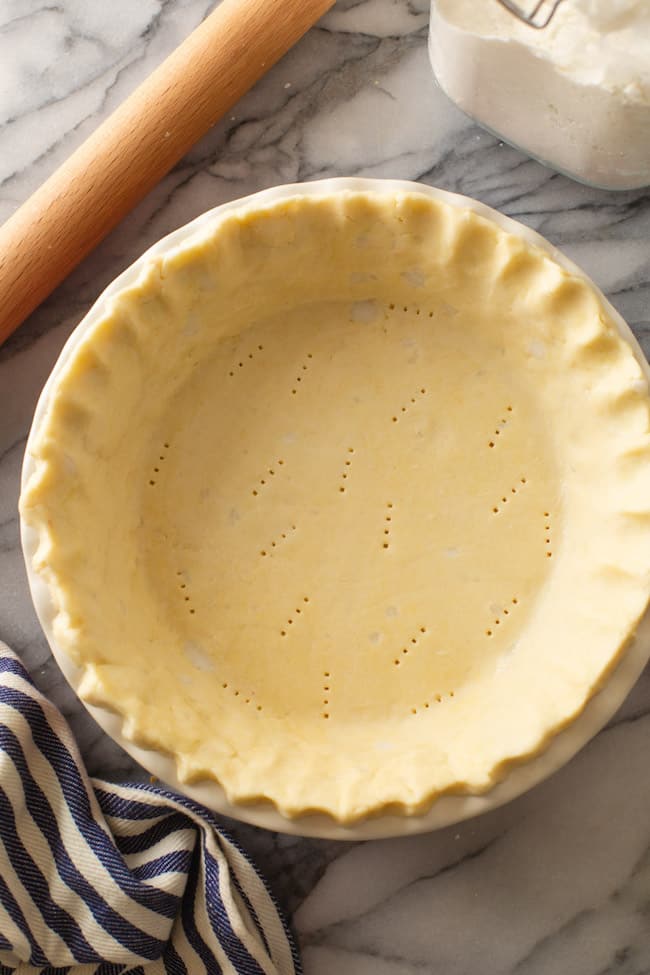 Alright. So last week I shared my favourite, basic almond flour pie crust and now it's time for my go-to basic gluten free pie crust.
No fancy flours or ingredients needed – just plain old gluten free all purpose flour and a few other essentials that are likely already found in your gluten free kitchen. I'll breakdown the ingredient list further down.
This has been my go to crust for a while now. At least – some version of this. I've tested this a number of different ways – both egg and dairy free with varied results. Again though, I'll breakdown all the options and outcomes down below.
Let's jump in!
The Ingredients
First things first – what are we working with?
Gluten Free All Purpose Flour
Xanthan Gum or Guar Gum

If your GF flour blend contains xanthan/guar then just skip it in the recipe. This helps bind your pie crust together and it also helps to hold on to moisture – something gluten free recipes often struggle with.

Egg

Traditional gluten based crusts don't often call for eggs but I think this crust benefits from it's added moisture and binding capabilities.

Butter

For dairy free options I've also tested this successfully using coconut oil, shortening and vegan butter.
The recipe also calls for water, salt and sugar but those don't need much explanation here.
How to Make the Perfect Gluten Free Pie Crust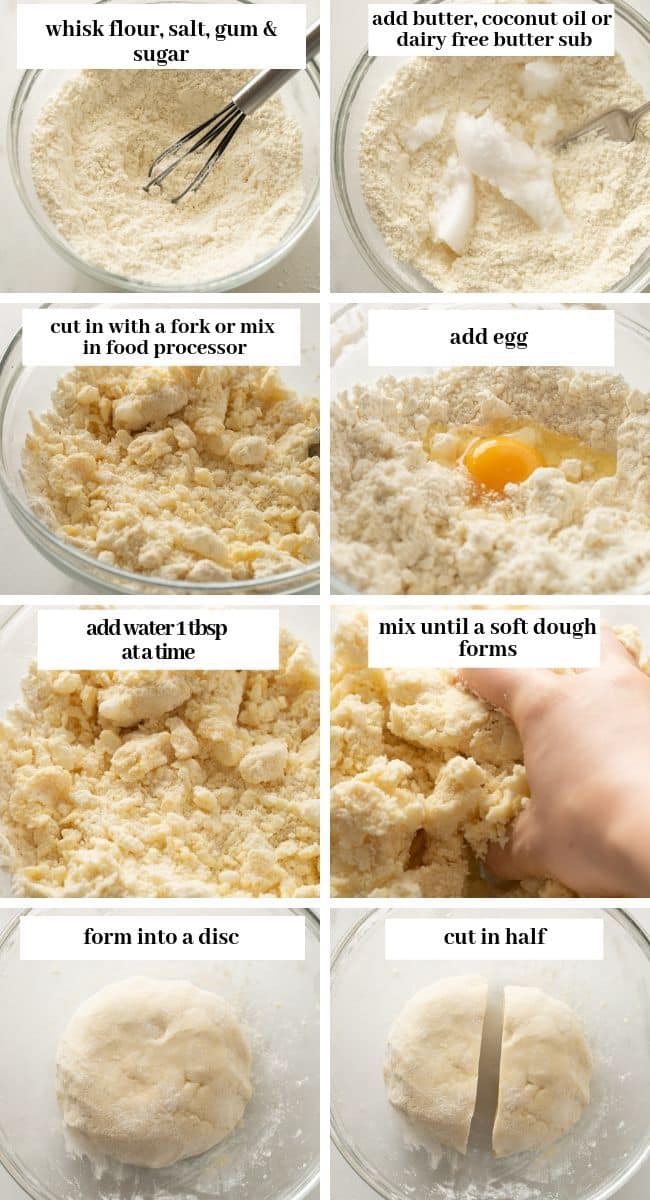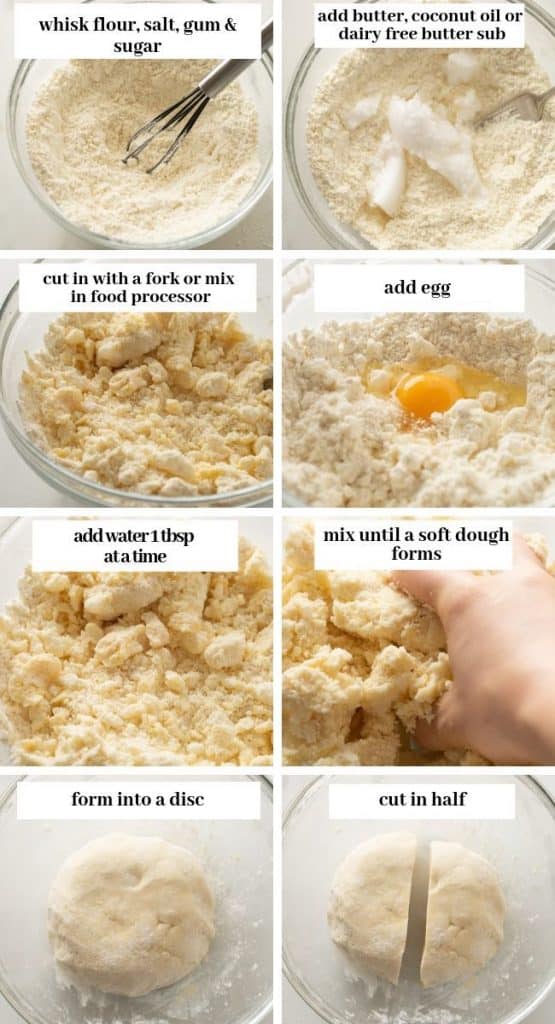 Breaking it down:
Begin by whisking together your dry ingredients: flour, salt, sugar & gum.
Mix in your butter or butter substitute. You can do this with a fork, a pastry cutter or by pulsing the mixture together in a food processor. Mix until only small pieces of butter/shortening or oil are combined and your dough looks a bit sandy.
Stir in the egg until the dough is soft with large sandy chunks.
Begin adding the water 1 tablespoon at a time. Mix in between each addition of water until the dough starts to form large chunks. Try to avoid adding too much water – I usually only need 4 tablespoons.
Roll the dough into a single ball and then divide in half. This recipe makes enough for 2 9-inch gluten free pie crusts or 1 bottom and 1 top crust.
Wrap up each half and place in the fridge for at least 20 minutes. If you're making this dough to save for later you can stop here.
Rolling out the Dough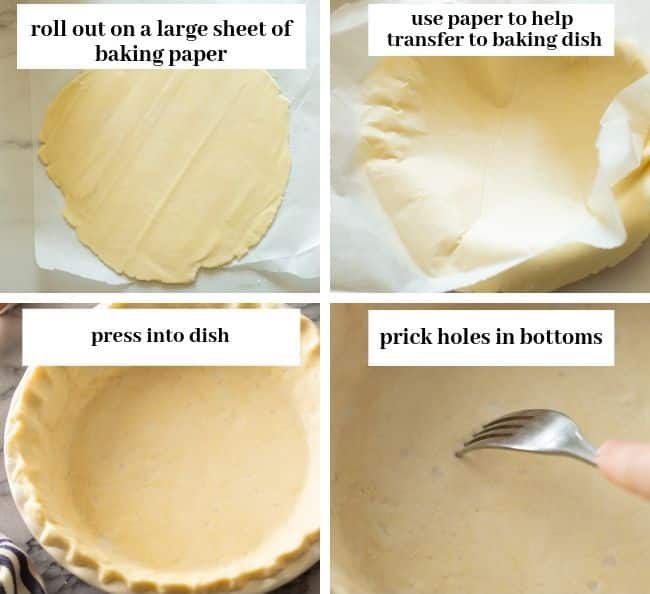 You need to make sure to roll the dough out on a large sheet of baking paper. The paper will make it easier for you to transfer your dough your baking dish and keep it from getting stuck to the counter.
Once in your dish, smooth over all the cracks and crump your edges as you like. If you need to par bake the crust before filling then make sure prick a few holes across the bottom of the dish to allow steam to escape as it bakes. This will prevent the crust from bubbling up in the middles too much.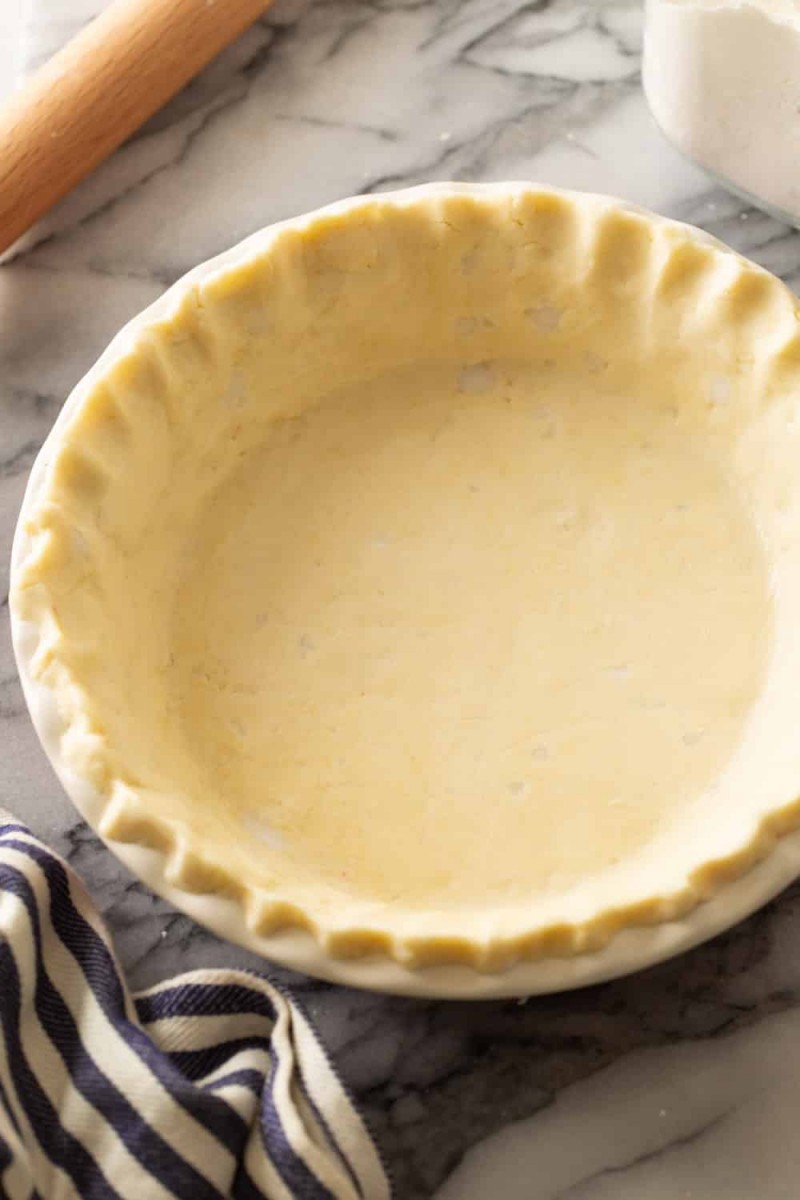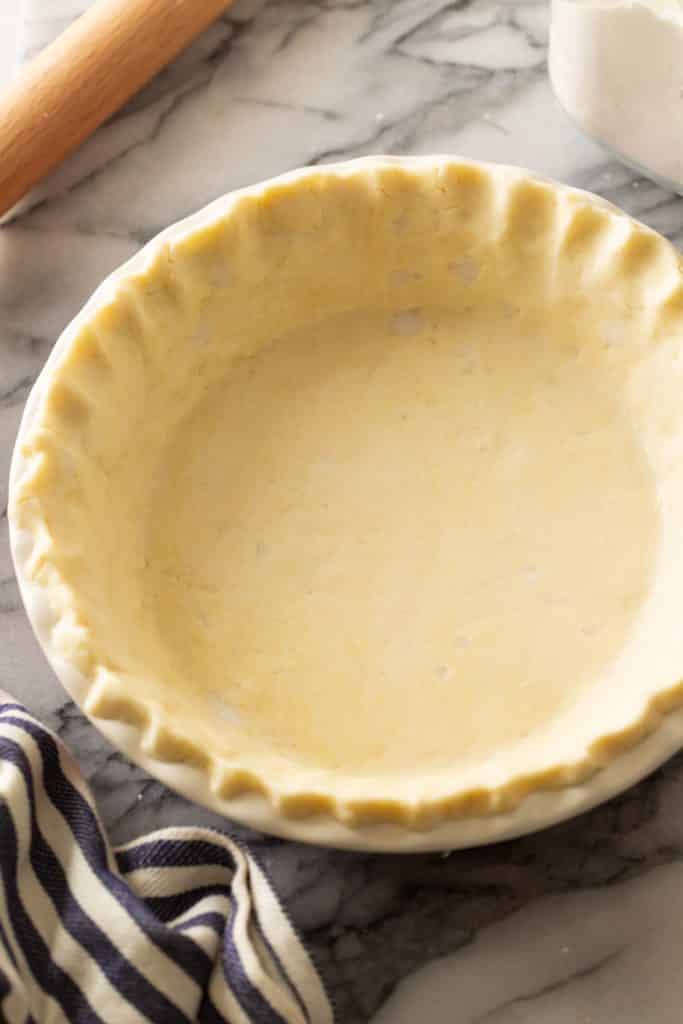 This might seem like a lot to take in but I promise the crust isn't that hard! I know there's a lot of text/pictures to get through but that's just to make sure I cover all the main sticky points.
If you keep scrolling beyond the recipe I've included some extra tips/trouble shooting points that might be helpful.
If you try this please let me know how it goes and what you filled it with! Enjoy!
Recipes made with this gluten-free pie crust:
Hungry for more savory gluten free pies? Check out these recipes: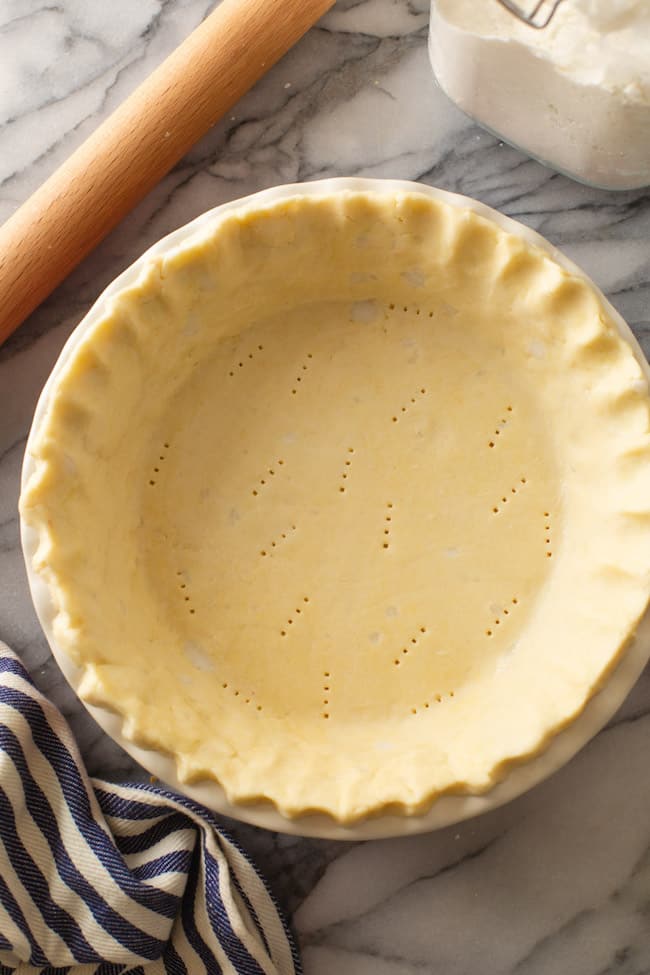 Recipe
Flaky Gluten Free Pie Crust
Yield:
2 9inch pie crusts
Prep Time:
20 minutes
Total Time:
20 minutes
My go-to gluten free pie crust - tender, flakey and easy to make! Made with ingredients that you likely already have on hand in your gluten free kitchen. This crust has been carefully tested with a variety of dairy-free butter substitutes!
Ingredients
2 1/2 cup (350 g) gluten free all purpose flour blend (homemade or store bought)
1 tablespoon white caster sugar (omit for savoury crusts)
1 1/4 teaspoon xanthan gum or guar(omit if your flour blend already contains xanthan)
1/2 teaspoon salt
1 egg
2/3 cup cold butter (150 g) (vegan butter, shortening, palm shortening or coconut oil all work - see notes), cut into cubes
4-5 tablespoons (60-75 ml) ice cold water
Instructions
Making the Dough
Mix the flour, xanthan (or guar), sugar and salt together in a large mixing bowl until well mixed.
Add the cold butter (or butter sub) and mix together with a fork or pastry cutter. Mix until you have a sandy kind of mixture. Stir in the egg.
Mix in the water 1 tablespoon at a time. Add water until you form a dough that sticks together in a ball.
Divide dough in half - each half should weigh about 300 grams. Flatten each half into 1-inch thick discs using your hands.
Wrap tightly in plastic wrap and refrigerate the dough for at least 20 minutes or up to 5 days.
Rolling the Dough
Place the dough between two lightly floured sheets of parchment paper and roll out to be 1/8-1/4 of an inch thick.
Remove the top layer of baking paper. Use the bottom baking paper to transfer your dough to the pie dish. Carefully transfer the rolled out dough to the pie plate. Slip one hand under the bottom layer of parchment paper to gently flip the dough over into the pan.
Peel back the paper and sooth over any cracks or breaking points in the dough. Use the dough hanging over the edges of the pie dish to cover up the holes in the middle.
Crimp the edges of the dough as you like. If you need to par bake this pie, use a fork to poke a few holes across the bottom of the dough. This will keep your pie from bubbling in the centre as it bakes.
Proceed with the pie according to your recipes instructions.
Notes
Freeze for later/ make ahead: Prep the pie dough through step 5 and freeze the discs for up to 3 months. To thaw, leave overnight in the refrigerator before using in your pie recipe.
Coconut Oil Notes: Coconut oil has a low melting point so make sure to chill the dough well. After you press the dough into the baking dish make sure to chill the dough again for at least 15 minutes.
Make it without xanthan gum: Instead of xanthan gum you can add 2 tablespoons psyllium husk powder or 3 tablespoons whole psyllium husk. Mix in when whisking together the dry ingredients.
This website provides approximate nutrition information for convenience and as a courtesy only. Nutrition data is gathered primarily from the USDA Food Composition Database, whenever available, or otherwise other online calculators.
Tips
Use cold ingredients. The butter/butter substitutes and even the egg ideally should be cold. The cold temperature helps keep the fat from melting too quickly into the dough. You want lumps of fat throughout the dough to steam up in the oven. The steam will bubble up just slightly in places creating layers. Those layers = flaky crust.

If you plan ahead, place your butter/fat in the freezer before using.

Use butter & shortening. Using a combo of half butter/half shortening (1/3 cup each) makes for an even flakier crust. Shortening has a higher steam point than butter which makes it nice and flaky but butter adds a better flavour.

I know someone will inevitably want to leave a comment telling me to never use shortening because it's bad for you – just remember that we're making PIE. It's not supposed to be healthy. Go big or go home!

Use a food processor. Mix everything together by pulsing it all in a food processor. It's much easier, faster and cleaner than doing it by hand. Just make sure to pulse the dough in short burst. You don't want to mix too fast or too long or you'll end up melting the fats.
Preheat the oven. For best results you want cold dough going into a hot oven.
For Pre Baking/Blind Baking
If you're making a pie with a wet filling (something like Banana Cream or a French Silk Pie) you will need to blind bake your crust using pie weights. Pie weights are little ceramic balls that look like beans. Instead of going out and buying pie weights – just use dried beans!
Place a sheet of baking parchment in the middle of your crust and fill with weights or beans to weight down the crust. This will keep the bottom from bubbling up and shrinking as it cooks. It will also make for a crisp bottom.
When you're ready Bake at 375°F/190°C until it begins to lightly brown in colour around the edges (about 20 minutes)