Lightened up Gluten Free Chicken Pot Pie loaded with veggies & topped with an herby crust | Dairy Free Option Available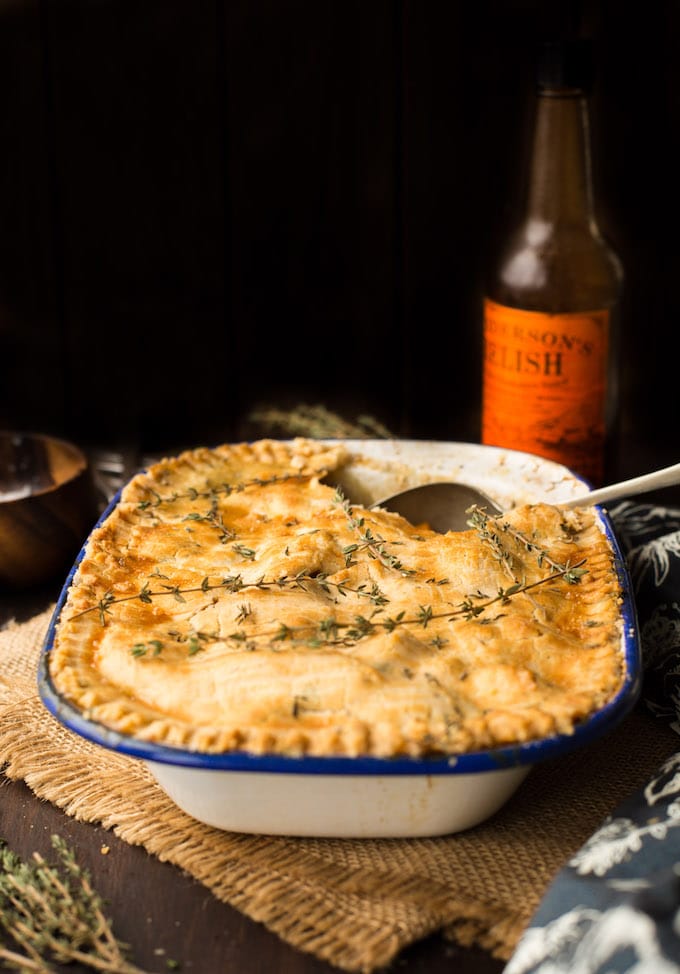 Can you feel the Fall creepin' in yet? We're definitely feeling it here.
Even my parents are feeling it in Arizona. They said it was starting to cool down this week….to the low 100's. As in 100 degrees Fahrenheit. It's been awhile since I've experienced an Arizona Summer, but I very much remember the relief that I used to feel when the temperature would drop down to the low 100's after a two to three month period of 115 weather. By the time it got down to 75° we'd all be in sweaters.
But I digress….
Even though we're in the final stretch of summer here in our little corner of the world I'm starting to make the mental transition from light, summer food to full on comfort food mode. I'm trading out salads for soups, zucchini's for squash, and ice creams for pies.
Hell. Yes.
First comfort food on the menu? This gluten free chicken pot pie – let's do it!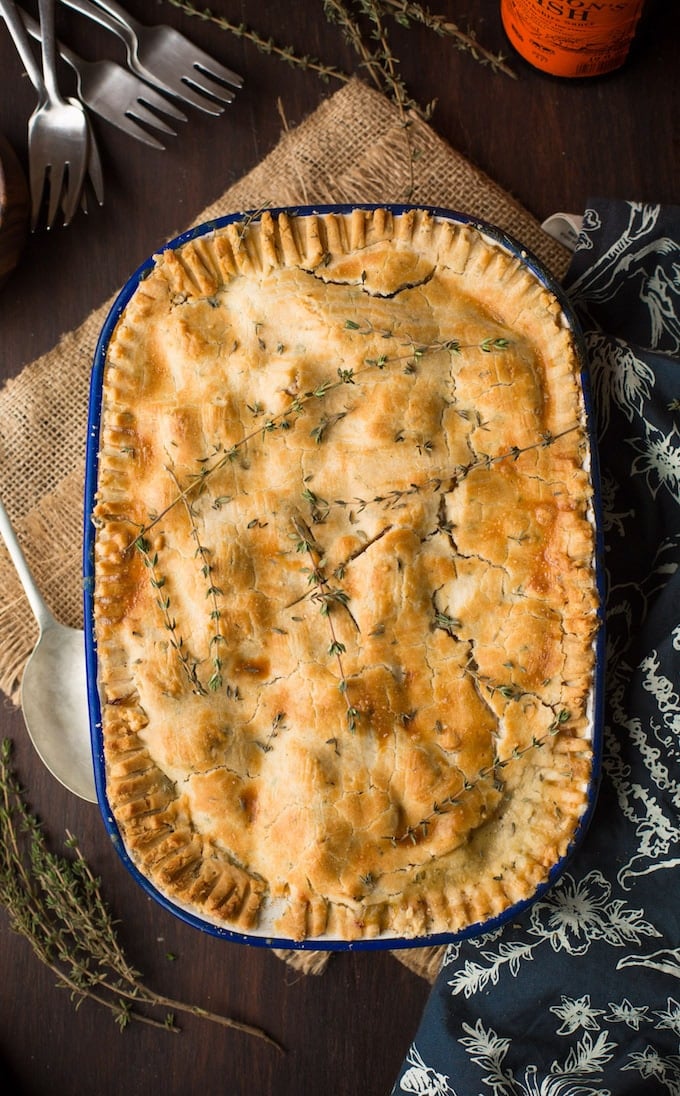 How to Make: Gluten Free Chicken Pot Pie
SO. Two reasons why this is a 'lightened up' Gluten Free Chicken Pot Pie: 
It's only got a top crust as opposed to a top & bottom.
The filling it dairy free made only which chicken stock cutting down on extra calories there.
It all starts with out crust. This one's adapted slightly from go-to my flaky gluten free pie crust. For best results, make it with butter or even a non dairy butter substitute like Earth Balance.
That being said you can absolutely make this using coconut oil like the ones I pictured here. Just note that when using coconut oil you might end up with a few more cracks in the crust and it will probably be a little more difficult to transfer. I recommend rolling the dough out on a floured pieced of baking parchment so that you can pick up the paper and flip it onto the filling for an easier transfer.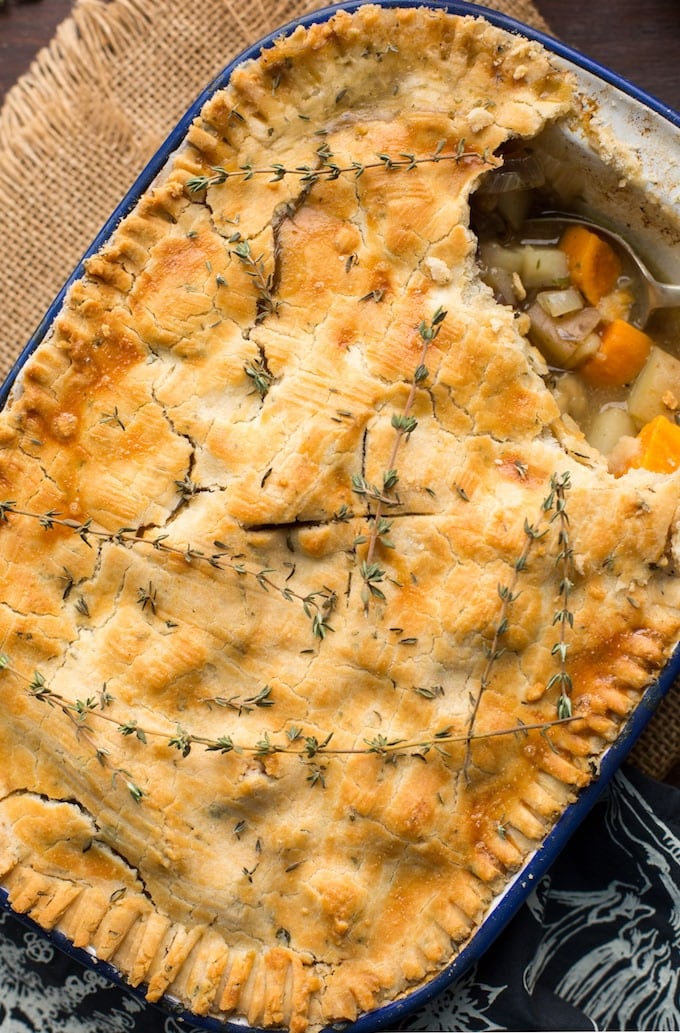 This filling is super easy to make and is made up of:
Onions
Chicken
Carrots
Potato
Stock
Herbs
After pre cooking your chicken & veggies all in one pan you pile it into your baking dish, top with your herb studded crust and bake for about 45 minutes.
To keep things on the lighter side this pie only contains a top crust, but if you want to go full on comfort mode (and why wouldn't you) just double to ingredients for the crust and have at it.
However you make this – I hope you enjoy!
Hungry for more savory gluten free pies? Check out these recipes: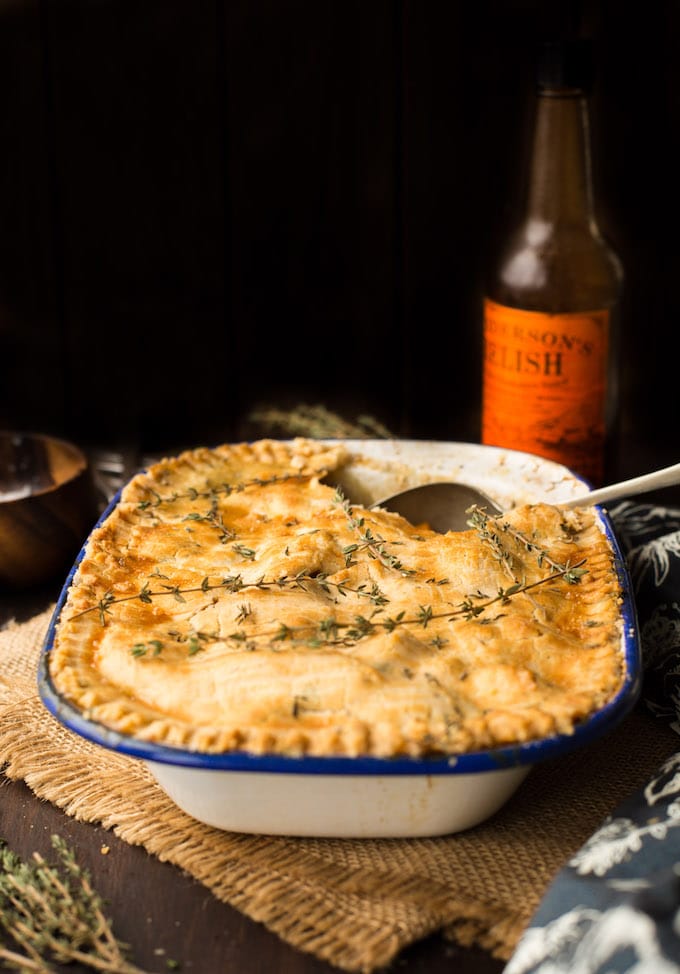 Recipe
Healthier Gluten Free Chicken Pot Pie with an Herb Crust
Yield:
6 servings
Prep Time:
20 minutes
Cook Time:
1 hour
Total Time:
1 hour
20 minutes
Lightened up Gluten Free Chicken Pot Pie loaded with veggies & topped with an herby crust | Dairy Free Option Available
Ingredients
Crust
1 cup | 140 grams gluten free all purpose flour blend
1/2 teaspoon salt
1/2 teaspoon dried thyme
1/2 teaspoon dried parsley
1/4 cup | 60 grams cold butter cut into pieces or coconut oil (coconut oil should be a consistency that is easy to scoop and not melted)
1 egg
2-3 tablespoons | 30-45 ml ice cold water
Filling
1.5 cups potatoes, diced (peeling is optional)
2 medium or large carrots diced carrots
2 tablespoon olive oil, divided
1 pound boneless, skinless chicken breasts cut into 1 inch chunks
1/2 teaspoon salt + pepper, each
1 medium yellow or white onion, chopped
1 teaspoon dried thyme
1/2 teaspoon dried parsley
1 1/2 cup | 360 ml low sodium chicken broth
3 tablespoons | 27 grams gluten free all purpose flour
Instructions
Crust
In a medium sized mixing bowl whisk together the gluten free flour blend with the salt and dried herbs.
Cut in the butter with a pastry cutter or a fork until the dough is crumbly. If using coconut oil mix it in with a spoon or mixer. The dough should also be a little dry and crumbly.
Whisk the egg in a small cup or bowl. Pour three tablespoons of the whisked egg into the dough. Add the cold water 1 tablespoon at a time. Mix well between each addition of water. When the dough sticks together and forms a ball you're done adding water. Wrap the dough up and place in the fridge while you prep the filling.
Filling
Preheat oven to 400°F/205°C. Adjust rack so that it's in the middle of the oven.
Warm the olive oil in a large skillet or pan on a medium heat. When the oil is hot add the diced chicken cooking until the chicken is no longer pink on the outside, about 5 minutes. Sprinkle with salt & pepper while cooking.
Remove the chicken from the skillet/pan and place in a small bowl or plate.
Wipe down the pan you were just using and add another 1 tablespoon olive oil on a medium heat. When the oil is hot add the onion and fry for 2-3 minutes until the onions begin to soften and become translucent. Add the chopped potatoes and carrots to the pan. Cook for another 2-3 minutes before adding back the chicken and herbs. Stir everything together well.
In a mixing cup mix together the chicken broth and flour. Whisk until no lumps remain. Add the stock to the pan and stir everything together.
Transfer the contents of the skillet to a greased 2 quart baking dish (8 inch square or round dish or 7x11 inch rectangular). Set aside.
Roll out the dough on a floured, baking parchment surface. Rolling out on the paper will make it easier to transfer the rolled out dough. Roll it out so that it's large enough to cover the top of the filling. Transfer the crust over the of the pie dish and use a fork to seal the edges. Poke a few holes in the top crust to allow steam to escape while baking.
Brush the remaining whisked egg over the top of the crust and then bake in the oven for 40-45 minutes until the crust in golden and the filling is bubbly. Let cool for at least 5 minutes before slicing and serving & enjoy!
Notes
*When using coconut oil expect the dough to crack in a few more places - you can always smooth it out together but it will be slightly more difficult to roll it out.
*If you want a top & bottom pie crust just double the recipe for the crust and use one whole egg as opposed to just 3 tablespoons of whisked egg.
Nutrition Information
Yield:

6
Serving Size:
serving
Calories:

340
Saturated Fat:

6g
Cholesterol:

95mg
Sodium:

591mg
Carbohydrates:

28g
Fiber:

4g
Sugar:

2g
Protein:

22g
This website provides approximate nutrition information for convenience and as a courtesy only. Nutrition data is gathered primarily from the USDA Food Composition Database, whenever available, or otherwise other online calculators.