Vegan Strawberry Hand Pies with A Lemon Drizzle – made with a coconut oil crust
So I was going to share my coconut flour carrot cake recipe today, but then I realized that today is Pi(e) Day!
You know March 14 3/14 = 3.14… = π = Pi = PIE
While I may not exactly be a huge fan of math, I do happen to be a huge fan of pies and will accept any excuse to eat copious amounts of them.
So I'm afraid the carrot cake is going to have to wait for the time being because right now I'm all about are these strawberry hand pies. I mean, I love all things strawberry, but we're talking hand pies here. Hand pies! And let's not forget the lemon drizzle.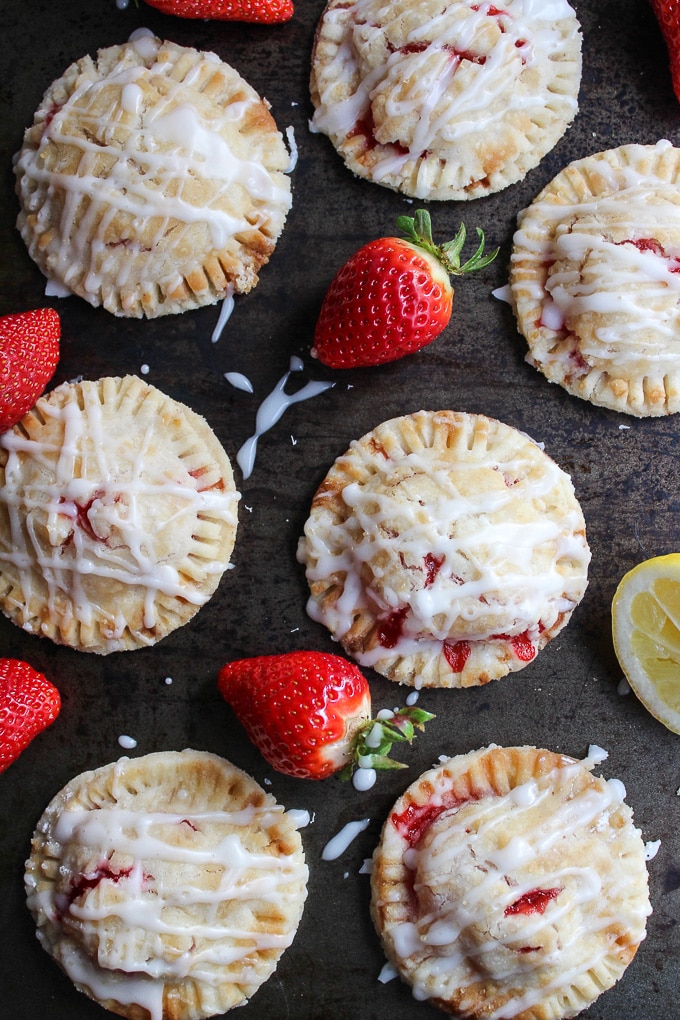 A few things to know about this recipe before you dive in:
The pie crust for this recipe is the one I shared a few months back, my coconut oil pie crust. That recipe took so many failed attempts before I was able to get it right. The ruined ingredients and temper tantrums were well worth it in the end because I'm still so in love with this pie crust. It's tender, flaky, and melt in your mouth good. It is however a tricky recipe to get right so I recommend going back to my original post and read the tips and tricks that shared with you then.
Because the dough for this pie crust can be so crumbly before it cooks I don't recommend folding these strawberry hand pies in half circles. Here's a link to an example if you're not sure what I mean.  Since there's no gluten to hold things together like you get in regular pie crusts you'll end with too many broken bits of dough.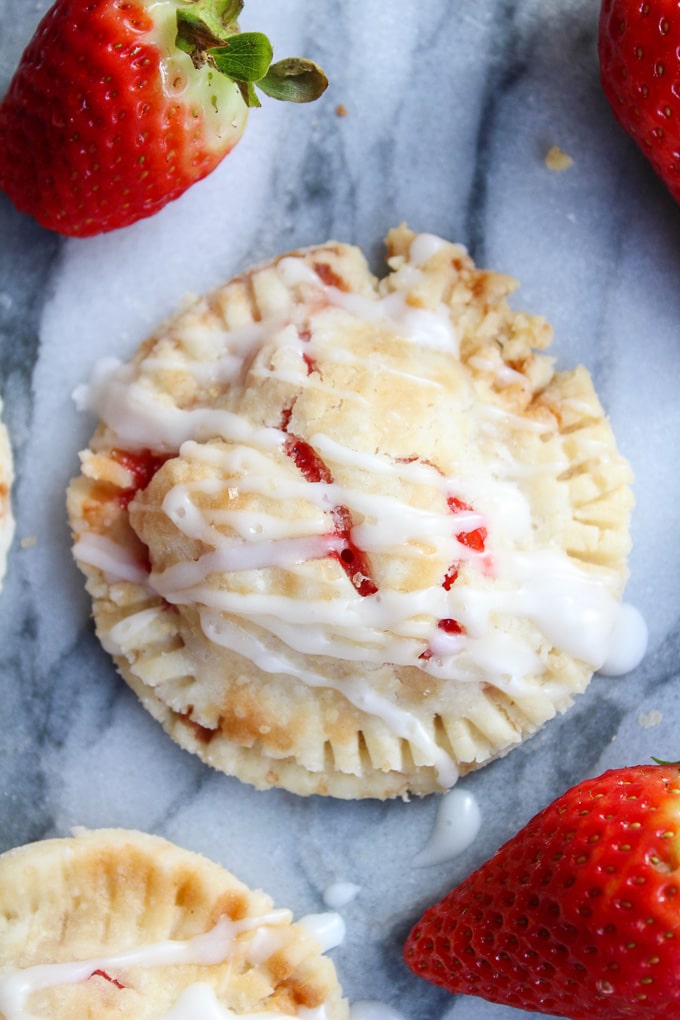 Right then. Now that we've got all those sticky details out of the way I'll stop talking and let you jump right into it! If any of that sounds intimidating I promise it's not that hard and the effort is so worth it in the end!
Yield: 8 Pies
Strawberry Hand Pies with a Lemon Drizzle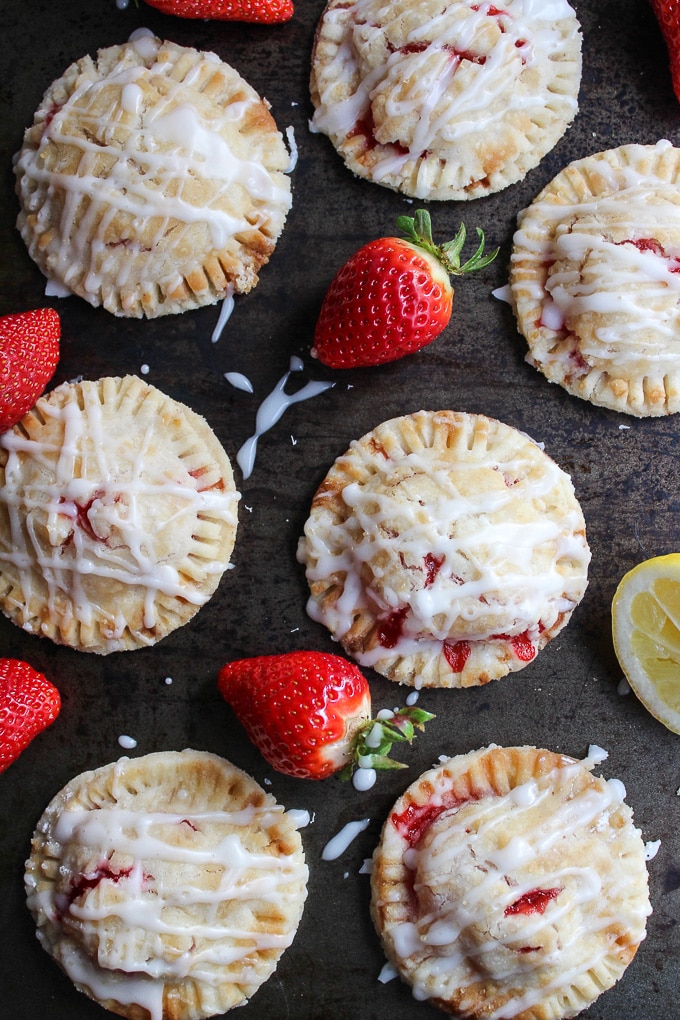 Vegan Strawberry Hand Pies with A Lemon Drizzle – made with a coconut oil crust
Ingredients
Pie Crust
1 1/4 cup | 175 grams gluten free all purpose flour without xanthan gum
1/2 teaspoon salt
2 teaspoons organic cane sugar
1 teaspoon psyllium husk, (not psyllium husk powder)
1/2 cup | 105 grams extra virgin coconut oil, see note*
3-6 tablespoons ice cold water
Strawberry Filling
1 1/4 cups diced strawberries
2 tablespoons coconut sugar or coarse cane sugar
1 teaspoon lemon juice
1/2 tsp vanilla extract
Lemon Drizzle
1/2 cup | 62 grams powdered sugar
1 tablespoon lemon juice
Instructions
Add the flour, salt, sugar, and psyllium husk to a large mixing bowl and whisk together until combined.
Mix in the coconut oil and with a pastry cutter or fork with the flour. Keep mixing until you get a clumpy/sandy mixture and make sure to leave some of the coconut oil in small pea sized chunks.
One tablespoon at a time, add in the ice cold water. Don't be tempted to add more than 6 tablespoons of water because then your pie crust will come out as one giant brick.
Clump the dough together until it sticks and transfer it to a sheet of baking parchment. Form a disc as if you were forming a burger/patty.
Place the dough in bowl, cover, and place in the fridge for at least 15 minutes.
Preheat the oven to 400°f/200°C
Add the diced strawberries, sugar, lemon juice, and vanilla extract to a small bowl and mix together. Set aside while you prep the pie crust.
After the dough has sat in the fridge to firm up, place the dough between two sheets of baking parchment and begin to roll it out. Roll it out as evenly as you can until it's about 1/4 inch thick.
Using a large circular cookie/biscuit cutter or a cup with a large opening punch out little individual pie crusts. My cup was about 3.5 inches wide.
Lay the dough circles on the parchment lined sheet. Spoon the strawberries onto the centers of the dough circles. Try not to use too much of the liquid from the strawberry mixture. Take another individual pie crust and place it directly over the top of the filling topped pies.
With your fingers, gently press the edges together. With the tines of a fork, press around the edges of the hearts to seal, then use a small knife to cut two small vents in the top of each.
Brush the tops of each pie with maple syrup and then bake for 13-15 minutes.
Allow the pies to cool before adding the lemon drizzle. To make the drizzle add the powdered sugar and lemon juice to a small bowl and whisking until it comes together.
Notes
You want you oil to be easy to scoop out of the jar, but not a liquid or in any way runny. If your coconut oil is liquid at room temperature, place the jar of oil in the fridge for about 30 minutes before using.
I recommend using a pastry cutter or a fork to mix the dough. If you live a really cold place with a freezing kitchen you may be able to get away with using your hands. I'd also recommend chilling your mixing bowl and utensils in the fridge for about 20 minutes before mixing.
Nutrition Information:
Yield:
8
Serving Size:
g
Amount Per Serving:
Calories:

234
Saturated Fat:

11g
Sodium:

151mg
Carbohydrates:

27g
Fiber:

2g
Sugar:

12g
Protein:

2g
You might also like…