Made with less than 10 ingredients and prepared in under 30 minutes – this Burst Cherry Tomatoes & White Bean Egg Skillet is hearty, healthy and easy to make! It's easy enough to throw together for a quick weeknight dinner and tasty enough to impress for a weekend brunch!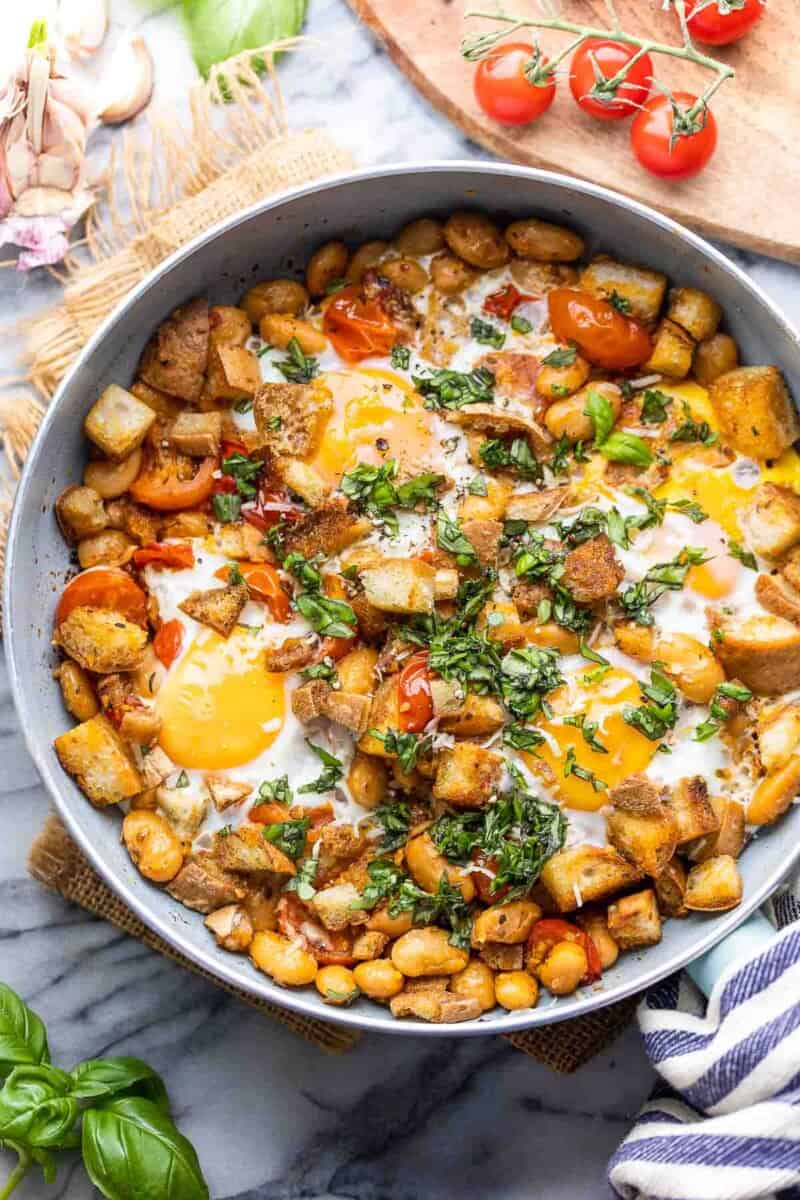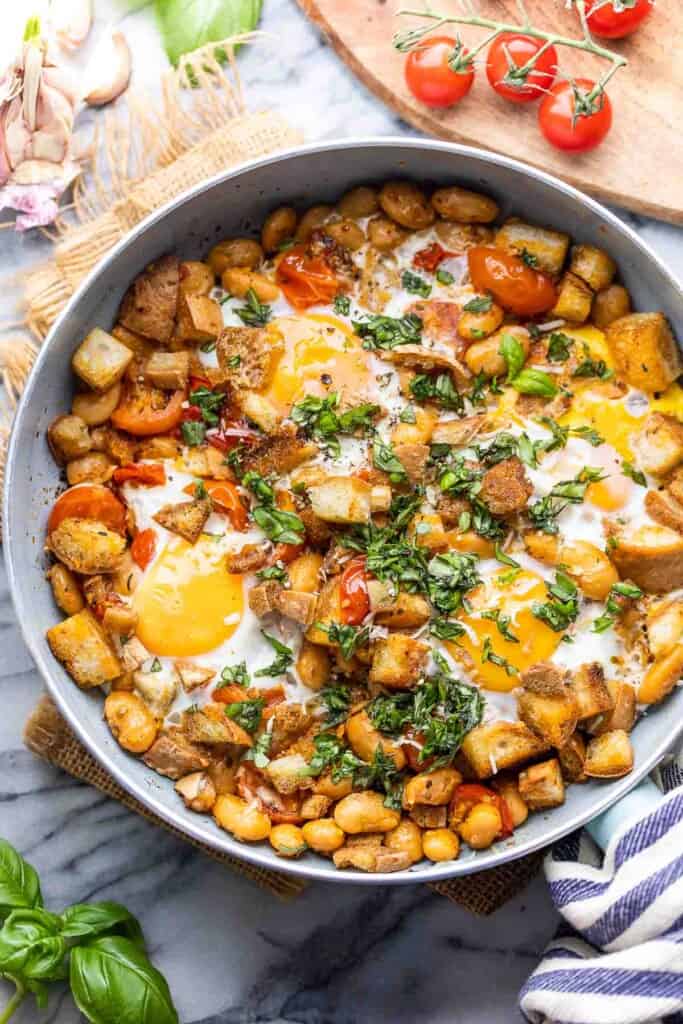 Simple, satisfying and nutrient dense – what more could you want out of a humble skillet meal?
What's to love about this tomato, bean and egg skillet? Its: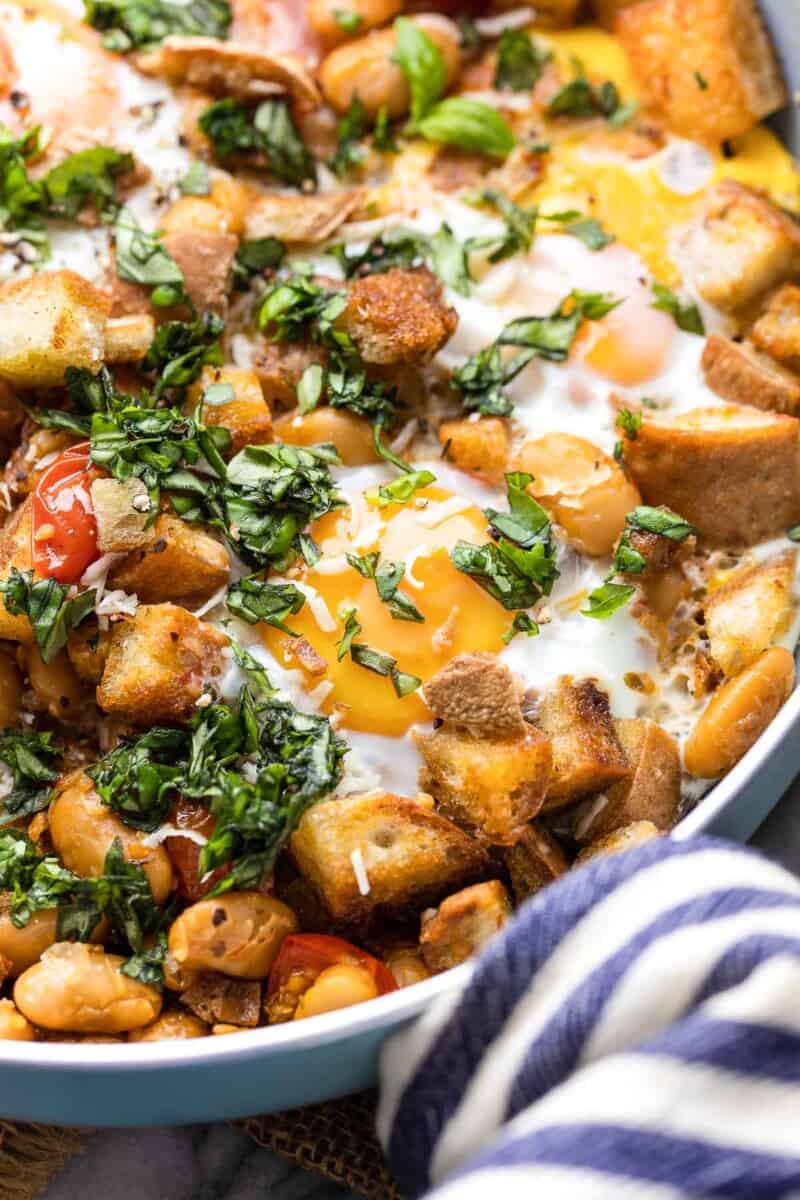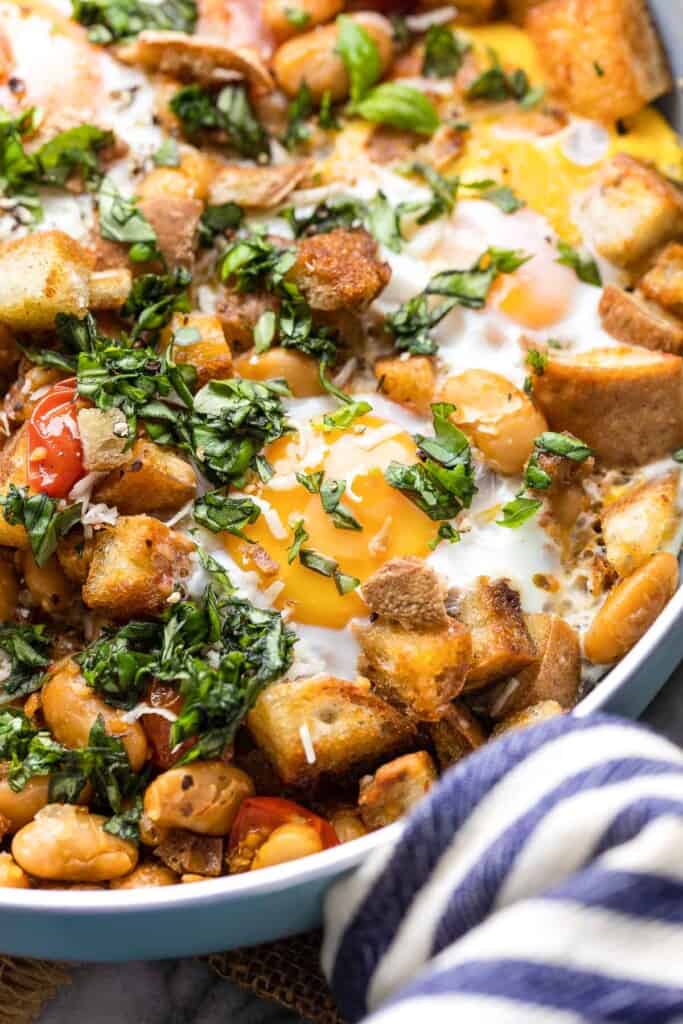 How to Make this Tomato Bean and Egg Skillet
This recipe can be broken down into a few main stages:
Toasting the bread.
Cooking the tomatoes and beans.
Mixing it all together with the eggs.
Toast the bread.
Chop up a few slices of gluten free bread then add to a large pan along with a small amount of olive oil. Gently toast for a few minutes (try not to stir too often to allow the sides to crust) until lightly browned.
Once toasted, transfer the bread to a small bowl and toss with grated parmesan. Set aside for now.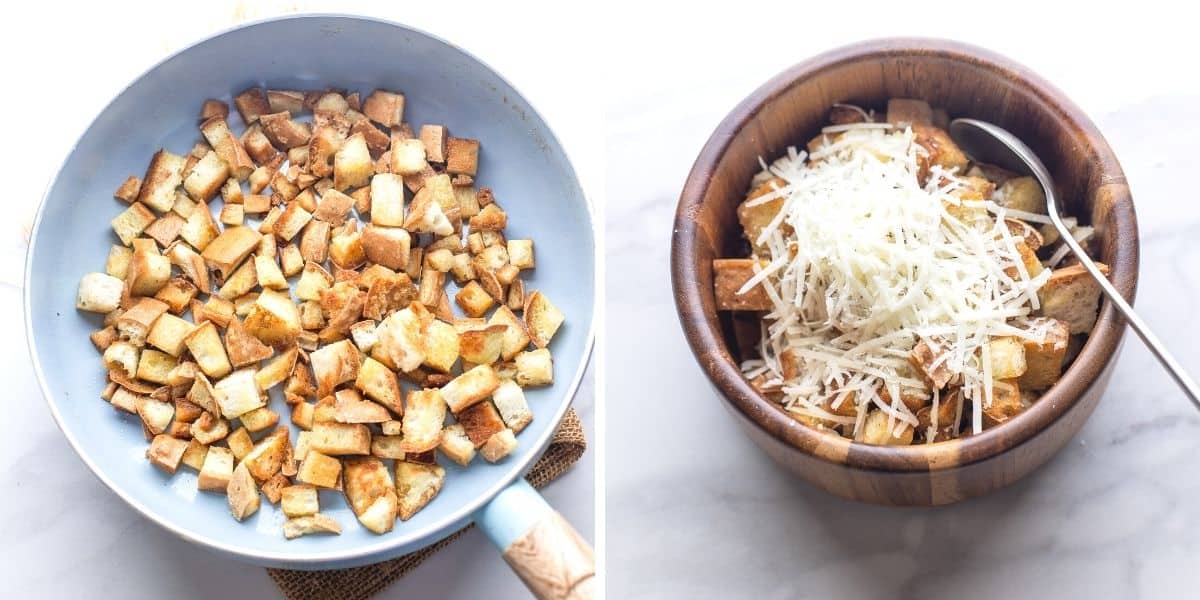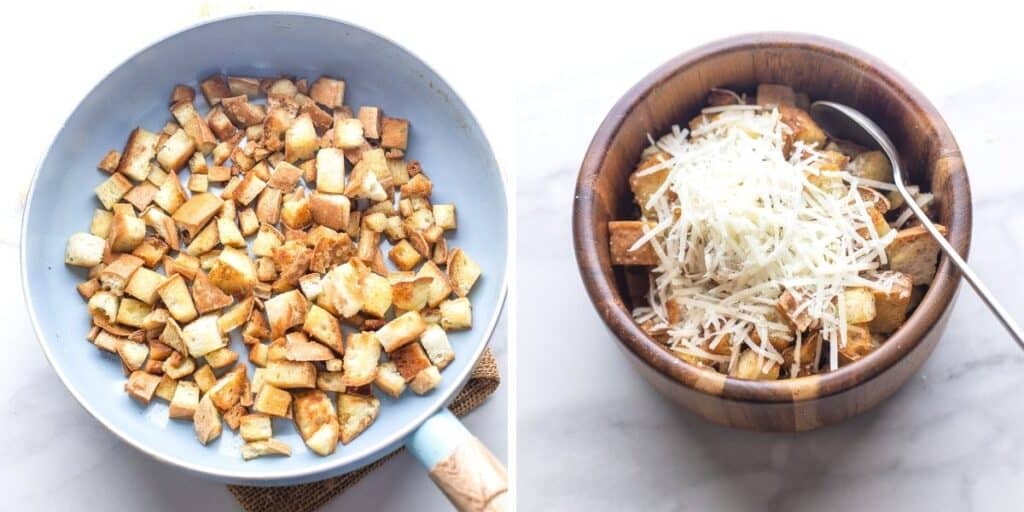 Cook the Garlic, Tomatoes & Beans
First: sauté the garlic. Wipe down the pan used to toast the bread to remove excess crumbs. Add the remaining oil along with the minced garlic and gently fry about 30-60 seconds until fragrant.
Next, stir the tomatoes and beans into the garlic along with some dried oregano and cook about 7-10 minutes. Stir occasionally, but not too often so that the tomatoes have a chance to blister.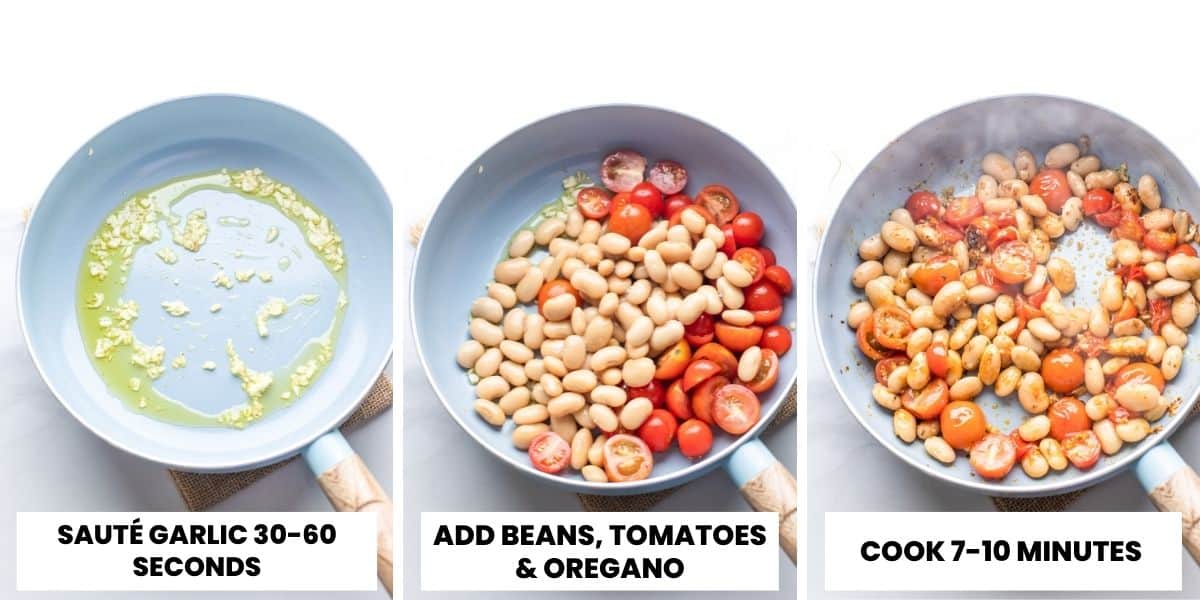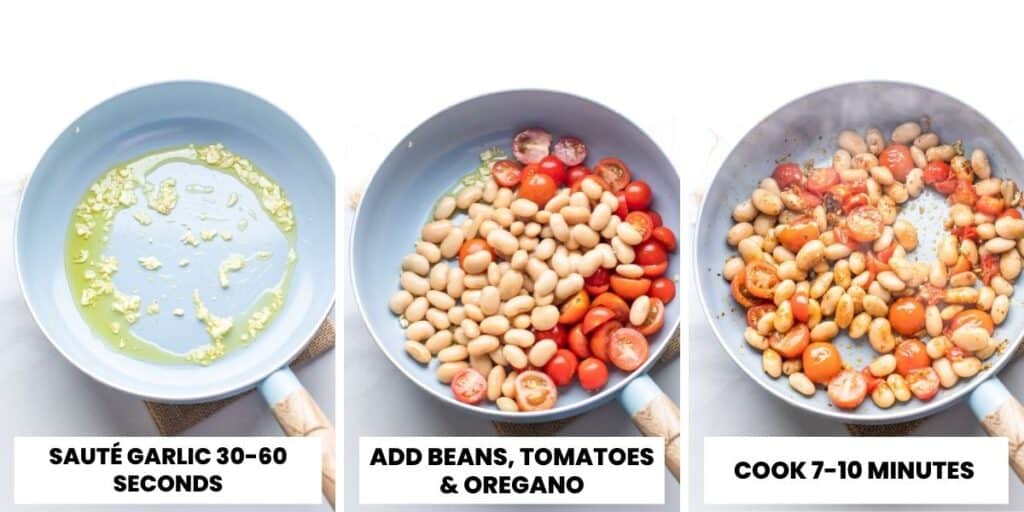 Add the Bread & Eggs
Stir in about 3/4 of the toast bread. Mix it in then cook for a minute or so to let the juices from the pan soak in a bit.
Once fully mixed in, use the back of a spoon to smooth over the contents of the pan into a mostly even layer. Make little wells across the hash with the spoon for the eggs to nest in.
When you're ready, carefully crack a few eggs into the wells. The egg whites will spread through the pan, binding (mostly) everything together as it cooks.
Lower the heat then cover with a fitted lid and let the heat and steam cook the eggs until set (about 2-3 minutes). Depending on how runny you like your eggs, you can cook them a little more or less.
Finally, top with some freshly ground black pepper and fresh herbs and enjoy!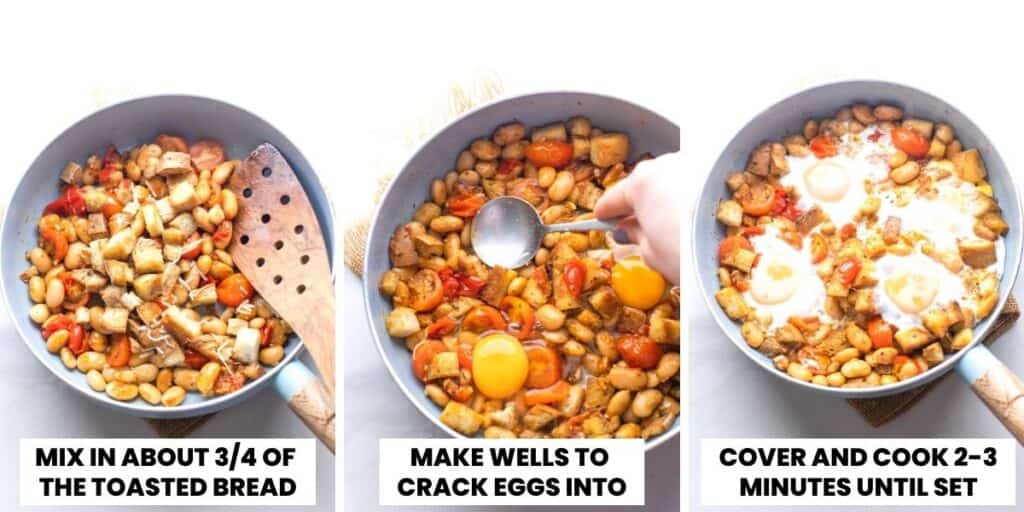 Substitutions & Additions
If you're up for playing around with the recipe and ingredient list a bit, this egg skillet is quite open to a few additions and adaptations here or there. In case you're in need of a little inspiration to get started:
Substitutions
Additions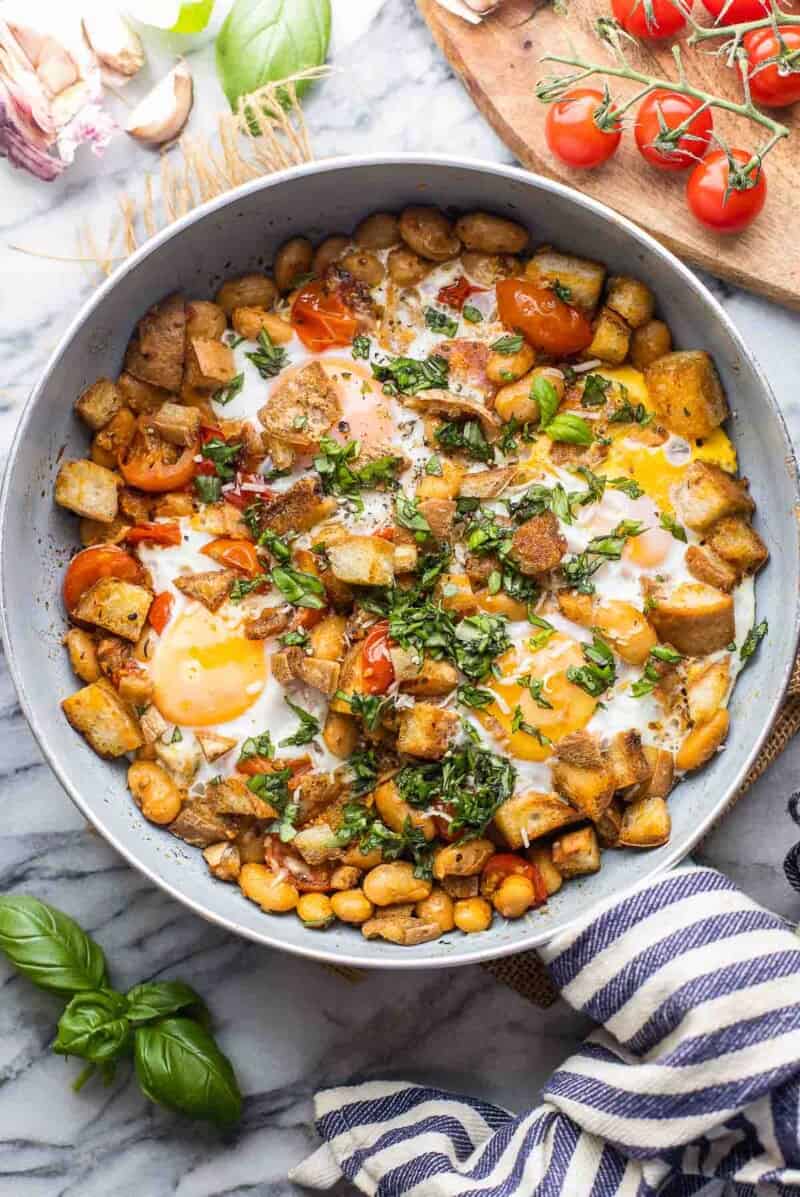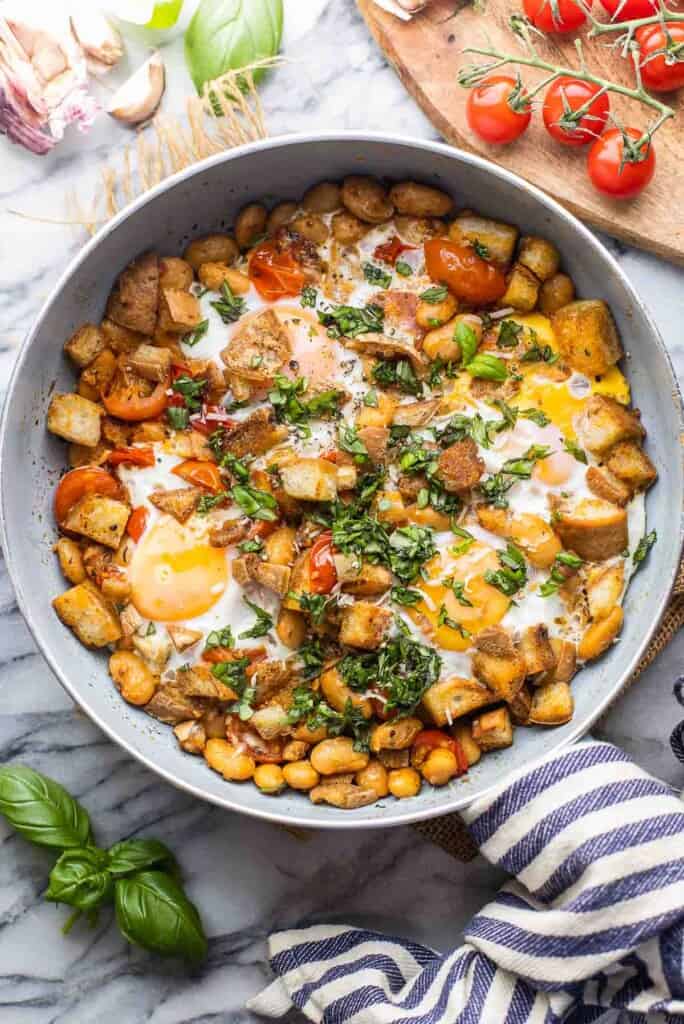 FYI: Parmesan Vs Vegetarian Parmesan
Technically, true parmesan cheese (officially labelled as Parmigiano-Reggiano) is not vegetarian as it must be made with calf rennet.
Cheeses labelled Parmigiano-Reggiano are produced in Italy in strict compliance with very specific production standards.
The good news: you can get vegetarian friendly parmesan (usually just called parmesan)! Parmesan can be produced anywhere as it requires little to no regulation meaning it can be made without animal rennet. Make sure to check the labels of your cheese if it's important that you avoid animal products like this.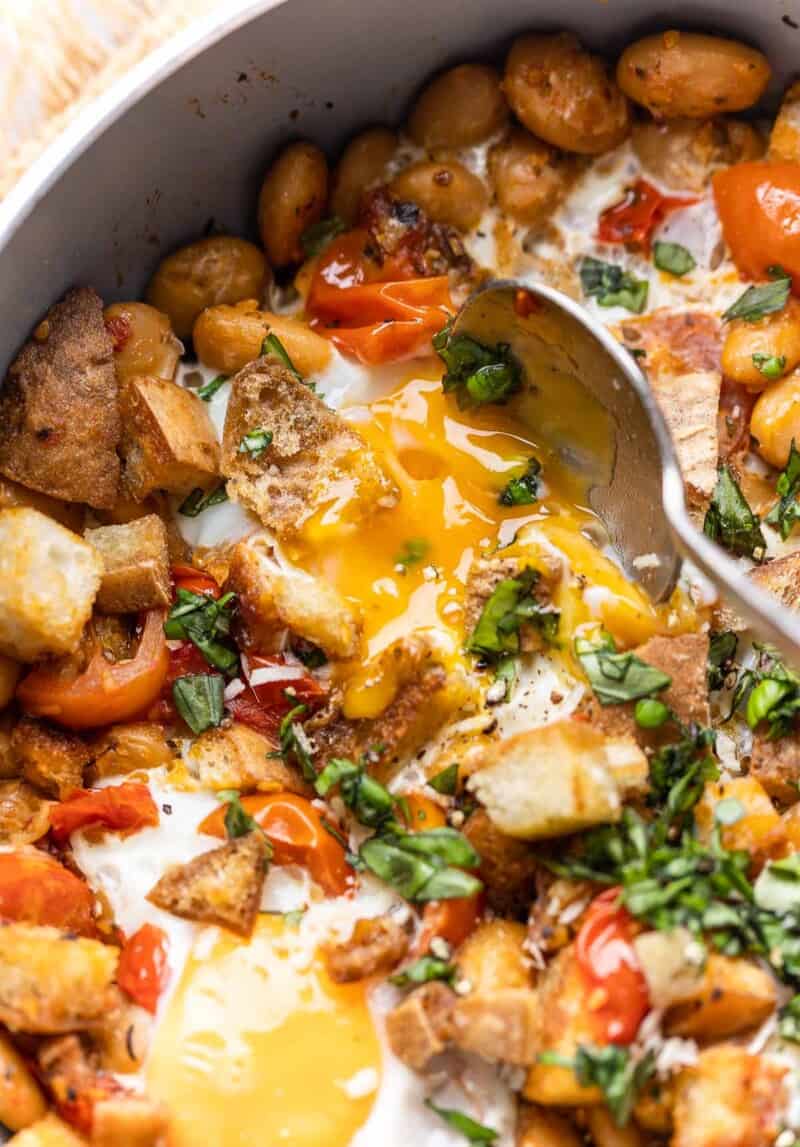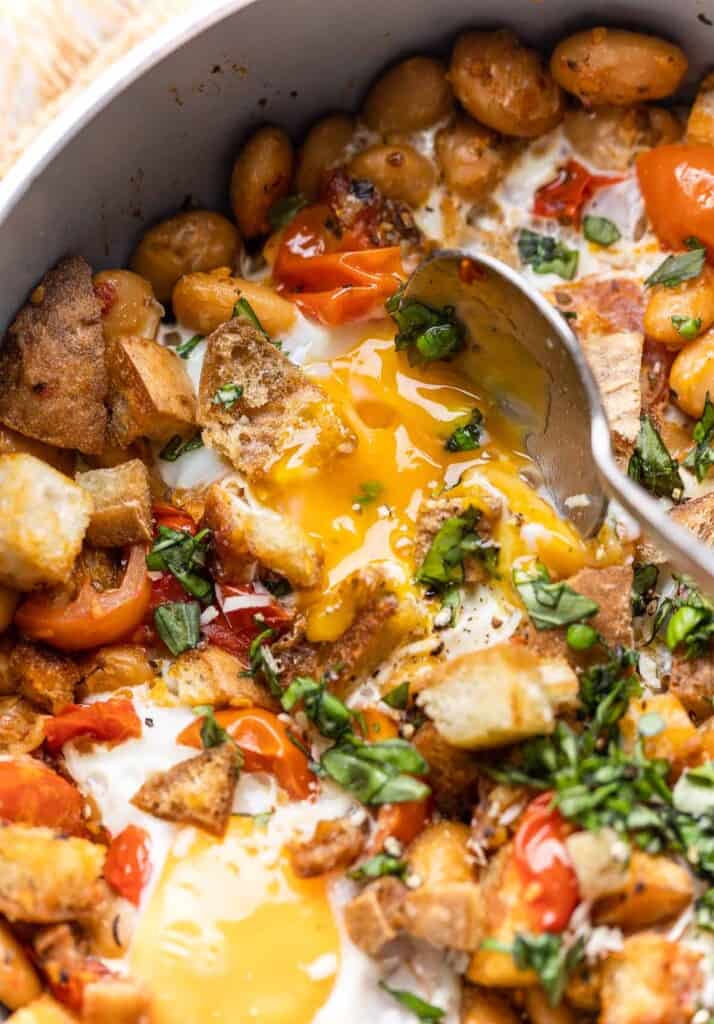 Storage
Once completely cooled, pack up the leftovers in an airtight container and keep in the fridge for about 3-4 days. This can be enjoyed cold, straight out of the fridge though I prefer heating it back up in a pan first. The bread will lose its initial crispiness, but the flavours remain on point.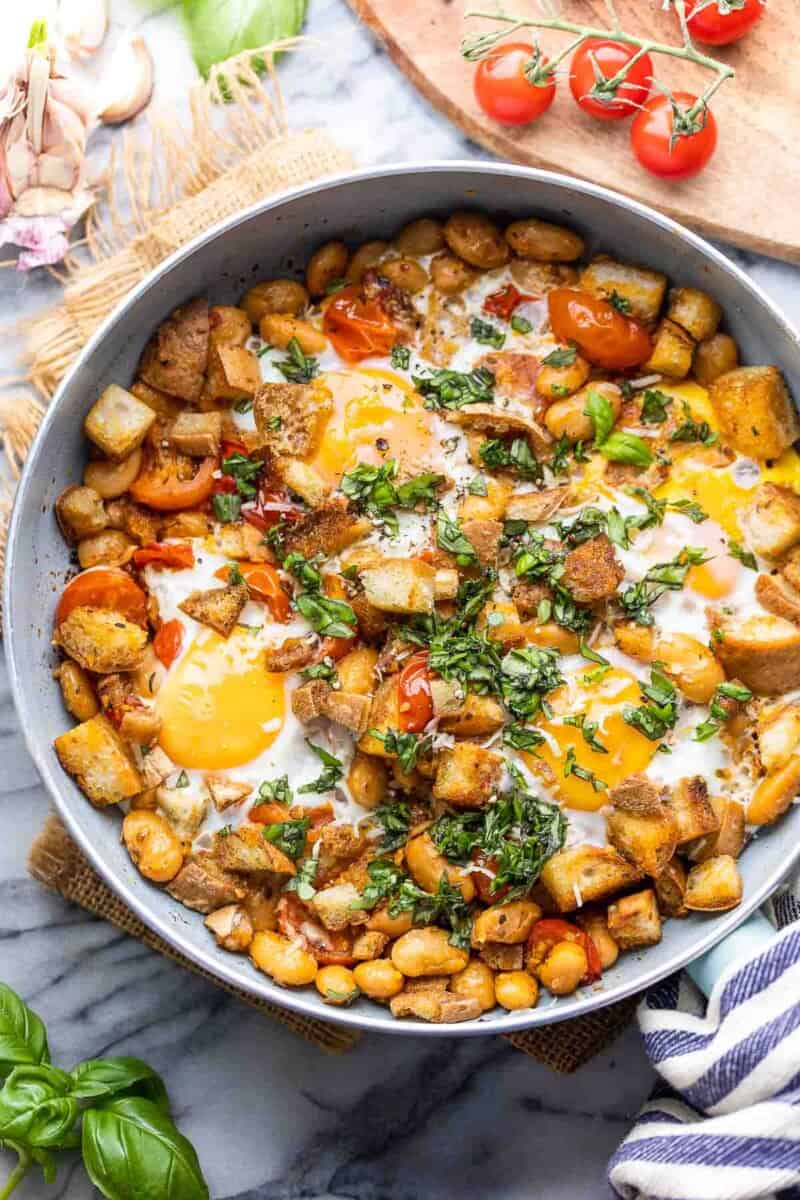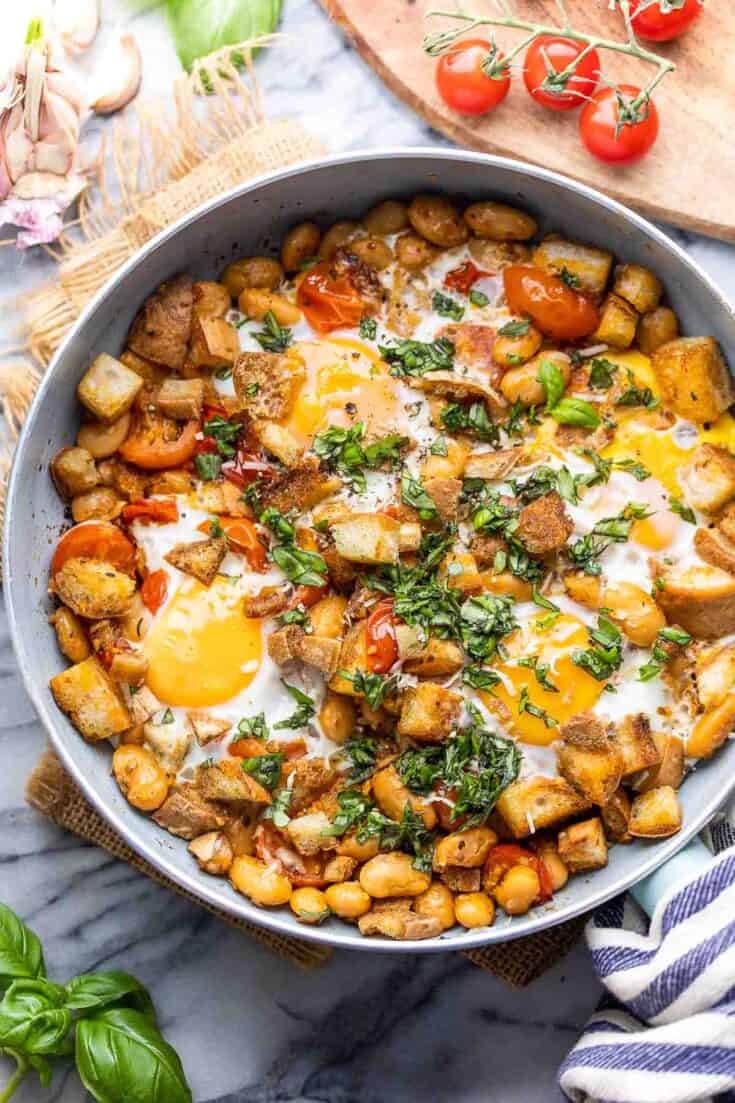 Recipe
Burst Cherry Tomatoes & White Bean Egg Skillet
Yield:
3-4 Servings
Prep Time:
10 minutes
Cook Time:
20 minutes
Total Time:
20 minutes
Made with less than 10 ingredients and prepared in under 30 minutes - this Burst Cherry Tomatoes & White Bean Egg Skillet is hearty, healthy and easy to make!
Ingredients
3 pieces gluten free bread, chopped into small pieces
2 tablespoons (30 ml) olive oil, divided
1/4 cup |25 g grated parmesan cheese (ensure it's vegetarian if needed)
2 cloves garlic, minced
10 oz (about 2 cups) cherry tomatoes, cut in half
1 (15 oz) can cannellini beans, drained
1/2 teaspoon dried oregano
4 eggs
Ground Black Pepper
Fresh basil, chopped (optional)
Instructions
Heat a large skillet over a medium-high heat along with 1 tablespoon of olive oil. When the oil is hot, add the chopped bread pieces. Gently fry for 3-4 minutes, until the bread pieces have turned gold.
Transfer the bread to small bowl. Toss with parmesan. Set aside.
Wipe down the pan to remove bread crumbs. Add the remaining tablespoon of olive and warm over a medium heat. Add the garlic and cook 30-60 seconds, stirring the whole time.
Add the beans and cherry tomatoes to the pan. Turn up to a medium-high heat and cook, about 7-10 minutes, stirring every so often until most of the tomatoes have burst.
Stir in about 3/4 of the toasted bread pieces. Mix and cook about a minute.
Turn down to a low heat. Spread the mixture evenly across the pan, then use the back of a spoon to make four small wells for the eggs. Carefully crack the eggs into the little holes. Cover the pan with a fitted lid and let the eggs cook about 3 minutes until the whites are set. For runnier eggs cook 2-3 minutes and for more set yolks cook 3-4 minutes.
Finally, top with the remaining bread, fresh basil and black pepper.
Notes
Instead of cherry tomatoes you can use 2-3 medium/large tomatoes.
Nutrition Information
Yield:

4
Calories:

337
Total Fat:

14g
Saturated Fat:

4g
Carbohydrates:

31g
Fiber:

13g
Sugar:

3g
Protein:

19g
This website provides approximate nutrition information for convenience and as a courtesy only. Nutrition data is gathered primarily from the USDA Food Composition Database, whenever available, or otherwise other online calculators.
More Delicious Ways to Enjoy Eggs