Homemade gluten free croutons are a great way to spruce up soups and salads while making use of stale bread that's past its best. All you need is about 20 minutes and a few ingredients! Gluten Free + Dairy Free and Low FODMAP options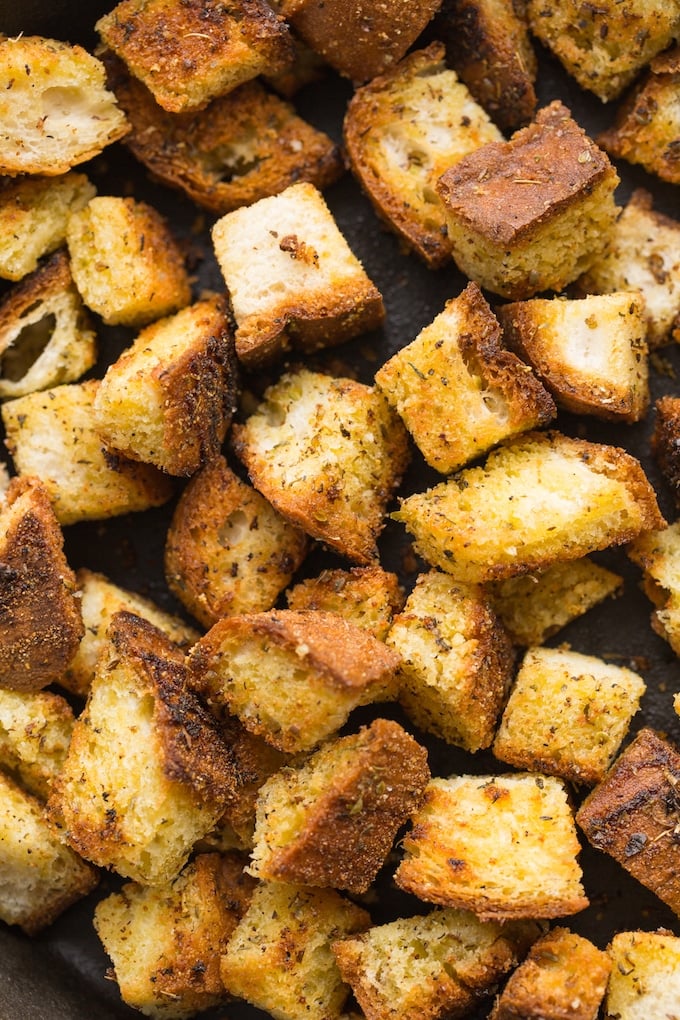 I'd be lying if I didn't admit that my favourite part of salads used to be the croutons.
I mean….how can you not love crispy, herby, buttery bits of bread? What's not to love here?
When I was a kid I'd eat them on their own grabbing handfuls from the pantry at a time until I'd eat the whole bag. Not the smartest thing to do, but man were they good.
Since then I've somehow managed to contain my love for croutons to more special occasions – like Fridays or Caesar salads.
These days though, I have to go the homemade route because gluten free croutons aren't really something I've ever seen available here in the UK. I'd be more bothered by that if it weren't for the fact that they're dead easy to make and I like being able to customise the flavours myself.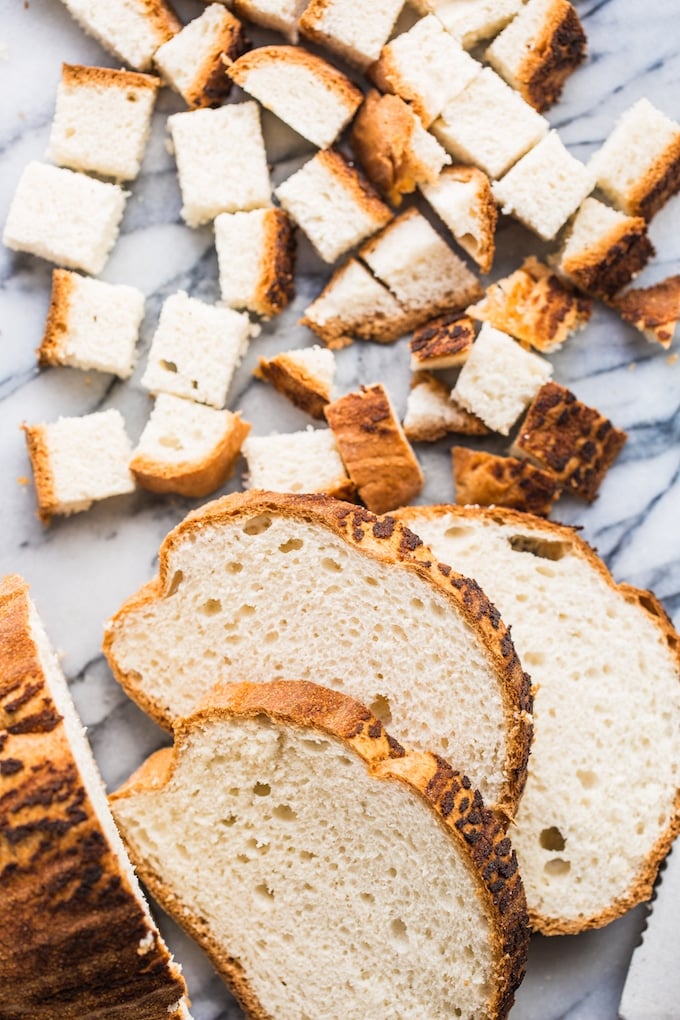 Tips for making: Gluten Free Croutons
Whether you're baking them in the oven or frying them up on the stove top you really love need a few things:
About 20 minutes of your time
Stale bread
Some kind of fat like olive oil or butter (use vegan butter if you need)
Some herbs and spices to spruce up the flavour
The type of bread you use is not too important but I would recommend choosing whole loaves that you can slice yourself so that you can cut up the pieces to be as big or small as you'd like. Use sourdough, French bread, sandwich bread or even gluten free bagels – it's totally up to you and whatever you've got on hand. Ideally you just want to use bread that's a little stale so that it dries out easier and becomes crispy.
When choosing the type of fat you use keep in mind that butter burns quicker than olive oil so just keep an eye on it. I find that butter croutons do better in the oven than frying but you can really do either method. You can also use a combination – half butter and half olive oil if you want.
Truly the most difficult part here is just finding enough will power not to eat too many…or maybe that's just me?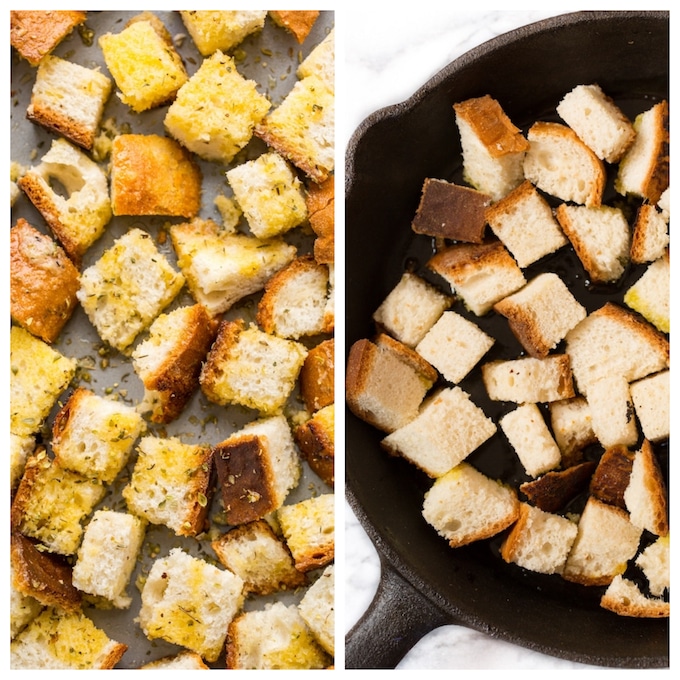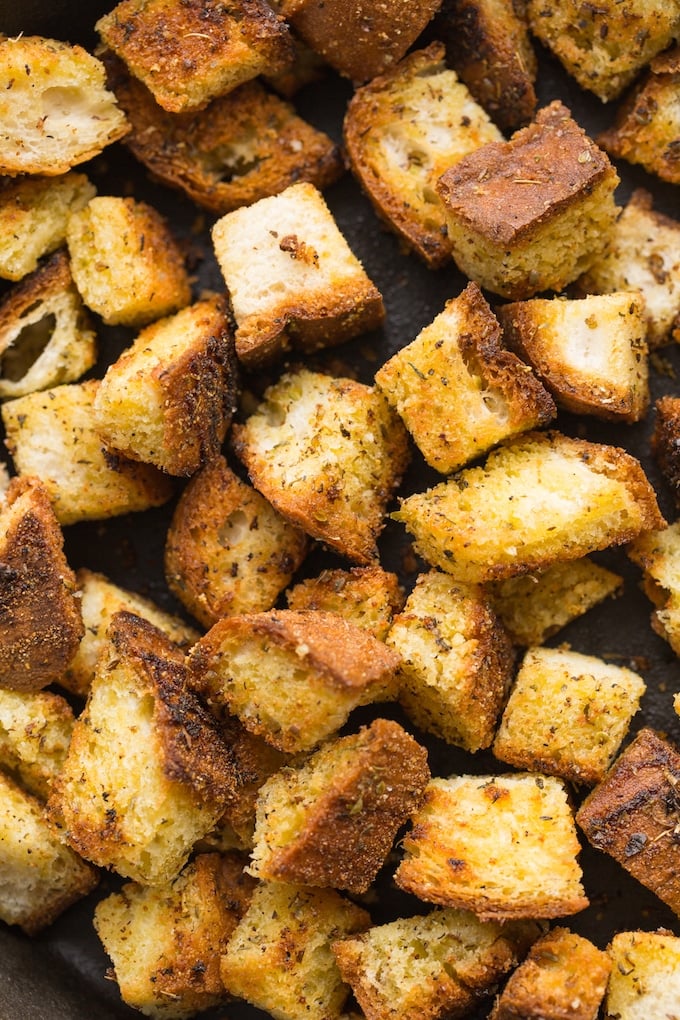 Recipe
Gluten Free Croutons
Yield:
12 servings
Prep Time:
10 minutes
Cook Time:
15 minutes
Total Time:
25 minutes
Homemade gluten free croutons are a great way to spruce up soups and salads while making use of stale bread that's past its best
Ingredients
Stovetop
1 loaf stale gluten free bread, choose an unsliced loaf that you can cut yourself
1/4 cup melted butter or olive oil, or combo of the two
1 teaspoon dried herbs , basil, oregano, thyme etc
1 teaspoon garlic powder, optional - don't use for low Fodmap
3/4 teaspoon salt
Instructions
Oven
Preheat the oven to 375°F (190°C).
Cut the bread into 1/4 inch chunks.
Spread the bread chunks across a large baking tray and drizzle butter or oil oil over the top. Toss the bread to coat and then season with herbs, salt and garlic powder if using.
Make sure not to crowd the bread and the bake for 10-12 minutes or until golden. About half way through cooking take the croutons out of the oven to gently mix and flip over to get an even cook.
When done cooking remove from the oven let cool slightly. Store in an airtight container for up to two weeks and enjoy.
Stovetop
Cut the bread into 1/4 inch chunks.
Heat the butter or olive oil in a large skillet or pan on a medium heat. Add the bread pieces to the pan along with your chosen seasonings (herbs, salt and/or garlic powder) and stir to coat everything in fat and spice.
Spread the croutons out on the skillet in a single layer making sure not to crowd the bread pieces. Let the croutons brown on their side without stirring or flipping. Once they start to brown flip them over with a spatula and let them continue browning on all sides.
Once toasted and crispy on all sides remove the croutons from the heat and let cool completely before storing in an airtight container.
Notes
Make it Vegan: use vegan bread
Nutrition Information
Yield:

12
Calories:

128
Saturated Fat:

2g
Cholesterol:

16mg
Sodium:

295mg
Carbohydrates:

15g
Sugar:

2g
Protein:

1g
This website provides approximate nutrition information for convenience and as a courtesy only. Nutrition data is gathered primarily from the USDA Food Composition Database, whenever available, or otherwise other online calculators.