Looking for a simple, yeast-free AND gluten-free bread? Try out this super easy to make gluten free soda bread! It's made with only 7 ingredients, prepped in one bowl, and bakes in about 30 minutes! There's no rising or kneading required – just mix, shape, bake and enjoy! | Gluten Free + Egg Free + Dairy Free/Vegan Option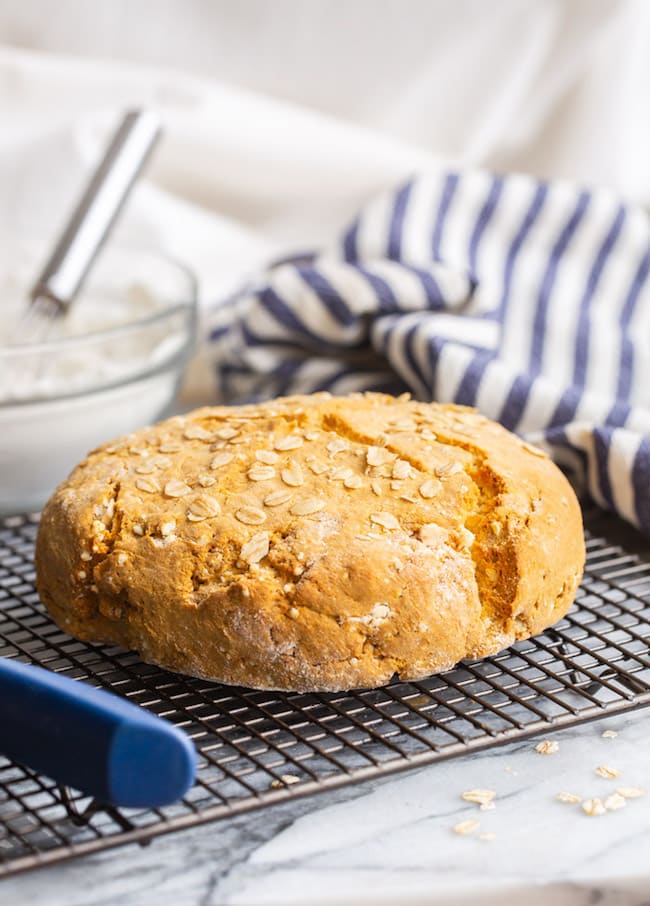 What is Soda Bread?
Soda bread is a variety of quick bread that relies on baking soda (hence the name) and usually buttermilk as the main leavening agents. That leads us to the next obvious question:
What is a quick bread?
A quick bread is any baked good that uses something other than eggs or yeast to create a rise or lift in the final product (like focaccia or sandwich bread) . Despite the name it doesn't always refer to actual bread, as scones, pancakes, muffins, brownies, and cakes can all be quick breads.
One of the main appeals for quick breads and soda bread in particular is how fast and easy they are to make. It's a fairly uncomplicated process that takes little time and effort to make.
You don't need to spend time activating yeast or waiting for dough to rise. Instead, baking soda and buttermilk chemically react with each other. The acidity of buttermilk interacts with the baking soda (an alkaline substance) to create carbon dioxide bubbles to form in your batter or dough. Those air bubbles are what leads to a rise. If you've ever made pancakes then you'll have seen this yourself as you know a good time to flip is when little bubbles start appearing across the surface of the pancake.
The end result here is a cob of bread that's more moist, dense and crumbly than traditional bread.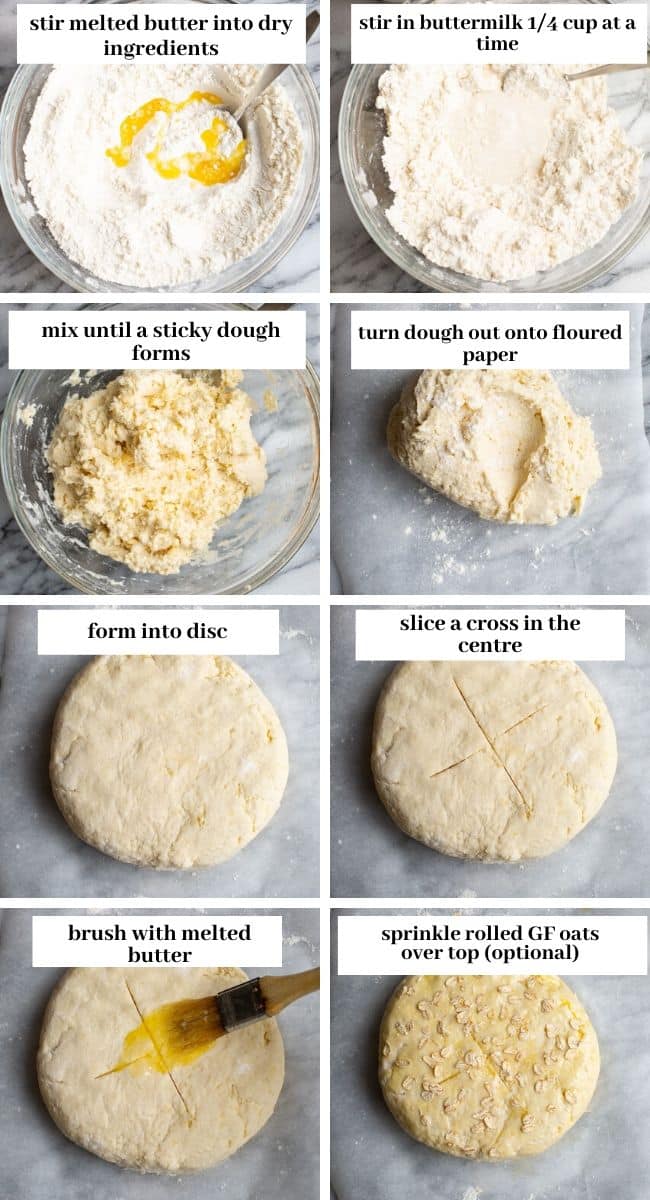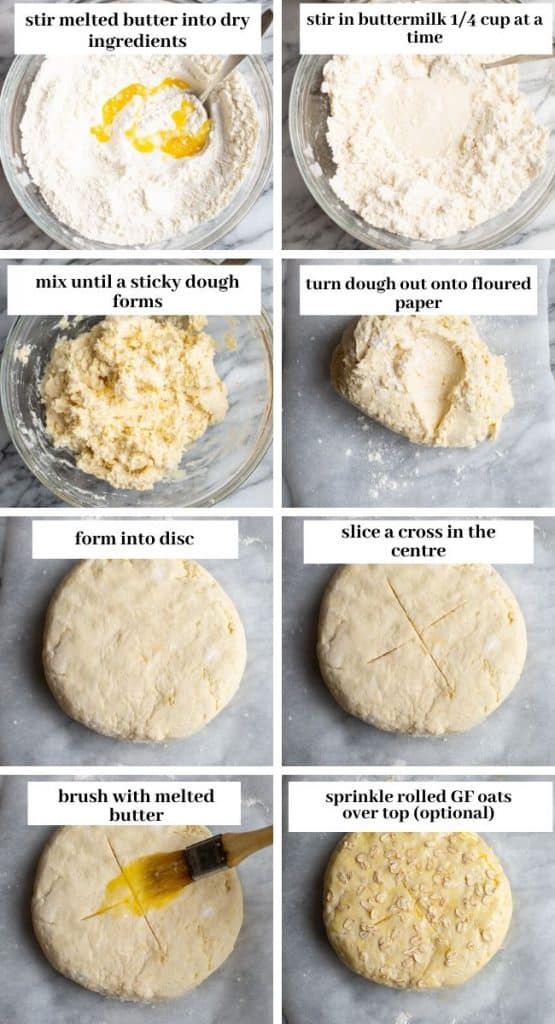 How to Make Buttermilk from regular milk or dairy free milk?
No worries if you don't have buttermilk already in your fridge! So long as you have some sort of milk in your fridge (including dairy free varieties) and vinegar or lemon juice then you're good to go.
Rule of thumb for homemade buttermilk:
Mix 1 cup milk with 2 tablespoons lemon juice, white vinegar or apple cider vinegar and then let sit for 10-20 minutes at room temperature until the milk visibly curdles.
You can use any type of milk: low, non or full fat milk and dairy free milks work as well.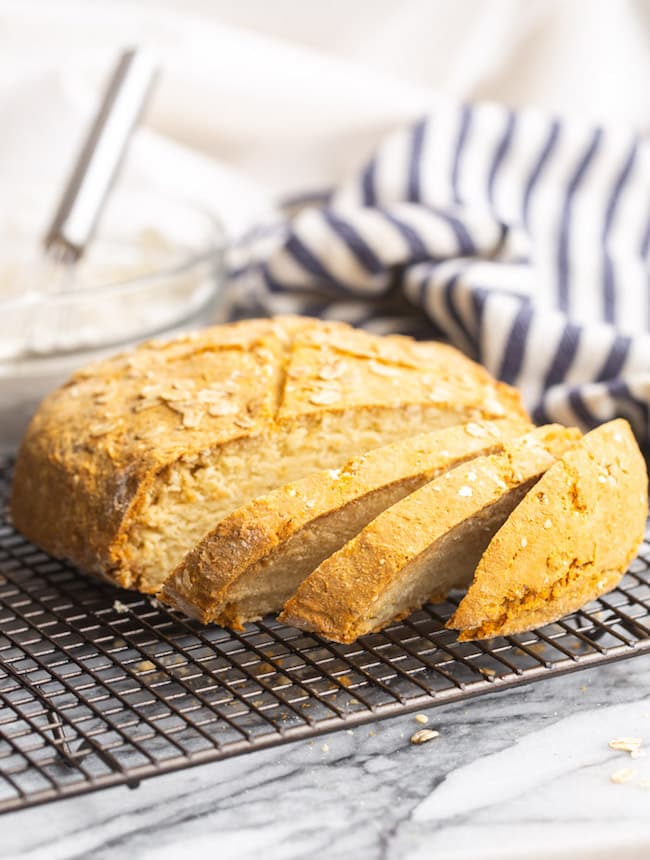 Gluten Free Soda Bread Tips & Questions
Since there is no gluten to over work, don't be afraid of mixing this bad boy up. If you have a stand mixer, that's perfect. If you don't have a stand mixer, give yourself a good arm workout and put some elbow grease into it. I tried this out with an electric handheld mixer, and while it did eventually work, I wouldn't use it again because my dough kept getting stuck.
Can I use different flours?
I have not yet played around with using different flours so I'm afraid I can't say for sure. I will be updating the notes of the recipe when I do.
Do I have to use xanthan gum?
Xanthan gum does a couple of things in this recipe: it helps hold on to moisture (something gluten free goods are often desperate for) and provides added structure which is something that gluten would normally provide.
If you can't buy or use xanthan you can use guar gum instead. Both of these can usually be found in the baking or gluten free section of major grocery stores. If all else fails you can always find these on Amazon.
Check out my post on Xanthan Gum to learn more about why it's useful in gluten free baking.
Final note
Feel free to play around with the flavours of your bread! Herbs and spices can be mixed in with the dry ingredients as you make this. Chopped chives, spring onions or rosemary would all be great additions. You can add a teaspoon of garlic or onion power for an extra boost of flavour.
I plan on testing this recipe in both sweet and savoury contexts adding things like cheese, sun dried tomatoes and olives. I also have a cinnamon raisin version coming out soo so check back in for that if you're interested.
Enjoy!
FACEBOOK | INSTAGRAM | PINTEREST
Don't forget to @asaucykitchen on instagram if you try this Gluten Free Soda Bread! We love seeing what you make! You can also post your pictures to my facebook page!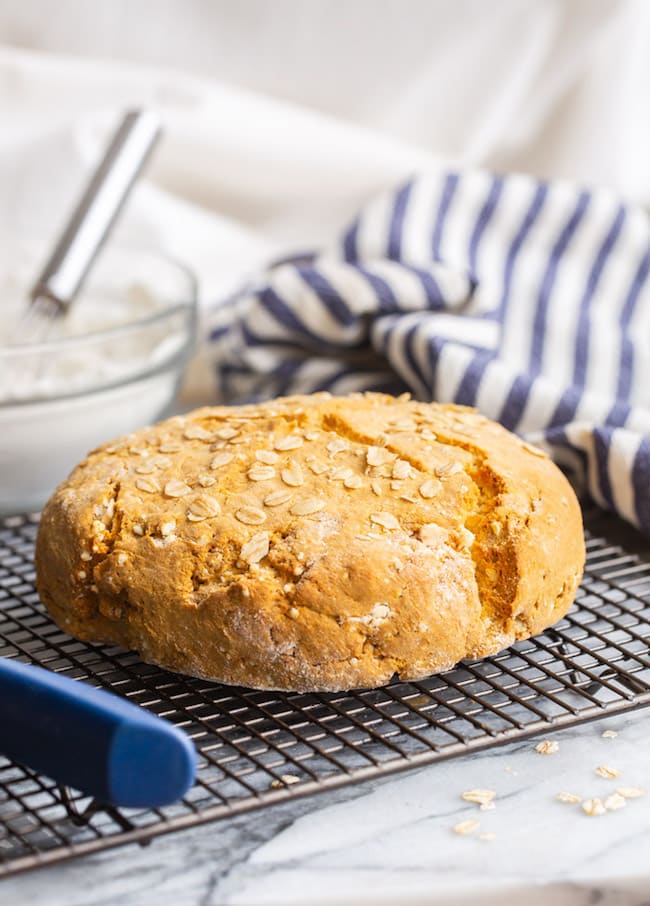 Recipe
Gluten Free Soda Bread
Yield:
1 loaf
Prep Time:
10 minutes
Cook Time:
35 minutes
Total Time:
45 minutes
Looking for a simple, yeast-free AND gluten-free bread? Try out this super easy to make gluten free soda bread! It's made with only 7 ingredients, prepped in one bowl, and bakes it about 30 minutes! There's no rising or kneading required - just mix, shape, bake and enjoy!
Ingredients
3 1/4 cup (450 g) gluten free all purpose flour
2 tsp xanthan gum (omit of your GF flour blend already has xanthan)
1 1/4 tsp salt
1 1/4 tsp baking soda
2 tablespoons white caster sugar or honey
6 tablespoons (84 g) melted butter, divided
1 1/4 cup (300 ml) cold buttermilk
Instructions
Preheat oven to 400°F/205°C.
In a large mixing bowl, add the flour, xanthan gum, salt, baking salt, and sugar. Whisk until fully combined.
Stir in 5 tablespoons of the melted butter 1 tablespoon at a time. Your should end up with a dry, sand-like mixture.
Gradually stir in the buttermilk, 1/4 cup at a time until fully combined. The dough will look and feel fairly sticky at this point.
Rip out a large piece of baking parchment and place on a clean surface. Lightly flour your hands and the baking parchment and then tip the dough out onto the centre of the parchment. Gently form the dough into a disc about 7 inch across and 2 inches high. Make sure to be gentle when handling the dough. Pressing and handling the dough too much will make for denser bread.
With a knife, make a big 'x' in the centre of the disc. Brush the remaining 1 tablespoon butter all across dough.
Place in the middle of the oven and bake for 32-35 minutes. When done, remove the bread from the oven and let cool at least 5 minutes before slicing and serving.
Notes
Like most gluten free baked goods this is best fresh/enjoyed on the same day. After day one if you have any leftovers I recommend warming it up in the microwave for about 20 seconds to freshen it up again.
Keep leftovers wrapped up tight in plastic wrap.
Make your own buttermilk: Add 2 tablespoons lemon juice, white vinegar or apple cider vinegar to regular milk (can be low, non or full fat milk and can be dairy free milk). Mix and let that mixture sit at room temp for 10-15 minutes until the milk has visibly curdled.
Make it dairy free: Make your own dairy free buttermilk and use vegan butter in place of dairy butter.
This website provides approximate nutrition information for convenience and as a courtesy only. Nutrition data is gathered primarily from the USDA Food Composition Database, whenever available, or otherwise other online calculators.
More Gluten Free Bread Recipes You Might Like