Manakish (also known as manaqish, manaeesh or manakeesh) is a popular Levantine food that's best described as a Middle Eastern Pizza. It's often served topped with fresh herbs, cheese, ground meat or Za'atar. Our manakish is made with a simple rice and tapioca flour blend that makes for a soft and chewy base perfect for topping with our easy to make homemade za'atar spice blend. | Gluten Free + Low FODMAP + Vegan Option (just skip the cheese)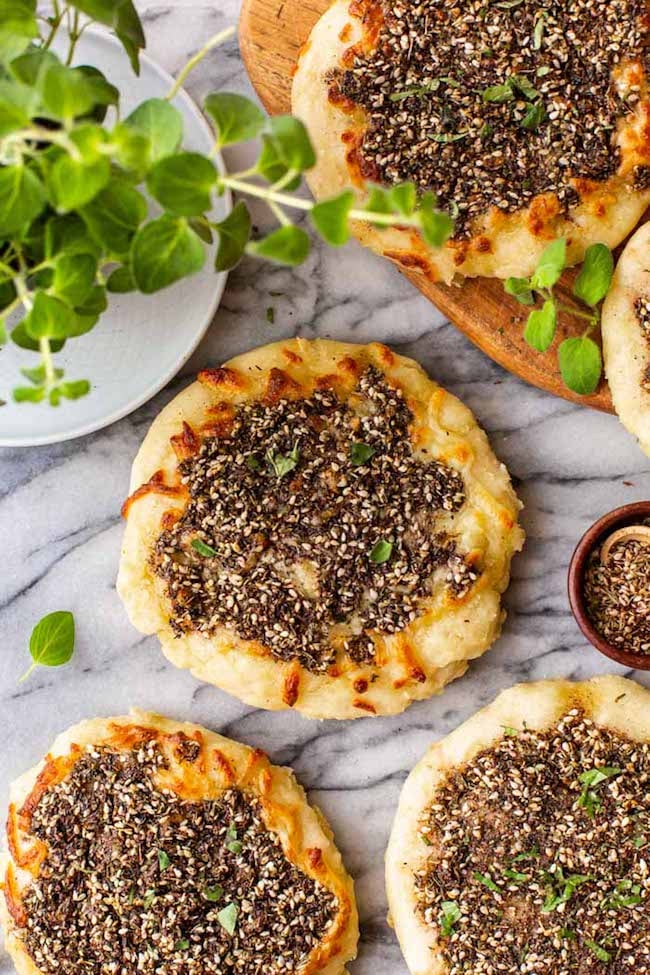 So what exactly is manakish?
Manakish is a popular Levantine food that's similar to pizza or even focaccia. It can be sliced, folded and topped with a number of toppings, though za'atar is probably the most popular.
The word 'manaquish' comes from the Arabic root word 'naqasha' which means 'to sculp or carve out'. This makes more sense as when you prepare the dough you pat and form the dough into small discs and press into it with your fingertips (as shown below) to create little dips for the toppings to settle into.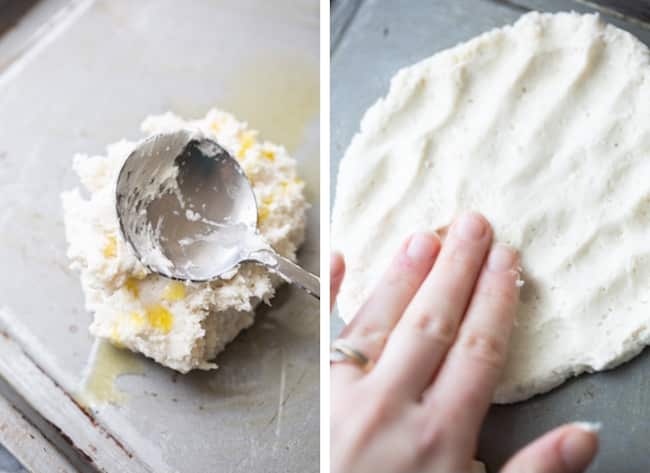 Manakish is traditionally served as breakfast or lunch & made from leftover dough from the previous days baking. Small portions of dough are rolled out and made with a variety of toppings like minced lamb, chili, za'atar and cheese.
You can enjoy these sliced and served any time of day. They also make a great appetiser served with a side of hummus and tabouli.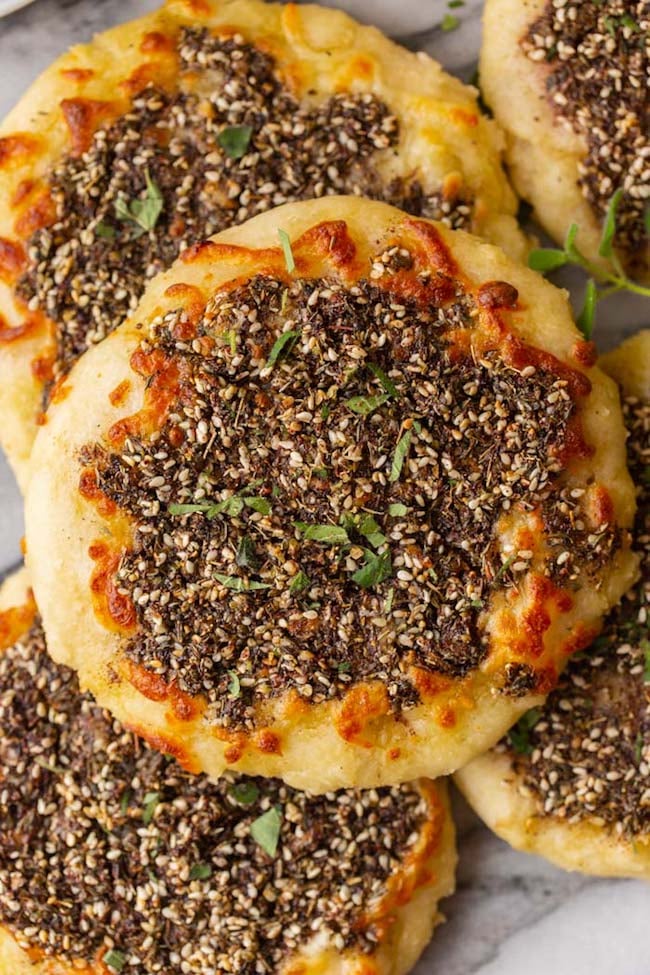 A few things to know about this Gluten Free Manakish
This dough is made from a blend of rice and tapioca flour.

I haven't tested it with any other flour blend so I can't say for sure how substitutes would work. That being said I do think you would be able to use brown rice flour in place of white rice flour and arrowroot starch in place of tapioca flour without too many differences.
You can use an all purpose gluten free flour blend instead of the rice and tapioca. This recipe is based on my (previous) go-to gluten free pizza crust where I opt to use a GF flour blend. I decided to play around with rice and tapioca because of how much I enjoy the two flours in my gluten free bread recipe. The rice + tapioca combo make for a much softer, pizza like dough. So while you can use a GF blend, I still recommend rice + tapioca.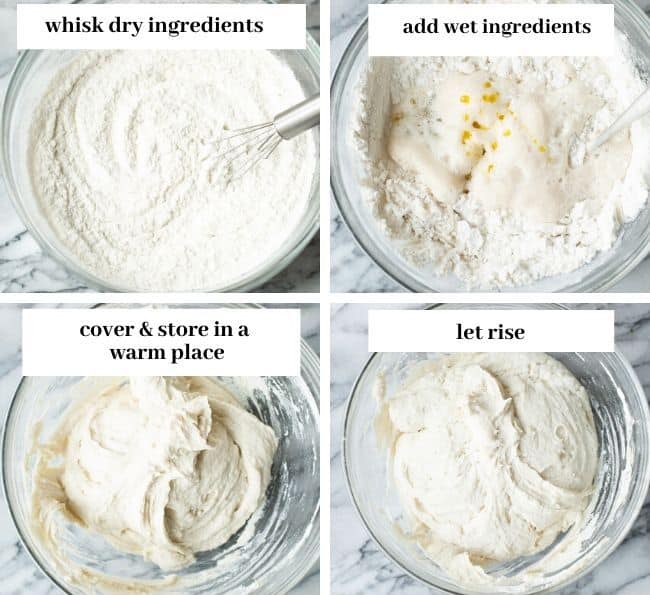 The dough will look and feel wrong if you're not used to gluten free bread baking.

Gluten free baked goods can easily come out too dry. This is because you often make GF goods with a blend of flours. Some flours are more absorbent and require more moisture than others.
If you try to make the dough more like a regular gluten based dough by adding more flour you'll end up with a dry, crumbly, inedible bread.
The dough will look and feel sticky and that's normal! Oil up your hands while handling the dough to keep it from sticking to your hands.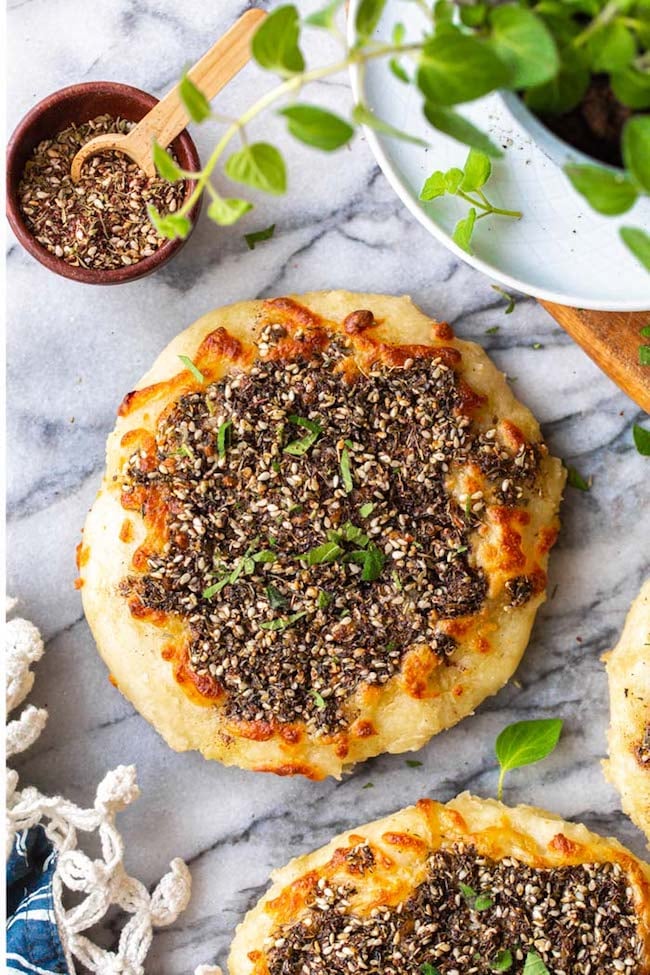 Do yourself a favour and try making your own za'atar manakish! While they do take a little time and planning, they're really not that hard to make. Most of the prep is spent waiting for the yeast and dough to rise. No matter the time, the end result is worth it!
FACEBOOK | INSTAGRAM | PINTEREST
Don't forget to #asaucykitchen on instagram if you try this Za'atar Manakish! We love seeing what you make! You can also post your pictures to my facebook page!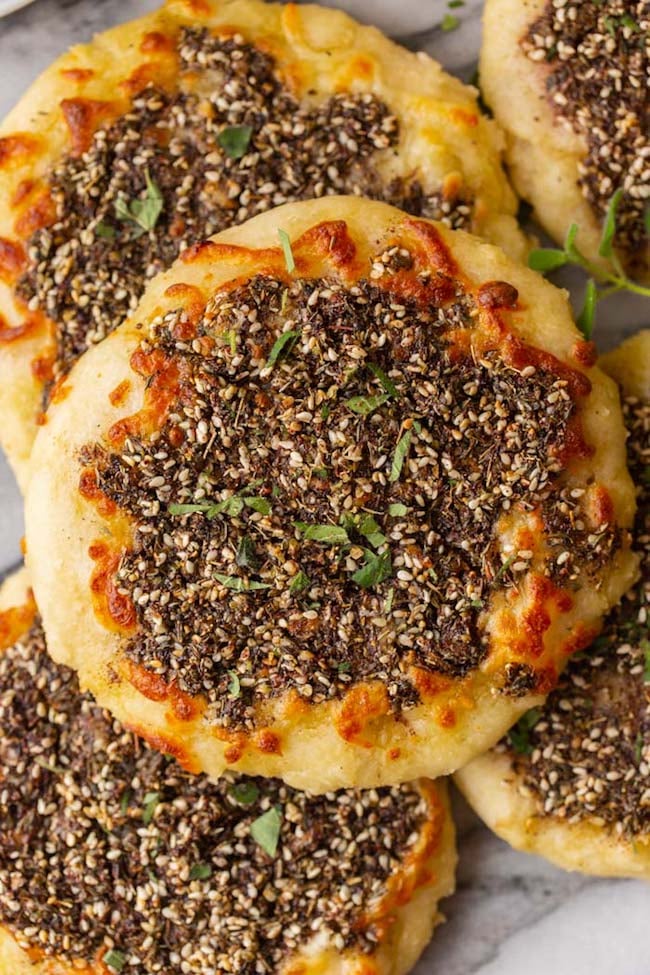 Recipe
Gluten Free Manakish Za'atar
Yield:
5 manakish
Prep Time:
30 minutes
Cook Time:
12 minutes
Additional Time:
1 hour
Total Time:
1 hour
42 minutes
Manakish (also known as manaqish, manaeesh or manakeesh) is a popular Levantine food that's best describes as a Middle Eastern Pizza.
Ingredients
Dough
1 1/4 cup | 300 ml warm water (about 110°F/43°C)
3 teaspoons white caster sugar, divided
2 1/4 tsp active dry yeast, ensure gluten free (one packet)
1 1/2 cup |210 g white rice flour
1 1/2 cup | 170 g tapioca flour
1 tsp salt
2 tsp xanthan gum (See note 1)
2 tbsp | 30 ml olive oil
Topping
1/4 cup | 60 ml olive oil
1/2 Shredded Mozzarella (optional, see note 2)
Instructions
Dissolve 2 teaspoons sugar in the warm water. Once dissolved, whisk in the yeast until fully combined. Set aside the yeast-water mixture for about 10 minute until the yeast has foamed up.
In a large mixing bowl: Whisk together the rice flour, tapioca flour, xanthan gum and salt until well combined.
Pour the foamed up yeast-water into the flour mixture along with the two tablespoons olive oil. Use a large spoon to mix the wet and dry ingredients together until a thick, smooth batter-like dough forms. Scrape down the sides and make sure no flour pockets remain. Your dough will look and feel sticky at this point.
Cover the dough with a kitchen towel, store in a warm, dry place and let rise for 45-60 minutes. The dough should rise in volume by at least 1/3 of its original size. (See note 3)
Preheat your oven to 400°F/205°C. Place a couple of large baking sheets inside your oven to heat up as well.
While the dough is rising, prepare the Za'atar blend. In a small bowl: whisk together the olive oil and Za'atar spice form a thick paste. Set aside until later.
Rip out a piece of baking paper, large enough to fit the baking sheet and lay out on a large, flat surface. Divide the dough between 5 or 6 portions. Scoop the dough portions out of the bowl and plop down onto your baking sheet. Leave about 5 inches in between each portion. You will likely need to divide the dough between two baking sheets.
Get a little bit of olive oil on your hands and pat the dough to form round discs, about 5 inches across. The dough will be very sticky so pat it down quickly to prevent it from sticking to your hands too much.
Once your dough has been formed, assemble the manakish. If you're using cheese, sprinkle the cheese over the centre of each piece of dough. Spread the za'atar over the cheese (if using) or across the top of the dough. Leave about 1/2 inch around the sides, untouched.
To bake: remove the baking sheets from the oven. Slide the baking paper with the manakish onto the hot sheets and place in the oven to bake for 12-14 minutes.
Remove from the oven and let sit for at least 10 minutes before serving and enjoy.
Notes
Note 1: I don't recommend omitting the xanthan gum. If you're intolerant to xanthan you can use guar gum in its place. The xanthan helps hold on to the moisture in this dough - without it the dough stays more like a batter making it hard to form.
Note 2: Skip the cheese if you need to keep this dairy free. You can also use feta or grated halloumi in place of mozzarella if you wish.
Note 3: To create a warm environment I turn on the oven for about 5-10 minutes before storing my dough. Just make sure the oven is off when your place your dough inside. You can also keep the dough stored in the microwave for a dry, draft free environment.
This website provides approximate nutrition information for convenience and as a courtesy only. Nutrition data is gathered primarily from the USDA Food Composition Database, whenever available, or otherwise other online calculators.
If you like this Manakish Za'atar you might also like my Za'atar Spiced Pasta with chickpeas and Spinach and my Gluten Free Feta Parcels as well!