Bright, vibrant and refreshing – this Shirazi Salad recipe (also known as Salad-e Shirazi) is a minimalist foodies' dream! It's made with simple ingredients, requires little prep and packs in a mouthful of flavour – all while being naturally vegan and low carb! Made with diced cucumber, tomato and onion (in this case spring onion) mixed with fresh parsley and dried mint, then tossed in a fresh citrus making for a zesty, delicious and healthy salad.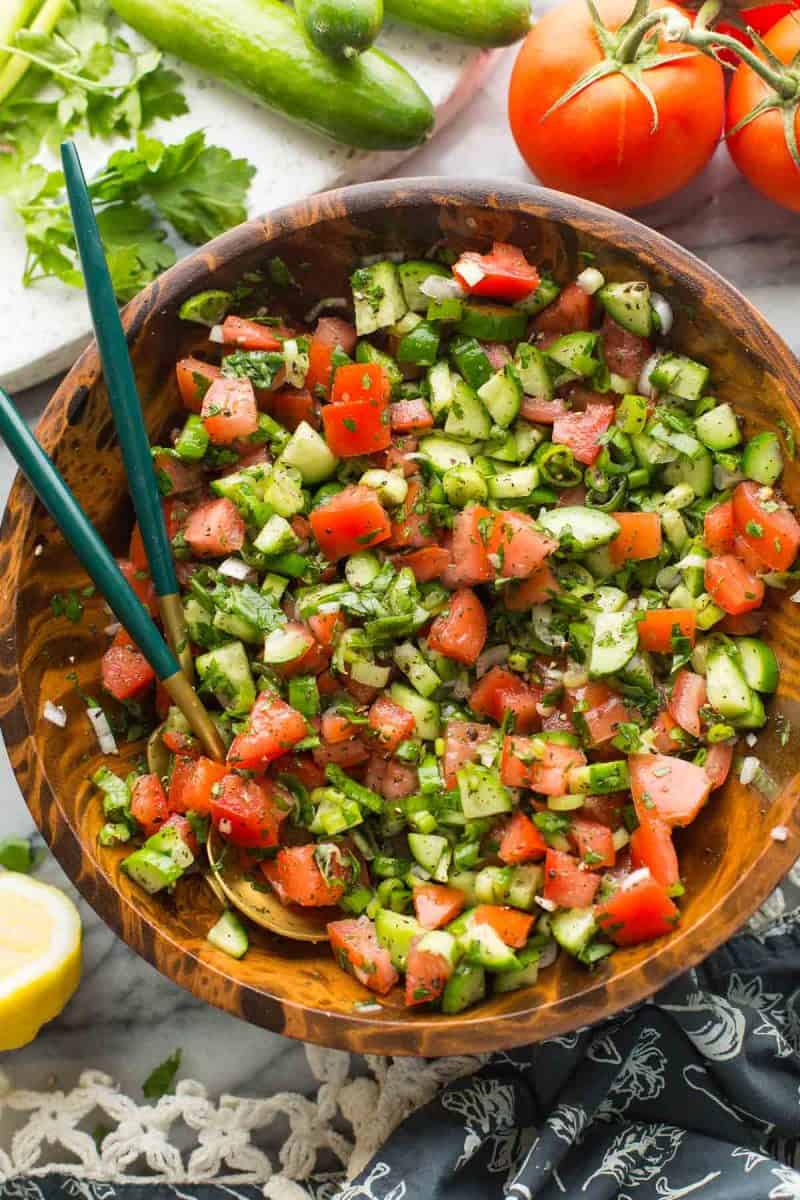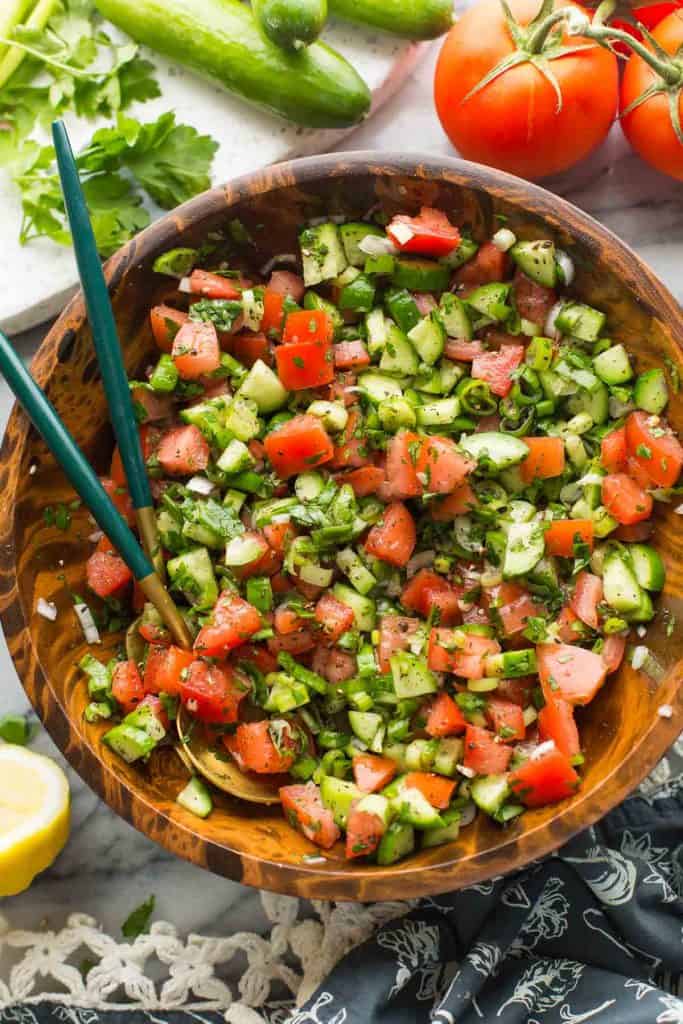 What is Persian Shirazi Salad?
Shirazi salad is a basic cucumber & tomato salad named after it's place of origin, the city of Shiraz located in Southern Iran. It's popularity has transformed this simple side into a somewhat of a national dish and a staple in Persian cuisine.
Though it's often enjoyed in the summer, it can also be served year round (when the produce is available) as a great side dish to meat-based/protein-packed main course. It can also be served as a mild and refreshing condiment to spicy dishes or with flatbreads and pittas.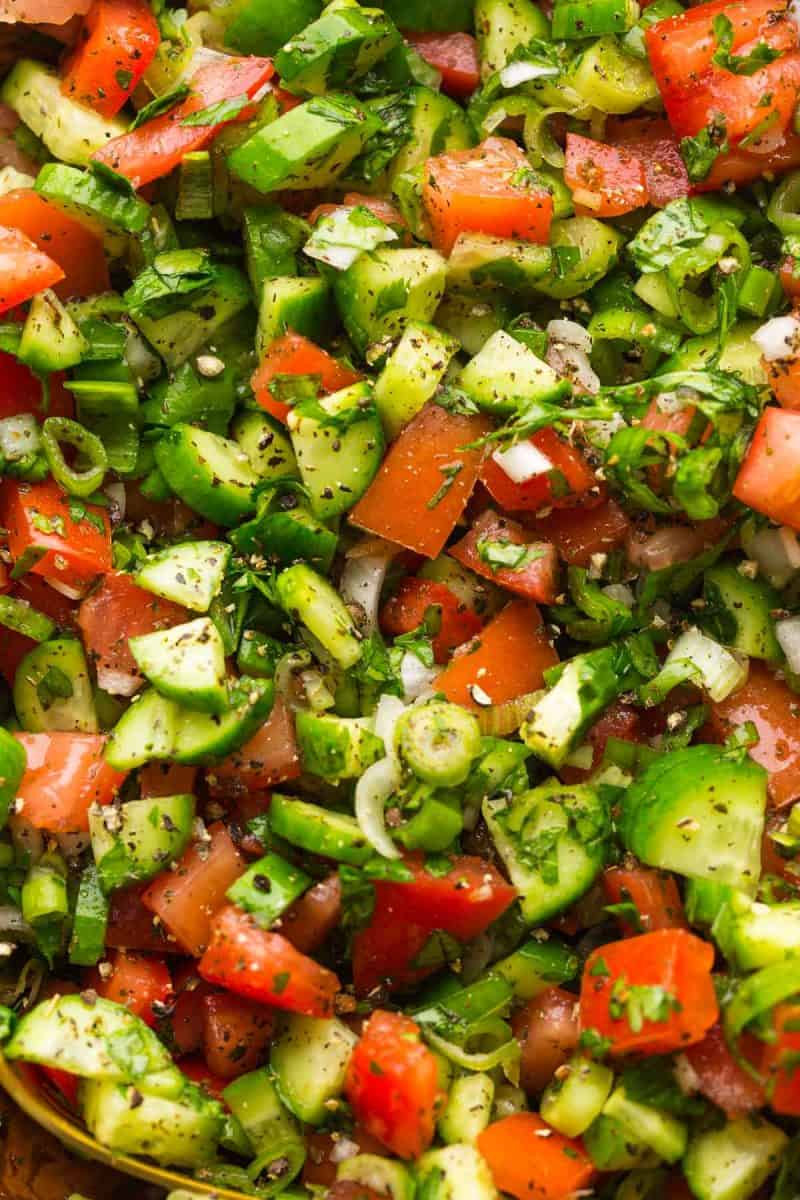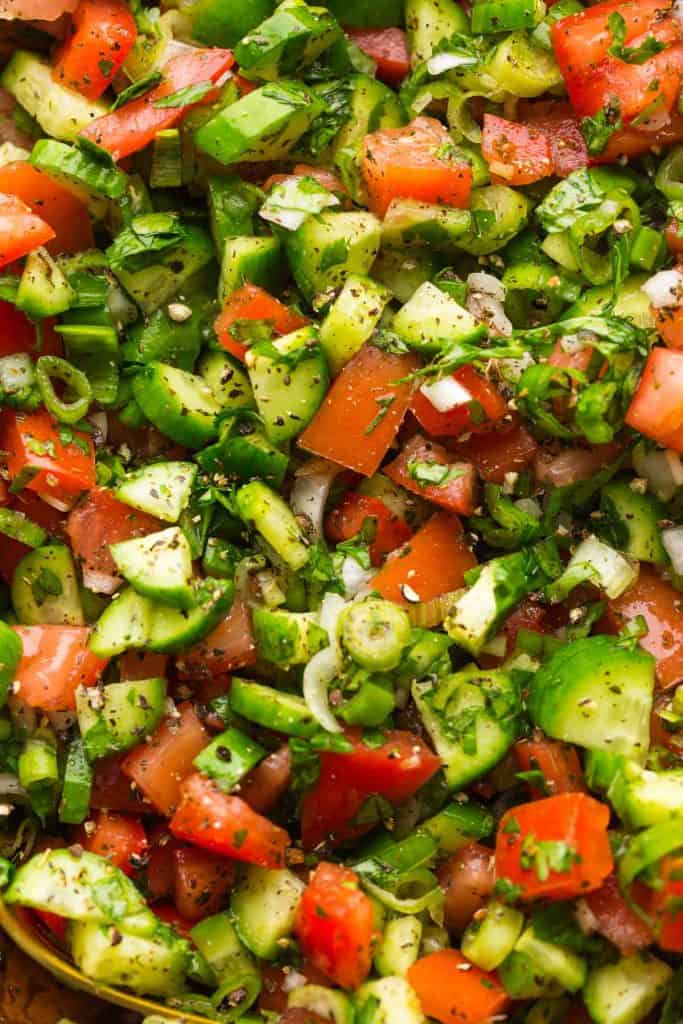 What's inside?
Traditional Shirazi Salad recipes are made with chopped vegetables like diced cucumber, tomato, onion, fresh herbs, mint and verjuice (sour grape juice). Recipes will usually vary slightly when it comes to herbs and acids. Fresh parsley and dried mint are typically staples in more authentic Shirazi salad recipes, but sometimes extra or different herbs like dill, cilantro, basil and fresh mint are used as well.
Tip!
The smaller you dice your veggies – the better! The more you chop and dice the cucumber and tomato into small pieces, the more surface area your are creating for the herbs and citrus to cling to making for a more flavourful salad.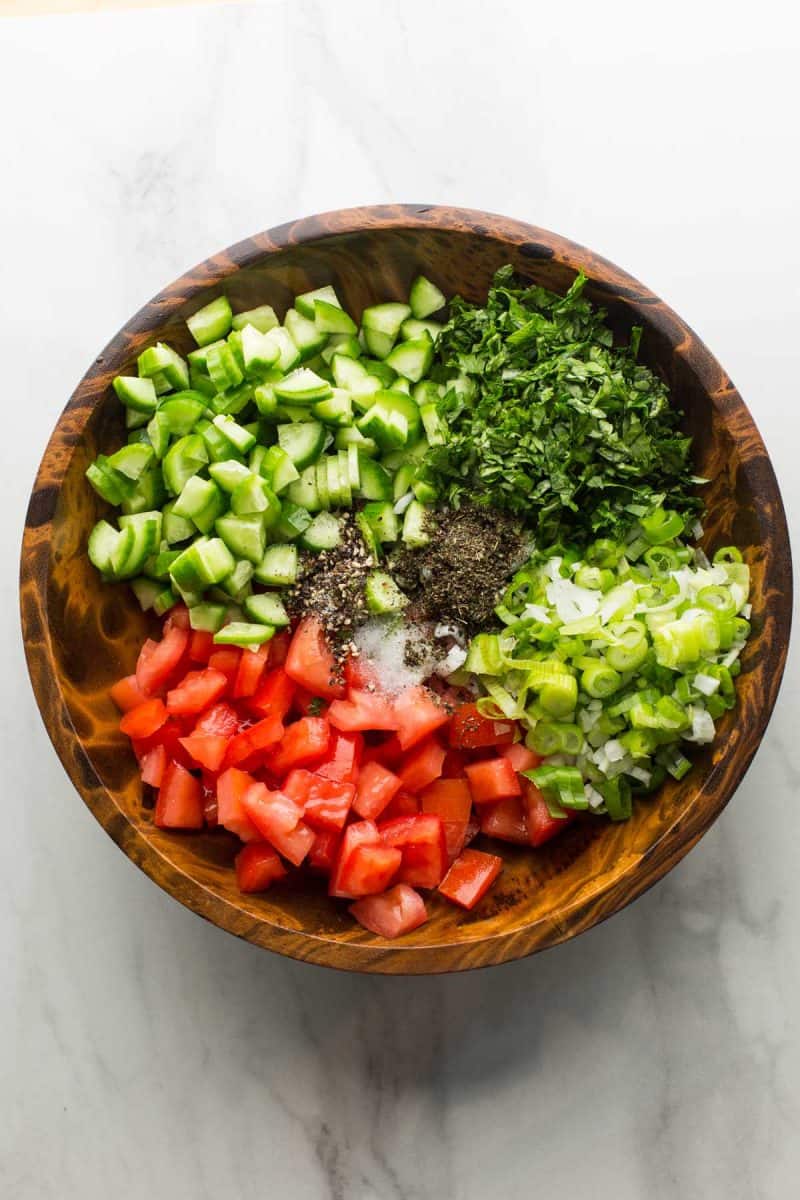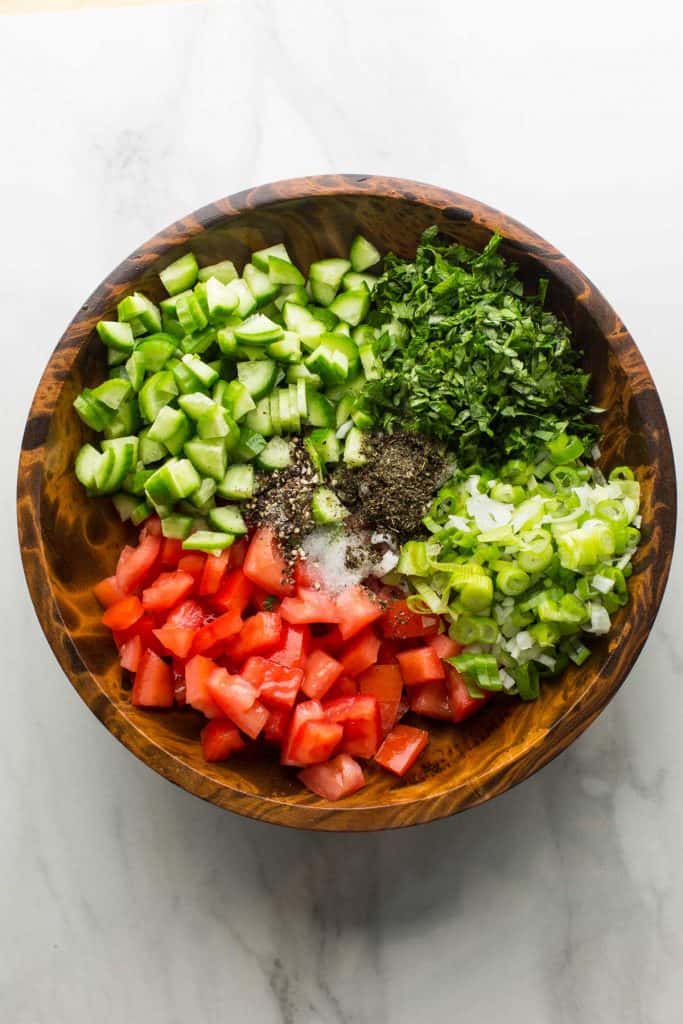 Salad Ingredients
Cucumber: 3-4 small Persian cucumbers are best if you can find them in store. Otherwise, one large English cucumber will also work well. Persian and English cucumbers have thinner skin and fewer seeds than regular cucumbers, making them an idea addition to this salad.
Tomato: Dice and core about 4 roma tomatoes (feel free to use any large ripe tomatoes). I recommend scooping out most of the watery tomato membranes and seeds to keep the salad from getting excessively soggy.
Spring Onion: Many Shirazi Salad recipes use red onion or white onion. I opted to use spring onions to make for a more delicately flavoured salad that also happens to be FODMAP friendly. Just make sure that you only use the green part of the spring onion if you want this salad to be Low FODMAP.
Parsley: Feel free to use a combination of other fresh herbs (dill and cilantro are great here).
Dried Mint: Often times, fresh herbs are considered to be superior to dried herbs because of their stronger aroma and flavour. In this case, dried mint is best as it is a staple ingredient in Shirazi Salad. It's mild, earthy and makes this dish what it is.
Lemon Juice: A little acid like fresh lemon or lime juices makes for a bright and vibrant salad.
Salt & Pepper: Add salt and pepper to taste to enhance your salad flavours.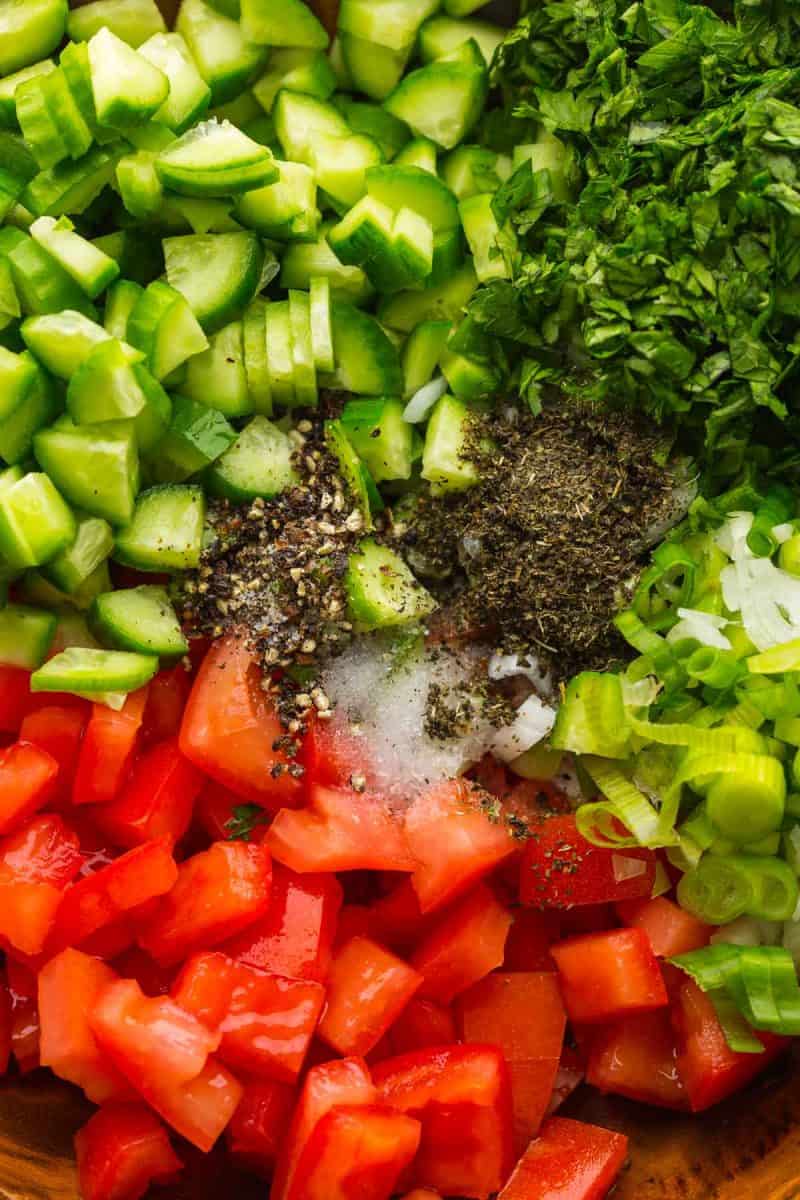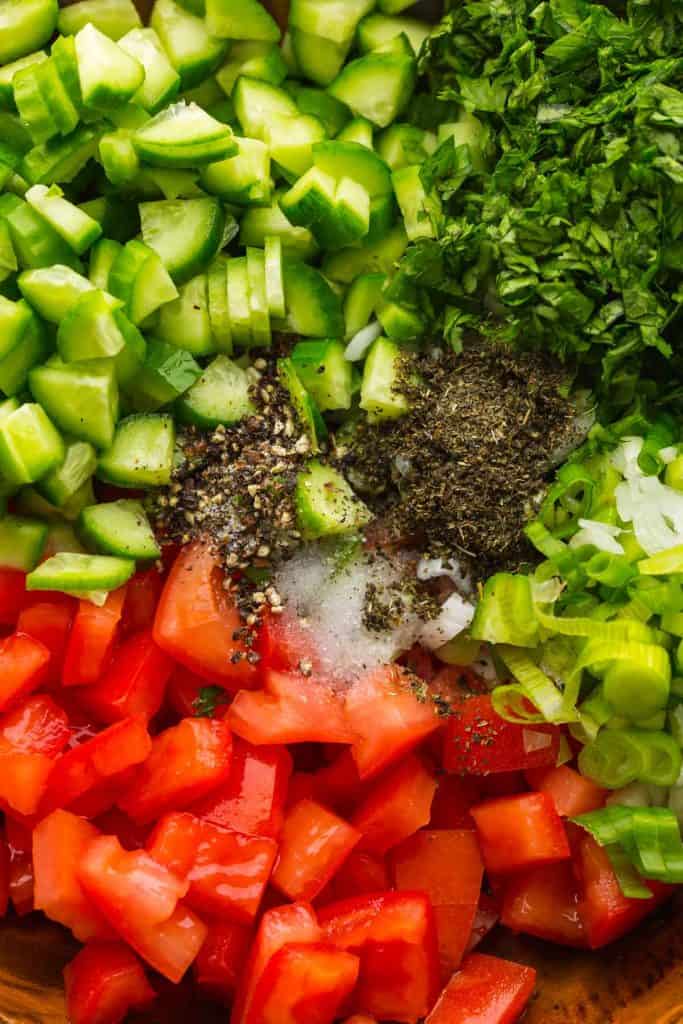 Substitutions and Additions
Substitutions
Fresh Parsley >> Add or sub out the parsley for fresh cilantro, dill, or basil. I do recommend only subbing out half or simply adding more fresh herbs to the parsley instead of subbing it out completely.
Dried Mint >> Fresh Mint Use 1/4 cup chopped mint leaves
Green Onions >> Red or White Onions Use 1/2 cup finely diced onion in place of 3-4 spring onion stalks for a more punchy salad.
Lemon Juice >> Lime Juice or Verjuice The lemon can be easily replaced with 1/4 cup lime juice or verjuice. Verjuice (ab-ghooreh) is essentially sour grape juice used in a lot of Persian food. It can be tricky to find and somewhat pricey, but if you have it available to you – have at it!
Additions
Chopped bell pepper is sometimes added for extra crunch
Feta cheese adds a creamy, tang
Rice or Quinoa will go along way in bulking this out to be a more filling recipe. They will also soak up all that extra juice well!
Sumac (one of the main components of za'atar) is a common addition to a lot of Persian and Mediterranean salad recipes like this one
Lemon and Lime Zest can be mixed in for a more zesty flavour.
Serving & Storage
Serve this salad chilled or at room temperature.
Keep leftovers stored in an airtight container in the fridge up to 2 days. This is best enjoyed on the first day.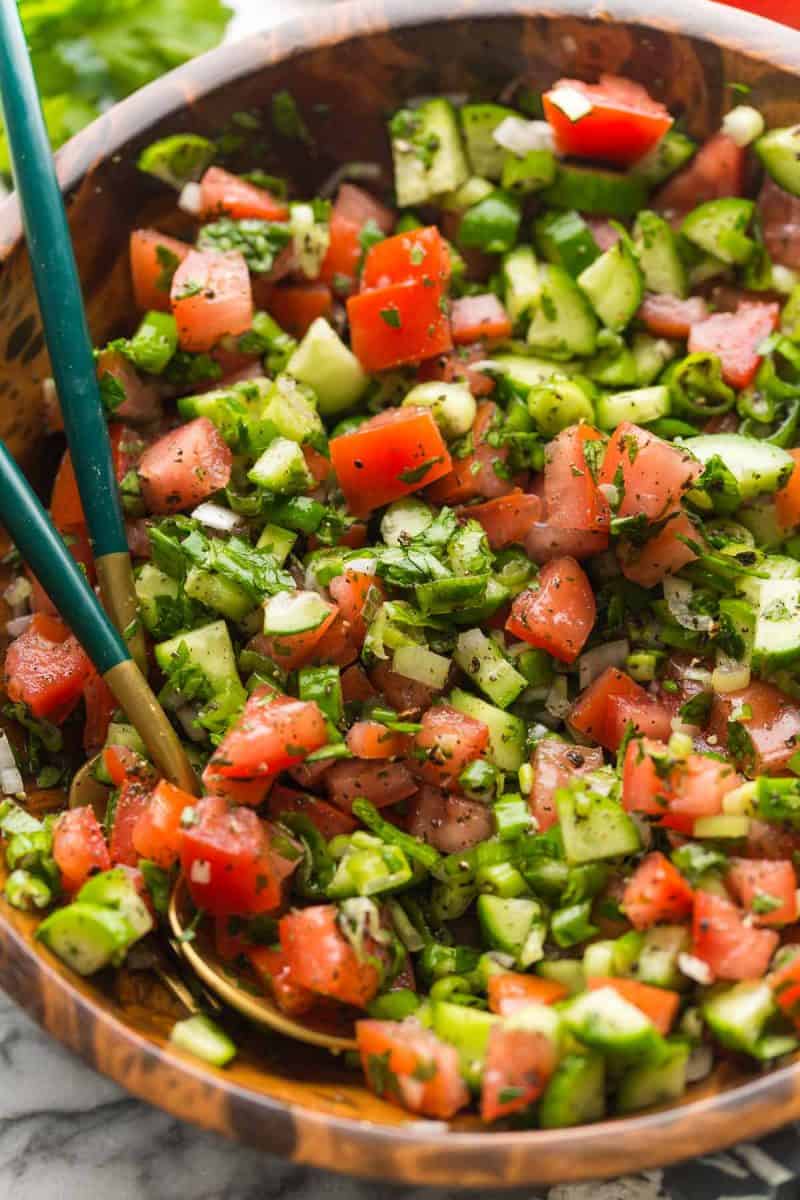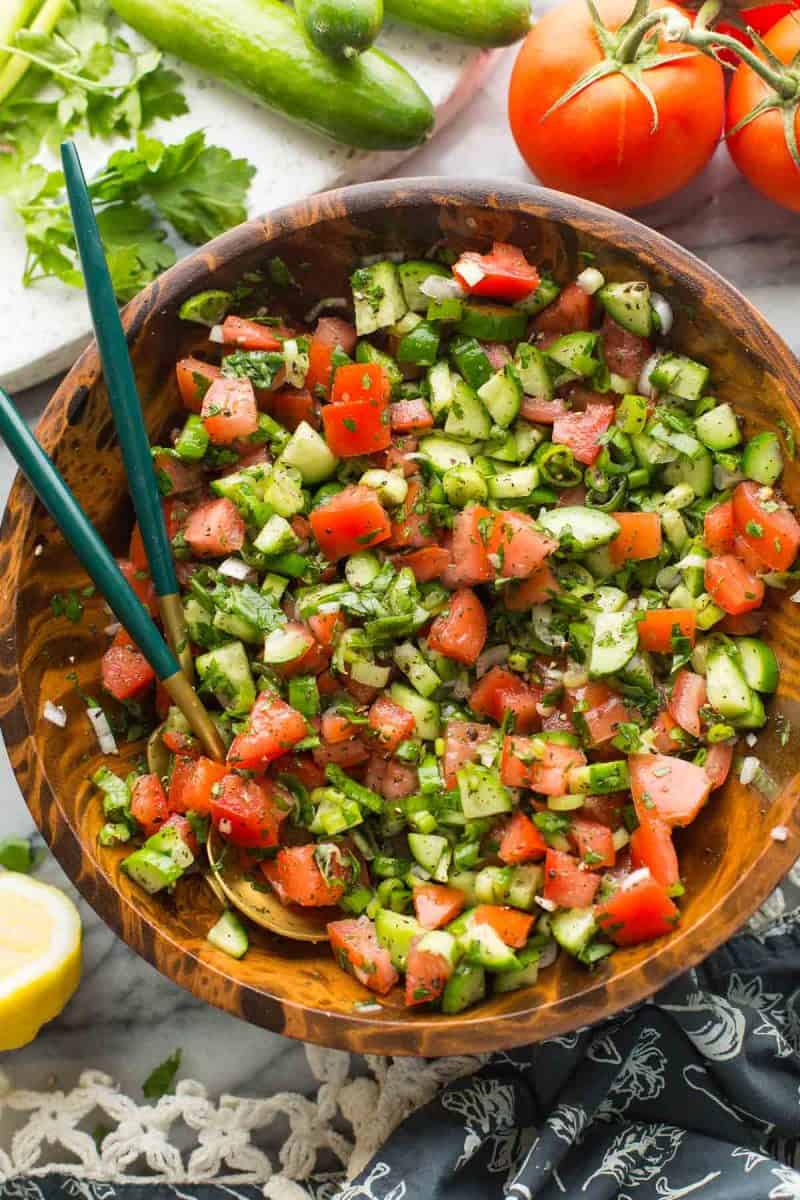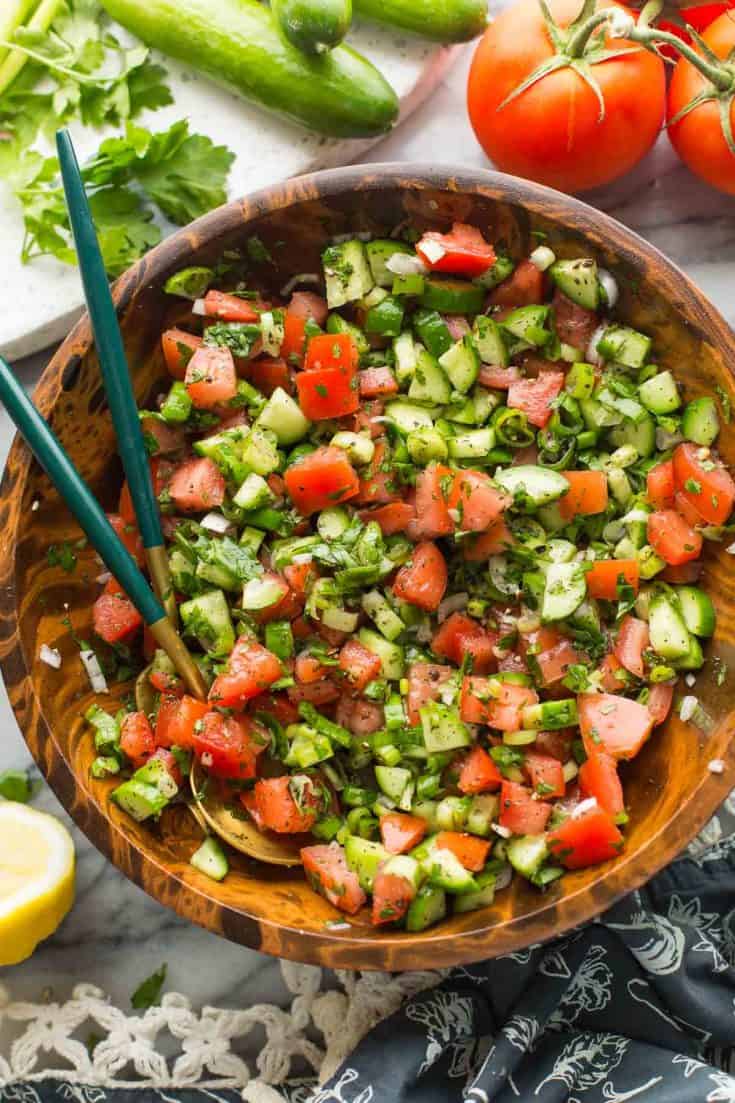 Yield:
6 servings
Prep Time:
15 minutes
Total Time:
15 minutes
Bright, vibrant and refreshing - this Shirazi Salad recipe is made with simple ingredients, requires little prep and packs in a mouthful of flavour - all while being naturally vegan and low carb!
Ingredients
3 roma tomatoes, deseed and diced
4 Persian cucumbers or 1 large English cucumber, finely diced
3 large green onion stalks, diced
1/4 cup finely chopped parsley
2 teaspoons dried mint
1/2 teaspoon salt & freshly ground black pepper plus more to taste
1/4 cup | 60 ml fresh lime juice
2 tablespoons | 30 ml extra-virgin olive oil
Instructions
Add the diced cucumber, tomato, spring onion, parsley, mint, salt and pepper to a large bowl. Toss to combine.
Add the lemon juice and olive oil and toss once more until everything has been fully dressed in citrus and oil.
Taste and season with more salt and pepper as needed.
Serve cold or at room temperature. Leftovers should be kept covered in the fridge for up to 2 days.
Notes
Make it Low FODMAP: only use the green parts of the green onion.
Instead of 1/4 cup chopped parsley you can use a combination of herbs like cilantro, dill and basil in addition to the parsley.
You can use 1/4 cup fresh chopped mint in place of the dried mint.
Instead of spring onions you can use 1/2 cup diced red onion, white onion or shallots.
This website provides approximate nutrition information for convenience and as a courtesy only. Nutrition data is gathered primarily from the USDA Food Composition Database, whenever available, or otherwise other online calculators.