Simple, 30 minute chicken and rice noodle salad exploding with fresh cilantro, spring onions, and sweet peppers and topped with a sweet ginger dressing. Low FODMAP & Gluten free. 
Mike and I have this thing we do where I go about how much I love salads and he goes on about how he doesn't care for them. His argument is that they're not filling and he'd much rather just eat he spinach without bits of other things mixed in to compromise the taste. My argument is that he's obviously never had a decent salad before.
You'd have thought that after almost a year of marriage (can't believe it's been that long!) that I'd have made him a salad he can dig. If I'm being honest – Mike can be such a picky eater sometimes. He'd hate to know that I just said that, but I don't think he even reads my blog that closely so I can do what I want. Ha! (In his defense I'm sure listening to me talk all day everyday is enough.)
Now – let me just clarify something really quick about that! There are tons of foods that Mike would love to eat and can't like garlic, avocados, and other high fodmap foods that set his stomach off. Oh, the trials and tribulations of IBS! There are also foods that he rightfully doesn't like eating if he can help it because they're not good for him, like really sugary foods and junk food in general. That's fair. We could all do with less of that. But then are things that he decides that I just don't get, like: "I don't like white sauces." <–Actual quote. What the hell is that? How can you decide that you don't like all white sauces? Nope. Not buying it.
That all being said, being able to prepare him a salad with foods he can actually have and enjoy has been a bit of challenge. Now that the summer heat has finally rolled in, my quest to make a decent salad has begun. But alas! I've done it. I've finally made a salad that's filling, flavorful, and easy to make.
I wish you all could experience the satisfaction I have in accomplishing such a feat. This chicken and rice noodle salad is like a party for your mouth. In addition to the chicken and rice noodles, inside you'll find:
Cilantro
Ginger
Carrot
Lime
Cucumber
Bell Pepper
Watercress
Spring Onion
And that sweet and salty coconut amino + lime dressing takes an already fresh salad to a whole new level freshness. This salad is a whirlwind of bright flavors, crunchy textures, and whole, nutritious foods. I also love the rice noodles in this dish because it makes it that much easier to pick up cool, tangy, citrusy, and pleasantly unexpected flavors in my noodle wrapped fork.
Veggies…chicken…noodles…Let's go!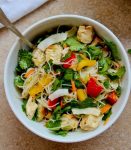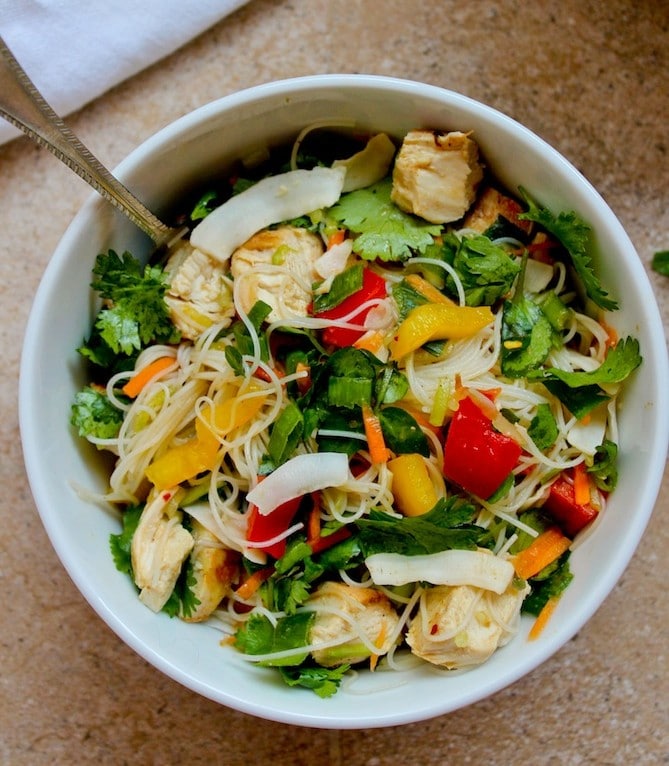 Chicken and Rice Noodle Salad
Simple, 30 minute chicken and rice noodle salad exploding with fresh cilantro, spring onions, and sweet peppers and topped with a sweet ginger dressing. Ready? Go!
Ingredients
2

chicken breasts sliced

2 1/2

ounces

thin rice noodles

1

sweet pepper diced

1

grated carrots

2

spring onions chopped

, green part only for low Fodmap

1/2

cucumber grated

2

handfuls of watercress

1

large handful of fresh cilantro

1/4

cup

coconut flakes

2

tablespoon

coconut aminos

(or gluten free soy sauce/tamari)

2

teaspoon

ginger powder

1

tablespoon

lime juice

2

tablespoon

honey - see note for low FODMAP

sea salt to taste

1/2

teaspoon

red chili flakes

(optional)
Instructions
Fry the chicken breasts for 8-10 minutes until cooked. While the chicken is frying, prepare the rice noodles following the instructions on the packet. Shred your chicken when it is done. When both are done, set aside to cool.

In a small cup make the sauce by adding the coconut aminos (or gf soy sauce), ginger powder, sea salt, lime juice and honey and whisk together with a fork.

Add everything to a salad bowl except for your dressing and toss to mix. Pour the sauce over the top and sprinkle with your optional red chili flakes. Garnish with additional cilantro and spring onions and serve.
Recipe Notes
For Low FODMAP use only the green parts of the spring onion
*You can also sub coconut sugar for the honey for Low Fodmap if you choose. In this small amount it's not usually an issue
Nutrition Facts
Chicken and Rice Noodle Salad
Amount Per Serving
Calories 254
Calories from Fat 45
% Daily Value*
Total Fat 5g 8%
Cholesterol 51mg 17%
Sodium 309mg 13%
Potassium 530mg 15%
Total Carbohydrates 30g 10%
Protein 19g 38%
* Percent Daily Values are based on a 2000 calorie diet.
This post contains an affiliate link to Amazon. If you happen to buy those coconut aminos that I often talk about (or literally anything else on Amazon) after clicking through the links or the Amazon banner on the side of my page, I receive a very small commission. I only post links for products I personally use and believe in. This in no way affects the price of your purchase.  Thank you!

She brains and reluctant dishwasher for A Saucy Kitchen