Vietnamese Chicken Salad made with poached or leftover chicken, shredded cabbage, carrots, fresh herbs and a tangy chili lime dressing. Top with peanuts or cashews for a paleo option. | Dairy Free + Gluten Free + Grain Free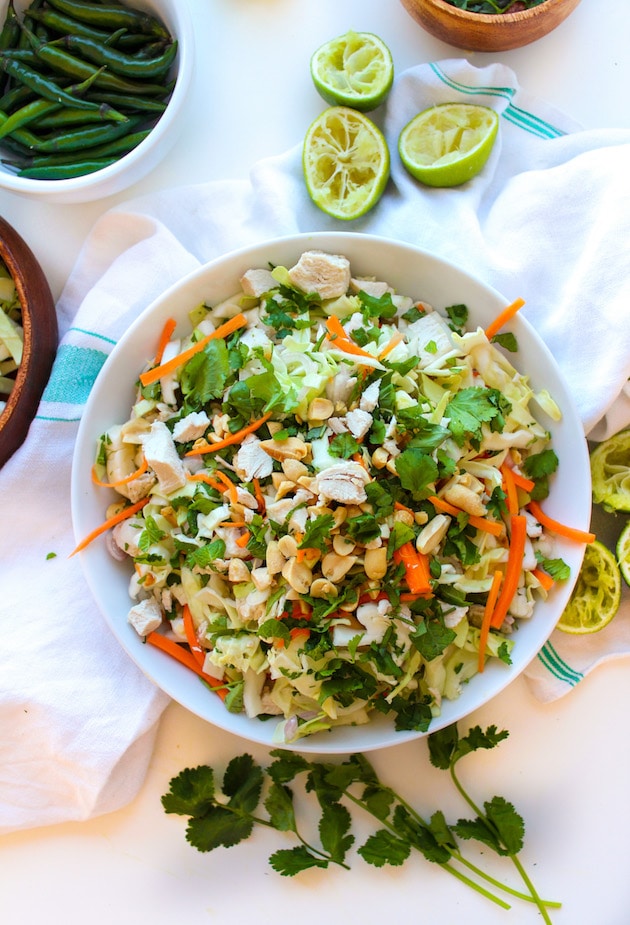 Happy New Year!
Time for the obligatory new year, new healthy salad recipe! But I know you will excuse the cliche since so many of you are tagging me on Instagram with all your Whole30/ healthy recipe recreations that I've shared with you.
First of all:
I've been doing this whole food blog thing for almost two years now and I still can't get over how cool it is that people on the internet make the recipes I share. Scary, but cool.
And secondly:
I so admire anyone who has the will power to complete a Whole30/stick to a diet regime for longer than 4 hours…which is my current record. I get through a whole 30 minutes before I start thinking about all the things that I can't have. Usually they are things I never actually want, like Oreos. Even then I don't actually want them….but what if I did?!
Mike bought me Zumba and a few other dance games for our Wii (so much fun!) and I realized the other day that I hate doing the long classes because I get about two minutes in before I start feeling like time is dragging. On the other hand, I can easily play song by song for a good amount of time before I start to feel bored. I just like my options, is all.
But I digress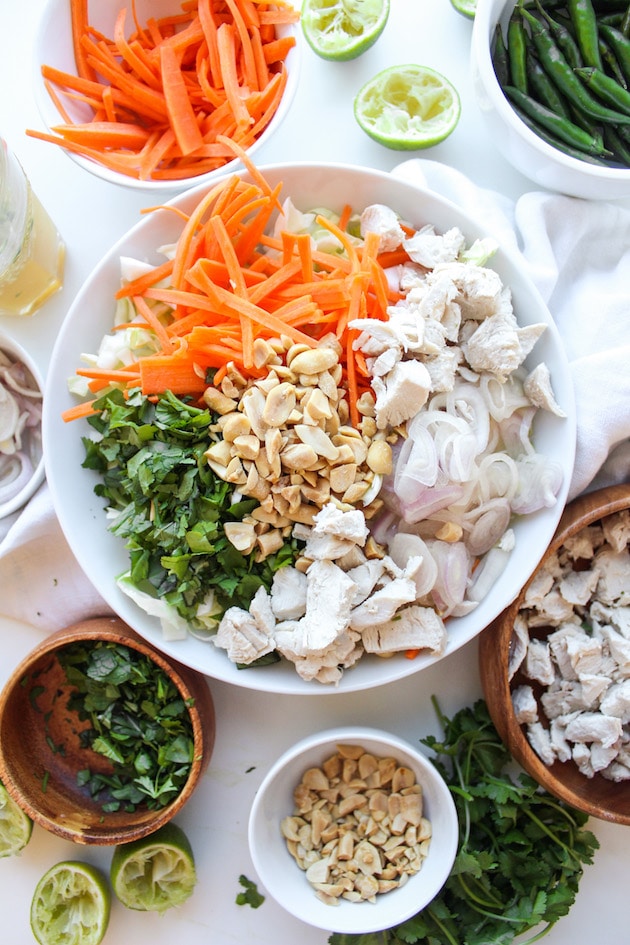 About this Recipe: Vietnamese Chicken Salad
For anyone who has unequivocally decided that salads are boring…..I've got a salad for you. Actual flavor bomb in your mouth right here.
It's
Fresh
Heathy
Spicy
Crunchy
Tangy
& incredibly delicious
All the merits of an exceptional salad.
This is especially great if you've got any left over chicken/turkey that needs using up. Originally this is how Mike & I made our Vietnamese Chicken Salad, but I've included instructions for poaching your own chicken breasts in case you don't have any leftovers on hand.
This calls for birds eye chili which is definetly one of the spicier chilies out there. If you're not a huge fan of the heat then I recommend using a less spicy pepper, like jalapeño.
While this Vietnamese Chicken Salad isn't Whole30 compliant because of the necessary sweetener in the dressing, you can easily make this paleo by swapping the peanuts for cashews.
One last thing that I love about this salad before I go – it's a great make ahead salad to keep in the fridge for a couple of days. Since we're dealing with mainly cabbage you don't have to worry about it wilting within an hour. Great for meal prep. great for feeding your face.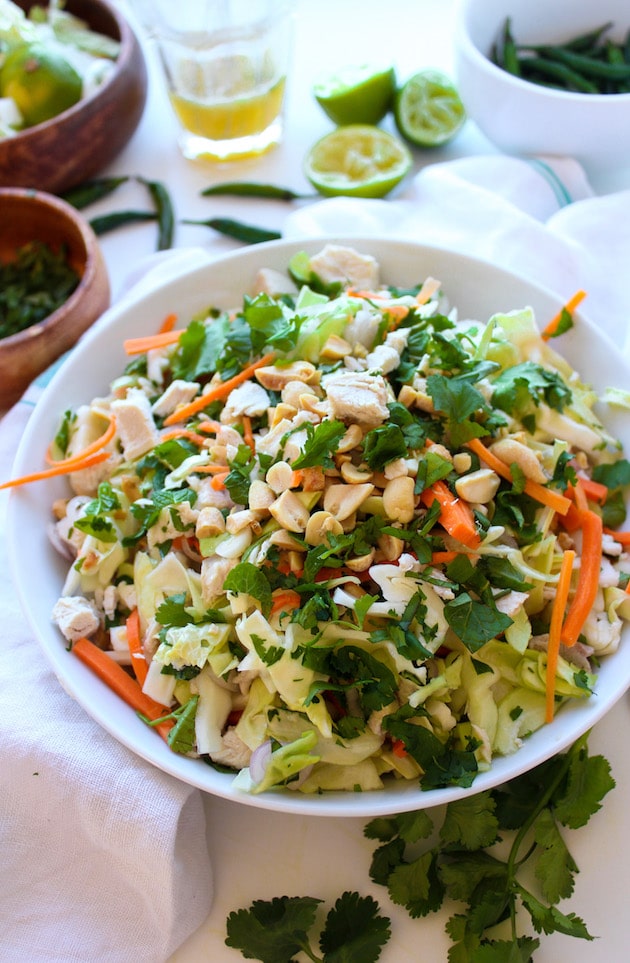 FACEBOOK | INSTAGRAM | PINTEREST
Don't forget to #asaucykitchen on instagram if you make this Vietnamese Chicken Salad. We love seeing what you make! You can also post your pictures to our facebook page!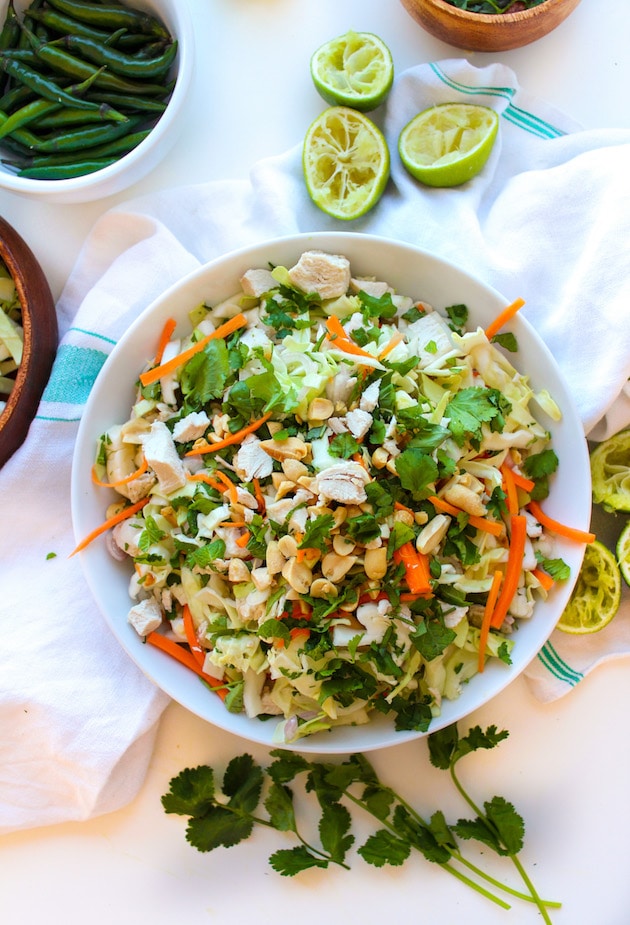 Recipe
Vietnamese Chicken Salad
Yield:
6 servings
Prep Time:
15 minutes
Cook Time:
20 minutes
Total Time:
35 minutes
Fresh and flavorful Vietnamese Chicken Salad
Ingredients
Poached Chicken
2 skinless chicken breasts | 350 grams or use leftover roast/rotisserie chicken
salt & pepper
Salad
4 shallots | 100 grams peeled, very thinly sliced
¼ teaspoon salt
4 cups | 400 gramsChinese cabbage or green cabbage, core removed, leaves finely shredded
2 large carrots, cut into matchsticks, peeled and julienned
1/3 cup | 10 grams cilantro, chopped
1/4 cup | 5 grams Vietnamese mint or regular mint that you can find at the grocery store
1/3 cup | 40 grams roasted peanuts, roughly chopped, plus extra to serve can sub with Cashews if strict paleo
freshly ground black pepper
Dressing
3 tablespoons Fish Sauce
3 tablespoons freshly squeezed lime juice
1 tablespoon rice vinegar
2 tablespoons sugar/coconut sugar or 1 tablespoon honey
1 teaspoon minced or chopped garlic, about 2 cloves
2 bird's-eye chillies, for less spicy try 1/2 -1 jalapeño instead, finely chopped
Instructions
Poaching the chicken
Place your chicken breasts in a single layer in the bottom of a large saucepan. Season with salt and pepper and fill the saucepan with cold water until it reaches 1 to 1 ½ inches above the chicken breasts.
Bring the water to a boil, cover the saucepan and reduce the heat to low.
Lightly simmer until the chicken breasts are just cooked through, about 15 minutes. Cooking time will vary depending on the thickness of the chicken.
Remove the chicken from the saucepan and let the chicken cool slightly. Set aside until your ready to chop or shred for your salad
Salad Assembly
While the chicken is poaching this is a good time to star on the shallots. Mix the shallots and salt in a large bowl and set aside for at least 15 minutes to soften.
To make the dressing, mix together the dressing ingredients in a separate jar/cup and gently whisk together until well combined.
In a large salad bowl toss together the cabbage, carrots, cilantro, and mint.
Just before serving, add the chopped chicken and salted shallots and mix until well combined.
Pour over the dressing and season to taste, with freshly ground black pepper. Mix well until the dressing coats the salad ingredients.
Sprinkle over the remaining chopped roasted peanuts and serve.
Nutrition Information
Yield:

6
Calories:

171
Cholesterol:

37mg
Sodium:

913mg
Carbohydrates:

14g
Fiber:

2g
Sugar:

5g
Protein:

17g
This website provides approximate nutrition information for convenience and as a courtesy only. Nutrition data is gathered primarily from the USDA Food Composition Database, whenever available, or otherwise other online calculators.
This post contains affiliate links. I only post links for products I personally use and believe in. If you make a purchase on Amazon after clicking one of my links, I receive a small commission and the price you pay is not affected. Thank you!