Easy Vietnamese Chicken Roast with orange, garlic, ginger, chilli & crushed lemongrass – prepared in a pinch and incredibly flavourful!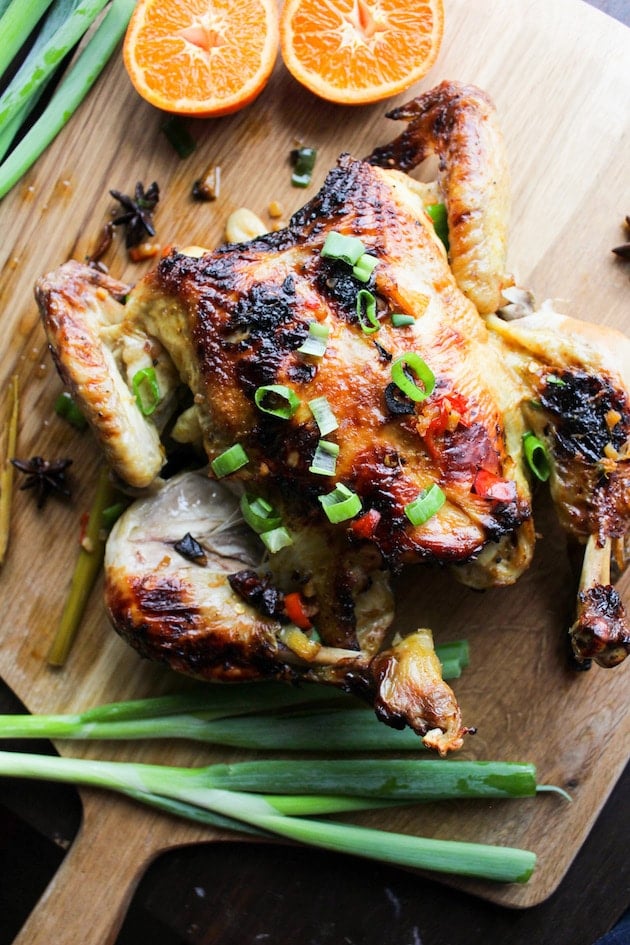 What do you guys think about Vietnamese food? I'm guessing that seeing as you're reading this you're as big a fan as I am. There's just something about the flavour combinations you find in their cuisine that I'm crazy about. I mean, it's all so colourful and fresh – what isn't there to like?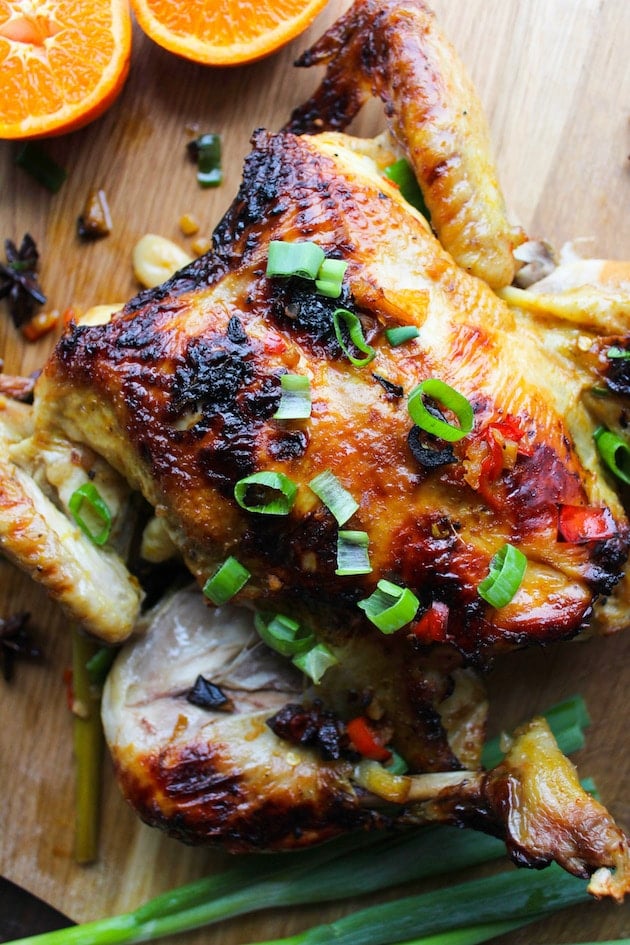 The downside? The Vietnamese restaurant that I used to go to can't guarantee that their food won't be contaminated with gluten. Major disappointment. Me & Sarah used to go there when we first met – before I was diagnosed coeliac – and honestly, it was incredible. I'd always order this chicken and spring onion soup that tasted so vibrant and fresh. It's amazing how much I took eating out for granted now that I think about it. It's such an easy fallback option for socialising. If you're not sure what to do, have a look online and find a new restaurant, or a new cuisine you've never tried before. Damn gluten!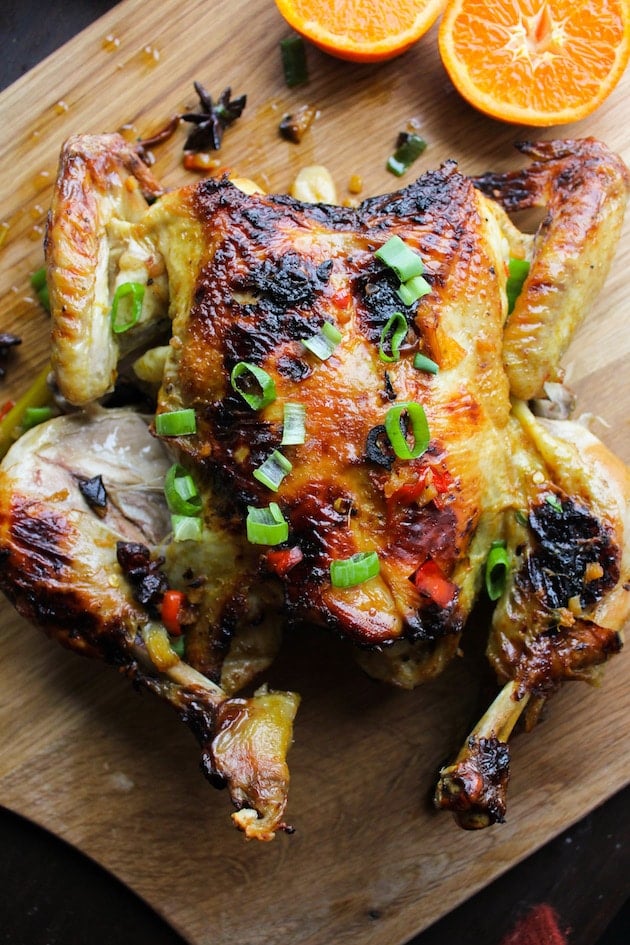 But having said all of that, the fact I can't eat out much anymore has opened my eyes to how much I love cooking food with Sarah. There's a sense of community and compromise when cooking with loved ones that you just don't get when you eat out. Like for this one, Sarah took the role of spatchcocking the chicken while I bruised the lemongrass & chopped the produce. This'll sound cliche, but you really do appreciate your food more when you've prepared it with someone you love.
About This Recipe: Vietnamese Chicken
So the idea for this one came about from an evening spent watching TV – honesty is the best policy, right? It was in the lead up to Christmas and we were watching a Rick Stein Christmas special. He was showcasing some alternative Christmas dinner recipes for anyone that fancied something a little different. Anyway, the second he started prepping the ingredients I looked over at Sarah and she knew what I was thinking. So we opened up a note on the iPad and wrote it all down for future reference. We then proceeded to forget all about it until this week – it's a good job you can't lose iPad notes!
Originally this recipe was made using duck pieces, but we didn't have any duck to hand. What we did have was an organic chicken that we'd got on offer earlier in the day – score.
As far as the prep for this recipe goes, it's all fairly self explanatory. The only part that could be considered tricky is spatchcocking the chicken. This youtube video explains all you need to know – just make sure you have decent pair of kitchen scissors or it can be quite an arduous task!
Other than that, you just peel the things that need peeling, chop the things that need chopping, you give the lemongrass a good bash until it starts to release that citrusy lemony aroma and you squeeze the juice out of an orange. That's honestly about it. Bang it in the oven, wait for a bit & voila! Perfect Vietnamese chicken. Another nifty thing about this recipe is that the juices in the bottom of the tray make an incredible gravy for the meat. You can add a little bit of starch if you want to thicken it up, or you can simply use it as is and spoon over the chicken to add some extra zing.
I hope you all enjoy it as much as we did!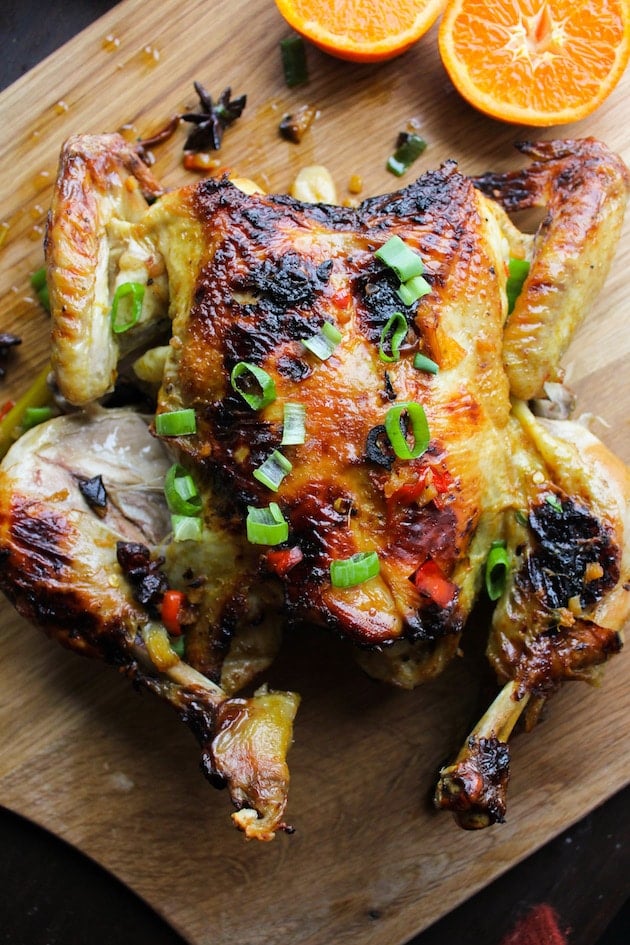 Recipe
Vietnamese Chicken Roast
Yield:
5 -6 servings
Prep Time:
20 minutes
Cook Time:
50 minutes
Total Time:
1 hour
10 minutes
Easy Vietnamese Chicken Roast with orange, garlic, ginger, chilli & crushed lemongrass – prepared in a pinch and incredibly flavourful!
Ingredients
1 whole 4lb | 1.8 kg chicken
1 tablespoon olive oil
1 teaspoon salt
1/2 teaspoon black pepper
1 cup | 240 ml freshly squeezed orange juice
6 garlic cloves, , crushed
1 tablespoon ginger, , chopped
1 tablespoon fish sauce
3 bird's eye chilli, , chopped (can substitute for another less spicy pepper if you don't like things too hot)
2 teaspoons coconut sugar, , or white sugar
4 star anise
1 stalk fresh lemon grass, , bruised (pound it a couple of times with a meat mallet or rolling pin)
1 stalk spring onions, , chopped
1 teaspoon tapioca or arrowroot starch + 1 teaspoon water for thickening, , optional
Instructions
Preheat the oven to 425°F/220°C.
Spatchcock Chicken
Place chicken breast-side down, with the legs towards you. Using a good pair of kitchen scissors or poultry shears, cut up along each side of the backbone to remove it. You'll be cutting through the rib bones as you go. Open the chicken out and turn over. Flatten the breastbone with the heel of your hand so that the meat is all one thickness. Save the backbone to make chicken stock or discard it.
Chicken Prep
Rub chicken with 1 tablespoon oil, and season with the salt and pepper.
Add the orange juice, garlic, ginger, fish sauce, bird's eye, and coconut sugar to a large roast tin with side. Mix the sauce to combine.
Take the lemon grass and bash it with a meat pounder, a pestle, or the side of large knife or cleaver. Add the bruised lemon grass to the roasting tin along with the star anise.
Place the chicken, skin side up on to the roasting tin and use a spoon to pour the juice over the top of the chicken. Place a couple of star anise piece on the chicken.
Roast chicken 20 minutes, take it out of the oven briefly to baste it in the sauce. Continue to roast chicken until a thermometer inserted into thickest part of breast reaches 165°F/74°C about 25 to 30 minutes more.
Take the chicken out of the oven and let rest at least 10 minutes before cutting into. As the sauce in the pan cools down it will begin to thicken slightly. If you like extra thick gravy mix in arrowroot starch or tapioca flour + 1 teaspoon water for thickening.
Serve with the chicken with the sauce and extra spring onions of garnishing.
Nutrition Information
Yield:

5
Calories:

437
Saturated Fat:

7g
Cholesterol:

129mg
Sodium:

873mg
Carbohydrates:

9g
Sugar:

5g
Protein:

33g
This website provides approximate nutrition information for convenience and as a courtesy only. Nutrition data is gathered primarily from the USDA Food Composition Database, whenever available, or otherwise other online calculators.
Leftovers? Shred what's left of your chicken and turn it into a herby Vietnamese Chicken Salad!