Easy Vietnamese Chicken Roast with orange, garlic, ginger, chilli & crushed lemongrass – prepared in a pinch and incredibly flavourful!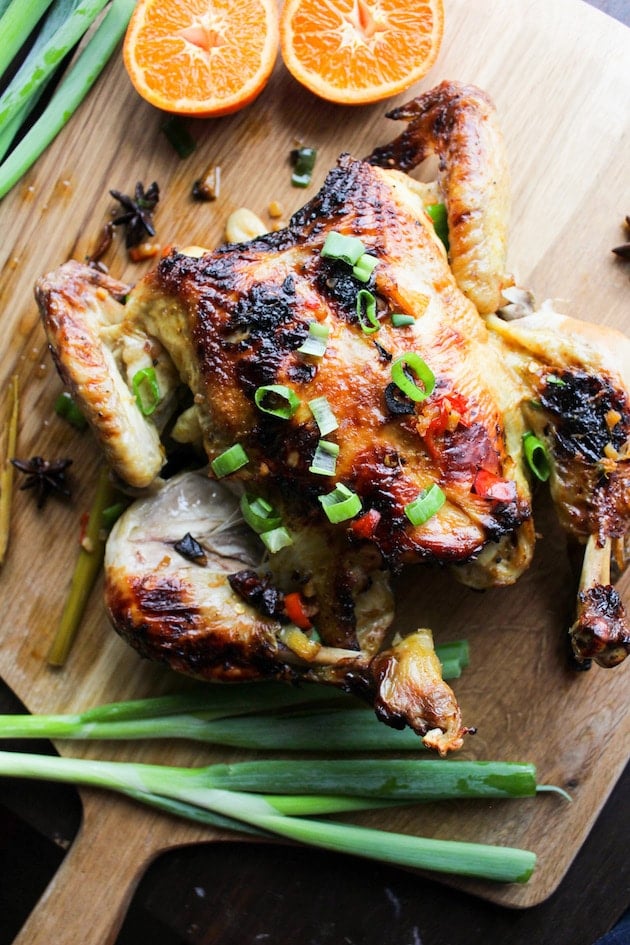 What do you guys think about Vietnamese food? I'm guessing that seeing as you're reading this you're as big a fan as I am. There's just something about the flavour combinations you find in their cuisine that I'm crazy about. I mean, it's all so colourful and fresh – what isn't there to like?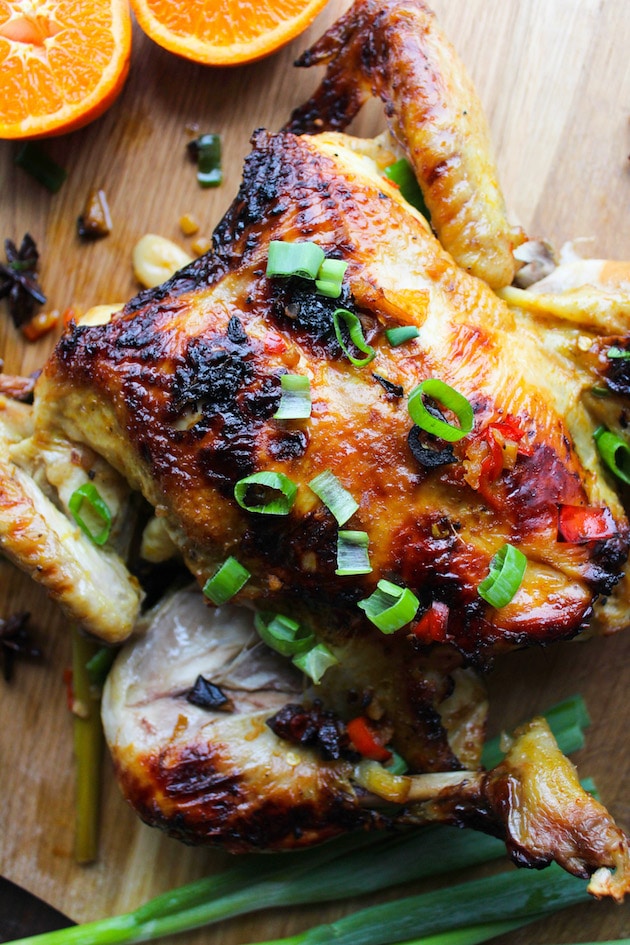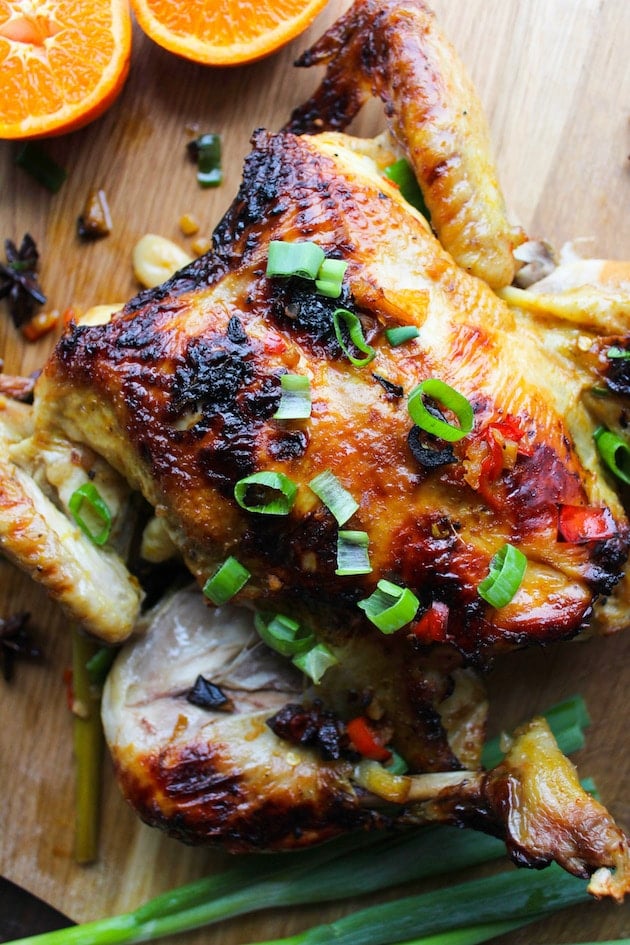 The downside? The Vietnamese restaurant that I used to go to can't guarantee that their food won't be contaminated with gluten. Major disappointment. Me & Sarah used to go there when we first met – before I was diagnosed coeliac – and honestly, it was incredible. I'd always order this chicken and spring onion soup that tasted so vibrant and fresh. It's amazing how much I took eating out for granted now that I think about it. It's such an easy fallback option for socialising. If you're not sure what to do, have a look online and find a new restaurant, or a new cuisine you've never tried before. Damn gluten!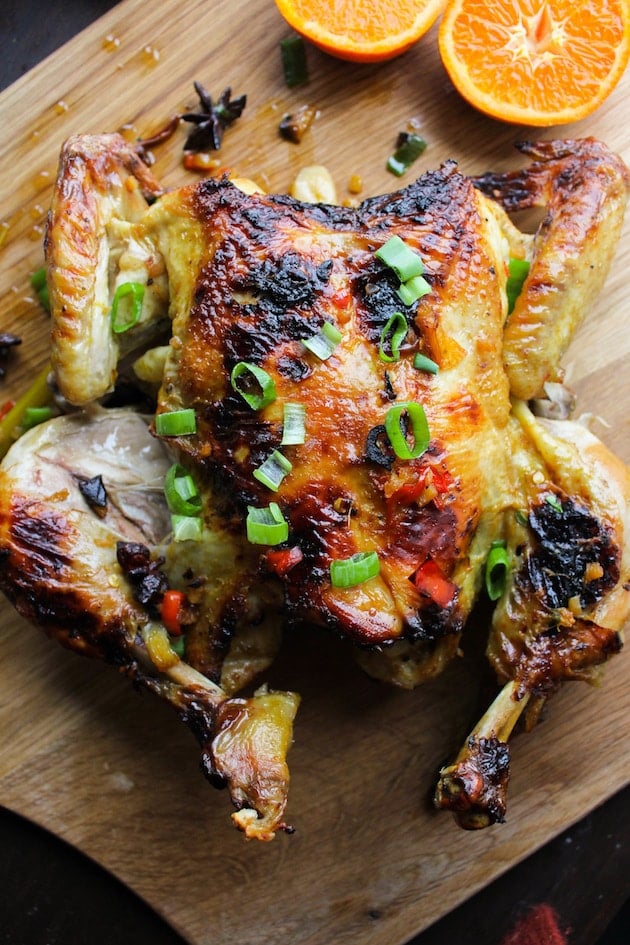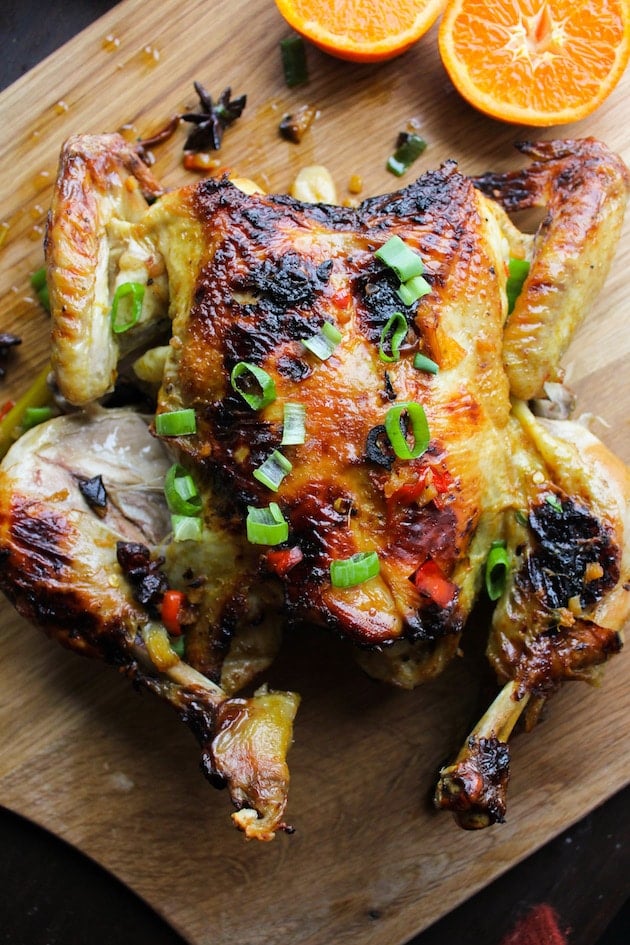 But having said all of that, the fact I can't eat out much anymore has opened my eyes to how much I love cooking food with Sarah. There's a sense of community and compromise when cooking with loved ones that you just don't get when you eat out. Like for this one, Sarah took the role of spatchcocking the chicken while I bruised the lemongrass & chopped the produce. This'll sound cliche, but you really do appreciate your food more when you've prepared it with someone you love.
About This Recipe: Vietnamese Chicken
So the idea for this one came about from an evening spent watching TV – honesty is the best policy, right? It was in the lead up to Christmas and we were watching a Rick Stein Christmas special. He was showcasing some alternative Christmas dinner recipes for anyone that fancied something a little different. Anyway, the second he started prepping the ingredients I looked over at Sarah and she knew what I was thinking. So we opened up a note on the iPad and wrote it all down for future reference. We then proceeded to forget all about it until this week – it's a good job you can't lose iPad notes!
Originally this recipe was made using duck pieces, but we didn't have any duck to hand. What we did have was an organic chicken that we'd got on offer earlier in the day – score.
As far as the prep for this recipe goes, it's all fairly self explanatory. The only part that could be considered tricky is spatchcocking the chicken. This youtube video explains all you need to know – just make sure you have decent pair of kitchen scissors or it can be quite an arduous task!
Other than that, you just peel the things that need peeling, chop the things that need chopping, you give the lemongrass a good bash until it starts to release that citrusy lemony aroma and you squeeze the juice out of an orange. That's honestly about it. Bang it in the oven, wait for a bit & voila! Perfect Vietnamese chicken. Another nifty thing about this recipe is that the juices in the bottom of the tray make an incredible gravy for the meat. You can add a little bit of starch if you want to thicken it up, or you can simply use it as is and spoon over the chicken to add some extra zing.
I hope you all enjoy it as much as we did!
FACEBOOK | INSTAGRAM | PINTEREST  
Don't forget to #asaucykitchen on instagram if you try this Vietnamese Chicken Roast! I love seeing what you make with!  You can also post your pictures to our facebook page!
Vietnamese Chicken Roast
---
Sarah Nevins | A Saucy Kitchen
Easy Vietnamese Chicken Roast with orange, garlic, ginger, chilli & crushed lemongrass - prepared in a pinch and incredibly flavourful!
15 minPrep Time
55 minCook Time
1 hr, 10 Total Time
Ingredients
Chicken

1 whole 4lb | 1.8 kg chicken
1 tablespoon olive oil
1 teaspoon salt
1/2 teaspoon black pepper

Sauce

1 cup | 240 ml freshly squeezed orange juice
6 garlic cloves, crushed
1 tablespoon ginger, chopped
1 tablespoon fish sauce
3 bird's eye chilli, chopped (can substitute for another less spicy pepper if you don't like things too hot)
2 teaspoons coconut sugar, or white sugar
1 stalk fresh lemon grass, bruised (pound it a couple of times with a meat mallet or rolling pin)
1 stalk spring onions, chopped
1 teaspoon cornstarch or arrowroot starch + 1 teaspoon water for thickening, optional
Instructions
Preheat oven to 425°F/220°C
Place the chicken breast side down, on a work surface. Starting at thigh end, cut along 1 side of backbone with a good pair shears of kitchen shears or knife. Cut along the other side of the backbone. Discard the backbone or save it for making chicken stock later. Flip chicken over so that the breasts are now facing up and press firmly on breastbone to flatten the chicken out.
Rub 1 tablespoon of olive oil all over your chicken on both sides. Then rub 1 teaspoon salt and 1/2 teaspoon black pepper all over your chicken.
In a roasting tin large enough to hold your spatchcocked chicken, add the orange juice, garlic, ginger, chilies, fish sauce, spring onions and sugar. Whisk gently to combine.
Lay the chicken flat on the pan, covering most of the juices. Break the lemon grass into two pieces and place them on either side of the chicken along with the star anise. Baste the chicken in the juices from the pan and place in the heated oven and roast the chicken for about 50-60 minutes or until the thickest part of the breast reaches an internal temperature of 170°F/77°C. About halfway through the cooking make sure to baste the chicken in its juices again.
Once done, transfer the chicken to a carving board to rest. Let it sit for at least 10 minutes before carving so that the meat doesn't dry out too quickly.
Pour the sauce from the pan to a bowl and serve along side the chicken as a gravy. Taste and season with salt and pepper as needed. The sauce will likely thicken as it cools, but you can add cornstarch or arrowroot starch to thicken it up. To do this add the sauce to a small pot and bring it to a boil on the stove. Whisk 1 teaspoon starch with 1 teaspoon water until no lumps remain and add the starch water to the boiling sauce. Reduce the heat and stir until you notice the sauce has thickened.
Notes
6.8
https://www.asaucykitchen.com/vietnamese-chicken-roast/

Head taste tester for A Saucy Kitchen

Latest posts by Mike Boyden (see all)