Simple Winter Fruit Salad made with seasonal ingredients and tossed in a maple-lime dressing. | Naturally Vegan + Gluten Free + Paleo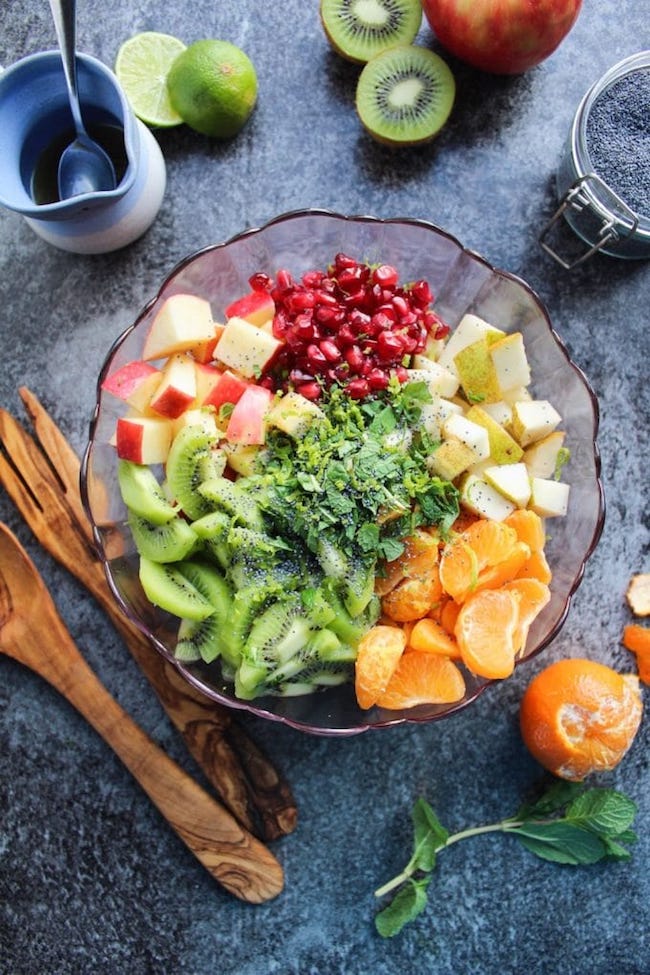 I'm not gonna lie: This winter has completely and utterly kicked my butt. Like…so bad.
I think I'm starting to come out of it a bit so I can joke more about it now, but these past couple of months have been hard.
I've always struggled with figuring out what kinds of things I want to share on my blog. I'd love for this to be a fun, positive space but life doesn't always care about what we want. Actually, scratch that last part. Life doesn't give a shit what we want. It just happens and we need to hold on and go with the flow or drown in the mess.
I feel like I've mostly been drowning these past few months. Fortunately as I mention earlier, I think I'm coming out of it a little. And thank goodness for that because I'm pretty sure I'm going to end up breaking my husband if I don't get myself together. It's not always easy, and it's not always fair, but being married to someone with chronic health problems means that sometimes I just need to get over myself so that I can be there for him.
Mike's health is usually pretty up and down, but lately it's felt like it's been one thing after another. It's nothing life threatening, but living in pain is just a part of his day to day life. I'd take on all of his health problems if it meant he could go even one day pain-free.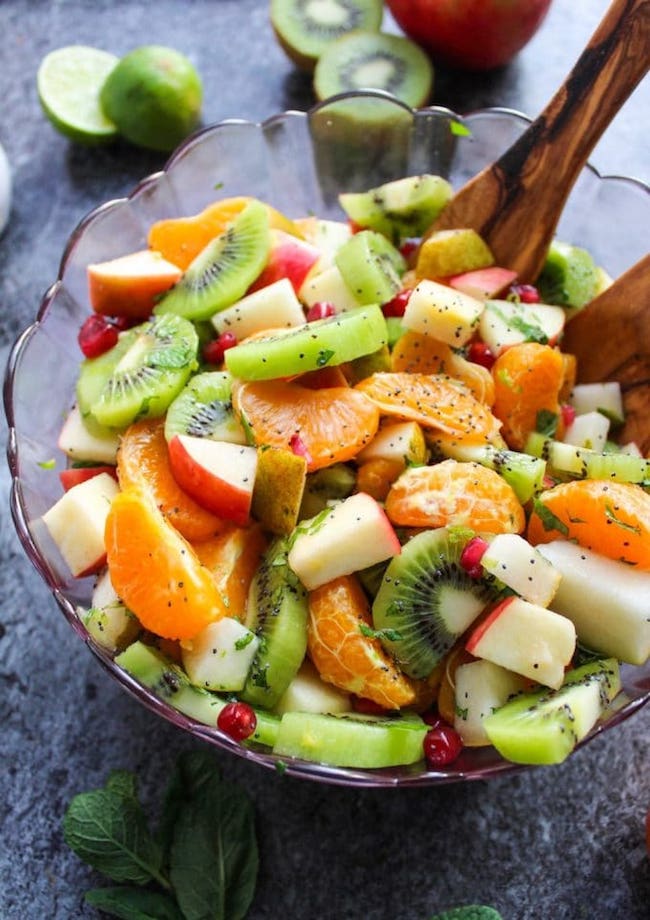 As much as I'd love nothing more than to stay in bed while eating ALL the carbs, it's times like these that I know I really need to take care of myself. Sure, I'll stay up making jumbo blueberry muffins with a crumb topping because sometimes sugar is #necessary. (By the way in case you're wondering I made those gluten free using my homemade GF flour blend).
But I've also been making sure to fill my diet with as much fruits and vegetables as I can. I've also been forcing myself to workout – even if it's just 20 minutes at a time. As much as I may not want to and as exhausted as I feel afterwards, I always feel better for it. I forget how much my body wants to move about. It's probably partially the reason I get so anxious in the winter. But that's another post for another day.
About This Recipe: Winter Fruit Salad
Note to self: make this winter fruit salad the next time I start feeling overwhelmed by everything.
This salad has so much zip and tang. No matter how grey it is inside these flavours are bright enough to make up for it…at least a little bit.
It's also a super easy way to get in maximum amounts of nutrients. The base made up of
Kiwi
Tangerines
Apples
Pears
Arils (Pomegranate Seeds)
and topped with a maple-lime dressing & tossed in poppy seeds and lime zest.
If you like being punched in the mouth with flavour (in a good way) then you'll love this.
I got the idea for this winter fruit salad thanks to one I saw by Ali from Gimme Some Oven. Thanks Pinterest. I just switched up some of the fruit to what was available at the store and that's it. It's barely feels like a recipe because it's such an easy salad. Basically just wash, chop and peel all you fruit and throw it in a bowl. And hey! You can always make a smoothie out of this if you want, the prep is all done.
So here's to bright and happy feelings and easy healthy recipes. Hope you enjoy!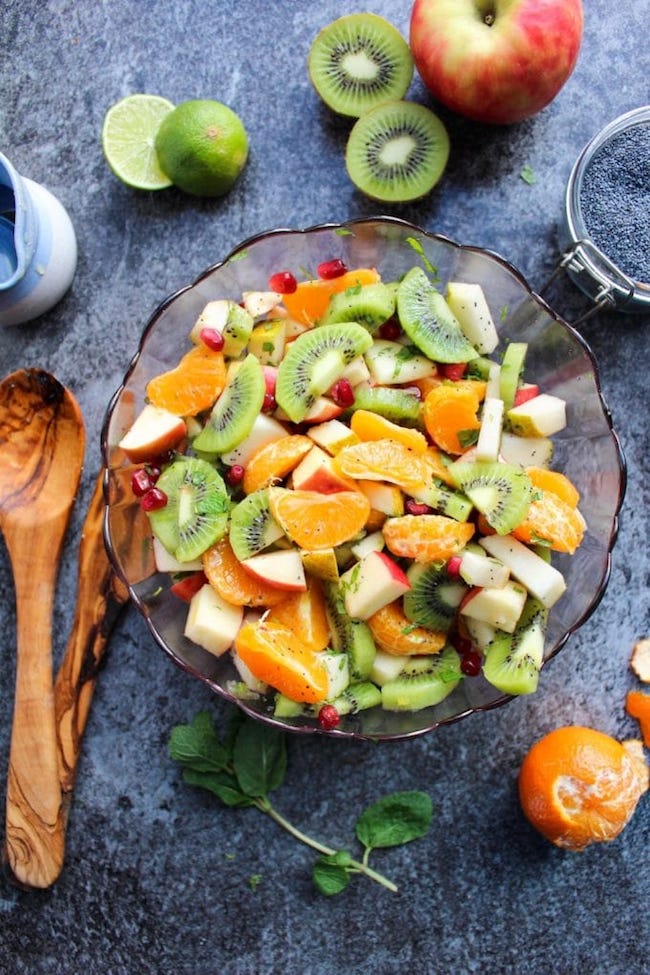 FACEBOOK | INSTAGRAM | PINTEREST
Don't forget to #asaucykitchen on instagram if you try this Winter Fruit Salad! I love seeing what you make with! You can also post your pictures to our facebook page!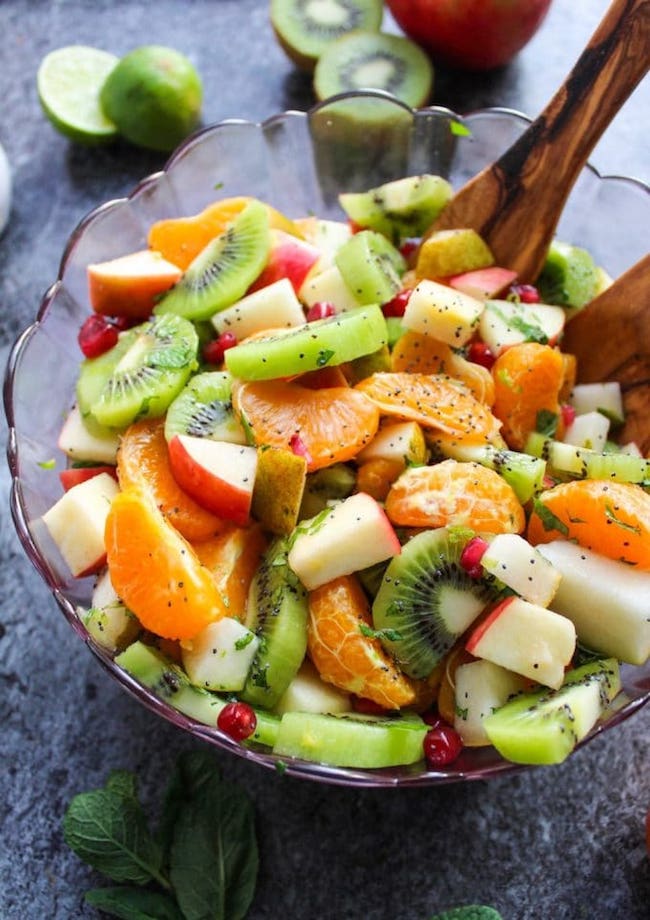 Recipe
Winter Fruit Salad
Yield:
6 people
Prep Time:
15 minutes
Total Time:
15 minutes
Simple Winter Fruit Salad made with seasonal ingredients and tossed in a maple-lime dressing. | Naturally Vegan + Gluten Free + Paleo
Ingredients
Salad
5 kiwi fruit, peeled and sliced into rounds and cut in halves, cored and diced
4 tangerines or clementines oranges, , peeled and separated into sections
2 pears, cored and diced
2 apples, cored and diced
1 cup arils/pomegranate seeds
2 tablespoons poppy seeds
2 tablespoons fresh mint, finely chopped
1/2 tablespoons lime zest
Dressing
1 tablespoon fresh lime juice
1 tablespoon maple syrup or agave, can use honey if you don't need this to be strictly vegan
Instructions
Combine all salad ingredients except for the dressing ingredients in a large bowl. Gently toss to combine.
In a separate small bowl, whisk together the maple syrup and lime juice.
Drizzle the dressing over the salad and gently toss again to coat.
Serve immediately.
Notes
Recipe adapted from Gimme Some Oven
Nutrition Information
Yield:

6
Serving Size:
g
Calories:

192
Sodium:

7mg
Carbohydrates:

45g
Fiber:

8g
Sugar:

30g
Protein:

2g
This website provides approximate nutrition information for convenience and as a courtesy only. Nutrition data is gathered primarily from the USDA Food Composition Database, whenever available, or otherwise other online calculators.