Homemade edible chocolate bowls filled with strawberries and coconut whipped cream. Paleo + Vegan + Low FODMAP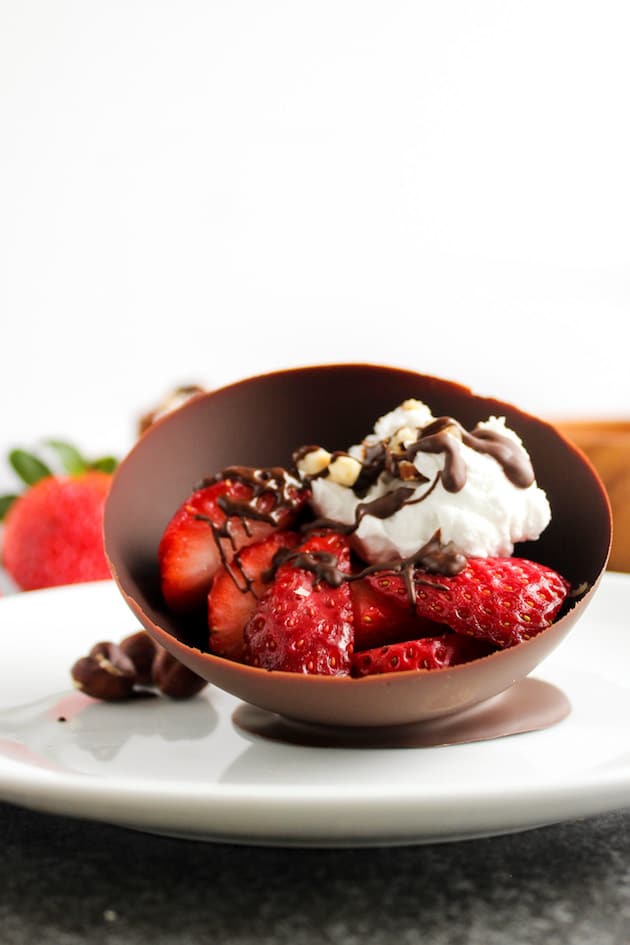 Valentine's Day: love it or hate it?
On the one hand it's got the sickly greeting card vibe to it and it makes single people everywhere glaringly aware of the fact that they're single. On the other hand – chocolate! And I mean like….that love part is cool too. But really, let's give it up for the chocolate.
I've always kind of been on the fence about Valentine's Day. When I was single, I'd pretend not to care about it while secretly wishing I had someone to send me flowers. Now that I'm married, I've got a loving husband who shows me his love daily and buys me flowers weekly. My heart couldn't possibly be filled with anymore love for him than I already have, so what's another day?
But like I said – the chocolate sways me. Especially when it's in the shape of dining wear and is filled with strawberries. Oh, baby!

About This Recipe: Homemade Chocolate Bowls
This is by no means a recipe that is unique to me, but there are so many ways to dress it up I couldn't help but share my own spin. I first came across the idea of edible chocolate bowls years ago. I think I might have seen it in a Martha Stewart magazine or something like that.
A few tips for success:
Use small balloons. Try not to make the bowls too big because in my experience the bigger the bowl the more likely the sides will break when the balloon deflates.
When you melt your chocolate, try to keep the sides of the bowl clean. My first balloon looked very messy because the chocolate on the sides ended up rubbing off on the balloon.
Let the chocolate set completely before popping. Pop too soon and so will your bowl.
Make sure you watch the video above if you have any more questions!
The rest of the recipe is straight forward enough. Fill your bowls with strawberries or whatever else you choose. Ice cream is also always a great option! I topped mine with coconut whipped cream but you can swap it out for a dairy filled one if that's more your thing. These are super customisable so have fun with it!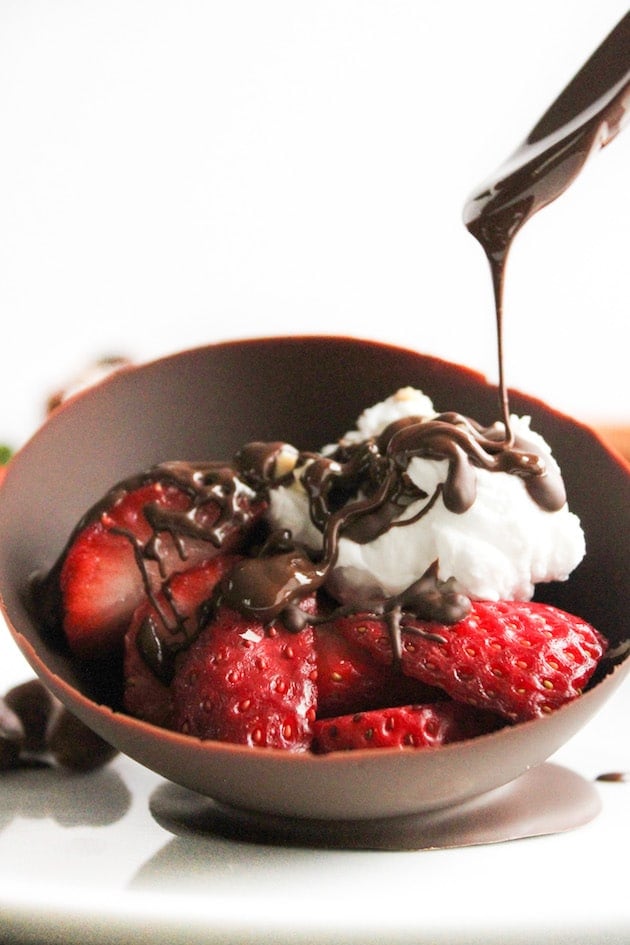 Share these with your loved ones, romantic or otherwise, and enjoy!
FACEBOOK | INSTAGRAM | PINTEREST  
Don't forget to #asaucykitchen on instagram if you try these chocolate bowls! I love seeing what you make with!  You can also post your pictures to our facebook page!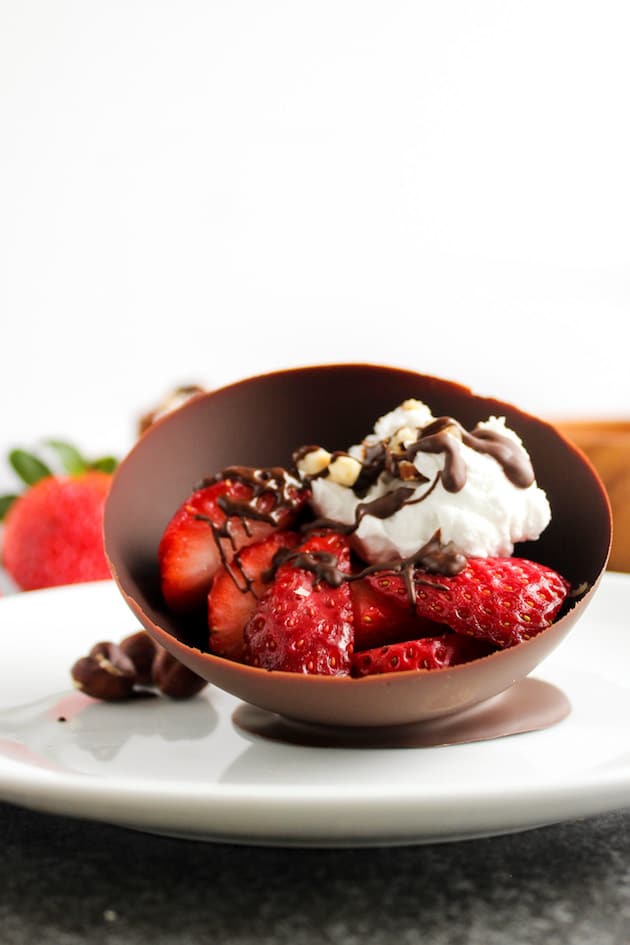 Recipe
CHOCOLATE BOWLS WITH STRAWBERRIES & COCONUT WHIPPED CREAM
Yield:
4 bowls
Prep Time:
1 hour
20 minutes
Total Time:
1 hour
20 minutes
Homemade edible chocolate bowls filled with strawberries and coconut whipped cream. Paleo + Vegan + Low FODMAP
Ingredients
9 oz | 255 grams dairy free dark chocolate, , chips or chopped
2 cups | 330 grams sliced strawberries
1 cup coconut cream - either scooped off the top of a full fat can of coconut milk or use a can of coconut cream
4 small balloons
1/4 cup | 40 grams chopped hazelnuts, , optional
Instructions
Melt the chocolate
Place the chocolate in a heat proof bowl that's large enough to sit over the top of a sauce pan.
Add an inch of water to the sauce pan and bring to a simmer. Once the water is simmering place the bowl of chocolate over the top of the bowl, make sure that the water doesn't touch the bottom.
Stir the chocolate as it melts. When there are only a few chunks of chocolate left remove the bowl from the heat. The residual heat will be enough to melt the rest. Set the bowl aside.
Making the Bowls
Blow up your balloons. You want them to be about 4 in/ 10 cm in diameter. If you try to make the chocolate bowls too big they're more likely to break later when popping the balloon.
Line a tray with parchment paper to set your balloons on.
Holding firmly on one end, dip the balloons in the melted chocolate. Dip it a couple of times and then let some of the excess chocolate drip back into the bowl. Gently place the balloon on the parchment paper to set and continue this process with the remaining 3 balloons.
Let the chocolate set on the counter for about 45 minutes to an hour. Once set, poke a hole on the top of the balloon, let deflate and peel away from the bowls.
Once your balloons are all popped fill them with strawberries, chopped hazelnuts, and coconut whipped cream. If you have any extra chocolate left over drizzle some of that over the top as well.
These are best enjoyed right away, but you can make these and store them in the fridge until you need them.
Notes
Time includes prep (20 minutes) and chill time (60 minutes)
makes 4 balloons
How to make coconut whipped cream:
Place a full fat can of coconut milk that is free of guar gum in the fridge overnight to separate the cream from the liquid. Once firm drain the coconut water and place the solid coconut cream in a bowl. Using a a handheld whisk or electric mixer begin beating the coconut cream until creamy. You can add a splash of maple syrup or honey to sweeten it more if you like. Alternatively, you can buy a can of coconut cream instead of using coconut milk and do the same with that.
Refrigerate until ready to use up to three days is a seal container.
Nutrition Information
Yield:

4
Serving Size:
g
Calories:

649
Saturated Fat:

34g
Cholesterol:

1mg
Sodium:

15mg
Carbohydrates:

40g
Fiber:

10g
Sugar:

19g
Protein:

8g
This website provides approximate nutrition information for convenience and as a courtesy only. Nutrition data is gathered primarily from the USDA Food Composition Database, whenever available, or otherwise other online calculators.