Easy paleo chocolate cupcakes with a dye free strawberry buttercream made with freeze dried strawberries.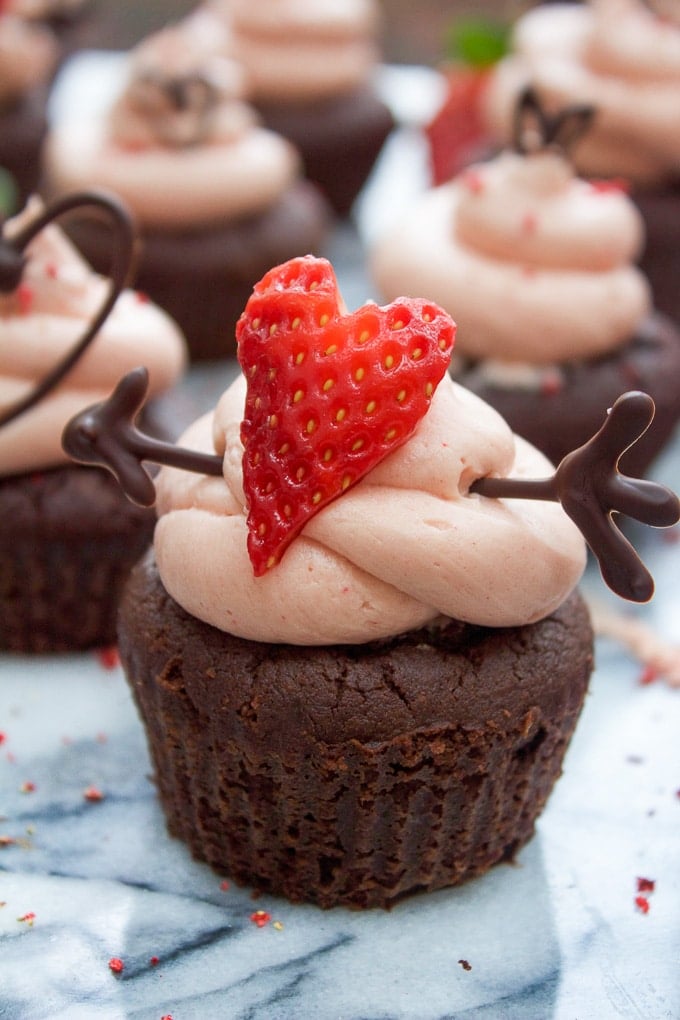 You ever get the feeling that you're just one giant contradiction, or is that just me?
Yesterday my spiralizer came in the mail and I feel like a kid who just got a new toy. I've been happily transforming the contents of my kitchen into perfectly spiraled ribbons left and right. If I keep it up I'm going to find myself buried alive in a mass of zucchini noodles and sweet potato fries. Recipes to come.
I feel like my excitement over a kitchen appliance and the thought of all the vegetables I get to eat is a real mark of maturity. Look at me being an adult.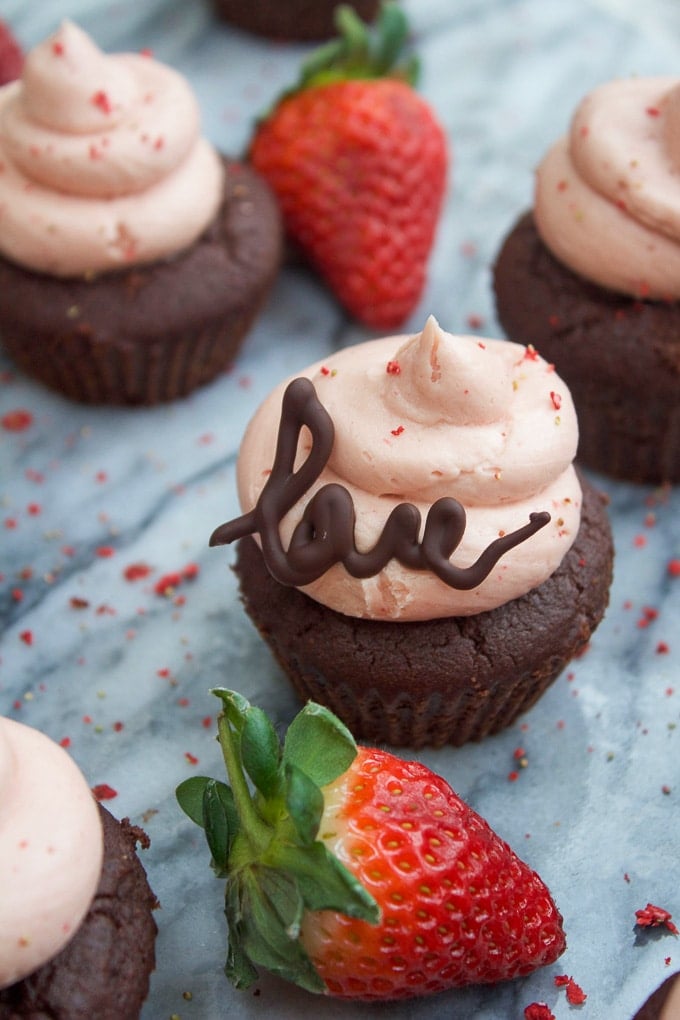 And yet this morning I had frosting for breakfast. #NoRegrets
I found myself bored and awake at midnight last night (this morning?) so naturally I decided it was as good a time as any to make some cupcakes. Actually, scratch that. First I made onion bhaji's with my fancy new kitchen appliance, then I accidentally made strawberry margarita ice cream, then I moved on to the paleo chocolate cupcakes. How do I not weigh 5,000 pounds?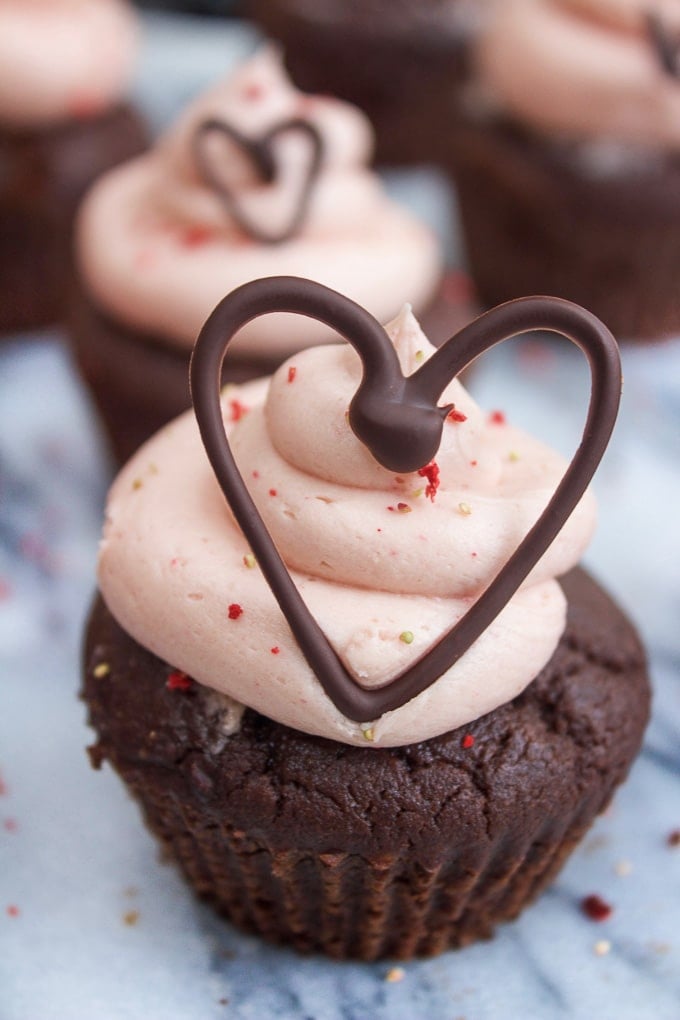 About this recipe
I decided to use the chocolate hazelnut cake that I made for Mike's birthday last year as the base for these cupcakes. The recipe itself is essentially the same with just a few alterations.
All you need is one bowl and an electric mixer. Just 10 minutes of prep work and about 15 minutes in the oven and you're well on your way to perfectly moist and fluffy paleo chocolate cupcakes.
The strawberry buttercream is actually an adapted recipe that I found from Urban Poser (the original recipe actually uses raspberry). If you want a dairy free paleo version of this butter cream go check out Jenni's version because she uses organic palm shortening in place of butter. Also, you should go and check out her blog in general because she has the most beautiful recipes.
Anyways:
Since I can get away with using a bit of dairy every now and then with Mike I decided to use butter instead of palm shortening because it's much more accessible/affordable as an ingredient. Also, what's a buttercream without butter?
Instead of using red food dye to get that soft, pink color this recipes uses blended up freeze dried strawberries. Just measure out a cup and blend it up until the freeze dried berries turn into a powder. Easy.
As far as the decorations go you can get as creative as you'd like. With Valentine's Day coming up a heart/love theme seemed like an obvious choice. I used this video to learn how to make chocolate decorations a long time ago and now it's one of my favorite cake decorating techniques. If you'd like to give the chocolate decorations a go, it's easier than you think!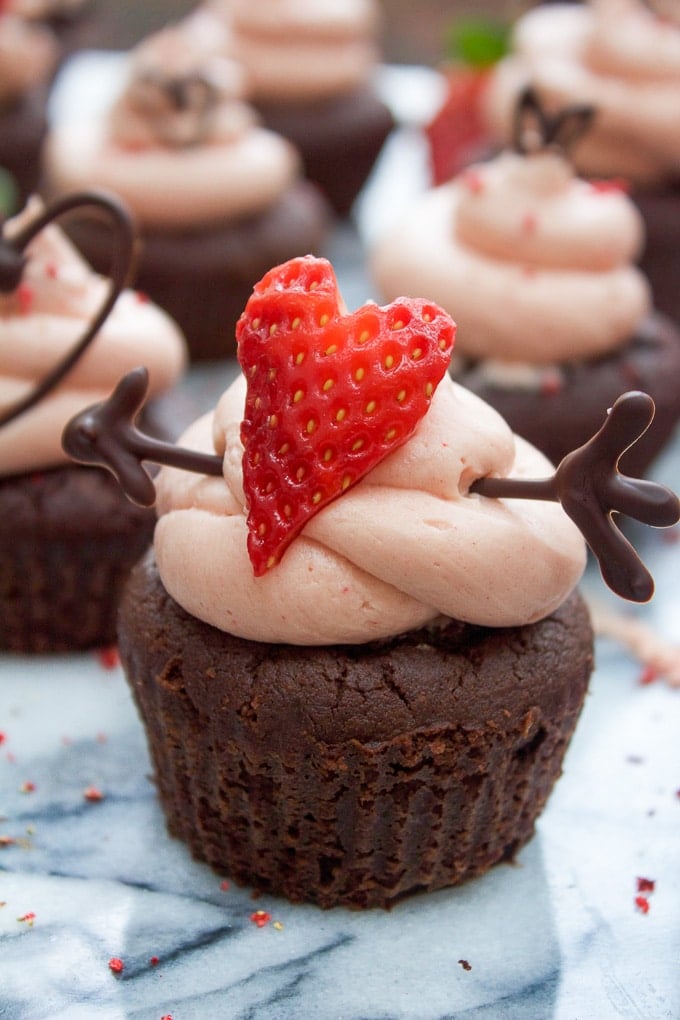 Recipe
Paleo Chocolate Cupcakes with a Strawberry Buttercream
Yield:
12
Prep Time:
20 minutes
Cook Time:
15 minutes
Total Time:
35 minutes
Easy paleo chocolate cupcakes with a dye free strawberry buttercream made with freeze dried strawberries.
Ingredients
Paleo Chocolate Cupcakes
1 | 400 ml can full fat coconut milk or dairy free milk of choice
1/2 cup | 170 g honey
4 large eggs
2 teaspoons vanilla extract
1/2 cup | 56 g coconut flour
1/4 cup | 24 g almond flour
2 teaspoons baking powder
3/4 cup | 84 g unsweetened cocoa powder
Strawberry Buttercream
1 cup | 227 g butter, room temperature
10 tablespoons | 210 g honey
1 cup freeze dried strawberries, about 5-6 tablespoons when ground into a powder
Instructions
For the cake
Begin heating the oven to 350°F/180°C. Line or grease a cupcake tin and set aside for now.
In a large mixing bowl and the eggs, coconut milk, honey, and vanilla extract. Mix on high until everything is incorporated for about a minute.
Next you're going to add all of your dry ingredients (flours, baking powder, and cocoa powder) to the mixing bowl and beat together for a couple of minutes until no lumps remain and everything is mixed together.
Spoon the batter into the greased/lined cupcake molds and about 3/4 of the way full. Place in the center of the oven and bake for at least 15-20 minutes. When finished, remove from the oven and place on a cooling rack. After a couple of minutes remove the cupcakes from the molds so that they don't stick to the liners. Allow them to cool completely before frosting,
For the Buttercream
Add the freeze dried strawberries to a blender or food processor and blend until it becomes a powder. Sift the powder to remove the seeds and add it to a mixing bowl along with the butter and honey. Blend on high for a few minutes until the frosting becomes whipped and creamy. Frost the cupcakes after they have completely cooled. Sprinkle any leftover strawberry pieces, garnish with chocolate decorations (link to video tutorial in the post), and/or top with fresh strawberries.
Notes
It's especially important to preheat your oven properly when baking cupcakes. Don't be tempted (as I often am) to skip the preheating time because it will effect that rise and quality of your cakes. Also, avoid peeking in the oven too soon because the cold air can also affect the baking process resulting in dense, sunken cupcakes.
Nutrition Information
Yield:

12
Serving Size:
g
Calories:

457
Saturated Fat:

18g
Cholesterol:

100mg
Sodium:

176mg
Carbohydrates:

52g
Fiber:

6g
Sugar:

40g
Protein:

5g
This website provides approximate nutrition information for convenience and as a courtesy only. Nutrition data is gathered primarily from the USDA Food Composition Database, whenever available, or otherwise other online calculators.