Incredibly rich and moist grain free chocolate hazelnut cake.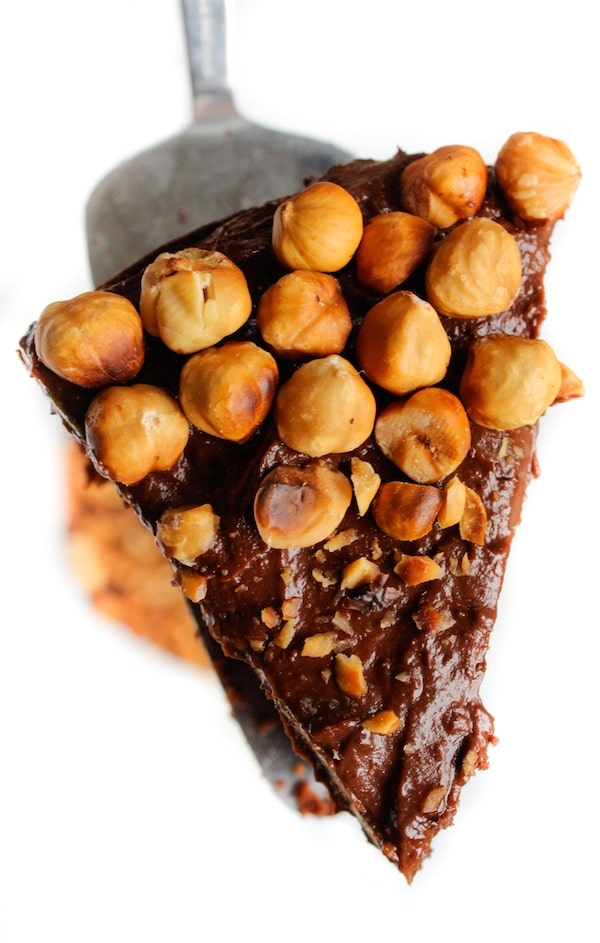 I'm going to try to not get chocolate all over my keyboard as I write this. I've got what remains of this chocolate hazelnut cake sitting beside me (Bad idea? Great idea!) and I can't seem to stop myself from stealing bits of toasted hazelnut with frosting stuck to the bottom off the top of the cake. I'll try to smooth out the really obvious finger marks in the frosting before anyone realizes what a total slob I am. #WorthIt
I have a very valid reason for making a cake this week. (As I ever need a good reason to bake a cake!) But today I have an especially sound reason for baking a cake and that reason is because today is Mike's birthday! Hip hip! I figure he earned himself a birthday cake by getting through to another year (which is a joke, but given his health history there's more than a little bit of validity in that statement).
When it comes to cakes and Mike, chocolate is the only option. Our wedding cake was chocolate in addition to every other cake I've ever made for him, and trust me, there have been a lot of them. In the past, before we started honing in on fixing his gut issues I was able to use more traditional flours for these type of special occasions. Now however, I needed to make a grain and dairy free cake with minimal starches that still tasted edible – anyone who has ever had to bake allergy free goods will understand that struggle. After making two chocolate cakes that tasted good, but were far too dense and a bit dry I finally ended up with this chocolate hazelnut cake. The final product is so worth the late night baking.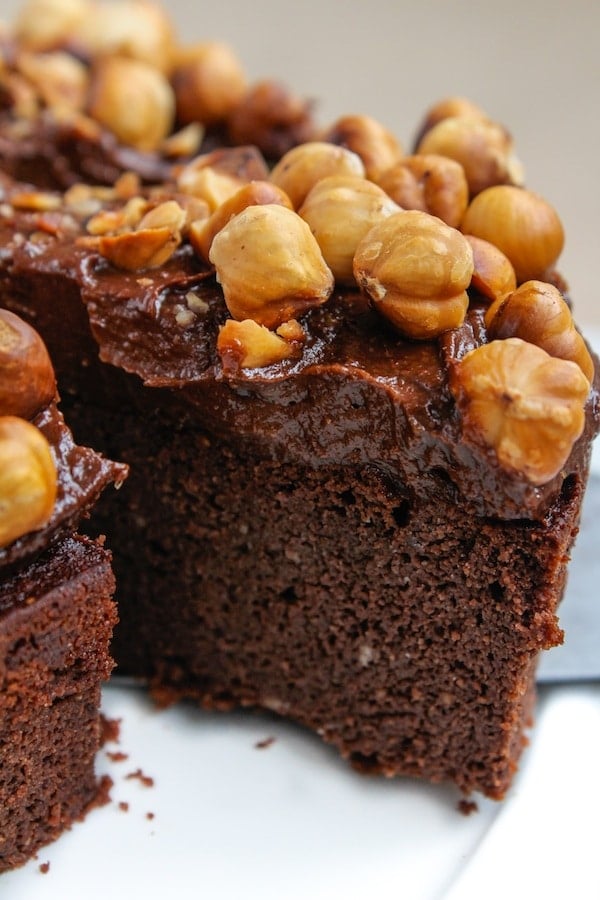 Remember that chocolate avocado mousse that I shared the other day? Doubled the recipe, drop the espresso powder,  and up the water content just a tad to get a smoother consistency and voilà! You've now got a dairy free, Paleo chocolate frosting that didn't cost you an arm and legs worth of palm shortening or cocoa butter to make. Spread that over the top of the cake – no artistic cake decorating skills needed, toast some hazelnuts to sprinkle of the top and you're all set for a simple, yet decedent chocolate hazelnut cake that you too can steal bits of frosting from when no one's looking. You know you want to.
As I said earlier though, you don't need a reason to bake a cake. This is a great pick me up kind of cake that tastes like you put a lot more work than it actually takes. It's rich, moist, chocolatey, easy, and not too sweet. It's all of your favorite things thrown into a cake and you will definitely become the most popular person in your household after you make it.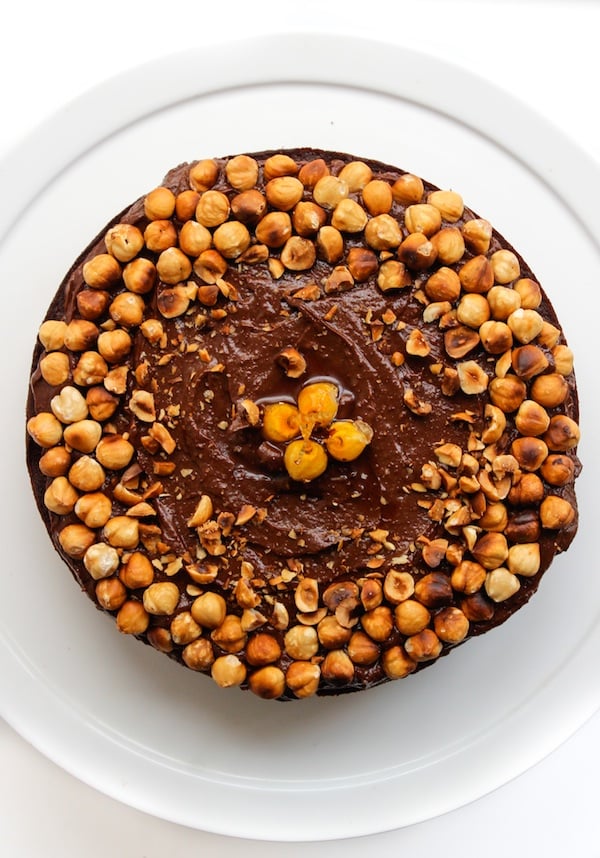 So happy birthday to my favorite person! Thanks for being born and giving me an excuse to bake more cakes!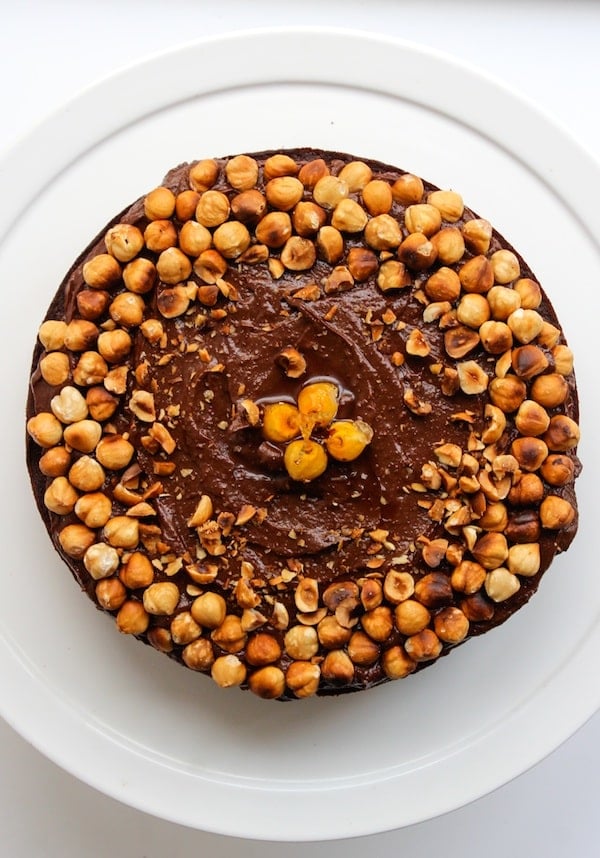 Recipe
Chocolate Hazelnut Cake
Yield:
8 slices
Prep Time:
20 minutes
Cook Time:
1 hour
Total Time:
1 hour
20 minutes
Incredibly rich and moist grain free chocolate hazelnut cake.
Ingredients
Cake
1/2 cup coconut flour, (56g)
1/4 cup almond flour, (24g)
2 teaspoons baking powder
3/4 cup unsweetened cocoa powder, (85g)
One can full fat coconut milk or dairy free milk of choice, (400ml)
1/2 cup honey, (125g)
4 large eggs
2 teaspoons vanilla extract
Frosting
2 large, , ripe avocados
1/2 cup cocoa powder, (60 g)
1/4 -1/2 cup water, (60-120 ml)*
1/4 cup honey, (85 g)
Topping
3/4 cup hazelnuts, (100 grams)
Instructions
Preheat oven to 350F (175C). Grease an 8 inch cake tin with coconut oil or line it with parchment paper for easy removal.
Whisk together the coconut flour, almond flour, baking powder, and cocoa powder into a large mixing bowl until combined.
Place coconut milk (dairy milk substitute), honey, eggs, and vanilla extract in a small mixing bowl and blend together until you've got a slightly frothy mixture. You can do this with a just a whisk, but I think it's easier (and faster) with an electric or stand mixer.
Pour your wet ingredients into the dry and blend until you've got a thick, smooth batter.
Cake
Pour chocolate batter evenly into your greased tin and bake for 45-50 minutes.
Remove from oven and allow it to cool in the pan for 10 minutes prior to transferring it to a cooling rack. Don't turn the oven off yet because you'll need it for toasting the hazelnuts.
After you remove the cake from the oven, line a baking sheet with parchment paper and spread a single layer of hazelnuts across it. Place the nuts in the oven for 10 minutes until they brown up a bit. If you want to remove some of the skins, wrap them up in a dish towel and rub the towel to loosen the skins.
While the cake is baking make your frosting by adding all of your ingredients to a blender or food processor and blending until smooth. If you want a thinner frosting that is easier to spread start with 1/4 cup water and then add 1 tablespoon at a time until you get the desired consistency.
When the cake is fully cooled, spread the frosting over the top and then sprinkle the hazelnuts over the frosting however you want. Slice and serve.
Since there's avocado in the frosting store the cake in the fridge for up to a few days.
Notes
*Adjust the water amount to how thick you want your frosting. The more water, the thinner the frosting. More water also helps the avocado blend if you're having problems with it coming out smooth.
Nutrition Information
Yield:

8
Serving Size:
g
Calories:

465
Saturated Fat:

14g
Cholesterol:

89mg
Sodium:

65mg
Carbohydrates:

47g
Fiber:

11g
Sugar:

28g
Protein:

11g
This website provides approximate nutrition information for convenience and as a courtesy only. Nutrition data is gathered primarily from the USDA Food Composition Database, whenever available, or otherwise other online calculators.