The really important thing to know about Coeliac disease and people with more serious gluten sensitivities is that even the smallest amount of gluten from crumbs or residue is enough to cause an autoimmune reaction. Eating gluten free doesn't just mean taking the bun off the burger or removing the croutons from a salad. Just because you can't see the gluten doesn't mean that it's not there and more often than not it's the hidden gluten that causes the most problems.
Ten Possible Sources of Cross Contamination
& hidden gluten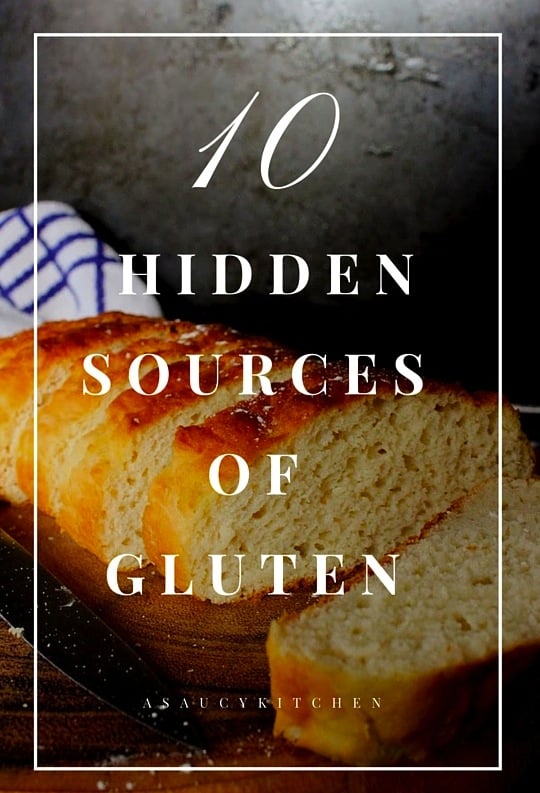 1. Vitamins, Supplements, Medicines
Always make sure to check the labels of your vitamins because gluten and other wheat products are often used as fillers and binders. Since it's not uncommon for Coeliac's to be encouraged to take vitamins and probiotics to aid in the healing process, it's especially frustrating to realize that the supplements you're taking to improve your health are just causing further damage.
2. Ovens and Toasters
You absolutely must give your oven a good clean after you or a family member gets diagnosed with Coeliac Disease. You're bound to have bread crumbs and other gluten contaminants littering the bottom of the oven or splattered on the sides. If you've ever cooked a pizza directly on the racks there's a good chance you might have bits stuck on there as well. Self cleaning ovens should reach a temperature that's strong enough to destroy gluten proteins, otherwise make sure you break out the scourer and scrub everything really well. As far as toasters go you're better off getting a new one specifically for gluten free bread because it's almost impossible to clean out toasters well enough.
3. Condiments
If you live in a household where not everyone is gluten free you'll need to make sure to separate and label the gluten free condiments from the rest. It's very easy to accidentally stick a knife back into a jar of peanut butter to get a little more after spreading that same knife over a slice of bread. Alternatively, you can look out for squeeze bottles to store your condiments to prevent the dreaded double dipping.
4. Cooking Oils
This one mostly applies to eating out. When you're scanning the gluten free menu of a restaurant and see chips or anything else fried for that matter make sure to ask the waiter if they use the same oil to fry all of their food. One time when Mike was ordering a side of chips off the gluten free menu he thought he'd double check the oil and to no surprise they use the same oil to fry the chips as they do to fry the battered fish. So while yes, potatoes are inherently gluten free, it doesn't mean they always have a place on a gluten free restaurant menu.
5. Utensils, Chopping Boards, Sifters, etc
Remember how sticky gluten is? Seriously! Scrub those utensils clean. Wooden spoons, cutting boards and sifters should be replaced since there are so many little crevices that can store gluten. It may seem a bit over the top, but it's not worth risking ill health over something so small…literally.
6. Naturally gluten free foods
As I mentioned with the oils, just because a particular food is naturally gluten free doesn't mean it's still gluten free after it's been handled in facilities that also handle gluten containing products. Oats for example are naturally gluten free, but because they are often harvested, transported, and stored alongside wheat and other gluten containing grains, Coeliac's are encouraged to only use certified GF oats. Make sure to pay close attention at the grocery store to check the ingredients label fully.
7. Chapstick, lip balms, and lipstick
Let's face it: we eat lip balm. We may not mean to, but it happens. Add it to the list.
8. Play-Doh
Speaking of accidentally ingesting things, if your child has Coeliac Disease be aware that wheat is listed as an allergy ingredient in Play-Doh. They may not necessarily mean to eat it, but anyone who has ever spent more than 10 minutes with a toddler knows that they love to shove things in their mouth. How about you make your own play dough instead?
9. Pet Food
Even though you're obviously not going to eat that grain based dog food you feed to Fido (unless you do in which case that's none of my business) chances are you'll end up touching it with your hands, so do make sure to wash thoroughly after handling it.
10. Things Listed as Gluten Free
This one is definitely the most frustrating. You see the "GLUTEN FREE" listed clearly on the label and nuts are the only listed allergens and think, "Great, I'll have that". Then later when you're looking on the website you learn that the chocolate you've just bought is only safe for people who choose to eat gluten free, not the people who actually need to eat gluten free. I'm looking at you, Hotel Chocolat. I wish they were the only company who did this, but unfortunately that's not at all the case.
If you ever find that you have been exposed to hidden gluten/ cross contamination you should increase your water intake out to help flush out the gluten. It might also be a good idea to take fish oils to help reduce possible inflammation.
If you've got any more tips on staying completely gluten free let me know in the comments below!