Soft and chewy, flourless gluten free Monster Cookies with chopped pretzels and candy coated chocolate pieces – a lower sugar, healthier take on a classic cookie | Gluten Free + Low FODMAP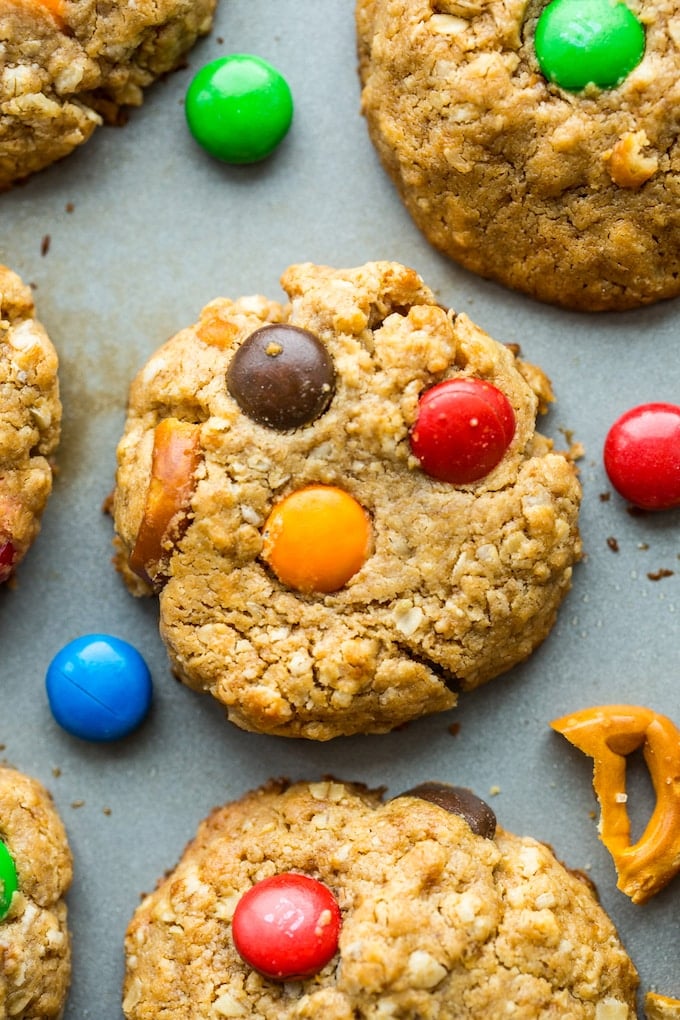 Greetings from Matla!
Mike & I are just now entering into day four of our trip and so far I am in love with this tiny little island.
As far as the gluten free food options go it's been alright so far. We actually found a 100% gluten free restaurant located just a 10 minute walk from our apartment which was incredible. Will definitely be heading back before we go home. Today we'll be on the hunt for some more gluten free bread from a shop not too terribly far that's apparently baked fresh daily. More on that later.
That all being said we've been pretty conservative with our food since getting here just to make sure it lasts us the week.
Between all the miles we've been logging on foot every day and the limited resources out in about….let's just say I'd do a lot for a plate of these gluten free monster cookies right about now.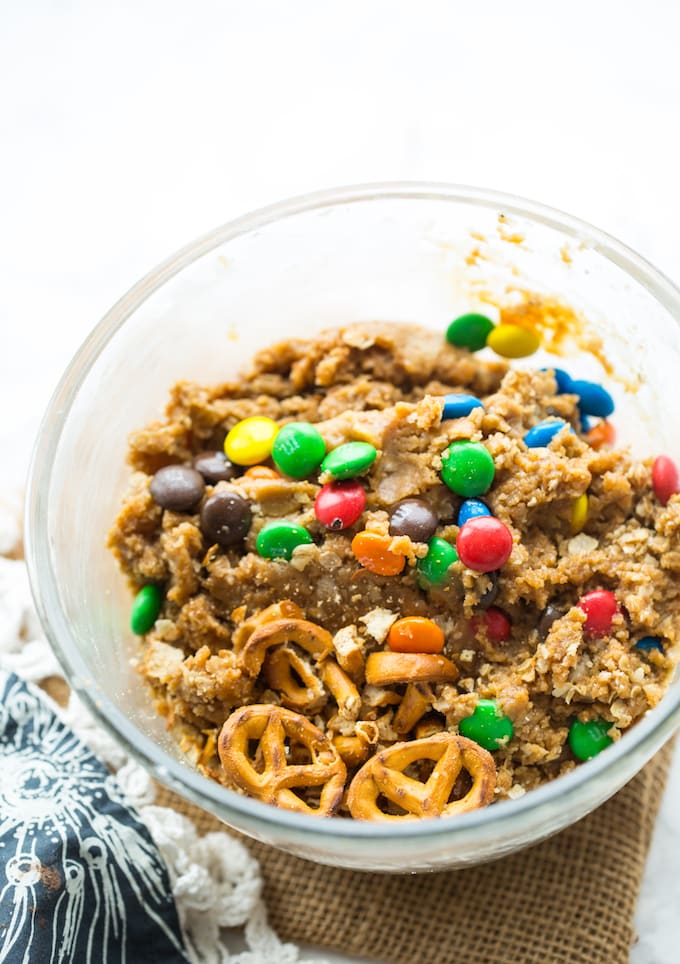 Before moving away I used to babysit my younger brothers a lot. Almost every time I babysat we'd end up baking cookies of some sort – usually peanut butter m&m cookies as per my little brother's request. I was not complaining.
At one point my little brother, Matthew, even started asking my parents if they needed to go run any errands in the hopes that they'd go out for the day leaving us to do our thing.
These days our baking is limited to November when Mike & I go back to visit for Thanksgiving. Matthew & I get a lot of different baking done in that time but we always make sure to throw together a batch of m&m cookies.
So really it's about time I come up with a gluten free monster cookie worthy of my little brother for the next time I'm in AZ.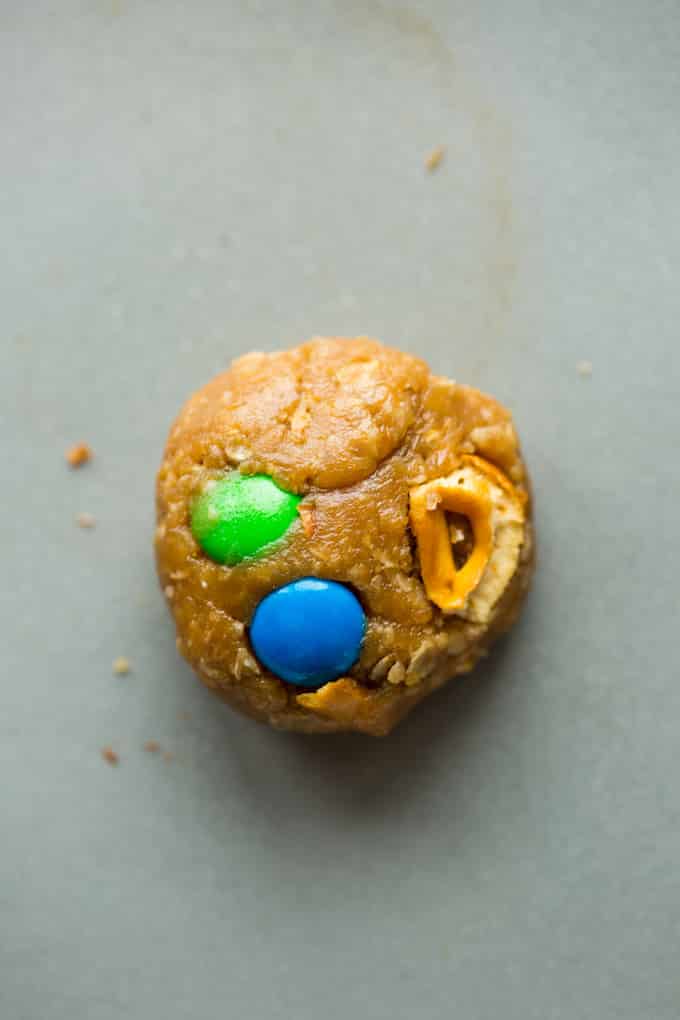 How to Make: Gluten Free Monster Cookies
These cookies are super easy to make requiring only 9 ingredients and about 30 minutes to make.
A few things to note:
These cookies are flourless – made with gluten free quick oats. You can technically use rolled oats but I find that quick oats stick together much better. Also – make sure to use certified gluten free oats if you plan on making these for friends with gluten allergies.
These cookies are lower in sugar than regular monster cookies. I list 1/2 cup here but feel free to bump that up 3/4 cup if you like. Brown sugar will result in a softer, chewier cookie.
M&M's – always make sure to check the labels of your M&M's for gluten contamination! There are certain times of the year (usually Halloween) they are more likely to contaminated by other gluten containing products that have been processed on the same processing line. Mars promises to list on the labels when cross contamination may occur so make sure to always double check before you buy. You can read more about it here: https://www.verywellfit.com/gluten-free-candy-list-562806
On a related note to the bullet above – you can always swap out the m&m's for chocolate chips if you prefer!
And with that final note I'm off to search for someone homemade Maltese bread! Hope you enjoy!
FACEBOOK | INSTAGRAM | PINTEREST  
Don't forget to #asaucykitchen on instagram if you try these Gluten Free Monster Cookies! We love seeing what you make!  You can also post your pictures to my facebook page!
Yield: 16 cookies
Gluten Free Monster Cookies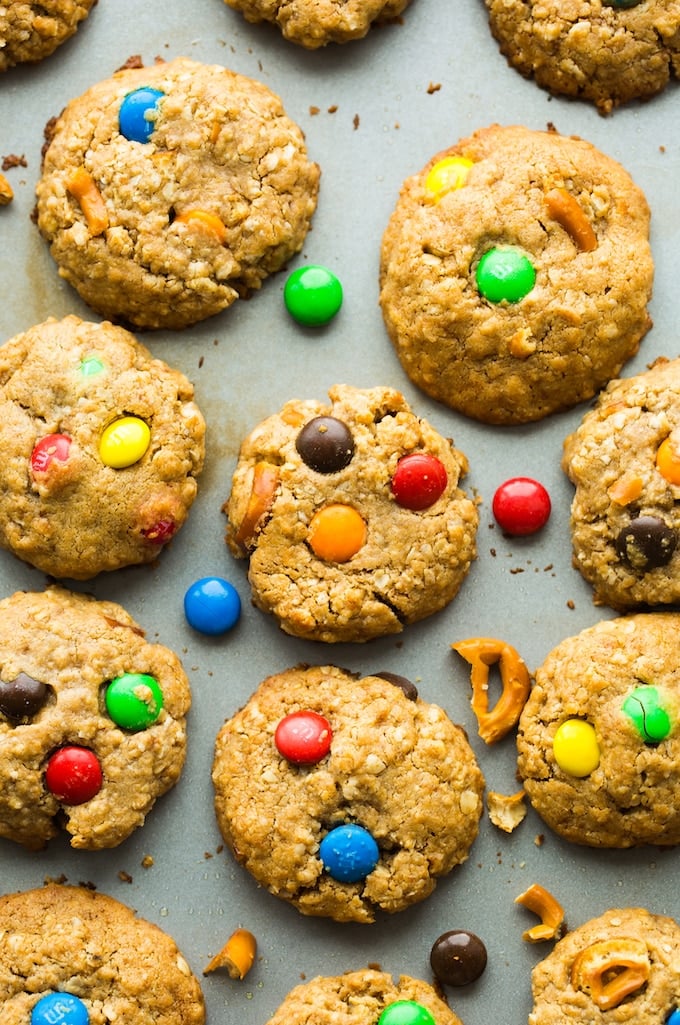 Soft and chewy, flourless Gluten Free Monster Cookies with chopped pretzels and candy coated chocolate pieces - a lower sugar take  on a classic cookie | Gluten Free + Low FODMAP
Ingredients
1 cup | 250 grams peanut butter
1/4 cup | 55 grams butter, softened
1/2 cup | 100 grams coconut sugar, or brown sugar
1 egg
1 teaspoon vanilla extract
1 1/2 | 135 grams cup certified gluten free quick oats
1 teaspoon baking soda
1/2 cup | 100 grams m&ms or chocolate chips
1/2 cup | 25 grams gluten free pretzel pieces
Instructions
Preheat the oven the 350°F/180°C. Lightly grease or line a large baking sheet with baking paper. Set aside.
In a medium sized mixing bowl cream together the peanut butter, butter and sugar with an electric or stand mixer for at least one minute. Scrape down the sides as needed. Mix in the egg and vanilla extract.
Beat in the oats and baking soda on a low speed until combined.
Use a spoon to gently stir in the mix-ins (m&m's or chocolate chips and pretzels).
Scoop out little cookie dough portions about 1/5-2 tablespoons worth. Roll into little balls and place on your baking sheet, about 2 inches apart. The cookies don't spread very much so make sure to flatten slightly with the palm of your hand.
Bake in the oven for 8-10 minutes. Remove from the oven and let the cookies cool completely on the cookie sheet before moving. They will be very soft and fragile but become more sturdy as they cool.
Enjoy!
Notes
Note about M&M's: always make sure to check the labels of your M&M's for gluten contamination! There are certain times of the year (usually Halloween) they are more likely to contaminated by other gluten containing products that have been processed on the same processing line. Mars promises to list on the labels when cross contamination may occur so make sure to always double check before you buy. You can read more about it here: https://www.verywellfit.com/gluten-free-candy-list-562806
Nutrition Information:
Yield:
16
Amount Per Serving:
Calories:

204
Saturated Fat:

4g
Cholesterol:

19mg
Sodium:

302mg
Carbohydrates:

18g
Fiber:

1g
Sugar:

8g
Protein:

4g